Stripe Review
By Lori Fairbanks
Last Modified: June 12, 2018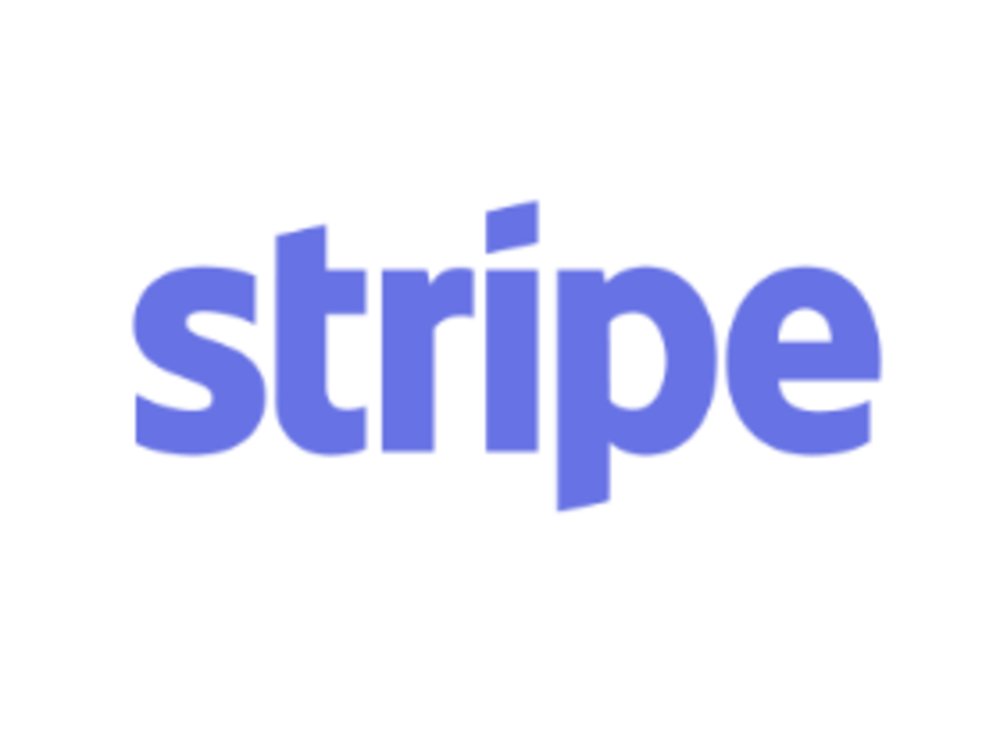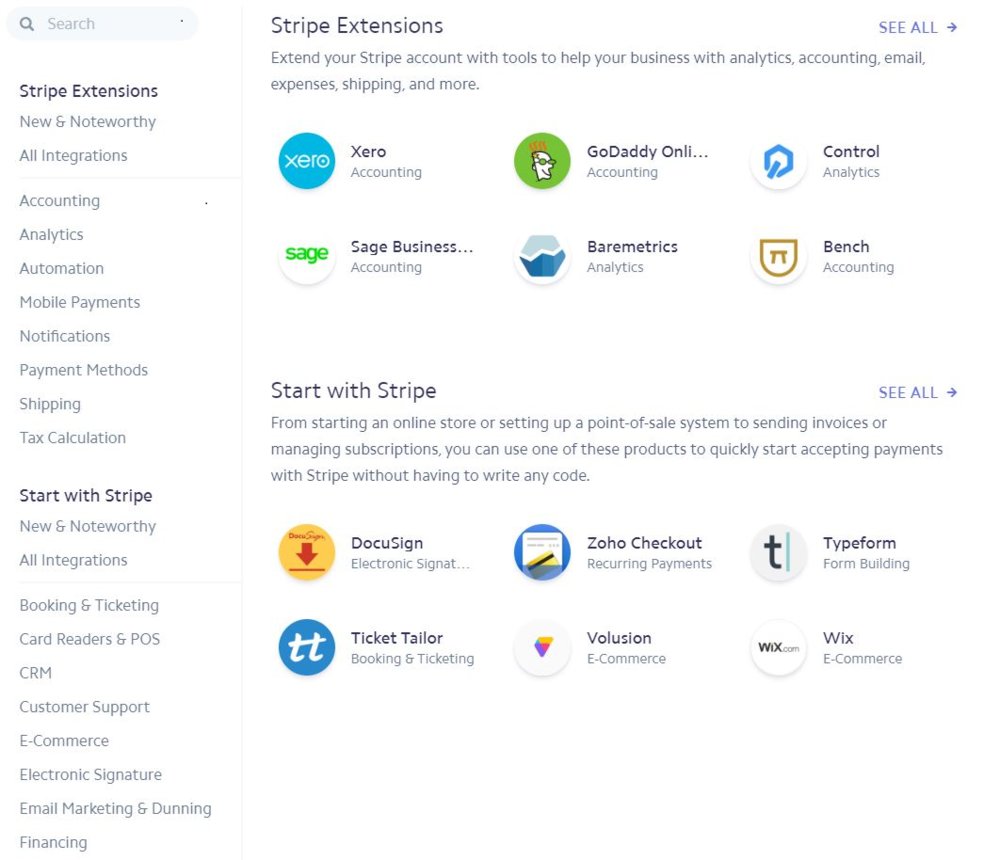 Stripe integrates with hundreds of business applications, including e-commerce platforms, accounting systems and CRM software.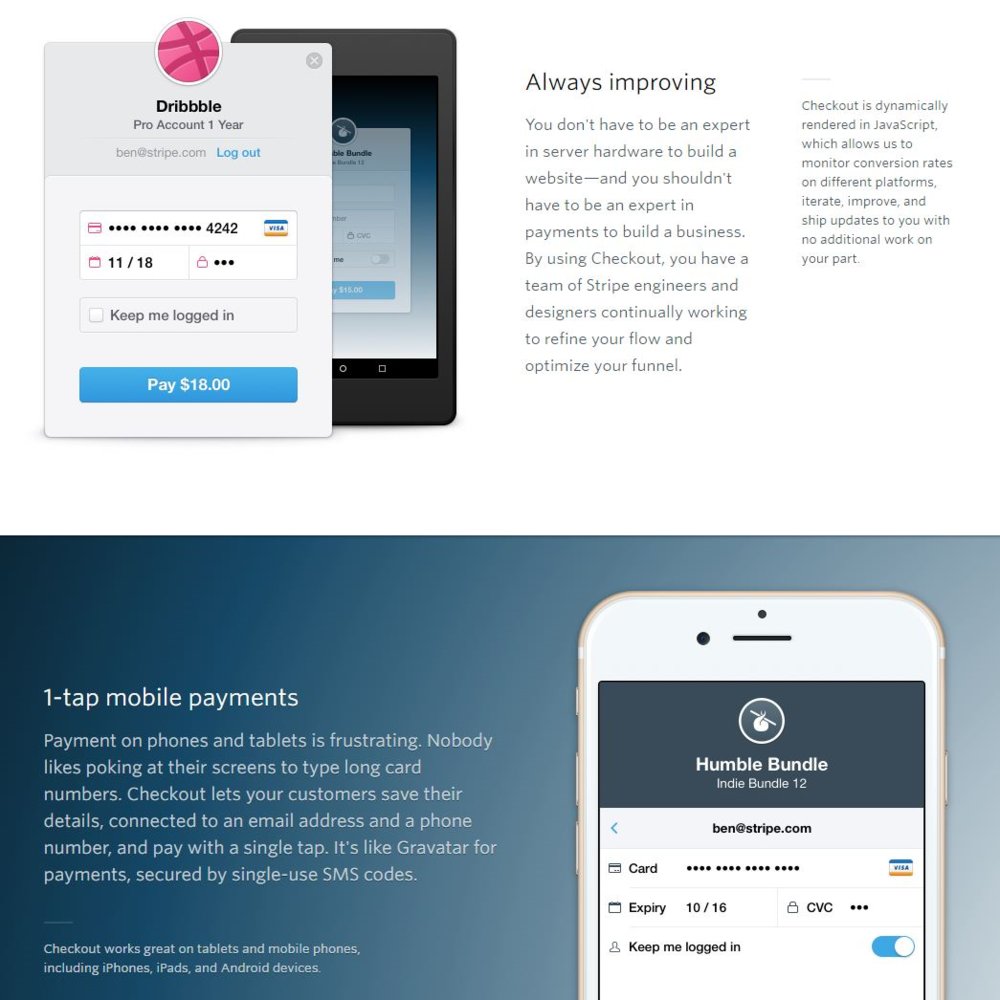 You can embed Checkout, Stripe's prebuilt checkout form, into your website.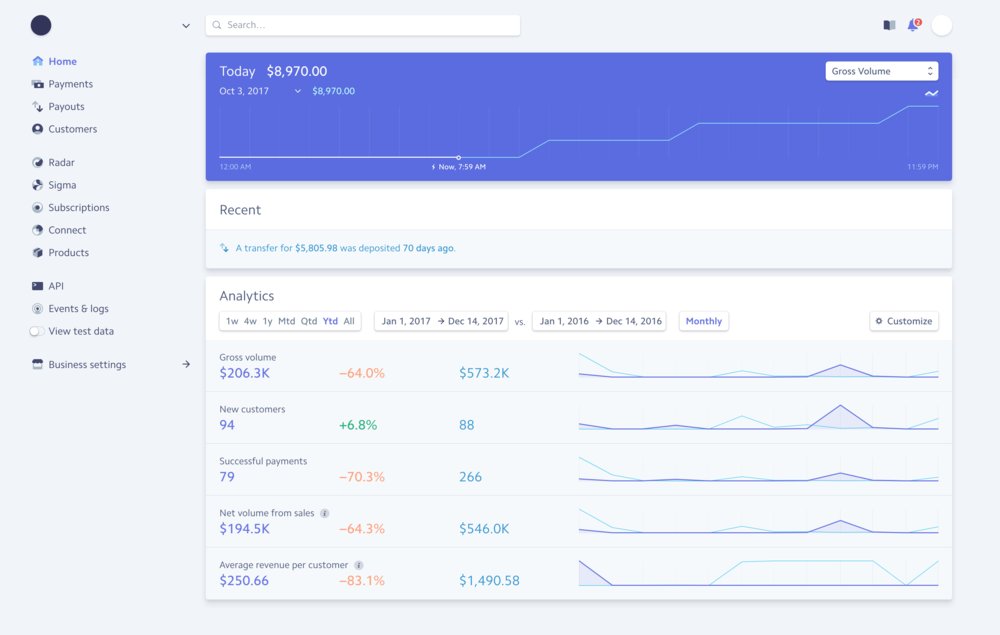 From Stripe's dashboard, you can see an overview of your sales data as well as recent activity on your account, such as fund transfers.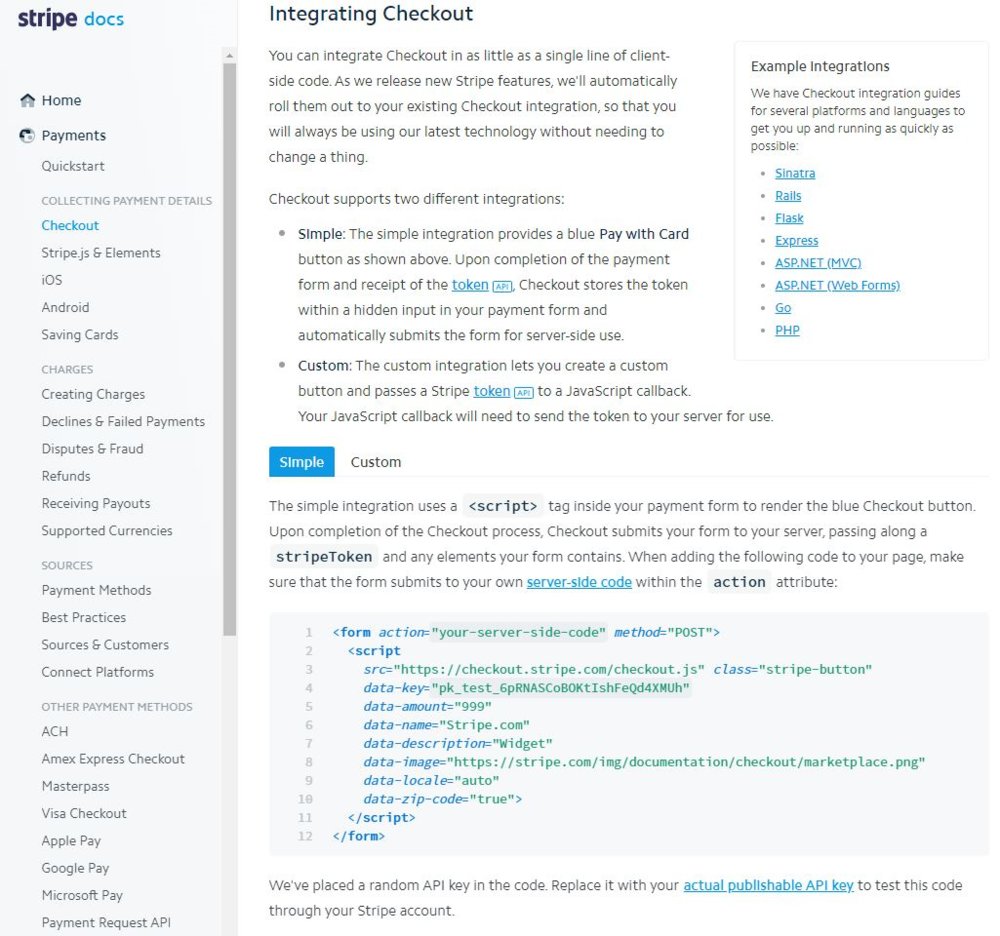 Stripe provides extensive documentation with step-by-step instructions to help you use its online payment processing services on your website.
Stripe is an online payment processing company that works with businesses of all sizes, from small startups to multinational corporations. It's designed to facilitate credit card payments for e-commerce, mobile commerce, subscription as a service, marketplace and platform businesses. We chose Stripe as the best online credit card processor because of its versatility. It integrates with hundreds of e-commerce platforms, shopping cards, and other business software and services. It also has prebuilt checkout forms that can easily embed into an existing website.
Visit our best picks page to see all our recommendations for credit card processing companies.

For businesses with development resources,Square offers APIs and developer tools that allow you to create customized checkout forms or entire payment flows for your website and mobile app. Additionally, it has competitive rates and provides its services on a pay-as-you-go basis, so you're not locked into a lengthy contract. It's also one of the few processors that refunds the chargeback fee if a dispute is resolved in your favor.
Pricing and Terms
The best online credit card processing companies have clear, transparent pricing and terms of service. Stripe is a good example of this, as it posts detailed information about its rates and fees, and you can read all its service agreements on its website.
Stripe has simple flat-rate pricing and charges very few fees. There's no additional cost to use Stripe's integrations, prebuilt checkout form or developer tools. Here's what you'll pay when you accept credit card payments online using Stripe Payments:
You pay 2.9 percent plus 30 cents for domestic credit and debit card payments, no matter what type or brand of card your customer uses, or if they use a digital wallet.
You pay 0.8 percent, with a $5 cap for ACH debit transfers. Stripe also allows you to accept ACH credit and wire transfers, and you can view pricing for these payment methods on the company's website.
Stripe offers volume discounts, and custom pricing is available for businesses that have microtransactions or abnormally large sales tickets. Nonprofits may also qualify for special pricing.
Incidental fees you may encounter while using Stripe include the following:
If you accept international cards, you add 1 percent to the transaction rate, and if currency conversion is necessary, it costs an additional 1 percent.
If a customer disputes a charge and requests a payment reversal, you pay a $15 chargeback fee. If the dispute is resolved in your favor, however, Stripe refunds this fee, which most processors don't do.
If you issue a refund, there's no fee, but it doesn't return the original processing fees to you.
Here's a list of the fees you won't pay when you use Stripe as your online payment processing company:
Application or setup fee
Monthly fee for statements or customer service
Monthly minimum processing requirement
Gateway setup fee
Monthly gateway fee
Annual fee
PCI compliance fee
Early termination or account closure fee
Optional Fees
Stripe offers several other products, such as Stripe Billing, Stripe Connect, Radar for Fraud Teams, Stripe Sigma and Stripe Atlas. If you choose to use them, other fees apply. You can learn more about these products and what they cost on the company's website.
Payouts
One thing you should be aware of is that Stripe's payouts are slower than average. Once you begin accepting credit card payments using Stripe, you must wait seven to 10 days for the company to transfer the money from your transactions into your bank account. After this initial payout, your funds are transferred on a rolling schedule of either two or seven days. Most businesses are on the two-day schedule, but if Stripe considers your business to be a higher risk, you're on the seven-day schedule. If your cash flow is often tight and you need to receive your money faster, you might want to consider a different processor, as most deposit your funds within two days and some, such as PayPal and Square, offer instant transfers for an additional fee.
Terms of Service
Stripe Payments offers its services on a pay-as-you-go basis, so you can close your account at any time without incurring expensive early termination fees. Instead of signing a multiyear contract, you accept a service agreement that you can read in full on the company's website. As with all payment processing companies, you want to take the time to read this document before signing up with the company to make sure it's a good fit for your business and you understand what you're agreeing to.
Like many processors that offer flat-rate pricing with few fees, Stripe doesn't provide you with your own merchant account, and instead sets you up as a sub-merchant under its master merchant account. This has some advantages, such as faster account setup that doesn't require a credit check and simplified PCI compliance with no PCI-related fees. However, Stripe and other merchant aggregators receive a lot of complaints online about frozen funds and sudden account terminations. You can reduce your chances of experiencing these issues by reading the service agreement and complying with its terms. You want to make sure that …

Your business type and the products and services you sell aren't on Stripe's prohibited businesses list.
You'll use Stripe's services as they're intended to be used. For example, you can't use Stripe Dashboard as a virtual terminal except in rare circumstances. Using it in this manner on a regular basis is specifically forbidden in the service agreement.
You'll comply with network rules and do your part to keep card data secure, in accordance with PCI standards.
As Stripe explained in a letter to the Better Business Bureau, per its service agreement, Stripe reserves the right to hold your funds in a reserve account if it suspects there's a risk of loss or fraud, or if you have a lot of chargebacks. It may close your account if it determines your business is a fraud or credit risk or if you offer products or services on its prohibited businesses list, use the service in an unauthorized way, or violate terms of the agreement.
Features
Stripe says that it offers more than 100 features, and this wealth of capabilities allows many different business types and sizes to use Stripe as their online payment processing service. You can choose from premade solutions that you connect to with just a few clicks or payment flows custom-built by your development team. Stripe is regularly updated, and each month the company posts a changelog on its blog that shows new features or improvements to its existing capabilities. Here are some of the products and features Stripe offers.
Integrations
The easiest way to use Stripe is to connect to it from one of the business applications you already use. Stripe offers hundreds of integrations across multiple categories so you can start accepting credit card payments quickly, then automatically sync your sales data to the other programs you use. For example, if you use an e-commerce platform for your online store, you can choose Stripe as your payment processor and connect to your account with just a few clicks. You can then connect your Stripe account to many of the other programs you already use, such as your accounting, invoicing, inventory management, CRM and marketing software. Plugins for third-party services are also available.
Checkout
The second easiest way to use Stripe is to embed Checkout, a premade checkout form, into your existing website. To do this, you copy and paste a few lines of JavaScript. The form keeps the customer on your website instead of redirecting them to a processor-hosted payment page. Checkout tokenizes your customer's payment data so it's never stored on your server.
Stripe Elements
If you have some coding skills, you can use Stripe's prebuilt UI elements – input fields and buttons – to create a customized checkout form that complements the look and feel of your website. As with Checkout, Stripe takes care of the heavy back-end coding – all you're doing is customizing the look and format of the checkout form.
Stripe.js
This option requires more development know-how, as it allows you to use Stripe's JavaScript library and APIs to build a checkout form of your own.
Stripe Billing
This API allows you to create a customized solution for recurring payments and subscription billing. You can decide how to charge customers, such as a flat recurring fee or a charge based on product usage or tiers. You can choose how frequently you bill your customers and offer discounts and trial periods.
Stripe Connect
Stripe can provide payment services for marketplaces and platforms, taking care of onboarding users, managing payments, handling compliance issues, tax reporting and more.
Mobile Options
If you have a mobile app, you can boost sales by adding Stripe's checkout capabilities to it, letting your customers shop and complete purchases with it. Stripe payments are currently supported on iOS and Android devices.
Digital Wallet Support
Stripe allows you to accept payments with digital wallets. In addition to Apple Pay and Google Pay, it supports Visa Checkout, Masterpass by Mastercard, Amex Express Checkout, Microsoft Pay, Alipay and WeChat Pay.

International Currency Support
For businesses with customers outside the U.S., Stripe is a good option because it allows your customers to pay with their local currency. Stripe then converts it, so you receive your funds in your currency. It supports more than 135 currencies.
Dashboard App
Available for both Android phones and iPhones, the Stripe Dashboard app allows you to track your sales when you're away from the office. You can view daily summaries, reports and historical comparisons on the Android version. On the Apple version, you can also issue refunds, email customers, search transactions and set alerts.
Reporting
You can view your sales data and account balance history in the dashboard. It has several built-in reports, and you can export your data to CSV files. If you integrate Stripe with other programs, such as your accounting software, it automatically syncs to that application. If you want advanced reporting capabilities, you can use Stripe Sigma for an extra cost.
Additional Considerations
Here's some additional information about Stripe to keep in mind as you select a payment processing company for your business.
Security: Stripe takes data security seriously and has multiple security protocols in place to keep your customers' payment data secure. It uses tokenization technology, so no actual payment data is stored on your servers, and includes Radar, its fraud-prevention tool, with every account.
PCI compliance: Stripe is a PCI Service Provider Level 1, the highest certification available, but you're still required to comply with PCI data security standards and complete a self-assessment questionnaire each year. It doesn't charge a PCI compliance fee.
Customer support: If you need help using Stripe, you can email the company or use its online resources, which include searchable documentation, reference guides, articles, tutorials and FAQs.
Drawbacks
Stripe is unique in that it's designed for developers, and while this is one of the reasons it's such a versatile product, it can be overwhelming for small business owners who aren't developers. Even figuring out how to use Stripe and where to find its easy-to-use products, such as its integrations and Stripe Checkout, is challenging, and you may need to hire a developer if you want any customizations. Here are some additional points to consider before signing up with Stripe.
Payouts are slow. It takes Stripe two to seven days to transfer your funds into your bank account. On average, other processors take one or two days.
Stripe doesn't provide inbound phone support. If you run into a problem while using Stripe, you'll have to email the company.
Stripe is exclusively an online credit card processing company. It doesn't offer a virtual terminal, card readers or in-store payment processing options. If you use Stripe for your online business but want to expand your service to include in-person sales, you'll need to work with a company that integrates with Stripe and offers these capabilities.
As discussed above, Stripe is like other merchant aggregators in that it's warier of risk than full-service processors. It may hold your funds or close your account if you have a lot of chargebacks or if there's something irregular about your transactions, such as an abnormally high sales ticket, that makes Stripe suspect fraudulent activity.
Editor's note: Looking for a credit card processor? Click the Compare Quotes button below to have our sister site Buyer Zone connect you with vendors that can help.

Ready to choose your The Best Credit Card Processors of 2019? Here's a breakdown of our complete coverage:

Lori Fairbanks
Lori Fairbanks has years of experience writing and editing for both print and online publications. After graduating from Brigham Young University with a Bachelor of Arts in English, she worked as a magazine editor and then as a freelance writer and editor for a variety of companies, including marketing firms and a medical university. She now writes for Business.com and Business News Daily about financial systems and services for small businesses, such as accounting software, credit card processing and point-of-sale systems.