Finding qualified, full-time development and engineering employees who are right for your business is tough. The process is made even harder by an ongoing skill shortage that's also driving up the cost of hiring. But you might not need a full-timer, especially if you just want help with a specific problem or upcoming project. 
The best websites for finding developers
The internet provides a litany of freelancing websites for you to trawl through to see if there's someone out there who can fulfill your needs. The prospect can be exciting and daunting. These directories are useful for the sheer volume of candidates that are accessible to you, but frustrating because there are simply too many to comb through. 
We're going to make the process easier by detailing some of the best options out there. Here are the best freelance websites to help you find a star developer for your team.
1. Toptal
Toptal connects startups and businesses with the top 3 percent of software engineers around the world.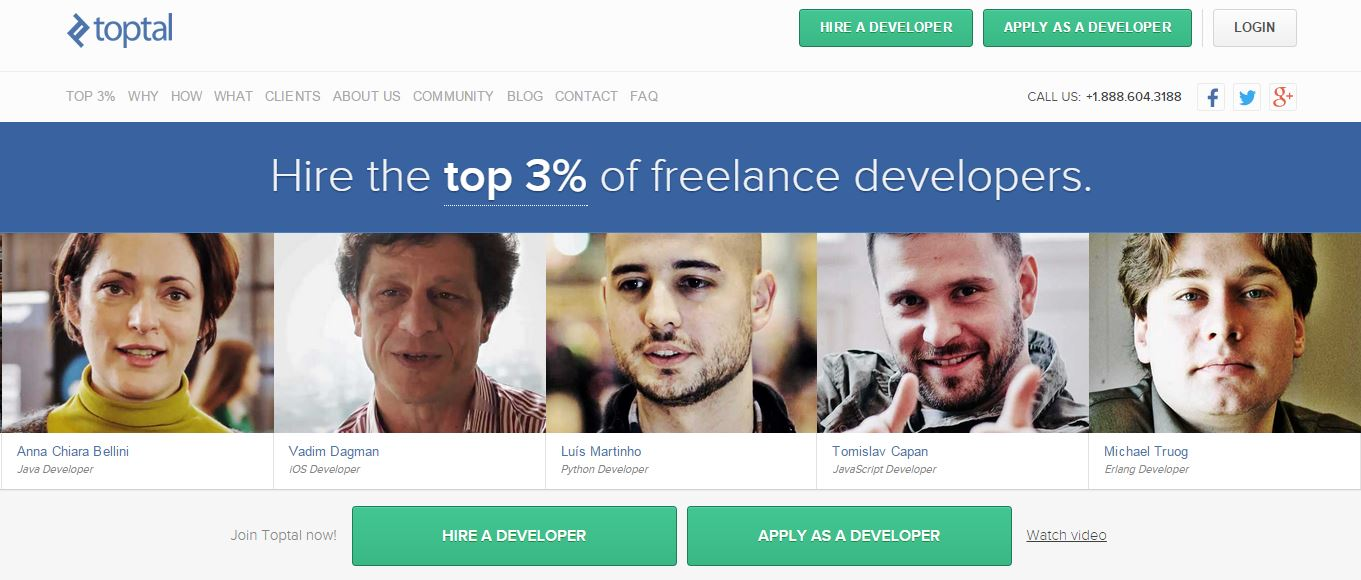 Image source: Toptal
Toptal requires all applicants to pass the following assessments:
A language and personality test
A timed algorithm test
Technical screenings with other Toptal engineers
A test project
If they're accepted, they must commit to maintaining a perfect track record in their work with clients.
Compared with how challenging it is for freelancers to be listed on the site, getting started on your end is quite simple. First, you'll tell Toptal how many engineers you need and the type of technology your freelancers will be working with. Then, the Silicon Valley-based company provides a list of possible matches. If they don't find someone for you right away, they keep looking.
It's up to you which freelancers become part of your team. And if you feel you made the wrong choice, all fees are waived and the vendor starts the search again.
Pros
A tough screening process ensures quality candidates and saves you screening costs.
The vendor offers a 100 percent risk-free trial.
Cons
This site can be more expensive than other options, as fees rise depending on market demand for particular skills, freelancer experience and so on.
Freelancer categories: Developers | Designers | Finance Experts | Project Managers | Product Managers
2. Upwork
Log into Upwork and create a listing describing the type of job you need done. You'll have an audience of hundreds of thousands of programmers and developers to promote the work to.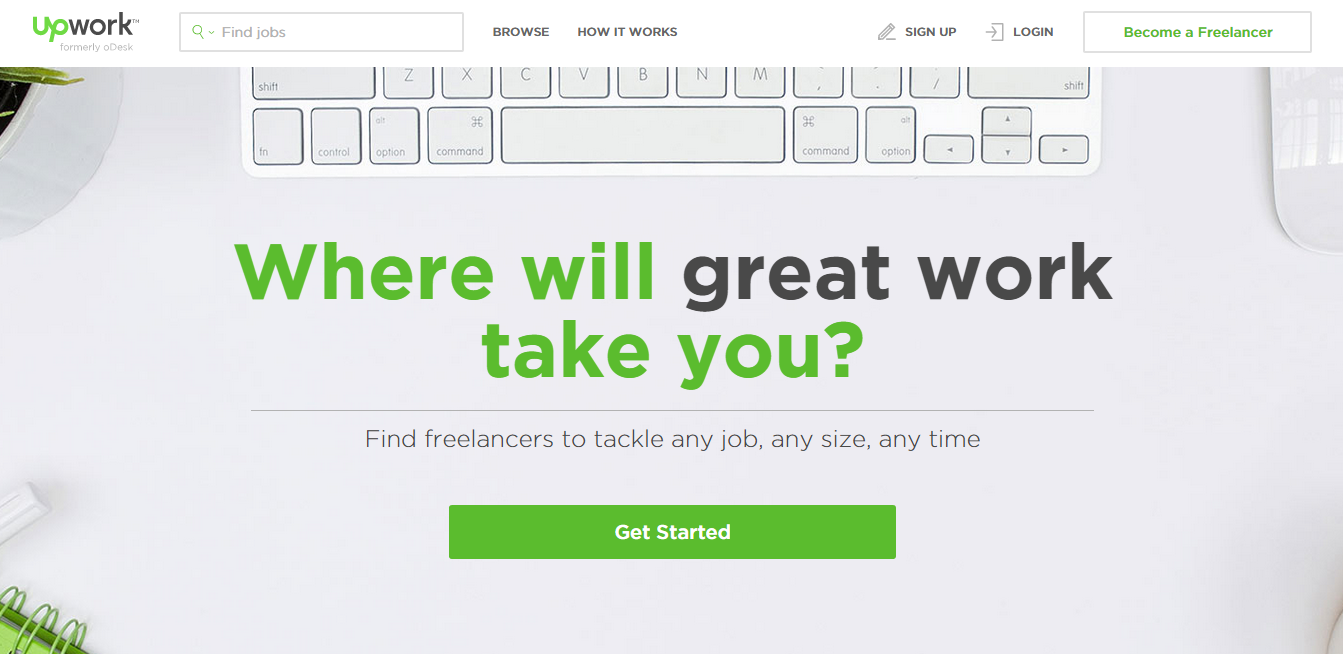 Image source: Upwork
You can advertise practically any job — big or small, individual or team, short term or long term. Freelancers then pitch you for the opportunity, which allows you to compare profiles, prices, feedback and portfolios before picking the best person for the gig.
You can pay by the hour or by project via Upwork's payment system. The vendor keeps part of the fee.
Pros
The high volume of bids reduces labor costs.
The site offers a secure and easy online payment system.
A network of thousands of ready-to-work developers is available.
Cons
The platform does not offer verification guaranteeing how skilled a freelancer actually is.
A high number of bids can result in pricing fixation and lead to a lack of quality.
There is often a long cycle from job posting to project completion.
Freelancer categories: Accounting & Consulting | Admin Support | Customer Service | Data Science & Analysis | Design & Creative | Engineering & Architecture | IT & Networking | Legal | Sales & Marketing | Translation | Web, Mobile & Software Development | Writing
3. Guru
Guru is similar to Upwork but offers a better search experience, as this site allows you to filter freelancers by their specialties, categories, location, feedback, rate and more. This makes it easier for top freelancers to stand out from the crowd.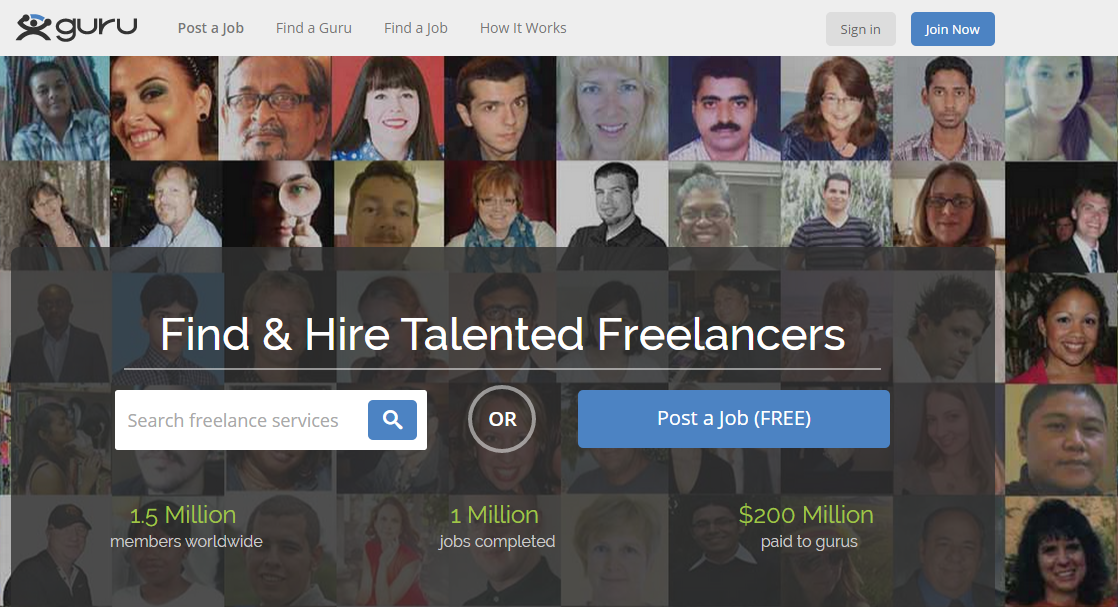 Image source: Guru
When a project is underway, you and your freelancer manage it through the platform's Work Room. This is where you can share project deadlines and milestones as well as simply communicate with the contractor. Payments can be made through the Guru SafePay system or by invoice. With SafePay, you deposit money into Guru's SafePay account and the vendor pays the freelancer only after you approve the work.
Guru charges clients (in this case, your business) 2.9 percent of the invoice value. They charge freelancers up to $50 a month and up to 9 percent of the job fee. While developers might find those costs a little too steep for their liking, Guru's fees can help ensure commitment and quality work. 
Pros
The platform offers a refund system if you are not satisfied with the work.
You have the ability to search for freelancers easily via the site.
Guru offers a secure payment system with funds only transferred upon your approval of the work.
Cons
The freelancer pool is limited because of high fees.
Freelancer categories: Programming & Development | Writing & Translation | Design & Art | Administrative & Secretarial | Sales & Marketing | Engineering & Architecture | Business & Finance | Education & Training | Legal
If you want to connect business software with your website, you need to know which questions to ask a web developer before hiring them. Your questions should center around their experience, how much of the work they do themselves, and whether they want to be paid by milestone or upon completion.
4. Freelancer
Freelancer.com lets you list your project and receive competitive bids from freelancers. The site also has a reputation system to simplify the process of finding the right worker. Each freelancer's reputation is determined by client scores for jobs completed and performance (such as whether projects were delivered on budget and on time) and by the freelancer's frequency of repeat client hirings.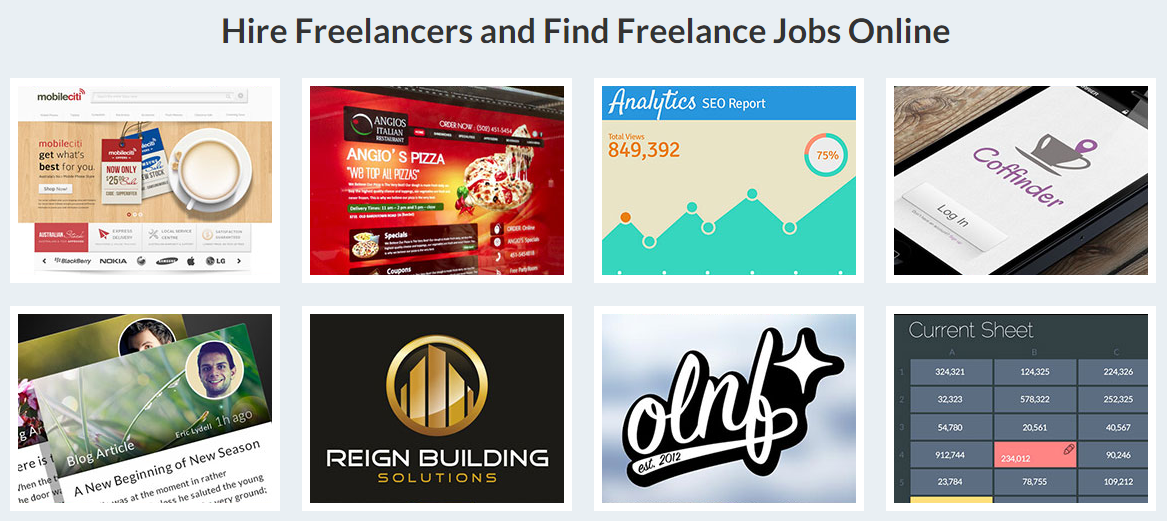 Image source: Freelancer.com
In addition, you can pay for upgrades to your listing, such as marking your project as featured within the posting system or having Freelancer's recruiters help you screen candidates.
Pros
Freelancer has a huge talent pool of freelancers, many of whom are based in lower-wage economies and may charge less.
The site is great for project-based work.
Cons
A hefty 20 percent freelancer fee may result in higher client prices as freelancers pass the cost on to you.
The platform is home to 65 million freelance members with little to no verification of their actual skills.
Freelancer categories: Websites, IT & Software | Writing & Content | Design, Media & Architecture | Data Entry & Admin | Engineering & Science | Sales & Marketing | Business, Accounting, Human Resources & Legal | Product Sourcing & Manufacturing | Mobile Phones & Computing | Translation & Languages | Trades & Services | Freight, Shipping & Transportation | Telecommunications | Education | Health & Medicine | General
5. Fiverr
You probably won't get what you want for a fiver on Fiverr, but this platform does offer businesses access to tens of thousands of programmers and developers.
Freelancers' profiles introduce who they are and what services they offer. Many feature job thumbnails and introduction videos. They generally advertise three versions of each product — a basic, standard and premium version — with the basic price listed on freelancer catalogs to draw in visitors.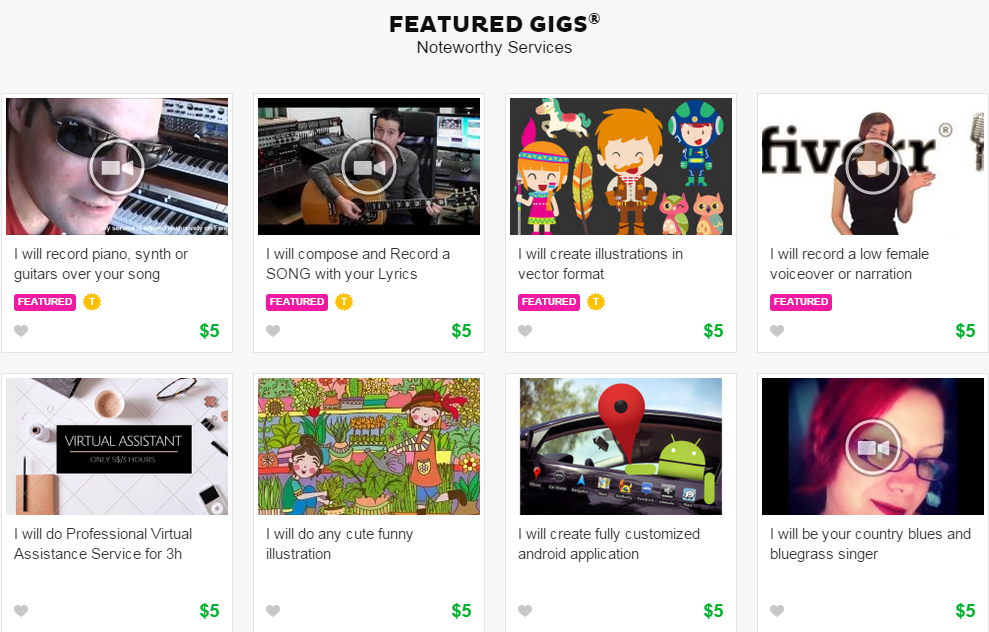 Image source: Fiverr
Clients pay a 5.5 percent fee on top of the purchase amount, plus an additional $2 if the purchase amount is under $50.
Pros
The platform's review system for freelancers includes comments from previous clients.
A quick turnaround is available from many freelancers.
Cons
The site is best for smaller projects or jobs.
In many cases, the premium service offered is the one you want, but it costs multiple times the basic option.
Freelancer categories: Graphics & Design | Digital Marketing | Writing & Translation | Video & Animation | Music & Audio | Programming & Tech | Data | Business | Lifestyle | Photography
Many developers have preferred cloud service providers. You might already be signed up to Microsoft Azure, while your freelancer might want to work with Amazon Web Services (AWS) instead. In this scenario, have them justify their preference by asking them to provide an Azure versus AWS cloud comparison showing why you should switch.
6. UpStack
As a network of engineering talent, UpStack helps small businesses expand their development team without having to permanently hire anyone new.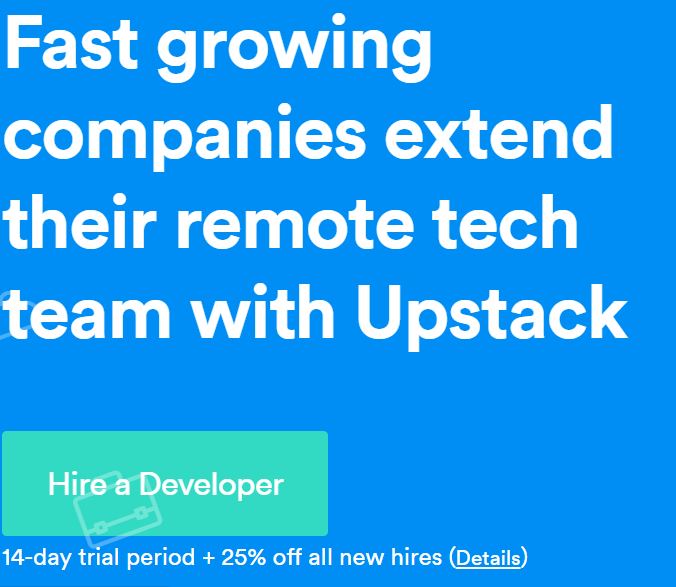 Image source: UpStack
UpStack developers undergo vigorous vetting, so you'll only be working with the top 1 percent of applicants. To get started, you'll have a 15-minute call with the UpStack team, which will then send you a shortlist of candidates to interview. When you've chosen who you want to work with, the job is managed via the UpStack platform. If you're not happy with your choice, let Upstack know within two weeks and they'll waive their fees.
Pros
A two-week trial period is available.
The site has developers that specialize in particular categories as well as full-stack developers, which is ideal for project management.
Cons
With only 650 developers in the network, you may have trouble finding the talent you need during busy periods.
Expect to pay $65-75 per hour for your developers and a deposit of $399 after selecting a developer.
Freelancer categories: Frontend Developers | Full Stack Developer | Java Developers | Node.js Developers | Python Developers | React.JS Developers
7. PeoplePerHour
You can find programmers and developers in three ways on PeoplePerHour. The first way is to browse "Hourlies," which are fixed offers from freelancers who are ready to begin right away (similar to Fiverr). The second option is to post a job and wait for proposals to roll in. The third option allows you to search the directory of freelancers and contact them directly.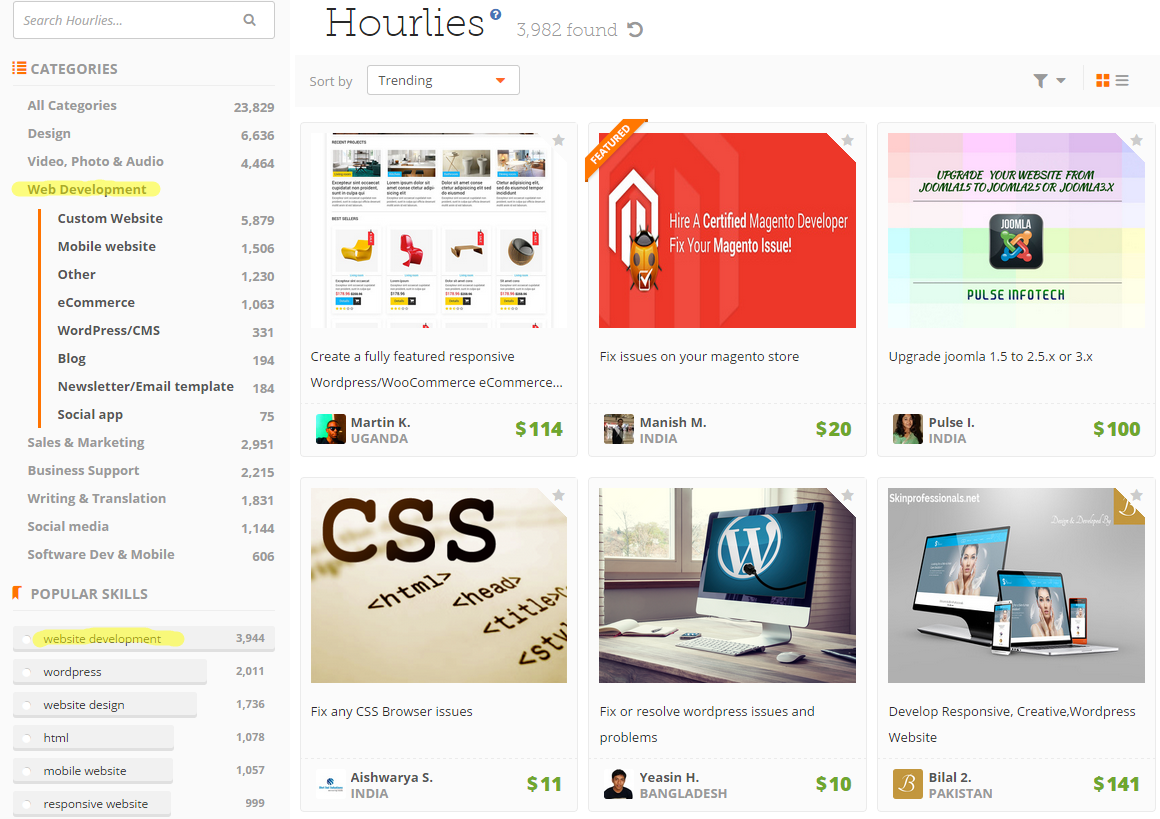 Image source: PeoplePerHour
Within PeoplePerHour's system, you can manage your project, communicate with your contractor, and pay them for a job well done.
Pros
Fixed-price Hourlies provide quick turnaround, sometimes in as little as 24 hours, depending on the work involved.
The healthy competition for work among freelancers means you can get a good deal for your job.
Cons
The site is not designed for longer-term projects.
You need to make a down payment for work to start.
This platform is UK-focused, so freelancers operate in a different time zone than U.S. businesses.
Freelancer categories: Technology & Programming | Writing & Translation | Design | Digital Marketing | Video, Photo & Image | Business | Music & Audio | Marketing, Branding & Sales | Social Media
8. Gigster
More of a specialist platform than the others, Gigster connects businesses with developers to work on blockchain, NFTs, artificial intelligence and machine learning, Internet of Things, cloud, and enterprise software build projects.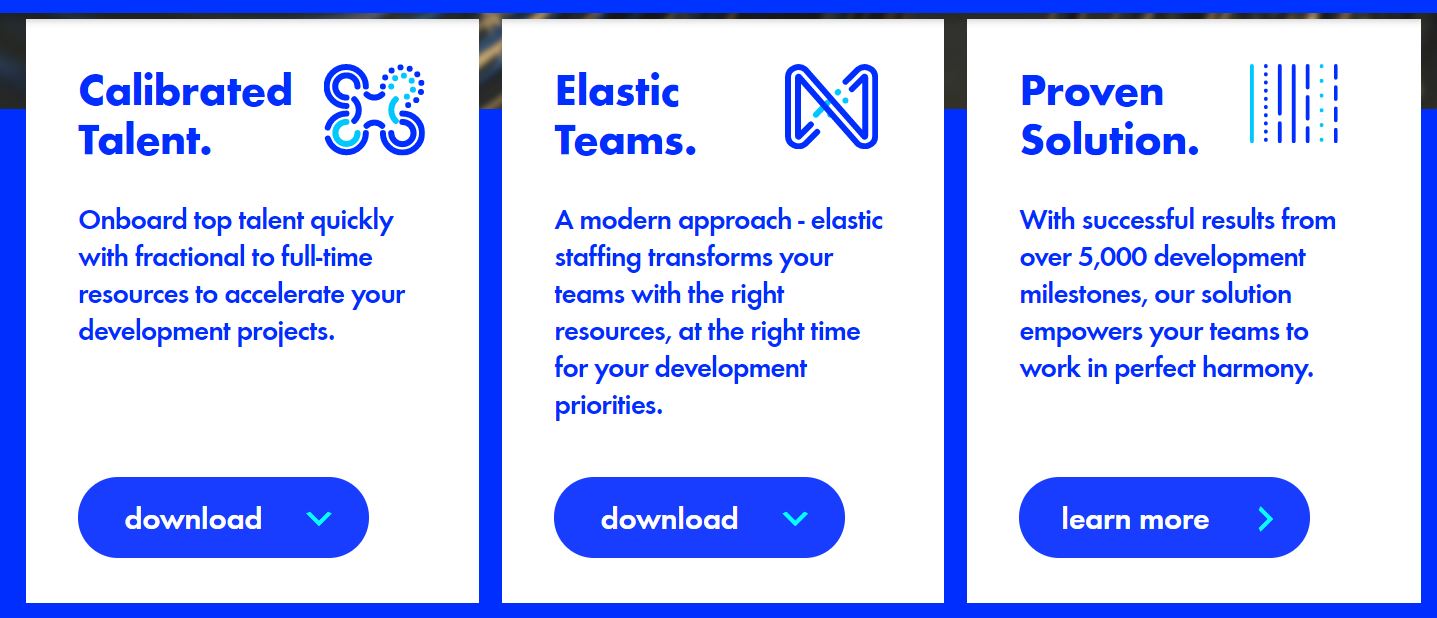 Image source: Gigster
The vendor has 800 developers, 200 project managers and 100 designers signed up to the service. Gigster claims, like UpStack, that its freelancer pool represents the top 1 percent of global talent on the market.
Pros
It connects your company with a full development team.
The platform matches your business with product managers who help handle the ins and outs of the job.
Cons
No direct pricing information is available.
Setup requires more than a couple of days to get going.
Freelancer categories: Blockchain/NFT | Artificial Intelligence/Machine Learning | Virtual Reality/Augmented Reality | Cloud and Backend | Internet of Things (IoT) | Web and Mobile | eCommerce | Enterprise Software | Application | QA Automation | UI/UX | Security
When negotiating with a freelancer, try to agree on a fair price, but make sure what you offer reflects both their market worth and the value their work will add to your business.
9. Dice
With more than three million tech professionals registered on its tech and IT job board, Dice is a strong tool for finding freelancers.

Image source: Dice
Like some other job boards in this field, a single job listing costs approximately $400. Keep in mind, however, the importance of the development work. This expense may be worth it for your business.
Pros
There is a large database of users.
The platform offers an easy-to-use interface.
Straightforward search tools help match candidates to your needs.
Cons
Each listing costs hundreds of dollars.
Freelancer categories: Cryptocurrency | Blockchain | Docker | JavaScript | SQL | Artificial Intelligence | Big Data | Chef | MATLAB | Django | MongoDB | TensorFlow | Agile | Machine Learning | Kanban | C# | GraphQL | Data Mining | Neural Networks | Scala
10. Authentic Jobs
This job board is aimed at helping big and small companies find designers, developers and creatives to help fill empty roles. 

Image source: Authentic Jobs
Part-time, full-time and freelance positions make up the listings, and all kinds of industries are represented. Unlike other job boards, Authentic Jobs has a lower job listing price of $149 per month, or $199 per month for a featured listing.
Pros
The site offers cheaper job listing prices.
This platform can also help you find designers and creatives.
The job board comes with a money-back guarantee.
Cons
The simplistic application process could leave more to be desired.
Freelancer categories: Artificial Intelligence | Backend Engineering | Frontend Engineering | Copywriting | Customer Support | Design | Marketing | Sales | Operations | Product Management