Businesses will face growing challenges throughout 2023 as they deal with economic headwinds and changing customer spending habits. Smart companies are navigating this by leveraging efficiencies wherever they can. This doesn't always mean cutting costs; sometimes, investing in new software tools and technology can provide the efficiencies that organizations seek. For companies looking to streamline their sales processes and deal with rising costs, customer relationship management (CRM) tools may be something to consider strongly.
The purpose of this annual report is to explore the current state of adoption and usage of CRM platforms such as Salesforce, Hubspot, Zoho, Monday.com, or FreshSales. To examine the market, we asked business decision-makers at small to medium businesses how they leverage CRMs to improve efficiency and maximize profits, as well as their plans for future CRM usage. We define small to medium businesses (SMB) as companies with less than 250 employees.
Key Findings
25% of small to medium businesses currently use CRMs, and another 10% of non-users are considering implementation.
The most popular CRMs for small to medium businesses were Salesforce and Microsoft Dynamics.
61% of organizations that use CRMs report improved retention due to using the tools. Another 14 percent said their cost per conversion decreased when they implemented CRMs.
32% of organizations using CRMs reported their biggest challenge was lack of expertise among users, highlighting the need for improved training.
What is CRM Software?

Customer relationship management (CRM) software is a type of software that companies can use to manage their sales and marketing communications with current and potential customers. Common CRM features include lead management, customer data management, sales forecasting, social media monitoring, workflow automation, reporting, and third-party integrations.
Current CRM Usage Among Small Businesses
---
CRMs have a proven track record when it comes to improving an organization's workflows and improving revenue. However, our data has shown that many companies still need to leverage these tools. Only 26% of small businesses reported using CRMs currently, with 9% saying they plan to implement CRMs this year.
Technology and scientific companies were most likely to use or consider using CRMs (54%). Retail companies were next, with 40% reporting the use or consideration of CRMs.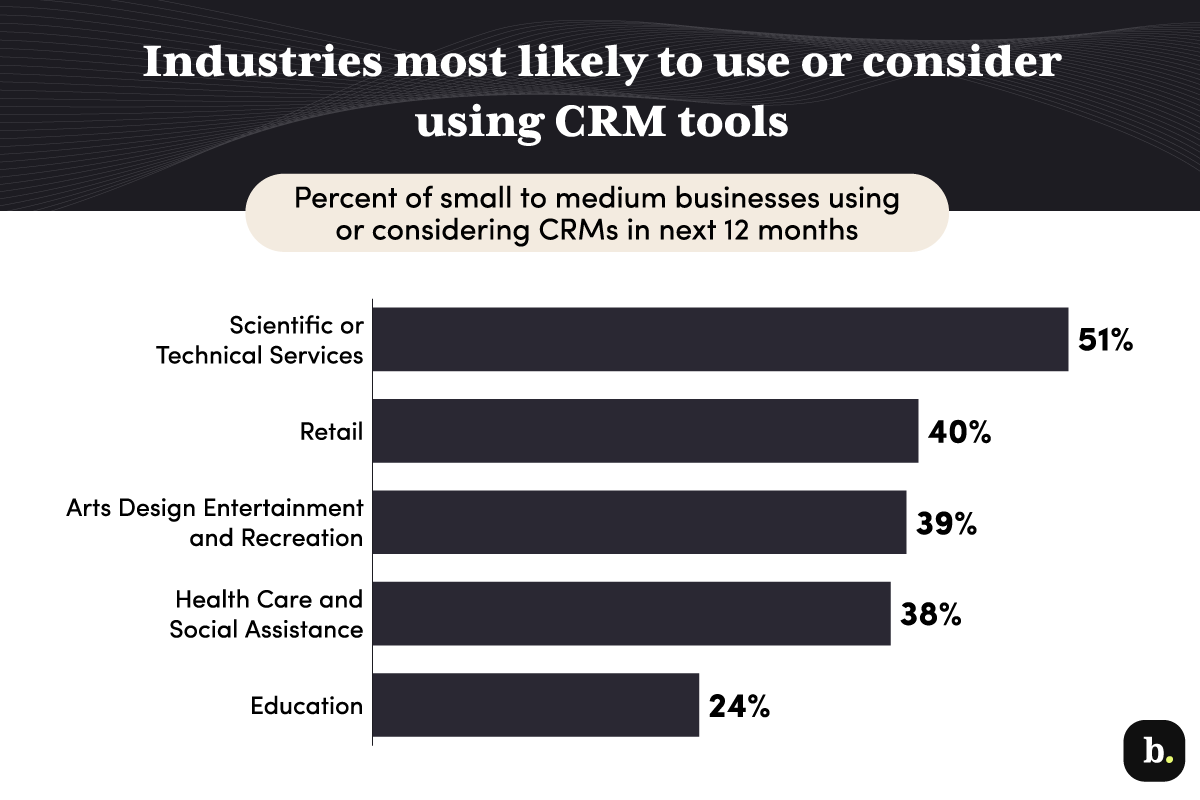 Technical and scientific companies may be more willing to adopt new technology or tools earlier than other industries. They are also generally more focused on analytics and metrics, which may account for the higher usage.
Similarly, retail is an industry that relies heavily on metrics and analytics to measure sales, trends, and margins at more granular levels. It stands to reason these two industries will gravitate towards a CRM more than others. However, even with this, our numbers show that most smaller retail businesses are not using a CRM, something the Harvard Business Review warned against in a recent article
A reason for this hesitation may be that businesses are often bombarded with various SaaS (software as a service) options. Each category, even in the CRM sector, has a dozen or more choices, and companies may be weary about having to go through and test each one to decide on the right choice.
However, there are ways to improve and streamline the decision-making process. For example, teams can audit the features they truly need the most or seek feedback from the current users of a particular CRM.
Our study of the top 5 CRMs found that over 80% of users would recommend their chosen CRM. This suggests that many of the popular CRMs are capable of meeting the needs of most businesses. Therefore, the goal should not be to find the "perfect" CRM, but rather to find the CRM that best fits your company's core workflows and environment.
Most Popular CRMs Among Small Businesses
Our survey found that Salesforce is the clear leader among small businesses. It was used at over twice the rate of the closest competitor.
Top 5 CRMs used by small businesses
Salesforce (35%)
Microsoft Dynamics 365 Sales (16%)
Hubspot (7%)
Oracle NetSuite (CRM) (6%)
Zoho CRM (6%)
There are several likely reasons for Salesforce holding the top spot. First, it's a market leader with the most name recognition among sales professionals. Large enterprise customers like Amazon and Wal-Mart are also listed as Salesforce customers, lending to its credibility.
Another reason Salesforce leads in market share is its helpful and productivity-boosting integrations. Salesforce has over 2500 integrations with popular productivity apps and even other CRMs. In comparison, offerings from Zoho or Hubspot have 500 and just over 1000 integrations, respectively. Integrations allow users to automate processes, ensure their customer data is accurate across platforms, improve collaboration across teams, and improve their customer experience.
Impact Of CRM On Small Businesses Bottom Line
A critical part of our research was to understand how exactly CRMs were helping small businesses. This data can help other small businesses decide if these tools can address their problems or help them reach their goals.
Overwhelmingly, 83% of small businesses reported that their spending on a CRM resulted in a positive ROI. Additionally, 87% of small businesses responded that a CRM is "very important" to running their company.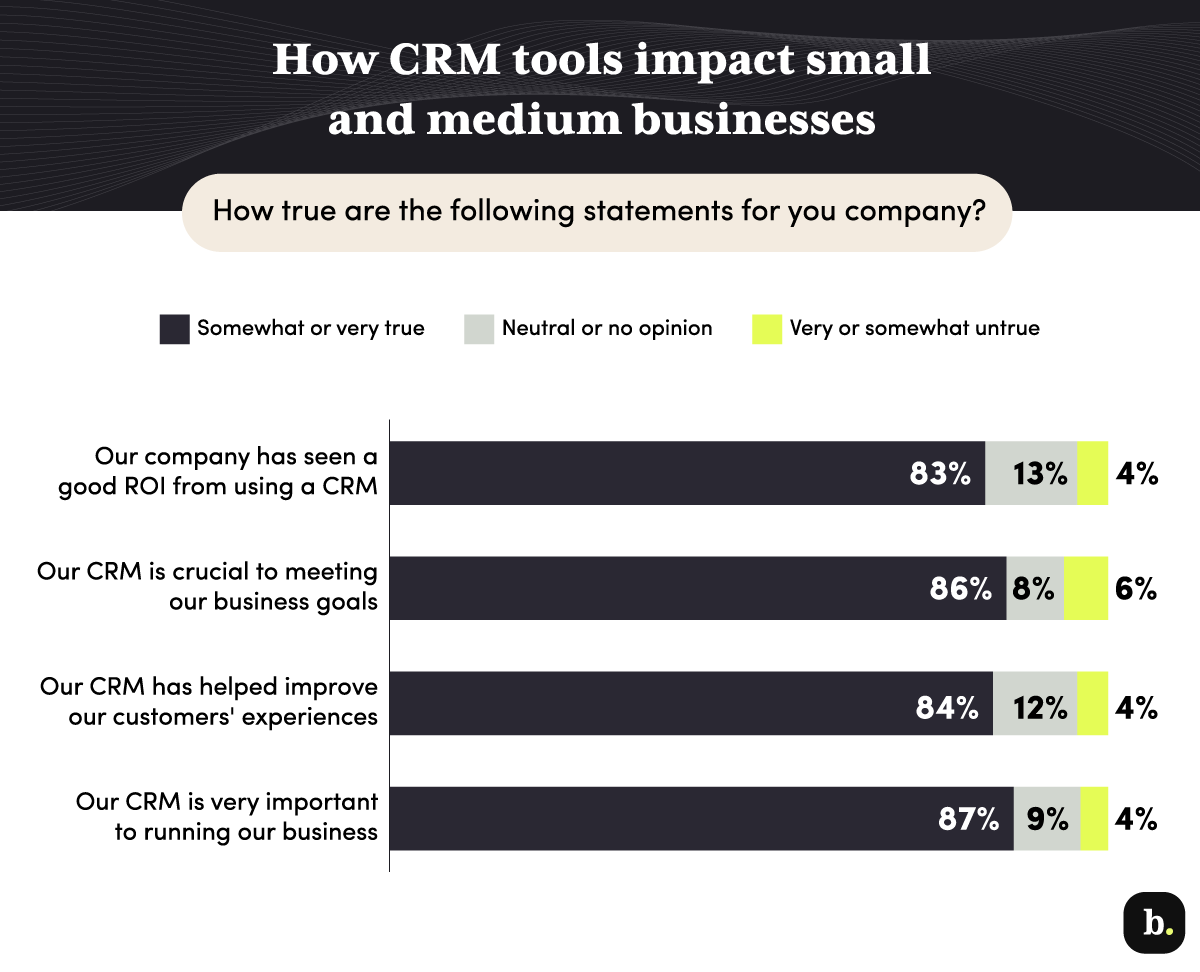 Our research shows that while only a small number of businesses are currently looking to adopt a CRM, those that do are finding it to be an indispensable tool. In fact, nearly 90% of businesses that use a CRM find it to be a worthwhile investment of both time and money.
Our data also uncovered other vital benefits when small businesses adopt a CRM. The most mentioned benefit was reporting accuracy and overall efficiency.
Reporting and forecasting often make the difference between businesses that excel in difficult economic times and those that struggle. Accurate forecasting and analytics give businesses crucial and actionable data to make decisions. These informed choices lead to growth with higher success rates than simply guessing on market or customer trends.
Many small businesses use spreadsheets or even paper and pen to track data. However, these methods lead to errors, inefficiencies, and increased overhead as managing all these documents becomes a chore.
76% of small businesses said their teams experienced higher reporting accuracy when adopting a CRM. Similarly, when asked which CRM function was most important to their business's goals, reporting accuracy ranked first.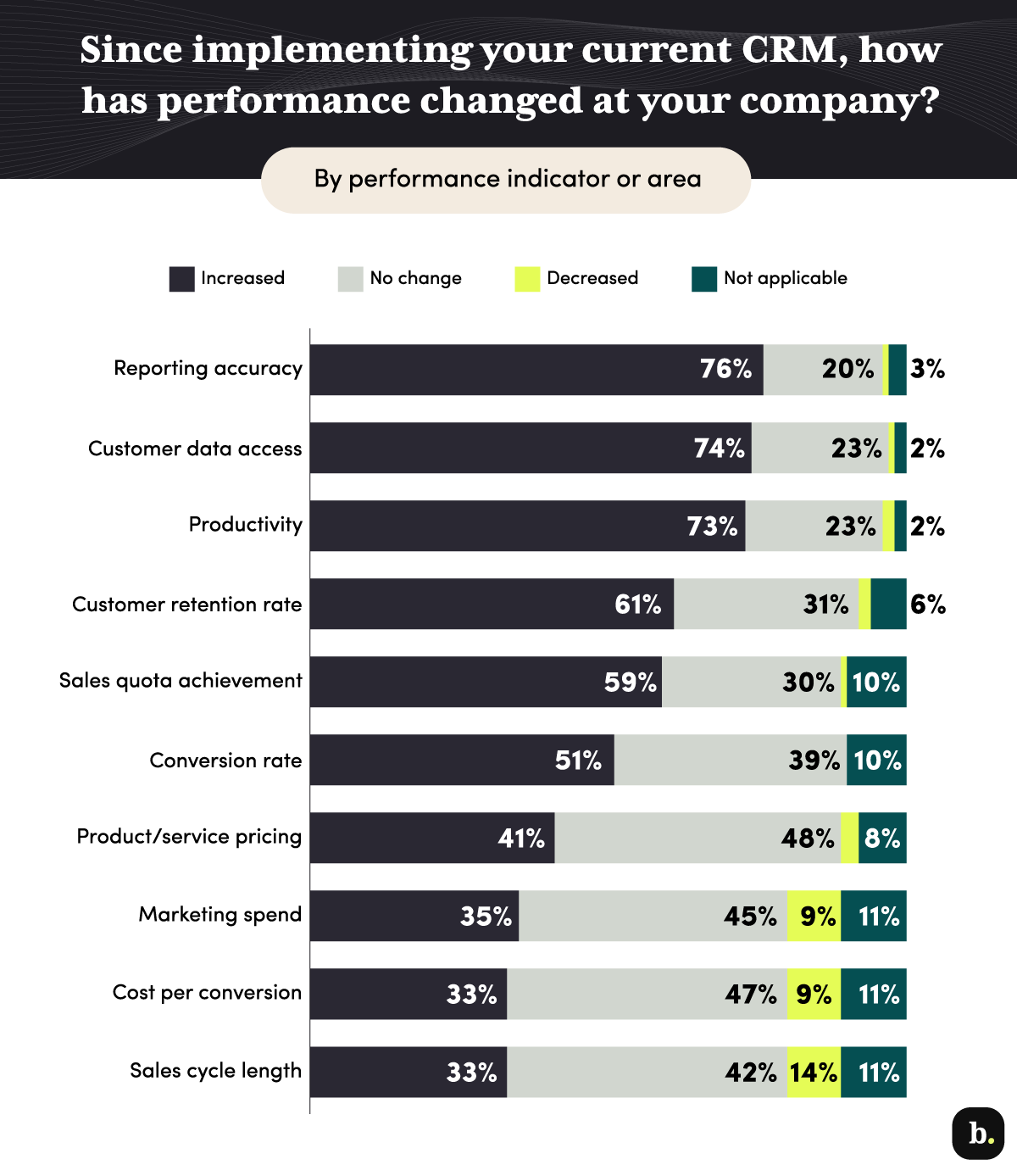 Improved productivity was a benefit of CRM implementation for 73% of small business professionals in our study. When businesses are focused on efficiency to tighten budgets, increasing productivity can be just as crucial as cost-cutting, but without many downsides.
We found that 41% of small businesses reported that using a CRM caused them to change their product/service pricing. What this means is that businesses were able to more accurately price their products and services to both maximize profits and also be competitive in the marketplace.
Such fine-tuning to pricing structures can only be done when the business has accurate reporting and analytic tools, and a CRM allows for that type of informed change to maximize pricing.
CRMs can help small businesses reduce marketing spend and improve efficiency. We found that about one in ten users said their marketing costs decreased when they started using a CRM. This is important since 29% of businesses are slashing their 2023 marketing budgets in response to economic conditions.
CRMs can help small businesses make the most of their marketing budgets by providing a number of benefits, including:
Data collection: CRMs can collect data on customer interactions, such as website visits, email opens, and phone calls. This data can be used to create more targeted marketing campaigns.
Customer analytics: CRMs can analyze customer data to identify trends and patterns. This information can be used to improve customer segmentation and targeting.
Social media integration: Some CRMs integrate with social media platforms, such as Facebook and Twitter. This allows businesses to manage their social media accounts from a single platform and track the effectiveness of their social media campaigns
Most important CRM features for small businesses
CRM tools have many features and benefits today, but the most features for small business users are reporting tools, customer support, and sales forecasting.
Reporting and analytics are essential for businesses to track their performance and make informed decisions. CRM software can provide businesses with rich data on their customers, sales, and marketing activities.
| Which CRM features/benefits are most important to your company's goals? | Percent of users |
| --- | --- |
| Reporting/analytics | 37% |
| Customer service and support | 32% |
| Sales tracking/forecasting features | 27% |
| Simple interface/user-friendly | 21% |
| Lead tracking and qualification tools | 20% |
| Email marketing tools | 20% |
| Data security | 18% |
| Price analytics | 15% |
| Social media marketing tools | 14% |
| Cloud-based software | 12% |
| Customizations | 12% |
| Web analytics | 11% |
| Templates/tools that relate directly to my industry | 10% |
| App Integrations | 10% |
| Mobile app availability | 8% |
| AI, automation, machine learning | 7% |
| User onboarding and continued training | 7% |
| Scalability | 6% |
Note: Up to three responses allowed
Customer service improvements were also high on the lists of CRM benefits. We all know it's much cheaper to retain a customer than acquire a new one. Also, using CRM reporting tools can help spot areas where total lifetime value from customers can be increased. Sales tracking/forecasting features ranked third, and they're important for helping teams identify sales opportunities and close more deals.
The fourth-most important feature for CRM users was user-friendliness. Since CRMs can be complex, finding easy-to-use software is essential for efficient implementation and widespread adoption across teams.
Somewhat further down the list but something that will likely become far more critical is artificial and machine learning. Only 7% of businesses listed this as important to their business. However, it was only recently that artificial intelligence became a hot topic in business circles when OpenAI released ChatGPT in late 2022.
Salesforce already offers its own built-in AI tools to help track customers, provide insight, and even compose follow-up messaging. As recently as March of 2023, HubSpot also added new AI tools to their CRM platform. It's likely that other CRM platforms will follow suit and this is likely to be an area that sees rapid improvements in the coming year and beyond.
For those small businesses who want exposure to this new technology but are unsure how to do so, investing in a CRM will give them access to the latest tools as they become available and in a package they're already familiar with.
CRM Adoption and Hurdles
The previous sections dealt with the benefits of using a CRM. The data seems conclusive that almost every small business can see an improvement if they adopt a CRM. So why aren't more small businesses using a CRM?
We found the number one hurdle when adopting a CRM is simply the need for more knowledge or expertise about using the product. 32% of small businesses listed this as the main issue when considering a CRM. Hesitation over the price was the second most significant concern.
| What challenges have you encountered while using a CRM? | Percent of users |
| --- | --- |
| Lack of Expertise | 32% |
| Expense | 31% |
| Data Migration | 30% |
| User Adoption | 27% |
| Need more app integrations | 23% |
| Other challenges | 3% |
| None | 14% |
Note: Multiple responses allowed
One way businesses can overcome their lack of knowledge is to use their CRM tool's training resources.  For example, Salesforce offers its Trailhead online learning platform with free and paid options.
For most teams, the CRM training process will be twofold: first, IT professionals must develop extensive knowledge on their company's CRM platforms to support and train other users. Second, each individual user will need to receive enough training to use their CRM effectively. To gain the maximum benefit from CRM tools, teams must invest time and budget to ensure users at all levels can navigate their CRM solution correctly.
Small businesses need to look at CRM adoption as an investment and something that will fundamentally transform their operations in a positive way over time. In this way, adoption must be seen as a process, not a one-time decision or implementation.
Software integrations caused issues for other small business CRM users. After making a significant investment of time and money into a new CRM, it's important for it to work seamlessly with existing tools and software. Many top CRMs are designed to integrate with thousands of productivity apps and software. However, implementing these integrations may be another issue for smaller firms lacking people and resources.
Once again, by taking advantage of training and other free resources, most teams should be able to become skilled users of their CRMs with an understanding of how they interact with other business software.
Our Conclusion On Small Business CRMs
Based on our data, it seems clear that small businesses who invest in a CRM overwhelmingly believe the return on that investment was worthwhile. A significant majority also feel that their CRM has become an indispensable component of their core businesses moving forward.
In these times of economic uncertainty and inflationary pressures, companies often fear spending more money. However, spending in the right areas can lead to efficiencies and benefits that give them the tools to not only navigate these economic headwinds but also emerge as a stronger company.
Our data
We conducted an online poll of 2,300 professionals employed at companies with less than 250 workers. Among these respondents, 433 were personally involved in using CRMs or researching and evaluating CRMs for their companies. These respondents were asked a set of more detailed questions about their companies' experiences with CRM tools.