There are dozens of powerful, customizable and user-friendly customer relationship management (CRM) platforms on the market. To find the right CRM for your business, you need to consider your company's needs and search for the customer relationship management solution that's most likely to help you get the results you want.
Salesforce and Pipedrive are two leading CRM systems targeting very different markets. Below, we evaluate their costs, features and integrations to help you decide which is the best CRM software for your business.
Salesforce vs. Pipedrive Comparison
Salesforce provides an all-purpose CRM for sales, marketing and customer service, while Pipedrive's offering was built to serve businesses focused on their dedicated sales teams. However, these CRMs share many similar features. See how they compare below.
Pricing 
Salesforce
Plan

Cost per user per month

Features

Essentials

$25 (maximum 10 users)

Account, contact, lead, task and opportunity management
Mass email
Customizable reports and dashboards
Gmail and Outlook integration
Lead auto-assignment

Professional

$75

Everything in Essentials, plus:

Quote and order management
Collaborative forecasting
Pipeline management
Roles and permissions
Developer sandbox

Enterprise

$150

Everything in Professional, plus:

Advanced reporting
Opportunity scoring
Workflow and approval automation

Unlimited

$300

Everything in Enterprise, plus:

Enhanced customer support
AI-powered Einstein insights
Sales cadences
Sales engagement hub
Companies can do a lot with Salesforce's entry-level plan, but once you go from 10 users to 11, your subscription costs will triple. In any case, the range of features at every subscription tier should cover most businesses' needs. Be aware, however, that you'll pay extra for many third-party plugins and standalone Salesforce packages (like certain Einstein AI apps). 
For enhanced customer support, including 24/7 assistance, an account manager and an expert coach, add 30 percent to your monthly subscription costs. Also, note that you must pay for your first year upfront unless you opt for the Essentials plan, which allows monthly payments.
Pipedrive
Plan

Cost per user per month

Features

Open deal and custom field limits*

User automations

Essential

$14.90

Visual dashboards
Company and user goals
Deal reports
Sales Assistant AI
Lead and deal management
Data import and export
Email inbox

3,000 open deals and 30 custom fields

N/A

Advanced

$27.90

Everything in Essential, plus:

Email interaction tracking
Automations
Smart contact data
Recurring revenue app
Meeting scheduler

10,000 open deals and 100 custom fields

30

Professional

$49.90

Everything in Advanced, plus:

Pipeline-specific deals
Team management
Automated lead assignment
Contacts timeline
Deal card customization

100,000 open deals and 300 custom fields

60

Power

$64.90

Everything in Professional, plus:

Implementation program
Phone support

200,000 open deals and 500 custom fields

90

Enterprise

$99

Everything in Power, plus:

Security rules and alerts

Unlimited

180
*"Open deals" means the total number of live deals allowed and "custom fields" are extra fields (like columns in Excel) you can add to the records you build for a product, organization, person, deal or lead.
Pipedrive is much more affordable than Salesforce, and we like how they stack their valuable features at lower subscription levels. You pay higher fees mainly to increase the number of open deals and custom fields you can access.
That said, many third-party apps cost extra as do Pipedrive's native plug-ins like Web Visitors ― visitor internet protocol (IP) identification to see who is checking out your site ― Projects (Kanban-chart-based project management tool), Campaigns (access to the vendor's email marketing platform) and SmartDocs (a document-signing service).
Winner: Pipedrive
Pipedrive stands out here thanks to its competitive, feature-rich plans. They're well priced, not just in comparison to Salesforce but to many other CRM options too. Salesforce does have much greater and deeper functionality than Pipedrive, but that's why it's more expensive.
Workflows and automations 
Salesforce
Customizable dashboard layouts: Managers can keep salespeople focused by adding widgets to their dashboards, showing them metrics like call time, number of calls and conversion rate. Salesforce's dashboards are so customizable that you can even change their font and colors to suit your tastes.
Control over processes: We like how you can add buttons to screens and forms that require a specific rep or agent action before a deal can move to the next stage. You can check which colleagues moved a deal along the funnel for greater transparency.
Automated tasks: We were impressed by how you can automate tasks in the Salesforce CRM with its intuitive drag-and-drop interface. You can, for example, identify and merge duplicate records, apply routing logic so a lead goes to a particular rep and map out steps on the customer journey automatically.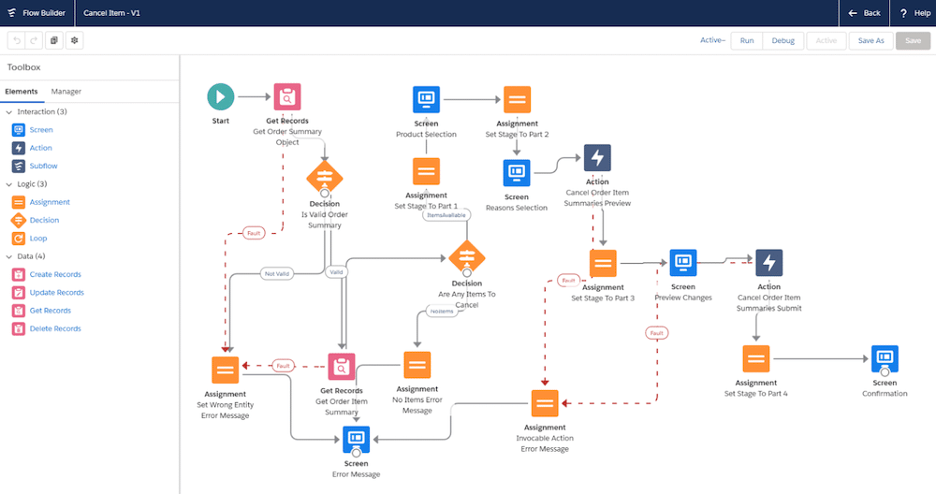 In our evaluation, we loved the easy-to-build workflow automations in Salesforce. Source: Salesforce
Pipedrive
Out-of-the-box automations: Pipedrive has 36 customizable and shareable automations. There are three types — sales, leads and workflow optimizations. [See how workflow automation can help your business.]
Data enhancement: We were impressed by Pipedrive's Smart Contact feature, which scours the internet for information on companies and decision-makers and then populates the relevant contact record.
CPQ: The CPQ tool keeps live quotes up to date for sales reps based on real-time information like supplier and shipping prices. This saves them from having to phone around for the details. A similar feature is also offered as a plug-in for the Salesforce CRM.
Winner: Salesforce
Salesforce beats Pipedrive here because it offers far greater automation and customization opportunities. That said, Pipedrive's workflow automations are particularly ideal for sales teams.
Communications platform features 
Salesforce
Connect via email: Send and receive individual emails with the CRM's native email client and send campaigns with Salesforce's bulk emailing platform. You can send up to 5,000 emails a day and create professional, responsive emails from a range of customizable templates.
Connect on social media: Use the CRM to have secure conversations with customers through private messaging tools for every major social media platform. Salesforce's excellent Social Studio allows you to manage, plan and create social media posts too. You can also monitor which posts get the best client engagement.
Connect on multiple channels: We like how all email and social media interactions are added to the system's client histories, whether you're having a conversation with the customer or they're responding to an ad campaign. This includes interactions on WhatsApp, short message service (SMS), multimedia messaging service (MMS), Facebook Messenger, Telegram, the telephone and more.
Pipedrive
Email connectivity: Pipedrive's email client and marketing suite are easy to use and intuitive. That's very important because, in this digital age, email is sometimes the best way to generate cold leads and keep deals alive. 
Phone connectivity: There's a great selection of VoIP plug-ins available, so you can make and receive calls from the Pipedrive dashboard. There are also auto-dialers like Ring.io if you want to run an outbound telemarketing campaign through the CRM.
Multichannel connectivity: We like how you can communicate with clients directly by SMS, MMS, WhatsApp, social media messaging, web chat and more via Pipedrive's CRM. 
The automated email campaigns in Pipedrive are a great way to nurture leads and engage existing customers. Source: Pipedrive
Winner: Salesforce
Salesforce and Pipedrive both excel in one-to-one communication and with marketing campaigns executed across multiple channels. However, Salesforce wins here primarily because of its inclusive 5,000 email-a-day allowance.
Reporting and analytics 
Salesforce
Track results accurately: We were impressed by how the Salesforce CRM tracks, analyzes and reports on both customer journey and marketing campaign outcomes. If you sell online, you'll find the revenue and purchase funnel reports particularly useful.
Ready-made and customizable reports: Speaking of reports, Salesforce offers a variety of prebuilt reports that you can modify. You can also customize the analytics dashboard so that it displays the information you want, such as revenue trends and levels of customer engagement.
Trustworthy data: We like how Salesforce's Duplicate Management tool cleans up your database and how integrations like Data.com Clean check for accuracy with external sources. Another app, LASER Credit Access, even adds credit scores to your records.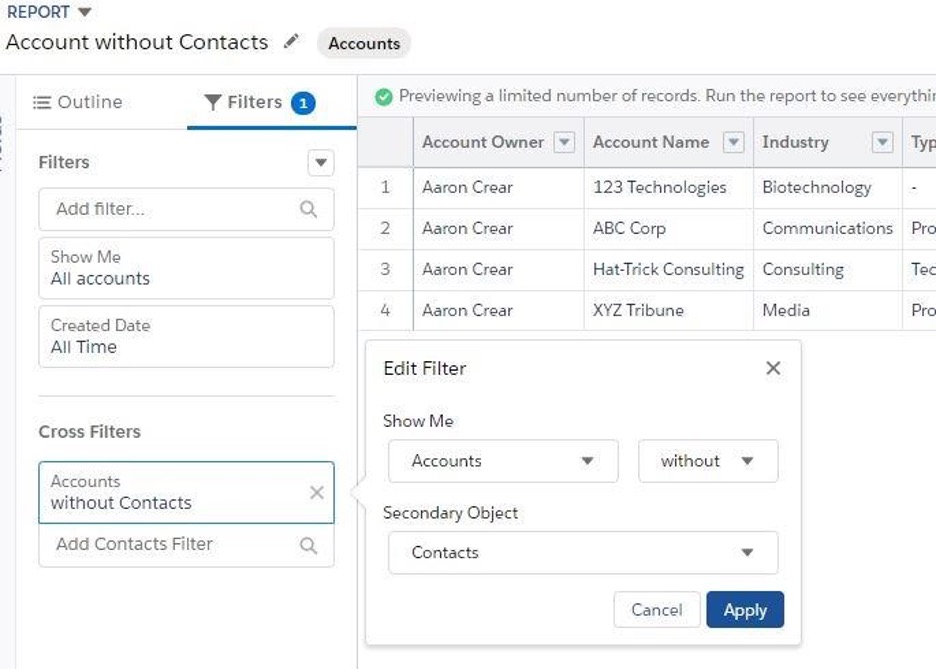 You can build dynamic reports in the Salesforce CRM. Source: Salesforce
Pipedrive
Customizable dashboards: We appreciate the 25 prebuilt performance widgets that come with the Pipedrive CRM. You can customize these, add them to the dashboard and change the time periods they're monitoring easily. You can also have more than one dashboard and share them with colleagues.
Sales forecasting: We were impressed by Pipedrive's sale forecasting feature, which uses past data to predict which deals will close, when and for how much. You also get greater insight into when funnel dropout happens too.
Live rep and deal monitoring: See right away the deals your sales reps are working on, including their current status and past leads won and lost. You can also see how long it takes a salesperson to move deals through the stages of your sales process.
Winner: Salesforce
Pipedrive excels in sales forecasting and rep analysis and is better than Salesforce without requiring any extra plug-ins. However, Salesforce ultimately takes this round because of the quantity and quality of the reporting and analytic tools they offer for both sales and marketing.
AI enhancements 
Salesforce
AI for sales teams: Salesforce's AI tool, Einstein, helps sales agents get better results. We particularly like the Next Best Action feature, which advises reps on live opportunities to upsell and cross-sell on a call or during an email conversation. 
AI for decision-makers: Einstein is also excellent for the C-suite, especially through its Discovery tool, which provides live analysis of company performance to help guide decision-making. Discovery also listens for and reports on social media conversations about your brands and products.
AI for everyone: We were impressed at how deep the AI capabilities are with the Salesforce CRM. The program can help salespeople create great product presentations, free up customer service teams with website chatbots, improve performance with workflow suggestions and more.
Pipedrive
AI for sales teams: Using real-time performance metrics, Pipedrive's Sales Assistant AI suggests ways managers can improve team and sales rep outcomes. We liked the Kara app integration ($30 a month), which helps sales teams manage their pipelines better by getting them to focus on prime leads based on deal size, client profile, likelihood of closing and rep conversion rates. [Check out our top lead conversion tips.]
AI for LinkedIn: The Engage AI plug-in ($30 a month) also stands out thanks to its ability to engage in quality conversations and interactions with leads on LinkedIn. It even creates custom comments for what it determines are high-priority posts from your leads.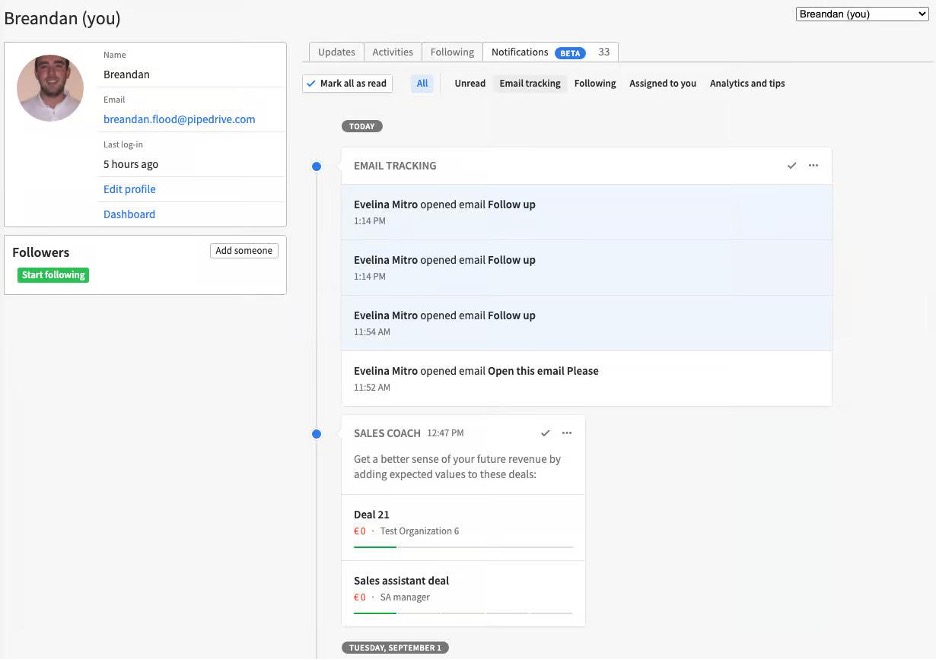 Sales task automation in Pipedrive is boosted with the assistance of AI. Source: Pipedrive
Winner: Salesforce
Salesforce's AI integration is much deeper and more developed than Pipedrive, so it's the winner in this category. We believe Einstein's Next Best Action and Discovery tools are potential game-changers for businesses.
AI can boost conversion rates significantly as well as improve agent productivity.
Integrations and apps 
Salesforce
Huge variety of plug-ins: We like how easy Salesforce makes it to find the right app among the thousands it offers. You can either use the search box or industry drop-down to locate the integration you want.
Developer support: The Salesforce CRM is coder-friendly, with an excellent API interface and extensive support documentation. We were impressed by the 300 Components for developers too. These are prebuilt programming blocks that programmers can drop into projects to save time.
Salesforce-only add-ons: In addition to apps and Components, you can make use of a Flow solution (drag-and-drop automation creator tool) and a Bolt option (task-specific product template for software product delivery, recruitment management and more).
Pipedrive
Wide app selection: Pipedrive's CRM has more than 400 integrations, with many designed specifically to help sales teams close more deals. There are standard apps like Microsoft Teams, Calendly and Zoom, along with many others.
Partners: Choose an official Pipedrive partner to customize the integration to your exact requirements. Search by rating, language or location in Pipedrive's app market.
API integration: Pipedrive's API platform and documentation are superb. For even greater flexibility, your developer can use either a GraphQL or RESTful API.
Winner: Salesforce
Pipedrive's app store and API are tailored precisely to its target audience's needs and their intended use. They get this right, but on quality and quantity terms, Salesforce takes this category. The vendor offers thousands of highly rated integrations.
Salesforce vs. Pipedrive Summary
Salesforce is best for businesses that want better results from their sales and marketing teams.
Salesforce is the market leader in the CRM sector because the vendor and its system are very good at what they do. Many smaller companies will need to stretch their budget to have access to the platform's valuable reporting and analytics, unified marketing hub, automations and communications platform, but it's a worthy investment. This solution, which is part of the vendor's broader business software ecosystem that many companies use to run their entire organization, is the most feature-packed and detailed CRM available. For any business focused on improving performance in sales, marketing and customer service, it's easy to recommend Salesforce.
Pipedrive is best for companies with sales reps who close deals.
Pipedrive knows the businesses it serves well and has built an excellent CRM system around their needs. Sales reps will find this program invaluable in closing complex, multistage, customized deals involving multiple decision-makers. The marketing suite is intuitive and, used correctly, will generate a healthy flow of leads into your business. Salesforce has a greater number of apps and better AI integration, but Pipedrive's progress on both is ongoing and impressive. If you have sales targets to hit and a more limited budget, Pipedrive is the CRM most likely to help you achieve your goals at a price you can afford.
FAQs
Whether Salesforce or Pipedrive is better depends on your CRM needs. Salesforce is best for companies that want better results from their sales, marketing and customer service teams. Pipedrive is better for companies that rely on salespeople to close complex deals involving multiple decision-makers.
The difference between Pipedrive and Salesforce is in the two CRMs' features and pricing. Price-wise, Salesforce is much more expensive than Pipedrive because it has by far the broadest range of quality features, customizations and integrations. Pipedrive, however, targets its platform towards companies prioritizing their sales teams and is an excellent fit for those businesses.
Yes, Salesforce is similar to Pipedrive but up to a point. With either CRM, you can run marketing campaigns, communicate with customers one-to-one, analyze performance and save time with workflow automations. Salesforce has many more features, AI capabilities and integrations and is ideal for companies that want to improve their sales and marketing. Pipedrive, meanwhile, has fewer features but is less expensive. It's ideal for companies with sales teams focused on closing deals with clients.
Many would describe Salesforce as the best CRM available because of the quality and quantity of its features and extensions. However, the better CRM for any business is the one that helps them do better in the areas they wish to improve.