Most people allow email marketing to affect their purchase decision-making process. Retargeting is a popular and effective marketing strategy used by e-commerce businesses to increase customer interactions and purchases. Email retargeting is successful because it is personalized, action-based and tempting to the customer. 
Editor's note: Looking for the right email marketing software for your business? Fill out the below questionnaire to have our vendor partners contact you about your needs.
What is email retargeting?
Email retargeting (also referred to as remarketing) is an easy and effective way for e-commerce businesses to use the data they previously collected on customers to personalize advertisements that compel customers to make a purchase. Obtaining this customer data is conducted with cookies, which are dropped into viewers' browsers when they enter a site. This is the same technology that keeps shopping items in a customer's cart when they leave and return to a website. 
Retargeting uses behavioral marketing, which allows businesses to personalize their advertisements to past, current and potential buyers. Retargeting strategies focus on two main audiences: those who have purchased or shared contact information with the site and those who have visited the site without taking action. Smart marketing strategies use the information they have to refine the information they next offer their customers. 
Retargeting emails can revive and catalyze brands with entirely automated marketing systems. Customers get personalized experiences that help businesses stand out from competitors and appeal to the interests of individual buyers.
How do you create a retargeting email?
Successful businesses develop retargeting strategies by employing a few best practices. These are not complex, but each is essential to create an effective retargeting campaign. 
Collecting customer data
Top customer relationship management (CRM) technology is a necessary tool for retargeting. Tracking customer behavior with your email marketing software will allow your business to see who is active, inactive or unsubscribed from your website. Social analytics will also reveal when customers are leaving and where they are going. Businesses can make note of high-value pages, popular products, successful marketing and conversion rates. 
Segmenting your audience
Personalization is the key to successful retargeting. The opt-in offered to a first-time visitor will differ from that for an existing customer who hasn't returned for a while. Showing an offer meant for non-subscribers to someone who already gets regular emails wastes a customer's time and leaves them frustrated. That's why when customers sign up, make a purchase, or download content, it is important to remove them from the segment of potential buyers. Segmenting customers is a great way to gain people's trust and inspire a commitment to your business. 
Setting campaign objectives
Successful marketing campaigns have explicit goals for their retargeting efforts. A business may want to convert casual browsers into subscribers, give new customers incentive to make a secondary purchase or present lead magnets to those who may become subscribers. The goals should be defined through testing, with objectives based on issues identified through customer data collection and social analytics. Campaign objectives can also be determined with the help of A/B testing, which measures different versions of messaging to identify which formatting, timing and content are most effective in customer retention. 
Creating opt-ins and emails
The best advertisements, whether in the form of a pop-up or an email, are personal and action-oriented. People are more likely to act when directions are clear, succinct and simple. Retargeting emails should vary in content depending upon the recipient. An email could offer a free gift when a customer is about to leave a site, ask for information in exchange for a free quote, remind a customer about items in their cart or direct a customer to a page sure to interest them. 
The appearance, frequency and duration of retargeting messages are extremely relevant to the customer's perception of your business. Appearing professional and legitimate helps build trust between brand and customer. Smart marketing requires measured approaches; customers do not want to be overwhelmed or turned off by your advertisements.  
Sending retargeting messages
Timing your business's retargeting messages is just as important as segmenting your audience and using social analytics to guide strategy. It is wise to send retargeting emails swiftly, and with automated messaging and inbox filters, businesses can release emails immediately after a customer triggers the system with specific behavior. It is also a best practice to send a series of three retargeting emails to keep a customer's attention. The first email of the series should always be the shortest, clearest and most impactful. The second and third emails should be content-specific and appeal to the customer's specific interests. 
This personalization and format can be easily automated with CRM technology. To send messages at the optimal time, businesses need automated messaging systems.
Successful digital marketing campaigns are also mindful of their lookback window, which is the 30-day period after a customer abandons their shopping cart. When people act, good marketing campaigns stop targeting them using bun codes, which remove the original retargeting message from the customer's advertisements – keeping the messages updated and personal. 
What are the benefits of retargeting your emails?
There are a multitude of benefits to using retargeting. Primarily, it reduces the number of lost customers in e-commerce engagement. Retargeting is a powerful way to decrease cart abandonment, achieve better click-through rates and increase sales. This technique allows e-commerce businesses to make offers with customers who have already engaged with your business, to upsell to those who showed interest in specific products and to provide personalized pop-ups depending on where the customer is in the purchasing process. 
Email retargeting has the power to increase conversion rates and improve organic search rates by driving traffic to a particular page. The strategy can even be used to drive offline action and bring customers into a store. The return on investment from well-executed email retargeting campaigns provides ample incentive for businesses to employ it. 
Email customers are committed and reliable customers. If a business is not following up on people who are not fully engaged, it will miss out on numerous sales.
When should you consider implementing a retargeting campaign?
Email marketing is one of the most effective ways for e-commerce to expand its business, and retargeting is a tool that allows for strategic communication on an extremely effective platform. 
It is vital for e-commerce businesses to track social analytics to identify opportunities for retargeting, so don't begin a strategy unless you are ready to do this. Tracking customer data will reveal where a business needs to implement retargeting. Audiences can also be segmented for personalized advertisements. There are several ways retargeting can help your business. 
Reducing high rates of shopping cart abandonment or inaction
Many online never purchase the items placed in their carts, which is detrimental to e-commerce sales. Retargeting can help get the attention of people who have visited your site without acting, create promotions for people who have already downloaded your lead magnet and be deployed simultaneously with Facebook pixels to show ads for your products to those who have visited your site. 
Improving conversion rates
Making an effective call to action can be challenging if a business is not able to maintain customers' attention. With a strategic follow-up plan and automated customer relationship management technology, businesses can use retargeting in their digital marketing campaigns to drastically increase conversion rates. 
Personalizing promotions
Email marketing requires businesses to communicate with customers consistently and respectfully. Retargeting emails maintain the attention expected by customers and encourage them to interact with the company through irresistible offers.  
With a thorough understanding of customer behavior, personalized advertisement experiences, professional content and tactful delivery, you can utilize retargeting in a way that maximizes your business's potential.
5 examples of companies using retargeted emails
Netflix
Streaming content companies love to personalize their messaging, providing recommendations based on previously viewed content or watchlists. In this example, the recipient received a notification email about a new season of a show they had previously seen, utilizing two immediate CTAs – watch now or save for later – doubling their chances of engagement.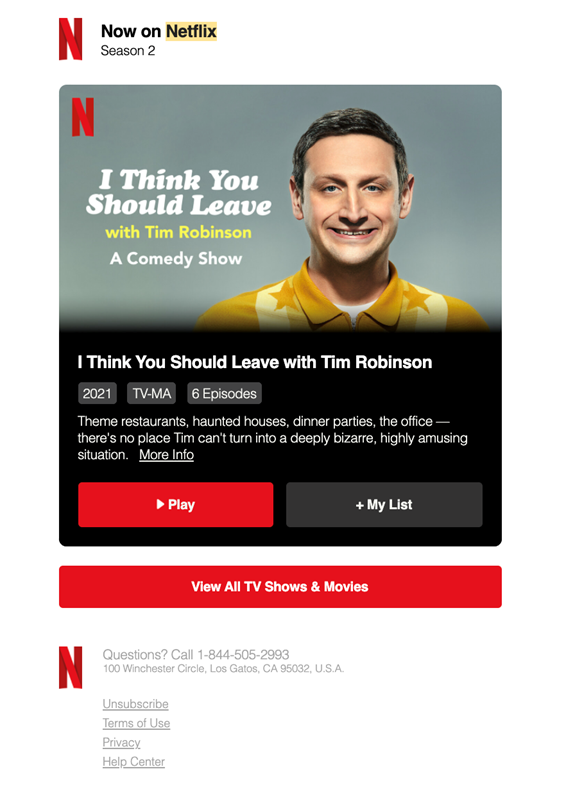 Amazon
Large online shopping outfits such as Amazon rely on marketing emails chock-full of product suggestions enticing previous customers to engage again. In this example, the recipient is given a showcase of SKUs specifically recommended based on previous purchases or browsing history. Each item also has two CTA buttons, making conversion simple.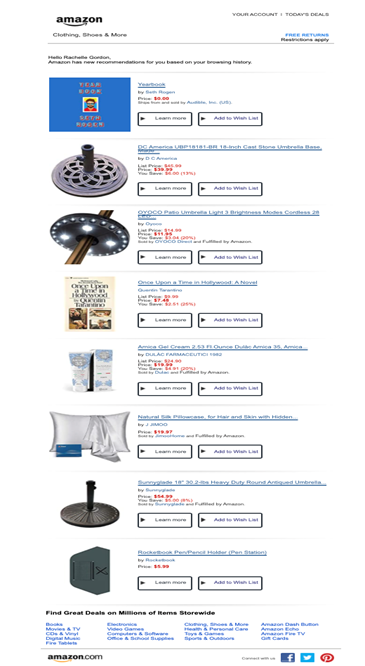 Savage X Fenty
Sending retargeted emails triggered by website clicks or abandoned carts is a great way for e-commerce businesses to increase sales. In this example, the recipient of the Savage X Fenty email had previously viewed the highlighted item. By inviting the customer to complete their order, the company gives a gentle nudge toward conversion.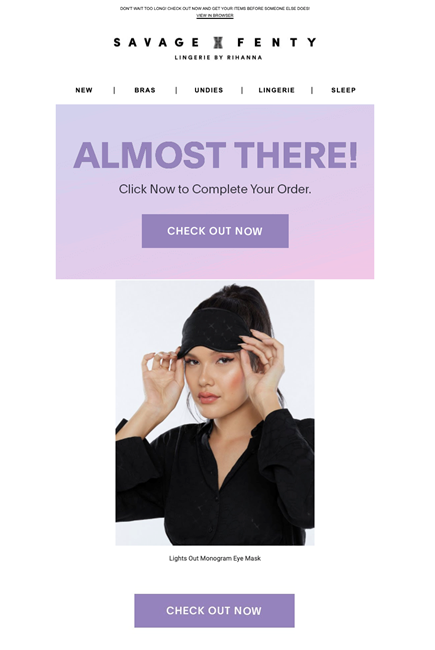 Express
In this example, clothing brand Express opts to leverage existing rewards to push engagement. A reminder that coupons expire gives a sense of urgency. Meanwhile, a counter showcasing how close the customer is to their next reward encourages a larger purchase.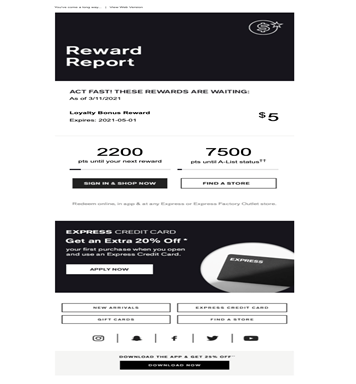 ModCloth
ModCloth's triggered emails are another prime example of targeted messaging focusing on previous behavior. The email pictured reminds customers about items they previously browsed for on the website. Additional merchandise in similar styles is highlighted, likely leading to increased sales.