AT&T Business offers exceptional symmetrical upload and download speeds with its business fiber and dedicated internet plans, making it the ideal solution for consistently fast internet access.
Pros
All of AT&T's fiber and dedicated internet plans offer the same speed for uploads and downloads.
The company's business fiber plans don't require an annual contract.
Businesses with a global footprint can connect securely through the provider's dedicated internet plans.
You can bundle your AT&T business internet and phone service with options for VoIP and mobile service at a discounted rate.
Cons
AT&T's service-level agreements or guarantees are only available with the dedicated internet plans.
Using the vendor's wireless broadband as a backup is much slower for the price compared to Verizon's 5G business internet.
AT&T's dedicated internet plans require a two-year contract.
AT&T's business internet products offer comprehensive connectivity options with high reliability, ultrafast speeds, some plans without contracts, limited service-level agreements and 24/7 customer support. AT&T sets itself apart in a competitive field thanks to its best-in-class symmetrical upload and download speeds available with all fiber and dedicated internet plans. According to the company, more than 675,000 U.S. business buildings connect with AT&T fiber-optic cables. Though all internet service provider (ISP) speeds, features and pricing are subject to availability in your geographic location, AT&T may be the best option for business owners seeking consistently fast internet access.
AT&T Business Editor's Rating:
8.8 / 10
Pricing

8/10

Speed

10/10

Availability

8/10

Service plans and contracts

9/10

Customer service

9/10
Why We Chose AT&T for Symmetrical Speed
The broadband internet industry is highly competitive. A handful of major companies offer similar products and prices, but not all fiber networks are the same. One of the biggest differentiators is upload speed, which tops out at just 35 Mbps with companies like Comcast and Spectrum. Generally speaking, when you come across an advertised speed rating, you're seeing the faster download speed, but AT&T is one of the few providers to offer the same ultrafast gigabyte fiber and dedicated speeds for both uploading and downloading. The same speed for uploads and downloads is commonly referred to as symmetrical speed.
Upload speeds affect your ability to transfer files and connect to servers, both of which are important for data backup and video conferencing. For media-focused businesses or any enterprise with a large in-office staff, the ability to upload large files without interruption or communicate effectively with video conferencing tools depends on fast upload speeds. That's why AT&T's symmetrical service, if it's available in your area, should be at the top of your list.
Only Verizon competes with AT&T when it comes to high download and upload speeds for fiber customers. Get the details in our full Verizon review.

You can use tools on AT&T's website to test how your internet connection is performing. Source: AT&T
Features
You'll be able to find many of the same connectivity features across the major business internet service providers with similar pricing in select markets. However, there are a few areas where AT&T distinguishes itself from the competition.
Symmetric Upload/Download Speeds
AT&T is unique in its ability to offer dedicated internet and fiber customers plans with the same speeds for uploading and downloading. While most major ISPs offer roughly comparable download speeds in significant markets, the same cannot be said for uploading. Comcast and Spectrum are only able to offer a maximum upload speed of 35 Mbps with any plan, while Verizon's fastest gigabit fiber connection is limited to 880 Mbps for uploading. With AT&T, however, you'll get an upload speed that's just as fast as the download speed — and those speeds could reach as high as 5 Gbps, far outpacing the competition.
If the highest download speeds are all that matters to you, see if Comcast's plan with 1.25 Gbps speed downloads and 35 Mbps speed uploads is available in your area. Learn more about the vendor's options in our review of Comcast's business internet.
24/7 Security Monitoring and Ticketing
AT&T's dedicated internet and fiber business plans feature 24/7 proactive network monitoring, cyber threat analysis and AT&T ActiveArmor to help block malicious threats from reaching your devices. We like that in the rare event of a server outage, a service ticket is automatically generated on your behalf to begin resolving the issue as quickly and transparently as possible. While some of AT&T's peers offer security tools, we didn't come across similar automatic ticketing. [Find out cybersecurity and risk management best practices.]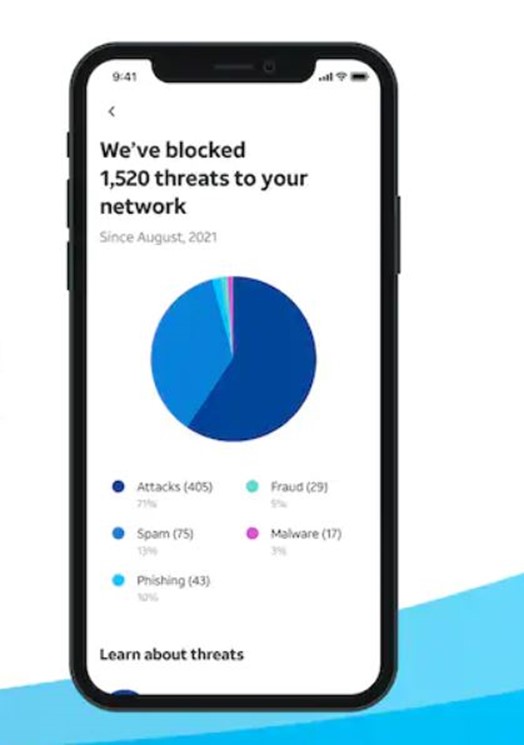 With ActiveArmor, AT&T can protect your computer network from cyberattacks. Source: AT&T
Static IP Address
With AT&T, a static IP address is a standard feature with the dedicated internet plans and an optional add-on feature with the fiber plans. Static IPs can be purchased in blocks of 8, 16, 32, 64 and 128; however, you will need three static addresses for your base address, gateway and broadcast address, meaning three of your block addresses will not be usable. Still, we like that static IP addresses are automatically included with AT&T's dedicated internet service, as some providers charge extra for those.
Internet Backup Add-On
AT&T's fiber customers can add an emergency backup service to their package in case of a power outage. This add-on service for fiber users keeps critical connections active through a battery-powered backup router with up to 24 hours of power. Once your fiber connection is restored, your internet service will automatically revert to its standard configuration.
FYI: AT&T's 24-hour backup power exceeds other providers we reviewed by 8 hours, another way the company sets itself apart from rivals.
Pricing
AT&T Internet for Business is split between three product categories: dedicated internet, business fiber and wireless broadband internet. Each includes a number of tiers differentiated by speed, price, terms and available features. As with all business ISPs, your specific options and costs will depend on your service address. For the purpose of our review, we gathered pricing information from a qualifying address in Southern California.
Dedicated Internet
AT&T's dedicated internet plans are available with symmetrical upload and download speeds, but they require a 24-month contract and prices are slightly higher with an AT&T-managed router. Add-on options include an enterprise traffic protector, SIP trunking and a cloud-based solution for voice, fax, text, audio and video communications. We appreciate that the dedicated plans also include a service-level agreement with 99.95 percent reliability and performance objectives for 100 percent uptime, data delivery and latency.
| Symmetrical Download/Upload Speeds | Price |
| --- | --- |
| 10 Mbps | $471 per month |
| 200 Mbps | $492 per month |
| 50 Gbps | $581 per month |
| 100 Gbps | $786 per month |
| 1 Gbps | $1,541 per month |
| >1 Gbps | Not publicly listed |
Business Fiber
The fiber internet connections are available across five plans with symmetrical maximum speeds ranging from 100 Mbps to 5 Gbps. Separate enterprise solutions for businesses with multiple locations are also available. We like that the fiber plans don't require an annual contract. Available add-ons include internet backup, voice service and cybersecurity software.
| Symmetrical Download/Upload Speeds | Price |
| --- | --- |
| 100 Mbps | $65 per month |
| 300 Mbps | $95 per month |
| 1 Gbps | $160 per month |
| 2 Gbps | $225 per month |
| 5 Gbps | $395 per month |
Wireless Broadband
Wireless broadband offers low- and high-speed internet access through cellular networks with a hotspot or router where service is available. In many cases, speeds will slow after you reach a monthly data threshold that varies with each plan. With this product, AT&T offers discounts for autopay and paperless billing, which are reflected in our pricing chart. The routers are available starting at $12.78 per month. [Learn how to set up a hotspot and Wi-Fi for your business.]
| Symmetrical Download/Upload Speeds | Price |
| --- | --- |
| 12 Mbps (priority speed for your first 10GB of data used, but speeds may slow after 75GB) | $75 per month |
| 25 Mbps (priority speed for your first 15GB of data used, but speeds may slow after 100GB) | $100 per month |
| 50 Mbps (priority speed for your first 30GB of data used, but speeds may slow after 125GB) | $185 per month |
| 100 Mbps (priority speed for your first 50GB of data used, but speeds may slow after 175GB) | $225 per month |
Implementation
The implementation for AT&T's products is usually completed within two weeks. On average, new AT&T business internet customers have their service up and running within one-and-a-half weeks, according to the product specialist we spoke with during our research. Installation usually costs $100, but the fee is often waived as part of a promotional offer.
Once the order is placed, new customers can set an appointment for installation. You can also expect to receive an email reminder about your installation and a call to register your internet so it's ready to go on your appointment day. You'll also receive a reminder call the day before your installation and a follow-up call the day after to make sure you're satisfied with the installation process and internet service.
Customer Support
Support for AT&T Internet for Business is available 24/7 over the phone, chat and email. AT&T also has a self-service small business support center online, with troubleshooting tools you can use for your internet equipment and community forms where you can find information about local outages.
During our investigation, we spoke with AT&T business product specialists who were able to address all of our questions and concerns in a timely manner. We like that potential customers who want to sign up over the phone will get help identifying the optimal internet speed with the appropriate plans and terms depending on their type of business, number of employees, total locations and data consumption requirements. You can even video chat with a virtual expert for live shopping assistance. It's also impressive that AT&T has held J.D. Power's top ranking from 2018 to 2022 among large enterprises in Business Wireline Satisfaction Studies of customer satisfaction.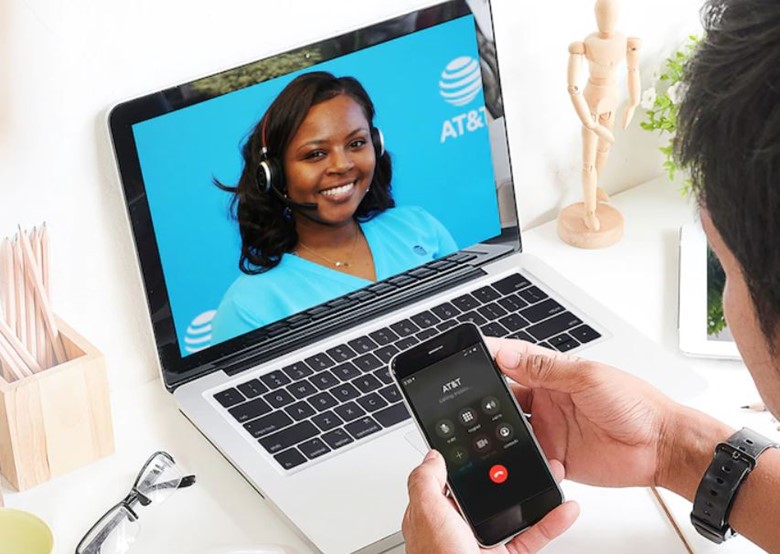 Prospective customers can get live shopping assistance from an AT&T representative over the phone or via video chat. Source: AT&T
Limitations
While AT&T's fiber plans don't require a long-term contract, its dedicated internet plans do. That's a departure from competitors like Verizon, which offers flexible billing with the option for flat-rate plans, usage-based plans and a combination of the two with dynamic network management that allows self-service bandwidth adjustment.
For another comparison, AT&T's dedicated service-level agreement of 99.95 percent falls short of Verizon, which guarantees performance and 100 percent availability. While a difference of 0.05 percent may not seem significant, any interruption in performance or service at an inopportune time could have significant financial implications for some businesses.
Also, just because AT&T's symmetric internet speeds are stellar doesn't mean you'll actually be able to access them. If you operate a business in an area without fiber or reliable high-speed cable internet options, you may want to consider a satellite provider like Viasat or a wireless 5G business internet provider like Verizon instead. Learn more about satellite options in our Viasat review.
Methodology
In looking for the top internet service providers for businesses, we researched a number of vendors and analyzed their available internet speeds and types, add-on services, bundle deals, installation process, customer support options, limitations, and, of course, pricing. As part of this process, we participated in demos and spoke with product specialists when possible. Our examination led us to conclude that AT&T's fiber and dedicated internet plans lead the industry with the best symmetrical speeds, making the company ideal for media-focused businesses or any company with demanding upload and download requirements.
FAQ
While the length of time it takes to get AT&T business internet set up will depend on the specific product you choose, most customers can start using their new internet connection within two weeks of signing up for service. When we spoke with AT&T's product specialists, we were told the new customer onboarding and installation process usually takes an average of one-and-a-half to two weeks.
AT&T's installation is $100; however, the fee is often waived with a promotional offer. If a promotion isn't running when you're ready to make a purchase, we recommend reaching out to a customer service representative over the phone to see if you can get your installation fee waived anyway.
Yes, AT&T's business internet is reliable. AT&T promises 99.9 percent uptime with its business internet plans, which is a fairly standard rate of reliability among the major business internet service providers. The company also offers managed internet backup services with 24-hour battery power and unlimited data during outages.
Bottom Line
We recommend AT&T Internet for Business for …
Media-focused companies and larger enterprises that want ultrafast symmetrical fiber speeds to keep work flowing smoothly.
Any business that already uses other AT&T services.
Organizations that cannot risk being interrupted by power outages.
We don't recommend AT&T Internet for Business for …
Rural businesses that likely won't have access to the best features and speeds.
Business owners looking for an internet plan backed by a service-level agreement or guarantee who don't want their options limited to a top-tier dedicated internet plan.
Companies interested in a satellite internet connection.