Viasat Business Internet Review and Pricing
Because satellite internet doesn't require a physical connection for internet service, it's a great option for businesses that operate in locations fiber-optic cables can't reach. Viasat provides companies with satellite internet service using five satellites that cover more than 96 percent of the United States. Businesses that provide commercial Wi-Fi or require far-reaching mobility, like airlines and cruise ships, often choose Viasat for its reliable connections in less populated spaces. Adding to the vendor's appeal, Viasat provides customers with all the equipment needed to receive service as well as three persistent IP addresses that rotate for improved reliability. For businesses in rural areas, Viasat can facilitate internet service where many other vendors can't.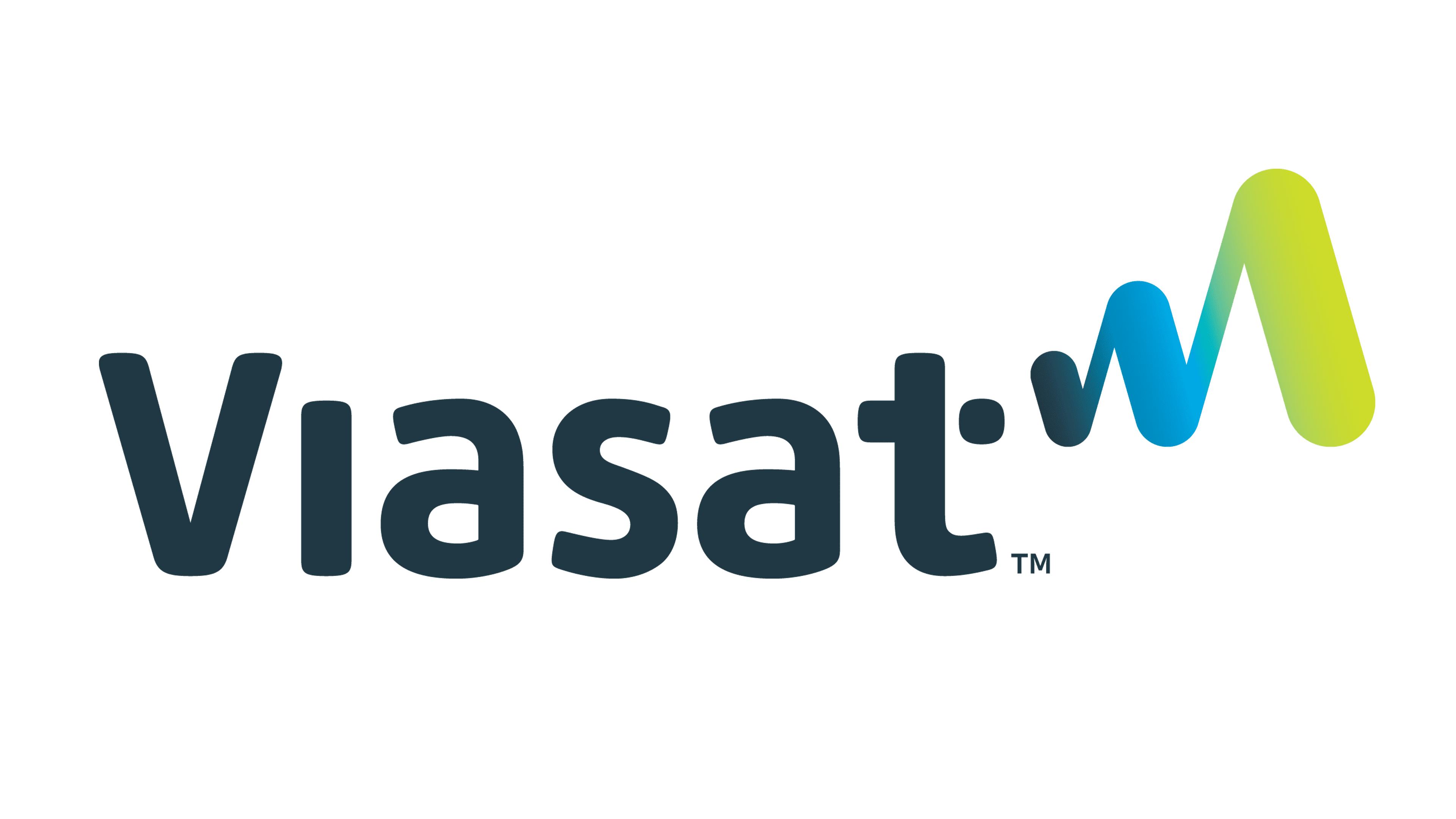 Viasat Business Internet and Pricing
The Verdict
Viasat is a satellite internet provider that uses rotating, persistent IPs for reliable speeds instead of a single static address. With prioritized connections and wide-ranging coverage, Viasat is a powerful option for businesses in rural areas.
Viasat Editor's Score: 8.2/10
| | |
| --- | --- |
| Pricing | 8/10 |
| Speed | 6/10 |
| Availability | 9/10 |
| Service plans and contracts | 9/10 |
| Customer service | 9/10 |
Why We Chose Viasat for Rural Businesses
Satellite internet is a vital resource for businesses operating in rural locations that don't have access to a high-speed fiber optic or dedicated internet connections. While satellite internet is slower than fiber and dedicated internet options, it's enough to keep your company running if you partner with the right internet service provider (ISP). For example, Viasat's satellite internet offers businesses a maximum speed of 100 Mbps, significantly faster than competitor HughesNet's satellite internet, which only offers speeds up to 25 Mbps.
With persistent IPs, Viasat provides more reliable connections that allow you to adjust IP settings easily without help from tech support. We like that Viasat also facilitates fast installations, provides all the necessary equipment for service and prioritizes business connections over residential ones. With Viasat's variety of plan tiers, you can find the right speed, data and price for your satellite internet needs. For these reasons, Viasat is the best business internet provider for rural businesses.
Instead of a static connection, Viasat customers receive satellite service using three persistent IPs that rotate for reliable, safe and speedy connections.
What We Like About Viasat
Viasat customers receive satellite service with three rotating, persistent IPs for a more reliable internet connection.
With five satellites in orbit, the vendor covers 96 percent of the United States and plans to introduce two more satellites to achieve global coverage by 2025.
The company provides its business customers with prioritized connections and up to 300 GB of monthly data before slowing down or throttling your service.
What We Don't Like About Viasat
Businesses in certain locations can't sign up for Viasat's unlimited data plans.
While the company offers faster speeds than other satellite ISPs, its plan prices are slightly higher.
In some rural areas, Viasat takes up to 10 days to complete installation and three days to troubleshoot outages.
Features
Business owners based in rural areas may seek best-in-class internet service for their companies, leading them to major vendors like AT&T and Verizon — only to discover those providers' fastest services aren't available in their location. That's where vendors like Viasat come in. On top of facilitating internet access in hard-to-reach places, Viasat offers customers other beneficial services.
Priority Connection
In the past, satellite internet was often criticized for its inconsistent speeds and instability. Viasat helps customers overcome these problems with five satellites and prioritized connections for businesses. Prioritized service means faster download speeds, minimized buffering and less latency for your company. The Viasat Unlimited Business routers and modems pick up the IPs and channels with the least amount of traffic to provide your business with the fastest connection available.
Equipment Lease
While some providers require you to separately purchase equipment when you sign up for their internet service, Viasat makes it easier: All the necessary equipment is included in each plan and the cost of the equipment is included in your monthly fees. Equipment is normally installed in just three to five days with a one-time installation fee. Every modem stays compatible with the latest Viasat protocols, and for those businesses that require hotspots and cloud-based phone service, the company also provides the necessary equipment.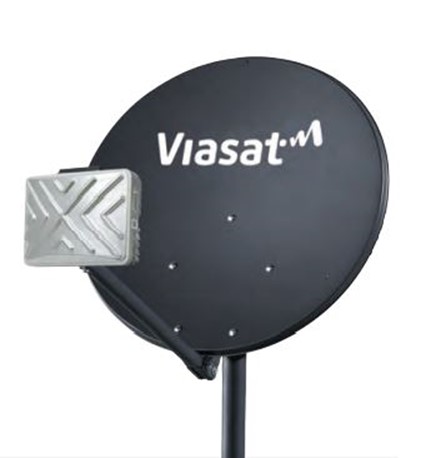 Viasat will provide the necessary equipment, including a satellite dish, for your internet service to work. Source: Viasat
Add-Ons
Rural businesses need all the same resources as their urban counterparts, and Viasat provides connections where other vendors can't reach. In addition to satellite internet, Viasat business customers can add business hotspots and voice service to their plans. With Viasat Business, you'll receive up to four lines, a free mobile app, desktop phones, number portability and caller ID. Viasat Business Hotspots include a customized splash page for your marketing efforts, the ability to introduce new promotions and all the necessary equipment. [Alternatively, you may want to check out the best business phone systems.]
Persistent IPs
Instead of a static internet provider, which uses one address that never changes, Viasat uses persistent IPs. These addresses can be used for network management, point-of-sale (POS) systems, IoT (Internet of Things) and VPN connections. Using a plug-and-play approach, persistent IP addresses are assigned dynamically over the network, eliminating the need to manually enter the IP address, mask and gateway. This method allows each Viasat business customer to rotate between three potential IPs for speedier and more reliable connections.
Extensive Coverage
Viasat is one of the largest U.S. military defense contractors with expansive rural coverage, fast speeds, reliable service and equipment included in its packages. The provider currently covers most of the United States and will soon have 100 percent coverage across the nation. Viasat uses five satellites and plans to be the first global ISP provider by 2025 with the addition of satellites that service Europe, Africa and Australia. If you operate in mountainous regions, in the sky, in valleys or on the water, Viasat provides essential internet services to keep your business connected.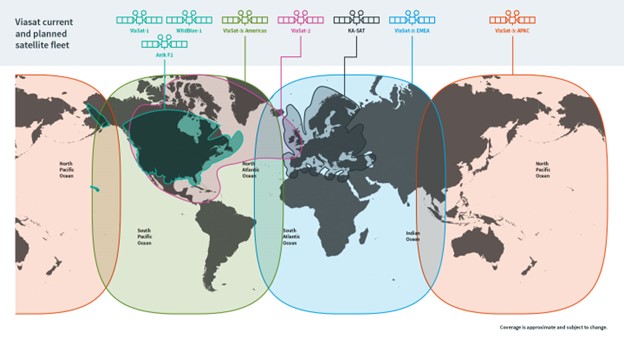 Viasat uses multiple satellites to provide internet coverage across the world. Source: Viasat
Pricing
Viasat offers two types of satellite internet plans — the Unlimited Business Plan and the Metered Business Internet Plan — each with a number of pricing tiers and fixed monthly prices. The unlimited plan is designed for medium to heavy online activity and the metered plan is ideal for lighter online activity.
While Viasat's prices may seem more expensive than other options, the provider's data and speed capabilities, along with its reliable satellite coverage, make its services a financially sensible decision for many businesses. We like that equipment costs are included in the monthly rates.
Unlimited Business Plan: Viasat's unlimited business internet plans have soft data caps and no added data usage fees. Customers can choose between plans that offer 35, 60 and 100 Mbps with varying data thresholds. The unlimited plans start at $175 per month, which includes a hardware lease fee and three persistent IP addresses. If customers surpass their monthly data threshold, their internet service is slowed down for the duration of the month.
| | | |
| --- | --- | --- |
| Plan | Download Speed | Price |
| Unlimited | 35 Mbps | $175 per month |
| Unlimited | 60 Mbps | $300 per month |
| Unlimited | 100 Mbps | $500 per month |
Metered Business Internet Plan: For businesses that don't engage in a lot of internet activity or only need a wireless backup provider, the metered plans offer a service that begins at a rate of $50 per month. Metered plans offer up to 200 GB of data at 35 Mbps. Viasat's software-defined wide area network (WAN) and business continuity solutions are equipped to help businesses of any size.
| Plan | Data Amount | Price |
| --- | --- | --- |
| Metered | 1 GB | $50 per month |
| Metered | 10 GB | $80 per month |
| Metered | 20 GB | $100 per month |
| Metered | 50 GB | $150 per month |
| Metered | 200 GB | $400 per month |
There is a one-time $300 installation fee, which is much higher than what some rivals charge, but in a rural location, competing services may not be available to you. Also note that Viasat requires a minimum two-year contract term.
If customers wish to terminate their service, Viasat's cost is reduced to a monthly $15 early-termination fee for the rest of the 24-month contract. Businesses can also change their plan to the lowest available option at $50 per month and keep Viasat internet for a wireless backup or redundancy service. This flexibility makes Viasat a great option for businesses with evolving needs.
Other ISPs offer backup internet options, too, but whether those services are geographically available to you will depend on your exact location. Learn more in our AT&T review, Spectrum review and Comcast review.
Implementation
Unlike some internet service providers with self-installation plans, Viasat sends a dedicated technician to install the necessary equipment and make sure connections are secure. Because Viasat partners with small businesses across the country, installation is faster than with other satellite internet providers. The implementation process typically takes three to five days, or up to 10 days for the most rural areas Viasat covers. All equipment is installed with a 90-day warranty in case of defective hardware and requires a one-time $300 installation fee.
We appreciate that Viasat's Easy Start onboarding program helps customers get started with their new internet service by providing accessible information and directions. The Viasat app enables customers to easily log into their accounts on mobile devices, while the welcome guide and Viasat 360 brochure provide key information for quick answers to common questions. Furthermore, once your equipment is installed, the technician will walk you through your internet service and make sure you have access to all your online capabilities.
Unlike some other rural internet providers, Viasat provides fast installation for rural customers in just three to five days.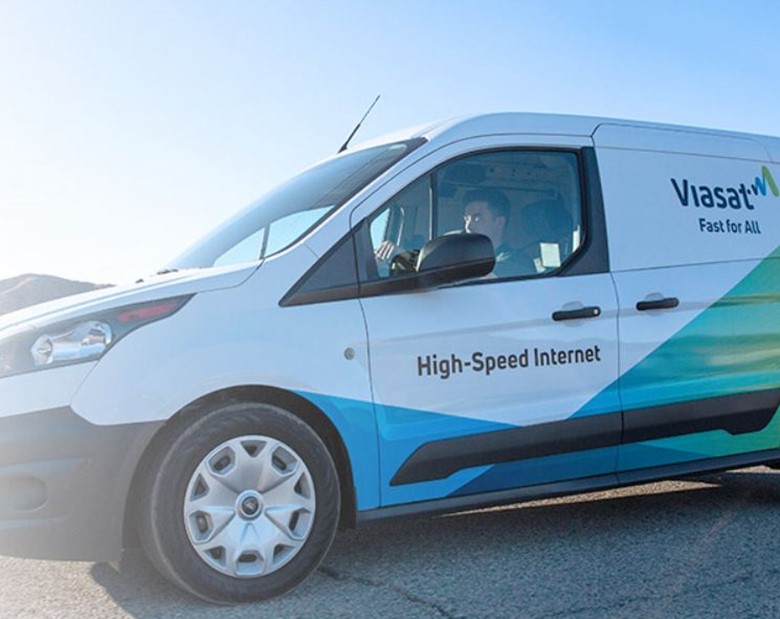 A Viasat technician will travel to your business's location to install your internet service. Source: Viasat
Customer Support
Viasat customer service is available seven days a week from 7:00 a.m. to 1:00 a.m. CT with different methods of communication. While these hours are longer than Spectrum's window, they fall short of the 24-hour support offered by AT&T, Verizon and Comcast. Viasat's customer service representatives are available for basic troubleshooting over the phone during hours of operation or you can contact an agent through the My Viasat online portal. Alternatively, Viasat's persistent IPs allow you to troubleshoot without much IT assistance and improve the connection quality on your own.
Viasat also offers a variety of resources through an online help desk for business customers to better understand billing, account administration, speeds, connectivity and troubleshooting. Plus, as noted above, there is plenty of customer support material available as you begin using Viasat's services for the first time.
Limitations
Viasat is an attractive option compared to other providers because of its unlimited data, but it is subject to the limitations of satellite technology. Customers can choose to pay for plans with larger data caps for a higher monthly price, but internet data is a scarce resource. Even the prioritized connections, which all businesses receive with Viasat, will still be slowed down or throttled when you exceed your monthly data allowance.
Satellite internet can sometimes result in more latency, which is the time it takes for a packet of data to travel from its origination to its destination. Just 50 milliseconds of latency can result in poor network and application performance for some users. While Viasat performs better than other satellite providers, customers can experience more latency than they do with fiber-optic cable internet. In that regard, AT&T's symmetrical fiber internet is unmatched, but its fiber connections may not be available in your rural location.
As you might expect, satellite coverage is limited to the power of the vendor's satellites, and while Viasat offers more coverage than other satellite providers and reaches locations where cable providers won't go, its satellite service is not available everywhere. Viasat covers the vast majority of the United States, but it has yet to secure coverage for the entire nation. However, Viasat plans to release two more satellites in 2023 that will significantly expand its coverage both nationally and internationally.
Methodology
We evaluated various internet service providers to find the top internet options on the market for business owners. In our research, we identified and gathered details for key criteria like add-ons, speeds, data provisions, installation services and pricing. We assessed each vendor's strengths and weaknesses, and our investigations included talking to product specialists whenever possible. When searching for the best provider for businesses in rural areas, we considered the extent of the coverage areas, use of persistent IPs, speed, reliability, prioritized connections and other factors. After our analysis, it was clear that Viasat's satellite internet service is the option best suited for companies based in locations where the major ISPs don't have coverage.
FAQ
Where does Viasat provide service?
Viasat provides service to 96 percent of the United States and plans to soon release satellites that will expand its coverage on a global scale.
How does Viasat satellite service differ from other services?
Viasat satellite service differs from other services in that it doesn't require a physical connection to a service provider, making it available in more areas. The vendor also uses a persistent IP instead of a static IP address to improve connection quality.
What does Viasat's prioritized connection mean?
Viasat's prioritized connection means the company will slow down residential users' internet speeds before business users' speeds if the network gets crowded. In other words, the vendor prioritizes business connections over residential ones.
Bottom Line
We recommend Viasat internet for …
Businesses in rural locations without access to fiber-optic cable internet.
Companies looking for an affordable backup or redundancy internet provider.
Organizations that need satellite internet and phone service with Wi-Fi hotspots.
We don't recommend Viasat internet for …
Data-hungry internet users who can't afford to lose speed after exhausting their data allowance.
Businesses operating in urban areas that can get fiber or 5G plans.
Companies that need to upload faster than 4 Mbps.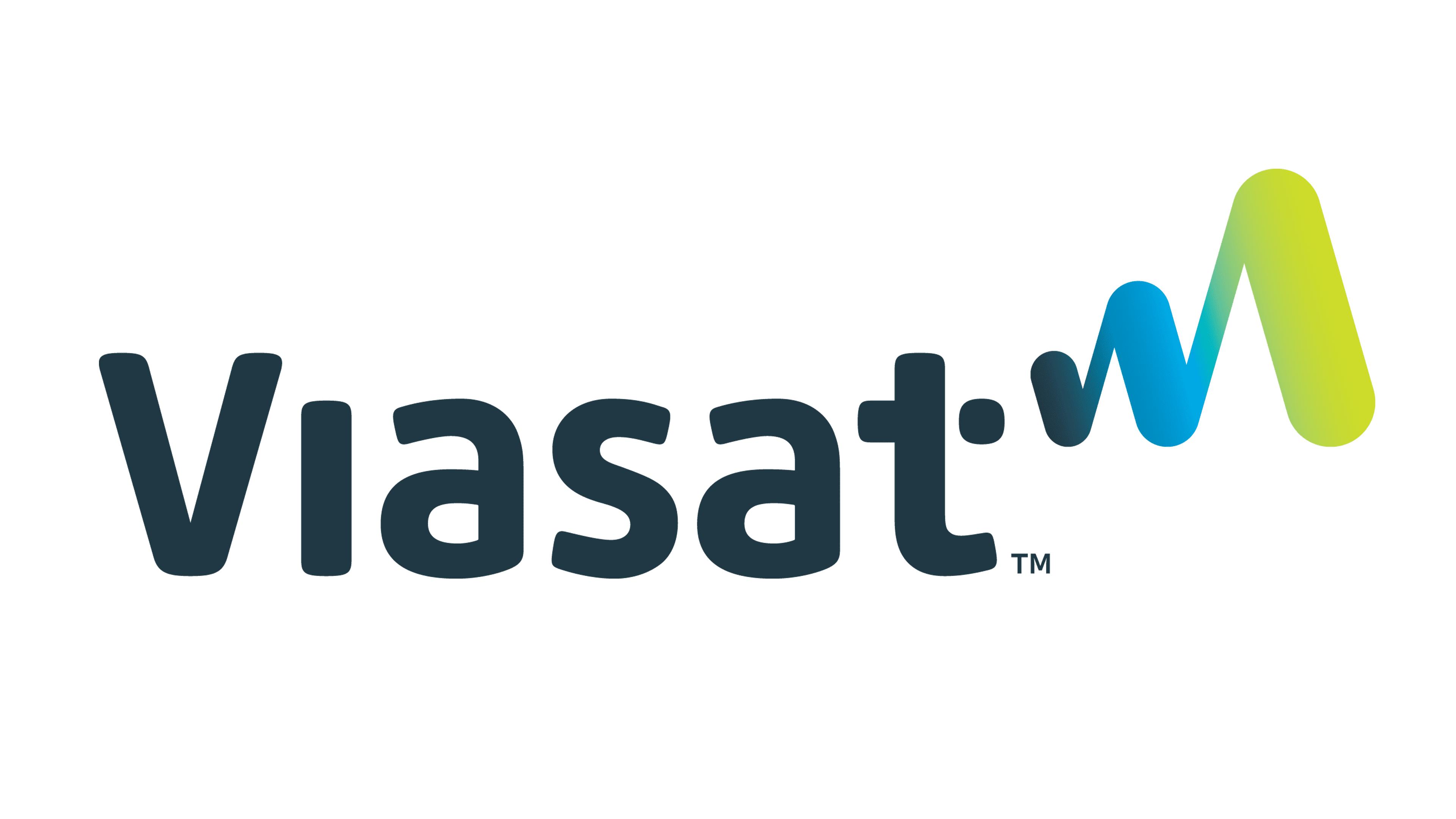 Viasat Business Internet and Pricing
The Verdict
Viasat is a satellite internet provider that uses rotating, persistent IPs for reliable speeds instead of a single static address. With prioritized connections and wide-ranging coverage, Viasat is a powerful option for businesses in rural areas.

Jeff Hale
Contributing Writer
Jeff Hale is a writer and editor based in San Diego with a background in business development and marketing. He has identified new market opportunities for Fortune 500 companies and developed communications strategies and digital branding for tech startups and small businesses. Jeff covers emerging technologies and business solutions with a focus on efficiency and growth. He holds a Bachelor's degree in English from the University of California, Irvine, and an MBA from Chapman University.