No matter the industry, every small business needs an effective, efficient way to communicate with customers, vendors, employees and more. A unified business phone system provides a centralized platform for all audio, video and text-based communication needs. RingCentral and Dialpad are two excellent business phone systems that provide 24/7 accessibility from anywhere with robust features like auto-attendants, voicemail transcription and artificial intelligence (AI)-powered meeting tools. We'll compare each platform's pricing, features, integrations and more to help small businesses choose the right business phone system for their needs. 
RingCentral vs. Dialpad Highlights
RingCentral and Dialpad are two of the best business phone systems for essential voice-over-internet-protocol (VoIP) functionality. Both promise seamless unified communications, rich feature sets and scalability to grow with your business. However, each platform has unique attributes and offerings.
Criteria

RingCentral

Dialpad

Features

Chat-enabled video space
Instant messaging
Conversation folders
Task management
Call handling

AI-generated call summaries
Call analytics
Visual voicemail transcription
Automated action items
Call handling

Starting prices

From $20 per user, per month

From $15 per user, per month 

Third-party integrations

More than 330 integrations and open application programming interfaces (APIs)

Google Workspace and Microsoft 365 integrations on Standard plan

Maximum meeting capacity

200 video participants

10 video participants

Base-level customer support

Phone, live chat, support tickets and community forum

Live chat and support tickets
Who Is RingCentral For?
RingCentral's offering RingCentral MVP is a dependable cloud-hosted business phone solution well suited to remote and hybrid teams. Its impressive 99.999 percent uptime means users experience minimal disruptions and teams can communicate and collaborate seamlessly throughout the workday. Its impressive feature set includes real-time call supervision and employee guidance for customer interactions, helping businesses improve and strengthen customer relationships. This affordable ($20 to $45 per user, per month) platform can accommodate up to 200 video or 1,000 audio participants in a meeting. It also integrates seamlessly with more than 330 business software tools. Learn more in our full review of RingCentral.
Who Is Dialpad For?
Dialpad is a unified, cloud-based communications ecosystem ideal for solopreneurs or very small businesses that want to improve employee collaboration and customer engagement through phone, chat and video. It's affordable ($15 to $25 per user, per month) and comes loaded with valuable call handling and routing options. Its state-of-the-art AI features include call transcription tools you can use to generate call summaries and follow-up tasks. ​​Learn more in our full review of Dialpad.
RingCentral vs. Dialpad Comparison
Here's how RingCentral and Dialpad stack up head-to-head on key criteria.
Features
RingCentral Features:
VoIP capabilities: RingCentral MVP offers all the VoIP calling capabilities we expect to see in a solid small business phone system, such as visual voicemail, extensions, local business phone number accessibility, call forwarding and call screening.
Analytics and reporting: RingCentral also offers a suite of advanced functionalities via its data analytics portal, including quality-of-service reports, real-time reporting and meeting dashboards.
Video conferences: RingCentral helps you get the most out of your video conferences. You can host unlimited video conferences with up to 200 attendees (depending on your plan) or audio calls with up to 1,000 participants. 
Team messaging: RingCentral offers one-on-one and group short message service and multimedia messaging service messaging with organizational features like pinned messages. 
Team Huddle: We liked RingCentral's Team Huddle feature that can bolster remote employee communication and collaboration. Team Huddle creates informal chat rooms where teams can interact spontaneously.
Mobile app: RingCentral's robust mobile application, compatible with iOS and Android devices, ensures employees stay connected, even on the go.
Dialpad Features:
VoIP features: Dialpad's phone system includes excellent basic VoIP features like toll-free VoIP numbers, visual voicemail, high-definition calls, customized call routing and personalized interactive voice response to simplify small business communications. It also provides automation capabilities and automatic data backup. 
AI capabilities: Dialpad's AI capabilities impressed us. Dialpad delivers AI-powered post-call notes, transcriptions and speech coaching, among other powerful features. Its voice intelligence software lets users identify recurring keywords, gauge customer sentiment and generate post-call summaries automatically with action items, allowing for a more engaged and effective real-time conversation.
Contact center services: On top of its comprehensive communication system, Dialpad also offers contact center services with inbound and outbound support. ​​Dialpad's contact center suite and outbound sales dialer service can streamline customer interactions and sales further, reducing the time and effort required to manage these processes on your own. 
Call analytics: Dialpad's call analytics tools help you evaluate your menu system's effectiveness by gauging which options callers use most. You can also schedule analytics reports daily, weekly, monthly or at custom intervals. 
Voice intelligence: When you enable call recording, you can configure a custom company dictionary so Dialpad's voice intelligence can recognize specific keywords like competitor names. This functionality provides more accurate and helpful transcriptions you can search by keyword.
Winner
We called it a tie in this category. Dialpad distinguishes itself with superior AI features that allow businesses to optimize every customer encounter and meeting with automated transcripts, action items and call analyses. However, RingCentral allows more video conferencing participants and provides advanced analytics.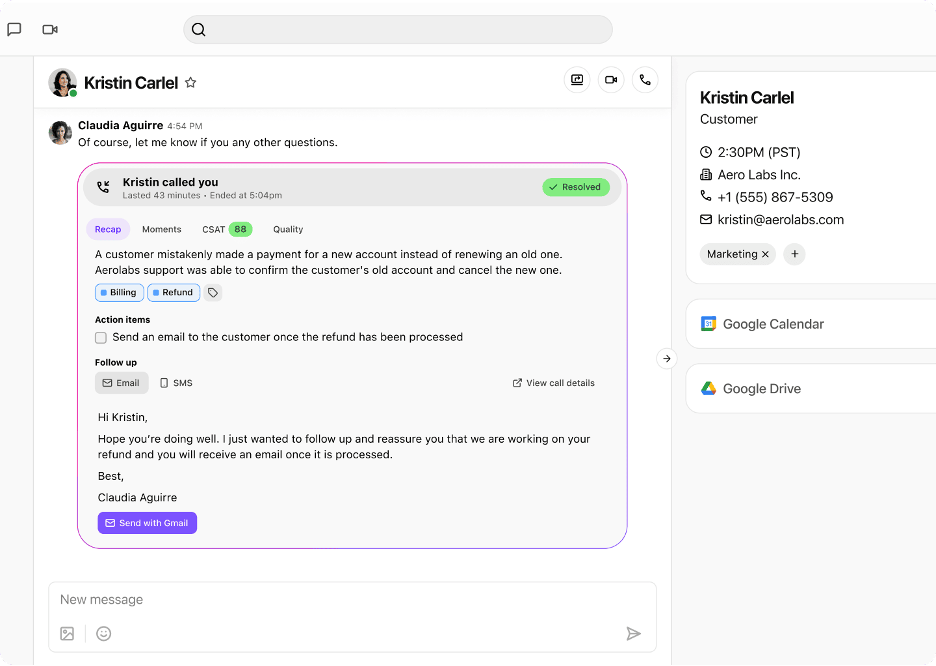 Dialpad's AI-generated call summaries include a succinct conversation recap and can extract action items mentioned during the call. Source: Dialpad
Pricing 
RingCentral Pricing:
RingCentral has three pricing tiers: 
Core: $20 per user, per month, when billed annually or $30 per user on a monthly billing plan. Features include video conferencing with 100 participants, call queues, on-demand call recording, team messaging, unlimited audio conferences, call logs, visual voicemail, API access and 100 toll-free minutes. 
Advanced: $25 per user, per month, when billed annually or $35 per user on a monthly billing plan. Features include everything in the Core plan, plus 1,000 toll-free minutes, business analytics, voicemail-to-text functionality, access to Salesforce, Zendesk and 300-plus apps and more. 
Ultra: $35 per user per month when billed annually or $45 per user on a monthly billing plan. Features include everything in Advanced, plus unlimited cloud storage, video conferencing with 200 participants, 10,000 toll-free minutes, business analytics, video and messaging encryption and more. 
RingCentral provides a 14-day free trial to let businesses try the service. You can also take advantage of several paid add-ons, including contact center software, a webinar platform, live real-time call queue management reports and RingSense Conversation Intelligence for sales assistance.
Dialpad Pricing
Dialpad also has three service levels: 
Standard: $15 per user, per month, billed annually or $23 billed monthly. There's a minimum of only one required user, making this plan a great option for solopreneurs. You get unlimited calling, visual voicemail, voicemail transcriptions, call recording and more. 
Pro: $25 per user, per month, billed annually or $35 billed monthly. There's a minimum of three users. You get everything in the Standard plan, plus customer relationship management integrations, hold queues, 10 locations, open APIs and more. 
Enterprise: Custom pricing; call for a quote. There's a minimum of 100 users. You get a dedicated account manager, unlimited locations, priority routing and more. 
Dialpad has a 14-day free trial and several paid add-on options, including buying a fax number. 
Winner
Dialpad wins this category with its low starting prices and exceptional functionality. It's a more budget-friendly option, especially for small businesses with limited resources. However, RingCentral's collaboration features and reasonable price make it a worthy contender for some businesses, especially those with remote teams. 
Third-Party Integrations
RingCentral Integrations
RingCentral stands out with its impressive array of more than 330 integrations. Its extensive app gallery lets you connect your system to a wide range of popular business tools, including the following: 
Salesforce
Microsoft Teams
Google Workspace
HubSpot
Slack 
For those looking to build custom solutions, RingCentral also provides open APIs and software development kits.
Dialpad Integrations
While not as robust as RingCentral, Dialpad's integration capabilities include the basics like Google Workspace and Microsoft 365. Additional integrations are available on its higher-tier plans.
Winner
RingCentral is the clear winner in the integrations category. It offers a much more comprehensive range of software integrations than Dialpad, making it a more versatile option that can fit into most small businesses' tech stacks.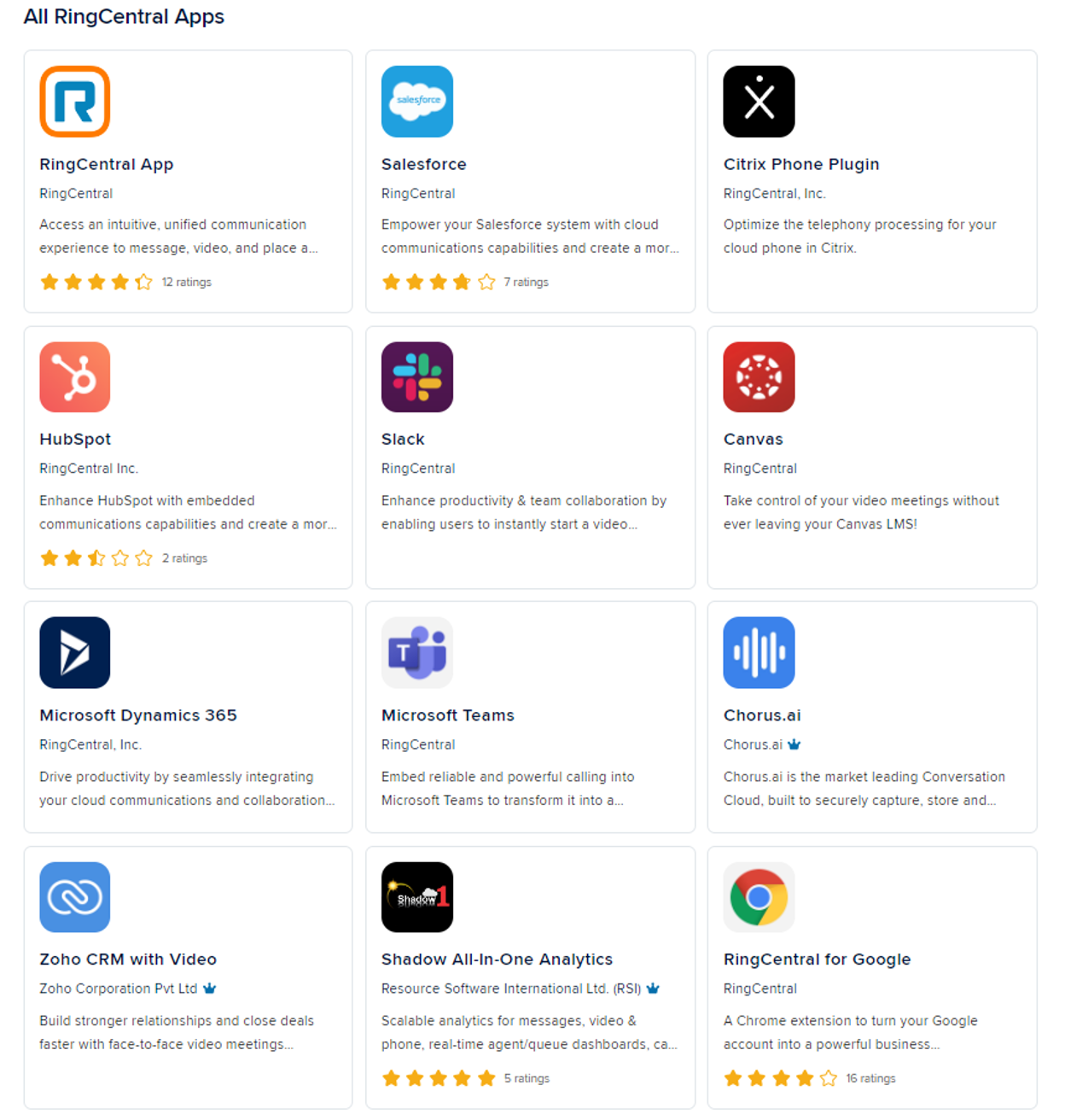 RingCentral's app gallery offers an impressive array of integrations with popular business software. Source: RingCentral
Maximum Meeting Capacity
RingCentral Meeting Capacity
RingCentral allows up to 100 video participants in its Core and Essentials plans. You get up to 200 video participants on the Ultra plan. All service levels allow large meeting add-on options and unlimited audio conferencing. 
RingCentral also has a separate offering, RingCentral Video Pro, focused on video meetings. There's a free plan for up to 100 participants and paid offerings for 200-plus participants. 
Dialpad Meeting Capacity
On its business communications plans, as outlined here, Dialpad allows for 10 participants (all levels). 
However, Dialpad also has a separate Dialpad AI Meetings offering exclusively focused on video conferences. AI Meetings has a free plan where business and personal users can host up to 10 participants. The AI Meetings Business tier is $15 per user, per month, and can host up to 150 participants. 
Winner
RingCentral is the clear winner here with straightforward plan options and high meeting capacities ― crucial for businesses with larger remote or hybrid teams. 
Customer Support
RingCentral Customer Support
RingCentral offers an array of support options to help its customers through any issues they may experience:
Phone and chat: We like that RingCentral provides round-the-clock live phone and chat support at all levels ― uncommon among business phone service providers, particularly for entry-level plan holders.
Online support: For issues that aren't time-sensitive, users can create an online support case to be handled by a RingCentral representative. 
Community forum: RingCentral's community forum is an interactive platform where users can ask and answer questions. 
Resource library: RingCentral has a robust resource library where users can access self-service help as needed.
Dedicated implementation specialist: Optionally, you can add a dedicated implementation specialist to your package to ensure smooth onboarding ― a plus if you're in a remote or hybrid environment where information technology support isn't immediately accessible. 
Dialpad Customer Support
Dialpad's customer service options depend on the plan you subscribe to. 
Standard support: Standard users can access live chat and web support tickets Monday through Friday.
Pro and Enterprise support: Pro and Enterprise users can receive 24/7 assistance, as well as the option for phone support. 
Help Center: Beyond its direct support options, resources for administrators and regular users of Dialpad's system are available via a Help Center.
Winner
RingCentral's support offerings are more robust than Dialpad's. It has extensive contact options ― even at lower-tier plans ― and a helpful self-guided resource library.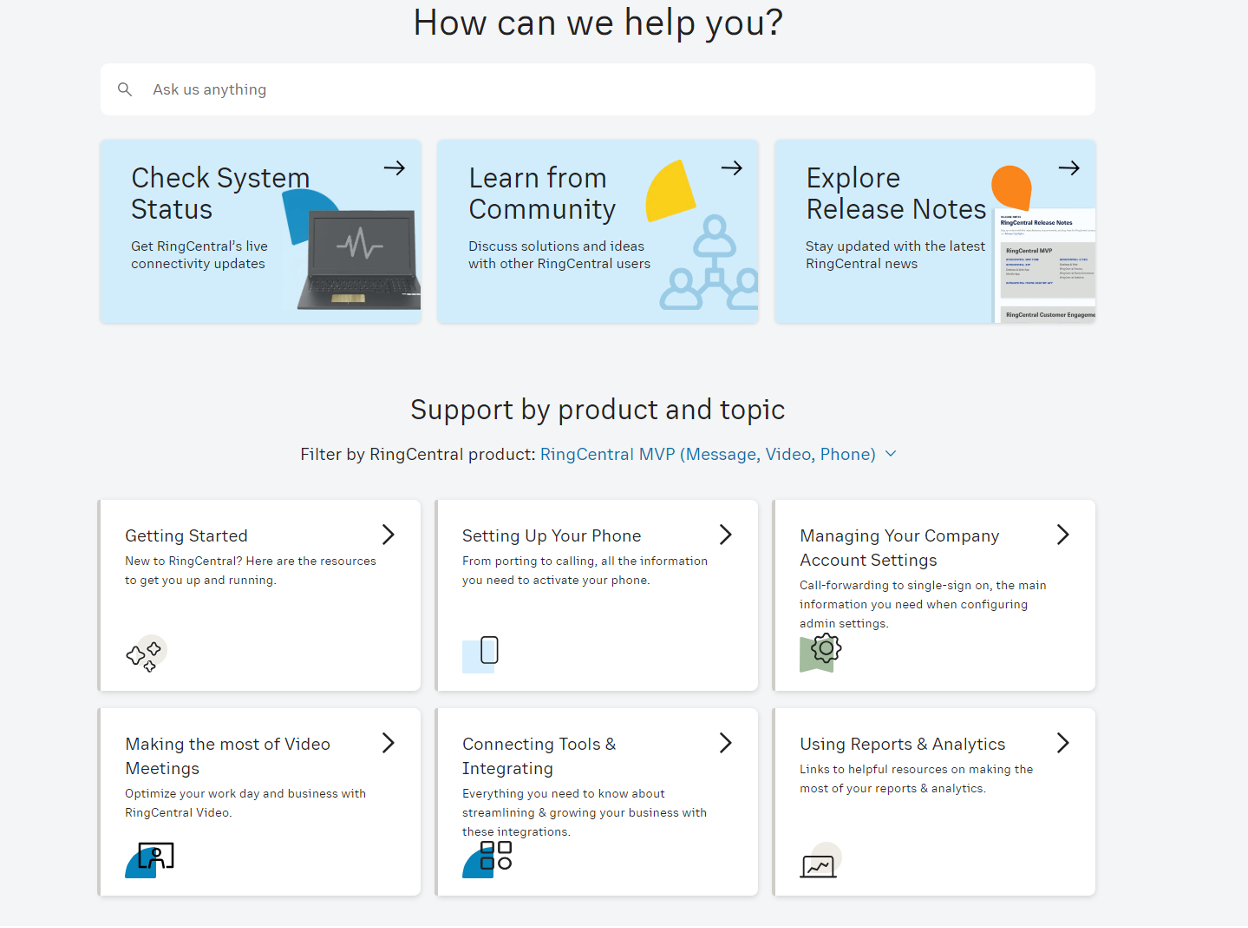 RingCentral offers self-service help via an extensive online support resource library. Users can search for help with specific issues. Source: RingCentral
RingCentral vs. Dialpad Summary
RingCentral and Dialpad are excellent business phone systems that streamline communications, including phone calls, video conferences and messages. Specific businesses may prefer one vendor's features over another. 
RingCentral is best for remote and hybrid teams.
RingCentral is an ideal business phone system for remote and hybrid teams. It provides a comprehensive cloud-based communication solution that works regardless of where your employees and clients are. With its impressive 99.999 percent uptime, teams can count on consistent connectivity ― a critical factor for distributed workforces. You can host effective video conferences, integrate the system with your existing business software and use real-time call monitoring to improve consistently. 
Dialpad is best for solopreneurs and very small businesses.
Dialpad is an excellent business phone system for solopreneurs and small businesses with limited resources. It will help you maximize productivity without hiring additional help. As a comprehensive, cloud-based communication platform, Dialpad facilitates customer and team interactions via phone, chat and video at a reasonable starting price. Its cutting-edge AI tools allow you to create automatic real-time transcriptions, helpful post-call summaries with action items and even task lists ― all crucial tasks you won't have to hire someone to handle. We especially like its voice intelligence feature that recognizes commonly mentioned terms and can improve your meeting transcripts.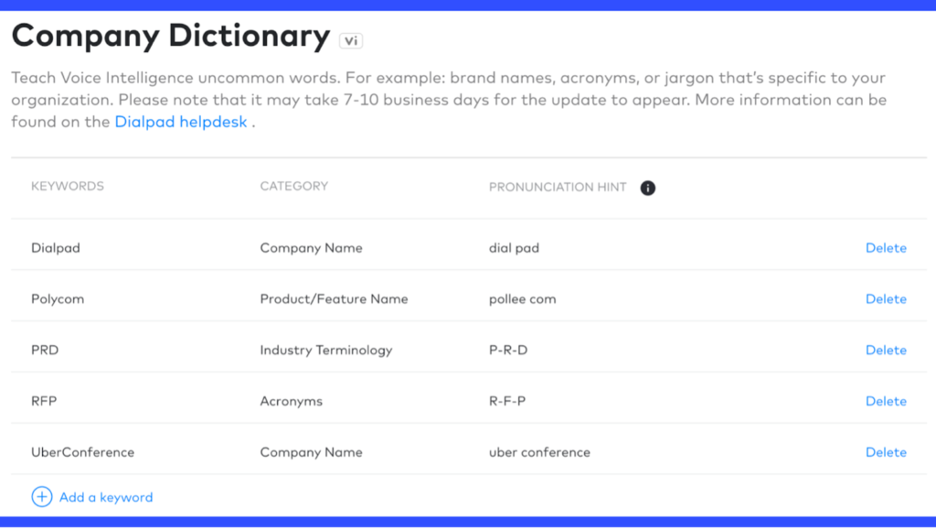 Teach Dialpad's voice intelligence to recognize commonly mentioned industry terms, acronyms and vendor names to improve your meeting transcripts. Source: Dialpad
FAQs
Can I host international calls with RingCentral MVP?
Yes. RingCentral's Global MVP offering is supported in 46 countries and territories, allowing for a consistent communication experience for geographically dispersed teams. 
Can I use RingCentral and Dialpad for free?
Yes and no. Both RingCentral and Dialpad offer 14-day free trials of their core business phone systems. However, both also have separate offerings specifically for video meetings that have free tiers. RingCentral Video Pro is a free solution that allows video meetings of up to 100 participants for a maximum of 50 minutes. Dialpad's AI Meetings offering has a free plan where business and personal users can host up to 10 participants. Note that these video meeting solutions are not the same as the robust business phone systems we've outlined here. 
Can I turn off Dialpad's voice intelligence features?
Yes. If you want to turn off Dialpad's AI-powered features for privacy reasons, you can do so via the Your Settings menu under Dialpad AI. If you only want AI-enabled for specific calls, you can turn off this setting by default and manually activate it when you begin a meeting. 
Is RingCentral better than Dialpad for large teams?
When comparing RingCentral and Dialpad, team size and communication complexity are key factors. RingCentral is more suitable for larger teams ― especially if they're geographically dispersed ― because of its comprehensive communication offerings, extensive integration options and large meeting capacities. However, for smaller teams, Dialpad is a more cost-effective choice that provides essential VoIP functions you need at a lower price point.