Good communication is essential in any business. From Slack to Basecamp to Trello, hundreds of apps help your business break down communication barriers and operate more efficiently. In an age when there's an app for everything, how necessary is a traditional phone system?
Communicating with customers and clients requires businesses to have some type of phone system. Depending on your business's needs, there are many different options for purchasing and installing a phone system.
Overall, only relying on mobile phone plans for your business may not be the best approach. A professional, well-run business needs features like a virtual receptionist or voicemail to present a good company image and connect with customers they are trying to reach.
Luckily, several types of phone systems prove effective for all businesses, from those with many workers in the field to those operating largely from one location.
Editor's note: Looking for a phone system for your business? If you're looking for information to help you choose the one that's right for you, use the questionnaire below to receive information from a variety of vendors for free:
What to look for in a business phone system
When considering which business phone system to use, you have various factors to consider.
Price
Traditional landline systems cost around $60 to $80 per line per month. AT&T Phone for Business offers a plan for about $30 per month for unlimited calling in the U.S. and Canada, Puerto Rico, and Mexico, but it requires AT&T internet. It does not include the price of the physical phones you will use; however, your existing analog office phones will work.
Cloud-based VoIP systems typically cost $20 to $60 per user per month. These prices vary by the service provider, the number of features you need and, in some cases, the number of users on your account. Ooma's plans, for example, start as low as $19.95 per month. Our comprehensive review of Ooma covers all of the specifics.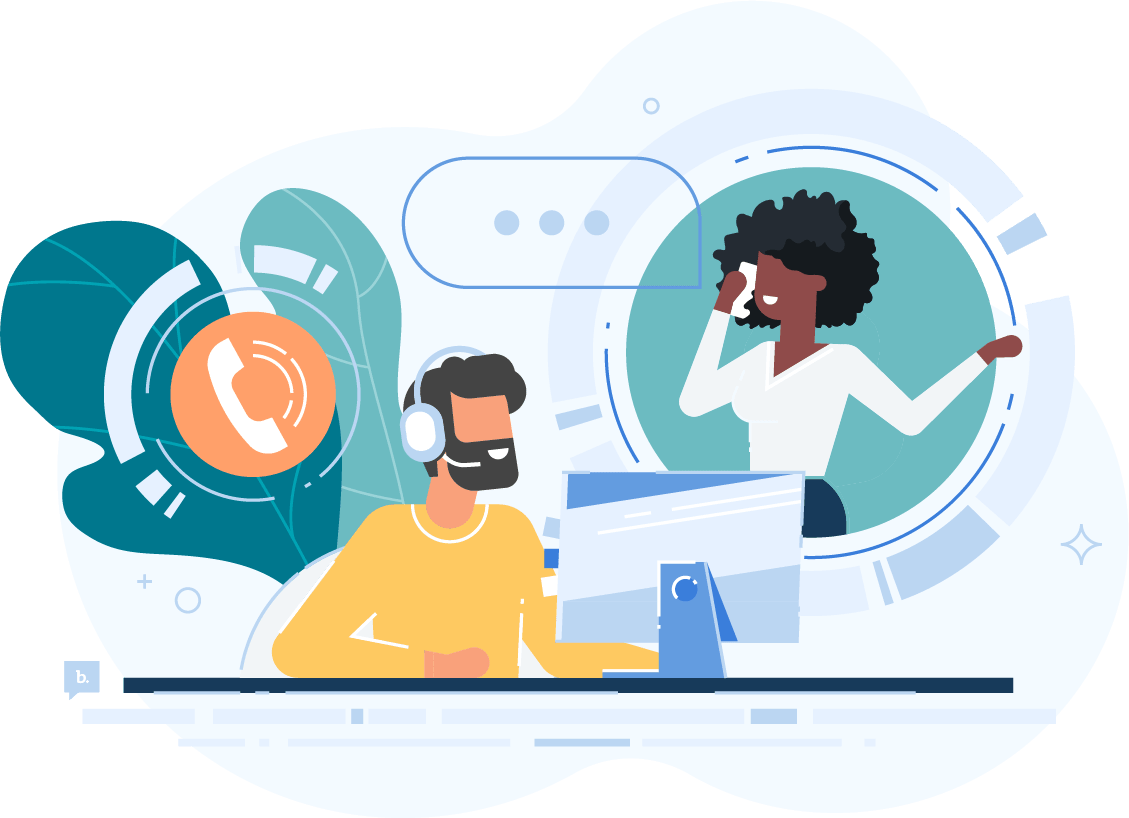 On-premises VoIP systems usually charge a one-time fee of $500 to $1,250 per user, plus an installation fee that can be thousands of dollars. If you're purchasing your on-premises hardware, you may also need to spend anywhere from $300 to more than $15,000 for enterprise-level equipment that supports up to 1,000 users and hundreds of concurrent calls.
In addition to the service itself, you may need to purchase phones. Some providers include basic phones with the service. If not, desktop phones cost anywhere from $50 to $500 each, while conference phones range from $500 to $1,500.
Virtual phone systems, which don't require you to purchase physical phones, cost around $10 to $80 per month, depending on the features you want to include in your plan. An example of a virtual phone service provider is Grasshopper.
Reliability
Regardless of the type of system you get, make sure you choose a reliable one. What's the point of spending money on a system that isn't up and running when you need it? Consider uptime, the number of data centers and redundancy systems in place, how many call carriers the provider works with, and how it ensures you don't lose service (or, in an emergency, get service back quickly). Reliability is one of the most important aspects of your phone service provider. [Read our review of RingCentral if you're looking for an extremely reliable phone system.]
Security
If your business needs maximum security or would like to customize its own security, a premises-based VoIP or landline system are both good options. If you're establishing a cloud-based network, look for data encryption during transmission as well as at the physical security of the data centers.
Mobility
The mobility aspect will be inherent for virtual systems and even virtual numbers. But for VoIP systems, be sure to ask about mobile options. For example, some providers have mobile apps that let you make calls on your smartphone through the service. This allows you to use "softphones."
Support
If you don't have an IT staff, then 24/7 support is a must. Also, look at how many ways there are to contact support and how quickly you can expect a response. User reviews can alert you to the most common complaints.
Features
Features vary by type of phone system. Some companies base their features on what type of plan you purchase. Most phone systems come with a basic feature set, then charge for additional features through a higher-tiered plan or add-on charges. These are some features to look for:
Automated attendant
Call monitoring
Call queues
Conference calling
Directory assistance
Extension dialing
Integrations with programs like Outlook and Salesforce
Missed call notifications
Ring groups
Toll-free or local number
Video chat
Voicemail
Call recording
Call reports
Call routing/forwarding
Call transfer
Voicemail transcription
Voicemail-to-email
Voicemail-to-text
Internet faxing
Interoffice instant messaging
If access to a plethora of phone features is important for your business, you may want to consider GoToConnect, our pick for the best features and tools in a business phone system. Our full review of GoToConnect has all of the details.
VoIP phone systems will likely offer the widest range of features for a more affordable price than a landline system.
Phone system types
Today's business phone systems fall into three distinct categories: landlines, Voice over Internet Protocol (VoIP) and virtual phones. Each category has strengths and weaknesses, meaning there's no obvious best solution for every business or use case. 
Landline
This is a traditional phone system, meaning you plug the phone into the wall and work with a local phone company. Landlines rely on physical wire connections monitored and run by regional phone companies. One aspect of landline phones to consider is that the telecommunications industry is gradually moving away from this technology. While landlines provide a strong connection and reliable service, this part of the industry is not going to expand.
Features:
Voicemail
Call holding
Call blocking
Pricing:
Businesses can expect to pay about $50 per month for a phone line.
Pros:
It works with older, less expensive hardware.
It has very reliable service, even in areas with a poor internet signal.
Cons:
You may need to purchase a private branch exchange or PBX hardware.
Since the industry is slowly phasing out this technology, fewer features and upgrades are available than there are for newer VoIP phone systems.
>> Learn More: What is a Cloud PBX Phone System?
VoIP
This technology pairs your phone system with your internet connection. VoIP systems connect you with other users via your internet service provider. This technology has come a long way, rivaling landlines in quality and reliability.
Features:
Automated voicemail boxes
Conference calling
Real-time call center monitoring
Pricing:
Businesses can expect to pay about $35 per month for each user.
Pros:
These phone systems are cost-effective and easily scalable.
They offer high mobility, as they don't require a phone line.
The system does not require a PBX.
Cons:
Poor internet service will lead to poor call quality.
Data can be intercepted on some networks.
If you select VoIP, you must decide if you want the system hosted at your business or in the cloud. Hosting it at your business is also known as establishing an on-premises VoIP system. This involves purchasing or renting expensive software outright and then paying a monthly fee as well.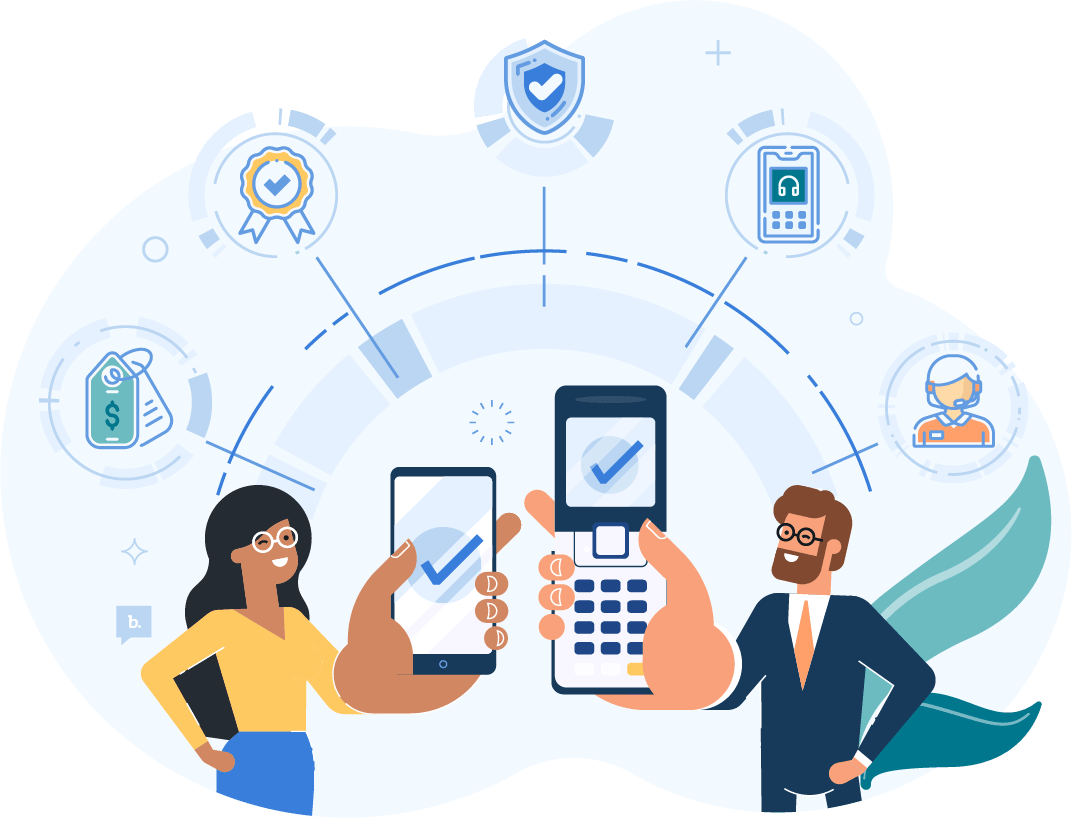 In addition to hosting the equipment, you and your business are responsible for maintaining it. This can add to the overall cost, but it makes sense for some businesses that want to be responsible for their own service should it go down. 
Cloud-based systems require no maintenance or hardware. Instead, all the technical services are handled directly by the service provider. This service option is usually priced by how many users are needed for the system. 
Cloud-based systems are often significantly cheaper overall than on-premises VoIP systems because you won't have to buy additional hardware.
Virtual phone system
Virtual phone systems can be a great option for businesses with many employees working in different locations. Virtual systems are not full-fledged phone systems; they provide different features for your business while still operating on your mobile or home phone network.
Features:
Auto attendants with customizable greetings and messages
Analytics and reports
Voicemail transcription
Pricing:
Businesses can expect to pay $10 to $80 per month per user.
Pros:
These systems have flexible device options, with support for computers, mobile phones, conference phones and more.
They're very easy to configure and use with a high-speed internet connection.
Cons:
They may experience latency and jitter with a poor internet connection.
They lack some advanced features, such as file sharing, messaging, and video conferencing.
Differences between hardphones and softphones
Some service providers can turn other devices into "softphones." These devices aren't phones but can access the features of your phone system. Some VoIP providers can send business voicemails to your smartphone as text messages or directly to your email inbox. This effectively turns your computer into a phone. Hardphones, on the other hand, are the physical phones that you and your colleagues use in the office. 
When you're choosing a phone system, consider if you want features that allow you to access important aspects of your plan, like voicemail, on your computers and smart devices. Softphones can increase efficiency and productivity, depending on the devices you and your team prefer and how mobile you are while working.
Best practices for choosing a business phone system
As with choosing anything for your business, it's important to assess your needs before you dive into a new product. The type of equipment, the number of people using it, and the potential to bundle with other services (such as business internet) are all significant factors to consider when you're choosing the best phone system for your business.
1. Assess your basic needs.
The requirements for telephone communication vary widely across industries. If your direct-to-consumer business has a large customer service department and takes customer calls regularly, it's worth investing in a reliable VoIP system that integrates with the software your service team uses on a daily basis. If you run a boutique marketing agency, you'll most likely need a solid conference phone line to allow your team to connect with clients as if they were in the same room. An honest assessment of your use case is by far the most important step in the process.
2. Determine how many people need a business phone.
A quick headcount of everyone in the office may be all that's required for small business owners who feel that everyone needs a traditional phone. However, not everyone in the office needs or wants a phone on their desk or computer. Communication tools such as Slack can make voice and video calls between computers quick and easy, greatly reducing the need for a phone for employees who don't communicate with customers or vendors frequently.
The other big factor here is the number of remote employees who need access to a phone system. Since you can't easily provide those employees with physical phones, the size of your remote team could greatly influence your purchase decision for the entire company.
3. Inventory your existing hardware.
If you've already invested in telephone hardware and are not ready to consider a sunk cost, you may be happy to find out that some older phones are compatible with VoIP systems. You may also be able to use a phone adapter to increase the likelihood of repurposing older hardware for modern technology with the ability to keep your existing phone numbers.
4. Check for bundled service options.
Most internet service providers offer bundled discounts for voice and VoIP phone services that every business should at least consider. While all telecom providers advertise current deals online, we recommend calling your ISP to ask about any promotions or special pricing they would consider if you opted for a bundled package with additional services. If you can find a better deal elsewhere, let your existing ISP know; they may be willing to match or beat a competitive offer to keep you as a customer.
5. Find the best deal.
Once you've determined the best type of telephone service for your business, the features it has to include, and the number of people who need to use it, all that's left is to shop by price and contract length. If you're unsure about your long-term remote work policy, consider a monthly billing option with the least amount of hardware possible to stay flexible. If your long-term business phone needs are all but set in stone, owning your equipment will probably mean the lowest total cost for your business.
Matt D'Angelo contributed to the writing and research in this article.