GoTo Connect is the best small business phone system for executing internal IT services, as it has device analytics and built-in helpdesk ticketing. Its cost-saving and productivity-boosting features can enhance a company's customer service worldwide.
Pros
GoTo Connect offers the lowest price for unlimited international calls.
Device management tools assist cybersecurity efforts.
You can bundle small business VoIP phone service with IT support features.
Cons
GoTo Connect has fewer supported integrations than competitors.
Depending on the plan, you're capped at 40 or 80 short message service (SMS) messages per month.
The entry-level package is expensive for a limited feature set.

Businesses save money when using a cloud-based phone system, but most services charge for international calls and only a few integrate with remote information technology (IT) software. Enter GoTo Connect, which we found to be the top communications solution for internal IT teams. With IT ticketing and device management tools for employee tech support, GoTo Connect eliminates extra fees (and third-party subscriptions). Also, it enables unmetered calling to 52 countries, which helps companies reach their global customer base without breaking their budgets. We examined pricing, features and more in our GoTo Connect review, identifying how it stands out for businesses carrying out internal IT services.
GoTo Connect Editor's Rating:
8.8 / 10
Pricing/value

9/10

Features

8.5/10

Customizations, add-ons and integrations

8.5/10

Ease of use

9/10

Customer support
Why We Chose GoTo Connect for Internal IT Services
The internet opened the world to small businesses, allowing them to connect with customers across the globe. But reliance on a cloud phone system and applications mean more time (and money) spent troubleshooting technical issues. We love that GoTo Connect puts voice-over-internet-protocol (VoIP) services and IT management tools together in a single platform. 
The system's integrated products and the ability to make unlimited calls worldwide let companies avoid complex integration processes and serve an expansive customer base without sacrificing efficiency or paying steep costs for international calls. We appreciate the unified administrator experience, which shows call quality and device status for on-site and remote teams. We also like that employees needing help with hardware, software or email can submit a request to their IT team without leaving the GoTo Connect application.
Additionally, small to midsize businesses that provide technical assistance for customers can take advantage of GoTo Essentials. This unique subscription bundles GoTo's feature-rich GoTo Resolve software with VoIP phone services. Other tools like an intuitive visual dial plan editor and smart call routing earn GoTo Connect a spot on our list of the best business phone systems.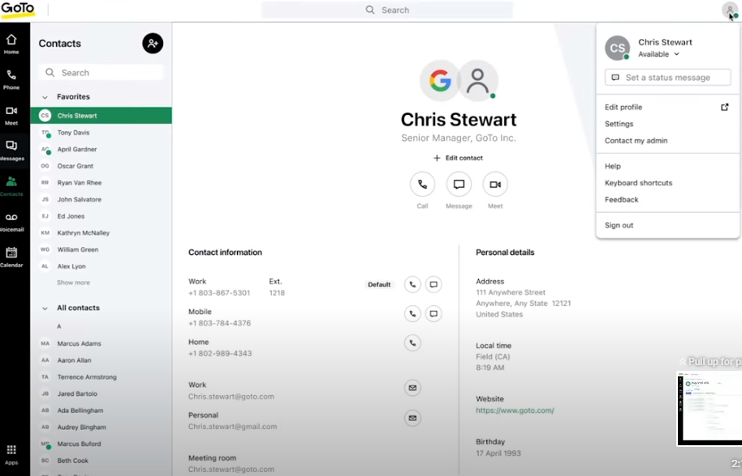 GoTo Connect users can tap "Contact my admin" to request IT support. Source: GoTo 
According to a recent GoTo survey, 83 percent of IT decision-makers believe consolidating IT management and support, communication and collaboration tools is a key initiative.
Ease of Use
GoTo Connect's desktop and mobile apps are intuitive and visually appealing. The main screen is uncluttered, with one-click access to voice, messaging, meetings, contacts and favorites. On the left sidebar, you can toggle between different GoTo products, but you won't see these icons if your company doesn't subscribe to GoTo Contact Center or GoTo Training. [See our GoTo Contact Center review to learn about additional capabilities for business communications.] 
We love GoTo's new softphone experience for desktop users. It opens a floating window with basic call functions, so you can minimize the GoTo Connect application but still answer incoming calls. Like the vendor's other apps, this tool is user-friendly with simple icons. Red means stop (or end call), whereas green means go (or answer a call). We appreciate the ability to switch devices without call interruption (call flip) and view timestamps on all interactions, from messages to missed calls.
The admin panel streamlines back-office processes like configuring accounts and viewing open help tickets. The graphics are clear, making it easy to understand call volume and quality at a glance. Overall, we were impressed with how easy it was to use GoTo's all-in-one phone system, especially in light of its many advanced features. However, if you need fewer tools, see our review of Ooma Office, which costs less and is equally simple to navigate.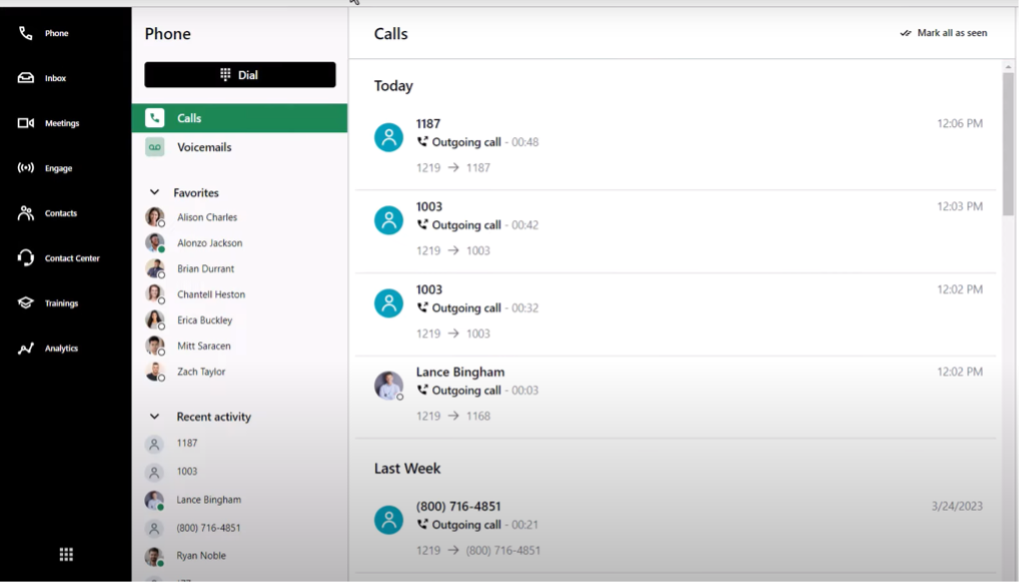 You can shift seamlessly between GoTo Connect features and other GoTo products on the desktop app. Source: GoTo 
GoTo Connect Features
GoTo Connect provides plenty of features for IT departments, administrators and employees. Videoconferencing and chat messaging tools also make it an excellent solution for managing remote teams. Here, discover the GoTo Connect features that enhance customer and technical support experiences.  
GoTo Admin
Only a few VoIP providers offer quality of service reports and some, such as RingCentral, give a real-time view of system health. Such admin tools help you optimize networks for VoIP and manage users or devices. Using GoTo Connect's system health dashboard is particularly convenient since it covers all GoTo products your company subscribes to. It's easy to monitor each connection or view company-wide stats. We especially like the watchlist, which lets you keep tabs on employees with fair or low call quality. You can also click on individual users to better understand their call quality history.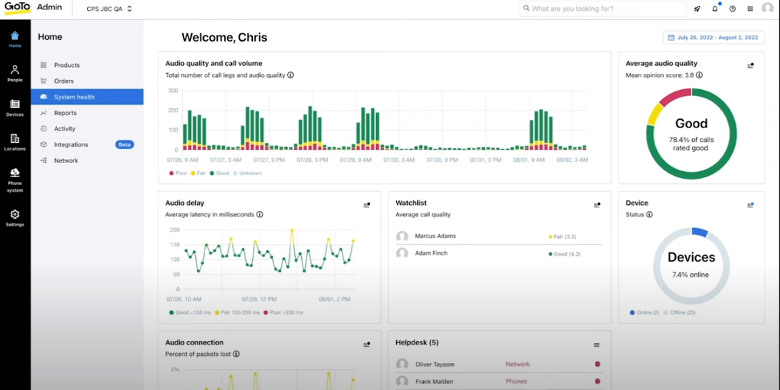 View call volume, device status and call quality from the GoTo Connect admin panel. Source: GoTo 
Internal Helpdesk Ticketing
This feature is unique to GoTo Connect and invaluable to companies with an IT department. It incorporates helpdesk functionality into the GoTo Connect phone app. Employees can choose from over a dozen support categories and attach a screenshot if desired. IT staff can filter tickets by priority or type. Each submitted form has a quick links section so admins can click to view the employee's profiles, devices, history and technical health.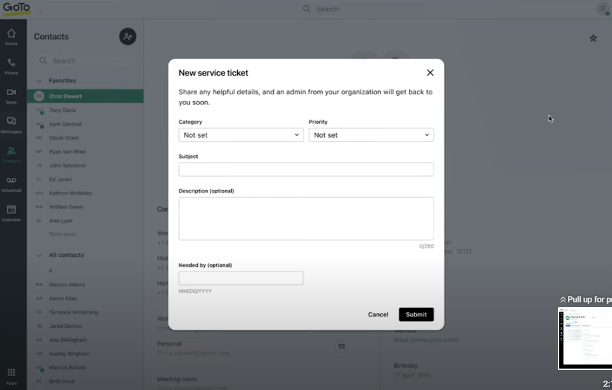 Employees can submit a help ticket from the GoTo Connect phone app. Source: GoTo 
Floating Softphone App
While several business phone systems let users minimize apps, most don't offer a condensed softphone. We appreciate how GoTo Connect's app floats above other windows, keeping your communication tools close. It has fewer features than the main desktop application but includes essential ones like mute, transfer, park and hold. Each person can manage up to five simultaneous calls. We like how clicking on the banner shows the number of calls and their status (hold, park or active).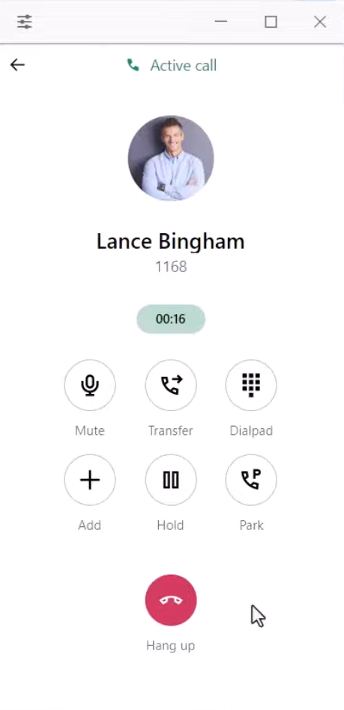 You can keep a condensed softphone app on your screen while multitasking. Source: GoTo 
Companies can boost business productivity by reducing app-switching and using automated phone features, like artificial intelligence (AI)-enabled meeting transcriptions and automatic routing to call queues.
Videoconferencing
Secure video conferencing is a critical component of a modern business phone system and GoTo Connect offers this feature with all subscriptions. Users can share screens, join via web browsers and chat with meeting attendees. However, GoTo's offering falls behind other cloud phone services like Zoom, which we found to be the best phone system for video conferencing. If your business depends on video meetings, check out our review of Zoom Phone.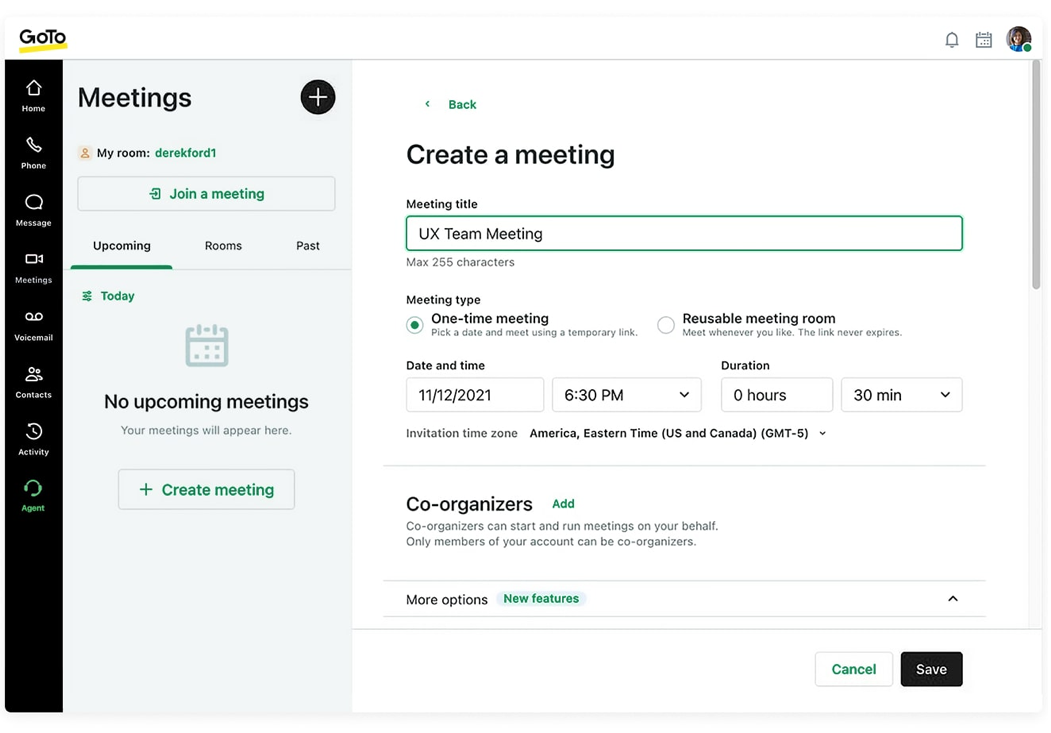 Set up one-time or recurring video meetings from the desktop app. Source: GoTo 
Visual Dial Plan Editor
Many business phone systems have some version of a dial plan editor or phone tree configuration tool. These include drop-down lists for simple call flows in Ooma and graphical dial plan editors for advanced, multilocation call mapping in 8×8. We preferred using GoTo Connect for this task, as it has intuitive drag-and-drop functionality and is helpfully available in the admin dashboard. You can configure the virtual receptionist to support advanced routing options and features like "Find Me/Follow Me." (Notably, Ooma also has a tool called "Find Me Follow Me.")
A recent update to GoTo Connect's dial plan editor added call volume analytics within the tool. Admins can see real-time data and view trend reports covering one, seven or 30 days. Analytics are also one of Nextiva's standout features — read our detailed Nextiva review to find out why.
Call Transfer and Parking
This common feature lets an employee send a caller to a co-worker's phone. Most cloud phone systems and call center software offer this, but we like that GoTo Connect provides three transfer options: direct, warm transfer and voicemail. Direct transfers pass the call right to another person, whereas warm transfers mean the employee can speak to their co-worker before forwarding the call. Users can also transfer a caller to a voicemail box. This utility is valuable on shared lines, such as when an assistant screens calls for an executive. [Related article: Tips to Win Customers Over the Phone]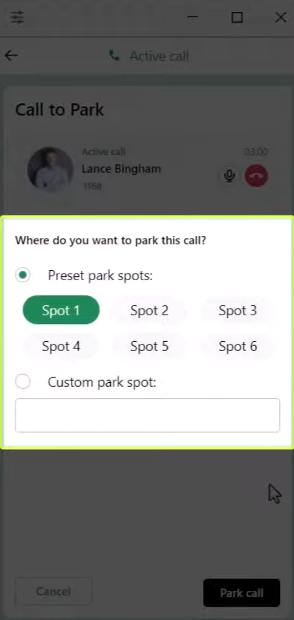 Park calls from your desktop dashboard or the condensed softphone app. Source: GoTo 
GoTo Connect recently added more ways to handle incoming calls. For example, the system can now announce the extension or ask callers for their names. Users can enable this feature in the desktop or mobile applications.
Pricing
GoTo Connect offers two business phone system plans, Basic and Standard, which you can conveniently buy online. A third subscription, Premium, is packed with cloud call center features like social media messaging and SMS queues. Although this option isn't listed on GoTo Connect's website, the vendor confirmed to us that companies can pursue this plan by requesting a custom quote. 
We like that GoTo Connect makes providing customer support and collaborating with international clients straightforward and inexpensive. The Standard subscription includes unlimited outgoing calls to 52 countries and costs $25 to $31 less per user with monthly billing than 8×8's international calling plan, detailed in our 8×8 review. However, GoTo's Basic plan lacks virtual faxing and limits video meetings to four people and 40 minutes. Zoom and Ooma offer less expensive entry-tier packages with better video features.
That said, we appreciate that GoTo's Standard package provides 1,000 toll-free minutes, whereas other VoIP phone services charge extra for toll-free minute packages. Plus, all plans work with a desk phone, Android or iOS devices and computers. 
Here's how the pricing and features compare with plans for two to 10 users.
Service plan

Price (cost per user per month)

Features

Basic

$27

One auto-attendant greeting
40-minute video meetings with four participants
One call queue
40 SMS messages
One ring group
One custom dial plan

Standard

$32

Everything in Basic, plus:

Unlimited ring groups and call queues
Internet faxing
80 SMS messages
Unlimited custom dial plans
Hot desking
Real-time analytics
1,000 toll-free minutes
Microsoft Teams, Salesforce and Slack integrations
Unmetered calling to 52 countries
Call recording
Unmetered video meetings with 150 video conferencing participants

Premium

Custom quote

Everything in Standard, plus:

5,000 toll-free minutes
250 video conferencing participants
SMS queues
Intelligent call routing
Real-time analytics dashboard
Social media integration
Unlimited ring groups and call queues
Agent monitoring tools
Web chat
Besides the packages outlined above, businesses that want to bundle an office phone system with IT support will appreciate GoTo Connect Essentials. This subscription includes all of the features from GoTo Connect Standard, such as SMS, team chat and videoconferencing, but adds GoTo Resolve Standard with remote desktop control and custom device management. Pricing starts at $35 per user, per month, for 20 users. Explore more available features in our GoTo Resolve review.
Implementation/Onboarding
Many small businesses can be up and running with GoTo Connect's services within a day. The exact time frame will vary based on the number of users, call routing complexity and user settings you need. When you set up a new GoTo Connect seat, the individual receives a welcome email with their account details, a nice touch we appreciate.
However, we were disappointed with GoTo's training and onboarding materials. They lack interactive training modules and videos. Most documentation doesn't have screenshots, either. The knowledge base has many articles but refers to different software versions, and we couldn't find information for some of the newest features. Other competitors offer on-demand webinars and tutorials with screenshots, GIFs and videos.
Customer Support
While GoTo Connect offers 24/7 customer support, the options may differ by your location. During our investigation, which was United States-based, we could only access customer service through email or an online ticketing system. The company responds to emails within 24 hours. This falls short of GoTo Connect alternatives, which provide live chat and phone support. 
We did, however, find it useful that a GoTo manager monitors the vendor's community forum and answers user questions within a few hours. This is a selling point over rivals as most provider message boards are either inactive or rely on self-help support from peers rather than company employees. 
Limitations
GoTo Connect's self-service and customer support options lag far behind most other business phone systems we reviewed. This may be fine if most of your team is familiar with web- or app-based calling, but it does make it difficult to train staff quickly and take advantage of all features and tools. Check out the valuable support resources detailed in our RingCentral review if this is an important consideration for your business.
GoTo Connect also lacks the AI-powered tools that many similar products have or are rolling out. The platform doesn't provide real-time call or meeting transcripts, use speech recognition to automate action items or automate agent coaching. If these features interest you, consider our review of Dialpad for an alternate solution.
Methodology
Our team evaluated dozens of VoIP phone services to identify the best business phone systems. We assessed more than 50 features, from call forwarding and virtual receptionists to video and audio conferencing. After downloading softphone apps, we tested systems for ease of use and overall functionality. In addition, we contacted customer service to assess support availability and quality. GoTo Connect set itself apart as the best solution for businesses needing assistance with internal IT services because of the valuable IT management tools it provides alongside more traditional communications features. Explore more criteria to keep in mind in our guide to choosing a business phone system. 
FAQs
Yes, GoTo Connect has text messaging. Plans include 40 to 80 SMS messages, depending on the subscription.
You can use some of GoTo Connect's phone system features in a Google Chrome or Microsoft Edge browser. For instance, you can join a video meeting with audio and use messaging during the conference call through the GoTo Connect web app. But you can't share a video, use drawing tools or answer audio calls with the browser-based version.
GoTo Connect integrates with 31 software programs, including Microsoft Teams, Slack and Salesforce, but it only connects to a few CRMs. If integrations are vital to your business, consider RingCentral, which offers hundreds of integration options. Also check out our review of Vonage, which excels at integrations and add-ons.
Bottom Line
We recommend GoTo Connect for …
Companies looking to save money on international calls.
Small businesses wanting to bundle IT software and VoIP
Organizations that want to use their current IP phones.
We don't recommend GoTo Connect for …
Businesses that need high-touch customer support and onboarding.  
Solopreneurs looking for cheap VoIP service. 
Companies wanting AI-powered tools.