Choosing the right phone system for your business involves thinking beyond voice calls. Nowadays, many service providers offer comprehensive communication packages that unify phone calls, video conferencing and messaging in a comprehensive, all-in-one communication hub for businesses. The best solution for your team will depend on which aligns with your company's unique processes and preferences for staying connected.
Two of the best business phone systems currently on the market are RingCentral and 8×8. As you explore different solutions, you may find yourself weighing these two against each other. To help your decision-making process, we've put together a straightforward comparison of RingCentral and 8×8 with critical insights so you can make an informed choice.
RingCentral vs. 8×8 Highlights
Criteria

RingCentral

8×8

Features

Chat-enabled video space
Instant messaging
Conversation folders
Task management
Call handling

Cross-platform team messaging
Multisite support
Internet faxing
Multilevel automated receptionist call flows

Starting prices

From $20 per user, per month (annual billing)

From $24 per user, per month (annual billing)

Integrations

Over 330 integrations and application programming interfaces (APIs)

More than 60 integrations and open APIs

Video conferencing

200 video participants (more allowed for add-on fee)

500 video participants

Base-level customer support

Phone, live chat, support tickets and community forum

Phone, live chat and community forum
Who Is RingCentral For? 
RingCentral is well-suited for large and growing businesses in need of substantial communications capabilities. This cloud-based solution has a commendable, near-perfect uptime, the capacity to accommodate large numbers of users and the ability to integrate with hundreds of other business software and applications seamlessly. 
With RingCentral, you can host up to 200 participants in video meetings and up to 1,000 participants in audio-only sessions. For businesses with higher-capacity video needs, RingCentral's Large Meeting add-on accommodates up to 500 participants in video sessions. Noteworthy advanced features include real-time call oversight and guidance tools for your staff members during customer interactions.
The cornerstone of RingCentral's portfolio is the RingCentral MVP platform, which is available via three plans starting at $20 per user, per month, with annual billing. For a comprehensive understanding of all its capabilities and offerings, read our full review of RingCentral.
RingCentral's Team Huddle feature is a great alternative to traditional conference calls. This group communication feature allows up to 30 users to participate and offers a built-in virtual whiteboard for greater collaboration.
Who Is 8×8 For?
8×8 is a versatile business phone solution for global businesses of any size. With its X-Series, you can personalize your plan, choosing from unlimited voice calling options that span 14 to 48 countries, depending on where your business operates. Network administrators have the flexibility to tailor subscriptions to meet the individual needs of different team members, be they sales representatives or call center agents, so you can save on international calling and subscription fees while equipping employees with essential tools. The system supports essential communication functionalities, such as audio conferencing and video meetings and features a handy multilevel auto-attendant that streamlines operations. 
The vendor's X-Series, which starts at $24 per user, per month, when billed annually, offers valuable functionality that can grow with your needs. Companies can upscale their communication suite to include multilingual chat support and accommodate rising call volumes by incorporating contact center services. Moreover, it integrates smoothly with top-rated customer relationship management (CRM) platforms, optimizing the sales process by helping teams reach clients efficiently and documenting interactions systematically.
Designed to foster a connected workforce, this platform caters to call centers with functionalities like hot desking and ring groups, ensuring that as your business grows, your communication system can adapt seamlessly, keeping everyone interconnected. Our full review of 8×8 goes further in-depth on this solution's features, options and limitations.
RingCentral vs. 8×8 Comparison
RingCentral and 8×8 each come with useful communication and collaboration tools for businesses to connect with employees, clients and customers. Here's how they compare with each other.
Features
RingCentral

Audio and video conferencing: RingCentral offers extensive video options, including a webinar feature and tools for easy in-office collaboration, alongside traditional audio and video conferencing abilities. It boasts an impressive capacity of up to 1,000 attendees for audio conferences.
Team huddle and messaging: Huddle is an informal chat-facilitated video space to connect remote employees for various purposes, such as virtual break rooms and instant support access. This provides a unique space for spontaneous interactions, unlike many other voice-over-internet-protocol (VoIP) systems. RingCentral also has text-based messaging features, such as allowing users to bookmark or pin messages, thereby streamlining communication for remote teams by centralizing important information.
Personal folders: Exclusive to RingCentral, this feature helps organize communication content into folders with customization options, supporting efficient recordkeeping and easy reference for future use.
Task management: RingCentral enables task grouping by color or category and multiuser task assignments and improves organization and efficiency further by providing status updates on task completions.
Advanced call handling: RingCentral's call handling goes beyond the basic call transfer tools commonly found in business phone services by offering customizable call flows for incoming calls, routing them intelligently to ensure they're answered.
Business phone system security: RingCentral ensures compliance with Health Insurance Portability and Accountability Act standards by expanding its end-to-end encryption to cover various services and maintains a secure communication channel across different platforms. Notably, this security feature is reserved for the vendor's highest plan tier.
8×8
Audio and video conferencing: Available in even 8×8's basic package, the platform supports up to 500 participants for both video and audio conferencing. The system has interactive meeting tools, such as screen sharing, breakout rooms and instant polls for an engaging experience.
Multilevel auto-attendants: A built-in feature in all 8×8 subscriptions, this function facilitates complex call flows with alternate menus and call forwarding rules.
Multisite support: This standout feature allows easy branching without starting from scratch, ensuring consistency and quality management across different company locations through a single application.
Cross-platform team messaging: A step above the standard team messaging features in many VoIP services, 8×8's Sameroom technology integrates chats from various third-party apps, including Slack and Telegram, into the 8×8 Work platform. It also supports file sharing and one-click video and voice calls.
Call queues: 8×8 improves the caller experience by managing high call volumes efficiently. Not only does it allow the creation of primary and secondary members for each queue to ensure coverage during peak hours, but it also enables users to set a maximum number of callers per queue to maintain service quality.
Winner: Tie
Both vendors offer strong business phone capabilities and standout communication features, so the winner here will depend on your business's specific focus and needs. If you're looking for robust team collaboration tools for a distributed team, RingCentral is the right choice. 8×8 is the better pick if you're prioritizing advanced call center capabilities to handle incoming customer queries.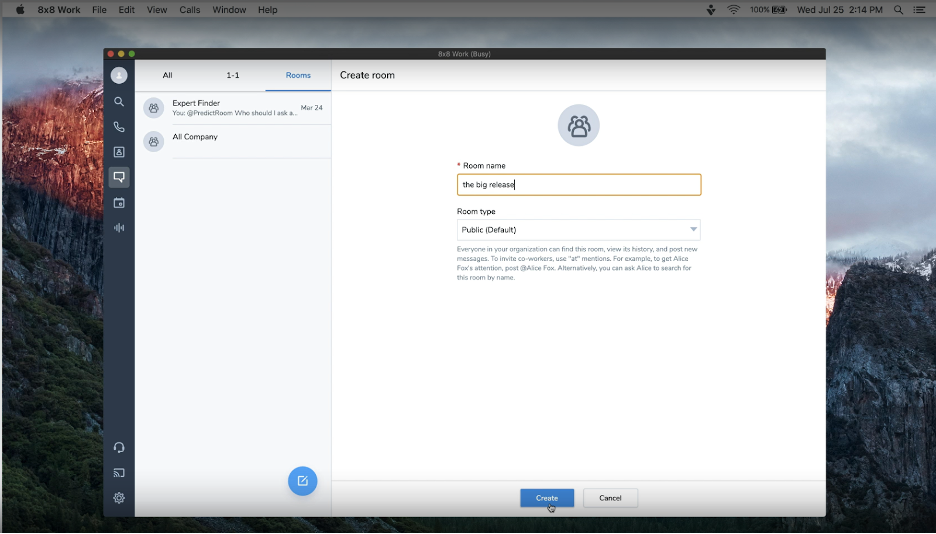 With the 8×8 Work application, users can create different chat rooms to keep communications organized and seamless. Source: 8×8
Pricing 
RingCentral
RingCentral MVP is available at three subscription tiers. The prices listed below reflect a 33 percent discount for an annual contract compared to the vendor's month-to-month rates:
Core plan: For $20 per user, per month, the base tier of RingCentral MVP includes unlimited local calls, a voice response system, messaging functionalities, API integration, analytics and compatibility with Google and Microsoft.
Advanced plan: At $25 per user, per month, this level builds on the Core offerings with added features like automated call recording, expansive app integrations, enhanced call supervision and digital faxing capabilities.
Ultra plan: Priced at $35 per, user per month, here, you'll get all the features from the Advanced plan, plus unlimited file transfers and storage, collaborative tools like virtual whiteboards and tailored business analytics.
Additional services include webinar hosting, extra local and overseas phone lines and bulk short message service (SMS) services.
For companies that want to try RingCentral before committing, the vendor offers a complimentary 14-day trial for up to five users. We appreciate that trial accounts are assigned a personal account specialist and have access to round-the-clock assistance to ensure users get the most out of this period.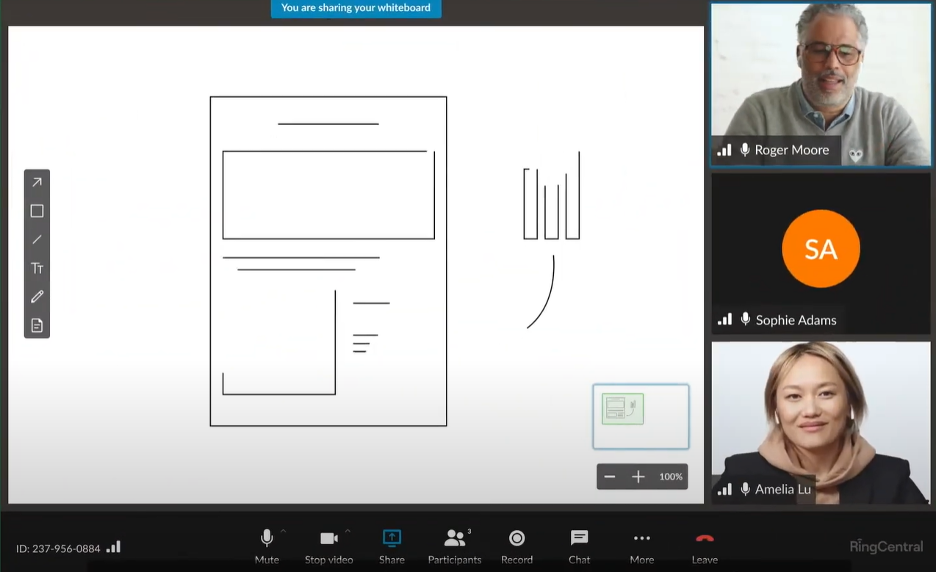 Hybrid and remote teams can take advantage of RingCentral's useful whiteboard feature for visual collaboration. Source: RingCentral
8×8
With 8×8's X-Series plans, there are two options for small businesses that want an annual plan discount. The month-to-month prices are up to 30 percent higher than those listed below:
X2 plan: For $24 per user, per month, this package includes unlimited voice calling to 14 countries, hot desking, SMS/multimedia messaging service (MMS), team chat, document sharing and call recording.
X4 plan: At $44 per user, per month, you'll get everything in X2, plus unlimited calling to 48 countries, barge, monitor and whisper and 8×8 Frontdesk for receptionists and operators.
For businesses that want more advanced features like unlimited media storage, autodialing and speech analytics, the company also offers X6, X7 and X8 plans. These options range from $85 to $140 per user, per month, and are only available on a month-to-month payment schedule.
Winner: RingCentral
RingCentral's annual starting prices are lower than 8×8's and the vendor provides a better overall value than its rival based on the included features at its lower tiers. 
Third-party Integrations
RingCentral
RingCentral facilitates more than 330 integrations with many popular business tools, including Salesforce, Microsoft Teams, Google Workspace, HubSpot and Slack. You can also take advantage of RingCentral's open APIs and software development kits to build your own custom solutions that sync with other business software.
8×8
While many internet phone services link up with common tools like Google Contacts or Microsoft Outlook, not many offer ties to CRM systems at the basic plan level. The 8×8 X-Series is compatible with 60 applications, including top-tier CRM platforms like HubSpot. Additionally, it has special voice features for Microsoft Teams to enhance its business communication offerings, especially in the vendor's contact center packages.
Winner: RingCentral
RingCentral's hundreds of integrations position it as the clear winner in this area as it works with most companies' existing tech stacks.
Video Conferencing Capabilities
RingCentral
With RingCentral MVP's Ultra plan, your team can host video meetings with up to 200 participants (the Core and Advanced plans are capped at 100). Each tier comes with a Large Meeting add-on option, which increases your meeting capacity to 500. 
Businesses whose primary communication needs are video-based may wish to consider RingCentral's separate Video Pro offering, which is free for up to 100 attendees. There's also a paid plan for $10 per user, per month. 
8×8
Across all plans, 8×8 can host up to 500 participants in a high-definition (HD) video conference. It also allows you to stream your video conferences privately or publicly on YouTube. You can use the video API to customize aspects of 8×8's video conferencing platform to suit your business.
Winner: 8×8
Despite RingCentral's high audio meeting capacity, 8×8 has the upper hand here because it allows for a higher number of video meeting participants without an add-on fee and offers more options for streaming and customization.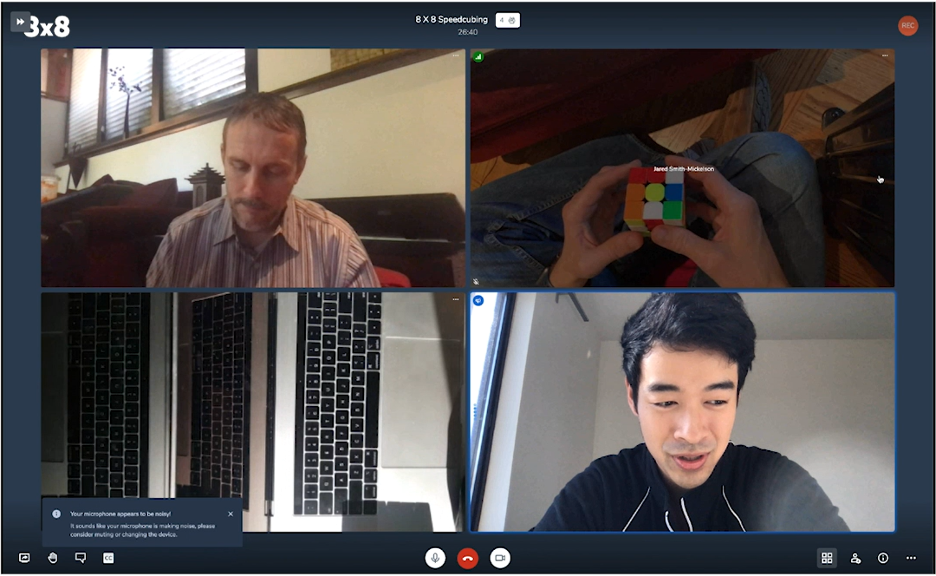 8×8 has a solid video conferencing platform that accommodates up to 500 participants in HD video, even at its base plan. Source: 8×8
Customer Support
RingCentral
24/7 phone and chat support: It's noteworthy that RingCentral offers 24/7 live support via phone and chat across all its packages. This kind of commitment stands out since many other business phone services typically restrict round-the-clock live support to higher-tier customers.
Online support: With the vendor's customer support ticketing system, RingCentral users can request online assistance from an experienced agent.
Community forum: RingCentral boasts a dynamic community space where members can pose questions and share answers, fostering a collaborative environment.
8×8
Phone support: 8×8 representatives are available from 6 a.m. to 6 p.m. Eastern time, Monday to Saturday, for phone support.
24/7 chat support: 8×8's AI-powered chatbot Otto is available 24 hours a day to assist with any issues or troubleshooting. If Otto can't help, human agents are available through chat or phone to help you further during customer service hours.
Community forum: 8×8's community forum provides a space to connect with other users and share insights and experiences using the platform.
Learning resources: 8×8 University features a variety of learning resources — including quick tutorials, on-demand courses and instructor-led classes — to help you use the system more effectively. We like that you can access user guides and manuals available in various languages, reflective of the platform's global user base.
In-person support: Available at an additional cost, 8×8 can provide face-to-face technical assistance for businesses that prefer in-person help.
Winner: 8×8
RingCentral and 8×8 both offer strong customer support, but 8×8's expansive global presence means multilingual support and the vendor goes beyond that with the option for in-person technical assistance. This gives the company a slight edge over RingCentral, especially for businesses that operate internationally.
8×8's artificial intelligence (AI)-powered assistant, Otto, is available to help users with training and onboarding within the service's admin portal, knowledge base and My 8×8 support portal.
RingCentral vs. 8×8 Summary
While RingCentral and 8×8 are both excellent options for your business's unified communications needs, one of these high-quality business phone systems may be a better fit for your company, depending on your enterprise's specific circumstances.
RingCentral is best for remote and hybrid teams.
RingCentral stands out as a top choice for teams working remotely or in a mix of in-office and home environments. This cloud-powered communication system ensures everyone can stay in touch wherever they are. Boasting an almost perfect uptime record, RingCentral guarantees steady communication and easy collaboration, which is essential when your team is spread across different locations. [Find out why engagement is higher with remote teams.]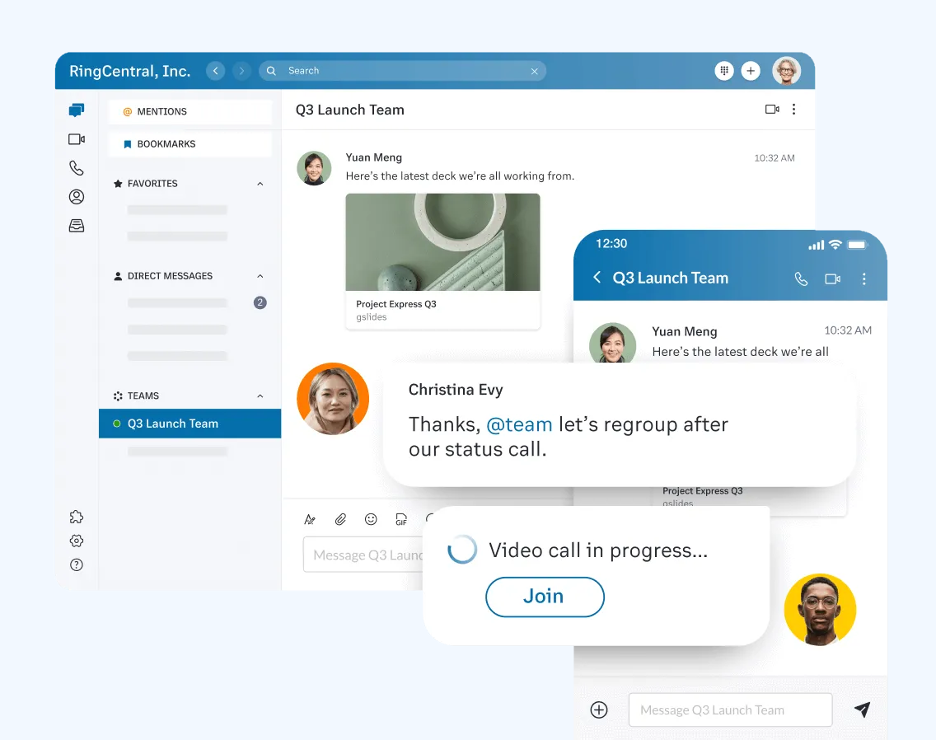 RingCentral's platform includes useful communication tools for seamless collaboration, no matter where your employees are located. Source: RingCentral
8×8 is best for global organizations.
8×8 is a robust communications platform ideal for businesses operating globally and looking for a comprehensive suite of tools to stay connected across borders. This cloud-based system stands tall with its promise of unlimited international calling and supports an impressive array of 46 languages, catering to a diverse and global clientele. Whether you're leveraging its 500-person video conferencing feature or utilizing YouTube streaming options, reaching a large audience seamlessly is easy with 8×8.
When choosing between two business phone systems, always consider signing up for a demo or free trial so you can see both products in action for yourself. Engage your team in this process and gather their feedback. Also, evaluate both solutions' scalability and integration capabilities before making a final decision.
FAQs
Yes, 8×8 has call recording and transcription capabilities. With 8×8's Conversation IQ feature, all calls, meetings and voicemails can be recorded and transcribed. These shareable, searchable transcripts are recorded separately ("dual-channel") and offer sentiment analysis for deeper insights on how to improve customer service.
Yes, there is a free version of RingCentral for video conferencing. Known as RingCentral Video Pro, this platform allows for video meetings with up to 100 participants for a maximum of 24 hours per meeting. You can also enjoy 10 hours of call recording and up to seven days of call storage. However, the VoIP capabilities and collaboration tools featured in RingCentral MVP aren't available with this cost-free option.
Yes, you can make international calls with both RingCentral and 8×8. RingCentral's Global MVP offering is supported in 46 countries and territories while 8×8 is available in up to 48 countries with its X4 plan. This means you can ensure consistent communication for geographically dispersed workers and customers regardless of which platform you choose.
No, 8×8 no longer offers an entry-level plan or a volume discount for a certain number of users. The lowest-priced plan available is X2, which costs $24 per user, per month, when billed annually.