Dialpad is a feature-rich VoIP tool offering built-in AI and analytics for every user. Its affordability helps business owners do more with their data, making it the top business phone system for voice intelligence.
Pros
A multilevel auto attendant comes with all subscriptions.
Built-in speech recognition tools provide actionable data.
Dialpad works with desk phones, computers and mobile devices.
Cons
The system supports only 10 video conferencing participants.
Dialpad VoIP has fewer integrations than competitors.
The internal collaboration tools aren't as robust as what RingCentral offers.

The best business phone systems help leaders leverage artificial intelligence (AI) to automate communication processes and improve business performance. Dialpad is our top pick for companies seeking voice intelligence features because its live speech coaching and automated post-call summaries come with all subscription levels, starting at $15 per user with annual billing. Plus, business owners can configure Dialpad and optimize workflows without hiring an IT team. Our Dialpad review details our experience using its applications and service so you'll know exactly what to expect.
Dialpad Editor's Rating:
8.9 / 10
Pricing/value

9/10

Features

9/10

Customizations, add-ons and integrations

8.5/10

Ease of use

9/10

Customer service

9/10
Why We Chose Dialpad for Voice Intelligence
AI-powered tools enable small businesses to do more with less. Yet, most Voice over Internet Protocol (VoIP) systems lock speech analytics and AI functions behind expensive service plans. We love that Dialpad gives all users access to its voice intelligence feature. It uses natural language processing (NLP) and machine learning for speech recognition on voice and video calls. 
We found the speech coaching cards useful for any customer service team, reminding representatives to slow down or speak clearly on a call. The sophisticated AI tools transcribe video meetings and phone calls. Furthermore, users can improve accuracy by enabling call recording and developing a company dictionary with relevant terms, phrases and info on competitors. 
Messages and voicemails are searchable, so you can quickly find the necessary details. In addition, we appreciated the flexibility of dedicated plans for customer service and sales teams. Dialpad contact center and sales subscriptions add even more voice intelligence tools, including coaching teams for trainees. For these reasons, Dialpad sets itself apart from its peers when it comes to voice intelligence.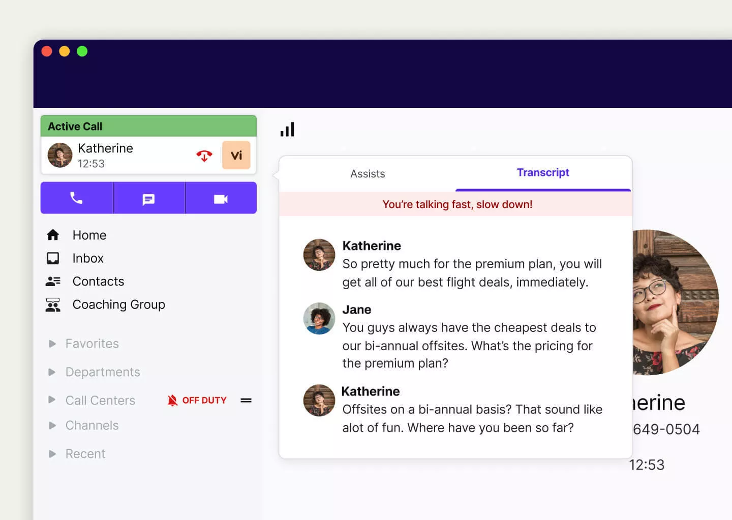 Dialpad coaches your staff while they're on a call. Source: Dialpad
Dialpad helps companies use AI responsibly, allowing administrators to configure AI for departments, main lines and individual users. If a location or job role deals with sensitive data, the tool can be disabled.
Ease of Use
Dialpad's VoIP system is easier to use than 8×8 but falls a bit behind the simplicity of Ooma.  Once an administrator assigns a personal number, you can set your business hours and pull contacts from Google Workspace (Dialpad also supports Microsoft 365 integration). The mobile phone app has a clean user interface that was recently refreshed, fixing the less intuitive left sidebar that we mentioned in previous Dialpad reviews.
Mobile and web app headers show icons for main functions: calling, meeting and messaging. We especially liked how we could see our daily calendar within the Dialpad app and click to join a video meeting, which opened instantly in the application. The administrator web portal is also straightforward. You can manage users, enable companywide settings and integrate third-party tools.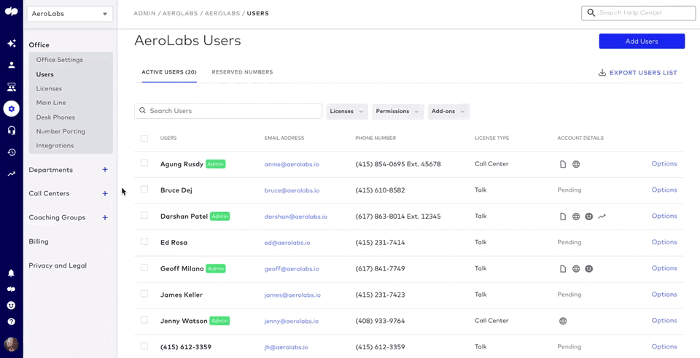 You can bulk-edit user permissions in the admin portal. Source: Dialpad
Call forwarding, call routing and voicemail transcription work well, and we didn't experience any problems with audio quality or dropped calls. However, video calling and team chat features are more limited than competitors'. We preferred RingCentral's screen-sharing and messaging tools. See our RingCentral review to learn why it's our top pick for collaboration.
Dialpad Features
Dialpad's business phone system is equipped with dozens of VoIP features that benefit small companies with one or more locations, from call forwarding to video calling. Discover below the aspects that make Dialpad best for businesses interested in voice intelligence.
Voice Intelligence for Phone Calls
Dialpad is the only business phone system that offers AI-generated call summaries with a base plan. It uses NLP and machine learning to improve accuracy and lets users review previous conversations. We like that the summaries are searchable and shareable.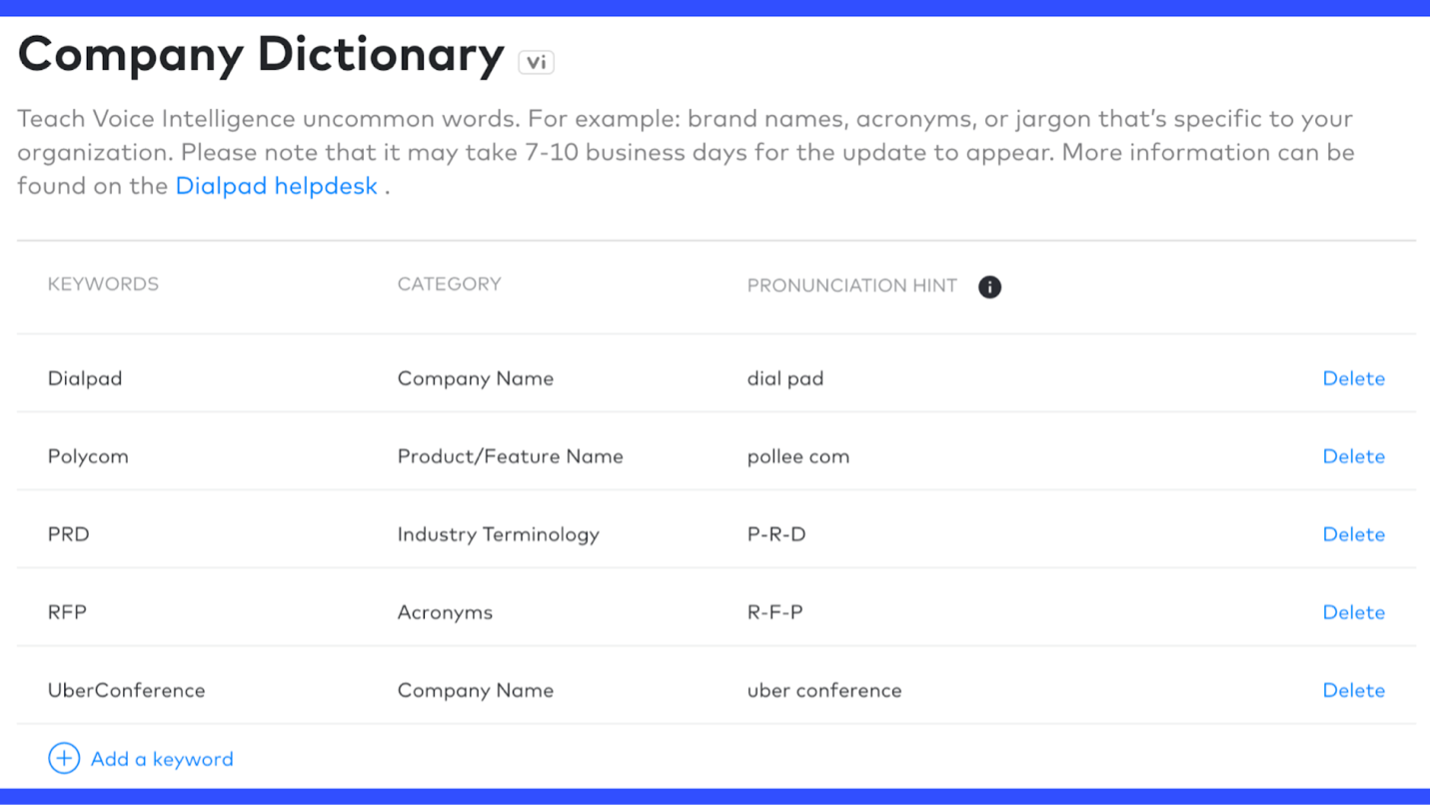 You can train Dialpad's AI tools to recognize industry terms. Source: Dialpad
Enable call recording and build a company dictionary to teach Dialpad's voice intelligence to recognize mentions of competitors and provide more precise transcriptions.
Call Data and Analytics
Nearly all business phone systems have call logs, but many lock call analytics behind higher-tier plans. The Dialpad VoIP system falls short of the capabilities we mention in our review of Nextiva. Still, it has excellent visuals and lets you drill down into the gritty details. For instance, you can assess the effectiveness of your phone menu options by seeing which ones callers use the most. The software also provides insights into most business communications, including outbound calls and text messages.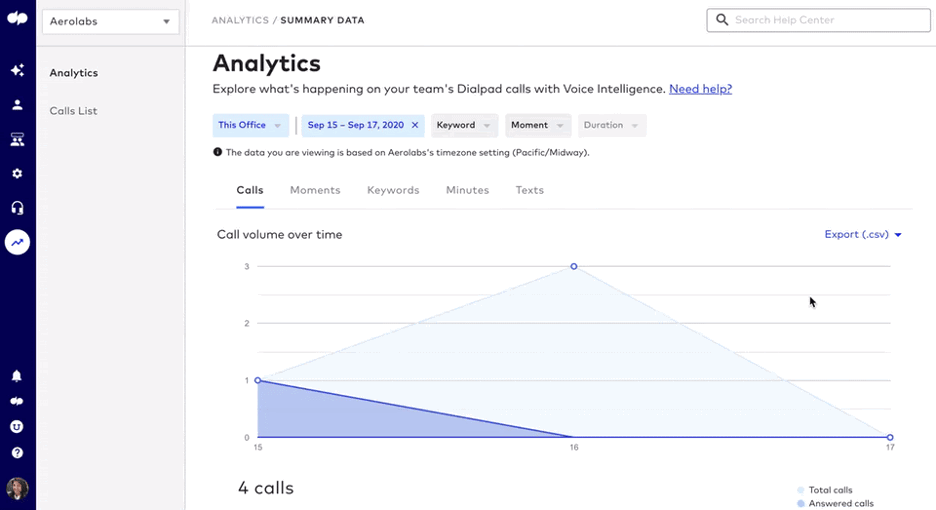 You can schedule analytic reports for daily, weekly or monthly delivery. Source: Dialpad
Visual Voicemail Transcription
This feature is becoming standard on cloud-based phone systems, although few offer it on base plans. Thanks to the AI, Dialpad's visual voicemail is a step above the rest because it automatically transcribes and emails your messages. Businesses with strict archival requirements will find this tool even more valuable. It saves voicemails to your Google Drive, creating an audit trail and reducing compliance challenges. 
Automated Action Items
This feature is more common among video meeting technologies than VoIP services. Dialpad's automated action items feature works for voice and video conversations. Using AI, it identifies actions your customer service or sales teams can take after a call, like sending more information and setting up a meeting.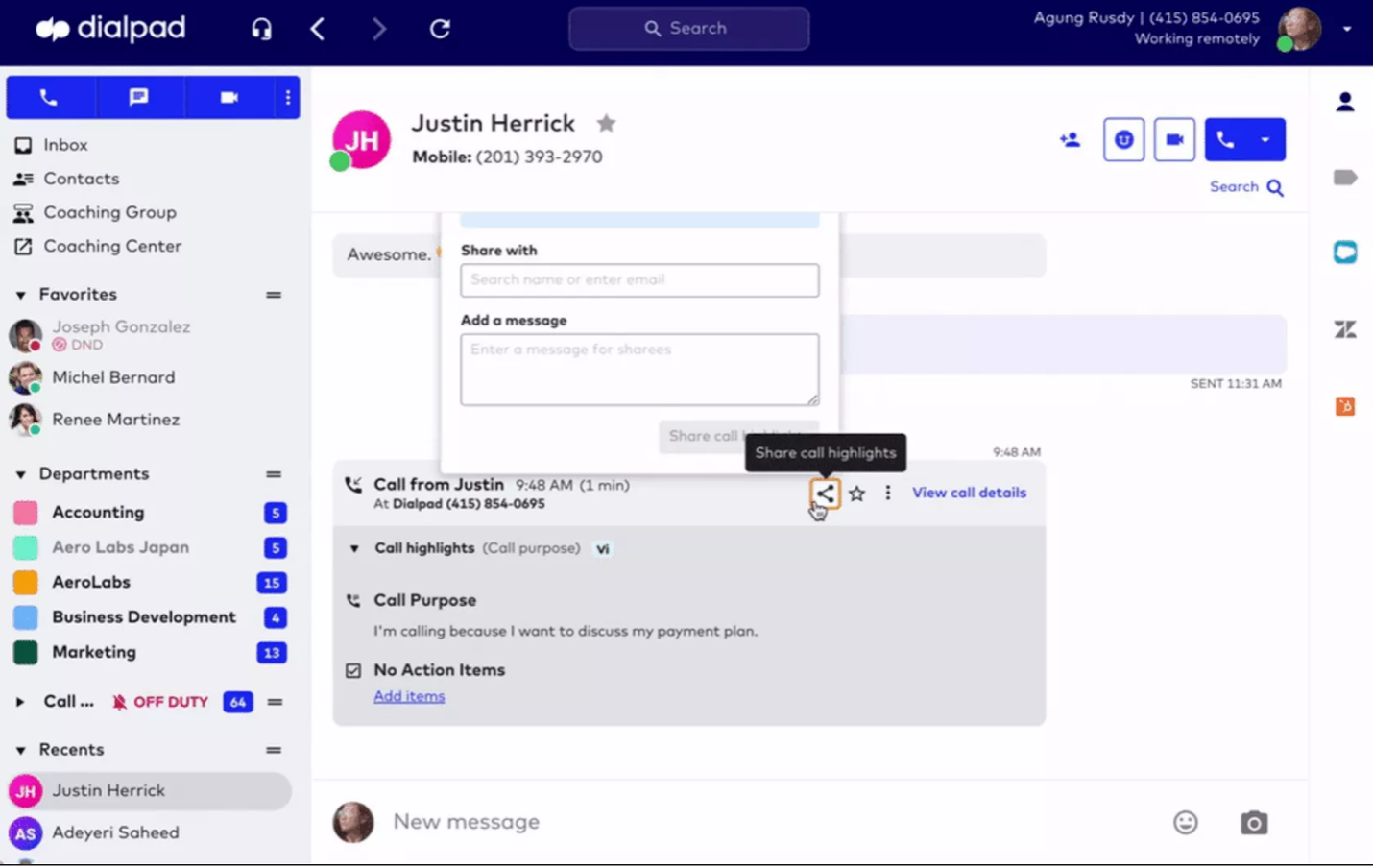 You can share meeting highlights and action items with co-workers. Source: Dialpad
AI and automation features help small businesses get the most out of video conferences. Look for technology solutions that collect data from commonly used communication methods. This lets you generate insights from all interactions.
Desktop and Mobile Phone Apps
Like competitors, the Dialpad VoIP phone system provides iOS, Android, Windows and Mac apps. Dialpad's functionality and ease of use are similar to other systems', allowing individuals to join video meetings, answer incoming calls and transfer calls to another team member.  
Call Handling and Management
Most business phone systems support call forwarding, transfers and routing configurations, and companies often need a virtual receptionist to route calls to the right staff or department. We like that Dialpad's multilevel auto attendant can send missed calls to voicemail, another cell phone or a desk phone. It also lets users record calls and enable call blocking to reduce spam calls.
> Learn more: What Is Interactive Voice Response?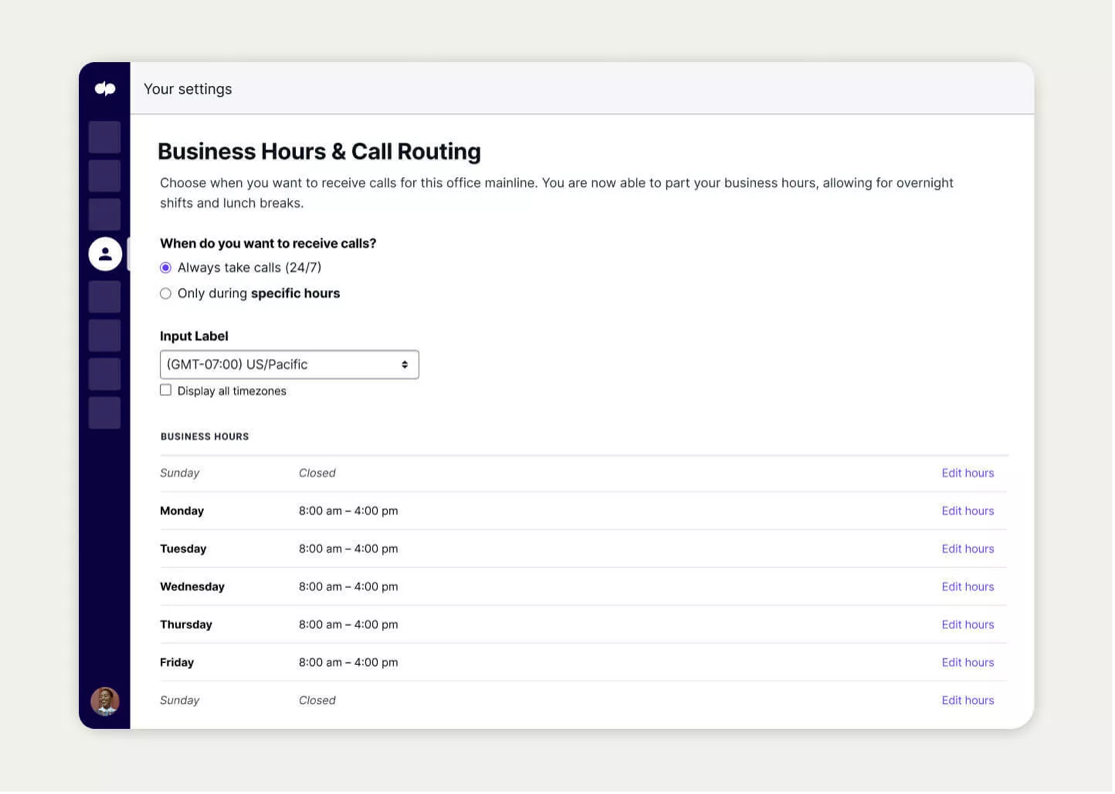 You can route calls according to your business schedule. Source: Dialpad
CRM Integrations
Customer relationship management (CRM) integrations are important for small and midsize businesses, and several phone systems connect to your favorite CRM tools. However, we especially like how Dialpad's integrations carry over its voice intelligence features into third-party software, allowing your team to interact on your preferred platforms without missing essential insights. Pro and Enterprise users can connect to HubSpot or Salesforce, two of the best CRMs. Meanwhile, Standard users can access Google Workspace and Microsoft 365. [See our HubSpot review and our review of Salesforce for more information.]
Browse the Dialpad App Marketplace to see if the business phone system supports your most-used business software. Look for ones with bidirectional sync, which can save time by updating program databases automatically.
Dialpad Pricing
Dialpad offers three unified communications plans, and businesses can realize significant savings for a multiline phone system when choosing this vendor over popular alternatives like RingCentral or Nextiva. A small team of 10 pays $1,800 annually for Dialpad Standard versus $2,400 for RingCentral Core and $3,354 for Nextiva Essential. 
Dialpad business communications subscriptions support desk phones, computers and mobile devices. Each plan comes with one local VoIP number and allows users to assign an executive assistant who can take incoming calls. We love that Dialpad Ai Voice plans include all features from the free version of Dialpad Ai Meetings. Users can host conference calls with 10 people for five hours.
Here's how Dialpad's service plans compare.
Business
communications service plans

Minimum required users 

Price with monthly billing (cost per user per month)

Price with annual billing (cost per user per month)

Features

Standard

1

$23

$15

Unlimited calling
Visual voicemail
Unlimited SMS and MMS
Three ring groups
Call recording
Google Workspace and Microsoft 365 integrations
One location
24/5 live web and chat support
Voicemail transcription

Pro

3

$35

$25

Everything in Standard, plus:

25 ring groups
CRM integrations
Hold queues
10 locations
International SMS
Open APIs
24/7 live web, chat and phone support

Enterprise

100

Custom quote

Custom quote

Everything in Pro, plus:

Unlimited ring groups
Extensions
Priority routing
Unlimited locations
Dedicated account manager
Dedicated support number
Dialpad offers several common add-ons but falls short of the options we mention in our review of Vonage. For internet faxing, businesses can buy a fax number for 100 inbound and outbound pages monthly and then pay $0.10 per page. Toll-free numbers cost $17 per month or $15 monthly with annual billing, and U.S.-based users don't pay a setup fee. 
>> Learn more: What Is a Virtual Phone Number?
Local numbers start at $5 per user per month, and international numbers cost $15 monthly with yearly prepayment. With annual billing, you can also purchase a Rooms license fee of $34 per virtual meeting room per month, less than RingCentral Rooms and Zoom Rooms. 
After signing up for Dialpad, business owners can buy a desk phone or other hardware through the web portal. The company also provides technology platforms for specific departments, like Dialpad Ai Sales for sentiment analysis and auto-dialers or Dialpad Ai Contact Center for customer engagement features. 
The vendor's free trial requires users to enter payment information and lasts 14 days.
Implementation and Onboarding
Dialpad offers quote-based professional implementation services and a self-start deployment guide. It walks users through testing network speeds and choosing hardware, like headsets and IP phones. We used a personal phone and downloaded Dialpad's app, which turned our device into a VoIP softphone. A single user can be up and running within minutes. Understandably, setting up additional users takes more time. 
We could add users through the Dialpad web portal via Microsoft 365 or Google Workspace directories for larger teams and through email when adding a few people. We appreciated the failover options for central lines. This configuration allows businesses to make and receive calls if they lose power or their internet connection. 
Dialpad recommends Poly or Jabra headsets. These work with Dialpad's desktop app and Poly's third-party software. If your company is new to internet-based calling, consider buying preconfigured hardware and choosing a phone service with basic functionality. Read our Ooma review to see why we found it the best solution when it comes to ease of use.
The vendor provides interactive product tours and its support team can walk admins and users through basic tasks over live chat for training. Dialpad's help center is similar to competitor 8×8's in that it covers nearly every topic related to setting up and using its business phone system. We like that many articles include screenshots or GIFs alongside step-by-step instructions.
Customer Service
For those on the Standard plan, Dialpad provides customer service Monday through Friday via live chat or web support tickets. Pro and Enterprise users get 24/7 assistance, including phone support. The company has dedicated numbers for sales and technical support. Business owners can request a quote for professional deployment services with a dedicated account manager.
You can tap the "Contact Us" button to submit a ticket and view live help options, including multilingual chat services and phone support. The platform's help center has resources for administrators and regular users. We could access guides and live assistance on mobile devices and desktop computers.
Limitations
Dialpad supports the fewest video conferencing participants of all the platforms we evaluated. Other types of business phone systems allow hundreds of participants and include robust video meeting tools with breakout rooms and live polling. You may want to consider our Zoom Phone review, which highlights its video conferencing capabilities, including live streaming to YouTube or Facebook. 
Also, Dialpad doesn't offer unlimited calling to international locations, whereas 8×8 and GoTo Connect do. For businesses expanding globally, check out our review of GoTo Connect, which costs less than 8×8 and is perfect for U.S.-based teams.
>> Learn more: What Is a Cloud PBX ?
Methodology
We spent dozens of hours testing VoIP phone services through free trials and demonstrations. Our research involved interacting with customer service agents, setting up call flows and performing basic tasks. We considered pricing, features and ease of use in our evaluations. In addition, we looked for AI-enabled platforms with automation capabilities and analytics, particularly when searching for the top solution for businesses wanting voice intelligence tools. Learn more in our guide to choosing a business phone system. 
FAQs
Dialpad is similar to Zoom in that they both offer internet-based phone services and video conferencing tools. However, Zoom Meetings is always free for 40-minute sessions, whereas Dialpad requires payment after its 14-day free trial.
Companies use Dialpad as a business phone system with built-in video conferencing and team messaging. It helps them improve customer experiences while automatically transcribing calls and meetings.
Dialpad is an excellent Google Voice alternative, as it integrates with Google Workspace and provides more features for businesses. Dialpad starts at $15 per user per month, while Google Voice pricing starts at $10 on top of your Google Workspace subscription.
Bottom Line
We recommend Dialpad for …
Businesses that want to automate their phone processes.
Small call centers looking for inexpensive coaching tools.
Solopreneurs who need assistance recording online meetings.
We don't recommend Dialpad for …
Businesses that make a lot of international calls or send many faxes.
Companies looking for full-featured video conferencing software with their phone plan.
Growing organizations that want to mix and match subscriptions.