Dialpad Review

Jessica Elliott
business.com Contributing Writer
Updated Sep 22, 2022
Top-rated business phone systems automate various processes, from call routing to meeting summaries. Dialpad is the best business phone system for voice intelligence. Its built-in Voice Intelligence (Vi) feature captures action items during meetings and coaches agents in real time. We were impressed with the comprehensive feature set on the entry-level plan. It includes multilevel auto-attendants, unlimited five-hour video conferences with 10 people, and transcription for voicemails, calls and meetings.

Dialpad
The Verdict
Dialpad is our first choice for a business phone system with voice intelligence because real-time speech recognition and natural language processing comes standard with all plans, so users can automatically capture the details of every interaction.
Dialpad pricing ranges from $15 to $30 per user per month, although companies that need access for 100 or more users can request a quote for Dialpad Enterprise. While Dialpad doesn't offer volume-based discounts for smaller teams like rival Nextiva does, annual prepayment reduces the per-user cost by $5 per month. Dialpad also integrates with CRMs and help desk tools like Salesforce, HubSpot and ServiceNow. The base Standard plan provides 24/5 live customer support over the phone and chat, whereas service is available 24/7 for Pro and Enterprise users. 
Want to explore more cloud-based phone services? Learn about all our top picks for business phone systems. 
Dialpad Editor's Score: 9.3/10
| | |
| --- | --- |
| Pricing/value | 9.8 |
| Features | 9.6 |
| Customizations, add-ons and integrations | 9.3 |
| Ease of use | 9.3 |
| Customer support | 8.7 |
Why We Chose Dialpad for Voice Intelligence
Dialpad's built-in voice intelligence features set this business phone system apart from the competition. The sophisticated AI-powered tools use natural language processing (NLP) for speech recognition on voice and video calls. This allows you to transcribe all voice and video interactions accurately while automatically generating post-call summaries and action items. We appreciate the search function, which allows you to discover recurring issues and new opportunities by searching for marketing, product development and customer service keywords.
Dialpad also has a particularly unique feature, Real-Time Assist cards, that recommend specific responses or include information relevant to a keyword your caller used. You can use this tool to put necessary details about refunds or common questions on your employees' screens. 
Dialpad's Vi uses machine learning to improve accuracy continually. Although several Dialpad alternatives, including RingCentral, have recently rolled out AI-based tools and business intelligence features, Dialpad has perfected its speech recognition features since acquiring TalkIQ in 2018.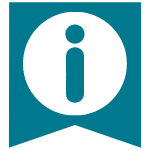 Did you know? Dialpad analyzed more than 1 billion minutes of calls and discovered that its transcription and keyword accuracy now outperforms Google.
What We Like About Dialpad
AI identifies spoken keywords for summaries and coaching.
The multilevel auto-attendants offer multiple call-routing options.
The Standard plan has a lot of features for an entry-level subscription.
What We Don't Like About Dialpad
The Standard plan doesn't offer 24/7 customer service.
The video and audio conferencing features fall behind those of competitors.
Dialpad's Ease of Use
Like other business phone systems, Dialpad provides web portals for administrators and users and mobile and desktop applications for nearly any internet-connected device. With Dialpad's web portal for admins, you can easily set up and manage every aspect of the platform, such as adding and removing users and phone numbers. You and other admins can view billing details, configure permissions for employees, and set up companywide integrations through this portal.
The user portal lets your employees assign an executive or assistant status, set up voicemail greetings, change on-hold music, and configure call-routing rules. For both users and admins, the process is relatively straightforward and the interface uncluttered. We found the mobile and desktop apps slightly more confusing at first glance than Dialpad alternatives, though; the left sidebar in particular feels less intuitive than the RingCentral and Nextiva counterparts. See our full review of RingCentral for details on its user-friendly interface.
Dialpad Features
Dialpad provides dozens of features for teams of all sizes, regardless of the service plan. Notably, its base plan includes several features that other business phone systems lock behind higher tiers, such as single sign-on, real-time analytics and voicemail transcription. But it really stands apart from competitors with its AI-based automation tools.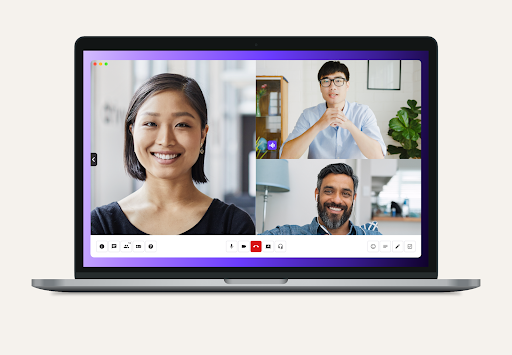 Automated Action Items
Many Voice over Internet Protocol (VoIP) providers are rolling out this type of feature, but they often require users to give a voice command to capture the action item. Dialpad's speech recognition tools are more advanced and can pick up tasks from general conversations. In addition, you can review action items from calls to ensure that your sales representatives are encouraging callers to take the next steps or that your customer service agents are engaging customers effectively. You and your team members can also edit or delete action items and assign them to one or more people.
Shareable Call Summaries and Highlights
AI-generated call summaries and highlights capture key details without requiring your employees to take notes throughout a call. Dialpad is the only business phone system that offers this feature on a base plan. Summaries appear in the conversation thread attached to a contact or under the call history menu. All call reviews include a share link, allowing your agents to forward the details to internal and external contacts. They're also searchable, making it simple to find references to products, services or satisfaction levels.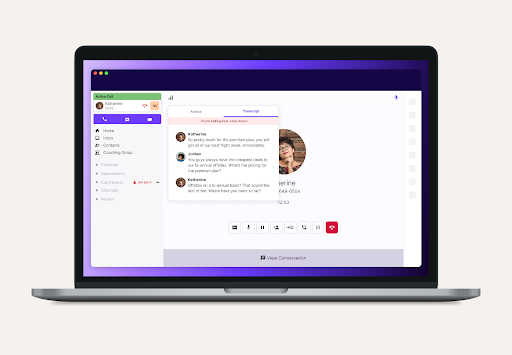 Real-Time Assist (RTA) Cards
This feature is unique to Dialpad; other providers offer similar real-time assistance features as part of their contact center software, but not in their business phone systems. RTA cards are an efficient way to improve the customer and employee experience, and they are completely customizable. Comments from customers and agents can trigger RTA cards, and the pop-ups support links so that agents can find more information quickly. This ensures consistency in your team's responses to common questions and helps identify situations that require escalation.
Visual Voicemail
This feature is becoming standard on cloud-based phone systems, but Dialpad's visual voicemail is a step above the rest because it automatically transcribes messages, emails them and offers a unique data retention option. Your agents can opt to save voicemails to their Google Drive automatically. This seamless integration provides a better way to retain an audit trail without manual intervention for companies with strict archival requirements.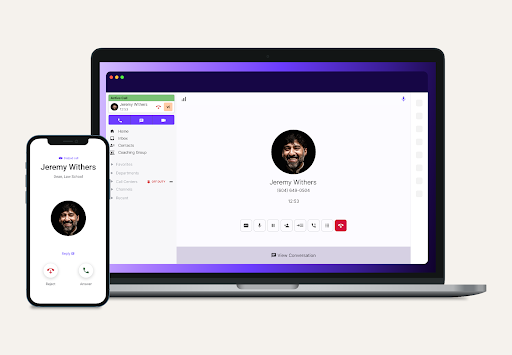 Call Routing
Most business phone systems include basic call-routing options, allowing you to send incoming calls to everyone in a department simultaneously or sequentially. Dialpad supports advanced call flows, allowing fixed-order, skill-based or longest-idle routing methods. You and other admins can specify the length of time for a call to ring before it goes to the hold queue. Dialpad also lets you set up different rules for each department of your company.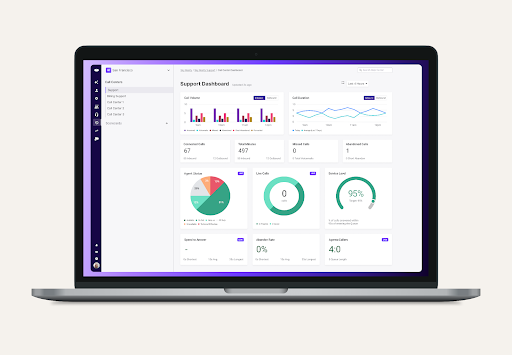 Call Analytics
Nearly all business phone systems have call logs, but many lock call analytics behind higher-tier plans. Dialpad falls a bit behind competitors in the level of analytics and reporting, as we found in our review of Nextiva, but it offers incredible visuals and lets you drill down into the gritty details. You can assess the effectiveness of your phone menu options by seeing which ones callers use the most, for example, or view heat maps showing your hourly call volumes and answer times.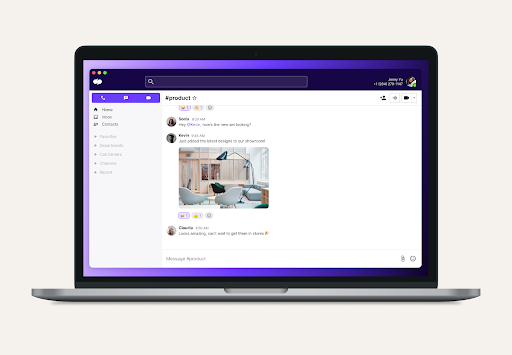 Integrations
CRM integrations are important for small and midsize businesses, and many phone systems connect to your favorite tools. However, we especially like how Dialpad's integrations carry over its voice intelligence features into third-party software, allowing your team to interact on your preferred platforms without missing essential insights. The email, calendar and CRM integrations enrich caller histories, giving your agents information about your company's last contact with the customer.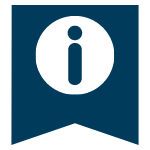 FYI: You can integrate Google Workspace or Microsoft 365 with Dialpad to pull up the last three shared documents, upcoming calendar events, and emails for each contact.
Dialpad Pricing
Dialpad is one of the more affordable business phone systems we reviewed, especially since the base plan is more than enough for many businesses. There are two main packages – Standard and Pro – and a custom Enterprise plan. 
Standard: This package costs $20 or $15 per user per month, depending on whether you pay monthly or annually. It supports one location and has a local phone number, three ring groups, and built-in AI and analytics. On this plan, you have access to 24/5 customer service and can integrate the system with Google Workspace and Microsoft 365.
Pro: This plan costs $30 per user per month when billed monthly with a three-license minimum, or $25 per user per month with annual billing. It has all the features of the Standard plan, plus CRM integrations with popular tools like HubSpot and Salesforce, international SMS texting (for an extra per-text fee), and 25 ring groups. You can select local numbers in more than 70 countries and access customer service 24/7. [See our HubSpot review and our review of Salesforce for more CRM information.]

Enterprise: This subscription requires a minimum of 100 user licenses, and pricing is available as a custom quote. Along with providing all the features of the Pro plan, it supports unlimited office locations and ring groups, and its service-level agreement guarantees 100% uptime. 
All plans include unlimited calling in the U.S. and Canada, unlimited SMS and MMS, a multilevel auto-attendant, internet fax, and voice intelligence. Dialpad doesn't offer volume-based discounts like those we found in our review of GoTo Connect, but you can save $5 per user per month if you opt for annual billing. Dialpad subscriptions include one free local phone number. Toll-free numbers start at $17 each per month on a monthly plan or $15 per month on an annual plan. Dialpad also offers contact center plans with advanced features like call monitoring, call center analytics, AI-powered customer sentiment analysis and status dashboards. Companies intent on building a sales team can opt for its sales dialer software. You can purchase IP phones directly from Dialpad via the web portal, with prices starting at $129.
Dialpad Implementation and Onboarding
Dialpad is fairly easy to install and doesn't require onsite hardware. Most small businesses can have the system up and running within a day, but it will likely take longer for companies with larger teams and complex call flows. As an administrator, you can create settings that apply to the whole office to save time, such as configurations for voice intelligence, holiday schedules and failover numbers.
You can also enable international calling and text for some or all of your team members. Dialpad requires the purchase of credits or recommends reaching out to its support team for additional options. The vendor provides interactive product tours and says its support team can walk admins and users through basic tasks over live chat for training. Dialpad's help center is similar to competitor 8×8's in that it covers nearly every topic related to setting up and using its business phone system, and many of the articles include screenshots or GIFs alongside step-by-step instructions.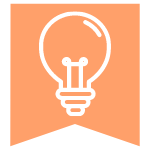 Tip: You can add new users manually using company email addresses or upload them straight from your Microsoft 365 or Google Workspace directory.
Dialpad Customer Support
Dialpad offers customer service Monday through Friday on the Standard plan and 24/7 for Pro and Enterprise users. The help center has resources for administrators and regular users. You can tap the "contact us" button to submit a ticket and view live help options, including multilingual chat services and phone support. Dialpad also offers a dedicated account manager and professional deployment services, available with a custom quote.
Dialpad's Limitations
Of all the types of business phone systems we reviewed, Dialpad supports the fewest video conferencing participants. Its competitors allow meetings of any length for up to 500 people, depending on the provider and plan. Dialpad also lacks breakout rooms and advanced engagement features, like live polling. If you want to improve your video conferences, consider Zoom or RingCentral. [Check out our Zoom review if you're looking for a dedicated video conferencing platform.]
Also, Dialpad's monthly 100-page limit for inbound and outbound faxes may be too restrictive if your company relies heavily on faxing. Once you go over this limit, Dialpad charges 10 cents per page for the rest of the month. Dialpad competitors Nextiva and Ooma provide unlimited faxing on all service plans. 
Methodology
We spent dozens of hours examining more than 30 business phone systems. Our research involved demos, app downloads and customer service interactions. We rated services based on call-routing features, automation capabilities and analytics. Check out our guide to choosing a business phone system for more insights.
FAQs
Can I use Dialpad for free?
You can use Dialpad Meetings for free, unlimited video conferences with up to 10 people. Each meeting can be up to 45 minutes. However, Dialpad's cloud-based phone service requires a subscription for unlimited calling and texting. 
Does Dialpad record my calls? 
Dialpad doesn't record phone calls without your permission. Its business communication subscriptions offer call recording, which you can enable in your account settings if you want to replay your business calls. 
Can I choose my number with Dialpad?
You can't pick your main company number when you sign up for Dialpad. The vendor automatically assigns you a local number based on your business address and doesn't offer vanity phone numbers. 
Bottom Line
We recommend Dialpad for …
Businesses that want to automate their phone processes.
Small call centers looking for inexpensive coaching tools.
Solopreneurs who need assistance recording meeting details.
We don't recommend Dialpad for …
Businesses that make a lot of international calls or send a lot of faxes.
Companies looking for full-featured video conferencing software with their phone plan.
Growing organizations that want to mix and match plans.

Dialpad
The Verdict
Dialpad is our first choice for a business phone system with voice intelligence because real-time speech recognition and natural language processing comes standard with all plans, so users can automatically capture the details of every interaction.

Jessica Elliott
business.com Contributing Writer
Jessica is a technology writer specializing in business communications, marketing and customer management tools. She analyzes software and breaks-down complex subjects, helping leaders make strategic decisions.