At a time when seamless audio and video communication is more important than ever, it's essential for companies to choose a cloud-based VoIP solution that is scalable, flexible and tailored to their unique needs. Nextiva and Ooma Office are leading options for businesses seeking a business phone system that functions as a robust, unified communications platform.
Nextiva's streamlined, intuitive user interface and compliance with the Health Insurance Portability and Accountability Act (HIPAA) give it an edge for businesses operating within the healthcare industry. Meanwhile, Ooma is a highly user-friendly solution for small teams that are exploring VoIP for the first time. Below, we compare these top business phone systems directly so you can determine which one is the best fit for your business.
Nextiva vs. Ooma Office Comparison
Both Nextiva and Ooma are equipped with comprehensive communication tools and useful features, but there are some differences between the two. Here's how they stack up on core criteria.
Features
Nextiva

Trends and performance analysis: Nextiva uses AI-driven insights to generate detailed data analytics and VoIP reporting.
Voice analytics: Voice analytics go beyond basic call logs and allow for an in-depth analysis of call quality and custom group reporting.
Nextiva CRM: Unique to Nextiva, this CRM offers multichannel outreach, AI-powered customer sentiment, click-to-call, automated follow-up and customer data displays, including dialed numbers.
Threaded conversations: This feature consolidates all communications — including emails, texts and calls — in one place so your team can see a comprehensive communication history for a particular contact without switching apps.
Collaboration rooms: Nextiva's collaboration rooms give users an immediate transition from chat to video or phone call.
Video conferencing: Available across all Nextiva plans, the platform supports one-to-one video calls, screen sharing, file sharing and instant messaging.
Auto-attendant for phone calls: Nextiva's user-friendly interface includes a virtual receptionist that can provide professional implementation support and simplify administrative tasks, such as updating employee details or permissions.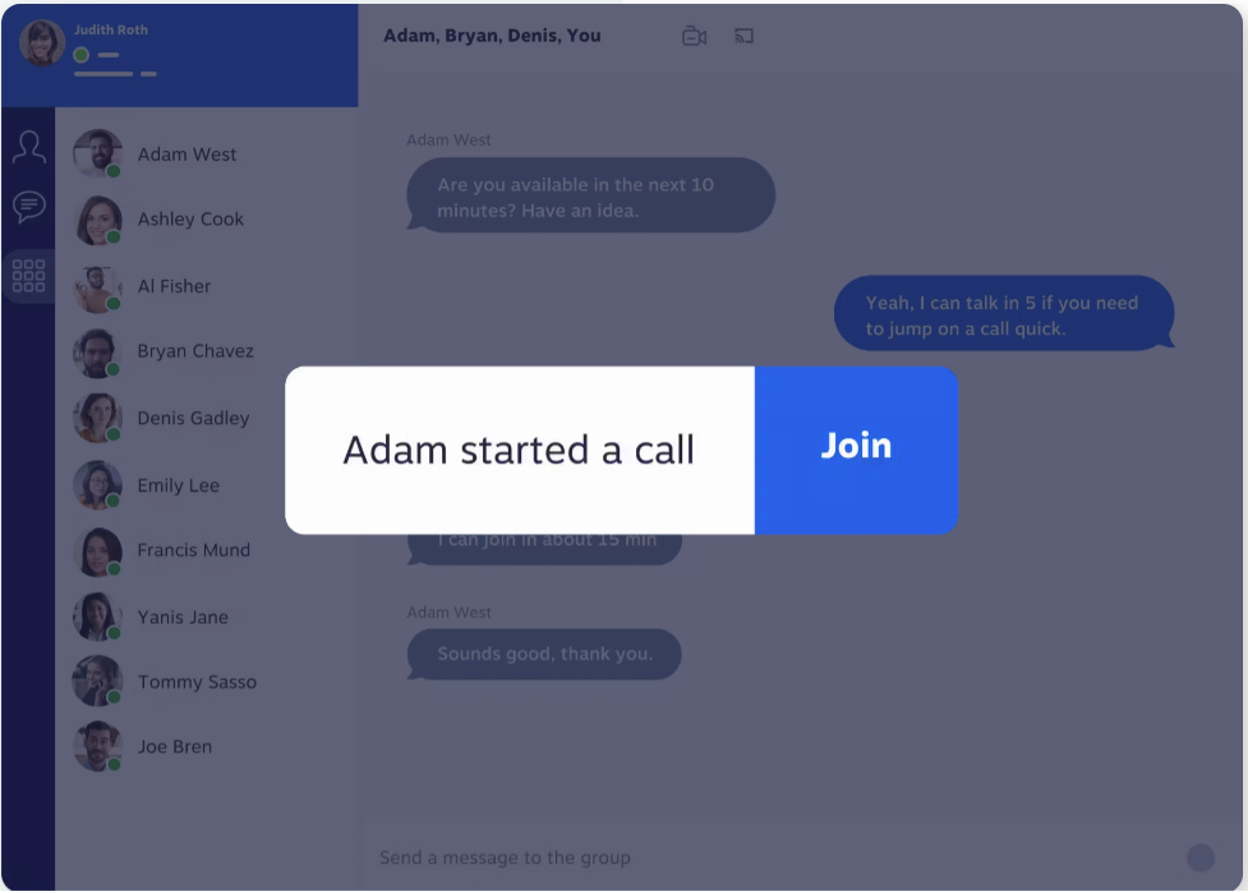 Nextiva makes it easy to transition from text-based chat to an audio or video call for seamless collaboration. Source: Nextiva.
Ooma
Virtual receptionist: Ooma has simple call-flow editing tools for business-day and after-hours actions. Users can set up a dial-by-name directory and record custom responses for incoming calls.
Enhanced call blocking: Using a dynamic database with over 2 million known spam numbers, this feature allows you to block up to 1,000 individual numbers.
Caller info match: Ooma displays caller details for outgoing and inbound calls; integrates with CRM systems; and searches LinkedIn, Facebook and Google for caller information.
Voicemail transcription: Ooma users can transcribe voice messages and send them via email with an attached audio file.
Overhead paging: Ooma supports physical paging systems with a plug-and-play paging adapter. Administrators can set up multicast paging from the dashboard.
Ring groups: Multiple users can answer one line/extension calls with this feature. Ring groups support the recording of custom greetings and provide options for simultaneous or sequential ringing.
Faxing: Internet faxing is included with all Ooma plans. It allows digital faxing through Google Chrome or the Ooma Office Manager, and the system also supports traditional fax machines connected to Ooma.
Video conferencing: Ooma's video conferencing features, available only above the base tier, allow for meetings of 25 to 100 participants for four- to 12-hour sessions. 
Winner: Nextiva
While both vendors offer strong, comprehensive feature sets, we like Nextiva's impressive array of AI-powered tools and features to help businesses and their teams improve communication and productivity. These are crucial functions and resources for optimizing operations in this digital age.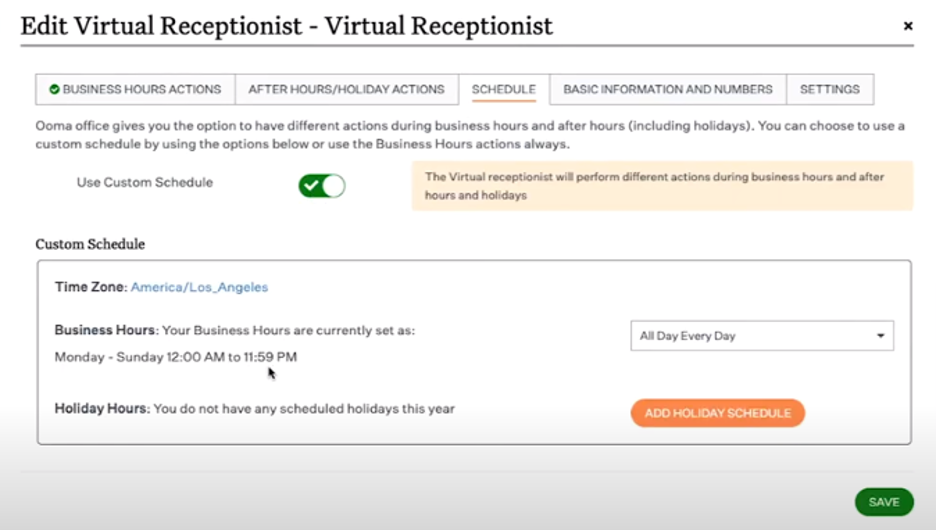 Ooma's virtual receptionist feature is simple to configure with your company's unique business hours, holiday schedules and other variances in availability. Source: Ooma
Pricing 
Nextiva
Nextiva's per-user, per-month starting rate ranges from $17.95 to $45.95, depending on the service plan, number of users and contract length. The vendor offers discounts for increasing numbers of users and longer contracts. Those willing to prepay for three years get the best price. 
Here's a breakdown of the plans with pricing for a business with five to 19 users on an annual contract. Prices are 18 to 26 percent higher if you opt for a month-to-month plan.
Essential: At $21.95 per user per month, the Essential plan includes unlimited voice and video calling, voicemail, toll-free numbers, Outlook and Google Contacts integrations, and unlimited internet faxing.
Professional: For $25.95 per user per month, the next Nextiva tier features everything from the Essential package, plus unlimited audio conference calls for 40 attendees, unlimited video conferencing, screen sharing, SMS/MMS, a multilevel auto attendant, and integrations with Salesforce, Zendesk and HubSpot.
Enterprise: For $35.95 per user per month, you get everything from the Professional plan, as well as no participant limits on audio and video conferencing, call recording, unlimited video conference recording, voicemail transcription, single sign-on, Microsoft Teams compatibility and custom integration options.
Ooma
Ooma's cost structure is built on transparency, setting it apart from many providers in this sector. Furthermore, the vendor's competitive pricing starts at $19.95 per user per month, making it a more affordable option than Nextiva if you have fewer than five users. Another perk is that this price is available with monthly billing and no contractual obligation.
Essentials: For $19.95 per user each month, the Essentials plan offers call forwarding, virtual faxing, call parking, apps for mobile devices, virtual receptionist, call flip, hunt and ring groups, and call transfer.
Pro: At $24.95 for each user every month, Ooma's Pro tier comes with all of the Essentials features, plus hybrid ring groups; call recording; voicemail transcription; call, fax and message analytics; text messaging; four-hour video meetings with 25 participants; Microsoft 365 and Google Workspace integrations; and desktop app functionality.
Pro Plus: This plan costs $29.95 per user each month and includes everything from the Pro package, plus Microsoft Dynamics 365 and Salesforce integrations, video recordings, hot desking and 12-hour video meetings with up to 100 participants.
Winner: Ooma
For most small businesses, Ooma's straightforward, uniform per-user, per-month pricing is likely a better deal than Nextiva's variable per-user, per-month rate at each tier. Ooma's pricing structure is easier to understand and more budget-friendly.
Video Conferencing
Nextiva
Nextiva offers one-to-one video conferencing in all of its packages, including the base plan. The video conferencing platform allows participants to share their screen, chat via instant message and share files during the call. Meetings are limited to 45 minutes. For video conferencing, you'll need the Professional or Enterprise package. 
Ooma
Ooma provides video conferencing in the Pro and Pro Plus packages, allowing for meetings with 25 to 100 attendees of up to four hours (Pro) or 12 hours (Pro Plus). We were disappointed by its lack of advanced functionalities, such as breakout rooms and whiteboards, which many of its competitors offer.
Winner: Ooma
Although Nextiva offers video calling at all subscription tiers, Ooma wins this category despite some lackluster functionality. We believe Ooma still has the upper hand for video conferencing because of its higher meeting capacity and time limits, which are more helpful for modern remote and hybrid teams. Businesses may find Nextiva's capacities too limiting.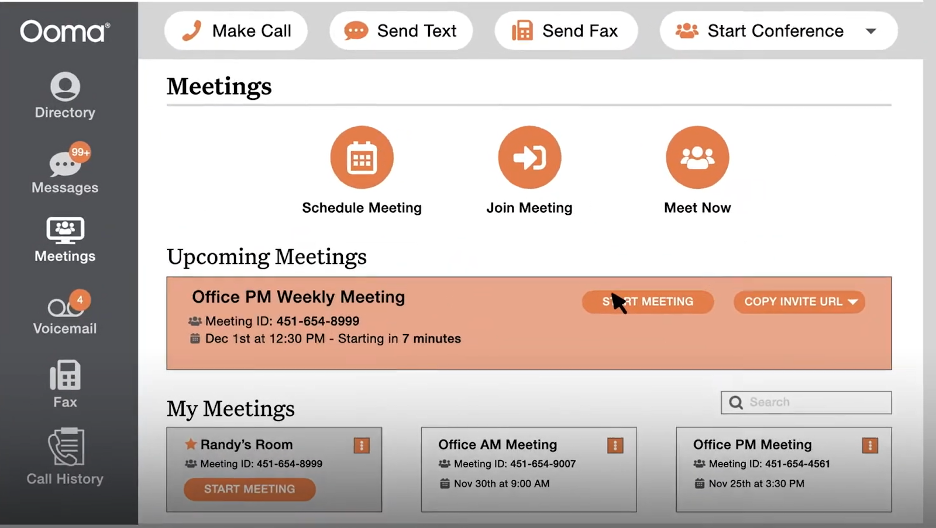 Scheduling, joining and launching meetings is easy with Ooma's simple, user-friendly interface. Source: Ooma
Onboarding
Nextiva
Nextiva facilitates an exceptional onboarding experience with professional implementation services across all of its subscription tiers. The setup guide is well structured, leading users seamlessly through four primary steps: adding employees, creating hunt groups, configuring auto-attendants and assigning phone numbers. This streamlined process, combined with an easy-to-use interface, allows businesses to quickly configure single or multiple auto-attendants.
For larger enterprises, Nextiva allows users to bulk-upload employees from active directories. Smaller teams can have the system up and running in mere minutes, although intricate configurations, like specific user permissions and advanced call flows, might require additional time. The platform comes with valuable onboarding tools, such as training webinars and detailed guides, to help teams quickly and comfortably adapt to their new phone system. Keep in mind that while many setup operations can be self-managed online, more complex tasks, like activating end-to-end encryption, require users to reach out to Nextiva directly.
Ooma
Ooma boasts a user-friendly implementation and onboarding process that is notably simpler than many of its rivals'. Preconfigured IP phones can expedite the setup, especially for smaller teams; users can enjoy a hassle-free configuration by importing details of up to 20 VoIP phones using a CSV template in the Ooma Office portal. With a turnaround time as short as 24 hours post-purchase for hardware configuration and shipping, businesses can hit the ground running.
Softphone apps for mobile and desktop devices are also available through Ooma. Most users can manage implementation within 20 minutes with help from Ooma's Express Setup Assistant. This three-step wizard makes it a breeze to add users and configure accounts. We appreciate the simplicity of the system, which allows most businesses to handle the installation without external assistance. Though Ooma may not offer as many training resources as other vendors, its intuitive features, paired with comprehensive how-to guides and visual tutorials, make extensive training less essential.
Ooma's website features a tool that lets you quickly and easily confirm whether you can transfer your existing business phone number to the system.
Winner: Nextiva
Nextiva's professional implementation services, available with all plans, make it the winner in this category, even though Ooma's installation process is rather straightforward.
Customer Support
Nextiva
Nextiva's customer support includes 24/7 assistance with all plans, which not all competitors offer. Users have access to a dedicated support team through live chat, phone and email. While online ticketing typically results in responses within one to three days based on the issue's security level, Nextiva advises directly calling the support line for urgent matters.
We like that Nextiva also has extensive self-service options for users who prefer a DIY approach to troubleshooting. The platform's comprehensive knowledge base includes quick-start guides for apps, call flows and VoIP setups. Users can also benefit from instructional videos and on-demand webinars covering diverse topics ranging from call recording to equipment provisioning.
Ooma
Like Nextiva, Ooma stands out for its 24/7 customer support available for all subscribers. Users can conveniently reach out to the company's customer care team via online chat within the Ooma Office Manager portal or through a toll-free number. Enterprise plan customers enjoy the added luxury of a dedicated support team and professional onboarding support.
While Ooma's knowledge base is rich and detailed, we found that more visual content in the tutorials would further enhance the support experience. Additionally, the activity level on the business segment of Ooma's community forum is limited, so those seeking insights from fellow users may be disappointed.
Winner: Nextiva
Though both providers offer 24/7 customer service, Nextiva has a slight edge for its more robust knowledge base and self-service options.
When you're choosing a business phone system, customer support options should be a key consideration. Read user reviews and contact the company directly to see how their support team handles customer interactions. This will give you a good indication of the help you'll receive if you purchase the platform and have an issue.
Nextiva vs. Ooma Office Summary
Both Nextiva and Ooma are outstanding solutions for businesses seeking unified communications solutions. However, the best choice for companies will vary based on each organization's specific needs across pricing, features and other factors.
Nextiva is best for businesses in the healthcare industry.
Nextiva is the optimal cloud-based business communications platform for businesses in the healthcare industry, thanks to its HIPAA compliance. This guarantees that all communications — whether through voice, video calls or threaded conversations spanning emails, SMS and beyond — maintain the highest standard of patient confidentiality and data protection. Given the sensitive nature of healthcare communications and the need for organized and traceable interactions, Nextiva's tools are invaluable for businesses that want to effectively keep track of their communications.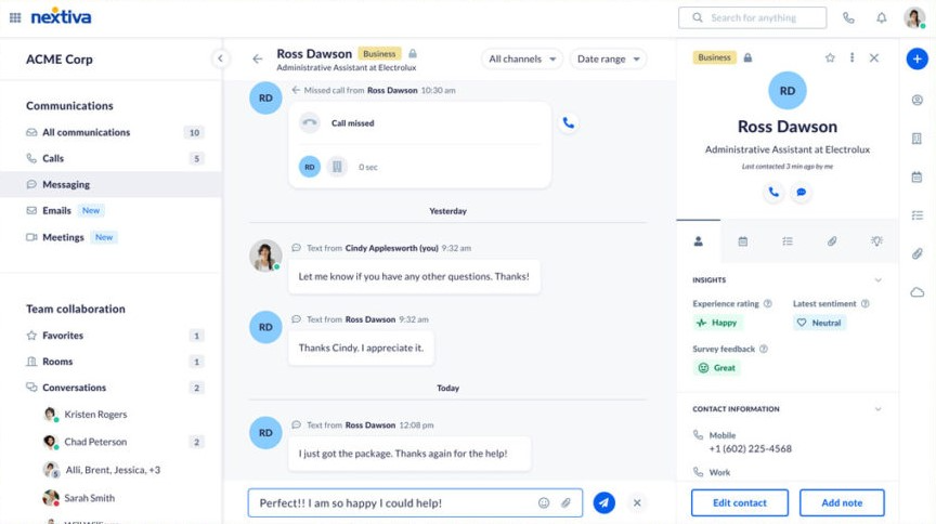 Nextiva's threaded conversations allow users to see all communications across multiple methods, which can help businesses provide better customer service. Source: Nextiva
Ooma is best for small teams transitioning to VoIP.
For small businesses and teams venturing into the realm of cloud-hosted phone systems for the first time, Ooma is an excellent option. Transitioning from conventional landline systems to VoIP is seamless with Ooma, primarily because of the solution's compatibility with existing devices, even hardwired systems. Additionally, the preconfigured IP phones, which make the deployment rapid and simple, ensure small teams won't be bogged down with complex setups. The vendor's clear pricing also positions Ooma as the best fit for small teams seeking an efficient, straightforward VoIP communication solution.
FAQs
Yes, Nextiva offers VoIP call recording. The system stores all recorded calls on its secure servers for six months. Users can access, play and download these recordings through the company's call recording service. The platform also allows users to share recordings with call agents or managers via email.
It matters that Nextiva is HIPAA-compliant because HIPAA (Health Insurance Portability and Accountability Act) compliance is essential for ensuring the privacy and security of patient health information. A HIPAA-compliant communications platform means Nextiva meets the rigorous standards required to protect sensitive patient data. Businesses in the healthcare industry can feel confident communicating via Nextiva's platform without compromising patient privacy. Using a noncompliant communications platform as a healthcare provider not only risks patient trust but can also result in significant legal penalties.
Yes, you can host a video meeting with Ooma. However, this feature is available only on the vendor's Pro and Pro Plus plans and is limited to four hours and 25 participants on that midtier. The entry-level Essentials plan doesn't include video conferencing. Businesses with simple video conferencing needs may be better served by Nextiva's one-to-one video calling feature, which is available at all tiers with a 45-minute time limit.
Ooma provides a user-friendly virtual-receptionist interface featuring tabs dedicated to business operations, after-hours activities, and essential details and configurations. Its virtual assistant enables users to set up a name-based dialing directory and craft personalized messages for incoming callers. Nextiva's virtual receptionist tool also has an intuitive interface with the option for professional implementation. Business owners with limited technical experience or those who simply want to streamline the setup process may find Nextiva to be the better choice.