The best unified communications (UC) solution for your business is purpose-built for your goals, whether ensuring team collaboration or lowering international calling costs. When it comes to Nextiva versus 8×8, fundamental differences exist. While both are among the best business phone systems, 8×8 caters to organizations with international customers, whereas Nextiva focuses on streamlining experiences for United States-based businesses. 
Who Is Nextiva For? 
Nextiva is ideal for small businesses that need a reliable, user-friendly phone system for on-site and remote employees. Brick-and-mortar stores, law offices and restaurants will appreciate Nextiva's platform reliability (99.999 percent uptime) and helpful customer support team.
Along with transparent pricing and competitive rates (especially with longer contract terms), Nextiva's business phone system is easy to deploy and use. Indeed, our user feedback assessment found that customers overwhelmingly expressed satisfaction with the implementation process, even when switching from a landline to a cloud-based public branch exchange service. 
Additionally, Nextiva leases and sells desk phones or will convert your analog devices to help you save money. Its mobile and desktop apps (NextivaONE) connect on-site and remote employees without additional fees. NextivaONE supports voice and video conferencing, team messaging and file sharing. 
We love the threaded conversations feature. It puts text messages, emails and phone calls in one space, allowing you to see a complete history of customer interactions. This capability benefits small businesses that may not have fully integrated technology stacks. See our full Nextiva review for a more in-depth look at its key features and overall rating.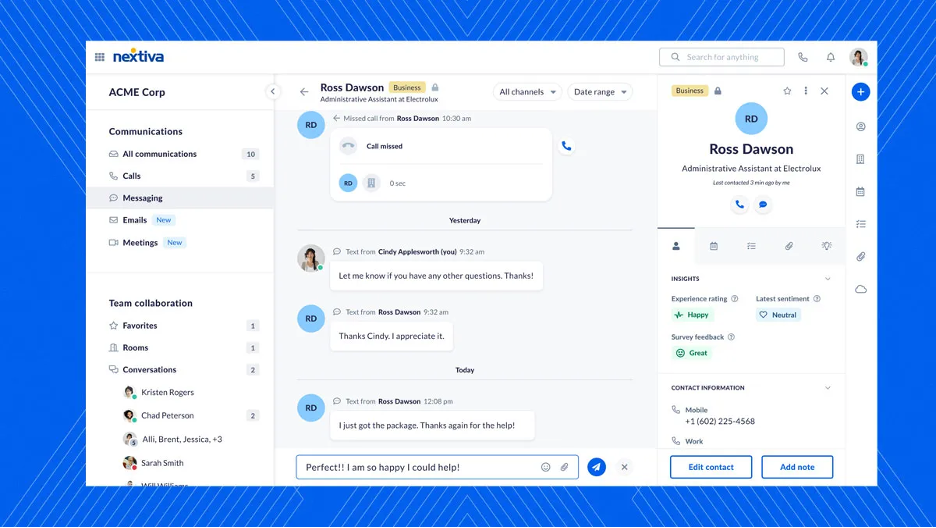 View client insights and previous interactions before picking up the phone or sending a follow-up email with Nextiva's Threaded Conversations feature. Source: Nextiva
Who Is 8×8 For? 
8×8 provides a UC platform for larger international teams. It is the best business phone system for companies expanding globally because it offers unmetered international calling, phone numbers and customer support. 8×8's web, desktop and mobile apps allow your teams to connect from any device.
We appreciate that 8×8 helps you get the most out of your video conferences by not imposing time limits. In addition, 500 people can participate in meetings, making 8×8 ideal for company-wide events. Unlike Nextiva, 8×8 offers phone number support in more than 100 countries. It provides paid in-person training with deployment teams in every region, including 10 multilingual customer support teams. 
The 8×8 Work app centralizes communications. We enjoyed having access to our inboxes and messages while taking calls. It's a great setup for multitaskers, but it might feel busy for people who prefer a more streamlined application.
Previously, 8×8 catered to small businesses with its Express plan. After removing this package and pricing from its website, 8×8 added wording suggesting its services are focused on midsized and larger companies. As such, we recommend 8×8 for organizations with a high volume of international calls or a vast global workforce. Explore additional features in our review of 8×8.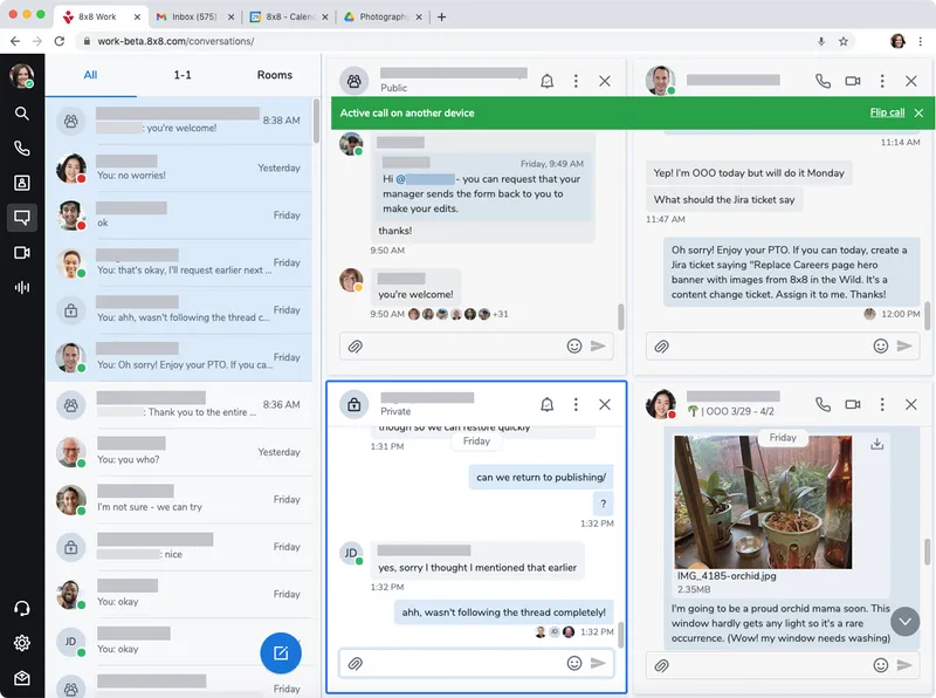 Monitor conversations or request assistance while on call when using the 8×8 Work application. Source: 8×8
Nextiva vs. 8×8 Comparison  
VoIP Pricing 
Nextiva Pricing
Nextiva's pricing varies by user numbers in increments of 1-4, 5-19, 20-99 and 100-plus. Lower rates apply if you sign a 12-, 24- or 36-month contract. For the cheapest price, you can prepay for 36 months. 
Prices below reflect monthly billing for five to 19 users. 
Plan

Monthly price (per user per month)

Features

Essential

$29.95

Unlimited calling within the U.S., Puerto Rico and Canada
Video calling up to 45 minutes
1,500 toll-free minutes
Voicemail-to-email notifications
Microsoft Outlook and Google Contacts integrations
Unlimited internet fax
Video conference recording
Auto attendant
Threaded conversations
Call groups
Hold music
Chat messaging

Professional

$33.95

Everything in Essential, plus:

Unlimited conference calls with 40 participants
3,000 toll-free minutes
Up to 1,000 short message service (SMS)/multimedia messaging service (MMS) messages sent and received per user
Voicemail-to-SMS notifications
Customer relationship management (CRM) integrations (Salesforce, HubSpot and Zendesk)
Multilevel auto attendant

Enterprise

$43.95

Everything in Professional, plus:

Unmetered conference calls with unlimited attendees
12,500 toll-free minutes
Up to 2,000 SMS/MMS messages sent and received per user
Call recording
Single sign-on (SSO)
Advanced integrations (ServiceNow, Oracle Sales Cloud, Microsoft Teams and Bullhorn)
We appreciate that Nextiva's Essential plan provides internet faxing. However, its base package lacks SMS text messaging. Fortunately, there isn't a huge price increase between tiers. 
We were disappointed that Nextiva locks the SSO security feature behind the Enterprise plan. Other rivals provide this feature with base subscriptions.
Nextiva's Professional subscription adds crucial features like CRM integrations, a multilevel virtual receptionist and conference calling.
8×8 Pricing
You'll need to contact 8×8 via live chat for pricing information. This process can be lengthy, as the sales agent must receive a manager's approval. The vendor offers an annual discount of up to 23 percent plus additional savings for agreeing to a yearly contract. 
Plan

Monthly price (per user per month)

Features

X2

Available upon request

Unlimited voice calling to 14 countries
Hot desking
Multilevel auto attendant
Call transfer
Ring groups
Call queues
Team messaging with document sharing
Voicemail transcription
Audio and video conferencing with 500 attendees
Live streaming of meetings via YouTube
SSO
Unlimited internet fax
Call activity analytics

X4

Available upon request

Everything in X2, plus:

Unlimited voice calling to 48 countries
8×8 Frontdesk for receptionists and operators
Barge, monitor and whisper
Supervisor analytics
When we contacted 8×8, quoted prices ranged from $25 to $45 per monthly user. However, companies willing to commit to a one-year contract could receive one free month and $5 off both packages, reducing the monthly costs per user to $20 for X2 and $40 for X4.
We liked that 8×8 lets organizations mix and match plans. Its base plan includes advanced features that Nextiva's Essential plan lacks, including voicemail transcription, SSO and a multilevel auto attendant. Also, users can call 14 countries for free. 
Winner
While 8×8 may end up being less expensive for some businesses, we give Nextiva the win in this category because of its pricing transparency and flexibility. Any business can review the fee chart to estimate its costs and the features it will receive quickly without jumping through hoops. 
Phone System Features
Nextiva Phone System Features
Basic features with all plans: We were impressed that all subscriptions include local and toll-free numbers and up to 12,500 toll-free minutes. It's also free to port an existing phone number to Nextiva. 
NextivaONE: Centralize business communications with the NextivaONE platform. We like that it's available as a web-based tool or downloadable app. NextivaOne supports file and link sharing, messaging and voicemails. 
Call management: Small businesses with multiple locations benefit from VoIP features like an automated attendant and call groups. We found the call flow builder intuitive. Setting up our business hours and departments using the drag-and-drop editor was easy.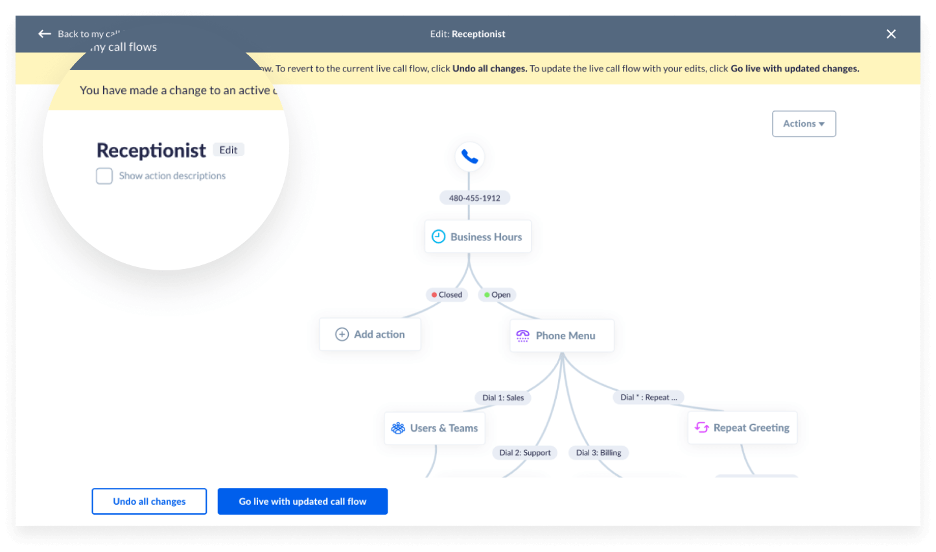 Edit your call flow midday without disruption to highlight a new promotion or adjust your hours for an emergency. Source: Nextiva 
8×8 Phone System Features
8×8 eXperience communications platform: As your company grows, you won't need to switch services or train employees on new software. 8×8 XCaaS [experience communication as a service] combines voice, chat, contact centers and video conferencing on a single app. Its mobile app (8×8 Work) gives employees and supervisors the tools to fulfill their roles from anywhere.
Call handling: Multilevel auto attendants and call queues improve the customer experience and 8×8 provides both features on its X2 and X4 plans. We liked that we could select time zones, schedules and languages for each auto attendant through the configuration manager. Employees can use the call forwarding tool to send inbound and outbound calls to any number in the company directory.
International capabilities: Besides unlimited international calling to 19 or 48 countries, 8×8 helps companies establish a local presence with virtual and direct inward dial numbers. It offers geography-specific or national toll-free inbound numbers in more than 100 countries.
Winner
In this category, the winner comes down to how your business uses the phone service. Nextiva boasts a straightforward call routing system for U.S.-based organizations, whereas 8×8 has more call center features and is better for companies wanting local numbers worldwide.
Video Conferencing and Collaboration 
Nextiva Video Conferencing and Collaboration
Virtual meetings: Nextiva is best for intimate video meetings as it supports 25 participants (up to 250 audio-only attendees). We appreciate that we could record sessions but were disappointed in the 45-minute time restriction. The video conferencing software has screen sharing but fewer tools than most VoIP providers offer.
Threaded conversations: This feature is easily one of our favorite tools available from Nextiva. It's a big help for small businesses that want to monitor and improve customer satisfaction. Users can create notes on calls and contacts and view every client's interactions (email, text and phone calls). While it can't replace a CRM, threaded conversations are a good starting point for small teams. 
Team collaboration rooms: This is a neat tool for organizing management or team tasks. All accounts can create up to three rooms, and you can invite external clients. The spaces are searchable. You can make them public or private and use them for team chat and video sessions.
8×8 Video Conferencing and Collaboration 
Video conferencing: 8×8 has an impressive video platform. It allows 500 participants with no time restrictions. Companies can brand meetings with a vanity URL, custom background and logo. It supports 46 languages and offers dial-in access from more than 50 countries, including 11 toll-free numbers. Plus, you can stream it on YouTube.
Team chat: Collaborate with anyone listed in your global directory. Instant messaging works in private or company-wide chat rooms. You can share files or documents in these spaces and launch audio and video calls with a single click.
Advanced tools: 8×8 provides features that facilitate highly productive online meetings. Many of these capabilities work just as well on a mobile device as on a desktop. Employees can share live emoji reactions, participate in instant polls and raise their hands. Breakout rooms and screen sharing (even on a cell phone) make 8×8 stand out from Nextiva.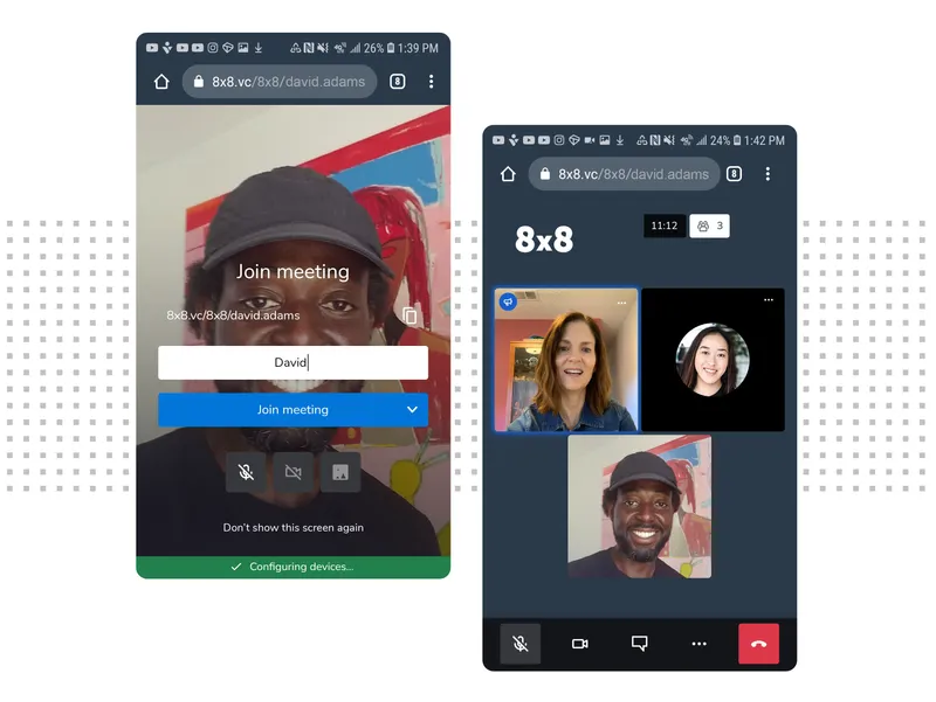 Participate in virtual meetings from any device to share files or your screen without limitations. Source: 8×8
Winner
8×8 is the clear winner for video conferencing and employee collaboration. It provides solid features for keeping large, remote teams connected via voice, video and chat. Nextiva's more limited options are suitable for smaller brick-and-mortar companies that want calling features, not video meeting software. 
Third-Party Integrations
Nextiva Third-Party Integrations
Nextiva's base plan syncs with Google and Microsoft contacts while the Professional tier adds many of the best CRM software, including the following: 
Salesforce
HubSpot
Zendesk
Microsoft Dynamics and Microsoft Dynamics 365
SugarCRM
ACT!
NetSuite
Bullhorn
ConnectWise
Goldmine
Lotus Notes
Workbooks
Nextiva's Enterprise tier adds integrations with Oracle Sales Cloud, ServiceNow, Microsoft Teams, Salesforce Lightning UI and Salesforce Service Cloud. 
8×8 Third-Party Integrations
Although 8×8 displays 56 integrations, most are for its contact center. Like Nextiva, 8×8 Work syncs with your Microsoft or Google contacts and calendar. It connects with about eight workforce management systems, including OpenText, NICE and Alvaria. 8×8 features two SSO integrations (Microsoft Azure and Okta). 
You can also connect your 8×8 services to Slack, Vtiger, Assist-me by converse360, Zoho, Pipedrive, Freshdesk, eAgent, Copper and 1CRM.
Winner
While neither vendor boasts the robust integrations some of its competitors have, 8×8 has an edge over Nextiva. Both of 8×8's plans integrate with CRMs and it has a robust developer network for its communication APIs. However, Microsoft Teams costs extra, whereas Nextiva includes it with Enterprise subscriptions.
If integrations are a priority for your company, check out RingCentral. It connects to many industry-specific applications and CRMs and features more than 500 APIs. Learn more in our full RingCentral review.
Reporting and Analytics
Nextiva Reporting and Analytics
Call logs: Administrators can view historical data for each business phone line. Basic call logs show incoming call dates and times, duration and the originating phone number. Enterprise subscriptions include enhanced call logs that list placed, received and missed calls.
Nextiva Analytics: Professional and Enterprise tiers can access 90 days of data and data analytics features. We love Nextiva's dashboards, metrics and custom reports because they're visually appealing and effortless to set up and use. This feature is why Nextiva is the best business phone service for business intelligence.
Voice analytics add-on: This is valuable for companies using data to drive business decisions. It displays historical data since your VoIP service began and includes advanced call recording, allowing managers to evaluate voice conversations within reports.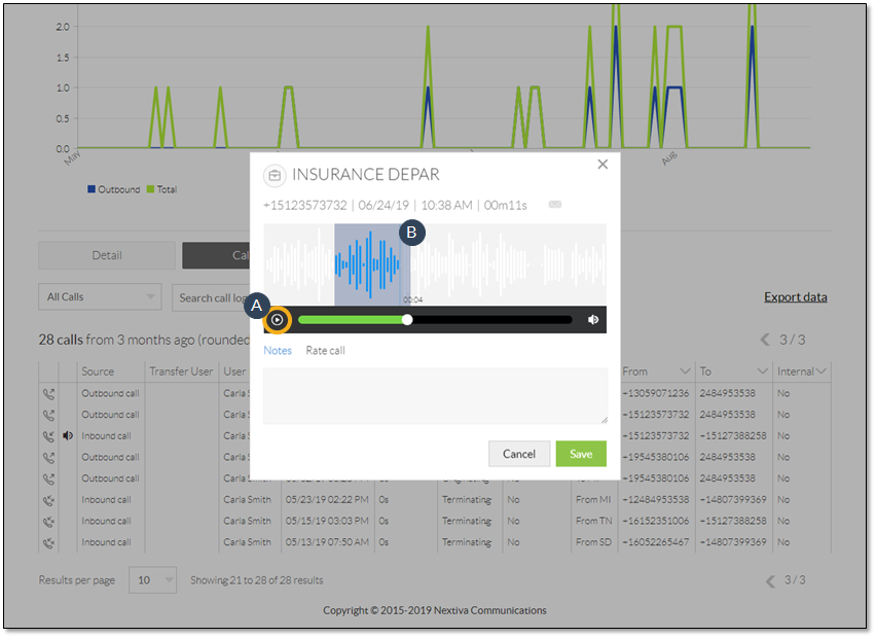 Assess, add notes or rate call recordings to improve your teams' sales or customer service approach. Source: Nextiva
8×8 Reporting and Analytics
Call analytics: X2 users can view many details, including active and unreturned calls. But our favorite feature is the company summary dashboard. It gives a high-level overview of core metrics like abandoned calls or talk time. You can display stats graphically or numerically and leaders use the company summary dashboard to adjust business hours.
Supervisor analytics: Since 8×8 lets you mix and match plans, you can give managers access to the 8×8 Work Workgroup Dashboard and Reports. We were impressed with the ability to drill down into the finer details of agent and queue performance when using any device. These metrics are ideal for monitoring service-level agreement standards, agents, ring groups and queues. 
Conversation IQ add-on: Customer success managers looking for more features to gauge the customer experience can leverage this AI tool to understand caller sentiment and employee empathy. Over time, the data will identify trends, and we love that the database is searchable and provides topic trend reporting.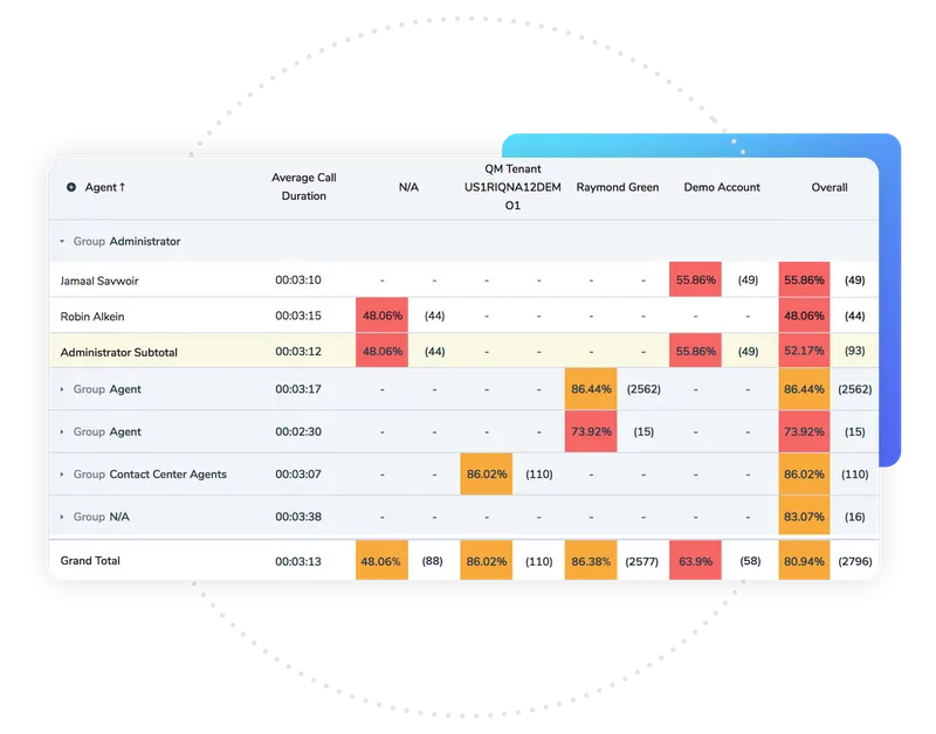 Use benchmarking tools to evaluate your agents' performance and offer feedback. Source: 8×8
Winner
This one is too close to call and ultimately depends on your needs. Both VoIP providers offer many reporting tools, from basic call logs to advanced analytics. We found Nextiva's analytics dashboard easier to use, but 8×8's global workforce metrics are invaluable for large organizations.
Run reports during a demo or free trial to ensure they include the metrics your business needs in a visually appealing and informative format.