NextivaONE Review

Jessica Elliott
business.com Contributing Writer
Updated Nov 01, 2022
Business phone systems make calls, video and messaging data accessible and actionable. NextivaOne is our top pick for the best business phone system with analytics and reporting because it provides high-level insights and in-depth reports that don't require IT experience to set up or retrieve. All Nextiva subscriptions include unlimited internet fax and one-to-one video calling, an auto-attendant, toll-free minutes and the ability to see all conversations with someone, whether email, phone or text, in one simple-to-read thread. Mid- and upper-tier plans have built-in CRM tools, professional greeting recordings and SMS/MMS texting.

NextivaONE
The Verdict
NextivaONE is our choice for the best business phone system with analytics and reporting because it features easy-to-use business intelligence software, including trend analysis and performance statistics.
NextivaOne Editor's Score: 9.4/10
| | |
| --- | --- |
| Pricing/value | 9.5 |
| Features | 9.6 |
| Customizations, add-ons and integrations | 9.6 |
| Ease of use | 9 |
| Customer support | 8.8 |
Why We Chose NextivaOne for Analytics and Reporting
Nextiva's analytics and reports stand out among the dozens of business phone systems we examined because it supplies dashboards, wallboards and around 120 to 130 custom point-click reports. It offers CEOs a snapshot of the business and helps sales leaders motivate teams with custom wallboards – all in real time. Although the reports are detailed, we were impressed with how setting them up and automating delivery isn't complicated.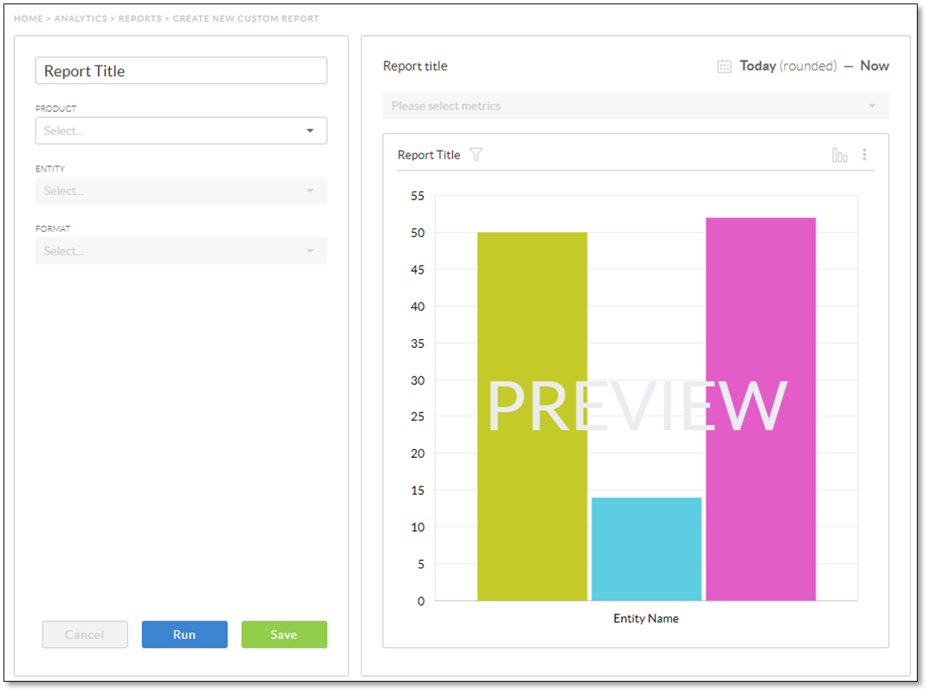 The business phone system also has historical data reporting tools for comparing time frames and identifying trends. In addition, the built-in CRM tool uses artificial intelligence to scan conversations for customer sentiment. While Nextiva competitors like Dialpad provide stand-alone voice intelligence features, users still need third-party CRM software to get a 360-degree view of the customer journey.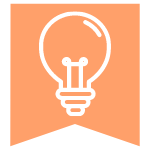 Tip: Customize the NextOS Analytics Dashboard templates by repositioning the metrics, adding or removing reports, and changing the colors for the up and down arrows.
What We Like About NextivaOne
Nextiva can deliver reports to up to 25 email addresses automatically.
The base plan allows unlimited one-to-one video meetings.
It can compile all interactions with a customer (e.g., email, voice, text, video meetings) into one thread for seamless communication.
All subscriptions provide 24/7 customer support by phone, email and chat.
What We Don't Like About NextivaOne
The entry-tier plan lacks SMS/MMS texting and audio conferencing tools.
Nextiva doesn't offer international phone numbers.
Call recording and voicemail transcription are available only on the Enterprise package.
NextivaOne's Ease of Use
Overly complex administrative portals and mobile apps lead to multiple clicks through several screens and menus before landing on the right function. Nextiva simplifies navigation by putting mission-critical tools on the main screen. When we were testing the system, we found that the NextOS admin dashboard displays an overview of operations with tabs for users, devices and numbers. We liked how everything you need to configure a new line or user is in a single, scrollable pane. You simply move down the list to toggle options on or off and customize the settings.
The admin portal also contains various analytics and reports, and each screen has the phrase "get analytics," giving you one-click access to insights. Likewise, the desktop and mobile apps have a simple user interface with a vertical icon panel for toggling between communication methods and viewing team statuses. Drag-and-drop functionality makes sharing a file or adding contacts to a group chat easy.
Nextiva's upgraded platform, NextivaONE, has a Threaded Conversations feature that aids in the platform's usability as well. With this, businesses can view all customer communications (e.g., calls, emails, texts, voicemail transcripts, surveys, etc.) in one view. This minimizes the amount of time your employees spend toggling across various channels and allows them to focus their time on providing optimal customer service instead.
NextivaOne Features
Nextiva provides nearly every feature a small or midsize business could want, including auto-attendants, conferencing and business intelligence features. Unlike the entry-level plans for RingCentral and Dialpad, Nextiva's base plan comes with unlimited internet faxing, which is ideal for companies looking to reduce their reliance on faxing services. While features vary by tier, Professional and Enterprise users can access high-level analytics beyond the standard reports found on other business phone systems.
Trends and Performance Analysis
Unlike other phone services that share call times and usage statistics only, Nextiva uses AI to fuel insights. Nextiva's customer analytics and VoIP reporting tools are easy to use and incredibly detailed. The business intelligence software increases your visibility into your operations and customers, allowing you to forecast your call volumes and scheduling needs.
Video Conferencing
This feature is becoming common on unified communications platforms. All Nextiva subscriptions include one-to-one video conferencing, something RingCentral doesn't have on its base plan. The Professional and Enterprise packages support 250 video participants, which is lower than the 500 supported by 8×8 X-Series plans and Zoom but higher than what we found in our review of Ooma, RingCentral and Dialpad.
Dashboards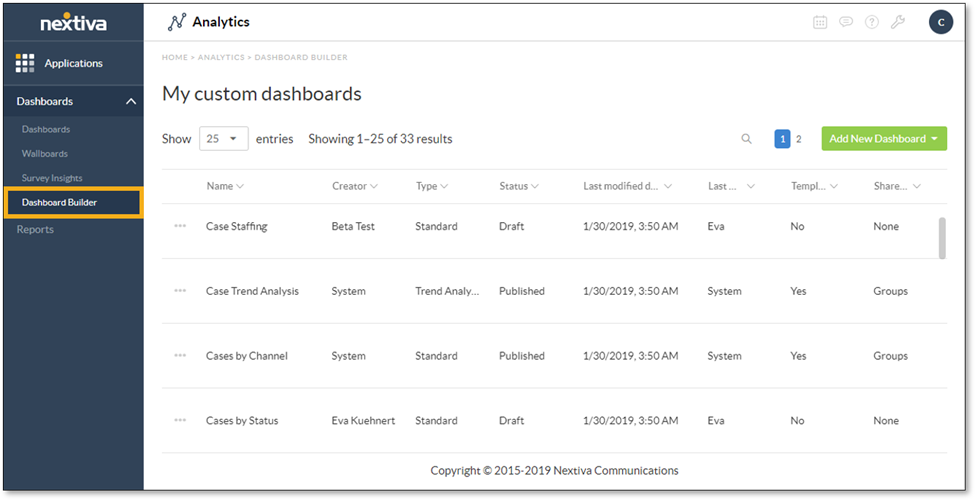 This feature is important for sales teams, call centers and employees working toward shared goals. Other providers reserve dashboards for contact center software, but Nextiva provides dashboard functionality on its business communication Professional and Enterprise tiers. The Professional package offers ready-to-use dashboard templates, whereas Enterprise users can create custom dashboards. We like how the dashboards display reports as charts or tables and metrics as tiles – all in a one-page view.
Nextiva CRM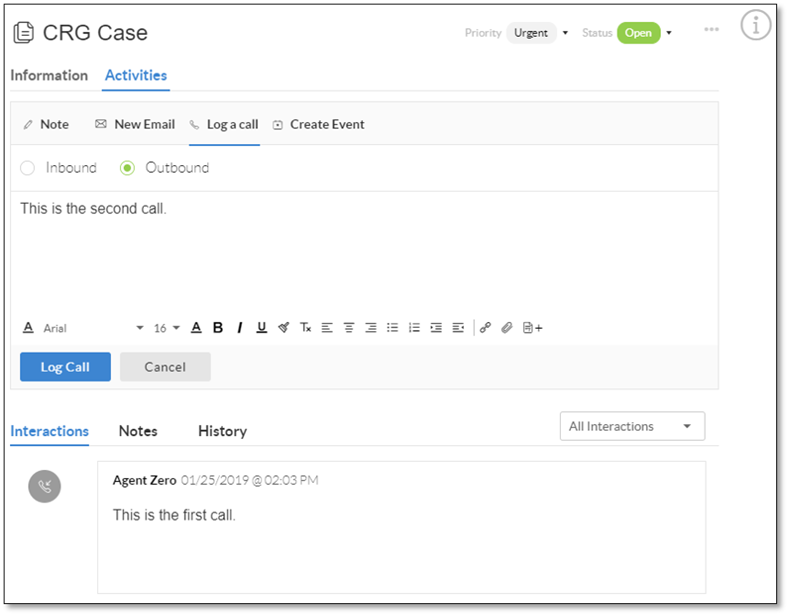 We didn't find this feature on many other phone systems we reviewed, but robust CRM features add value to VoIP subscriptions. Nextiva CRM supports multichannel outreach, uses AI for customer satisfaction scoring and includes productivity-boosting features such as click-to-call and automated follow-up. We also liked the call pops. Every time a known contact or customer calls, a small box slides across the screen with key customer information such as the sentiment from their last interaction, total account value, an experience score and the rating they gave in their previous survey response. [Related article: 20 Features to Look for in a CRM]
Threaded Conversations
Another unique customer-centric capability that stood out to us is Nextiva's new Threaded Conversations feature. This recent platform addition allows businesses to compile all customer conversations into one threaded conversation, regardless of where they originated. For exemple, if you were communicating with a customer by phone, email and text, you can see all of those communications in one place. This isn't something we saw other competitors offer, but it can add great value for companies that want to minimize communication inefficiencies caused by application switching. Nextiva plans to expand these capabilities in the future to include other communication channels, such as WhatsApp, online fax and social media.
Collaboration Rooms
NetivaOne's Rooms option is a collaboration tool that allows users to connect with colleagues instantly. When users create a room, they can invite colleagues to join and communicate via instant message, phone call or video call.
Call Logs
Even the most basic business phone systems provide call logs and basic usage reports. Nextiva goes a step further by including additional costs per call, such as international calling fees. Enterprise plans provide enhanced call logs showing redirection types and numbers. Users can also view call recordings and transcriptions in the call history at this tier. This saves time and puts details in one spot.
Nextiva Cospace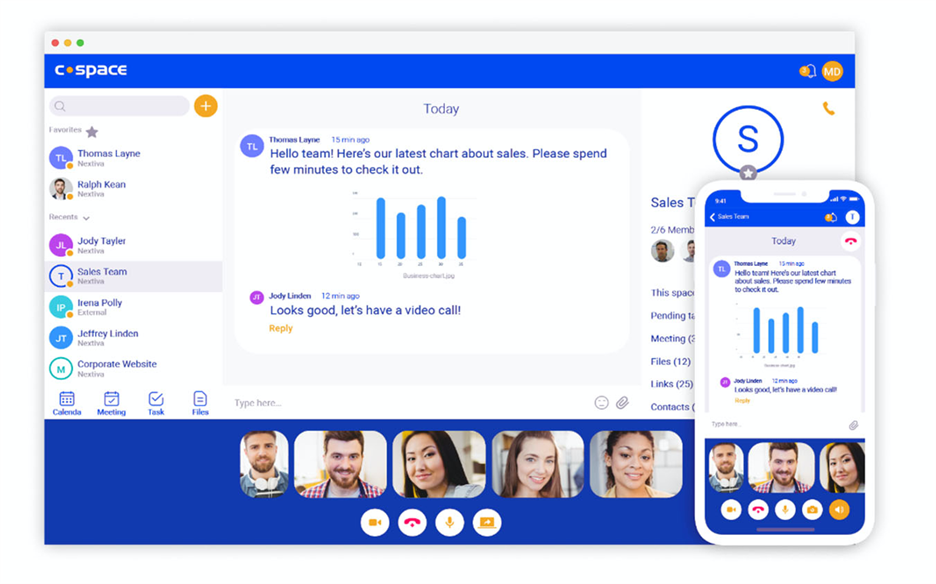 This feature is available at all plan tiers and is a separate application dedicated to collaboration. It places tools critical to teamwork in one spot, including team calendars, task management and a persistent chat space. In addition, companies can invite an unlimited number of guest users, perfect for collaborating with clients. However, it falls short of what we found in our RingCentral review because Nextiva collaboration requires a second app, whereas RingCentral integrates its virtual workspace into the main application.
Auto-Attendant
While almost all providers we reviewed offer a virtual receptionist for greeting and routing calls, we appreciated the intuitive interface and professional implementation support that helps small business owners without technical experience configure their system quickly. This ease of use extends to updates, allowing users to add or remove employees and update permissions from a single screen.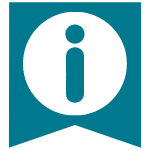 Did you know? Nextiva provides up to three free 50-word, professionally recorded greetings. Nextiva uses voiceover talent to record the greetings and uploads them directly to your account.
Nextiva Pricing
Nextiva recently revamped its service plans, condensing them from four to three versions: Essential, Professional and Enterprise. Nextiva pricing is about the same as that of RingCentral or 8×8 but costs more than what we found in our review of GoTo Connect, Dialpad and Ooma. However, its top plan tier is one of the most reasonable among competitors. Volume-based and annual billing discounts also lower the overall costs.
Additional discounts may be available if you sign up for a 12-, 24- or 36-month contract, but it's a good idea to take advantage of the seven-day free trial before making a long-term commitment. All subscriptions include unlimited calling, internet faxing and one-to-one video meetings. Each comes with a toll-free and a local phone number, call groups, a virtual receptionist, and mobile and desktop apps.
Here's how the plans for five to 19 users compare:
Service plan
Monthly fee
Features
Essential
$29.95 per user, or $21.95 with a 12-month contract

Voicemail-to-email notifications
24/7 support
Integrations with Google Contacts and Microsoft Outlook
1,500 toll-free minutes

Professional
$33.95 per user, or $25.95 with a 12-month contract

Unlimited audio conference calls with 40 attendees Unlimited video conferencing with 250 participants
3,000 toll-free minutes
Unlimited SMS messaging and team chat
1 professionally recorded greeting
Nextiva CRM
Call pops for up to 250 contacts
Salesforce, Zendesk and HubSpot integrations

Enterprise
$43.95 per user, or $35.95 with a 12-month contract

Unlimited attendees for audio conferencing
Unlimited call pops
Voicemail transcription
Single sign-on
12,500 toll-free minutes
Call and video recording
3 professional auto-attendant greetings
Integrations with ServiceNow, Microsoft Teams and Oracle Sales Cloud
In addition to business phone systems, Nextiva offers four contact center packages. These subscriptions have workforce optimization tools and omnichannel routing. Although Nextiva Contact Center integrates with its business phone systems, these packages are sold separately. Nextiva also sells and leases desk and conference phones, headsets and adapters. Prices for office phones range from $107 to $840.
Nextiva Implementation and Onboarding
Nextiva provides the best onboarding experience because professional implementation services come with all plans, not just enterprise-level subscriptions. The online phone setup guide walks you through four steps: Add employees, create hunt groups, set auto-attendants and attach phone numbers. We found each page easy to navigate, and the tool lets you set up one or more auto attendants quickly. Once complete, simply submit your configuration details to Nextiva, and they will set up your system for you.
Alternatively, you can use NextOS to bulk-upload employees from your active directory. If you have just a handful of employees, you can set up a Nextiva phone system and start communicating within minutes. It'll take a little longer if you want to define specific user permissions and create advanced call flows.
While you can handle most tasks online via the self-service portal, you will need to contact Nextiva to enable end-to-end encryption for voice. Like other business phone systems, Nextiva provides onboarding tools for administrators and employees, including training webinars and step-by-step guides. With these materials and the intuitive user interface, your teams can familiarize themselves with the system faster and face fewer barriers when using various tools.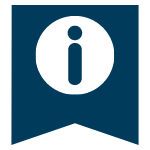 FYI: Nextiva offers live Q&A webinars several times per month. Anyone can join by registering. It's a great way to familiarize yourself with the system and even hear answers to questions you haven't thought about yet.
Nextiva Customer Support
Nextiva's customer support experience is one of the best in the industry. Unlike competitors, Nextiva provides 24/7 customer service for all plan tiers, so even if you're a small team using the Essentials plan, you can still access high-quality support.
Nextiva's support team is available via live chat, phone and email. You can also submit a help ticket online. Moreover, the Nextiva website includes a vast knowledge base, and you can join a live Q&A session, offered multiple times each month, to learn about Nextiva services.
Limitations of Nextiva
Although Nextiva stands out for its advanced analytics, there are a couple of cases where it may not be a good fit for your business. For instance, we were disappointed that the Essentials plan lacks core features such as SMS/MMS and video conferencing with more than one other person. There are less expensive and equally reliable solutions for basic voice calling. Some Nextiva alternatives include chat and video on their base plans; see an example in our Dialpad review.
Also, Nextiva doesn't offer international phone numbers or global workforce capabilities. While this won't affect some small businesses, you may want to add virtual numbers to make it less expensive for international customers to contact your company as your company grows. Business owners planning to scale their services worldwide within a year or two will find RingCentral and 8×8 more adaptable in this case.
Methodology
After researching all of the top business phone systems and spending dozens of hours trying different services, we rated each platform based on our experiences. We looked at the types of analytics and reports available as well as scheduling options. Plus, we factored in our customer service interactions and ease of use during installation.
FAQs
Can I use my iPhone with Nextiva?
Yes. Nextiva offers softphone applications for iOS devices, including iPhones. You can download the app from the Nextiva website or the Apple App Store. Once you set up your Nextiva subscription, you can start making and receiving calls.
Is faxing secure with Nextiva?
Yes. Nextiva's stand-alone fax services and the virtual faxing included with VoIP plans are encrypted during transfer and stored in highly secure data centers. An added benefit is that no papers are lost or misplaced, because faxes are routed directly to your device.
Can I text with Nextiva?
You can send and receive unlimited text messages using your business number. The SMS/MMS feature works on mobile apps and desktop apps.
Bottom Line
We recommend Nextiva for …
Teams that want user-friendly analytics tools.
Small and midsize businesses with U.S.-based teams.
Companies looking for a centralized platform for communication.
Companies looking for 24/7 phone support.
We don't recommend Nextiva for …
Solopreneurs on a tight budget.
Businesses that want to mix and match service plans.
Companies that need international phone numbers.

NextivaONE
The Verdict
NextivaONE is our choice for the best business phone system with analytics and reporting because it features easy-to-use business intelligence software, including trend analysis and performance statistics.

Jessica Elliott
business.com Contributing Writer
Jessica is a technology writer specializing in business communications, marketing and customer management tools. She analyzes software and breaks-down complex subjects, helping leaders make strategic decisions.