Zoho's built-in automation tools set this accounting software apart from its peers. The ability to eliminate tedious, error-prone tasks and streamline operations is why Zoho Books is our best pick for process automation.
Pros
Zoho's ability to automate financial functions is almost unparalleled among the accounting software products we reviewed.
Tech-savvy business owners will love that the software includes its own scripting language to code custom functions.
Cons
Zoho requires coding abilities to make the most of its automation features, which may be challenging for business owners who aren't tech-savvy.
The cap on the number of monthly transactions and users may dissuade high-volume, employee-heavy businesses from using the software.
Small business accounting tasks can be tedious, time-consuming, and prone to errors. Thankfully, Zoho Books makes your company's finances easier to manage by automating processes and helping business owners develop custom functions using a unique scripting language. You can use its scheduled reminders and additional notifications to reduce errors and stop financial items from slipping through the cracks. For these reasons, Zoho Books is our choice for the best accounting software for automating processes.
Zoho Books Editor's Rating:
9.1 / 10
Payments

9/10

Automatic invoicing

8.8/10

Third-party integrations

8.5/10

Mobile app

9/10

Customer service

10/10
Why We Chose Zoho Books as the Best for Automating Processes
Small business owners, especially those with few employees, have a lot on their plate. They usually aren't accountants or bookkeepers, but nonetheless they issue invoices, send reminders for those invoices, make payments, and track expenses and projects. They often need to do all those tasks on a budget, and to cap it off, they typically handle all financial tracking by themselves. For business owners who want to offload time-consuming tasks, particularly those related to accounting, Zoho Books is worth considering. 
We found that Zoho's strength lies in its ability to automate tedious, error-prone accounting tasks. Unlike many accounting software competitors we reviewed, Zoho features a dedicated automation section packed with tools, including the ability to set rules to automate workflow. We were also impressed that you can program email alerts, send automated invoice reminders, and set up in-app notifications to ensure you don't forget critical tasks. 
More tech-savvy business owners can even build custom tools using Zoho's proprietary coding language. All this and more make Zoho Books our best pick for those in search of accounting software with automated processes. 
Some of the best POS systems integrate with top accounting software, which allows your business to easily track relevant data on both platforms.
Zoho is an excellent QuickBooks alternative because of its tax support, bank reconciliation, contact management and estimate tools.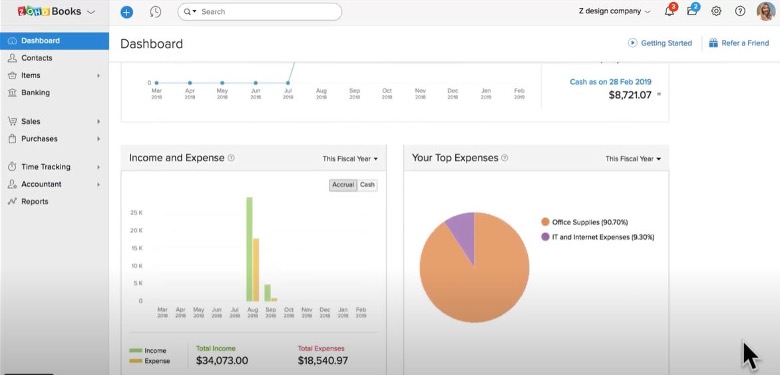 Zoho Books features a modern and clean user interface. Source: Zoho
Zoho Books Features
Zoho shines thanks to its must-have accounting software features. Here's an overview of some of Zoho's notable capabilities, especially those designed to automate processes. 
Payment Reminders
During our testing, we found that Zoho makes it easy and convenient to automate payment email reminders and create multiple messages that go out at different times. For example, you can create a payment reminder email and send it a week before the invoice is due, send a second email on the due date, and send a third email a week after the due date if you haven't yet received payment.
If you connect your account to one of the best credit card processors, you can accept invoice payments online. Compatible payment gateways include PayPal, Braintree, Stripe and Square. Learn more about these processors in our review of Stripe and our Square review.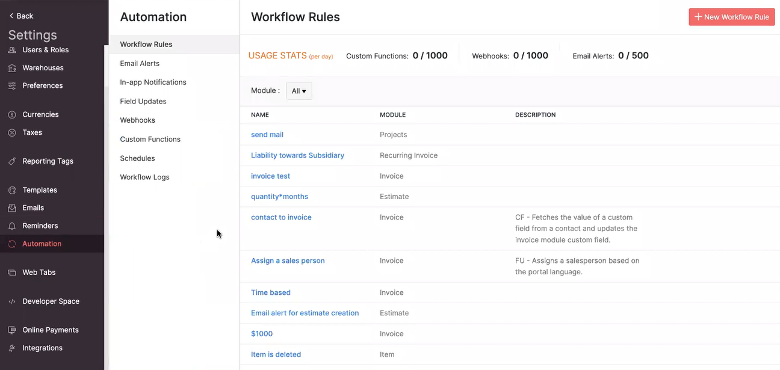 The Zoho Books platform features a dedicated automation section. Source: Zoho
Automated Report Generation
One cool feature we really liked is that you can schedule reports to be automatically generated weekly, monthly, quarterly or annually and emailed to you in the format of your choice (PDF, CSV or XLS). You can also set up the software to automatically email you a weekly report with an overview of your business's performance. This report includes summaries of your income and expenses, cash flow, top expenses and active projects. More than 40 standard reports are built into the software, including general ledger reports, profit and loss statements, sales by item, timesheet details, accounts receivable aging, and aged payables.
Using accounting software is one of the best tax-saving tips we can recommend. Excellent accounting software can help you track key data, such as your profits and losses, to simplify tax filing.
Custom Functions
We were impressed by Zoho's ability to create customized automation tools. Tech-savvy business owners might appreciate the opportunity to geek out on Zoho's ability to code custom functions with the program's scripting language. We also like that Zoho maintains a team of coders who can help less tech-inclined business owners build what they need to automate additional functions.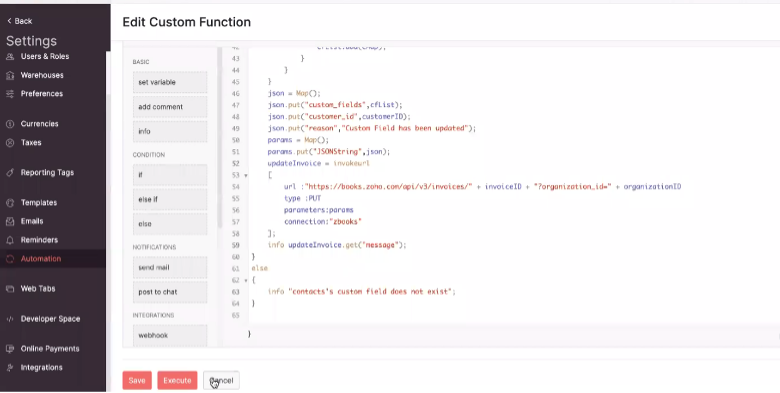 Zoho Books has its own scripting language that allows you to create custom automations. Source: Zoho
Mobile App
Not every accounting solution we reviewed provides a mobile app. We liked that Zoho Books' mobile app is available for iOS, Android and Windows mobile devices. You can use the app to create invoices, run reports, capture receipts, record expenses, and track billable time no matter where you are.
Client Portal
We were impressed by Zoho's client portal, which makes it easy for your customers to view their invoices and pay their bills online. You can also use it to send estimates and chat within the program. Zoho even alerts you when your customer views an estimate or invoice, accepts or declines an estimate, or makes a payment.
Invoicing 
We appreciate that Zoho lets you create projects, set tasks, track the time you spend on them, and invoice customers for billable time. The client-approval feature lets customers approve timesheets before you bill them. The software also allows you to track and invoice billable expenses — something not all competitors we reviewed make possible. 
We like that the template gallery has extensive invoice customization options, more than most competitors. You can choose from 16 templates, several languages and multiple fonts to create custom professional invoices. You can also add your logo or brand image and a background image. Finally, you can select colors for the background, accents, your company's name, customer name and the rest of the text on the page. Other document types, such as estimates and payment receipts, are also customizable.
While Zoho does a good job of letting you customize the look and feel of your invoices, we found the invoice-customization tool a bit less intuitive than some competitors we reviewed — something less tech-savvy users should consider. 
Inventory Tracking
Although inventory-tracking tools are available only with Zoho's Professional plan, we found them helpful. The software shows you the available quantity when you enter an item on an invoice. If you enter a higher number than the amount of stock you have on hand, the number turns red. We also liked that you can set up the system to automatically email you a notification when the inventory drops below a specific number. 
If your inventory needs are more advanced — say you need to bundle items, for instance — you can add the Zoho Inventory app to the accounting program for an additional cost. Businesses that carry many items or customized products or have more complex inventory needs might want to read our review of Xero, which recently beefed up its inventory automation features. 
Integrations
We like that Zoho Books integrates with other Zoho systems and several third-party programs, including payment gateways, tax programs and Zapier, which allows you to connect to hundreds of additional apps. Check out our review of Zoho CRM to learn about another Zoho system that can work with Zoho Books.
If your company's IT department needs a remote access and unattended support solution, read our review of Zoho Assist. Zoho Assist helps IT departments troubleshoot internal computers and assist remote customer support agents.
Audit Trail
We really liked Zoho's audit trail feature. When you view a transaction, Zoho's audit trail shows you when it was created; if it was converted to or from another transaction type; and if the transaction has been updated, sent or paid. It notes the name of the user who made edits, along with the date and time of those edits, and allows you to add comments to the transaction. This is ideal for businesses that have multiple people tracking company finances.
Zoho Books Pricing
Zoho Books stands out as one of the most affordable accounting software applications in its class — especially considering its many desirable features, including inventory tracking, project management, and billable time and expense tools. The software is available in five paid plans, plus a basic free version for very small businesses. You can add a few optional features to your account for an extra fee. 
The vendor gives you the option of a month-to-month or annual plan. Monthly prices are shown below, but Zoho offers a hefty discount if you pay for the entire year upfront.
Free plan. The Free plan is available for businesses with less than $50,000 in annual revenue. It supports one user and one accountant and includes a fairly robust set of features, including 1,000 annual invoices, recurring invoices, automatic payment reminders and email-only support.
Standard plan. The Standard plan costs $20 per month and welcomes three users: you, your accountant and another user. You can manage up to 5,000 invoices and use the software to create invoices and projects, track expenses, and reconcile business bank accounts. This package includes mile tracking, recurring invoicing and automatic bank feeds.
Professional plan. The Professional plan costs $50 per month and allows five users. In addition to the features in the Standard plan, this plan comes with purchase ordering and inventory-tracking tools, the ability to create sales orders, and support for multiple currencies.
Premium plan. The Premium plan costs $70 per month and supports 10 users. You get everything in the two other paid plans as well as your own custom domain, access to a vendor portal, and Zoho Sign and Twilio integrations.
Elite plan. The Elite plan costs $150 per month and supports 10 users. In addition to everything in the Premium plan, you can generate unlimited custom reports, access advanced inventory management features, and handle multiple currencies.
Ultimate plan. The Ultimate plan costs $275 per month and supports up to 15 users and 25 custom modules. This is Zoho's highest-tier offering and includes advanced data analytics. 
Additional users cost $3 per month for all plans. Another Zoho add-on service called Autoscans costs $10 per month for 50 scans. When you upload documents to Zoho Books, such as vendor invoices or receipts, this add-on automatically scans them and extracts the data to create new transactions, saving you the time of manually creating them.
Implementation and Onboarding
We like that Zoho offers two ways to test-drive its services. On the vendor's website, you can try out a demo version of the accounting software, allowing you to explore the user interface and features using a fictional company. A 14-day free trial is available that lets you use the full-featured program with actual business data. If you need more time, you can request to extend the free trial once your two weeks are up. 
We found that onboarding new users is extremely easy and can be done within minutes of visiting Zoho's site. You can also call the provider's sales number or contact the company via email for personalized setup advice. Zoho maintains offices worldwide, so your time zone is unlikely to be an issue. 
Customer Service
While some software vendors provide only minimal customer service, we were impressed that Zoho offers its paying customers multiple support resources. You can contact the company by phone 24 hours a day, Monday through Friday — a rare perk in this sector. Users can also chat with an agent or email the vendor either within the accounting software or via the company's website. 
Online help resources include FAQs and a searchable knowledge base. In-house coders are also available to help less tech-savvy business owners make the most of Zoho's automation abilities. Note that the free version of the software includes only email-based customer support.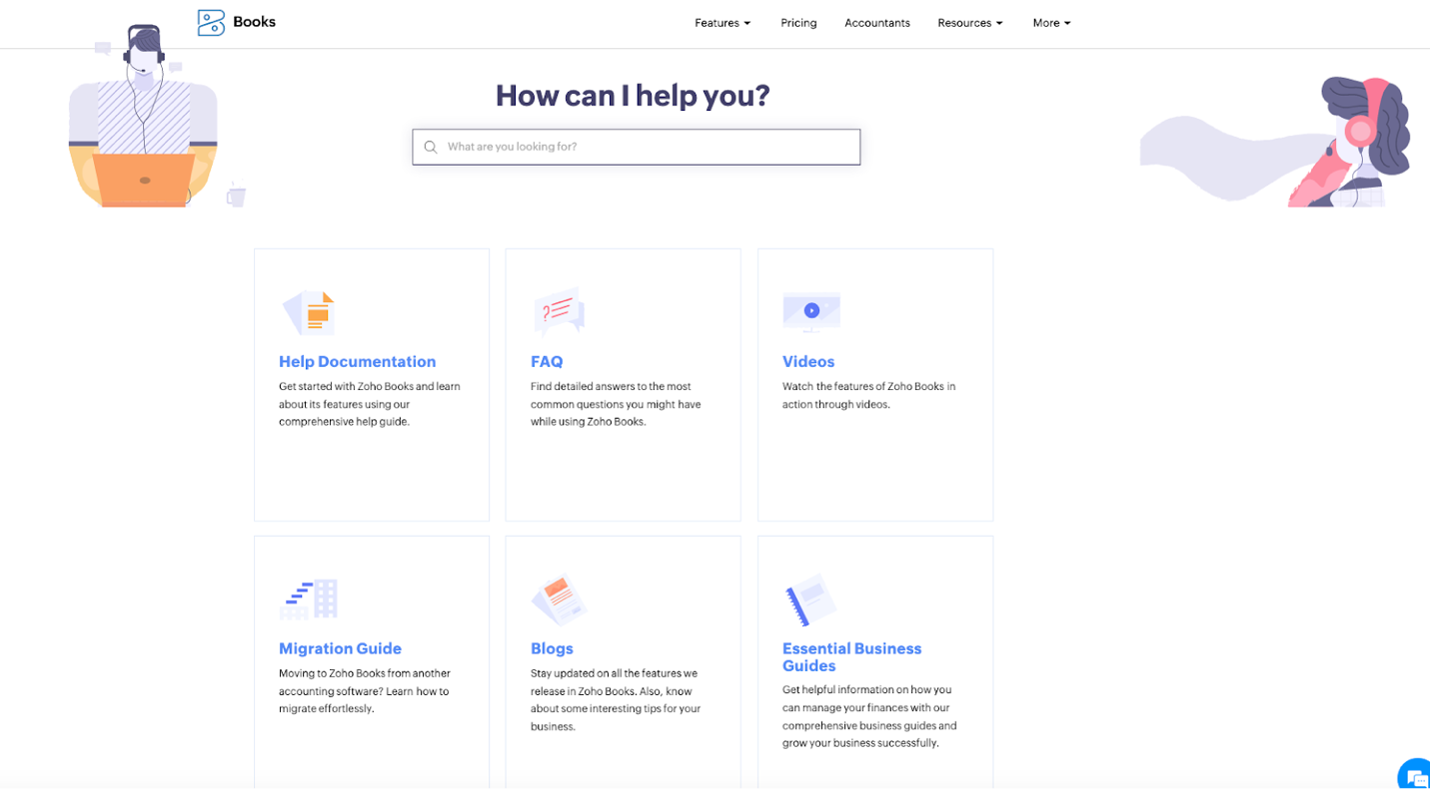 Zoho Books offers multiple online support resources, including videos, blogs and help documentation. Source: Zoho
Limitations
While Zoho Books has excellent accounting features and automation abilities, we found a few drawbacks. 
Monthly transaction cap. One significant Zoho Books limitation is the cap on monthly transactions. Users are limited to 5,000 transactions monthly, even on the highest-tier plan. Although many service-based small businesses probably won't exceed this limit, it's something to keep in mind for those with a very high transaction volume. 
Multiple subscriptions for multiple businesses. People who run multiple businesses should also know that although you can have multiple companies under a single account, each business will require a separate subscription. 
Additional users require a fee. Zoho supports only three users on its Standard plan and up to 10 users on its Premium plan; after that, you must pay an extra monthly fee for each additional user. That can add up depending on how many users you need. 
Fewer integrations than competitors. Compared to competitors like QuickBooks and Xero, Zoho has relatively few integrations with third-party apps.
No payroll services. Unlike competitors like Xero, Zoho doesn't offer any payroll services. 
Accounts payable limitations. Zoho also lacks the comprehensive vendor network that would make it an effective player in the accounts payable space. Processing accounts payable is a vital part of running a business, so small business owners may want to consider additional software that supplements Zoho's capabilities. 
Methodology
We researched and analyzed dozens of the best accounting and invoicing software solutions to help small businesses choose the right accounting software for their needs. We evaluated features like payment and invoicing capabilities, integrations, mobile apps, report generation, supported user count and customizability. We also considered pricing, the availability of free trials and customer service. 
We relied on vendor websites and software demos when conducting our analysis, in addition to studying user reviews for independent opinions on the highlights and drawbacks of each product. When looking for the best accounting software for automation specifically, we focused on the number of processes that could be automated via built-in tools and the ability to create custom tools. 
FAQs
Zoho Books is a cloud-based accounting software system used by small businesses to automate many financial management functions, such as invoicing, payments and workflow.
Zoho Books is free for businesses that generate less than $50,000 USD in revenue. If your business makes more than that, you can purchase one of its paid plans.
Zoho is used by 150,000 businesses around the world.
Bottom Line
We recommend Zoho Books for …
Business owners who wish to automate many tedious invoicing and accounting tasks. 
Companies on a budget, especially microbusinesses small enough to take advantage of Zoho's free version. 
We don't recommend Zoho Books for …
Less tech-savvy business owners who want a more user-friendly, intuitive product with fewer bells and whistles. 
High-volume businesses with more than 5,000 transactions per year. 
Companies that require a large number of integrations with third-party apps.