Zoho Assist is a comprehensive, all-in-one solution for businesses seeking remote support and unattended access. The software comes in a variety of affordable pay-as-you-go plans, and it can be customized as needed.
Pros
Zoho's pay-as-you-go plans are affordable and available at monthly and annual rates.
Zoho has various add-on features and customization options.
Zoho Assist can easily integrate with other Zoho programs and third-party applications.
Zoho Assist's agent automatically uninstalls from the user's computer after the end of the remote support session.
Cons
Zoho Assist offers only 5GB of cloud storage for session recordings; each subsequent 5GB comes with an extra fee.
When transferring large files (over 2GB), you may experience lag time or need to break up the data.
Zoho Assist's web conferencing solution, something competitors provide for free, comes at an additional cost.
Zoho Assist is the best integrated remote access and unattended support solution for businesses thanks to its comprehensive features and affordable plans. Some competitors offer minimal pricing options, but Zoho Assist offers a variety of plans, including a limited free one, so that companies of any size can find something to suit their needs. While employees can use Zoho Assist to access their computers while working remotely, we found that it shines most when enabling IT departments to troubleshoot internal computers and when assisting remote customer support agents. We also love that you can facilitate cross-department collaboration by integrating Zoho Assist with other Zoho products, like the Zoho Desk helpdesk solution and Zoho CRM for customer relationship management. This helps build out a well-rounded software suite for your company.
Zoho Assist Remote PC Access Editor's Rating:
9.5 / 10
Pricing/value

9.6/10

Features

9.6/10

Customizations, add-ons and integrations

9.5/10

Ease of use

9.5/10

Customer support

9.4/10
Why We Chose Zoho Assist for Integrated Remote Support and Unattended Access
Zoho Assist provides a powerful combination of remote support and unattended access features for your IT and customer success teams, as well as remote workers. What's more, you can integrate it with Zoho's product suite, which includes solutions for accounting, sales management and customer support. That integration makes Zoho Assist a perfect choice for companies in need of a variety of business functions on one comprehensive platform. Zoho also integrates with third-party applications like Google Workspace, Slack, Zendesk and Spiceworks to create an even more comprehensive solution.
When looking at Zoho Assist's remote support and unattended access functionality, we liked that essential features like file transfer, multi-monitor support, remote reboot and voice chat are available across all paid plans. Even the free version that supports one technician and five connected computers gives access to text chat, user management and one concurrent session. We found this offering generous compared to other products that often have those features only on top-tier plans.
We also like that Zoho Assist works on a variety of platforms, and users can customize various aspects of the software, such as customer widgets, branding, user privileges, department settings, email templates and reports. This allows you to create a solution that matches your business's specific needs. With all of these aspects in mind, Zoho Assist is the best remote PC access software for integrated remote support and unattended access.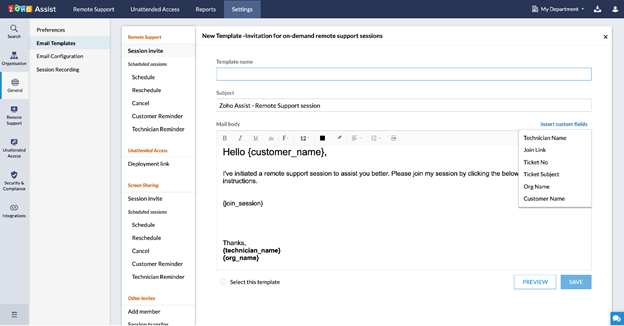 You can create custom email templates in Zoho Assist. Source: Zoho
Ease of Use
While Zoho Assist requires a more detailed setup than some of the other products we reviewed, once it's set up and connected, it's easy to use and works on nearly every type of device. Connecting Zoho Assist's Customer and Remote Desktop Android and iOS mobile apps is straightforward as well.
We like that there is no installation involved. Zoho Assist is cloud-based, which allows your business to create remote desktop connections through a downloadable plugin link. The end user simply runs a lightweight application when they accept the session invitation.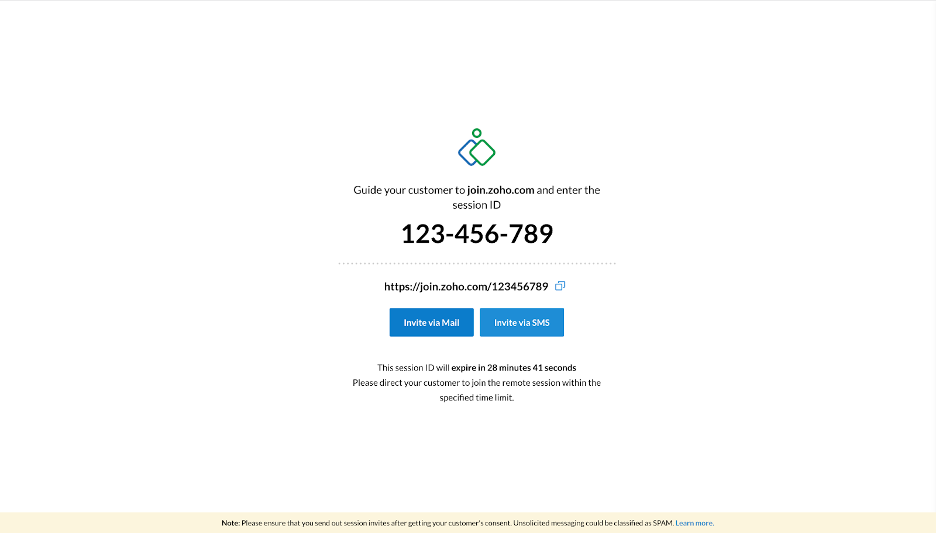 To access a remote support session, a user needs to enter a session code. Source: Zoho
From the Zoho Assist console, you can easily switch between the Remote Access and Unattended Support tabs, and you can access detailed reports to analyze your team's past sessions. To offer remote support, all a technician needs to do is send an invite to the user's email address or share a generated link with a unique password. Zoho Assist stores previously engaged contacts in a dedicated tab for easy repeat access. We like that you can customize your remote support session email invite to personalize customer communication. On the Enterprise plan, you can even separate your technicians into departments and customize the email templates for each group. What also sets Zoho Assist apart from the competition is the ability, on most plans, to schedule remote support sessions, which means they're easy to fit into the customer's schedule.
The unattended access functions are straightforward as well. Technicians can edit power options, reboot machines remotely, run commands in the background without interrupting the remote user's work, and connect computers to the LAN network to wake them up remotely without an internet connection. While these features are common in the industry, we like that Zoho Assist also offers extensive diagnostic tools that give technicians a deeper insight into the remote computer's performance and details.
In our experience with the software, we also found that integrating Zoho Assist with other Zoho programs and third-party applications is easy and helps you manage multiple business functions seamlessly.
There are no session time limits or activity timeout periods with Zoho Assist. You or the user on the other end need to terminate a session for it to stop.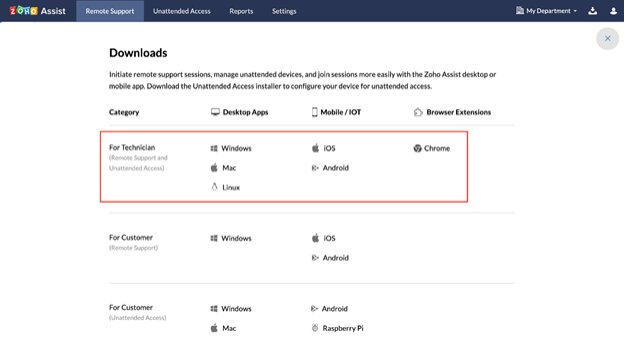 Zoho Assist is easy to access on a variety of devices. Source: Zoho
Features
Zoho Assist offers a variety of valuable features, but keep in mind that its plans are tiered, so not all plans include every available feature. Check the tools on the plan you're considering before subscribing. Here are some of the best functions of Zoho Assist.
Communication
Every paid plan includes essential communication tools like instant text and voice chat, clipboard sharing, file and session transfer, and screen capture. Certain plans also offer advanced communication tools like annotations, screen swap, video chat, session notes and screen share. We found these features to be valuable whether you use Zoho Assist for remote support or unattended access.
Rather than make your technicians resolve repeated requests from the same customers, encourage them to use the annotations tool. This way, technicians can walk the customer through the resolution process so that if the same problem occurs in the future, the end users can fix it themselves.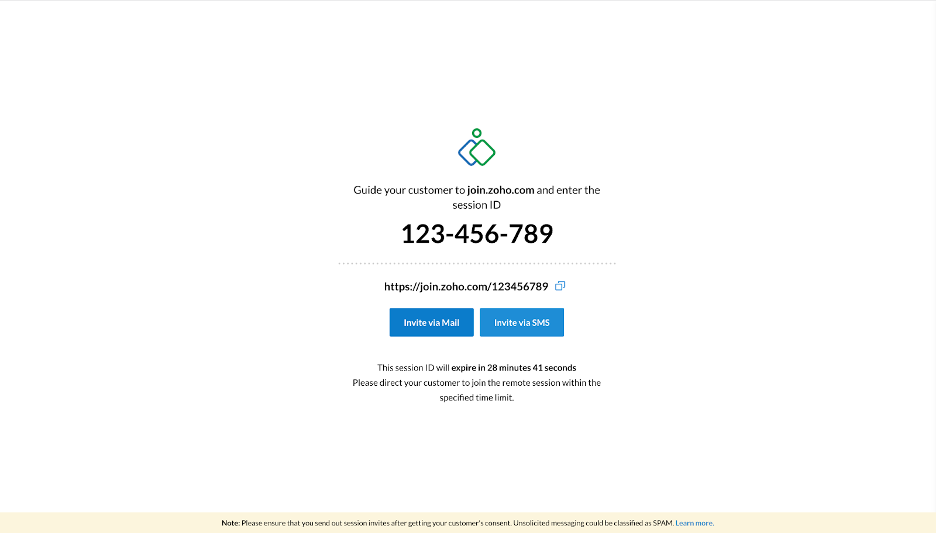 Select plans let you schedule remote support sessions. Source: Zoho
Remote Connectivity
With Zoho Assist, you can connect to remote devices regardless of their status. For example, you can use Wake-on-LAN to remotely power on devices that are hibernating, sleeping or completely powered off without using an internet connection. You can also reboot and reconnect to a remote device without terminating your remote session, which can be helpful when implementing system changes requiring device restarts. We also like that users can schedule and reschedule remote support sessions. This enables you to plan and prepare for remote support sessions in advance. Moreover, the top-tier package includes a self-service portal allowing users to request help directly. Technicians can pick up and assign requests without involving your customer support team. This helps cut down on back-and-forth communication and ensures more efficient and timely support.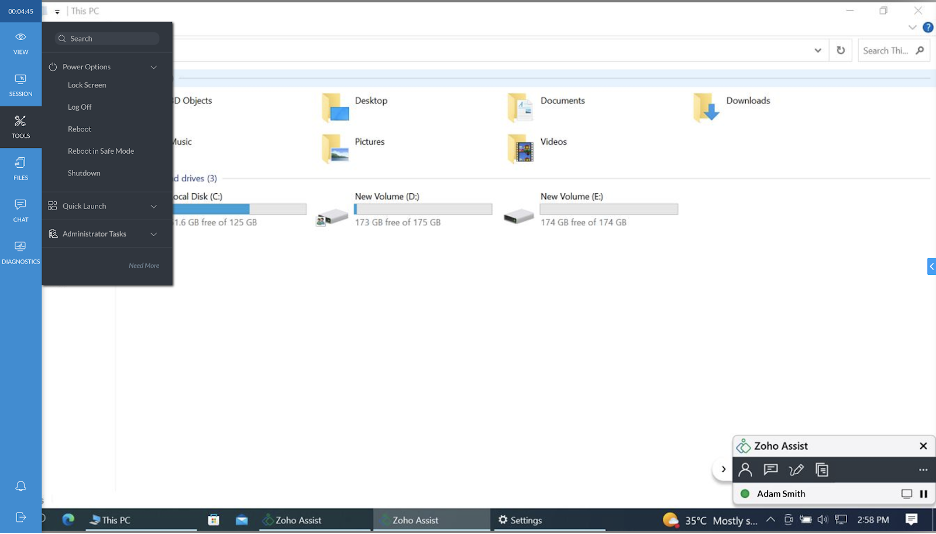 Technicians have a variety of tools at their fingertips to manage a remote device. Source: Zoho
Integrations
Zoho Assist integrates with the vendor's other programs, like Zoho Desk, Zoho Books, Zoho Mail and Zoho SalesIQ. We especially like that you can integrate it with Zoho CRM, which allows you to connect with your sales leads and offer demos, assist with any issues, and jump on a quick audio or video call.
Zoho also connects to third-party applications, including Google Workspace, Spiceworks and Zendesk. This is similar to its competitors' integration selections. We especially like how you can also develop custom apps using an API or webhooks, which can connect Zoho Assist with Kiosk, Android and iOS apps, OEM devices, and IT service management or top CRM software.
Zoho Assist offers open access to its roadmap. Businesses can request features they believe are missing in the app.
Mobile Support
Not all remote PC access solutions offer comprehensive support for mobile devices or enable technicians to provide on-the-go support from their own Android or iOS devices. Zoho Assist makes it easy for customers to share their mobile screens after the quick installation of a lightweight app. From there, they can communicate with technicians or customer support agents using an instant-chat function.
Zoho Asisst's mobile app allows technicians to access almost any device and provide support from anywhere remotely. It mirrors the web app in most features, including screen capture, file transfer and technician invite. We found both the Zoho Assist Customer and Zoho Assist Remote Desktop apps to be more comprehensive than those of the company's rivals and very helpful for unattended access and remote support outside the office.
Security
Zoho's security settings are competitive with industry standards. Cross-platform access is secure across various devices, including Windows, Linux, Chrome OS, Mac, iOS and Android. All data is transmitted with end-to-end SSL and AES 256-bit encryption. Zoho also uses multifactor authentication, remote screen-blanking, role-based permissions, consent-based access, session recording, custom reporting and session auditing. It can work through firewalls or proxies and is compatible with the best antivirus software. These security measures help protect against cybersecurity risks while remotely accessing devices. We also like that the support agent installed on the user's remote computer is automatically uninstalled after the session's end. This provides an extra layer of security, ensuring that the user's device and files can't be accessed again without their consent. Similar to some of its rivals, Zoho Assist also offers an option to pause the session recording during the entry of sensitive data.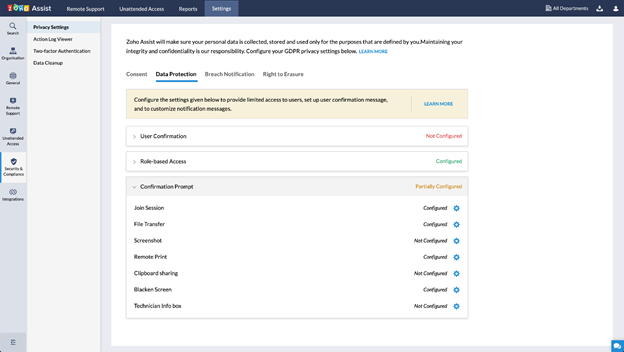 You can configure privacy and security settings for data protection. Source: Zoho
Pricing
With six packages to choose from, Zoho Assist offers more remote support and unattended access plans than most vendors we reviewed. Its multiple pay-as-you-go remote software plans include a free plan for personal or commercial use, two unattended access plans (Standard and Professional) and three remote support plans (Standard, Professional and Enterprise). Zoho offers a 15-day free trial, which is on par with most of its peers, and you can change or cancel your service at any time.
The free plan includes one remote support technician, access to five unattended computers, instant chat, a desktop app, multi-monitor navigation, User Account Control compatibility, clipboard sharing, cross-platform support, user management, organization roles, one concurrent session and even interaction with Zoho Desk and Zoho SalesIQ.
The below chart outlines the range of paid plans (all prices are applicable when paid annually).
Remote Support
| | | |
| --- | --- | --- |
| Plan | Cost | Features |
| Remote Standard | $10 per per technician, per month | Everything in the Free plan, plus file transfer, remote reboot, session transfer, custom reports, screen capture, voice chat, email configuration, Zendesk integration and two simultaneous sessions |
| Remote Professional | $15 per technician, per month | Everything in the Remote Standard plan, plus mobile apps, scheduled sessions, screen-share and capture, session notes, custom email templates, rebranding, advanced reports, mobile and IoT device support and four simultaneous sessions |
| Remote Enterprise | $24 per technician, per month | Everything in the Remote Professional plan, plus departments, session recording, service queues through a self-service portal, session audits, remote printing, video chat, contact management, annotation, a customer widget for providing support straight from your website and six simultaneous sessions |
Unattended Access
| | | |
| --- | --- | --- |
| Unattended Access Standard | $10 per month for 25 unattended computers and unlimited technicians | Everything in the Free plan, plus computer grouping, group permissions, bulk deployment, Wake-on-LAN, file transfer, remote power options, session confirmations and notes, remote screen-blanking, custom reports, technician mobile apps, email configuration, voice chat and screen capture |
| Unattended Access Professional | $15 per month for 25 unattended computers and unlimited technicians | Everything in the Unattended Access Standard plan, plus session recording, remote print, annotation, diagnostic tools, video chat, custom email templates, departments, rebranding, advanced reports and mobile and IoT device support |
Zoho Assist also offers add-on features, such as additional storage and call credits for VoIP. These features are another reason it stood out in our research. The vendor also has a web conferencing tool called Zoho Meeting, but unlike some of its competitors' packages, this tool comes at an extra fee.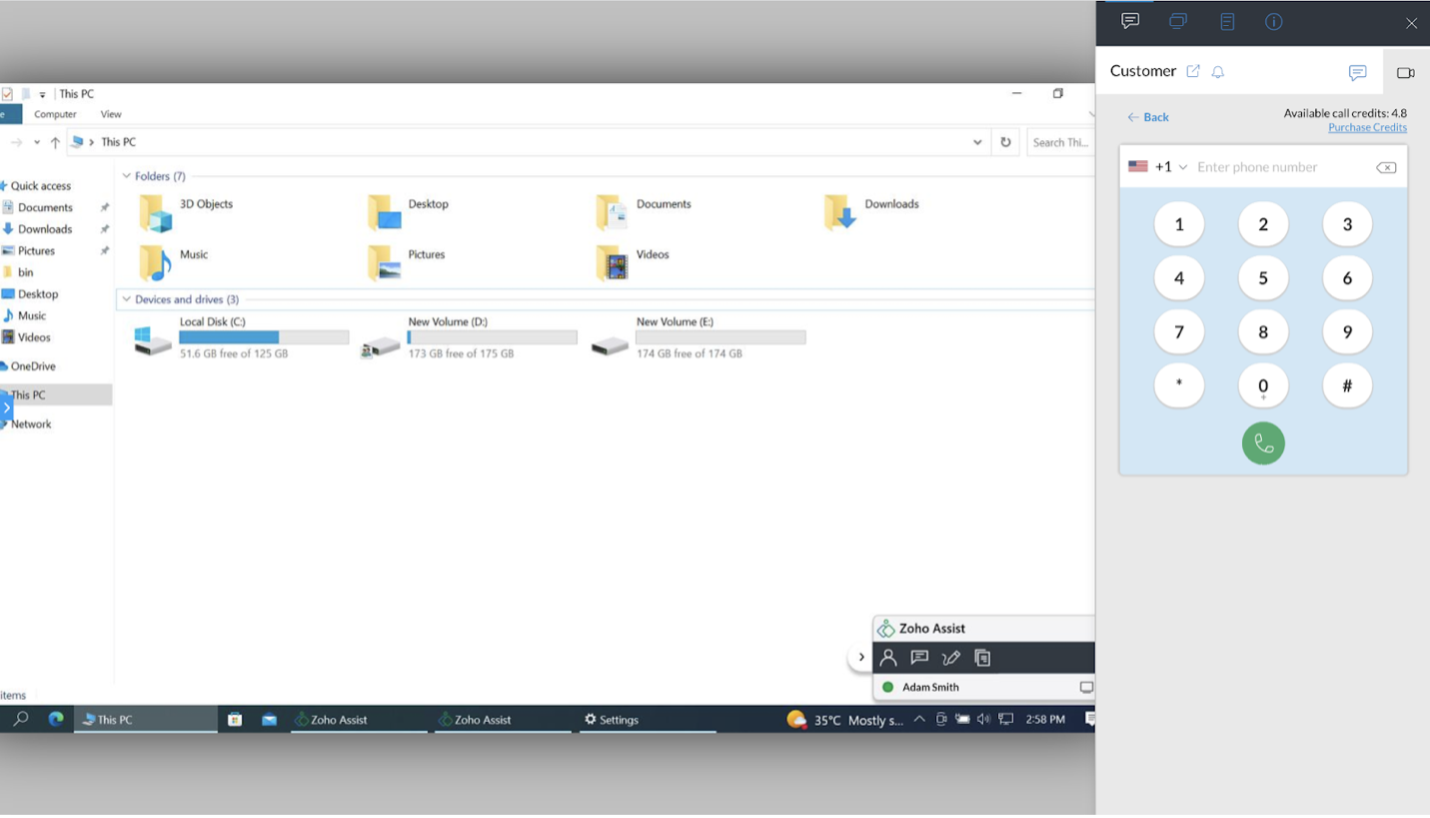 You can purchase VoIP credits to call your customers directly. Source: Zoho
Implementation and Onboarding
Zoho Assist is compatible with various devices, such as Windows, Mac, Linux, Chrome OS, iOS and Android; however, the software does not support Chrome OS on remote devices that need to set up unattended access. Zoho provides a step-by-step getting-started guide to simplify the implementation process, as well as helpful in-app pop-ups that bring attention to potentially overlooked settings and configurations. We found the implementation process to be straightforward; however, if simplicity is critical, you may want to check out our review of RemotePC for something even more user-friendly.
That said, executing remote monitoring support or access with Zoho Assist is intuitive. Remote technicians can either send users an invitation to attend a remote session via email or share a link with a generated four-digit code for an extra layer of security. Technicians can initiate unattended access sessions by sharing a deployment link, using a distributor and domain, Microsoft Intune, or a configured group policy.
Zoho Assist can integrate with a variety of Zoho and third-party applications. While incorporating these can add time to the implementation process, we found it helpful for companies that want to streamline overall business processes.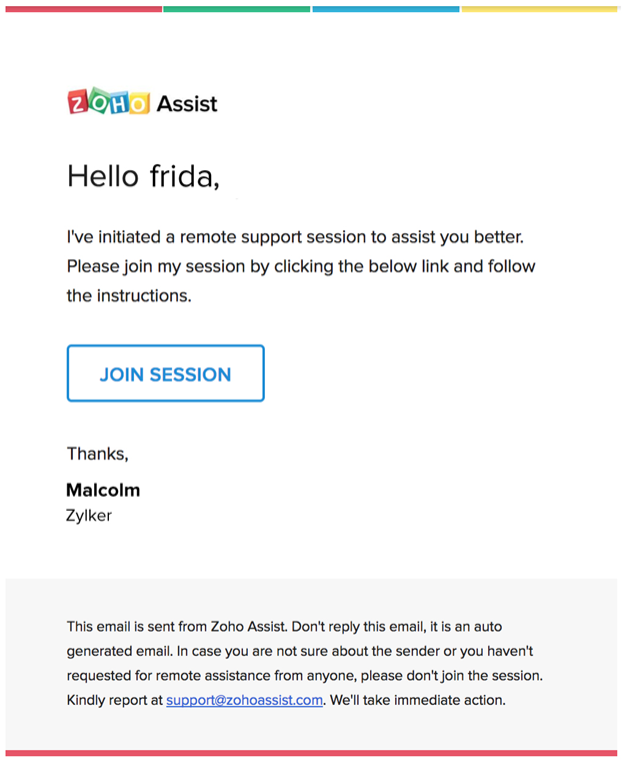 You can send session invitations by email. Source: Zoho
Customer Support
Zoho Assist offers two levels of support – Basic and Enterprise. Basic support is available on all plans, including the free one, and allows users to reach support agents Monday through Friday via phone, live chat and email. The Enterprise support level promises a priority response time of three hours, onboarding assistance and access to one-on-one customer service sessions.
Zoho also has helpful online resources, including live and on-demand webinars, FAQs, a user guide, user forums, a knowledge base, blogs and case studies. Although the vendor does offer in-depth live training sessions, we found them to be somewhat limited. If customer support is a top priority for you, consider ConnectWise, which provides 24/7 assistance via live chat for all plans. Learn more in our ConnectWise Control review.
Limitations
Zoho Assist offers multiple remote support and unattended access plans, but each one has tiered features. This means users who opt for lower-priced plans will have limited access to certain tools. For example, the Standard plans don't include functions like remote printing, annotations, session recording, screen share and session audits. Because of this, it's vital to closely review which specific features come with the plan you're considering.
Another potential limitation is that file transfers over 2GB might experience a lag in transfer time. To avoid this, you may want to break up the data from large files to create smaller ones. While this isn't a dealbreaker for most businesses, it's something to keep in mind if your team frequently transfers large files.
Most companies these days need some kind of web conferencing tool, but Zoho charges extra if you want that feature added on to your remote support and unattended access software. If staying connected with your team and organizing live demos straight from your remote PC access solution for free is something you need, we suggest you check out Remote PC instead.
Methodology
When searching for the best remote PC access systems, we investigated different products on the market, evaluating their features, pricing, integrations, usability, security and customer support. For our examination of Zoho Assist, we partook in a software trial and demo, spoke with the customer service team and accessed numerous tutorials, webinars and support materials. To find the best integrated remote support and unattended access solution in particular, we paid close attention to features like affordability, comprehensiveness, scalability, usability, device support, security and collaboration tools.
Yes, Zoho Assist remote support is safe and secure to use. The software uses end-to-end SSL, AES 256-bit encryption and multifactor authentication. Zoho Assist works through firewalls and proxies, so users don't have to modify these settings on their devices.
Yes, Zoho Assist is one of the few remote access solutions that offers a free version. It is available for one remote support technician, five unattended computers and one concurrent session. It supports features like instant chat, clipboard sharing, user management and organizational roles. Impressively, it also comes with Zoho Desk and Zoho SalesIQ integrations. See our review of GoTo Resolve for another option with a free plan.
Yes, Zoho Assist has a mobile version. There are free Android and iOS apps for technicians to access devices remotely, as well as a mobile app that customers can install to receive remote support.
Bottom Line
We recommend Zoho Assist for …
Businesses that need an integrated remote access and support solution.
Companies that want the flexibility of multiple pay-as-you-go plans.
Small organizations in need of a free remote access and support solution.
We don't recommend Zoho Assist for …
Businesses that need to consistently transfer very large files between remote devices.
Service teams that want to provide customer support without making their customers download a client.
Companies looking for a desktop remote access app.