ConnectWise Control is secure software that lets you remotely access devices, provide support and collaborate with team members. It's ideal for teams that want to use video and audio to communicate between devices.
Pros
ConnectWise Control offers advanced troubleshooting tools.
The software is highly customizable and includes custom reports, notification triggers and a wide selection of integrations.
Users can communicate by voice during support and access sessions.
ConnectWise has advanced security settings for every connection.
Cons
Some of the essential tools, like Wake-on-LAN and VoIP, are available on select plans only.
Implementation and removal can be more challenging than with some of the other remote access programs we reviewed.
Not all plans enable you to support mobile devices.
An IT team that is able to provide effective remote support and troubleshoot any arising issue can be a priceless factor in your remote team's success. With the right remote PC access solution, your technicians can get detailed insights into the performance of remote machines, assess potential causes of any issues and minimize the chances of them occurring in the future. While most products in this space offer some level of IT management and troubleshooting features, ConnectWise Control goes much further, making it our choice for the best remote PC access software for businesses prioritizing remote troubleshooting.
ConnectWise Control Remote PC Access Editor's Rating:
9.6 / 10
Pricing/value

9.4/10

Features

9.7/10

Customizations, add-ons and integrations

9.8/10

Ease of use

9.4/10

Customer service

9.7/10
Why We Chose ConnectWise Control for Remote Troubleshooting
ConnectWise Control is an ideal solution for small and medium-sized businesses that want to provide effective remote support, access advanced diagnostic tools and customize most aspects of their remote access solution. Unlike many competitors that offer in-session text chat, ConnectWise Control goes a step further and allows technicians to communicate via audio. IT teams can record sessions and execute sound capture and video auditing – features we didn't see in other top programs. We also like that it's possible to grant a temporary host pass to an external technician or customer so they can host a session without needing to log in to the system. We found this feature helpful for collaborative troubleshooting.
Those on the vendor's top-tier plan can also use ConnectWise View, which allows technicians to access users' mobile cameras for a live view and offer support for on-site issues like hardware malfunctions. While some rivals have similar functionality, we found that ConnectWise View can access both back and front cameras, which is unique compared to other products. We like that sessions are browser-based and users don't need to download anything on their devices to receive support. This advanced feature can make a big difference in technical remote monitoring support.
ConnectWise Control is compatible with Windows, macOS, ChromeOS and Linux/Unix operating systems, as well as nearly every major browser, making it easy for technicians to support most users. We also found that ConnectWise Control provides access to one of the most extensive collections of integrations on the market. The software can integrate with other ConnectWise tools like Report Generator, Remote Diagnostics and ConnectWise Automate, as well as third-party apps like Zendesk, Microsoft Outlook, Freshdesk and Zopim chat.
You can use ConnectWise's Translation/Localization extension to translate the app's elements, like explanatory text and labels.
We also like ConnectWise Control's emphasis on security. When you remotely access devices, maintaining a secure remote desktop connection is critical. When using ConnectWise, you must go through several security permissions to establish a connection, and then the software automatically removes support clients when sessions are terminated. With all these features in mind, ConnectWise Control stood out as the best option for remote troubleshooting.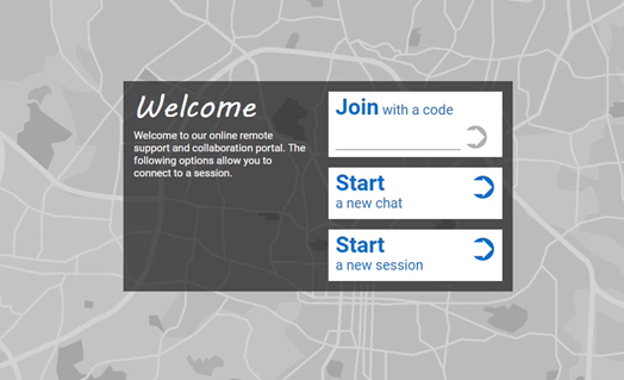 You can start a support session with a unique session code. Source: ConnectWise Control
Ease of Use
ConnectWise Control is compatible with Windows, Mac, Chrome OS, and Linux, Unix and *nix operating systems, as well as nearly every major browser. The software is very customizable, though it may require some technical know-how to take advantage of this. The initial setup takes somewhat longer and requires more initial configuration than other solutions we reviewed. However, we found the software to be fast and efficient once a remote access session is started. We like that it can integrate with more than 100 third-party applications, which can simplify your business processes over the long term. You can also adjust aspects like the branding, language and service disclaimers.
We also like that you can install the software and invite users to connect in a variety of ways. This gives you the flexibility to choose whichever installation and connection format is easiest for you and your clients. You can also filter and group sessions by customer name, location and OS, improving overall usability.
We also found it helpful that some plans allow you to create triggers for various events. For example, you can choose to receive notifications whenever a server goes offline or a user continuously enters a wrong password. This makes it easier to instantly spot potential usability problems and prevent security issues. While there is a possibility to create custom triggers with some basic coding skills, ConnectWise Control also offers numerous prebuilt "if, then" scenarios, making it easy to implement for non-tech users.
While we found ConnectWise Control relatively easy to navigate, it can be somewhat overwhelming during the initial setup due to the sheer number of available customizations, access options and automations.
ConnectWise Control Features
ConnectWise Control offers comprehensive features, but some of them are available only on higher service plans. Some of its standout features involve compatibility, remote troubleshooting, customization, security and integrations.
Compatibility
ConnectWise Control is installation-based software that is accessible by link or installer package. This enables you to connect via several platforms, including Windows, Linux, Mac and Chrome OS, as well as iOS and Android devices. We like that ConnectWise Control works on all of these, even when you're remotely accessing a device from your smartphone; however, some features may be limited when you're providing support for certain mobile devices. We also like that ConnectWise Control allows you to remotely access and repair not only computers and mobile devices, but also entire servers, taking remote troubleshooting to an entirely new level.
ConnectWise Control can connect with remote devices even when they aren't awake by using the Wake-on-LAN feature. It also allows you to view a single monitor or multiple monitors during a session. These are somewhat standard but beneficial features. Additionally, ConnectWise Control lets you exchange text messages between the machines outside of the online sessions. We found this feature to be rare among other solutions.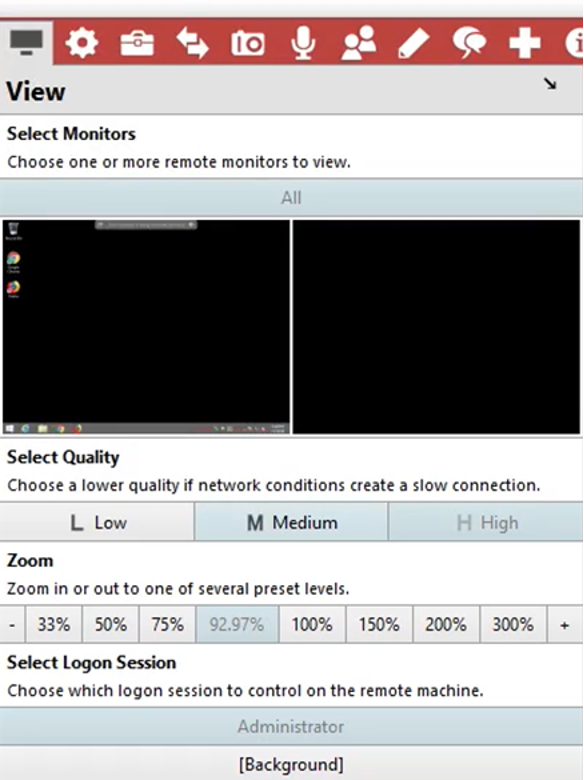 You can choose one or more remote monitors to view at a time. Source: ConnectWise Control
Remote Troubleshooting
ConnectWise Control's troubleshooting features are some of the most comprehensive in the industry – and why we named this product the best for remote troubleshooting. When you're connected, you can drag and drop files or copy and paste documents between devices. Features vary by plan but can include text chat, VoIP, annotation, shared toolboxes, remote printing, monitor blanking and multimonitor support. You can integrate other options like surveys, extensions and ConnectWise View, which acts as a livestream and allows you to fix on-site issues remotely using the user's mobile camera and without sending a technician. We found it helpful that you can access both the back and front cameras of the user's mobile device, which allows for more flexibility during the troubleshooting session.
ConnectWise Control also enables technicians to capture sound from guest devices and communicate by voice during support, meeting and access sessions. This facilitates the troubleshooting process and helps prevent things from getting lost in translation. Additionally, you can record (and audit) videos of your remote sessions.
You can use the annotations tool during a remote support session to draw the user's attention to specific elements.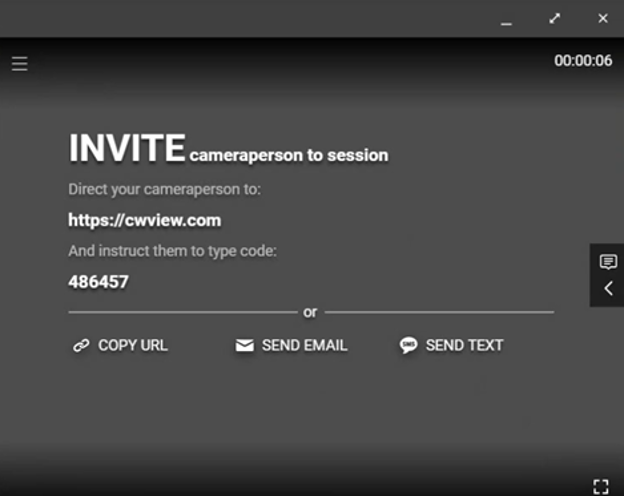 Establishing a connection with ConnectWise View is simple, though it's only an option on the Premium plan. Source: ConnectWise Control
We also found it useful that ConnectWise Control allows you to block either the user's or host's input to ensure an uninterrupted support session. Our research showed that most competitors that provide similar functionality offer only user-input blocking. Additionally, technicians can access detailed device information, like active processes, installed software, running services and logged events. This way, IT teams can make informed decisions during the troubleshooting sessions and save time on trying to acquire this information from the users.
Customization
ConnectWise Control is highly customizable and allows you to create a solution that fits your business's needs. You can customize the system's look and feel to match your brand by adding a logo and a shortcut icon with a simple drag and drop, selecting the visual theme, and changing the copy and design of the guest welcome page. You can also pick a hostname or use a custom URL for connecting with users. We like that ConnectWise Control also gives you the option to embed it into your existing website, something rarely found in other products we examined.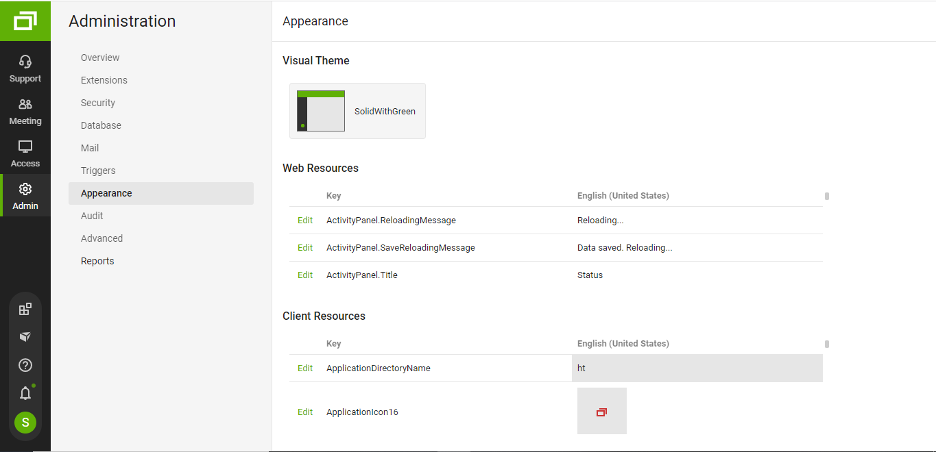 ConnectWise Control allows you to customize its many aspects from the "Appearance" tab. Source: ConnectWise Control
You can also customize the product's technical side by setting up custom triggers and IT automations, which can be done without any HTML skills required. Administrators can define maintenance actions, change the security settings and refine access control options. This ensures maximum security.
The "Appearance" tab that is usually accessed from the Admin panel is not available during ConnectWise Control's trial period.
Security
Speaking of security, ConnectWise Control is bolstered with AES 256-bit encryption and two-factor authentication to help you minimize cybersecurity risks. Other safety and authentication features include role-based security, secure session codes, LDAP and SAML integration, brute-force protection, guest input suspension, guest monitor blanking, access revocation, and OAuth integration. You can also run audit reports and have the software automatically lock devices upon disconnection. In addition, ConnectWise Control allows you to set password requirements and restrict certain IP logins.
We also found it valuable that ConnectWise Control gives you the option to prompt guests for consent before connecting to devices and the option to bypass approval if a user is logged off. We didn't notice these in many competitors. We also like that ConnectWise Control automatically removes the client from the remote computer at the end of the session, ensuring the end-user's security. [Learn more about secure remote access.]
With many employees now working from home, you can use remote PC software to set up patch management systems that ensure their devices are secure.
Integrations
ConnectWise Control integrates with more than 100 third-party applications, which is a highly competitive amount in this industry. You can easily select the integration you need from the ConnectWise Extension Marketplace. Some of the more rare integrations include solutions for language localization, guest hosting, session tagging and message auto-response.
ConnectWise Control can also integrate with third-party survey applications, help desk solutions like Zendesk and Freshdesk, chat apps, and Microsoft Outlook. Users on the Premium plan can also access advanced reporting and diagnostics extensions, as well as ConnectWise View, the browser-enabled livestream session solution.
ConnectWise Control Pricing
ConnectWise Control offers three remote support plans (One, Standard and Premium) that are based on the number of concurrent sessions you want to allow. There is also an agent-based Access plan that comes with unrestricted technician licenses and unlimited concurrent sessions. This package starts at $30 per month (billed annually) for 25 unattended access agents.
All prices below are applicable when billed annually.
One (single license only)
Price: $27 per month (one session limit)
Features: 10 unattended access agents, remote meetings, branding and customization, file transfer, remote printing, mobile support, session grouping
Standard
Price: $42 per month per concurrent session
Features: Everything in One, plus up to three concurrent sessions, unlimited unattended access agents, backstage host commands, Wake-on-LAN, VoIP audio for meetings and support sessions, sound capture, iOS and Android mobile guest access support
Premium
Price: $52 per month per concurrent session
Features: Everything in Standard, plus up to 10 concurrent sessions, video auditing, advanced backstage endpoint management, premium extensions, ConnectWise View
We like that ConnectWise Control offers both monthly and annual pricing, as some competitors require you to pay annually for all plans. The vendor also offers a 14-day free trial, which is common.
Implementation and Onboarding
In our investigation, we found that implementing ConnectWise Control can take a little longer than it does with some competitors. The customizable software is comprehensive, and installation, while not terribly difficult, may take some time as a result.
To get started, you create user accounts and role-based permissions. You can also connect with more than 100 integrations and extensions. You and your team members can install the software in multiple ways: You can send a link, copy a URL or download the installer package. Once it's installed, you can invite guests (end users) to a session by code, email, hyperlink or calendar invitation.
ConnectWise Control provides a variety of getting-started guides that can help with the implementation process.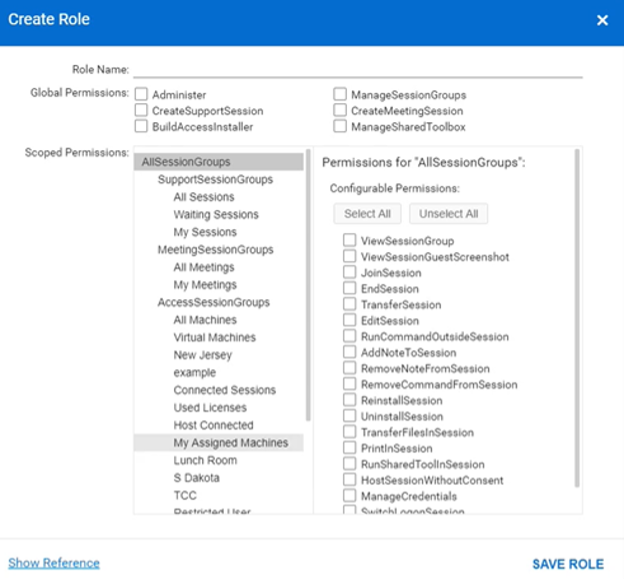 You can set up role-based security. Source: ConnectWise Control
Customer Service
ConnectWise Control provides webinars, live demos, blogs, e-books, case studies, community forums, video tutorials and a ConnectWise University knowledge hub to help users master all of the software's features. There is also a downloadable chat feature and a customer support line, so you can speak directly with a ConnectWise representative if you want one-on-one assistance. ConnectWise's live chat technical support is available 24/7, and you can submit a ticket straight from the app.
Considering that ConnectWise Control has a steeper learning curve when compared to some rivals, quick and efficient support is particularly important. When we contacted the vendor's support team, the agent responded promptly and was able to competently answer all of our questions.
ConnectWise Control does not tier its customer support. Every plan provides access to phone and email support, a community forum, videos, tutorials, and a knowledge base.
Limitations
ConnectWise Control has several advanced features that make it a great choice, but you should note a few disadvantages before signing up. For example, because it offers such comprehensive connection capabilities, ConnectWise may have a longer installation process and a steeper learning curve than some of the other companies we reviewed. You will likely want an IT person or another tech-savvy member of your team to help with the implementation process. If you're looking for software with easy installation, read our RemotePC review and our Zoho Assist review.
Another potential downside we found is that ConnectWise Control tiers its features for each plan, specifically with communication functions like host chat, sound capture and VoIP. You won't get those tools on the company's lowest package. The same applies to using the ConnectWise View browser-based livestream sessions. That feature is available only on the Premium plan. While this isn't a dealbreaker, keep it in mind if you intend to use ConnectWise Control for its communication and collaboration features. If that's the case, you will need one of the advanced plans, which will cost more.
Methodology
We spent countless hours researching and analyzing remote PC access systems to identify the top solutions on the market. We conducted an in-depth evaluation of ConnectWise Control that included a trial to assess the product's functionality, correspondence with the customer support team, and a look at numerous tutorials, webinars and support materials. As part of our review process, we closely examined ConnectWise Control's features, pricing, integrations, usability, security and customer service. When looking for the best remote troubleshooting solution, we prioritized features like remote support, security, usability, compatibility, integrations and customer support.
FAQs
Yes. Remote access and support via ConnectWise Control are safe and secure. ConnectWise Control has several security functions, like secure session codes, brute-force protection and OAuth integration. You can set up role-based security measures, and you can revoke access if necessary.
ConnectWise Control is commonly used in IT management, education and government. Users can offer remote technical support, access educational courses and work from home with the software. Typical roles that use ConnectWise Control include IT support, managed service providers and SaaS support.
No, ConnectWise Control doesn't have a free version. The lowest plan starts at $27 per month when billed annually. However, there is a free 14-day trial that doesn't require credit card information.
Bottom Line
We recommend ConnectWise Control for …
Businesses that want to offer in-depth remote support and troubleshooting.
Companies that want to be able to customize their remote PC access solution.
Teams with advanced technical knowledge or expertise.
We don't recommend ConnectWise Control for …
Users looking for a quick and straightforward installation process.
Businesses whose customers primarily need mobile device support.