TeamViewer is an advanced remote access and support platform that can run on a wide variety of devices and platforms. It has comprehensive features, multi-user capabilities and several add-on options.
Pros
TeamViewer is compatible with more than 125 manufacturers for operating systems, mobile devices and IoT devices.
TeamViewer allows cross-platform access, so you can remotely connect different devices and platforms to each other.  
TeamViewer has several add-on options, like storage backup, monitoring and asset management, video conferencing, and AR features.
Every paid plan automatically grants access to TeamViewer Meeting, a video conferencing platform.
Cons
TeamViewer is more expensive than many competitors we reviewed.
It only offers annual subscriptions.
Mobile support costs extra.
If you need to remotely access or support a variety of devices or platforms, you need a remote access solution with a wide range of compatibility and features. TeamViewer offers three plans and numerous add-on options, and it is compatible with 127 manufacturers for operating systems, mobile devices, and IoT devices. As one of the most flexible remote access options on the market, TeamViewer is our pick as the best remote PC access solution for multiple devices. Employees and IT teams can access remote computers, servers, mobile devices, and augmented reality (AR) devices, all with a sense of security and privacy.
TeamViewer Remote PC Access Editor's Rating:
9.3 / 10
Price/value

8.2/10

Features

9.7/10

Customizations, add-ons and integrations

9.6/10

Ease of use

9.5/10

Customer support

9.4/10
Why We Chose TeamViewer for Multiple Devices
TeamViewer is a comprehensive and customizable remote access and support solution, and it is compatible with a wide range of devices and platforms. We like how this ensures that TeamViewer can be used for all remote connection needs, regardless of the device being used. Specifically, we found that secure connections can be established between devices like Windows and Mac computers, iOS and Android mobile devices, servers, AR devices, and commercial-grade machines. Through these secure connections, you can access features that make it easy to work with multiple devices at once, for things like patch management mass deployment, multiuser support sessions and service queues. We like that you can also easily communicate between devices with text chats, HD VoIP audio conferencing, and HD video conferencing.
You can remotely access unattended computers, servers, Android devices, point-of-sale devices or public displays with TeamViewer.
Ease of Use
TeamViewer offers both cloud-based and installation-based connections, letting you choose whichever is easiest for your business. We found that connections can be easily established with a password and nine-digit ID code, which is similar to competitors we reviewed. TeamViewer is one of the most widely compatible remote access solutions on the market: It can run on standard platforms like Windows, Mac, Linux, iOS, and Android, and it supports advanced connections like AR devices, servers, and commercial-grade machines. The ability to connect to this wide range of devices and platforms is great for streamlining your remote access and support process.
When you first download TeamViewer, it automatically opens a comprehensive how-to guide that shares valuable insights on how to set up and navigate the software.
Features
TeamViewer plans are tiered based on some of the features they offer, so be sure to check what features a specific plan includes before signing up for it. Here are some of the best features TeamViewer offers.
Compatibility
TeamViewer outperforms the competition in terms of compatibility. Whereas many competitors are limited to connecting computers and smartphones, TeamViewer can connect a plethora of remote devices, including computers, mobile and IoT devices, servers, AR devices, and commercial-grade machines. The platform-agnostic software can also connect various operating systems like Windows, Linux, Mac, Chrome OS, Raspberry Pi, iOS, Android, Windows Mobile and BlackBerry.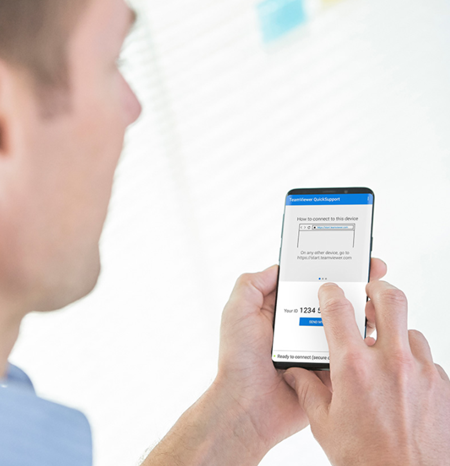 TeamViewer can typically make a remote connection regardless of the type of endpoint you want to connect with and whether it has a display, screen, or keyboard. In our eyes, this level of compatibility is ideal for large organizations and those that need to provide customer support across diverse platforms.
Collaboration
TeamViewer has several tools that enable teams to collaborate across multiple devices. For example, it allows drag-and-drop file transfer, text chat, session recording and compression, and VoIP audio conferencing, which are all standard offerings in remote access software. We like that every TeamViewer plan automatically includes TeamViewer Meeting, a video conferencing solution. Not many other solutions we examined offer video conferencing.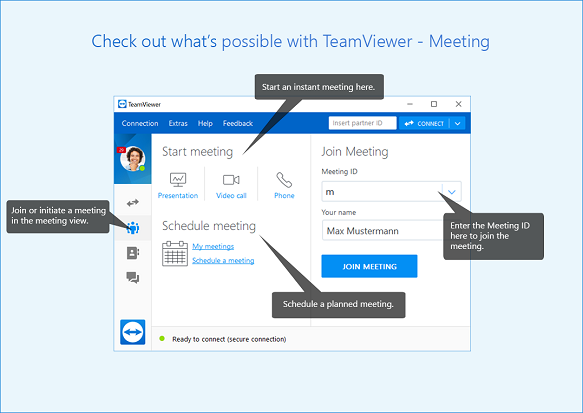 You can also take advantage of advanced collaboration functions like automating mass deployment, creating channel groups, accessing multi-user support sessions, and creating service queues. In our research, we found that these advanced features are not common among TeamViewer's competitors.
Customization
TeamViewer is one of the most customizable remote access and support solutions we reviewed. In addition to its standard access plans, it offers several add-on options, such as monitoring and asset management, endpoint protection, storage backup, web monitoring, mobile device support, AR support, additional concurrent users, and an all-in-one solution for service desk management. It's also compatible with popular third-party integrations. Customizable software is key for businesses that want to create a specific solution to access multiple devices.
Security
TeamViewer uses industry-standard security measures like AES 256-bit encryption and two-factor authentication to ensure your remote connection is safe and secure. We like that it doesn't require firewall or infrastructure configuration, so you can seamlessly connect to any device without modifying or configuring these settings, which can reduce the potential for cybersecurity threats.
Pricing
TeamViewer offers three different licenses, and its pricing is slightly higher than other vendors we reviewed. Here is a breakdown of each plan:
| | | | |
| --- | --- | --- | --- |
| Service plan | Cost | Included features | Managed devices |
| Single User (one seat, one session) | $50.90 per month (billed annually) | Unattended access, remote printing, cross-platform access and phone support | Up to 200 |
| Multi-User (multiple seats, one session) | $102.90 per month (billed annually) | Everything in the Single User plan, plus customized device information, user access reporting, and access to the TeamViewer web client | Up to 300 |
| Team (multiple seats, three sessions) | $206.90 per month (billed annually) | Everything in the Multi-User plan, plus mass deployment, device access reporting, and access to third-party integrations | Up to 500 |
We like that TeamViewer also offers a variety of add-on options (e.g., TeamViewer Remote Management, mobile device support, TeamViewer Pilot, extra concurrent users) so that you can customize your remote access package. We didn't find many competitors that offer this many add-on options, and this wide of a selection is beneficial for businesses that need to create a custom tech support solution.
The company only offers annual billing, whereas some competitors offer the option of monthly or annual billing. However, you get a 14-day free trial, which is on par with what most remote access software providers offer.
Implementation and Onboarding
We like the convenience TeamViewer offers of being both cloud-based and installable, making it easy for your employees to implement. We found it easy to establish a remote connection: You simply open TeamViewer and click on the Remote Control tab. The end user you are trying to connect to will give you a nine-digit ID and password to log in with. After you enter this information and click "Log on," you will be successfully connected.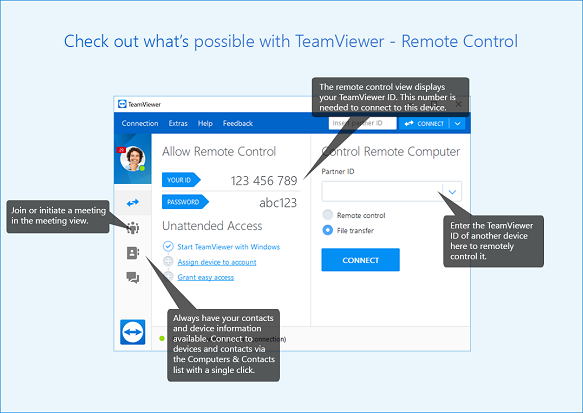 Customer Support
TeamViewer has an extensive knowledge base that we found pretty helpful. It includes a "Get Started" guide and allows you to post questions or concerns to the community. If you don't get an answer there, you can call TeamViewer or submit a help ticket. While this is all on par with what we found from other companies, we like how TeamViewer takes customer support one step further by offering TeamViewer Academy – hands-on live training sessions. This is especially helpful because TeamViewer offers many add-on features that may require additional assistance. 
Limitations
Before you partner with TeamViewer, you should be aware of a couple potential drawbacks. For example, the price per user for TeamViewer is higher than it is with most competitors we reviewed. If you have the budget for it, TeamViewer offers many features, benefits, and add-on options that might outweigh the cost for you, but keep this in mind when comparing remote PC access software. If you need a low-cost option, check out our review of RemotePC by IDrive.
Another potential downside we found, also related to cost, is that TeamViewer charges additional fees for mobile support. This means you will need to pay extra if you want to manage your mobile devices with TeamViewer. If you anticipate primarily offering mobile support and want a plan that automatically includes those capabilities, read our ConnectWise Control review to see if it's a better fit for you.
What Is Remote PC Access Software?
Remote PC access software is a platform that can remotely connect two or more devices, regardless of where they are located. It is often used for remote technical support, offsite device access, online courses and collaboration. Although remote PC access software can be an on-premises solution, many companies offer cloud-based platforms for convenient connections. The best remote access software is secure and has features like drag-and-drop file transfer, session recording, remote printing, remote reboot, text and VoIP chat, and multi-monitor navigation.
Methodology
We spent countless hours researching and analyzing remote PC access systems to identify the top solutions on the market. We looked at features, pricing, integrations, usability, security, and customer support, and we even got hands-on experience with demos and product videos when possible. We prioritized features like compatibility, collaboration, multi-user capabilities, and security when looking for the best remote PC access solution for multiple devices specifically.
FAQs
Yes, TeamViewer is free for personal, noncommercial use. If you want to use TeamViewer for business purposes, you can purchase one of three TeamViewer plans. TeamViewer does offer a 14-day free trial, so you can test out the software for your business risk-free.
Yes, TeamViewer is safe for both personal and commercial use. It has industry-grade security features like end-to-end 256-bit AES encryption and two-factor authentication, so you can rest assured that your information is protected while you remotely access it.
Bottom Line
We recommend TeamViewer for:
Businesses that want to access and support a variety of devices and operating systems
Businesses that need cross-platform access
Companies that want to customize a solution with add-on features
We don't recommend TeamViewer for:
Companies looking for a monthly or low-cost plan
Companies looking for a service plan that automatically includes mobile device support