GoTo Resolve Review and Pricing
If you provide technical support to customers, clients or employees, you want secure software that allows you to establish a remote desktop connection seamlessly, with minimal hassle for both your technicians and end-users. You also want comprehensive collaboration features like in-session file transfers, screen share, audio chat, camera share and screen recording. GoTo Resolve offers all of these features. While there is an option to install a desktop client, this product shines as a web solution that requires no downloads and doesn't compromise on the tools featured. That's why GoToResolve is our top choice for browser-based remote-access support.

GoTo Resolve and Pricing
The Verdict
Offering advanced security and features like file transfer, screen and camera-share, and conversational ticketing – without the need for downloads – GoTo Resolve is our top choice for quick and straightforward browser-based remote support.
GoTo Resolve Editor's Score: 9.5
| | |
| --- | --- |
| Pricing/value | 9.4/10 |
| Features | 9.6/10 |
| Customizations, add-ons and integrations | 9.6/10 |
| Ease of use | 9.8/10 |
| Customer support | 9.3/10 |
Why We Chose GoTo Resolve for Browser-Based Remote Support
If you need to provide live support to customers or employees, chances are you're looking for software that can establish a secure remote connection as fast as possible, works across most platforms and devices, and has a full suite of remote-support tools. Although several remote-access software options fit this description, GoTo Resolve takes the cake because it's a browser-based solution that doesn't sacrifice features.
With GoTo Resolve, you can create secure connections through almost any web browser without wasting time downloading and installing agents. All you need to do to start a remote support session is invite a user via email or share a direct link – they don't need to download anything on their side. These end users can also grant technicians permission to access their mobile devices and even their mobile camera for the prompt resolution of nondigital issues. While a few products we reviewed also offer remote-camera access, we like that GoTo Resolve doesn't require users to download any agents on their mobile devices.
We also found it useful that if extra assistance is needed, other technicians can join the remote session in progress by entering a nine-digit code. While this capability is not uncommon in the industry, other solutions often require sending an email invite, which can be time-consuming.
GoTo Resolve provides businesses with helpful support and collaboration features like file transfer, screen share, instant chat, and session recording and notes, as well as help desk integration with Slack and Microsoft Teams. What's more, on top of incorporating industry-standard security measures and encryptions, GoTo Resolve takes a zero-trust security approach that includes advanced access control, personal signature keys and additional verification points. All of this makes GoTo Resolve the best remote PC access software for companies that want a browser-based remote-support solution.
GoTo Resolve is an evolved version of GoTo Assist (previously known as LogMeIn) that combines comprehensive remote support functionality with IT management features like conversational ticketing, automation and background device access. GoTo Resolve's Basic tier is similar to GoTo Assist's functionality and is offered for the same price.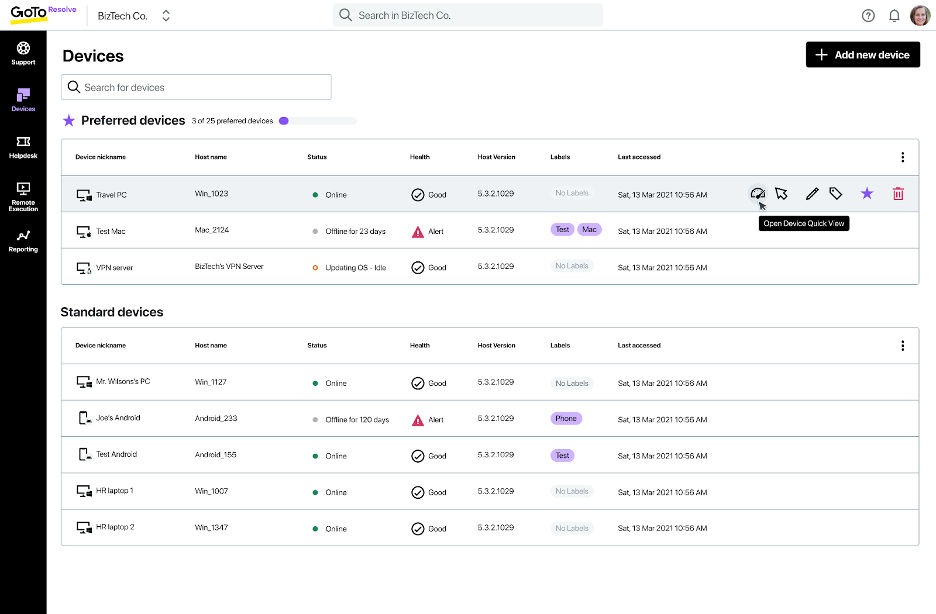 Technicians can view multiple monitors at once. Source: GoTo Resolve
What We Like About GoTo Resolve
You can offer remote customer support through a web browser or desktop app.
On top of essential remote support features, GoTo Resolve offers a conversational ticketing system with Slack and Microsoft Teams integrations.
Users can give technicians permission to access their mobile device cameras without needing to download any external agents.
What We Don't Like About GoTo Resolve
Some features are limited for Mac users.
Mobile support and camera-share support cost extra.
There is no built-in video chat, and audio chat is only available during camera share.
Ease of Use
GoTo Resolve is compatible with a variety of devices (such as Windows, Mac, Android and iOS) and operates on a variety of web browsers (such as Chrome, Firefox and Safari), so it's a viable remote-support solution for virtually anyone. Since it doesn't require installation, we found it easy to establish a remote support session via web browser. GoTo Resolve's functions are neatly grouped into tabs for device management, remote support, help desk, IT automation and analytics. Navigation between the sections is simple.
Requesting remote access is straightforward as well; all you need to do is share a direct link. The user does not need to install anything, so the session can start in a matter of seconds. We also found it helpful that you can join an already active session by entering a nine-digit code. This makes it easier to invite fellow technicians to collaborate on more complicated issues.
GoTo Resolve offers mobile device support and camera-sharing options. However, those are available only as paid add-ons. In our experience with GoToResolve, we found camera-sharing to be seamless and liked that you can take snapshots, highlight elements, and add annotations. We also appreciated that users don't need to download anything on their devices for technicians to access their mobile cameras. All they need to do is follow a link and confirm their permission.
We found the web app similarly easy to use and navigate. On the first login, GoTo Resolve requires some setup, but helpful in-app instructions explain what to do. The admin panel allows users to configure roles and devices, and we like that you can create settings templates and then quickly apply them to new users.
GoTo Resolve also includes a helpdesk solution with a ticketing system. While that is not uncommon for similar products, we like that you can advance the ticket through various stages with a simple drag-and-drop. GoTo Resolve can integrate with Slack and Microsoft Teams, so it's easy for users to submit tickets directly from their chat streams.
All in all, we found GoTo Resolve intuitive to set up, navigate and use for both technicians and end users.
Features
GoTo Resolve has a number of great tools that help you provide browser-based remote support to employees and customers. Here are some of the most valuable features we found.
Support Access
We were impressed by how quickly GoTo Resolve makes connections. The software lets you establish secure remote support sessions within seconds. You can send your customer either a web browser link or a nine-digit support key to start a remote support session. We love this level of speed and usability, especially for technicians who need to provide live support. Some of the other remote access platforms we reviewed require you to install applications or agents to start a session, which can be cumbersome and time-consuming.
After a session ends, GoToResolve will start a five-minute countdown that prompts you to add notes and review or save chat conversations.
If you want to establish a remote session with an unattended device, you'll need to download the unattended installer on the remote device, but after that you'll be able to access it again for any future sessions.
Compatibility
GoTo Resolve is compatible with Windows, Mac, Android and iOS devices, which is on par with other software we examined. Support connections can be secured with standard web browsers like Chrome, Firefox and Safari. We like that GoTo Resolve is compatible with multiple monitors and sessions. You and your support technicians can use the multimonitor function to scroll between monitors and provide multisession support for up to 15 simultaneous sessions per technician. Some competitors base their pricing on concurrent sessions, so it's impressive that GoTo Resolve automatically includes this.
Conversational Ticketing
Since GoTo Assist evolved into GoTo Resolve, it now includes essential help-desk features like ticket creation for technicians, ticket submission via an email address for users and ticket notes and attachments. We like that you can add helpdesk solutions for different departments in your company. Other products offer similar functionality, but unlike its competitors, GoTo Resolve allows you to add and assign multiple categories to each department, so it's easy to sort and review the tickets later on. It's a nice touch that technicians can move tickets through the customizable progress stages with drag-and-drop functionality.
Another aspect that sets GoTo Resolve apart from other remote PC access solutions is its integrations with Slack and Microsoft Teams. These integrations mean users can communicate with technicians and submit tickets straight from their messaging platforms, and technicians can start support sessions without moving between applications.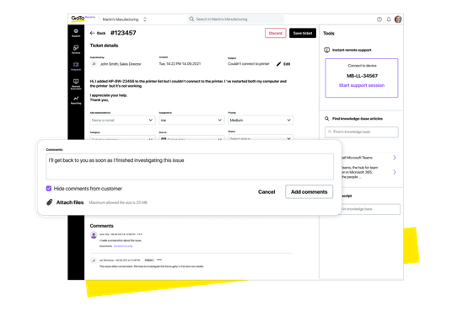 GoTo Resolve integrates with Slack for easy ticket resolution. Source: GoTo Resolve
Collaboration
GoTo Resolve has many tools to help IT techs and users collaborate. For example, you can transfer files by dragging and dropping them between devices, or you can request permission from the end user to share files. Unlike some competitors we researched, GoTo Resolve doesn't limit the type or size of the file you can transfer between devices during a remote support session. File transfers also work during unattended-access sessions and webchats.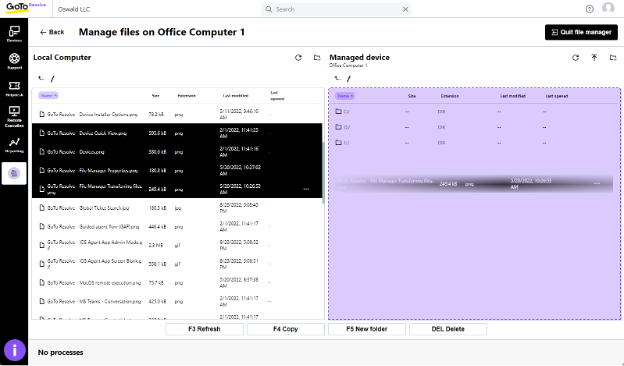 You can easily transfer files between remote devices. Source: GoTo Resolve
GoTo Resolve allows multiple agents to join a remote session simultaneously, and inviting them is as simple as sharing an access code and confirming permission in a pop-up. It's easy to transfer an entire remote support session to another team member or collaborate by sharing control and communicating via chat. These are extremely valuable options for customer support and ones we didn't find in many of the other software products we researched. GoTo Resolve also lets you record live chat and support sessions for training and auditing purposes – helping ensure your support agents provide the best service possible.
Camera share
GoTo Resolve makes it easy to support users who are having issues with nondigital products and hardware, as well as to connect in-field technicians to their remote counterparts. Very few products on the market offer similar functionality, and we particularly like that GoTo Resolve's camera share doesn't require the user to install any apps on their device. Instead, an agent can access their mobile device's camera by simply sharing a link. We found it helpful that technicians can highlight certain elements and leave annotations to zoom in on the issues. They can also take a quick snapshot at any time to review it in more detail later. We also like that technicians can communicate with the user via instant text or audio chat, making it easier to resolve an issue.
While camera share is only available as a paid add-on, we appreciate that it can be added to any paid plan and isn't strictly an Enterprise-level feature, like with some of GoToResolve's competitors.
You can record your remote support sessions to use for technician training, onboarding, future references or audits.
Security
Beyond offering industry-standard security measures like AES 256-bit encryption, two-factor authentication, SSO and Active Directory, and screen blanking, GoTo Resolve incorporates the concept of zero-trust security. This includes personal signature keys for agents that are required for most interactions, advanced access-control settings, and mandatory authorization for IT automations. These measures can help you avoid cybersecurity risks.
Personal signature keys are only known to agents and can't be accessed or reset by GoTo Resolve's support team.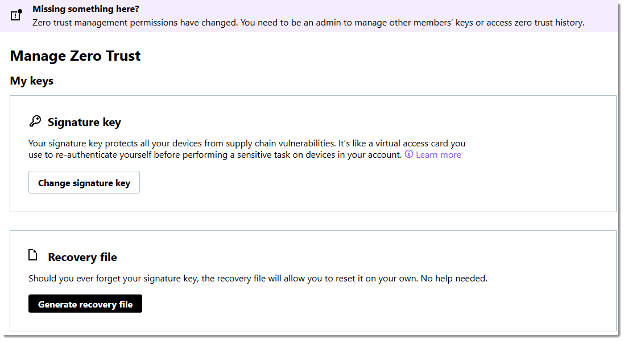 GoTo Resolve requires agents to create personal signature keys for added security. Source: GoTo Resolve
We also like that GoTo Resolve can function with firewalls in place, which means users won't have to change their settings to start a support session. GoTo Resolve also lets you choose which sessions are automatically recorded. You can run two types of reports (Quick Reports and Custom Reports) to keep track of your company and technician activity.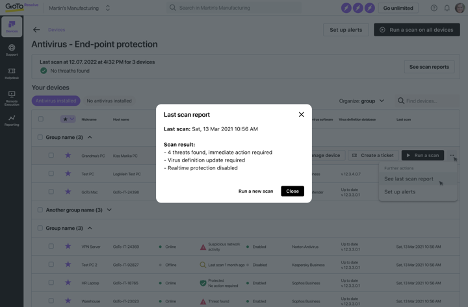 GoTo Resolve's reports can show you valuable data about your team. Source: GoTo Resolve
Pricing
Our research uncovered a couple of ways GoTo Resolve's service plans differ from the competition. The vendor has only two pricing plans – Basic and Standard, as opposed to some companies we reviewed, which also offer an Enterprise plan for advanced features and user management. On the bright side, the GoToResolve Standard plan includes many features – like mass deployment, remote IT automation and session transfer – that most other solutions offer only to Enterprise-level businesses. GoTo Resolve also offers both monthly and annual pricing, whereas some rivals do not. We like this level of flexibility.
In addition to its paid plans, GoTo Resolve offers a limited free package that supports up to three agents, three devices and three remote-control sessions per month. It also includes features like unlimited view-only remote access, full help desk functionality, integrations with Slack and Microsoft Teams, remote reboot, file transfer, session recording and background device management. In our investigation of remote PC access software, we found few solutions that offer a free-forever plan like this. Even if it comes with restricted functionality, it's a good starting platform for ultra-small teams that are looking for a web-based helpdesk solution with occasional remote-access support.
It's important to note that while the GoTo Resolve paid plans come with a set number of included agents (one for Basic and three for Standard), it's possible to add more agents at the billing stage for an extra fee. The same applies to connected devices. All paid plans also offer access to paid add-ons for camera-share and mobile support.
All the prices below apply when billed annually.
Basic
Price: $79 per month
Features: Everything in the Free plan, plus 25 included devices, unlimited remote sessions, device mass deployment, full help desk functionality, integrations with Slack and Microsoft Teams, customizable session recording and screen blanking
Standard
Price: $190 per month
Features: Everything in the Basic plan, plus multiagent collaboration, session transfer, IT automations and session screen-share
GoTo Resolve also offers a free 14-day trial, with no need to enter credit card information. We found this to be on par with the rest of the industry.
With the mobile add-on, your technicians can remotely view Android and iOS devices, and remotely control Android ones.
Implementation and Onboarding
In our research, we found that some competitors like ConnectWise Control have a lengthy installation process, but not GoTo Resolve. The GoTo Resolve implementation process is easy. An in-app onboarding guide helps you get up and running quickly. On the first login, the platform prompts you to set up your personal signature key, which will be needed later to authorize most of your actions. We like that GoTo Resolve offers essential information about the key (like the fact that it can't be reset by the vendor's support team) from the start, helping to avoid potential issues.
Since there is no software to download, establishing a live-support connection is as simple as sending the end user an invitation link or a nine-digit code they can enter in the session. A connection to an unattended device does require software to be installed on the remote device. However, after this one-time installation, you can access the device again as needed. This is standard for remote access software.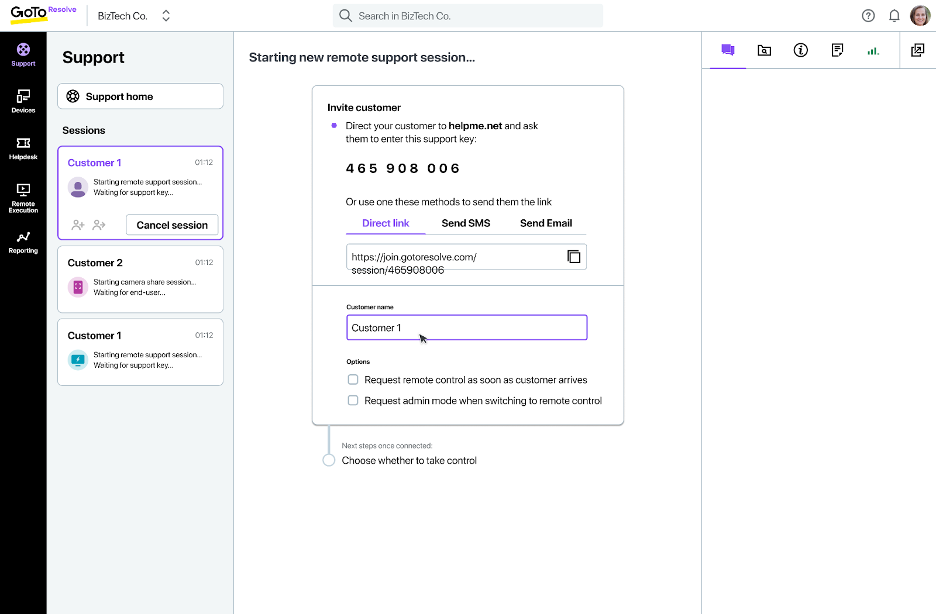 Remote support connections can be easily secured with a nine-digit key. Source: GoTo Resolve
Customer Support
All paid GoTo Resolve plans come with 24/7 email, chat and phone support. However, we found it somewhat less straightforward to access live support straight from the app. By default, the system redirects you to the support center with FAQs. From there, you can request a callback, send an email, or open a ticket.
For self-guided support, GoTo Resolve has valuable online resources, such as live and on-demand webinars, white papers, case studies, videos and an online community.
Limitations
If you're considering GoTo Resolve as your browser-based remote-support solution, there are a few disadvantages to keep in mind. For example, some remote features are limited with Mac devices, like reverse screen-share, annotation tools and reboot/reconnect. If providing Mac support is a large portion of your business and you need these functions, read our review of Zoho Assist for an alternative option.
In addition, GoTo Resolve's remote-support sessions don't feature audio and video chat capabilities. The mobile camera-share add-on, however, does come with an audio chat option. If you require extensive collaboration during remote sessions, consider our Splashtop review instead.
Another potential downside is that remote access to mobile devices is an add-on feature with GoToResolve, meaning it costs extra. It costs $20 per agent per month to enable your support team to view and control mobile devices. This is only a drawback if you plan on supporting several mobile devices. If so, you may want to look at a vendor like ConnectWise Control, which automatically includes mobile support in some of its plans. Learn more in our ConnectWise Control review.
Methodology
We spent hours investigating the best products in the remote PC access space. As we examined GoTo Resolve, we obtained a free trial to evaluate the product's functionality, corresponded with the customer support team, and viewed many tutorials, webinars and support materials. As part of the process, we closely investigated GoTo Resolve's features, pricing, integrations, usability, security and customer support. When looking for the best browser-based remote-support solution, we prioritized aspects like security, usability, support access, collaboration and customer service.
FAQs
How do I access GoTo Resolve remotely?
Access GoTo Resolve remotely via a browser or desktop application. The end user can enter a connection code or an access link. If you want to use GoTo Resolve to access an unattended remote computer, you will first need to run the installer on the remote device.
Who uses GoTo Resolve?
Technical support teams use GoTo Resolve to provide customers with quick, seamless technical support from a remote location. GoTo Resolve is suitable for IT teams of any size or industry, although it is primarily used by small and midsize businesses. This type of solution is also beneficial for managing remote teams, as it allows you to provide them with the technology support they need, as well as to implement patch management measures that ensure your staff is always operating on safe devices when outside the office.
Is GoTo Resolve free?
GoTo Resolve has a limited free version that supports up to three agents, three devices and three remote access sessions per month. The plan includes access to essential features like file transfer, remote reboot and reconnect, session recording, and background device management.
Does GoTo Resolve offer a free trial?
Yes, GoTo Resolve offers a free 14-day trial so you can evaluate the program's functionality and suitability for your business.
Is LogMeIn the same as GoTo Resolve?
GoTo Resolve was previously known as GoTo Assist, and as LogMeIn prior to that. The new GoTo Resolve combines remote support and access features with help desk and IT management functionality.
Bottom Line
We recommend GoTo Resolve for …
Businesses that want to provide quick technical support without downloads.
Small and midsize teams that want an integrated help desk and remote support solution.
Small companies that need a simple and free remote-access solution.
We don't recommend GoTo Resolve for …
Businesses that primarily need Mac support.
Companies that need many technicians to support mobile devices (especially iOS users).
Teams that require extensive in-session collaboration features like VoIP and video chats.

GoTo Resolve and Pricing
The Verdict
Offering advanced security and features like file transfer, screen and camera-share, and conversational ticketing – without the need for downloads – GoTo Resolve is our top choice for quick and straightforward browser-based remote support.

Nadia Reckmann
Staff Writer
During her years as a professional business writer, Nadia Reckmann has written hundreds of articles with a focus on SMB strategy, operations, technology, and tools that are essential for business success. In addition to that, she creates content that helps small businesses and entrepreneurs improve their marketing techniques, sales performance, and communication strategy. She also writes about CRM and other essential business software, team and project management, and productivity.