Accounting and invoicing software performs a key role in tracking your business's finances. It helps you keep an accurate record of your books, as well as get paid via invoices. Two popular small business accounting software programs are FreshBooks and Xero. 
This article will help you decide between these two applications. We evaluated Xero and FreshBooks on several important criteria, namely price, invoicing capabilities, customer service and third-party integrations. 
FreshBooks vs. Xero Highlights 
FreshBooks and Xero offer easy-to-use software to send invoices, maintain your business's books, and perform other accounting functions. Both feature mobile apps and sync with a variety of third-party business applications. There are also some crucial differences, but the best choice depends on your business's individual needs. 
| | | |
| --- | --- | --- |
| Feature | FreshBooks | Xero |
| Monthly price  | $17 | $13 |
| Invoicing | Five per month; email, payment acceptance, customization, recurring, reminders, time tracking  | 20 per month; email, payment acceptance, customization, recurring and reminders  |
| Customer service | Email, chat, phone, online FAQ  | Email, chat, phone (partial) and online FAQ  |
| Mobile app | Invoices, expense capture, mileage, time tracking  | Accounting, invoices, contracts, reconciliation and document scanning  |
| Third-party integrations | Over 100 third-party apps | Over 1,000 third-party apps |
Who is FreshBooks for? 
FreshBooks is an accounting software program geared toward small businesses and independent contractors. In addition to standard double-entry accounting and report functions, FreshBooks specializes in generating invoices. The ability to get paid on the go by converting an estimate and/or billable hours into an invoice makes FreshBooks a particularly appealing option for service-based businesses. 
Who is Xero for? 
Xero is the second-most popular accounting software program in the U.S. after QuickBooks, and is the market leader in several countries, such as Australia. Like its competitors, Xero offers double-entry accounting and report features, but with a particular focus on making accounting concepts easy to understand for people unfamiliar with financial jargon. The different features included in Xero's tiered pricing make it ideal for growing businesses.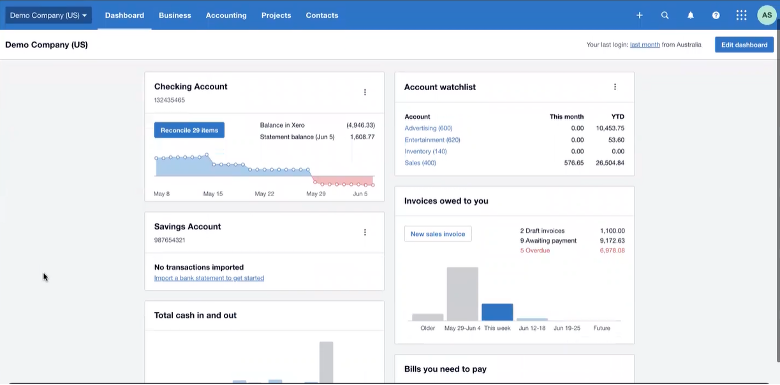 Xero makes finance easy to understand by eliminating accounting jargon and using color-coded graphs. Source: Xero
FreshBooks vs. Xero Comparison
In this section, we will go in-depth on the differences between FreshBooks and Xero, including how they compare pricing, invoicing capability, customer service, mobile app features and third-party integrations. 
Pricing and plans
FreshBooks pricing 
FreshBooks currently offers four paid plans based on a business's number of clients.
The base Lite plan costs $17 per month, which is higher than many competitors (including Xero at $13 per month). 
A 30-day free trial is available for new customers. FreshBooks regularly offers introductory discounts, so be sure to inquire before you make a purchase. 
You can save 10 percent on a FreshBooks subscription by making a single annual payment rather than monthly payments.
Each additional user costs $11 per month if you wish to grant access to more employees. Transactions made using FreshBooks Payments, which allows you to accept credit cards online, cost 2.9 percent plus 30 cents per transaction. FreshBooks also offers a product called Advanced Payments, which is used to accept credit card payments by phone and in person. This service costs $20 per month plus 3.5 percent and 30 cents per transaction. 
Here is a breakdown of each service plan:
| Plan | Monthly cost | What's included |
| --- | --- | --- |
| Lite | $17 | Five billable clients, time tracking, invoicing, unlimited estimates and invoices, and mobile app |
| Plus | $30 | 50 billable clients, recurring invoices, payment reminders and late fees, reports and double-entry accounting |
| Premium | $55 | Unlimited clients, additional reporting capabilities and client tracking |
| Select | custom | Dedicated account manager, dedicated support and tailored onboarding |
Xero pricing 
Xero offers three paid plans based on the various stages of a business's growth. 
The base Early plan costs $13 per month, which makes it the less expensive option compared with FreshBooks and many competing accounting software. 
Like FreshBooks, Xero also offers a 30-day free trial. 
Unlike FreshBooks, however, Xero does not charge for additional users to access the software. In fact, all of Xero's plans support unlimited users. Through Xero, you can also integrate with HR software provider Gusto for $40 per month plus $6 per employee.
| Plan | Monthly cost | What's included |
| --- | --- | --- |
| Early | $13 | 20 invoices and five bills per month; estimates, accounts payable, inventory management and access to Hubdoc scanning software |
| Growing | $37 | Unlimited invoices, bills and bank transactions. |
| Established | $70 | Expense tracking, project management and multiple currencies |
Winner
Comparing the pricing for FreshBooks and Xero isn't black-and-white because a lot depends on what features you prioritize in your accounting software. Overall, we give Xero the edge on pricing because its base plan is less expensive and includes more features. With FreshBooks, you need to subscribe to the higher tiers if you want access to the best tools. Many key accounting software features are only included on FreshBooks' Plus plan. Many of those same features are included in Xero's Early plan at less than half the price. 
Xero also includes unlimited users, whereas FreshBooks only provides access to multiple users for an additional monthly fee. This makes Xero a better choice for growing businesses that are constantly adding new employees. 
However, Xero's higher-tier plans are more expensive than FreshBooks' premium offerings. FreshBooks also offers customized pricing for large enterprise customers, while Xero only offers three preset plans. 
Invoicing 
FreshBooks invoicing capabilities 
FreshBooks's focus on invoicing helps it stands out from competitors. 
A professional-looking invoice helps you get paid faster. FreshBooks allows you to customize the design of your invoices to match your business's branding. 
We found FreshBooks' invoice design tools to be user-friendly and intuitive.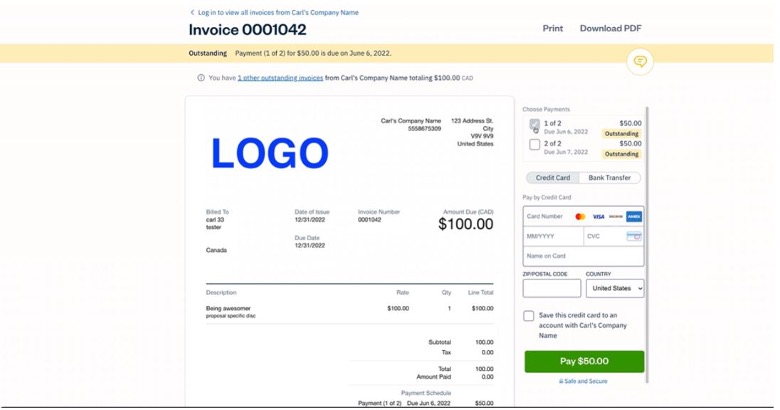 FreshBooks' invoices are fully customizable. Source: FreshBooks 
FreshBooks removes a lot of friction by integrating time-tracking with invoicing. You can add billable time to an invoice within the FreshBooks app. This allows you to bill a customer and get paid right from your job site. For some businesses, this can eliminate the need for a stand-alone timeclock app. 
You can also convert estimates and proposals into invoices with just two clicks, which contractors may find useful for quickly closing sales. 
We especially like that FreshBooks includes in-house payment software that removes the friction of getting paid from invoices. Customers can click a button on an email invoice that brings them directly to a webpage where they can enter their credit card information. Additional invoicing tools include recurring invoices, payment reminders, and the ability to charge interest and late fees on past-due invoices. 
Xero invoicing capabilities 
Like several competitors, Xero provides tools to customize the look and feel of your invoices. 
We found Xero's invoicing design suite less user-friendly and intuitive than FreshBooks. 
Like FreshBooks, you can convert quotes to invoices on-the-spot. 
You can sync Xero with a PayPal, Stripe or Square account to accept payments online from your emailed invoices. 
The Xero mobile app can also be used to generate invoices on the go.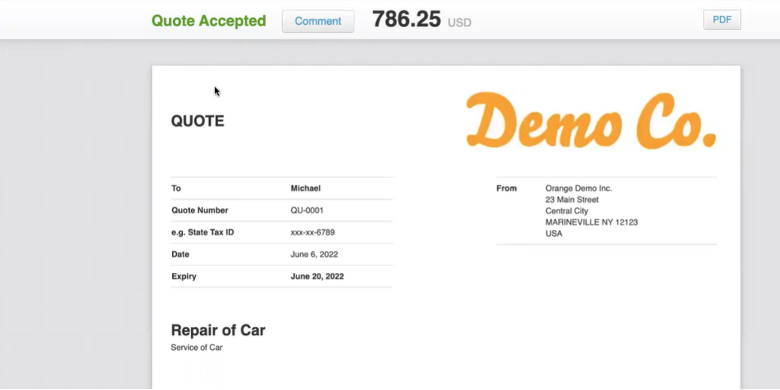 Xero's invoices are saved in the cloud, which allows you to make changes without resending. Source: Xero 
Winner
FreshBooks beats Xero decisively when it comes to invoicing capabilities. The FreshBooks design suite allows for more customization and is easier to use compared to Xero. Xero also lacks the seamless integration with time tracking that FreshBooks offers. Additionally, FreshBooks provides the option for you to use its in-house payments system to accept credit cards directly from invoices, whereas Xero only provides the option to sync with third-party payments apps.
Importantly, FreshBooks allows you to send unlimited invoices to five clients on its entry-level plan, while Xero caps you at 20 monthly invoices. 
You can sync time tracking with invoicing on FreshBooks, allowing you to instantly add billable hours to an invoice.
Customer support 
FreshBooks customer service 
FreshBooks provides standard customer service options, including email, live chat and phone. 
An automated chatbot can assist with basic queries, although more in-depth questions require a human response. 
You can also access webinars, blog posts and e-books on FreshBooks' website. 
FreshBooks scores a 4.3 out of 5 on TrustPilot, with 64 percent of users rating its customer support five stars. 
Xero customer service 
Xero's customer support options are not as comprehensive as some offerings from competitors. Although Xero offers phone service, users needing support must first contact the company through email or live chat. 
Xero's website also includes videos, blog posts, and other learning material to help users navigate the software. 
Xero garners a 4.3 out of 5 for customer support on Trustpilot. 
Winner
FreshBooks and Xero are similar when it comes to customer support options, and both have identical scores on Trustpilot. In this case, we give the edge to FreshBooks because it offers the option for immediate phone support, while Xero customers will need to go through other channels before they can speak to a specialist. 
Mobile app
FreshBooks mobile app features 
The FreshBooks mobile app is available for iOS and Android. 
Standout features include time tracking, on-the-spot invoicing, receipt capture, invoice status and the ability to chat with customers. 
The app is rated 4.7 out of 5 on the Apple App Store.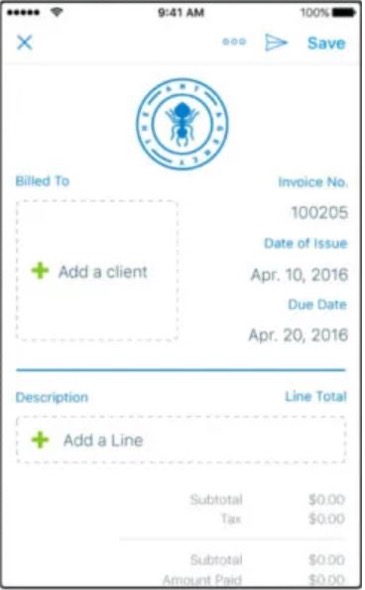 FreshBooks' mobile app is ideal for creating invoices from a job site. Source: FreshBooks 
Xero mobile app features 
The Xero Accounting and Invoices mobile app allows you to view cash flow, review customer and vendor contracts, reconcile bank transactions and create invoices on-the-go. 
Xero also offers a basic app for the Apple Watch, which lets you view account balances and new transactions. 
Xero's mobile app is rated 4.6 out of 5 on the Apple App Store. 
Xero also offers two stand-alone apps — Xero Expenses and Xero Projects — for users on its Established plan. These apps allow you to capture photos for receipts, submit expense reports, track time, and attach billable expenses and time to individual projects. 
Winner
Xero's mobile app includes many more accounting-specific features compared to FreshBooks' app, which makes it the overall winner if you want to run your business from a smartphone. However, the FreshBooks app clearly beats Xero when it comes to invoicing features. Mobile invoicing is included for all FreshBooks plans, while Xero users will need to subscribe to the premium Established plan to access these same features. 
Third-party integrations
FreshBooks integrations
FreshBooks integrates with over 100 third-party business applications, including the following well-known apps: 
Indeed
BigCommerce
Zoom
WooCommerce
Expensify
Google GSuite
WordPress
Constant Contact
Slack
Dropbox
Microsoft Outlook
Gusto
Zapier
Xero integrations
Xero integrates with over 1,000 third-party business applications, including the following well-known apps: 
Square
Stripe
PayPal
Gusto
Cin7 Core (formerly DEAR Inventory)
Expensify
Microsoft Office
Rippling
Google GSuite
Zapier
HubSpot
Constant Contact
WooCommerce
Winner
Xero's number of third-party integrations puts it far ahead of FreshBooks and other accounting software applications. While there is some overlap in third-party integrations, both FreshBooks and Xero include some syncing options that the other doesn't. Make a list of the business productivity apps that you use most often and check for compatibility on the Xero and FreshBooks app stores. 
FreshBooks vs. Xero summary
FreshBooks is best for service-based businesses and independent contractors that conduct a lot of onsite work and frequently send out invoices. 
FreshBooks' invoicing capabilities are among the best of any accounting software application. It allows you to convert billable hours estimates into invoices, customize your branding, and get paid with in-house payment software. 
Xero is best for growing businesses and brick-and-mortar establishments, thanks to its pricing plans that don't charge on a per-user basis. 
Xero includes more third-party integrations and more accounting-specific features with its mobile apps. 
FAQs
Can you invite your accountant into your FreshBooks account?
Yes, but you need to subscribe to the Premium plan. 
What is Xero's Hubdoc feature?
Hubdoc is included with all Xero plans, allowing you to capture, extract and store data from documents scanned using your smartphone. 
Are FreshBooks and Xero cloud-based? 
Yes, both FreshBooks and Xero are cloud-based applications. The biggest benefit of cloud-based apps is that you don't need to install a desktop version of the software.