Features
Like many of its competitors in the medical software space, Tebra has a plethora of features that allow providers and their staff to access the medical practice management and EMR tools needed to do their jobs well. With Tebra, you can get almost all of it in one system, making this software all the more appealing.
Medical Practice Management Features
As you get your new practice off the ground, your team will appreciate how easy it is to use Tebra for essential day-to-day tasks. Here's a closer look at the software's key features.
Appointment Scheduling
We like that Tebra's one-click intuitive scheduler revolves around a calendar view. You can view calendars by provider or location in a daily, weekly or monthly format. That wasn't the case with some of the other medical software we reviewed.
We also like that Tebra's calendars are 100% customizable, allowing you to color-code appointments and modify durations based on your preferences. The calendar has drag-and-drop functionality, making it easy to rearrange your schedule. This feature was common among rival products.
To set a new appointment, just double-click an open time slot, enter patient information, and assign them a provider or exam room. You can also set recurring appointments. Once the appointment is made, you can attach patient intake or consent forms for patients to fill out before their initial visits, and the system will auto-populate the necessary fields when the patient arrives for their appointment.
Tebra offers telemedicine capabilities – a must-have feature for the best medical software.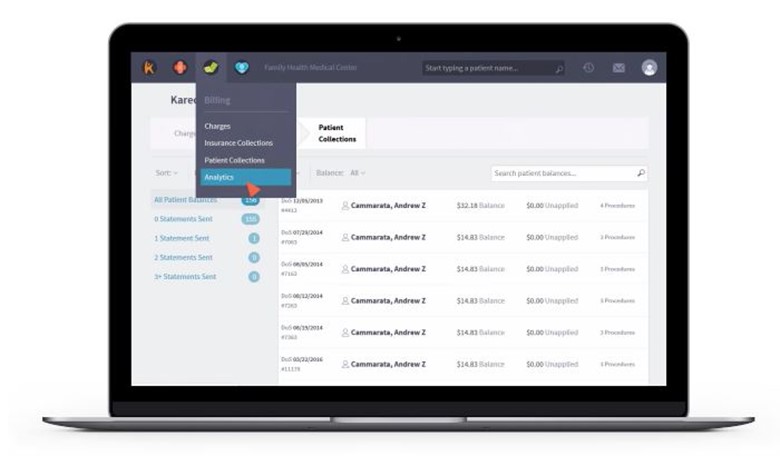 In the billing module, users can get a detailed look at patient charges and insurance claims.
Source: Tebra
Billing
Tebra uses a soft-client download called Parallels to collate and store data in a typical billing workflow. The software pulls information from the superbill generated during the clinical encounter and allows billers to review information from one screen, such as insurance providers, claim dates, diagnosis, and CPT and ICD-10 codes. Surprisingly, this invaluable feature was scarcer than we expected in the medical software we evaluated.
We also like the TriZetto-integrated Check Codes tool, which allows billers to scrub claims for coding errors before submitting them. The Track Claims Status tool helps billers track pending claims by prompting them to follow up on unpaid or outstanding claims and identifying rejected or denied claims that need additional work. Tebra maintains a rejected-claims list dedicated solely to the denial management process.
The Apply Payment button applies reimbursements to patients' ledgers. If there are any outstanding patient balances, the system will automatically generate those patient statements. This is a time-saving feature we missed on other medical software platforms. However, it's important to note that you're ultimately relying on a third-party service, TriZetto – and not on Tebra itself – for revenue cycle management.
If you want to avoid the expense of an in-house billing department, consider outsourcing billing to one of these top medical billing services.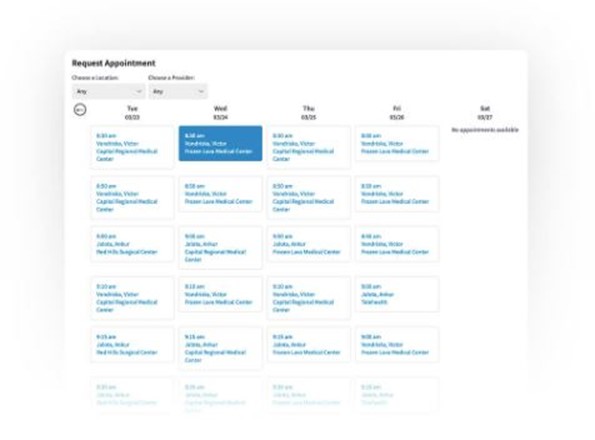 The patient portal allows users to schedule appointments at different locations with the provider of their choice.
Source: Tebra
Patient Portal
Tebra Engage, the vendor's patient engagement module, has stellar marketing tools (see below) to increase the visibility of your healthcare organization. On the patient side, you can send secure communications, appointment reminders, forms and surveys. Patients can also use the portal to pay their balances and schedule appointments by provider, location and specialty. You can even automatically send patients "happy birthday" messages.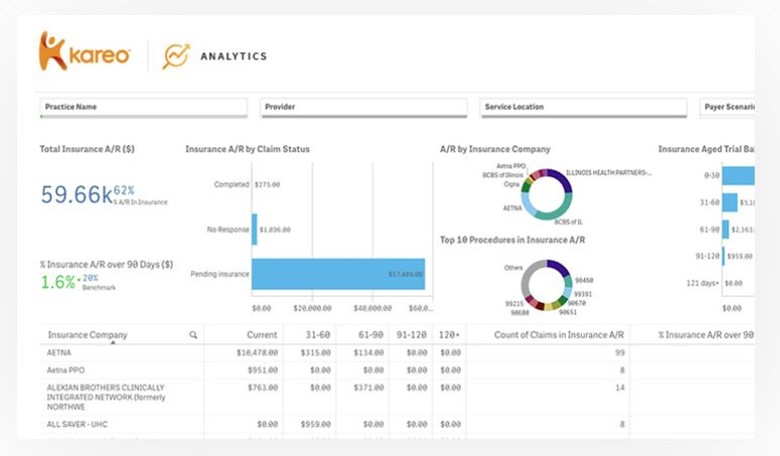 Tebra's reports provide a deep dive into accounts receivable and many other financial measurements. Source: Tebra
Reporting
Tebra's system includes a real-time reporting engine that provides a clear picture of your practice's performance at the click of a button. Most reports can be filtered by custom parameters, while shortcuts enable you to drill down into specific metrics. You can download and print reports in Microsoft Excel or Adobe PDF formats. A helpful Reports Guide provides descriptions and links to each report. In addition to having the ability to view these reports for a different date or date range, you can customize most reports through filters that display data for providers, patients, service location, payer type, payer scenarios and other parameters.
Tebra comes with more than 200 templates for reports, charts and automated emails. These include reports on practice financials, productivity, and claim rejections and denials. The software's business intelligence tool, Tebra Analysis, takes reporting to the next level, allowing practices to build 100% custom reports to review any data collected by the platform in any format.
EMR Features
Tebra's EMR system makes charting easy for providers, which is a big advantage. These are the key features we found in our review.
Dashboard
Tebra's central dashboard displays your patient appointments for the day and allows you to manage the entire appointment workflow, from check-in to checkout, including running insurance eligibility checks and collecting patient payments. The clinical workflow displays three buckets: Scheduled, In Office and Finished. We enjoyed the simple and utilitarian design that helps team members monitor and process the flow of patients throughout the day.
Clicking a patient's name brings up their "face sheet," which contains information about their medications, allergies, complaints, vitals, medical history and recent lab results. Tebra integrates with Surescripts to populate prescriptions from the past 12 months. Tebra also maintains bidirectional interfaces with LabCorp and Quest Diagnostics for lab results.
The Quality Measures dashboard enhances quality measure reporting to ensure that electronic clinical quality measure (eCQM) reporting is intuitive and optimized for maximum reimbursement. Providers can clearly assess quality measure performance, view industry benchmarks and drill into patient details.
The Insurance Companies page, also known as the Enrollments dashboard, provides visibility into insurance information as it applies to your practice. Here, you can view the insurances on your account for the practice or an individual provider, add new insurance companies, and enter and edit plans. Billing module subscribers can enroll in electronic services with insurance companies to submit claims, check patient eligibility and receive electronic remittance advice.
Tebra's most recent product updates include telehealth functionalities; managed billing, in which you outsource your billing to a Tebra partner; and tailored templates for mental health and physical therapy providers.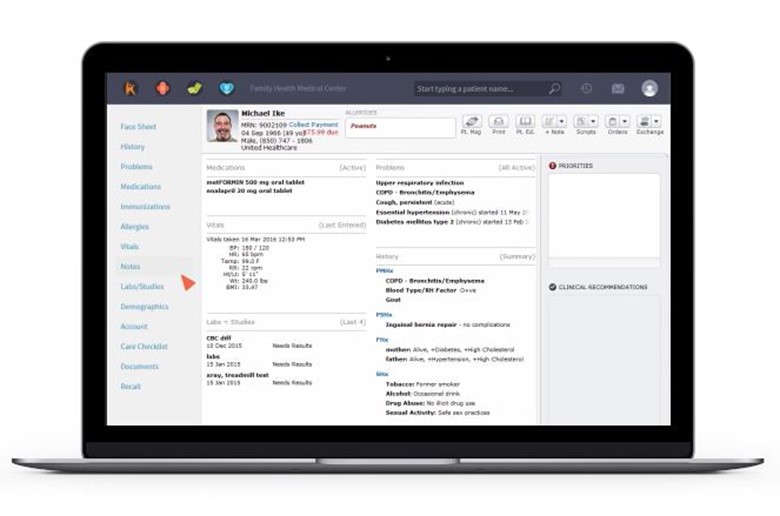 Patient charts are set up for providers to quickly review information and take notes during appointments. Source: Tebra
Charting
Tebra's charting features are among the easiest to use of all the medical software we reviewed, helping providers move through clinical notes during a patient encounter in minimal steps. This simple navigation lets the provider focus on the patient rather than on the computer screen.
Charting can be performed almost exclusively in a single window, and when another window is necessary, it can be displayed alongside the patient's main chart in one click. This single-window view makes navigating Tebra's clinical tools easier than with most of the other medical software we reviewed; we found one notable exception in our review of AdvancedMD, which was particularly easy to use.
You can access clinical notes from the dashboard or the patient's demographics page. Simply select the desired note for the appointment type from the drop-down menu. Notes are adjustable, allowing you to add or remove sections. You can even access previous notes in a pop-up box without closing your current one. All notes can be modified with free typing, voice dictation using Dragon, or text shortcuts within templates.
Templates
To expedite the note-taking process, Tebra comes with more than 200 templates – a decent number compared with other medical software. Templates are customizable to suit your practice's workflow and can include whatever information you'd like.
E-Prescribing and Labs
We loved that Tebra's e-prescribing (eRx) capabilities are simple to set up and integrate with First Databank, which is an extensive database that can check for the most up-to-date medication information. Like some other medical software, Tebra can also double-check for patient allergies and possible drug interactions as you draft a prescription.
You can use Tebra's e-prescribing tool directly within a note. When you click "Medications," a pop-up box allows you to select the patient's active medications for renewal or to discontinue their use. This user-friendly feature isn't common among rival vendors, making it another way Tebra sets itself apart. You can also add new prescriptions, which are automatically sent to the patient's preferred pharmacy. Lab orders work in much the same way: When you click "Labs" and "Studies" in the note, a pop-up box allows you to order a new lab test for your patient.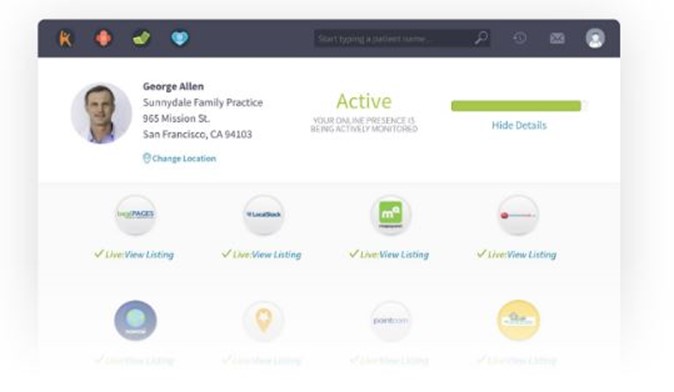 Tebra's online directory manager lets providers update practice information in just one location; the system then ensures the details are synced on various healthcare websites.
Source: Tebra
Marketing
Tebra Engage comes with SEO tools to promote the online visibility of your practice; patient-facing systems, such as the patient portal and mobile applications; and online provider profiles. This is a tremendous advantage for new practices that need to establish an online presence. There's also an online directory manager that automates information updates across dozens of health care sites, saving you from having to manually update each one yourself. Shortcuts like these mean you can focus on patient care but also rest reassured that your recently opened practice is getting the marketing exposure it needs.
MACRA/MIPS Assistant
Tebra includes a Medicare Access and CHIP Reauthorization Act of 2015 (MACRA)/Merit-Based Incentive Payment System (MIPS) reporting dashboard that tracks your practice's progress toward its goals under the Centers for Medicare and Medicaid Services' Promoting Interoperability and Advancing Care standards. The reports identify areas where your practice falls short and offer recommendations to help you hit those targets. Many other medical software providers feature this kind of MACRA/MIPS monitoring, which is essential for avoiding reimbursement penalties.
Tebra's MACRA/MIPS assistance can keep your practice on track to avoid reimbursement penalties from public payers such as Medicare and Medicaid.