Plooto is our best pick for automating processes thanks to its ability to automate all aspects of payment processing from sending invoices to receiving payments, freeing up owners to do what they do best: run their businesses.
Pros
Plooto's 120,000 vendor network exceeds most other accounting software programs. 
The flat-rate pricing structure makes it easy to understand what you will pay each month. 
Plooto includes credit card processing services. 
Cons
Plooto is more of a payments management solution and lacks actual accounting features. 
The software only syncs with QuickBooks and Xero.
Plooto does not offer a mobile app. 
Plooto offers a comprehensive payment platform that simplifies your operations. By consolidating payments, approvals, reconciliation and reporting, Plooto provides an all-in-one solution. With its workflow automation, Plooto minimizes errors, accelerates the accounts payable (A/P) process and enhances the vendor payment experience.
In addition, Plooto provides end-to-end automation for both A/P and accounts receivable (A/R) functions. This means you can streamline your entire financial process. Plooto also features a simple, flat-rate pricing structure. 
Plooto Editor's Rating:
8.3 / 10
Payments

10/10

Automatic invoicing

9/10

Third-party integrations

6.5/10

Mobile app

7/10

24/7 customer support

8.8/10
Why We Chose Plooto as the Best Accounting Software for Payments
The beauty of Plooto is that it unifies accounting software with payments. Plooto allows you to send clients invoices automatically, and you can get paid through Plooto's own credit card processing system. For A/P, you can set up approvals and pay bills directly in the Plooto Network of 120,000 vendors. All transactions are reconciled with your business's bank account and recorded in the books automatically. This end-to-end financial management solution makes Plooto our choice as the best accounting software for payments. 
Ease of Use
Plooto boasts a clean, modern user interface. During our testing of the software, we found the main dashboard easy to navigate. Features aren't buried under complex drop-down menus. Instead, you have six simple tabs for document capture, A/P, A/R, contacts, accounts and approvals. We found that these features were intuitive, with clearly-labeled buttons and step-by-step instructions. 
On the homepage, the left sidebar displays the number of payment approvals and pending payments in bright red. Connecting to a bank account is also straightforward, and the software displays your current balance. The upper right-hand corner displays any active connections to QuickBooks or Xero, and you can also click this button to sync Plooto with these two accounting software programs.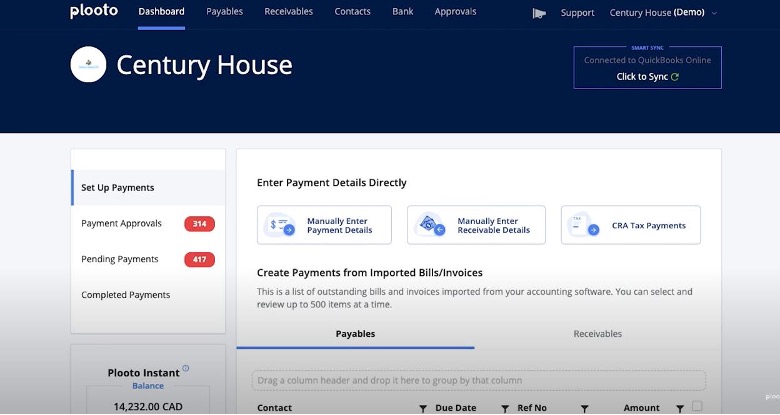 Plooto's dashboard is uncomplicated and easy to navigate. Source: Plooto
Features
Plooto offers many features that will prove useful for businesses that send and receive many payments, including A/P automation, credit card processing, a vendor payment network and more. Here is an overview of Plooto's key features that can help increase your business' productivity. 
A/P Automation
One particular standout feature of Plooto is its A/P workflow automation. You can set your own parameters to route payment approvals to the right person in your business. This cuts out time wasted by your employees seeking permission to make payments. You can also set maximum amounts that can be approved by a given employee within your organization. Bills can be imported through QuickBooks and Xero accounting software or created manually within Plooto. 
Another great aspect of Plooto's A/P automation is its international payments solution. Plooto converts your payments automatically to the currency of the receiving bank, which saves you the hassle of doing the conversion yourself. We think that businesses that perform a lot of international transactions will find this tool especially useful. 
Plooto's A/P tools include payment timing, so you know exactly when cash will leave your business's bank account. Controlling the timing of your payments can help you better manage your cash flow. The software can also create audit trails and records to help prevent employee accounting fraud.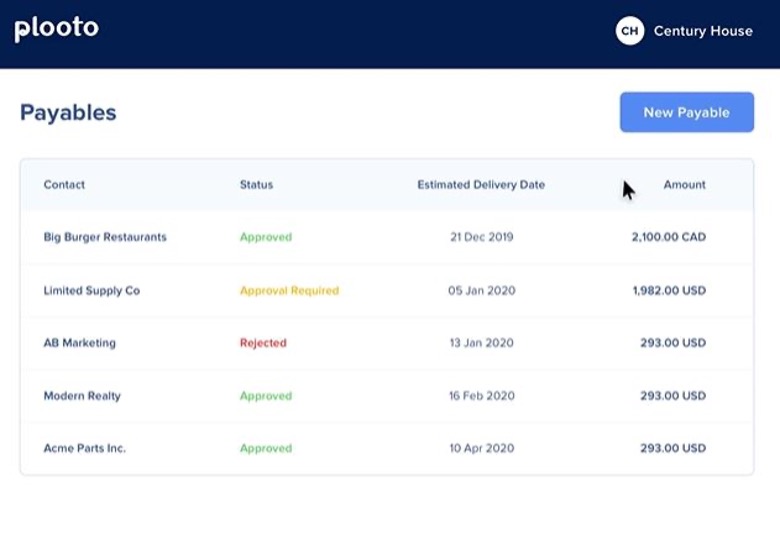 Plooto's A/P automation greatly simplifies your business's workflow. Source: Plooto 
Vendor Network 
One key Plooto feature is the vendor network. Paying bills is a time-consuming task for many small business owners, but Plooto eliminates this issue by giving you a way to pay bills directly from its software. More than 120,000 suppliers and vendors belong to Plooto's network, making Plooto one of the few accounting software programs that we reviewed to offer this type of solution. We like that with Plooto, you can pay by check, credit card, e-check and automated clearing house (ACH). To pay a bill, you can search for the vendor in Plooto's system, verify that you have the correct name and enter your account number. 
The Plooto Network contains over 120,000 vendors and suppliers.
Credit Card Processing 
One unique Plooto feature is its in-house credit card processing, which allows your business to get paid directly from invoices generated by your accounting software. If you're synced with QuickBooks or Xero, you can import invoices from the software and create payments based on those documents. Invoice payments are then reconciled in your accounting software. Plooto charges 2.9% plus 30 cents CAD per transaction. [Have more complex payment needs? In that case, check out our small business credit card processing reviews.] 
A/R 
Plooto includes a number of cool tools to manage your A/R. The software can automatically import invoices from your accounting software, and Plooto allows your customers to enter payment information so you can debit their accounts on a recurring basis. Plooto's A/R automation also includes accounting reconciliation, contract management, reporting status and ACH and credit card payments. 
Another feature that we found particularly useful was payment tracking. Like Plooto's payment timing tool, the payment tracking provides a timetable for when you can expect deposits to clear your business bank account. Again, this should give business owners more insight into how cash is flowing into their bank accounts.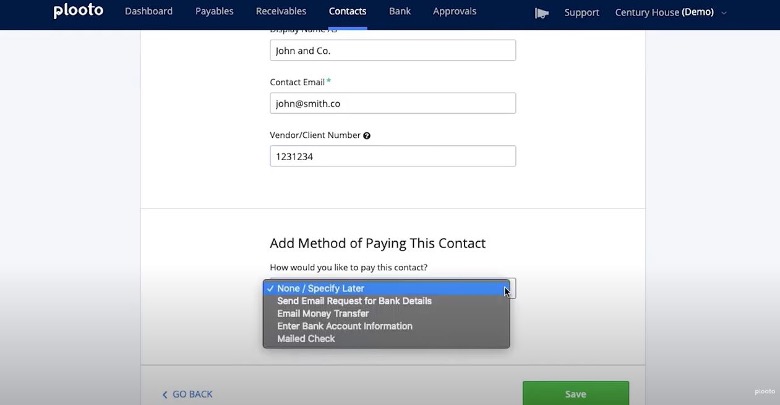 Plooto provides various payment methods, including check mailing. Source: Plooto 
Integrations 
Plooto integrates with QuickBooks and Xero, which are two of the most popular small business accounting software brands. This allows you to import bills into Plooto for easy payment, create audit trails and reconcile your business records in the accounting software. While Plooto doesn't offer many accounting and bookkeeping features on its own, it helps supplement accounting software with its top-notch payment platform. 
Check Payments
For business owners that still prefer old-fashioned paper check payments, Plooto is one of the few accounting software programs that still offers this service. The company will print and mail checks on your behalf for a small fee as well as reconcile the transaction with your integrated accounting software. 
Plooto allows you to pay vendors and suppliers by mailing them a paper check as well as conducting a money transfer, ACH and more.
Pricing
Plooto offers three paid plans, each geared toward businesses in different stages of growth. Pricing is flat-rate, with some additional fees for different payment types. Prices on Plooto's site are given in Canadian dollars (CAD), which we have converted to United States dollars (USD) at the June 2023 exchange rate (approximated) for your convenience:
The Go plan, which launches in June, costs 9 CAD (6.80 USD) per month. It includes access for one approver and one accountant/bookkeeper, plus basic approval workflow tools. You are limited to five domestic transactions of no more than 5,000 CAD per month, each of which cost 1 CAD (75 cents USD). We think that this plan is well suited for a sole proprietor or very small business. 
The Grow plan costs 32 CAD (24 USD) per month. It includes access for unlimited approvers and accountants/bookkeepers, plus advanced approval workflows. Here, you have unlimited domestic transactions, each of which cost 50 cents CAD (38 cents USD) with no cap on size. This plan would best help small and medium-sized businesses. 
The Grow Unlimited plan costs 59 CAD (44.30 USD) per month and includes everything in the Grow plan, along with unlimited domestic transactions at no additional cost. Large businesses would likely benefit the most from this plan.
Additionally, international transactions carry a 19 CAD (14.30 USD) fee for the Go plan and 10 CAD (7.50 USD) for the Grow and Grow Unlimited plans. Paper checks and Canada Revenue Agency payments also cost 5 CAD (3.80 USD) extra on the Go plan and 3 CAD (2.25 USD) on the Grow and Grow Unlimited plans. 
If you are a U.S.-based business owner, make sure you convert the prices on Plooto's website from Canadian dollars to U.S. dollars.
Implementation/Onboarding
Plooto offers a 30-day free trial of its Grow plan, plus 10 domestic transactions at no cost. We appreciated that sign-up took us just a few minutes on Plooto's website and that we didn't need to provide any credit card data or other sensitive information for the free trial. 
From the main dashboard, you can connect to your business bank account and sync your Plooto account with your accounting software quickly. Plooto provides instructions within the software to help new users navigate the features. If you get stuck, you can contact a member of Plooto's help team for additional setup support. 
Customer Support
Although Plooto doesn't offer some of the white-glove treatment of other accounting software companies that we reviewed, its customer service goes beyond that of many other business software providers. In an era where many companies now employ automated customer service systems, we like that Plooto maintains in-person customer support. The company's customer support hours extend from 9 a.m. to 8 p.m. ET time, which is longer than most other accounting software providers that we reviewed. Plooto also offers live chat and email support. 
Limitations
While Plooto comes packed with unique and useful tools for automating payment workflows, it lacks more of the advanced accounting and bookkeeping features of many accounting software programs. In our view, Plooto is more of a complement to a product such as QuickBooks Online or Xero than a substitute. [Read more about these popular accounting software options in our full review of QuickBooks Online, as well as our Xero review.] 
If you're just looking for software to manage bills, you might also consider the fact that Bill's network of 3 million vendors dwarfs Plooto's 120,000 vendor offering. We think that business owners should examine Plooto's payment platform as a whole and not just focus on one individual feature. 
A few customers on independent, user-generated review sites complained about technical difficulties adding some clients to the payment platform. Because Plooto doesn't provide dedicated account representatives, some users found themselves repeating problems to various customer support representatives. Plooto also lacks a mobile app, which would be an inconvenience to business owners that want to perform accounting tasks on the go.
Methodology
To generate our quantitative scores and use cases for the best accounting software, we reviewed software features, such as payment and invoicing capabilities, the number of integrations, mobile apps, report generation, supported user count and customer service options. We also assessed pricing and the availability of free trials. 
We examined the companies' websites and participated in software demos. Additionally, we studied user reviews for independent opinions on each software's pros and cons.  When evaluating payments specifically, we focused on the number of features relating to making and receiving payments as well as the time-saving and productivity tools. 
FAQs
Yes. Although Plooto is based in Toronto, the company serves businesses in both Canada and the U.S.
Payments received using Plooto typically take 2-5 business days while payments sent usually arrive within 3-5 business days.
Plooto was founded in 2015 as a payments platform for small businesses.
Bottom Line
We recommend Plooto for …
Businesses seeking a solution to automate payment workflows. 
Companies that want the convenience of a vendor payment network.
Businesses that already use Xero or QuickBooks.
We don't recommend Plooto for …
Companies that want software strictly for accounting and bookkeeping purposes and not payments. 
Businesses that make frequent international transactions. 
Business owners that want a mobile app to work on the go.