Time Doctor is a time and attendance solution that can help employers monitor employee hours, activity and tasks. It also has many features that can help keep employees on track and improve productivity.
Pros
Time Doctor can send distraction alerts when employees go off task for too long.
The software can take screenshots and screen recordings to serve as proof of work for clients and employers.
User, team and company settings can all be customized.
Cons
Time Doctor doesn't offer phone support.
The system doesn't have GPS tracking.
Looking for more options?
Check out The Best Time and Attendance Services of 2023 business.com recommends.
If you're looking for a time and attendance solution that can help you track employee activities, tasks and productivity, Time Doctor is the answer. Businesses can choose from three tiered plans, all available via annual or monthly pricing, and all of the packages have features that help with time tracking, task and project tracking, and activity tracking. The software can take unlimited screenshots of employee activity if you need visual proof of their work, and it can easily integrate with well-known payroll providers. As the system records employee time and activities, it can pull that activity into reports for you to analyze areas where team members can be more productive. Thanks to these tools, Time Doctor is the best time and attendance software for companies focusing on employee productivity.
Time Doctor Editor's Rating:
9.2 / 10
Price/value

8.9/10

Features

9/10

Customizations, add-ons and integrations

9.4/10

Ease of use

9.4/10

Customer support

9.2/10
Why We Chose Time Doctor for Employee Productivity
While typical time and attendance programs track employee hours, Time Doctor takes things one step further by recording what employees are doing during their work hours. You can record employee hours based on tasks and projects, enable activity monitoring to identify when employees are actively working, and even take screenshots of their work. Using these tools to understand what team members are doing throughout the workday can help you identify time-wasting behaviors and areas for improvement. Time Doctor has a variety of reporting options so you can get a clear look at employee activity, and we like that it offers distraction notifications as well.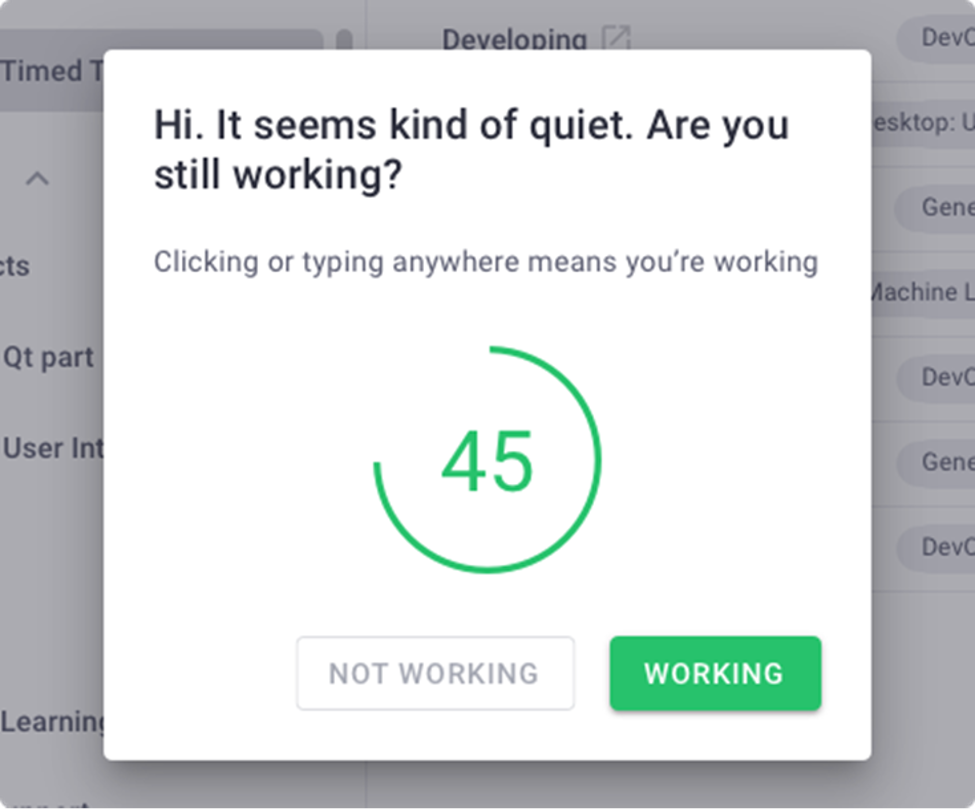 Time Doctor can alert employees to their inactivity so they can get back to being productive.
Source: Time Doctor
Another feature we were impressed by is Time Doctor's work-life balance reporting dashboard. The software can analyze employee behavior and warn businesses when staffers are at high risk of burnout. This allows managers and employers to address potential employee burnout before it impacts company operations. Some similar products also monitor jobs and projects, but Time Doctor particularly excels at serving businesses concerned about productivity.
Time Doctor users report an average 22 percent increase in productivity.
Ease of Use
Time Doctor is pretty straightforward software to use for tracking employee hours and activity throughout the workday. When we tested the system, we found it easy to navigate. As a cloud-based solution, the program can operate on essentially any device with a web browser. This is how most time and attendance solutions work.
One thing to note is that users must modify the job being recorded on the software as they switch between assignments they're working on. Although this isn't difficult to do, it is something employees need to remember as they work so your business can keep accurate records of time and activities.
Time Doctor Features
Time Doctor has many of the same features as other time and attendance software we reviewed, plus a few additional tools typically found in some of the best employee monitoring software. This combination is ideal for employers who want to keep accurate track of not only employee time but also activity and productivity.
Time Tracking
Once Time Doctor's software is set up, employees can track their time as they work. We like that the system offers the ability to record employee time even when the team member's device is offline. This isn't an option all competitors have, and it can be valuable for mobile teams or employees with limited or spotty online connections. Also, since the program records employee activity only during work hours, you can rest assured it isn't tracking staffers during their personal time.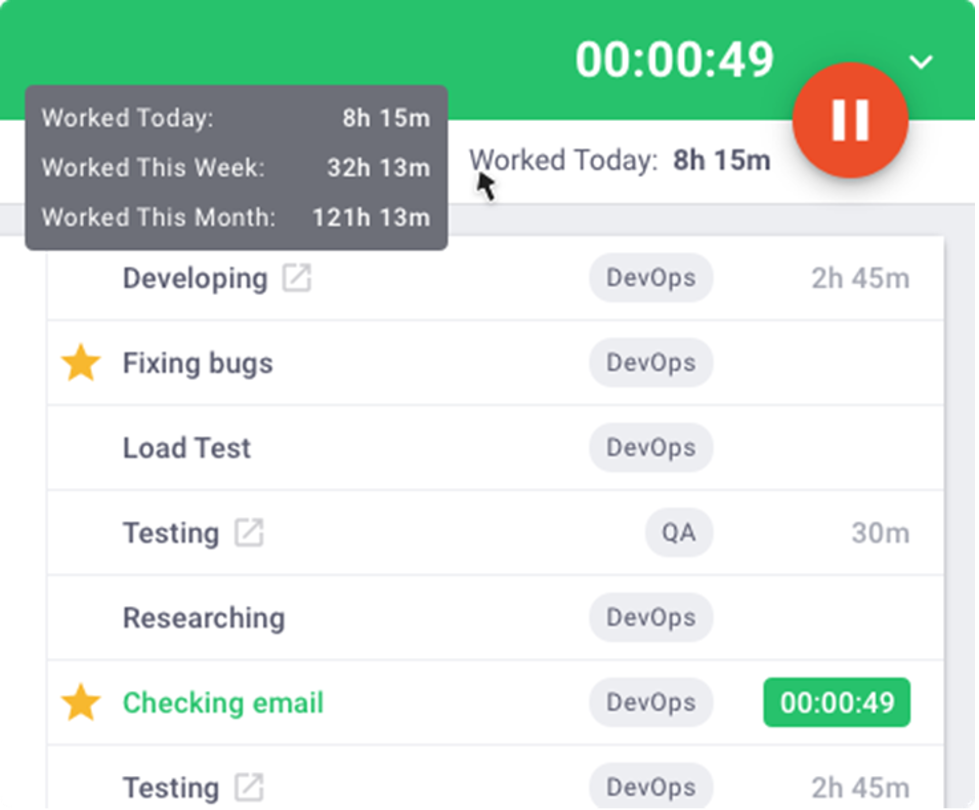 Time Doctor records the hours employees spend working on each of their projects or tasks. Source: Time Doctor
Another unique feature that Time Doctor offers is screen recording and screenshots, which document what team members are working on at any given time. Having physical evidence of what employees are doing during their work hours can be valuable for proving and understanding how time was spent.
Job and Task Tracking
When we tested Time Doctor, we liked that it has job and task tracking. This means employees can track how much of their workday is spent on specific projects or tasks, which, in turn, can help you track employee activity, bill clients for work time and even plan staffing for future projects. The job-tracking feature is also valuable for identifying time wasters and areas for improvement or future training.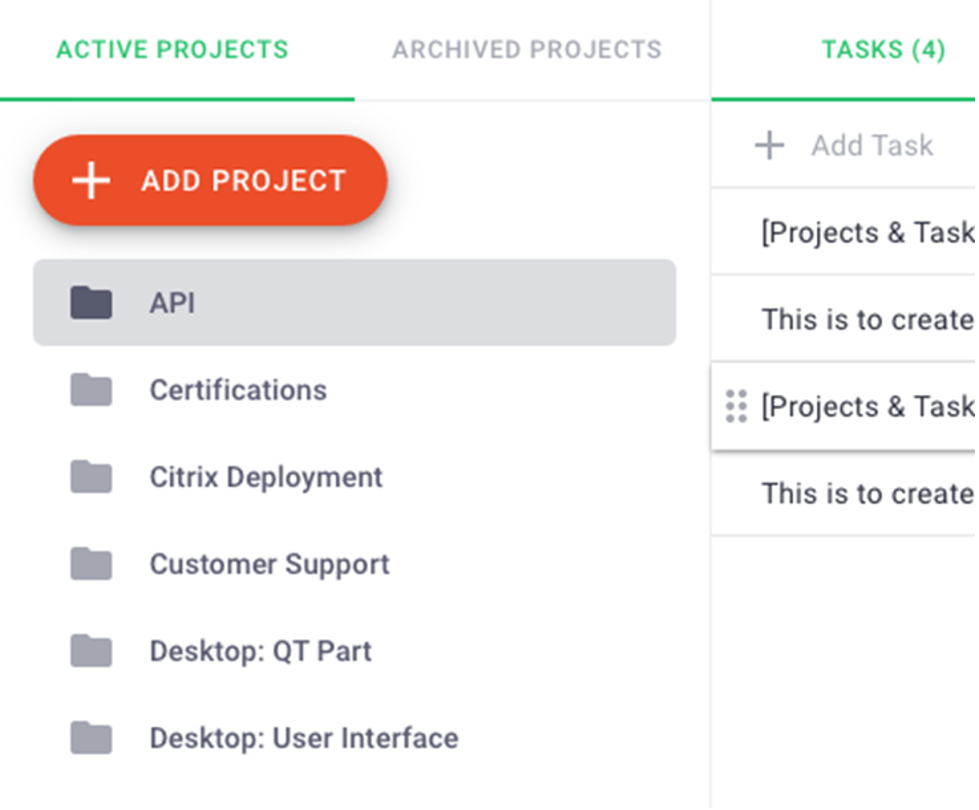 Time Doctor is useful for project management and budgeting. Source: Time Doctor
Payroll
Although Time Doctor doesn't provide payroll services itself, it easily integrates with top-rated payroll software like Gusto. Once employee hours are recorded via Time Doctor, the system can organize that data into timesheets that can be easily uploaded to your payroll platform. We found this integration process to be relatively standard. In addition to automated timesheets, Time Doctor allows manual adjustments as well. We also like that Time Doctor offers optional pay periods and currencies for employee payment.
If you're interested in learning more about compatible payroll solutions, check out our Gusto review.
Reports and Alerts
Time Doctor can record a lot of employee details, such as time usage and web and app usage. This information is valuable for payroll, invoicing and budgeting purposes. Administrators can view detailed reports, as well as optional screenshots and time reports, to get a clear look at what employees spend their time on. One feature somewhat unique to Time Doctor is distraction alerts. These notify employees when they've been idle or distracted for too long and serve as a reminder to get them back on track to being productive.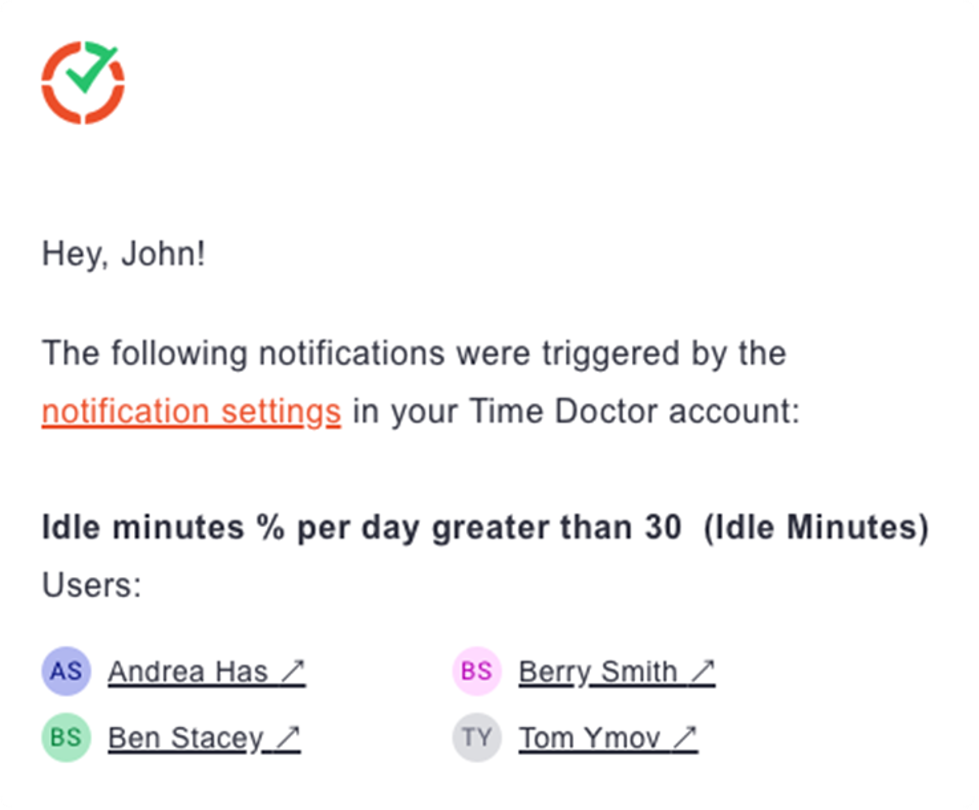 Time Doctor can send out trigger-based alerts regarding employee activity. Source: Time Doctor
Time Doctor Pricing
We found Time Doctor to be on the somewhat pricier end of the time and attendance software we reviewed, but each of its tiered plans is feature-rich. We also like that the vendor offers monthly and annual pricing, as well as a 14-day free trial for users to test out the software risk-free
Here's how the plans break down.
| Plan | Monthly rate | Annual rate | Features |
| --- | --- | --- | --- |
| Basic | $7 per user | $70 per user | Time tracking, task/project tracking, activity tracking and unlimited screenshots |
| Standard  | $10 per user | $100 per user | Everything in the Basic plan, plus app/URL tracking, payroll, daily email notifications and 60+ integrations |
| Premium | $20 per user | $200 per user | Everything in the Standard plan, plus client login access, video screen captures, internet connectivity reports, VIP support and concierge account setup |
Implementation and Onboarding
When testing out Time Doctor, we were pleased with how quick the implementation process was. Whereas some software can take days or even weeks to implement, Time Doctor can be set up within minutes. The vendor's website even boasts that initial setup time takes only about 10 minutes for administrators and about five minutes for each user, plus whatever time is needed to watch training videos to learn how to use the platform.
This fast implementation process is great for employers that want to start tracking employee productivity quickly.
Time Doctor can integrate with more than 60 third-party applications if you purchase the Standard or Premium plan. Integrating any software typically adds some time to the setup process, but it can make your overall workload more efficient in the long run.
Customer Support
Time Doctor's customer service is competitive with other vendors we reviewed. Although Time Doctor doesn't typically provide phone support, the company does offer 24/7 assistance via email and web chat. In comparison, some rivals like TimeClock Plus have phone support for their entry-level plan but limited hours. Time Doctor's 24/7 availability, even if it isn't by phone, is ideal for employers who may need assistance outside of typical business hours. Time Doctor also has an online help center full of useful how-to guides, troubleshooting information and tutorials.
Limitations
We found Time Doctor's online resources valuable, and we appreciate that the company offers 24/7 support via email and web chat. However, Time Doctor doesn't typically offer phone support, unlike some competitors we reviewed. If phone support is an important communication method to you, check out our review of QuickBooks Time. QuickBooks Time has unlimited phone support.
Another potential limitation is Time Doctor's mobile apps. The vendor does have an app for Android mobile devices, but it isn't quite as comprehensive as the Time Doctor desktop application. The mobile time clock app is suitable for users who need to track their time on the go or want to modify their task list from various locations, but if you're looking for Time Doctor's more advanced features, you will likely want to use the desktop program. Alternatively, if you read our When I Work review, you'll find a company that offers both iOS and Android apps with high usability.
Methodology
To determine the best time and attendance systems for small businesses, we surveyed the market by watching product videos, participating in vendor demos and using free trials whenever possible. As we considered each solution, we looked at the pricing, features, hardware, implementation process, ease of use, available integrations, mobile capabilities and customer support options. Features we focused on included time tracking and scheduling, GPS and geolocation capabilities, job tracking and costing, notifications and alerts, reports, and payroll integrations. When searching specifically for time and attendance solutions that monitor employee productivity, we looked for software that offered time tracking, job and project tracking, reports, alerts, and screen monitoring.
FAQ
No, Time Doctor is not spyware, but it can monitor employees' online activity when they are on the clock. This allows employers to keep an accurate record of employee hours, as well as time spent on specific projects and tasks. Time Doctor doesn't monitor employees when they are on a break or off the clock.
Yes, Time Doctor can take photos (screenshots) and screen recordings of employee devices. Time Doctor also offers the ability to blur and delete screenshots as needed.
Bottom Line
We recommend Time Doctor for …
Businesses that want to monitor employee productivity.
Companies that need to track employee hours and projects.
We don't recommend Time Doctor for …
Businesses that need phone support.
Companies that want advanced employee scheduling features.