TimeClock Plus is a highly customizable time and attendance platform with the advanced features, customization and flexibility needed to support established and growing businesses across all industries.
Pros
TimeClock Plus offers multiple time and attendance plans with several add-on features.
The vendor has advanced time and attendance equipment options, with biometrics for clocking in and out.
Employees can use TimeClock Plus to track projects, tasks and jobs.
Cons
TimeClock Plus doesn't have a free trial period.
The Essentials and Professional plans don't include mobile apps automatically.
Growing businesses require flexible solutions when scaling up. With a highly customizable set of tools for tracking time and attendance, building employee schedules, preparing hours for payroll and more, TimeClock Plus (TCP) supports companies that are focused on reaching new heights. The vendor stands out in a competitive field thanks to its numerous clock-in options that work with web browsers, mobile apps, contactless badges, biometric devices and thermal sensors. Since the product is highly customizable, businesses can build a time and attendance solution that matches their evolving needs. With these advantages in mind, TimeClock Plus is our pick for the best time and attendance solution for scaling businesses.
TimeClock Plus Editor's Rating:
9.2 / 10
Price/value

9/10

Features

9.2/10

Customizations, add-ons and integrations

9.6/10

Ease of use

9.1/10

Customer support

9.3/10
Why We Chose TimeClock Plus for Scaling Businesses
Growing businesses need flexible and efficient software and tools to support their burgeoning workforces. TimeClock Plus is the best time and attendance solution for scaling businesses because of the high degree of customization and large selection of add-ons available through the vendor's three service tiers. The platform offers essential time and attendance features like employee scheduling, job costing, time-off and overtime management, reporting and hundreds of payroll and employee resource planning integrations. All of TimeClock Plus' plans make it easy to build the ideal workforce management solution for your organization without paying for features you don't need. As your company grows and your needs change, you'll appreciate that you can adjust your time and attendance services accordingly.
FYI: Some of TimeClock Plus' unique, advanced features may require monthly fees and the purchase of additional hardware.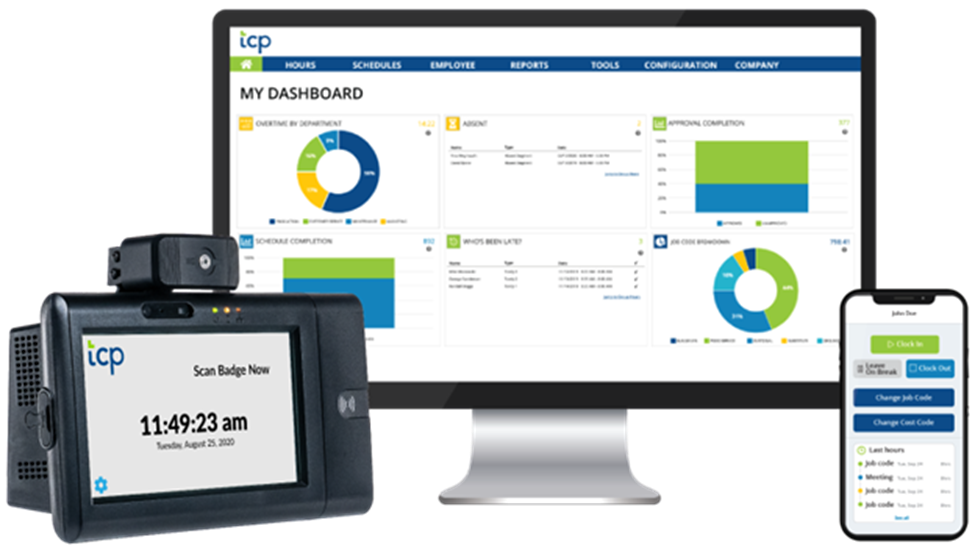 Advanced clock-in options across a wide range of devices help you eliminate buddy punching. Source: TimeClock Plus
Ease of Use
TimeClock Plus' high level of customization means that usability can vary significantly depending on the tools and features you purchase and implement. For example, we found that usability suffered with the entry-level plan because the package doesn't include a mobile app for employees to clock in and out easily when they arrive at or depart work. In contrast, most of the vendor's competitors, even the lower-priced options, have mobile apps as a standard feature. Our review of When I Work presents one such example.
On the other hand, the more advanced TimeClock Plus plans have a variety of features and add-on options that can help simplify processes like employee scheduling, time tracking, job tracking and costing, overtime management and leave management. Once your system is up and running, you should have no trouble making the most of its various capabilities as all the tools are user-friendly. It's just a matter of which ones you choose for your business that will affect how usable and helpful the software is.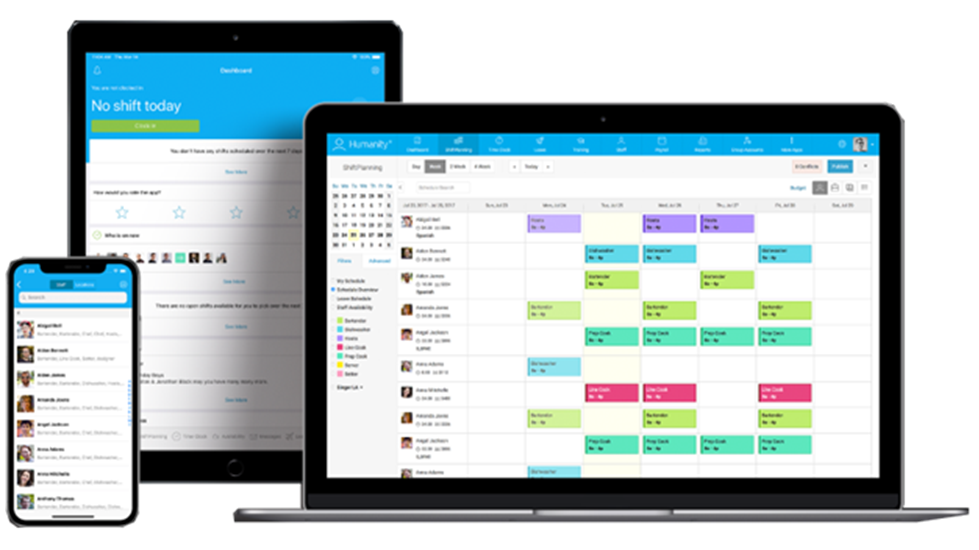 TimeClock Plus has an easy-to-use interface for multiple device types. Source: TimeClock Plus
Features
TimeClock Plus offers a great assortment of standard features to support businesses' time and attendance needs, alongside scheduling and payroll prep. We were especially impressed by some of the advanced features that we didn't find among competitors.
Time Clock Devices
The assortment of available time clocks for purchase is one of the aspects that sets TimeClock Plus apart. Employees can punch in and out for work or breaks via computer, the TCP mobile app or a variety of physical time clocks. Employers can also implement advanced security features, including PIN access, contactless badges/readers and unique biometric authentication with fingerprint scanners to guarantee the correct employee logs in at the right time and location.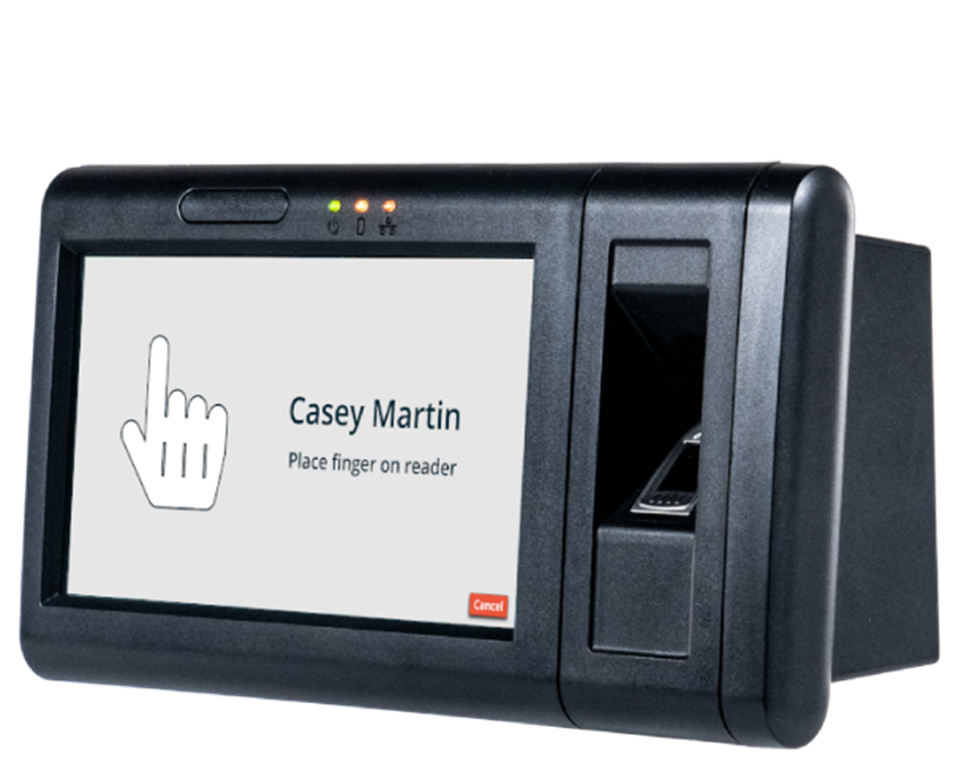 A fingerprint time clock ensures that the correct person clocks in at the right location and time, preventing time theft. Source: TimeClock Plus
TimeClock Plus also offers a thermal scanner that can check each employee's temperature to ensure they're healthy enough to work their shift. None of the other time and attendance providers we reviewed had such a robust set of time clock options. Having a large variety of hardware products to choose from is ideal for a scaling business that wants to add on other time clock options as it grows.
Using time and attendance software can help you prevent and manage timecard fraud.
Dynamic Employee Scheduling
Employee scheduling typically goes hand in hand with time and attendance. When analyzing TimeClock Plus, we liked that employees can conveniently manage their schedules, request time off, grab open shifts and adjust their availability through the optional mobile app. Demand-driven scheduling with flexible staffing rules can be used to manage peak and slow periods and keep your business operating efficiently at all times, which is key for a growing business. With the auto-scheduling feature, managers can optimize their teams' schedules with custom variables, including seniority, special preferences and availability. We also like that you can use flex scheduling to respond to real-time changes and fill open shifts. [Find out why you should use night shift differential pay.]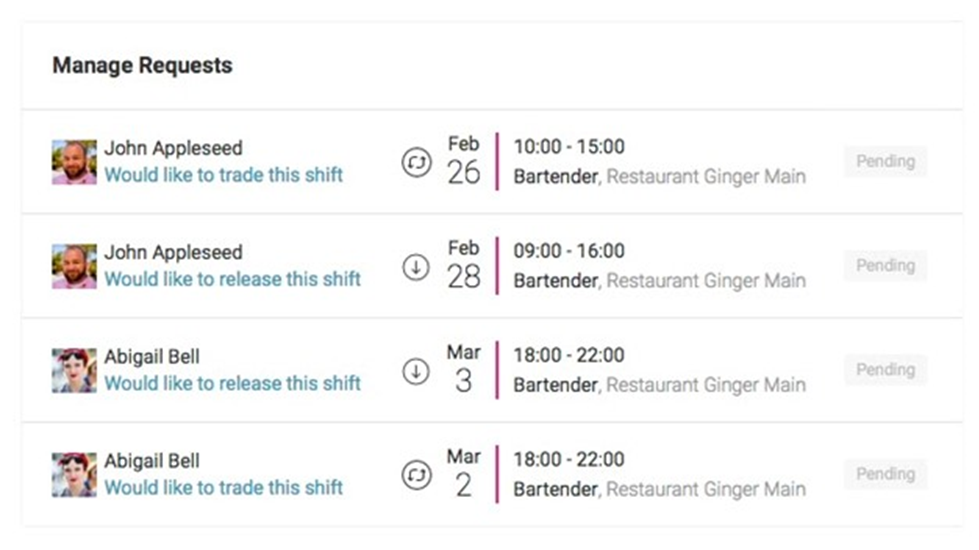 You can use flex scheduling to help employees maintain work-life balance. Source: TimeClock Plus
Time Tracking
TimeClock Plus makes it easy to automate your time tracking, reporting and payroll processing responsibilities. Tools include advanced overtime management, records of missed punches or breaks, dynamic labor calculations for premium pay rates, floating pay periods, comp time configuration and much more. Few providers offered such extensive customization options. Plus, TimeClock Plus' custom workflows, audit logs and document repositories can help ensure your company stays compliant with the Affordable Care Act, the Family and Medical Leave Act and the Fair Labor Standards Act.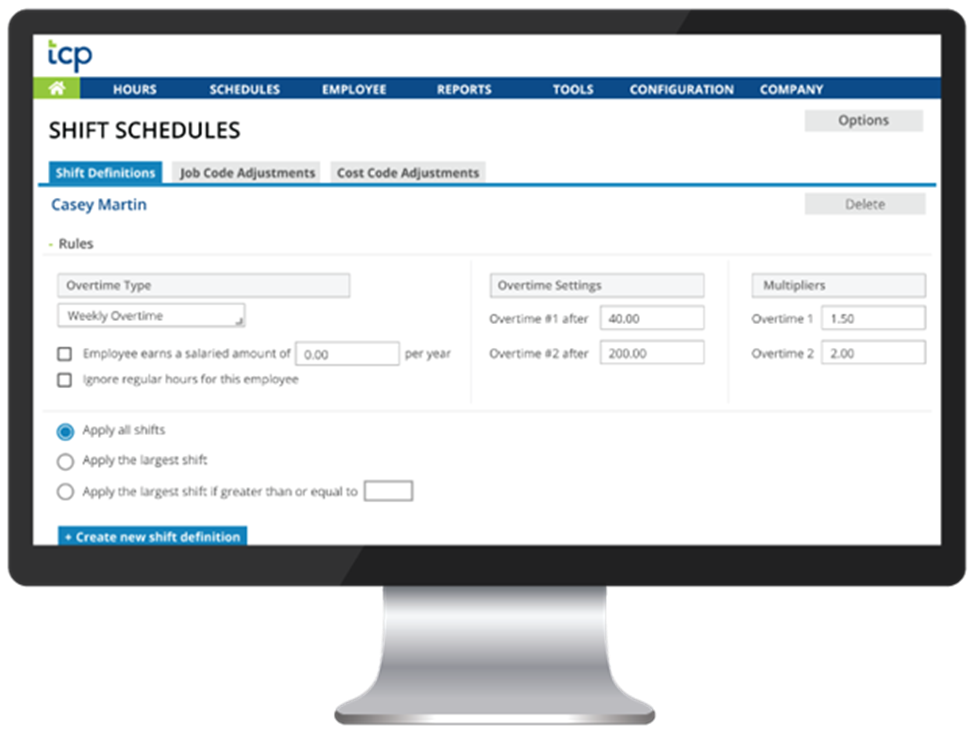 TimeClock Plus lets you manage overtime and automate various pay calculations. Source: TimeClock Plus
Pricing
TimeClock Plus has three subscription plans that you can pay for monthly per employee or annually with a slight discount, which is industry standard. While the vendor previously listed online the pricing for its plans (ranging between $2.50 and $4.16 per employee, per month), the company now requires businesses to contact them for a customized quote. Each subscription tier has several available add-ons, but you will similarly need to contact the sales team to inquire about the cost of each add-on for your organization.
Below is a breakdown of each plan's included features and the add-ons you can select.
| Plan | Features | Available add-ons |
| --- | --- | --- |
| Essentials | Time and attendance tracking, configurable dashboard, basic reporting, employee management, job code management, overtime calculations and weekday customer support | Time clock devices and the TCP mobile app |
| Professional | Everything in the Essentials plan, plus PTO and leave management, automated imports, payroll exports, employee scheduling and Humanity scheduling integration | Time clock devices, job costing, shift differential, advanced leave and overtime, annualized employee management, substitute management, 24/7 customer support and the TCP mobile app |
| Enterprise | Everything in the Professional plan, plus attestation tracking, multilanguage support, job costing, shift differential, advanced leave, advanced overtime, annualized employee management, 24/7 customer support and the TCP mobile app | Time clock devices, advanced scheduling, occurrence management and substitute management |
Unlike most of its rivals, TimeClock Plus doesn't allow free trials. Instead, interested businesses can sign up for a free demo or guided tour to learn more about the platform.
Implementation/Onboarding
Just as we saw with usability, your onboarding experience with TimeClock Plus may vary significantly depending on the features and customizations you incorporate. For the basic time and attendance system, the setup process for administrators and employees is fairly standard. For companies that implement a more complex system with a higher degree of customization, the setup is slightly more difficult and time-consuming. However, we like that even if you're on the lowest plan, TimeClock Plus provides excellent weekday customer support for getting your organization's system up and running smoothly.
Customer Support
When investigating TimeClock Plus, we discovered that the level of customer support you can expect to receive depends on your subscription tier. All plans include access to customer service on weekdays between 7 a.m. and 7 p.m. Central time via phone, online queues, chat and email. This is appealing to those on the Essentials plan as some competitors don't include any phone support with their entry-level packages. If you opt for the mid-range Professionals plan, you can add on 24/7 support for an additional fee. Enterprise-level subscribers receive 24/7 support as a standard feature.
Like most time and attendance software providers, TimeClock Plus also has a comprehensive online help center with free webinars, helpful articles and a searchable resource library.
Limitations
Most time and attendance companies we examined have a free trial period ranging from 14 days to one month. Only TimeClock Plus, Paychex Flex and Rippling don't offer the opportunity to sample their product without charge for an extended period of time. Although free trials aren't always necessary, we appreciate when companies provide them as a way of showing confidence in their products' abilities to solve your problems. If you're looking for a comprehensive time and attendance solution that offers a lengthy free trial, check out our review of QuickBooks Time. Alternatively, you can sign up for one of TimeClock Plus' monthly plans so you can use the software without a long-term commitment to ensure it's right for your organization.
Tip: Instead of a free trial, take the time to schedule a free demo or guided tour if you're interested in exploring TimeClock Plus for your organization.
Another downside is that TimeClock Plus no longer lists its pricing online. The vendor does showcase the three different time and attendance packages they offer, along with the features each one includes, but there are no costs shown. This might not be a deal-breaker for some business owners, but online pricing can be essential for small and growing businesses that need to quickly assess whether a platform is within their budget. If upfront pricing is important to you, you might want to consider QuickBooks Time or When I Work.
Methodology
To find the best time and attendance software, we researched and analyzed dozens of time-tracking providers. This process included watching product videos, conducting demos and participating in free trials whenever possible. We evaluated each product's ease of use, integrations, pricing, mobility, hardware and customer support. Features we considered included time-off tracking, employee scheduling, GPS tracking, geolocation capabilities, job tracking and costing, reports, payroll integration and notifications and alerts. To determine the top time and attendance solution for scaling businesses in particular, we sought vendors that offered multiple service plans and the ability to customize your service to ensure you don't pay for features you don't need while keeping the option to add on tools later as your company evolves.
FAQs
No, TimeClock Plus does not offer a free trial. However, you can schedule a free demo and take a guided tour to learn how TimeClock Plus can benefit your organization. You could also purchase the entry-level monthly plan to test the product's basic features and dashboard for a month or two.
Yes, TimeClock Plus has a mobile app called TCP. It's available as an add-on with the entry-level Essentials plan and mid-tier Professional plan but included as a standard feature for all Enterprise subscribers.
Bottom Line
We recommend TimeClock Plus for …
Rapidly growing businesses.
Businesses that typically require a great deal of software customization or add-ons.
Enterprise-level organizations with many hourly employees to track.
We don't recommend TimeClock Plus for …
Businesses that prefer using a free trial before making a purchase decision.
Companies looking for inexpensive time and attendance hardware.