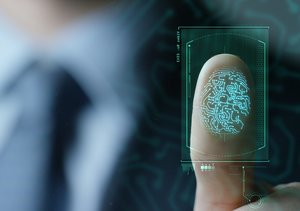 Biometrics can provide businesses with heightened security and customers with a more personal experience.
Apple normalized facial recognition software with the iPhone X. The TSA has implemented biometrics into airport security. Airlines are experimenting with biometric boarding passes to make your travel experiences more efficient and hassle free.
Biometrics are popping up everywhere, and it's an industry that's gaining ground as consumers opt for the convenience of using the most natural authenticator out there: themselves. Through biometric technology, consumers can use their fingerprints or face scans to verify their identity, make payments and increase security.
Already, biometrics have been worked into time and attendance software and security systems to ensure that businesses are working to provide their employees and customers with the most secure services. The technology may be in its developing stages in the U.S., but as it ramps up, so will business applications.
"Biometric solutions are in high demand since they are more affordable and enable a higher level of identity authentication," Amir Shechter, director of Quad4 at Convergint Technologies, wrote in an email. "We work with several solution providers and are continually evaluating new and emerging biometric technologies to offer to our customers." 
Right now, biometrics' main function is in multi-factor authentication – the technology is used as one step to identify a person during a transaction. As it continues to develop and is slowly integrated into consumers' lives, biometrics could play a role in different use cases, like more personalized customer service experiences.
Early adoption
Biometrics may still be a couple years away from full adoption in the U.S., but the technology is gaining ground. Ever AI is a facial recognition company that partners with businesses to implement practical facial recognition solutions. The company's CRO, Doug Aley, said that facial recognition could soon become a step in the security process at some companies.
Aley said companies can install cameras in the ceiling of building lobbies that read the faces of workers as they walk through to their offices.
The cameras "can see people coming from a distance and authenticate them on the way in," he said. "That's usually coupled with somebody that's looking at the people going by and pulling out the people that aren't in the system."
He also talked about other use cases that he thinks will emerge in the future. In one scenario, a customer who opts-in to a program with a favorite coffee shop can get a personalized customer service experience thanks to an integration between facial recognition software and a business's POS system.
"We look at a future where I can go into a store where I've opted in … [and] the point-of-sale machine recognizes me and tells the clerk behind the desk, 'Hey, this is Doug. He likes a latte.' Then I can be greeted with, 'Hi Doug, would you like your latte today?'"
Doug said biometrics can help mirror the personalized web experiences consumers have with personalized business experiences in the physical world.
"That kind of level of personalization, and then being able to follow through with that transaction with an actual payment mechanism that's on file for me, is a much smoother transaction," he said. "I don't have to carry my wallet around; I don't even have to carry my phone around.
Biometrics, particularly fingerprint scanners and facial recognition software, are being implemented into time and attendance software. This prevents employees from clocking in for one another and can improve company workflow.
"The clock in, clock out scenario obviously solves a lot of problems for people," Aley said. "In a relatively frictionless way you can ensure that employees are not clocking in for other employees and are actually there on time when they said they are going to be there."
As a business owner, now may not be the time to integrate biometrics into your workflow. But it's technology to keep your eye on as it develops and is integrated into consumers' everyday lives.
Editor's Note: Looking for a time and attendance solution for your business? Fill out the below questionnaire to be connected with vendors that can help, including ones that offer biometric capabilities.
Data security
One concern that's arisen with the development of biometrics is user security and privacy. Collecting and implementing data tied to specific physical features is a big step for any employee or consumer. However, Aley said the cybersecurity risks associated with biometric technology can be mitigated with multi-factor authentication. 
"With every factor that you add, you boost the cryptographic strength of that transaction – and you're using factors that are either difficult to guess or difficult to replicate – then you're going to be in much better shape," he said. "I think that as biometrics become a part of … those authentication systems, you're going to see the prevalence of the ability of data breaches go way down."
Cost
Shechter said biometric technology can be an affordable option for some small businesses. This depends largely on what your business needs and how you plan to use it.
"Biometric devices are much more affordable and should be incorporated into most businesses," he said in an email. "Some forms of biometrics are more secure than others – fingerprint versus iris scans, as an example. But these systems are still often superior to basic card access systems, which can be easily hacked or simply transferred from one person to the other."
Still, make sure you establish a necessary use case before implementing this kind of technology – especially if you're looking to build it into your customers' experience. This technology is still developing, so if you're interested but aren't ready to partner with another company, it's ideal to wait and see how other businesses employ biometrics in their day-to-day operations.
"Make sure the use case is really solid and your customers are going to be comfortable with it," Aley said. "Introducing something and spending a lot of time on something that your customers aren't going to be comfortable with is not going to be a great recipe for success."