When I Work Time Clock & Attendance is a simple and effective time and attendance system that supports complex scheduling for shift workers in the restaurant, retail and hospitality industries and has a long list of basic and advanced features.
Pros
When I Work's easy-to-use mobile apps provide employees and managers the flexibility and convenience to stay on track with schedules and hours worked.
Employees can use the mobile app to swap shifts, thereby saving managers time and energy.
You can get time and attendance plus scheduling for just $4 per employee per month.
Cons
When I Work's lack of phone support, combined with its limited hours for online ticketing and live chat, can make it challenging to resolve technical issues.
The software has no way to effectively track the type of work each employee is doing on an hourly basis.
The ideal time and attendance system for a small or midsize business in the restaurant, retail or hospitality industry is cost-effective while still including advanced features that make it easy for employees to manage their schedules, swap shifts, clock in and out securely, and ensure that every hour worked is tracked accurately. When I Work Time Clock & Attendance is an incredibly effective tool for employees and managers alike, thanks to features such as photo clock-in, a time clock app with GPS tracking for accurate records across devices and helpful clock-in-and-out reminders. Users can store documents, message team members, and manage time off and availability. These abilities, along with the vendor's appealing pricing, make When I Work our recommendation for the best time and attendance solution for restaurants and retailers.
When I Work Editor's Rating:
9.6 / 10
Pricing/value

9.7/10

Features

9.8/10

Customizations, add-ons and integrations

9.5/10

Ease of use

9.9/10

Customer support

8.9/10
Why We Chose When I Work for Restaurants and Retailers
Restaurants and retail businesses face unique employee scheduling challenges. Businesses in these industries often build new schedules every week, and they need to accommodate employees' varying availability, hourly rates and last-minute shift swaps while ensuring that the correct staffers clock in and out at their expected times and locations. When I Work helps companies address these needs, making it our choice for the best time and attendance software for restaurants and retailers. The software is easy to use from a computer or mobile device, with mobile apps that include GPS functionality for accurate clocking in and out on any device. The program even includes internal communication capabilities, which many competitors lack. When I Work also stands out in a competitive field for its incredibly attractive starting price of just $2.50 per employee per month for scheduling and messaging services, plus $1.50 to $2 for the time and attendance services.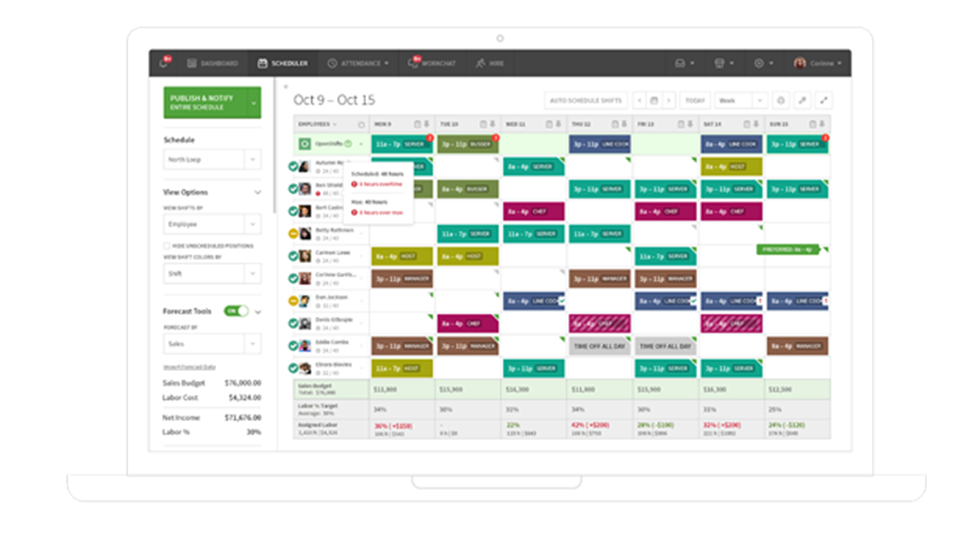 When I Work uses a drag-and-drop scheduler for easy shift changes. Source: When I Work
Ease of Use
We found the When I Work platform to be smooth and user-friendly when we tested the software. In addition to the quick and intuitive implementation process, we like that it's easy to schedule tasks — such as checking schedules, swapping shifts and approving proposed changes — from a mobile device or web browser.
The system includes communication features to notify teams about changes, talk one-on-one and establish a group or team chat room that you can use to ask for extra help when the register gets busy. We didn't see all competitors offer this communication capability, which can be especially useful for shift workers such as restaurant and retail employees.
Another time-saving feature, auto-scheduling, lets you check your team's eligibility and availability so you can build an effective schedule with just one click. When I Work also integrates with highly rated payroll service companies — including ADP, Gusto and Paychex — for an effortless and accurate payment experience.
Features
When I Work has several basic and advanced features for managers and employees to build and share schedules, trade shifts, clock in and out securely, prevent surprise overtime hours, manage breaks, simplify payroll and much more, all of which you can access conveniently from almost any internet-connected device.
Employee Scheduling
When I Work has robust employee scheduling tools, which is a key functionality for restaurants, retailers and other hospitality businesses. We like that users can easily create employee schedules with the platform's intuitive schedule builders and schedule templates, and automate scheduling as needed. Managers can view multiple schedules, time frames and locations, and set scheduling rules to ensure compliance with federal and state laws. When I Work supports shift swapping, so employees can conveniently release, bid on and swap shifts with each other.
The Advanced plan supports advanced scheduling features, such as advanced scheduling rule settings, role permissions, labor sharing and custom shift reports. This is competitive with what other time and attendance vendors offer.
Multidevice Support
With When I Work, you and your employees can turn any internet-connected device into a fully integrated time clock instead of having to purchase additional attendance-tracking equipment. Employees can use company-owned computers and iPads, as well as their personal mobile devices and laptops, to clock in and out for reliable and hassle-free time tracking and attendance recording. If the devices you've approved for use include a camera, you can also have team members snap a photo of themselves when clocking in to ensure they've arrived on time and in the right place for their shift. We especially appreciate this feature because it can help prevent buddy punching, a form of timecard fraud.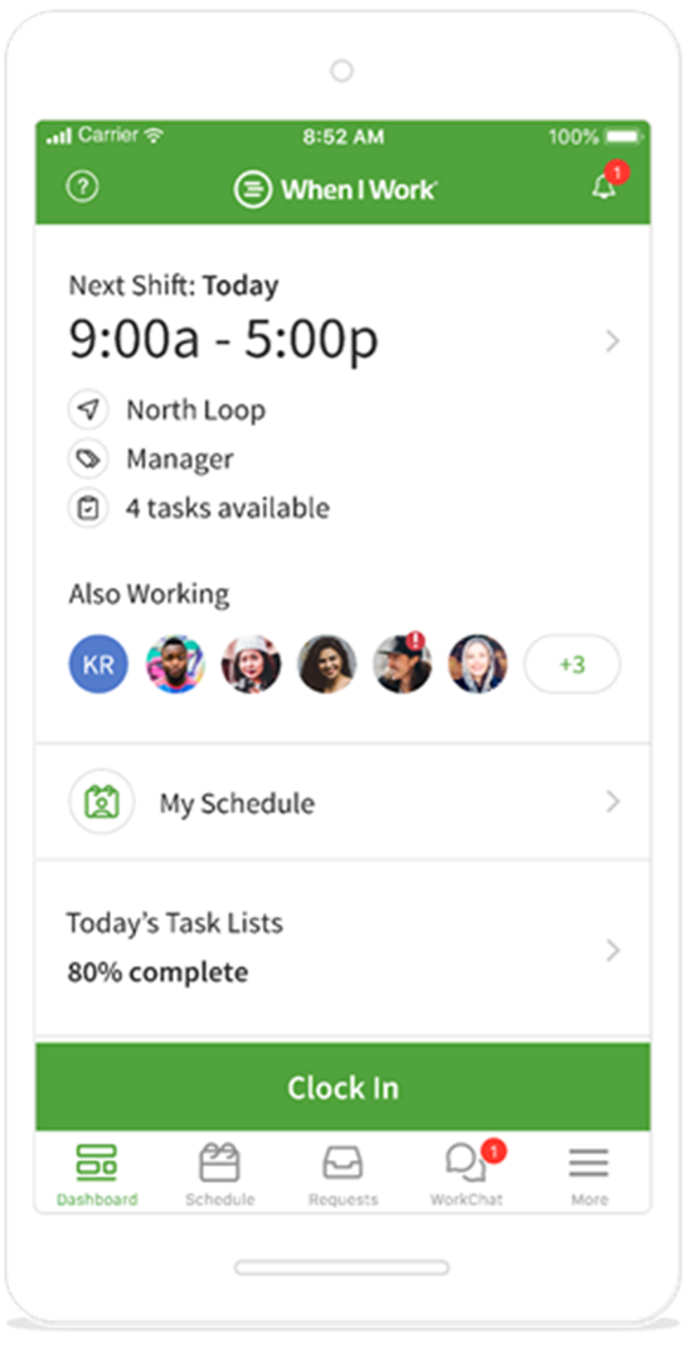 When I Work's mobile clock-in dashboard features scheduling, requests, work chat and more tools. Source: When I Work
Time-Off and Overtime Management
Tracking the number of hours an employee has worked can be an ongoing challenge, particularly with flexible schedules that may be swapped midweek. When I Work's tools can help you manage employee time off and even track and deduct employee breaks. The software can also spot employee overtime before it happens and correct it as needed, thus helping you control labor costs and comply with employee overtime laws.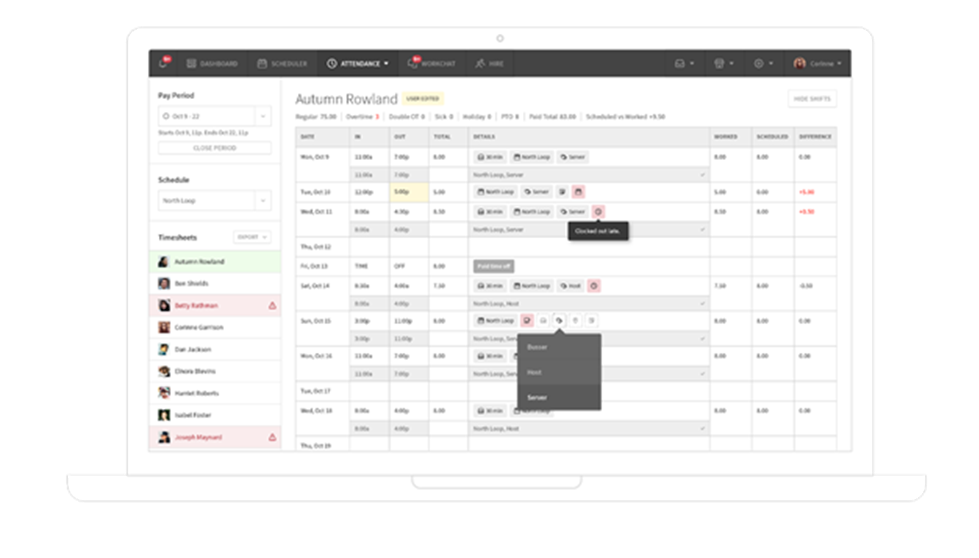 When I Work's time sheets include overtime warnings. Source: When I Work
Internal Communication
Old-fashioned scheduling methods often give employees little choice in their shifts or require managers to spend an exorbitant amount of time communicating back and forth with numerous team members to find a schedule that works well for everyone each week. That problem doesn't exist with When I Work. The system enables managers to communicate with staff through the straightforward platform and lets employees share feedback after each shift and request extra help during a shift when needed. Users can also share documents and links and receive notifications to make sure everyone at the business is always on the same page. This wasn't something we saw all competitors offer, and we found it useful for those in the restaurant, retail and hospitality sectors.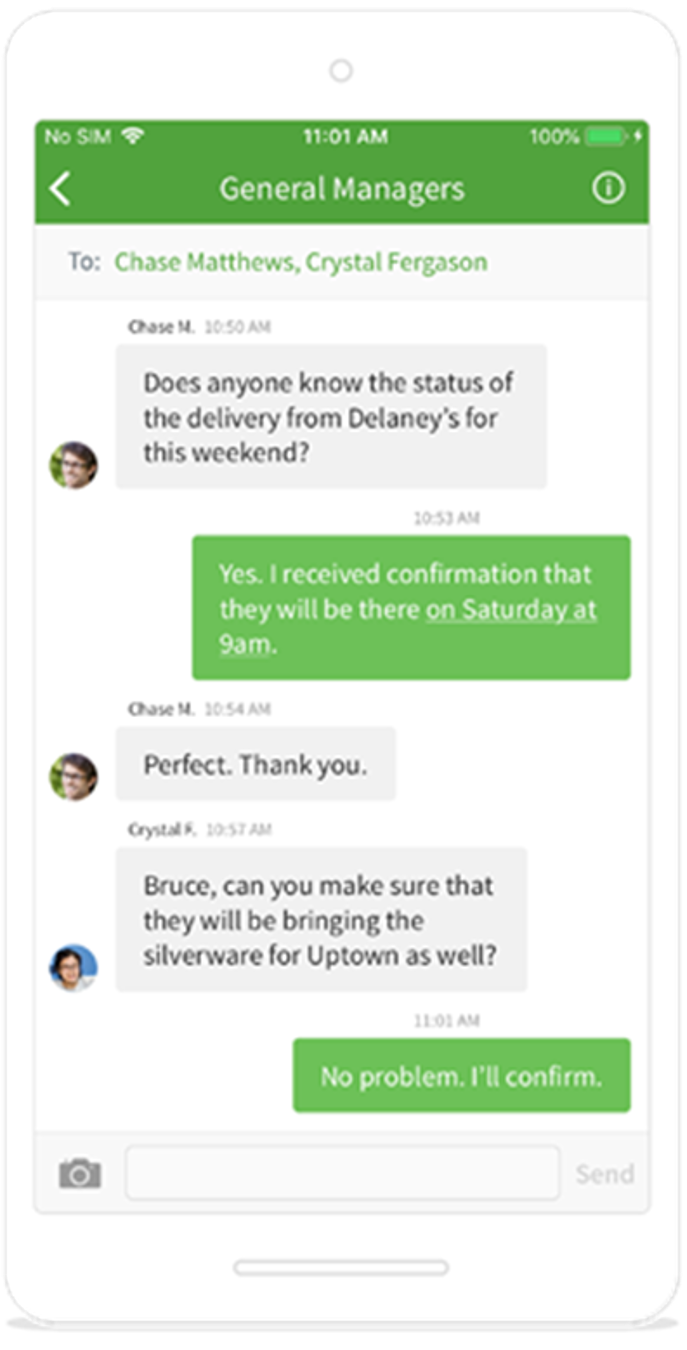 When I Work's team messenger allows for live communication. Source: When I Work
Pricing
When I Work is one of the most cost-effective solutions we've seen for time and attendance tracking as well as scheduling. Small businesses can choose between two employee scheduling plans — Standard and Advanced — each of which can support up to three administrators and unlimited users.
Both plans offer essential capabilities, like team messaging, time off management, availability management and standard employee scheduling features. The primary difference between the two is that the Advanced plan also offers advanced scheduling features, like role permissions, labor sharing, custom shift reports, advanced scheduling rules and API key access.
Time and attendance services (e.g., time clocks, break management, time sheets, overtime alerts, reports, payroll integration) are considered add-ons to these base plans, but the packages are still quite affordable, as seen below.
Standard plan
$2.50 per user per month for scheduling and messaging services
$4 per user per month for scheduling and messaging services with time and attendance services
Advanced plan
$6 per user per month for scheduling and messaging services
$8 per user per month for scheduling and messaging services with time and attendance services
Unlike more robust HR software, like Paychex Flex and Rippling, When I Work is focused strictly on scheduling and time clock services, allowing the company to keep its prices low. Furthermore, pricing terms for When I Work are flexible, with month-to-month and annual payment options. You can even cancel your service at any time, and you'll be billed only for the current month.
When I Work offers a 14-day free trial, which is standard among most time and attendance companies we reviewed. As with most business software and services, we highly recommend taking advantage of this test period to make sure you're satisfied with the product before spending any money on it.
When I Work's core functionality is employee scheduling. However, users can add time and attendance services for an additional low monthly fee.
Implementation/Onboarding
When testing out the When I Work software, we were especially pleased with its easy implementation. Getting your small business up and running will likely take hours or days, not weeks. The straightforward process includes adding employees to your new When I Work database one at a time or importing a list of employees via a CSV or Excel file. From there, you create your organization's roles (e.g., host, server, sous-chef, line cook, dishwasher, bartender) for each job site.
Once you define your teams, a drag-and-drop tool makes it simple to fill all of the roles you'll need on any given day, week or month. Managers also have access to schedule templates that they can reuse each week for set shifts or modify slightly to ensure they don't have to build schedules from scratch each week. If you operate multiple locations or serve clients at their homes, a map to the job site will always be included with your team's schedules to ensure everyone knows exactly where they're supposed to be working during their upcoming shifts.
Customer Support
Unlike some of the other time and attendance vendors we reviewed, When I Work doesn't offer phone support. Instead, customer service is limited to online communication via chat and ticket submissions. To reach a customer support specialist, you need to be logged in to your When I Work account. Live chat and ticketing are available seven days a week but not 24/7. This could be problematic for restaurants or hospitality companies that need assistance during nighttime hours, although the weekday customer service team is available to help with tickets until 11 p.m. ET. Still, When I Work's website says a response could take "a few hours."
During our analysis, we found When I Work's online support resources to be competitive with industry standards. There is a comprehensive self-help center with learning tools for managers and employees, including webinars, video training modules, blogs and guides. These materials can help you learn how to complete tasks such as navigating the web application, getting your schedule via text and editing time sheets.
Limitations
When I Work's lack of phone support could be a significant drawback for some businesses. However, given the incredibly low cost of the service, it's not totally surprising that the vendor  doesn't have a fully staffed call center to assist with technical issues. Online support via chat and tickets is available during business hours and beyond on weekdays and more limited on weekends and holidays. If phone support is essential for you, you may want to consider a vendor that offers that type of customer service. Our review of TimeClock Plus, for example, found that phone assistance is available to all users Monday through Friday.
For businesses in health care and assisted living, it can be valuable to know what type of work each employee is performing at a client's location on a daily or hourly basis. Unfortunately, When I Work doesn't have the type of detailed job- or task-tracking features required to support granular oversight. While this may not be a major downside for restaurants and retail businesses, many other shift-driven companies with employees working at various locations may want to explore other time and attendance options that offer job tracking, such as QuickBooks Time. Learn more in our detailed QuickBooks Time review.
Methodology
When searching for the top time and attendance solutions on the market, we watched product videos, participated in demos, and used free trials to test the platforms when possible. We considered the hardware, usability, price, setup process, mobile access, integrations and features of each software option. These features included time-tracking tools, time-off management, GPS and geolocation capabilities, payroll integrations, reports, job tracking, and notifications and alerts. To find the best system for restaurants and retail businesses specifically, we focused our research on time and attendance systems that feature scheduling as a core component.
FAQs
When I Work is very secure, leveraging the security and flexibility of Amazon Web Services. The vendor utilizes mobile two-step verification, enforces transport layer security on web and mobile access, and transmits and stores data securely with daily backups. When I Work also undergoes regular audits, has 24/7 monitoring and provides more than 99.9 percent uptime for its customers.
More than 200,000 workplaces across 50 countries use When I Work.
No, When I Work does not offer a free version of its software. However, you can try the product free for 14 days with a trial account before having to purchase a subscription plan.
Bottom Line
We recommend When I Work for …
Restaurants, cafes, bars and coffee shops that have hourly employees with irregular shifts.
Small businesses that need to track employees' time worked across multiple locations.
Companies that are looking for a cost-effective solution to manage time and attendance or scheduling.
We don't recommend When I Work for …
Businesses that need customer support by phone.
Companies that want to keep detailed records of the type of work being completed by each employee at a given time.