A lot more goes into compensation management than just giving your employees some money and hoping they will stay. A well-thought-out strategy can be the difference between a mass exodus and long-term employee retention.
The concept of "total compensation" matters. It is where the real battle is fought for top talent. Your compensation management program will partially determine the strategic goals and objectives your company meets annually. Well-run compensation programs ensure pay equity and equality in benefits throughout the organization. It is important for business owners and HR leaders to know how compensation management works and what employees' expectations are so companies can hit the bull's-eye with their compensation programs.
What is compensation management?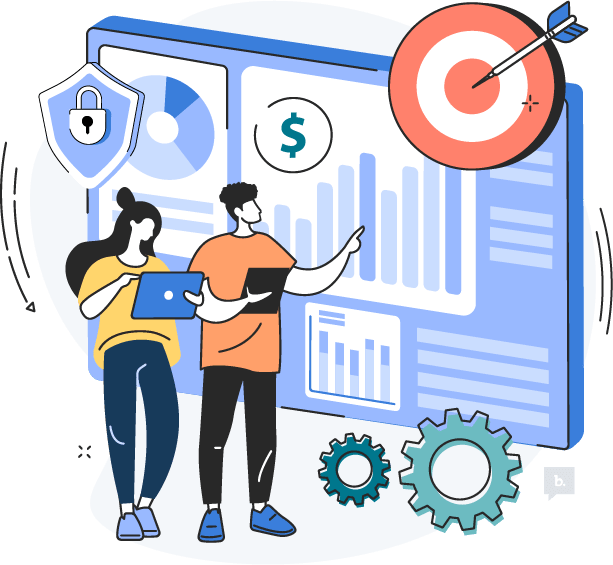 Compensation management is the practice of planning and distributing the overall pay and benefits package to a company's employees. This program ensures that a company's salaries and bonuses remain competitive within the industry and equitable within the organization. It also involves managing company benefit programs and ensuring job classifications are up to date, risks are minimized, and the package meets the overall needs of employees and their families.
A company's compensation program is one of the main reasons employees choose to either remain with an employer or look for a new one.
According to research from the ADP Research Institute, 83 percent of workers worldwide expect a raise in 2023.
Even when employees choose to stay, that does not mean they appreciate or fully understand their compensation package. Employers need to make the effort to help employees learn the true value of their overall compensation package.
The benefits and challenges of compensation management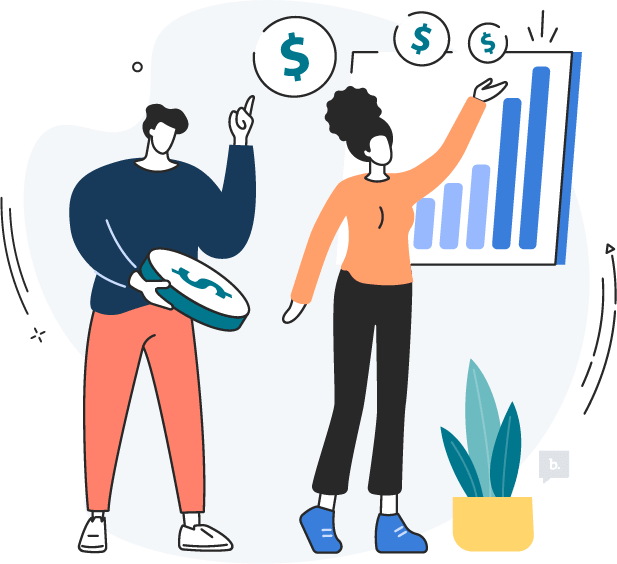 Creating and implementing an optimal compensation structure and strategy can do wonders for your organization, but there are some challenges to doing it. 
Benefits of compensation management 
Here are some of the ways it can positively impact your company: 
Helps you attract top talent: The total compensation package you offer to employees can make your company attractive to top candidates. In fact, according to a Glassdoor research study, nearly two-thirds of respondents said that salary and benefits are two of the most important factors when considering whether to accept a job offer.
Increases employee engagement: Motivated, engaged employees do better work, are more productive and can act as brand ambassadors. Having fair, thoughtful and generous total compensation is a huge motivator and lets employees know that you care about their needs.
Reduces attrition and helps retain key employees: When employees are unhappy with their compensation, they feel undervalued and stressed, causing some to look elsewhere for employment. This means you lose that person's skills, contacts and knowledge, and need to spend more money on recruiting, training and onboarding.
Creates equity: Having a transparent and fair compensation plan eliminates unfair treatment and rewards employees based on their value to the organization. Equity improves morale among employees, contributes to a positive company culture and significantly reduces the company's exposure to employment-related lawsuits and regulatory penalties.
Improves the company's reputation: When you treat your employees right, people find out about it. It can generate additional sales from customers, positive press coverage and goodwill from communities.
Challenges of compensation management
Although stellar compensation management confers a host of benefits on companies, it also has its challenges:
It's expensive. Employee compensation accounts for about 70 percent of the average company's total operating costs, according to the U.S. Bureau of Labor Statistics. Increased compensation costs take a bite out of the company's profit, so it's important to balance both needs.
It can be subject to bias. Ultimately, despite your best efforts, compensation decisions are made by humans and they can be biased. To reduce this as much as possible, institute objective and transparent compensation policies, review compensation for equity regularly and train managers on unconscious bias.
It requires administration and oversight. Since compensation has so many components and employees are evaluated on a variety of metrics, compensation management can be quite complex. If you do not have the resources to have a human resources manager or department, consider a top HR outsourcing company or utilize a payroll service with built-in AI and pay equity features. See our best picks for payroll services for more information.
It can be difficult to describe to employees. A complex system can be challenging to explain to employees, and since one of the main benefits of compensation management is to motivate employees, clear communication is crucial. When communicating with employees and new hires about compensation, break it down into monetary, nonmonetary and benefits sections. If you have bonuses or any kind of performance-based pay, be clear about which performance metrics employees need to achieve in order to qualify for it.
When employees get a bonus or other performance-based compensation, congratulate them publicly and say why they received it so that others can be motivated to do the same.
What are the main types of compensation?
There are four primary types of direct compensation:
Hourly pay
Salary
Commission
Bonuses
There is also indirect compensation, which includes retirement benefits, health insurance and paid time off. Factoring direct and indirect compensation together helps determine total compensation – the full remuneration a company pays to its employees.
In addition to salaries, hourly pay, bonuses and commissions, total compensation includes the value of any benefits employees receive. These are some of the most common attributes within the total compensation spectrum:
Paid time off (vacation days, sick days and holidays)
Profit-sharing distributions
Insurance (medical, dental, disability and life)
Tuition assistance
Child care assistance
Retirement plans
Gym memberships
Relocation expenses
Learning and development offerings
Career advancement opportunities
Stock options
Other non-cash benefits
While these aren't all the options that can be included in a compensation package, you will likely need to offer at least some of the above perks to keep employees engaged and remain competitive within your industry. [Read related article: 7 Ways to Create a Happy and Motivated Workplace]
Some employers provide employees with a total compensation report that details all of the compensation they receive. Here's an example of a total compensation statement from Genesis HR Solutions: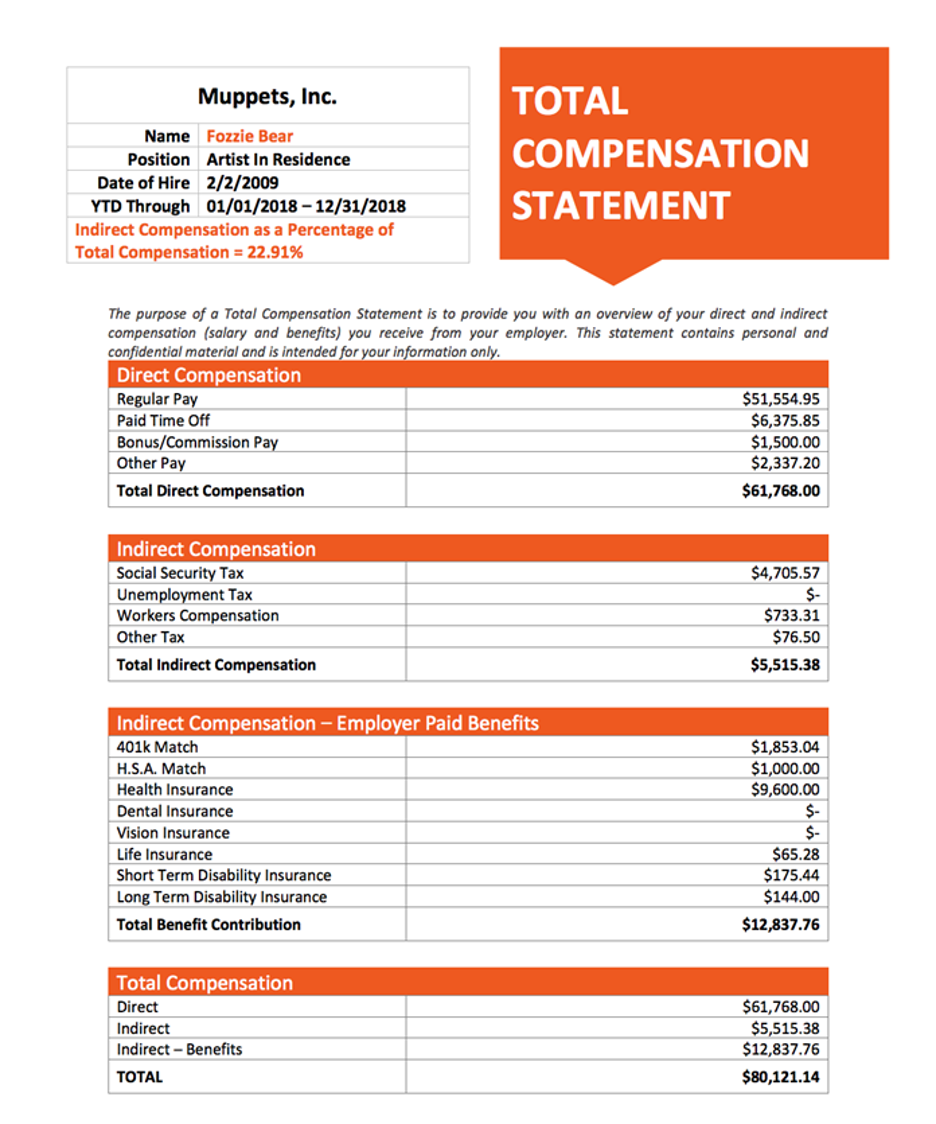 Source: Genesis HR Solutions
How is compensation determined?
HR managers typically use a two-part process to assess employee compensation. The first part is done internally. It includes determining not only what the company should pay, but what it can afford to pay.
The second aspect of this process involves external factors. For example, what do market surveys tell you? What are your competitors paying? How do regional differences in the cost of living impact total compensation? Are there hiring challenges in certain markets?
These are some of the factors in compensation rates:
Research: Conduct market research inside and outside your industry to gauge what's normal and on trend.
Competitive strategy: You should offer enough to not just stay on par, but attract top talent from your competitors.
Collective company salaries: You'll want to consider your company (and each job level within it) as a whole in your salary strategy. As a general philosophy, you may want to target the 25th percentile within each job category.
Marketplace drivers: If you're recruiting for employees with hard-to-find skills, you might need to pay more to get them on your team.
Employees are often paid based on an hourly rate or annual salary, while independent contractors are typically paid per job or a flat fee.
Why is compensation important to HR?
Compensation management plays a significant role in HR, as it directly ties in with employee retention, the hiring and onboarding processes, employee performance, and team engagement throughout the company. Many larger companies have not only HR managers but also compensation managers to lead this process.
At its heart, compensation is the foundation of employee motivation. So, while HR assists supervisors with behavioral and performance matters, they can also factor employee performance into compensatory decisions.
What is compensation management software?
Compensation management software (whether a stand-alone solution or part of a larger HR software platform) is enterprise software that helps HR curate, manage, calculate and budget for employee salaries. This type of software can benefit businesses of all sizes. The best, most comprehensive compensation software platforms are designed to bring teams closer together and to present information quickly, accurately and cleanly.
Compensation management systems tend to be handled by HR teams, but depending on your permissions and security settings, they can be accessible to managers, supervisors or lead workers whenever necessary. Much of the time, compensation management data are accompanied by employee performance data. These combined data sets can help determine promotions, bonuses and annual increases.
These are some of the more popular HR software platforms with compensation management abilities:
| Company | Excels at |
| --- | --- |
| Paychex Flex | Remote teams, mobile app, employee financial wellness  |
| Rippling | Easy implementation, benefits administration, applicant tracking |
| Gusto | Payroll, employee self-service app, PTO policy management |
| GoCo | Custom workflows, creating employee documents, custom employee messaging |
| BambooHR | Performance management, recruiting tools, streamlined onboarding |
Compensation management FAQ
A deferred compensation plan is an agreement between an employee and employer in which the plan withholds a part of the employee's income until a specific date. The lump sum is then paid out to the employee on that date – typically around the time the employee retires. Some common examples of deferred compensation plans are retirement plans, pensions and stock options.
Several regulations affect how you compensate your employees. For example, minimum wage requirements, overtime rates and bonus payments are all regulated. There are also regulations on how many hours certain employees can work, as well as equal pay for equal work. The Fair Labor Standards Act establishes many of these regulations, although there are other federal and state laws to consider as well.
Human resources leaders should regularly analyze employee compensation rates for current and future employees to ensure they are abiding by all current federal and state laws, and that the rates they offer are competitive with the industry standard. Performing competitive analyses and offering competitive rates will help attract and retain top talent. HR leaders should also ensure that employees are being paid the correct amount in a timely and reliable manner.
There are different types of performance-based compensation, but they all share in common an "if-then" structure. If the employee's performance reaches a certain benchmark, then the employee receives additional compensation. Employees are therefore motivated to hit the targets. Examples include:
Sales commissions
Department or companywide bonuses when targets are reached
Bonus for customer service rep based on customer satisfaction
Profit sharing
Stock options
Non-monetary prizes
Outline the jobs in the organization. This should include job title, responsibilities, value of those responsibilities to the organization, position rankings and tiers within each job area (entry level, experienced, supervisor, manager, etc.).
Research the industry compensation rate for each job as a benchmark. Calculate the minimum, maximum and median amount for each job.
Create pay ranges for each job. Using the industry rate you just calculated, compare it to your current compensation budget. Pay ranges should take into account the skill level required, the level of responsibility involved, the amount of authority in the role and years of experience in the job.
Implement pay ranges across the company and communicate to employees about them. Since the pay ranges are applied equally and are based on specified criteria, they will be more fair than pay decided by managers on their own.
Patrick Proctor and Skye Schooley contributed to this article.