RingCentral Omnichannel CX is out-of-the-box cloud software for companies wanting to offer the best customer services and technical support in-house. Ideal for companies wanting to train and motivate agents to deliver quality outcomes over the phone & online.
Pros
It's easy to use. This ensures your team won't have a steep learning curve.
The monitoring, analytics and reporting tools are thorough and well-thought-out, giving supervisors all the insights they need to improve agent performance and contact outcomes.
We love the queue callback system. Callers leave their numbers and the system calls them back when it's their turn.
Cons
Really useful features — like interaction analytics, feedback management, the dialer and CRM integration adaptors — cost extra.
The lack of a free trial and transparent pricing is disappointing.
Looking for more options?
Check out The Best Call Center Software In 2023 business.com recommends.
RingCentral's Omnichannel CX is our choice as the best call center software for inbound customer services teams. Of all platforms we reviewed, it provides the best overall package of analytics, reporting and agent scripting options. It offers sophisticated agent training and workforce management tools to improve efficiency, as well as a great system to alert supervisors in cases where agents may need further support.
You can install and get going with Omnichannel CX within a day. There are also over 300 different native integrations with third-party vendors like Salesforce, which means that together with Omnichannel CX's API suite, you can add new functionality as you need it.
RingCentral Omnichannel CX Editor's Rating:
9.1 / 10
Pricing

7.5/10

Build-in features

9.5/10

Integrations

9.5/10

Ease of use

9.5/10

Call routing options

9.5/10
Why We Chose RingCentral Omnichannel CX as Best for Inbound Customer Service Teams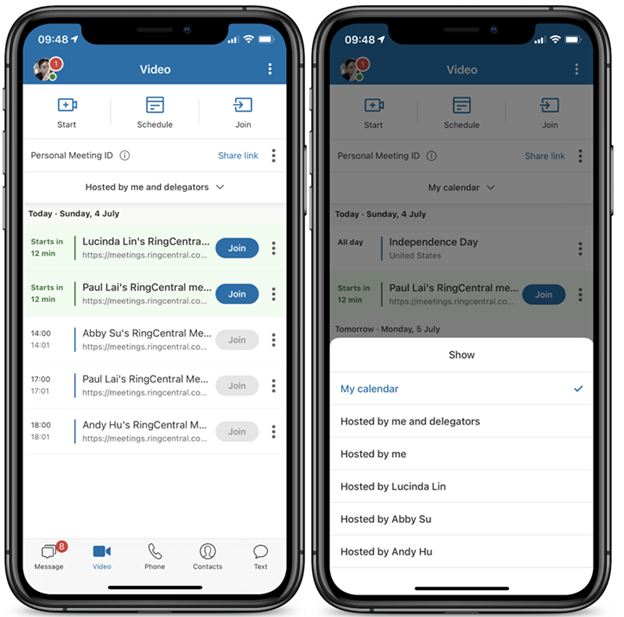 Screenshots of the RingCentral app video function. Source: RingCentral
RingCentral's Omnichannel CX functionality makes it ideal for inbound customer services and technical support teams — although the system can do much more if you want it to. Its impressive range of features and tools has everything a supervisor needs to get the best out of their team, including the ability to listen in and help out on a call when needed. We really like the customer insights the system delivers through the linguistic and semantic analysis of conversation transcripts going back 90 days to spot trends.
RingCentral has skillfully integrated SMS, email, social media messaging and more into its clean, user-friendly interface. Its gamification option, which provides incentives for agents to hit their KPIs, is really well-executed as is its supervisor-led on-screen scripting options to help agents in-call. Out of all the platforms we reviewed, RingCentral has the most intelligent inbound call and message routing options, which greatly increase the chance of first-call resolutions.
Users also get unlimited calls in the U.S. and Canada. If your teams are very busy, callers can leave their numbers and RingCentral will call them back when it's their turn in the queue. So, that keeps customers happy by not having to listen to elevator music and the call costs you nothing.
You can get one of RingCentral's AI-enabled virtual assistants to handle initial conversations via the web live chat function on the platform. The system will then transfer the customer to a live agent who can continue the conversation in the chat window.
Ease of Use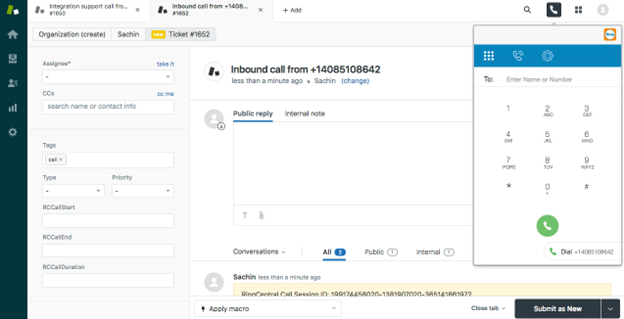 Responding to a ticket on RingCentral Omnichannel. Source: RingCentral
Before you can use RingCentral's contact center solution, you also must be using RingCentral MVP, the company's feature-rich, cloud-based unified communications platform. Users can access RingCentral via a web-based dashboard or downloadable apps. Desktop apps are available for Windows and Mac and mobile apps for Android and iOS.
Supervisors start at the My Zone interface of the contact center platform. From the menu on the left, they can control omnichannel routing, access workforce engagement tools, and get into the data and analytics section as well as general settings. They'll be able to assign shifts to agents and add them to specific call groups (for example, by department or by particular skill). On the right, a dashboard shows the latest performance and activity figures from the team.
Agents see the MAX screen, which allows clients to transfer calls, set up video conference calls, categorize calls, set reminders for themselves or a colleague to call a customer later and access the address book to make outbound calls. It's also where they interact digitally with customers via email, SMS, social media and more. They can also request time off, and send and receive internal messages from MAX. 
We also like how well RingCentral syncs with other apps and how much of the platform is customizable.
Features and Services
RingCentral offers a number of standout call center features and services.
Quality Analytics and Reporting Tools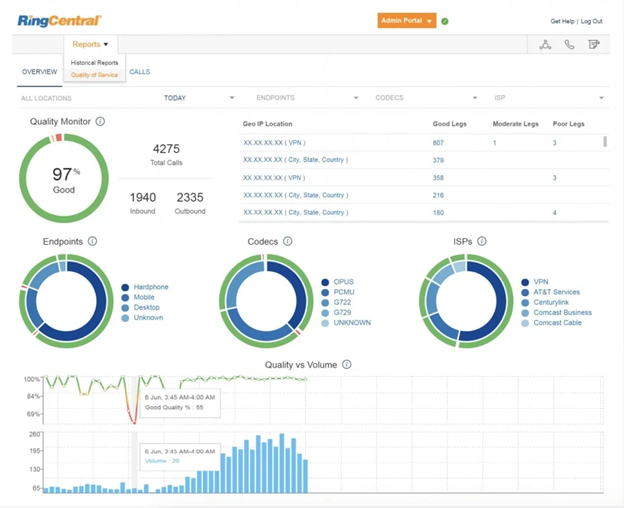 RingCentral's supervisor portal constantly tracks activity and interaction quality. Source: RingCentral
RingCentral's emphasis in Contact Center is helping users secure the highest chance of getting a first-call resolution with their customers. To do this, it tracks call and message quality, and agent development over a period of 25 months (you can request a longer time if necessary). Within the system, supervisors can interrogate all calls to find, for example, instances of customer frustration. Supervisors can then isolate those calls and listen back to recordings to analyze how an agent handled the situation.Customer needs and priorities shift over time. To reflect this, the system transcribes all phone calls and records digital conversations. We like how the built-in sentiment analysis AI presents the words trending over the past 90 days as a word bubble. This is a convenient way for supervisors to check for trending issues among customers and see how agents are currently handling them.
Supervisors have access to live analytics and historical reporting on a wide range of measures via their dashboard at the team and individual levels.
You can type in keywords (for example, a product name or a fault that customers call in about) to isolate calls on those subjects for review too.
Agent Training and Support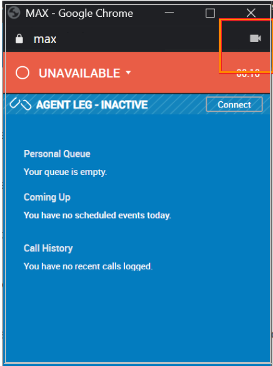 RingCentral's MAX panel for agents. Source: RingCentral
In addition to listening in on calls, supervisors can also "whisper" during a live call to pass advice onto an agent without the customer hearing them. Alternatively, they can "barge" the call so both parties can listen in. Hearing how supervisors deal with customer situations is very important in an agent's development and RingCentral does this well.
We like how supervisors can create scripts for each part of the call that agents can follow when they're speaking with a customer. RingCentral's virtual bots use AI-scripting to handle initial SMS and digital messages to relieve workload from call center staff. The bots try to solve the issue first but, when they get stuck, they pass the query on to an agent.
Supervisors can also set in-call targets and tasks, for example requiring agents to ask and answer questions in a particular way. They can set up check sheets that agents tick off every time they follow an instruction for which they get a boost on their call score. To save time, supervisors can get AI to validate whether an agent correctly awarded themselves ticks on a particular call.
Supervisors have access to 90+ pre-built reports. They can also create reports of their own, which is important in assessing call quality and training needs. Historical data allows supervisors to check whether or not their agents have improved in areas of concern over time.
Workforce Management and Engagement
RingCentral features a full suite of workforce management and engagement tools. Supervisors can assign shifts to agents, which they then can see in their MAX panel. With a supervisor's permission, agents are free to swap shifts with each other.
You can also predict which staff you'll need and how many should be on particular shifts if you integrate historic CRM and calling data into RingCentral. This functionality is becoming more common on call center software platforms, as we found in our review of Five9.
Omnichannel Call and Message Routing
RingCentral integrates with SMS/MMS, messaging apps (like Facebook Messenger), social media, video chat and email.
We were impressed with the functionality of the platform's omnichannel routing. For example, supervisors can assign agents to different teams and groups. With this, you can tell RingCentral that an agent is an expert in a specific product. When customers call in and use the IVR to request help on that product, the system automatically routes calls to agents with that skill. In times of extreme demand, you can temporarily opt agents into different groups to keep response times down. By integrating your CRM to RingCentral's APIs, you can route calls directly to a customer's dedicated point of contact, if they have one.
And it's not just phone calls. Different routing patterns can be set to make sure that the right operator speaks to a customer no matter how they get in touch. RingCentral's AI routing, which factors in email metadata, message types and semantic analysis, is also impressive.
RingCentral also offers queue callback. Rather than waiting to speak to an agent, a caller can leave their number via the interactive voice response (IVR) system and keep their place in line. When it's their turn, the IVR sends the caller's details to the most appropriate agent who then calls them back.
One important feature of the system is the ability to leave brief written summaries of calls made by an agent that they or a fellow agent can refer to the next time they speak to that particular customer.
If you intend to run outbound telemarketing campaigns or run surveys, supervisors have the choice of a predictive, proactive or progressive dialer.
Third-Party Integrations
There are over 300 natively integrated apps available for RingCentral via its marketplace, ranging from real-time AI assistants to noise-dampening software to make agents' voices clearer over the phone. Here are a few of the integrations we think users will find valuable.
Agent Real-Time Assistant app: This integration presents pop-up training notes based on what a customer is saying during a live call.
Cognitive View app: This app assists in compliance, risk and fraud detection.
Noise Firewall app: In case an agent and customer are having a hard time hearing each other on a call, this integration quiets background noise.
RingCentral Call Center Pricing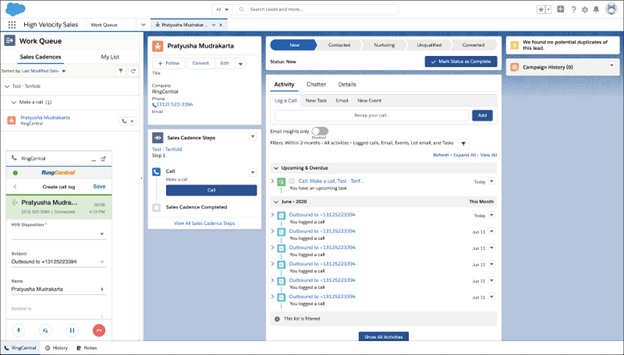 RingCentral's integration with Salesforce High Velocity Sales. Source: RingCentral
RingCentral offers monthly and annual contracts. Users choosing the annual contract can save 33 percent off the monthly price. Each contract is priced per user, per month and includes unlimited U.S. and Canada calls.
Users have the choice of four different contact center service plans to choose from. The plans differ by price and the features and services included. Here is a quick breakdown of what each plan offers.
Essentials: ACD with skills-based routing, advanced IVR, click-to-call, 90 reports, 300 APIs for integration and basic recording.
Standard: Everything in the Essentials plan, plus advanced recording and digital channels and omnichannel routing.
Premium: Everything in the Standard plan, plus quality management and screen recording.
Ultimate: Everything in the Premium plan, plus workforce and performance management.
Available add-ons for all plans include interactions analysis, feedback management, predictive, progressive and preview dialers, and Salesforce, Microsoft, Zendesk, ServiceNow, Oracle, SugarCRM, SAP, NetSuite, and Bullhorn CRM integration adapters.
All pricing is customized for each business based on their needs, so contact RingCentral directly for specific pricing details.
Implementation and Onboarding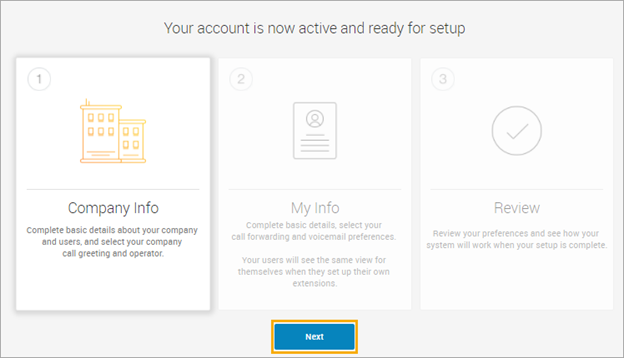 Set-up screen once you've activated your RingCentral account. Source: RingCentral
Before you install RingCenral's call center system, you'll need to whitelist domain names, IP addresses and subnets, and TCP/IP ports, as well as all the applications you're using on your network and firewall. RingCentral sends you an activation email and it's at that point you can begin building your call center via its Admin Express Setup tool.
First, set up users and a company greeting, and then assign an operator number. After that, you'll set up call forwarding and your voicemail. Then you'll have options to set up various other options, including internal messaging, video calling, webinars and faxing.
Initial set-up should take about 30 to 60 minutes. After you're done with the basics, you'll need to spend some time digging deeper into the system so you can configure it the way you want.
RingCentral's developer center is among the best with APIs for voice, SMS, team messaging, video, meetings, fax, data, analytics, AI, configuration and webhooks.
Customer Support
RingCentral provides 24/7 customer service by phone, live chat and a ticketing system. Customer service and technical support are included in your service, unlike what we found in our review of Twilio Flex, which charges extra for it.
RingCentral offers an extensive knowledge base. We like the inclusion of online courses and demos, including a series of live and recorded webinars. There is also a range of user guides on topics such as how to set up phones, how to connect to Salesforce and training plans for agents.
Limitations
While it's great that supervisors can temporarily assign agents to different skills and calling groups in times of demand, agents can't do that themselves. If this ability is important to you, check out our review of GoTo Contact Center, which lets agents manage their own status in queues, log themselves into queues to help out, and, if a customer remains unassigned because their call doesn't fit into a particular category, agents can assign themselves to receive those calls and messages too.
We also would have preferred if RingCentral shared more of its pricing information, similar to what we found in our review of RingCentral MVP, its top-rated business system. A better idea of pricing is helpful to business owners so they know whether or not the service will fit into their budget.
Methodology
To help small businesses choose call center software, we examined the top products on the market. In each case, we evaluated the system's usability, features and setup process, along with the vendor's pricing structure and customer support options. We took into account inbound call center and outbound communication functionality, the availability of integrations, reporting tools and self-service capabilities. We participated in demos and free trials whenever possible to better understand the software. To find the best call center system for inbound customer service teams, we looked specifically and tools available for agent training, the available reports and analytics and available customer service integrations
FAQ
In call centers, omnichannel means the ability to send and receive calls and messages via multiple routes including phone, email, SMS, MMS, social media private messaging, messaging apps (like WhatsApp) and video calling.
Although many Americans prefer to communicate by phone, many others, especially, millennials and Gen Zers prefer a digital experience. By opening your company to as many communication channels as possible, you make it easier for customers to order from you as well as service them post-sale.
Bottom line
We recommend RingCentral Omnichannel CX for …
Companies that want an easy-to-use "out-of-the-box" call center with an emphasis on customer services and agent training.
Businesses already active on social media and MMS that want to be able to see all customer interactions in one place.
Companies that want inbound and outbound capabilities for a fixed price every month regardless of calls made.
We don't recommend RingCentral Omnichannel CX for …
Companies looking for a communications platform on which they can build their own call center system.
Businesses unwilling to pay additional charges, on top of call center software and CRM fees, for an adaptor to get them to integrate.