Kronos Review
By Chad Brooks
Last Modified: March 5, 2019

Kronos' timeclock allows staff members to clock in and out using a finger, proximity reader or badge swipe.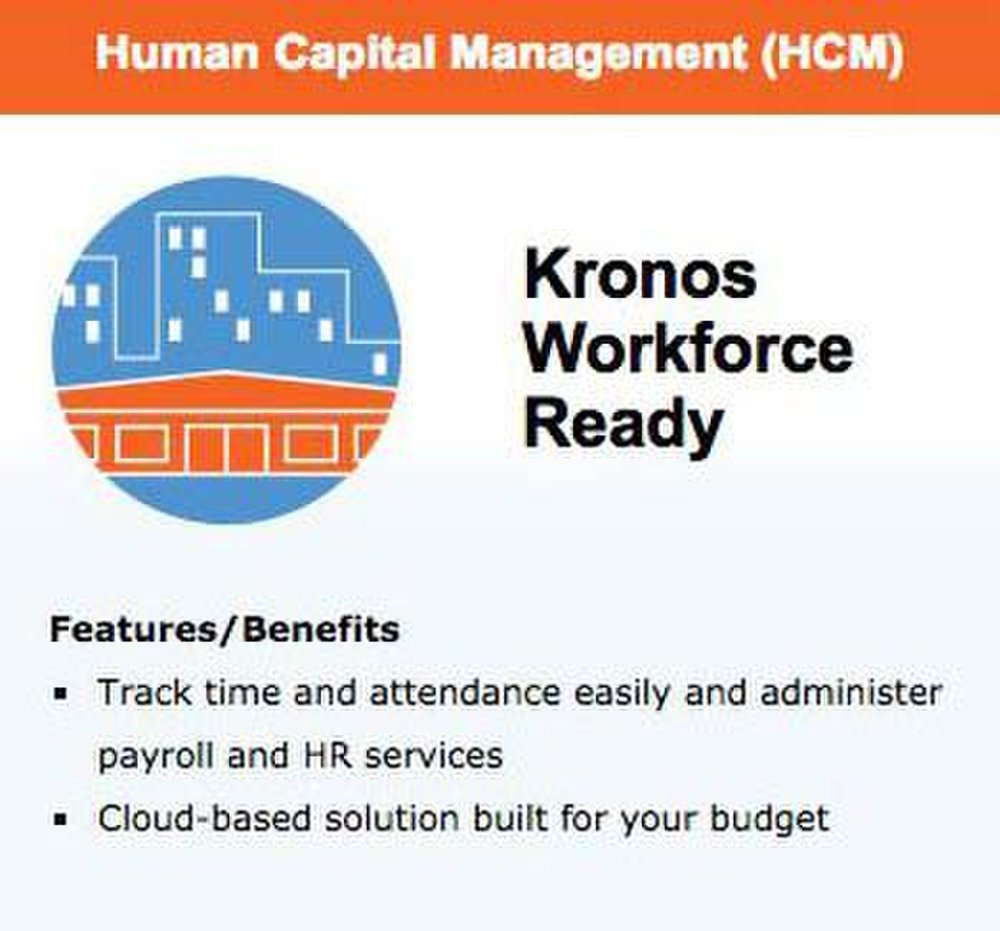 This software helps you track hourly employees' time and attendance using its cloud-based software.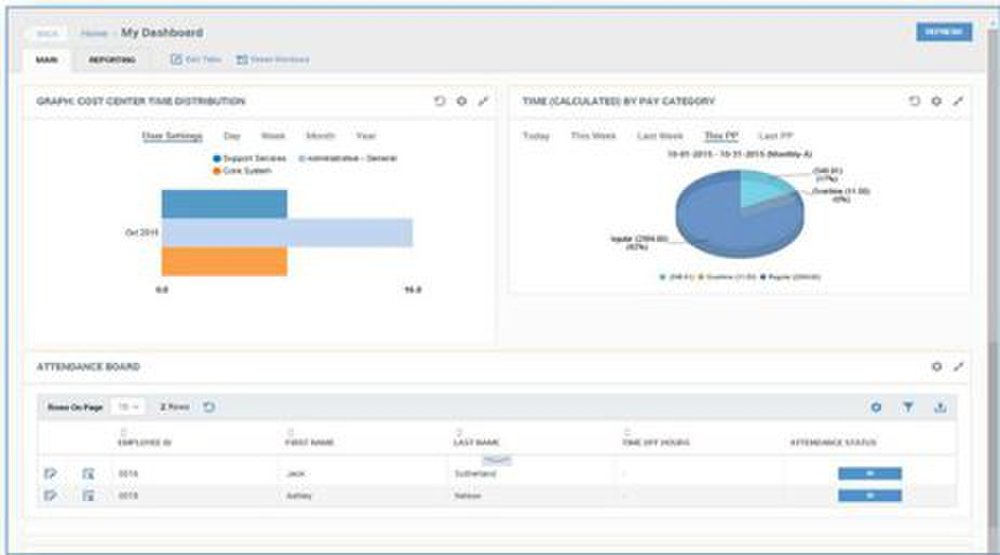 The main dashboard shows time distribution, pay by category and attendance records.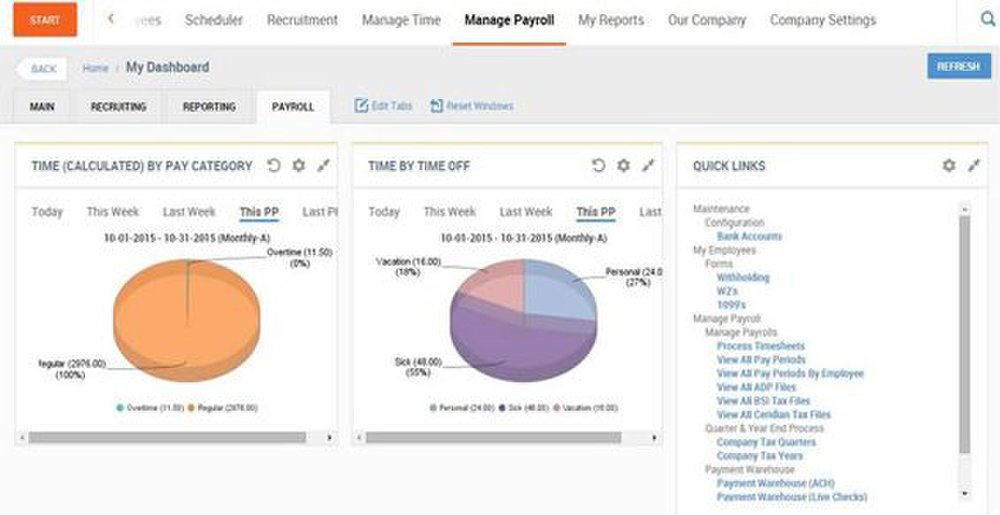 Pay categories and time-off information displays as a graph on the payroll screen.

The resource library has important information about using this time tracking software.
Workforce Ready Time Keeping is part of the Kronos' cloud-based Workforce Ready suite of services. The time and attendance system offers all the features businesses need to manage their employees' time and schedules, such as multiple ways to clock in and out and paid time off management and scheduling. Employees can clock in and out and manage their other time needs from timeclocks, web browsers and mobile apps. The system, which can be used by small- to medium-size businesses in various industries, also tracks time-off accruals, and has a notification system and audit trail that helps you comply with labor laws. For these reasons, Kronos is our choice as the best time and attendance system for time tracking and management.
View all our recommendation for time and attendance systems on our best picks page.

Pricing and Terms
Workforce Ready Time Keeping is a cloud-based system that's pricing model is based on monthly fees. It is important to note, however, that Kronos only directly sells the system to businesses with more than 100 employees. Smaller organizations are referred to a reseller in their area who sells the system on Kronos's behalf.
With this in mind, prices may vary depending on the local reseller you are working with. The local reseller we contacted had a cost structure that included both a base monthly charge and per employee fee. For the system we were quoted a base monthly fee of $40, plus $3.80 per employee. For access to some of the added features, such as the mobile app, notifications, paid time off management, scheduling and a points system to track tardiness and unapproved absences, there was another $25 monthly cost. Besides the monthly fees, there was also one-time implementation costs of $500, plus $4 per employee.
Instead of purchasing timeclocks outright, the local reseller we worked with said they lease them to organizations. These devices ranged anywhere from $100 to $140 per month. However, not all businesses need a physical timeclock, so that cost may not apply to your business. Keep in mind that prices may vary from seller to seller. Be sure to get a price quote for your business from your local reseller (if you're not buying directly from Kronos) so you can get a clearer understanding of the costs involved with this system.
Features
Kronos's Workforce Ready Time Keeping is a sophisticated time and attendance system that provides organizations a wide range of ways to track their employees' time. Here are a few of its strongest features.
Multiple time-tracking methods. The system allows employees to manage their time in multiple ways including via wall-mounted timeclocks, web browsers, telephones, and mobile applications. Businesses can mix and match these options as needed. Some organizations may want employees to only use timeclocks, while others might want to provide more flexibility by giving employees the freedom to manage their time via web browsers and mobile apps.
Touchscreen timeclocks. The Kronos InTouch is a 7-inch, full-color touchscreen timeclock that allows staff members to clock in and out using a finger, proximity reader, or badge swipe. The clocks aren't just for clocking in and out, however. After logging into the clock, employees can also view their schedules and request time off.
Mobile app. The Kronos Workforce Ready mobile app is available on iOS and Android devices. With the app, employees can punch in and out, review their schedules, view time off balances and submit time off requests. In addition, the app features GPS tracking that records the location of employees when clocking in and out. Managers can use the app to see which employees are clocked in and approve time off requests.
PTO management. The system includes complete paid-time off management. It tracks employee accruals based on your company's specific policies, as well as tracks leave according to federal or state policies to keep you in compliance with various regulations. In addition to tracking accruals, system allows staff members to ask for time off and those in charge to either approve or deny those requests.
Scheduling tools. Kronos's Workforce Time Keeping includes a host of scheduling tools. The tools let employers can assign schedules to employees, or employees to schedules. If your daily or employee schedules need to change, you can mass edit schedules for multiple employees at a time. For budgeting purposes, the scheduling tools allow you to track scheduled and projected hours versus worked hours.
Permission levels. This system lets you set different permissions for individual staff members. For example, you can give administrative personnel access to timesheet approval, allowing them to view and approve employee shift-change requests, as well as access to the application's scheduling features, while those without managerial responsibilities can be restricted to only using the system to access their own individual data.
Notifications. Kronos' Workforce Ready includes a notification system. You can set the system so it alerts you to any missed time punches, early or late arrivals and extended lunches and breaks.
Manager dashboard. The manager dashboard provides those in charge with a quick overview of the system and real-time insight in to their labor data. From the dashboard managers can quickly approve timecards, correct exceptions, such as missed punches, respond to time off requests, view vacation schedules and manage daily, weekly and monthly schedules.
Audit trail. The system includes a detailed audit trail that you can access at any time through the reports feature. Audit trails record all changes made in the system. It notes which account user made the change, as well as the time and date the change was made.
DCAA and DOL compliance. Kronos' hosting system complies with Defense Contract Audit Agency (DCAA) and Department of Labor (DOL) regulations. It also meets the necessary security standards required for government contractors. Even if your business doesn't contract with the government, the extra security features mean your data is safe.
Additional services. Depending on your needs, the Workforce Ready platform offers several other services. Businesses can use the Workforce Ready platform to integrate their time and attendance system with payroll and human resources services. Other modules that can be added into the system include talent acquisition, performance management, compensation management, Affordable Care Act compliance and a marketplace that allows users to buy complementary third-party products and services right from the system.
Kronos' online training resources can help you and your employees learn more about specific features in the time and attendance software. You can access the system at any time from your desktop or mobile timesheet app, making it convenient to use when training new employees or reviewing updates to the system.
Kronos offers help and support by phone and email. However, if you work with a local reseller, they may have different contact methods.
Drawbacks
The biggest negative with Kronos doesn't have anything to do with the system itself. While we were impressed with the system and all it has to offer, having to work with a local reseller if your businesses has fewer than 100 employees is somewhat of a drawback. With this structure, you don't have access to Kronos should something go wrong with the system. Instead, you will work with the local reseller to correct any issues. This structure can also cause businesses to have different experiences with the system based on the reseller they are working with.
In addition to the customer support you might receive, the pricing may also vary based on the reseller you are working with. If your business has more than 100 employees, this won't be an issue for you as you will work directly with Kronos when purchasing, setting up and using the system.
Another downside is that Kronos is not an accredited member of the Better Business Bureau. However, the company does have an A+ rating and has only had one complaint filed against it in the past three years.
Other minor drawbacks are that the system doesn't have rugged timeclock integration, so if you have employees in the field, they'll have to clock in and out using the mobile app. There is also no live chat support option, so you won't have a quick way to get immediate answers to your questions.

Editor's Note: Looking for a time and attendance system? Click the Compare Quotes button below to have our sister site Buyer Zone connect you with vendors that can help.

Ready to choose your The Best Time and Attendance Services and Software 2019? Here's a breakdown of our complete coverage:

Chad Brooks
Chad Brooks is a Chicago-based writer and editor with nearly 20 years in media. A 1998 journalism graduate of Indiana University, Chad began his career with Business News Daily in 2011 as a freelance writer. In 2014, he joined the staff full time as a senior writer. Before Business News Daily, Chad spent nearly a decade as a staff reporter for the Daily Herald in suburban Chicago, covering a wide array of topics including local and state government, crime, the legal system and education. Chad has also worked on the other side of the media industry, promoting small businesses throughout the United States for two years in a public relations role. His first book, How to Start a Home-Based App Development Business, was published in 2014. He lives with his wife and daughter in the Chicago suburbs.