TextMarks Review and Pricing
Businesses looking to run effective text message marketing campaigns, capture leads and organize internal communications should consider TextMarks, which offers the ease of use and customer service needed to accomplish a variety of text message marketing goals. Organizations can use this platform's wide array of features and tools to reach more subscribers than they otherwise would through social media and email.

TextMarks and Pricing
The Verdict
TextMarks, our pick for the best customer service, is an accessible and easily customizable platform for businesses to successfully implement mass SMS marketing and communication campaigns.
Check out all of our top picks for text message marketing services for businesses.
Pricing
TextMarks offers four plans that are billed monthly, and there is usually a setup fee of $199. At the time of this writing, though, TextMarks is waiving the fee for new clients that establish an annual contract.
Each plan includes mass text messaging, autoresponders, SMS lead capture, SMS marketing features, comprehensive reporting features, priority email support, delegated group management, advanced list segmentation, access to developer API integration and unlimited subscribers.
TextMarks offers the following pricing plans:
Gold: This plan, which is $199 per month, is ideal for small businesses. It includes up to 10,000 messages per month and up to 15 custom keywords.
Platinum: This plan is $499 per month and is best for growing businesses. It includes up to 35,000 messages per month and up to 20 custom keywords. Additional features include phone support, API integration support, campaign consulting, custom agreements, additional payment options, and Lead-to-Salesforce CRM. (This feature automatically captures your leads in Salesforce that text your keywords.)
Enterprise: This plan, which costs $999 per month, is ideal for large businesses, agencies and distributed organizations. It includes up to 100,000 messages per month and up to 30 custom keywords. The Enterprise plan includes all of the features in the Platinum plan, a direct account manager, advanced customization, extended data retention and custom opt-in flows.
Custom: This plan is available for larger enterprises and includes unlimited messages and keywords. It is billed annually, and the price depends on your business's needs.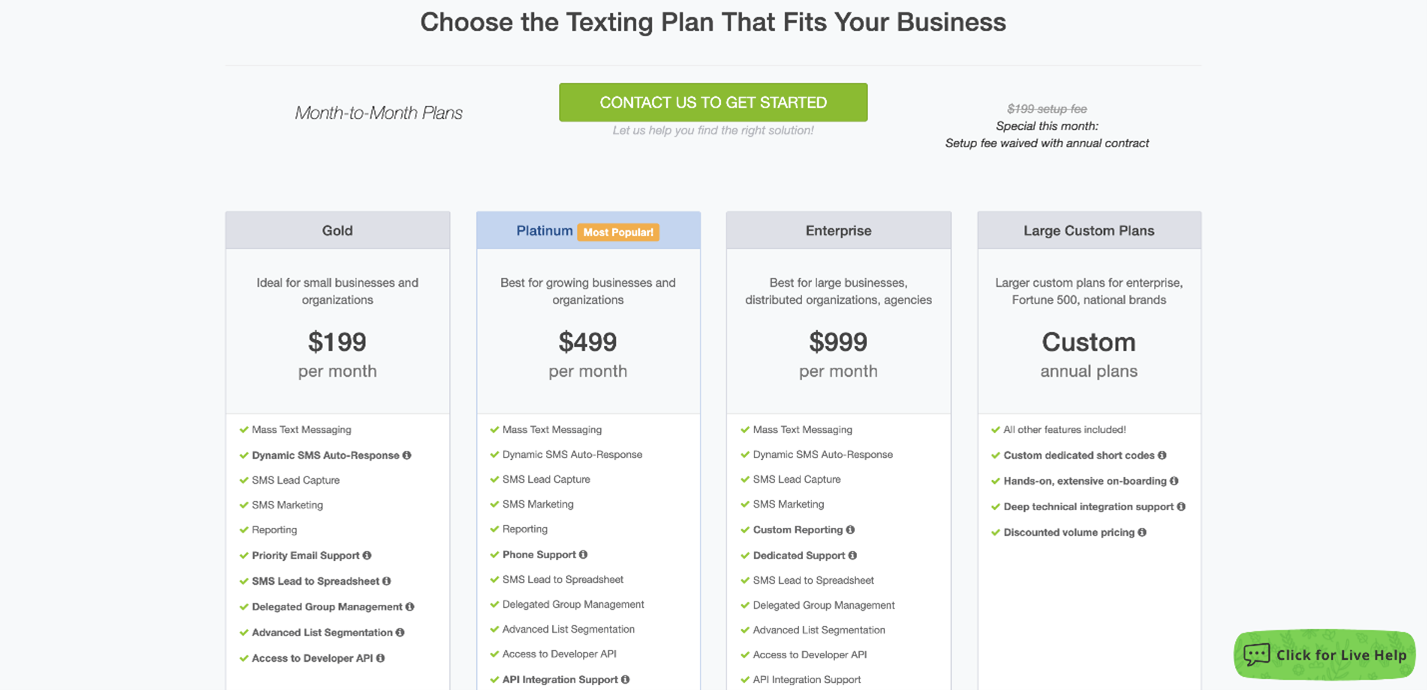 Ease of Use
You cannot preview the full TextMarks dashboard without a scheduled demonstration, but you can get a better idea of TextMarks' clean, user-friendly dashboard by navigating through the free tutorials provided on the company's blog. You can also get immediate information about the platform via live chat and phone.
Setting up your account with TextMarks is a little more involved than the sign-up process for other SMS marketing platforms. However, your inquiry is directed to a customer support specialist who can provide personalized guidance in choosing your plan. To set up an account, you must navigate to the Contact Us tab at the top of the TextMarks homepage, fill out a form and submit it to TextMarks for a personalized response. The simple form requires only your contact information and a short description of your organization and its goals.
TextMarks Features
Here are some of the features you get if you sign up with TextMarks:
SMS Mass Text Messaging
TextMarks' mass messaging feature allows your organization to send thousands of messages at one time directly to your subscribers' phones. You can send alerts, news updates, important information and reminders, as well as schedule messages.
TextMarks also supports advanced list segmentation, subscribe-by-web-and-text options and subscriber list management. The TextMarks' Co-Manager feature allows multiple managers to access the organization's account and send mass texts directly from their phone or computer.
Text for Info
This feature is an efficient way to send quick responses to information requests. You can set up autoresponders so people can more easily complete sign-up forms and applications, and receive updates on developing information. You can promote your keywords through online, print, television and radio to grow your subscriber list.
SMS Lead Generation
Lead generation tools allows businesses to use text messaging to obtain mobile phone numbers and contact information. Many customers prefer to be reached by text because they see it immediately and can respond easily.
SMS Marketing
TextMarks' marketing features allow users to engage with their subscribers in various ways. Segmentation allows organizations to reach specific groups of customers and personalize outreach. Opt-in offers and contests encourage subscribers to interact with your organization in unique ways, mobile coupons help your business show appreciation for its customers and scheduled alerts remind subscribers to engage with your business.
Segmentation allows you to divide your audience by interests, behaviors, demographics and locations and can play a key role in targeting your message to each audience segment.
SMS API
SMS API service gives businesses a fast, reliable connection directly to subscribers' mobile phones. You can easily respond to incoming messages, integrate your business's other platforms and access your activity reports in easy-to-read graphs and performance metrics.
Dedicated Short Codes
Personalized shortcodes drastically improve customer engagement by increasing brand recognition. TextMarks does all of the programming so your business can focus on its marketing strategies.
Customer Support
We chose TextMarks as our best pick for customer service because of its top-notch support. The friendly and easily accessible staff are well versed in the platform, and the online blog has user guides and support articles for various technical and strategic issues.
Customer assistance professionals are available Monday through Friday from 10 a.m. to 8 p.m. ET via phone or live chat. There are two support email addresses: one for sales and one for client support. When you are on the TextMarks online platform, a live-chat button is available in the lower-right-hand corner of the screen for real-time help from a customer service specialist.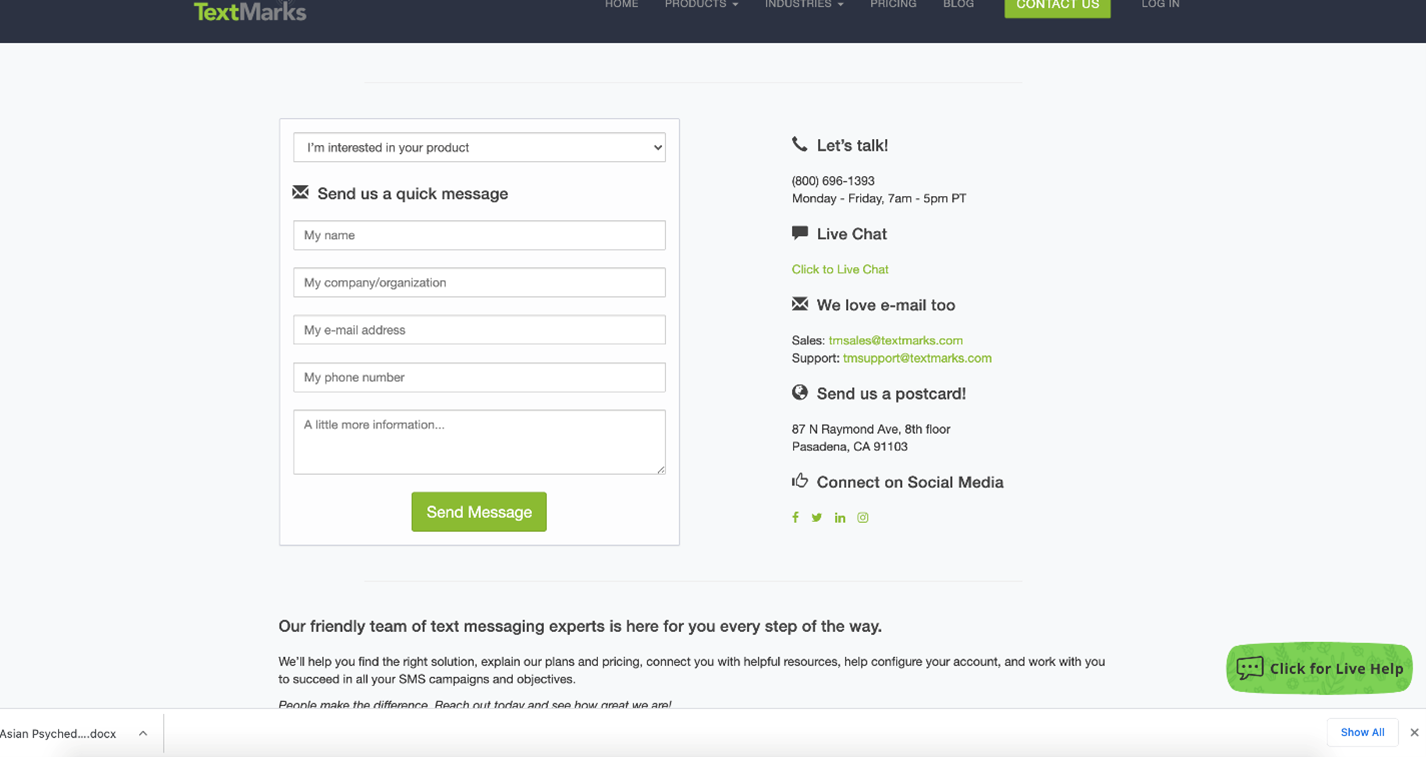 Limitations
One downside of TextMarks is that it has fewer available plans and higher prices than some of the other SMS marketing companies we reviewed. TextMarks cannot also support images in its SMS services, which is a limitation considering that multimedia is becoming a standard feature of text message marketing companies. If you're looking for a more affordable text message marketing option, check out our review of EZ Texting.
Moreover, many features – such as a direct account manager, advanced customization, extended data retention and custom opt-in flows – are available only with the Enterprise plan. Also, custom agreements are unavailable to Gold plan members, limiting those clients' ability to increase their message and keyword capacity as they grow, analyze, and evaluate their campaigns.

TextMarks and Pricing
The Verdict
TextMarks, our pick for the best customer service, is an accessible and easily customizable platform for businesses to successfully implement mass SMS marketing and communication campaigns.

Rachelle Gordon
Contributing Writer
Rachelle Gordon is a Minneapolis-based content writer who has written extensively on topics such as finance, marketing, cannabis, sustainability and tech. Her work has appeared in Benzinga, SlickDeals, and High Times. Prior to her career in journalism, Rachelle was an educator and has a passion for sharing knowledge. She enjoys helping businesses maximize efficiency while staying true to their core values.