If 2020 taught us anything, it's that small business owners are resilient, resourceful and innovative. Through the COVID-19 pandemic, business owners have had to adapt, pivot and embrace new business realities.
Those realities meant scattered employees, plummeting customer foot traffic and new health safety measures that needed to be implemented to keep businesses running. Businesses across the country were forced to create new business plans and deploy a variety of new business tools and products.
At business.com, our goal is to keep you informed about the products that are best for your business. In 2020, we evaluated more than 2,500 business products and chose 244 best picks in 55 separate categories.
From that group, we selected four products that stood out from the crowd. All were ranked "Best Overall" in their respective categories, and now we're honoring them with business.com's first annual Best of the Best Awards for 2020 – which we're calling the Bizzies.
The four winners, – Helcim, Constant Contact, Hubstaff and Zoom – represent the four essential tools business owners needed to survive and succeed in 2020.
How we chose the best of the best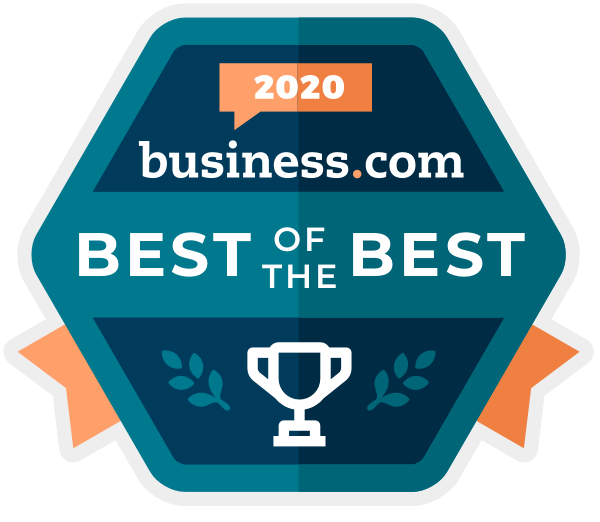 At business.com, we focus much of our coverage on core areas affecting small business owners the most. Providing advice in the areas of finance, human resources, marketing and technology is at the forefront of our work.
To make our determinations, we drilled down into each of the essential foundational elements of running a small business to consider the specific tools that small businesses were forced to rely on more than ever in 2020. We settled on credit card processing, employee monitoring, email marketing and video conferencing – as each played a vital role in keeping small businesses not only up and running, but staying connected to their employees and customers.
No matter what type of business you have, you relied on the ability to accept payments during the pandemic, preferably in a way that would minimize possible exposure to the virus for you, your employees and your customers. Businesses needed a cashless and contactless way to accept payments, making credit card processing more important than ever. Card readers that accept contactless credit and debit payments, as well as mobile wallets like Apple Pay and Google Pay, became essential, as did the ability to accept payments online when businesses couldn't have customers inside their stores.
Our choice for the best of the best in credit card processing is Helcim.
With stores closed and individuals stuck at home, consumer-facing business owners had to take their enterprises online. For some, that meant offering online ordering and delivery; for others, it meant setting up e-commerce stores. These businesses needed a solution to accept credit and debit card payments, and Helcim enabled that.
Helcim earned this year's Finance Bizzy because of its low and transparent pricing for payment processing. Its rate guarantee is a rare offering in this industry, and its inclusion of processing features like a virtual terminal, online store, and recurring payments at no extra cost is an additional bonus, as many of its competitors charge extra for these services.
Reaching customers had its unique challenges in 2020. Since consumers couldn't shop in stores or eat in restaurants, business owners had to find new ways to connect with customers. Enter e-mail marketing services. Businesses relied on email marketing to speak directly to their customers, whether it was about why they were shutting down their physical stores and restaurants amid the lockdown or how they were supporting the racial justice movements that gripped the country. Email gave businesses that communication channel to ensure their customers knew not only what they were doing, but where they stood on the issues that mattered most.
Our choice for the best of the best in email marketing is Constant Contact.
There are several companies that help small businesses reach customers via email outreach, but there are only a few that stand out. Constant Contact won this year's Marketing Bizzy because it became a vital service for businesses of all sizes.
Constant Contact has a rare combination of affordable pricing plans, easy-to-use tools and an impressive delivery rate of 97% that its competitors have a difficult time matching. Whether you wanted to send out thousands of emails to your customers with updates about your business or reach out to just a few of your best customers to offer a special promotion, Constant Contact was there to make it happen.
Employee monitoring helped many businesses support the new work-from-home model that they had to embrace. Employee monitoring software helped employers ascertain that their employees were using their digital work resources responsibly and spending their time on the clock for work activities.
Our choice for the best of the best in employee monitoring is Hubstaff.
The shift to remote work left small business owners scrambling to figure out how to ensure productivity didn't suffer with workers hunkering down in their homes. Gone was the ability to check with an employee about an impending deadline. Small business owners had to get creative and turned to remote monitoring software to help.
We chose Hubstaff as the winner of the HR Bizzy; it's the best solution for remote monitoring, with affordable pricing, support for as few as two users, and it's easy to use. Hubstaff is unique in that it is much less invasive and much more transparent than many other employee monitoring solutions.  
Video conferencing become paramount to keeping businesses running when the work-from-home model took shape. Video conferencing helped teams stay connected by providing a way for teammates to both see and hear each other in real time – an improvement over phone conferencing – while working across town or across the country.
Our choice for the best of the best in video conferencing is Zoom.
No list of essential tools for businesses in 2020 would be complete without including video conferencing software. In early March as states implemented shutdown orders, Zoom became the go-to video conferencing tool for keeping employees connected, and for good reason. This video conferencing company made it inexpensive and easy to host virtual meetings, earning it this year's Tech Bizzy.
Zoom has set the standard for video conferencing: It has made it easy for anyone, even those with little to no technological know-how, to use. Its free plan provides nearly everything a small business needs in a video conferencing solution, supporting up to 1,000 participants at a time and providing several helpful tools for collaboration and brainstorming.
This just scratches the surface of our four Bizzy award recipients and how they have supported small businesses during a very tumultuous year. They are constantly innovating and adding enhancements to support the small business community, and some have offered special discounts or services to help small businesses weather the pandemic.
With the pandemic raging, and a vaccine still on the horizon, these essential tools will continue to be extremely relevant as we enter 2021.