While pandemic protocols may have strained professional relations, one goodwill approach became even more critical during COVID: the tradition of corporate gift-giving. With a delicate balance of appreciation and brand awareness, this marketing practice can be a big hit with clients or occasionally an eye-rolling miss.
U.S. companies will shell out over $150 billion on client gifting in 2022, but how wisely is that money spent? To examine ROI, gauge current trends, and assess which goodies are treasured or trashed, we conducted a study of more than 1,500 professionals positioned to send or receive corporate gifts about their experiences on both sides of the ledger.
Key findings:
---
Nearly half of professionals receiving holiday gifts from vendors are influenced to continue working with them. Companies with fewer than 100 employees are the most likely to be influenced by holiday gifts to continue working with vendors.
Gift cards are the most desired gift, followed closely by snacks and gift baskets. Magazine subscriptions, soaps, and candles are among the least desired corporate gifts.
54 percent of those who receive corporate gifts said they have thrown away at least one gift without even using it.
The median amount companies spend on each gift is just $30, while clients expect to receive gifts valued at $100.
Corporate Gift Giving Best Practices
Corporate holiday gifts can put a bow on a good year while establishing positivity for the next. If selected properly, they demonstrate gratitude for a business relationship while fortifying a bond, boosting brand identification, and cementing customer loyalty.
Yet not all gifts are equal. From tchotchkes and trinkets to travel and tech, corporate gifts tend to span a wide gamut. Among the vendors we polled, just over half (53 percent) will send client gifts this holiday season, with gift baskets, food, and gift cards the most popular choices.
Top 10 gifts companies plan to send clients this holiday season
---
| | |
| --- | --- |
| Gift baskets | 37% |
| Food or candy | 25% |
| Gift card to online retailer | 23% |
| Restaurant gift card | 19% |
| Discount on services or products | 19% |
| Card or personalized thank you note | 17% |
| Wine or liquors | 17% |
| Coffee | 11% |
| Other gift card | 10% |
| Fun activity like tickets to a game, bowling, etc. | 10% |
| Donation to a charity on their behalf | 10% |
Note: Respondents could select up to three gifts out of 27 options, or write in a response
About one in two corporate clients who receive gifts feel they're at least slightly important. Forty-six percent admitted that getting year-end gifts from vendors made them more likely to continue working together.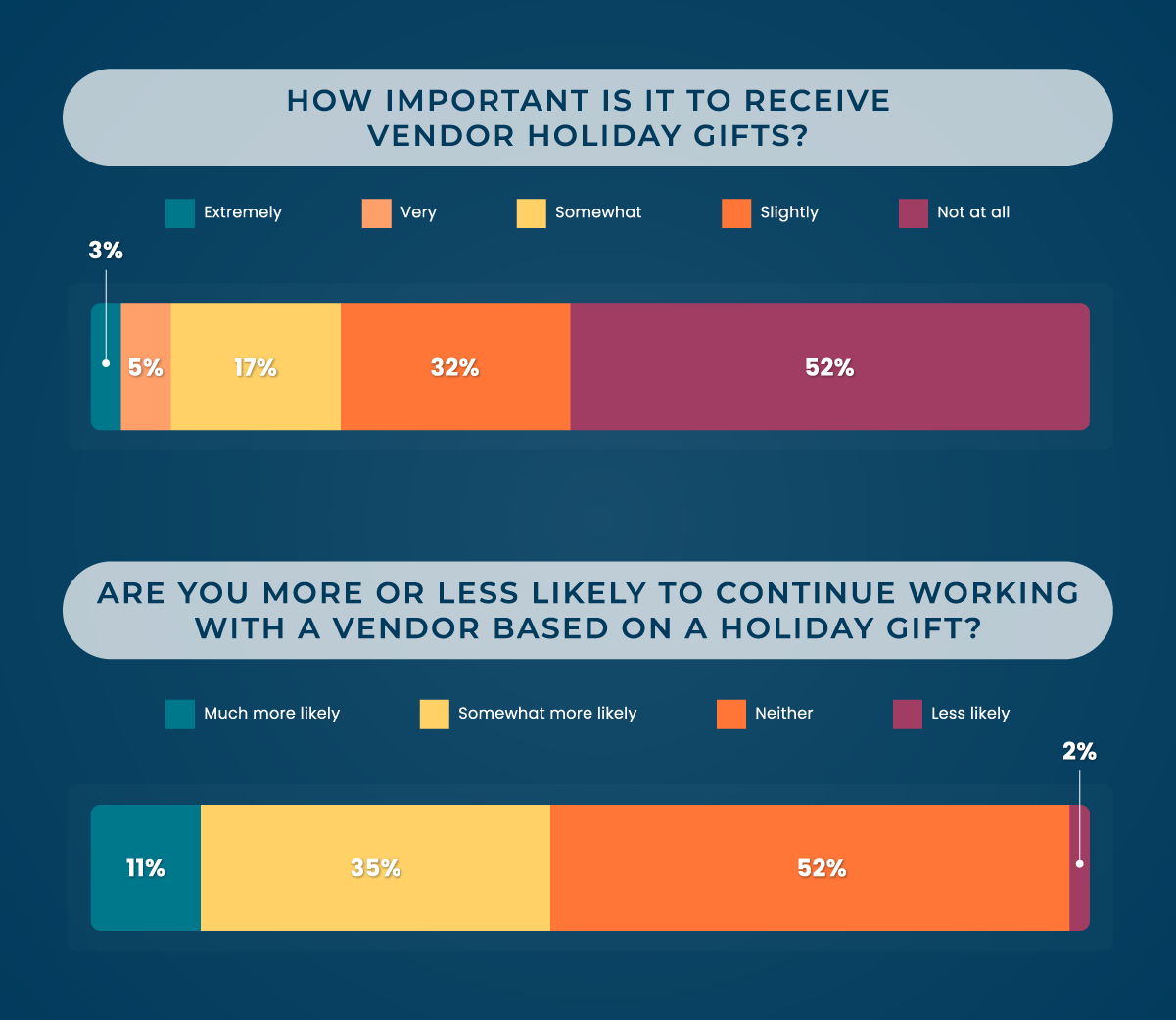 We found that holiday gifting varies based on clients' size and revenue, though not necessarily to the gift givers' advantage. Vendors are notably more likely to gift clients working at higher-revenue companies, which is understandable given the greater dollars at stake.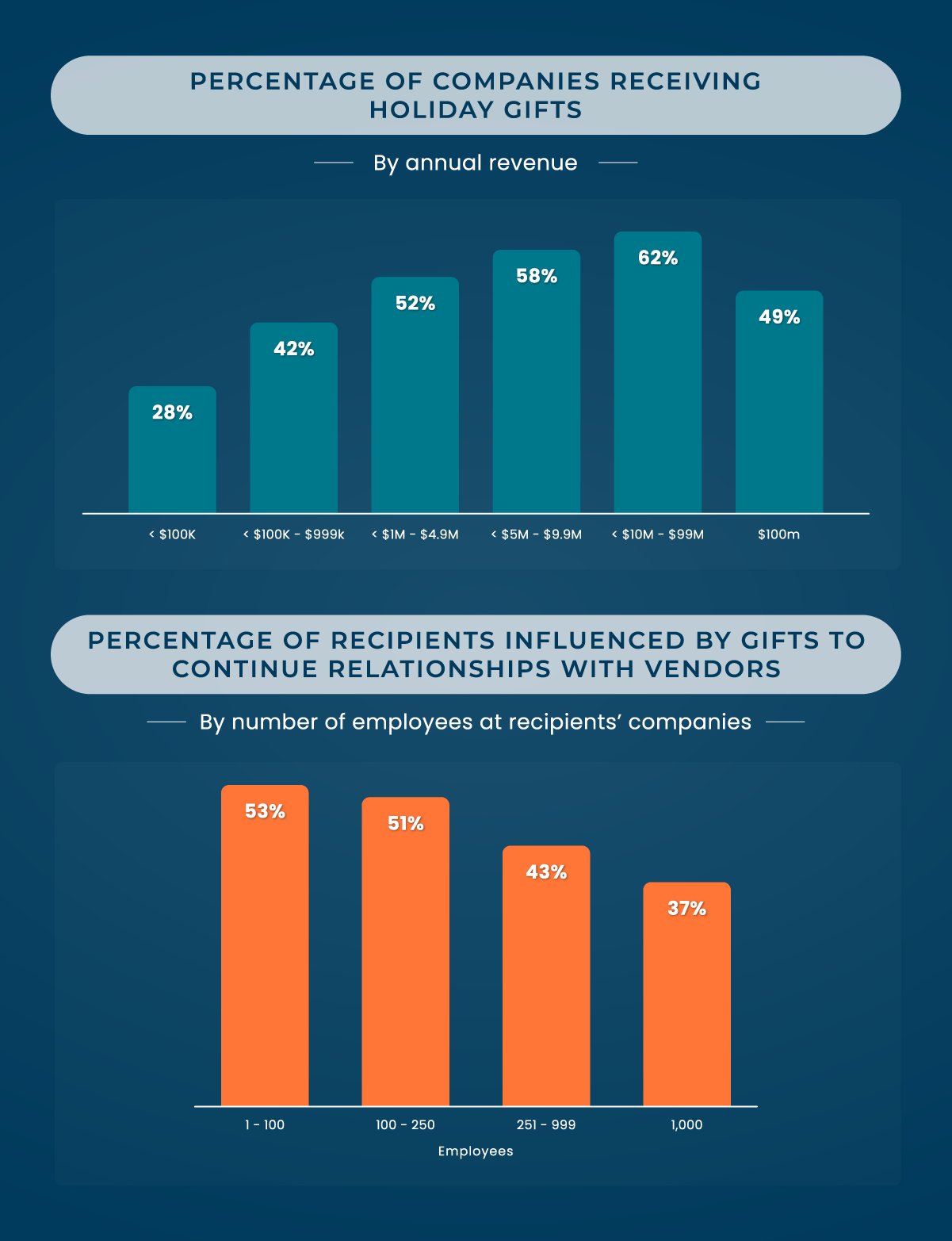 Yet the influence of gifts diminishes as client size increases. Perhaps recipients at smaller companies find the effort more personal or appreciate the rarer gesture.
To secure more bang for their buck, vendors might consider shifting attention to their smaller clients. In addition to choosing the right partners to reward, success can hinge on sending just the right gift.
Best Corporate Holiday Gifts
Though no single item will satisfy everyone, some gifts prove more popular than others. Vendors who are unsure what their clients might like to receive should consider these crowd favorites: gift cards, gift baskets, and edible treats.
Top corporate gifts clients would most like to receive this holiday season
---
Gift card to online retailers
Food or candy
Lunch for the office
Gift baskets
Tech items like portable speakers, headphones, tablets
Gift cards with online retailers are particularly popular, as they allow recipients to choose their own gifts and cut down on waste. Similarly, restaurant gift cards are appreciated now that eating out is back on the menu. Gas cards were also sought after by many, which is no surprise in the face of inflation-fueled prices.
Gift baskets and other edible selections remain popular, since they can be easily shared among others in the office. Tech items also topped many professionals' gift lists. When we asked corporate clients to identify the best holiday gifts they'd ever received from a vendor, identifiable trends began to emerge:
Gift cards of higher value rose to the top, with denominations of $50, $100, or more making the strongest impressions.
Food items found more favor when sourced from well-known local purveyors and when quantities could feed the whole office. Along with fine chocolates, baked goods (like cookies and brownies) received the most frequent praise.
Clients often preferred experiences to objects. Tickets to sporting events or theater performances and spa treatments were all prominently mentioned when we asked people to name their favorite gifts.
It's hard to go wrong with good food, good times, and generous vouchers, but there are also numerous gifts to avoid.
Worst Corporate Holiday Gifts
It's said that the best things in life are free, but so are some of the worst. In fact, 54 percent of professionals have received holiday gifts so bad that they were simply tossed in the garbage.
These are the five least popular corporate holiday gifts according to business representatives in our study:
Corporate gifts clients would least like to receive this holiday season
---
Magazine subscriptions
Soaps
Candles
Office supplies
Uber or Lyft gift cards
The three least-desired gifts reflect items that really depend on personal taste. Unless senders know their recipients very personally, it would be difficult to know what type of magazine subscription, soap, or candle would be appreciated. Additionally, office supplies are often an unwelcome gesture. Recipients prefer gifts that interrupt work routines to ones that reinforce their obligations.
Descriptions of the worst gifts that clients had ever received provided more insight into holiday turn-offs:
Low-value gift cards ($10 or less) and discount coupons seemed to be more resented than welcome by recipients.
Gift recipients said prominently branded items felt more like ads than tokens of appreciation. Often, these gifts were donated to charities.
Many recipients mentioned old, stale, or nasty food gifts that left bad tastes in their mouths in more ways than one.
Useless or redundant trinkets are often discarded as clutter; remember that most offices already have pens and mousepads.
Respondents also listed many puzzling presents that were quickly thrown away, such as an unrefrigerated turkey, a sack of potatoes, and wine insensitively gifted to an addiction rehabilitation center. This reinforces the importance of researching your clients and understanding their services before choosing their gifts.
Tips for Selecting Effective Corporate Gifts
Gift cards and locally made candy or foods are safe bets to impress most clients, but those looking to be more thoughtful should keep these tips in mind.
Send a gift, not an ad: The ultimate goal of client holiday gifts is to generate business, but that shouldn't be obvious on the face. Holiday gifts present a chance to deepen connections beyond expanding awareness. Service discounts and logo-heavy swag were frequently mentioned as unwanted gifts. Positive feelings generated by a meaningful gift or experience are more influential than any discarded doodad bearing your brand.
Make your gift useful: The gifts most often discarded by clients were redundant everyday items. Coffee mugs, pens, keychains, magnets, t-shirts, etc., are quickly forgotten and usually thrown on the pile or in the bin. Retailer gift cards provide utility to the client, and handy tech gifts are often big hits. Gifts proving especially useful within a target industry or to a particular client make thoughtful impressions.
Personalize your presents: Customized products are gaining popularity, with personal touches particularly recommended for gifting. Still, nearly half of vendors send the same items to every client on their list.
Do you send unique or similar gifts to each client?
---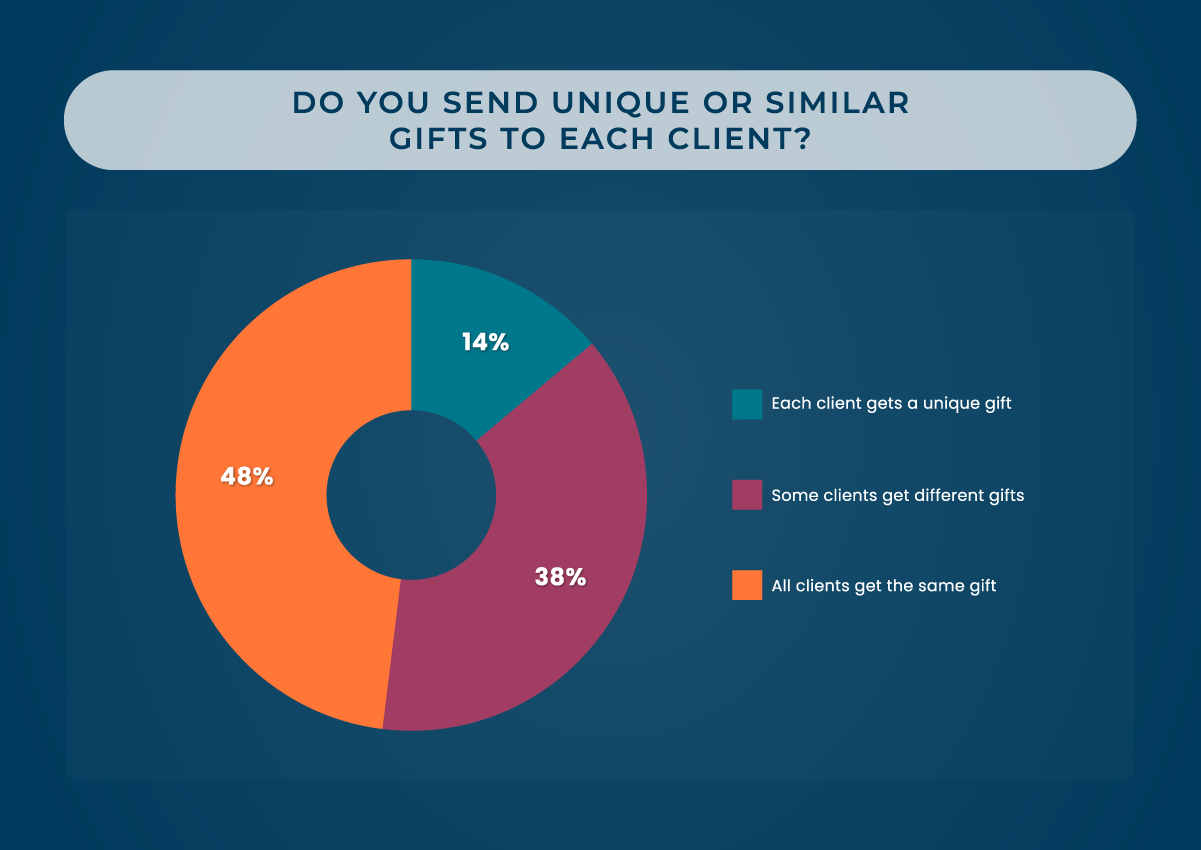 Individualized gifts better demonstrate relationship value and communicate attention to detail. A bit of research also avoids embarrassing oversights like those uncovered in our study, such as Bibles gifted to non-Christians, gift certificates for restaurants without nearby locations, or forbidden food sent to those with prohibitive allergies.
Don't be cheap: You don't need to dedicate large sums to gifting, but make sure your gifts are useful and thoughtful. Recipients expect vendors to spend $100 on each corporate gift, but the actual median expenditure is only $30. This is suspiciously close to the $25 limit of IRS business gift deductions.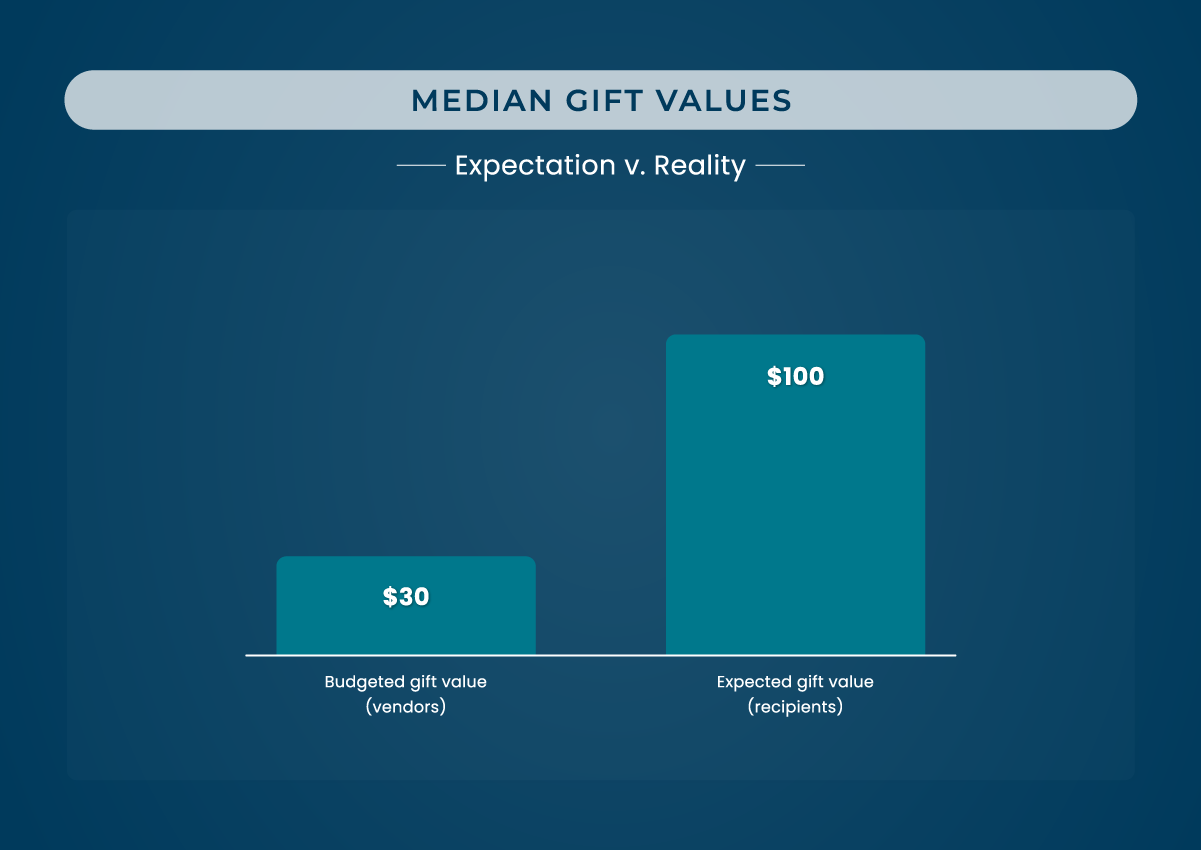 Somewhere in that gap lies a trap of great disappointment that can do more harm to a reputation than good. Vendors who send gift cards of minimal value or low-quality goods that quickly break may be remembered for all the wrong reasons.
Don't burden the recipient: A gift that requires a recipient's commitment, responsibility, or investment may not feel like a gift at all. Many of the least appreciated presents in our study were vendor discounts, third-party coupons, or services that demanded recurring subscriptions. For similar reasons, some recipients disliked plants as impositions they hadn't chosen to nurture.
Consider the planet: A growing number of responsible companies are taking climate commitments seriously, providing vendors a chance to support client cultures. Sending locally-sourced gifts made or packaged with sustainable materials or obtained via fair trade convey an alignment of goals. Charitable donations can also make thoughtful corporate gifts, but be sure to personalize by allowing the recipient to select the cause.
Summary: Choose Gifts with Care
Corporate holiday gifting is an end-of-year ritual full of potential and pitfalls. Vendors have a chance to positively influence customers, but may alienate them with rubbish that's unwanted or offensive.
At a time when sales contact remains logistically limited, well-chosen gifts can play a critical role in rejuvenating business relations.
Traditional favorites like gift cards and gift baskets represent reliable ways to win client favor. Practical, thoughtful, personalized presents often make better impressions. Gift givers shouldn't go cheap, shouldn't advertise too much, and should never impose on the recipient
Bookmark this page to check back before shopping, or consider outsourcing your corporate gift-giving tasks. No matter how you approach this tricky seasonal task, be sure to enjoy the holidays – and may you receive more fine chocolates than soaps or socks!
Methodology
In October 2022, Business.com conducted an online poll of 1,547 professionals employed in roles eligible to receive and/or send corporate holiday gifts. Respondents' employers spanned a wide range of industries.