Artificial intelligence, once mere fiction, is now a practical reality. Since the launch of ChatGPT in late 2022 – and its Enterprise version in August 2023 – it's already captivated businesses, sparking optimistic promises and dire warnings. As an artificial intelligence chatbot that mimics human communication, it rapidly gained 100 million users.
Advocates hail ChatGPT's efficiency in task management and data synthesis, but critics fear the untested tech could replace jobs, stifle creativity, and spread misinformation at scale. Regardless, it has already permeated numerous workplaces, including 80 percent of Fortune 500 companies. However, most leaders have not guided their employees in properly using the tool.
To document the tool's reach in American companies, assess its utility, and gauge employees' perceptions, Business.com gathered insights from nearly 2,000 American workers regarding their ChatGPT experiences. We also asked several industry leaders to share tips on how to integrate the new AI tool into your business.
Key Findings
57% of American workers have tried ChatGPT, and 16% regularly use ChatGPT at work.
Currently, only 17 percent of workers said their employers had communicated clear AI policies, split evenly between those encouraging use and those prohibiting it.
Upper-management employees are three times more likely to use ChatGPT at work than non-managers.
A gender gap is already widening in ChatGPT usage: 65% of male workers have tried ChatGPT, compared to 47% of female professionals.
Most frequently, workers use ChatGPT to aid with writing and refining emails, letters, and reports. Other popular uses include creative brainstorming, debugging code, and research analysis.
Twenty percent of workers worry that ChatGPT is taking jobs from honest workers, but many feel it helps them work "smarter, not harder."
How Many Professionals Use ChatGPT at Work?
ChatGPT, a language model, absorbs vast data and learns from user feedback, producing human-like conversational text. Since its release to the public in November 2022, businesses have employed it for various tasks: customer support, content creation, marketing analysis, and more.  [See Apple's iconic "Think Different" campaign updated via AI.]
The market for generative AI tools is expected to grow from $40 billion in 2022 to more than $1.3 trillion over the next decade. Microsoft, Google, Salesforce, and others are developing rival LLM business tools that will impact 80 percent of the U.S. workforce.
Future iterations will handle legal, financial, medical advice, and creative pursuits, impacting white-collar fields like robotics did in manufacturing. Given the publicity surrounding ChatGPT, 99 percent of American workers have heard of it, and 57 percent have tried it.
Everyday use of ChatGPT has thus far remained modest in the nation's workplaces. Forty-seven percent who've tried ChatGPT thus far have used it for their job. Currently, 16 percent of employed Americans rely upon it regularly at work.
Gender differences in ChatGPT adoption
Gender differences emerged, echoing troubling trends within technology fields: men reporting more familiarity and practice with ChatGPT than women. This disparity should present a red flag. [Read related article: 6 Ways You're Failing the Women in Your Company]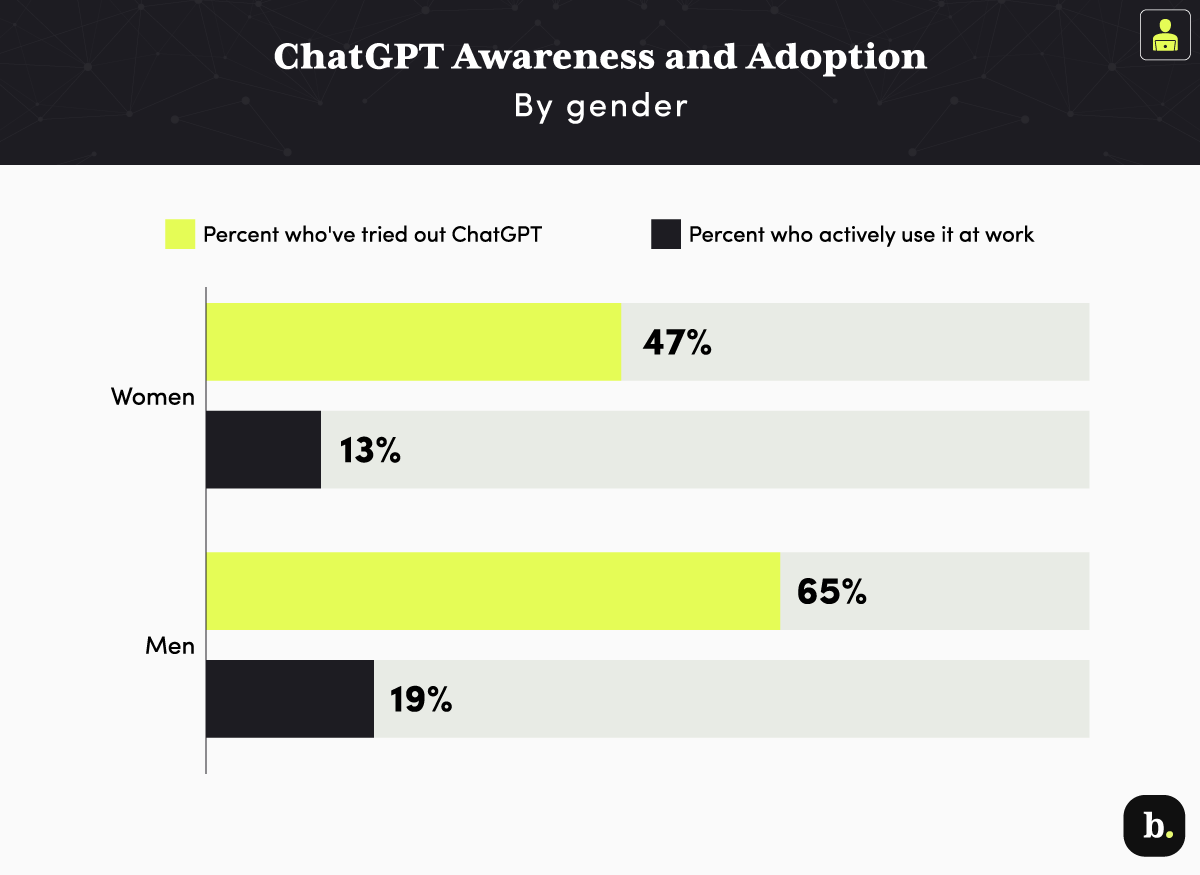 Traditional stereotypes portray men as more eager adopters of emerging technology, but embedding such imbalance at the outset of a new model could bake in a recipe for disaster.
Despite general progress for women in STEM, gender equality at the top has been uneven – particularly within artificial intelligence. With feedback and data sets driving AI development, an inclusive population must help to influence the programs.
More men have used ChatGPT in the office than women. Unaddressed, this bias could prove deeply problematic, as women's jobs stand to be more impacted by AI than men's.
ChatGPT usage among managers and executives
Upper managers have incorporated ChatGPT into their workflows more than workers outside the C-suite. Nearly half of executives have used AI on the job, with more than a third employing it regularly.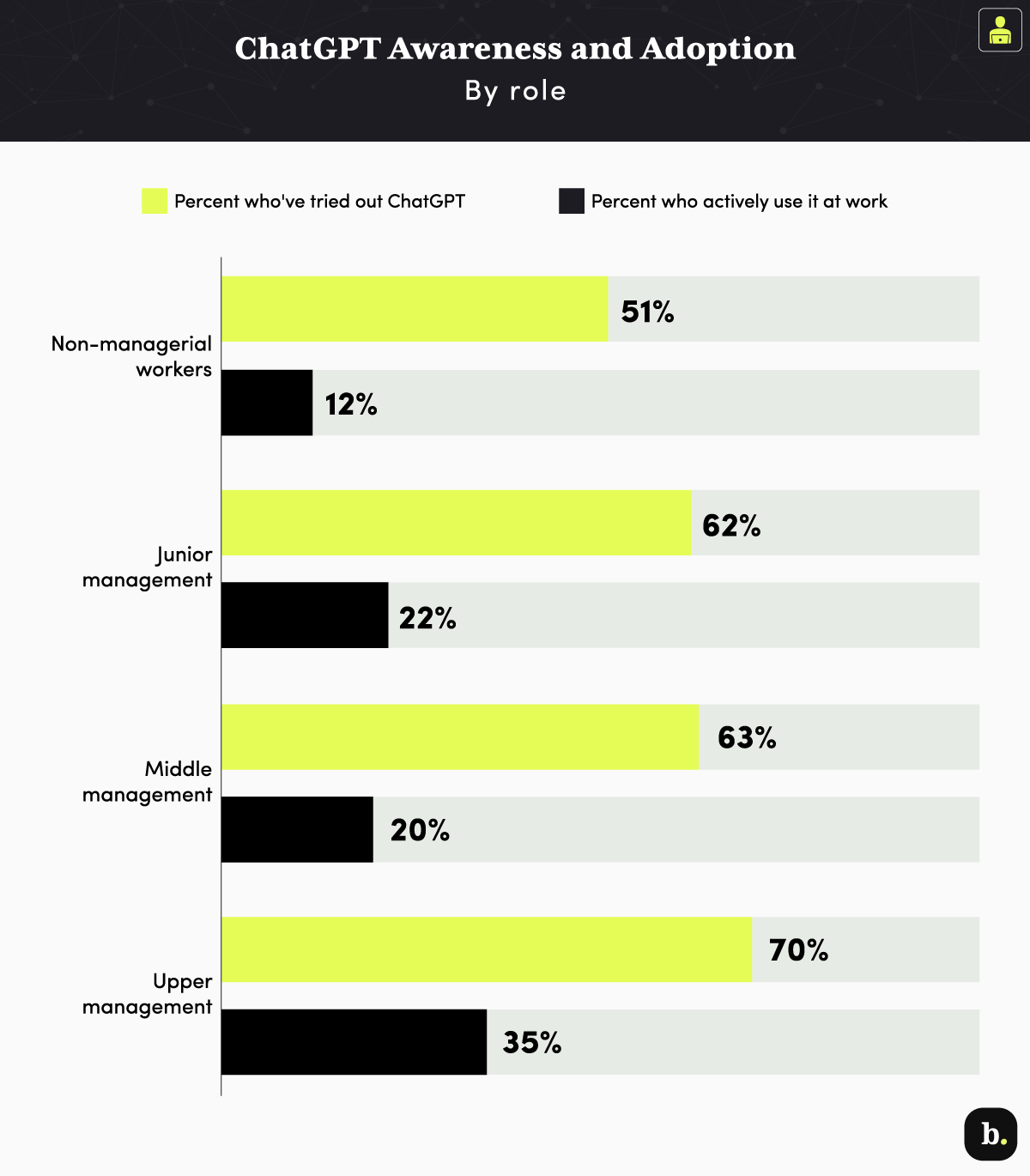 Upper managers often face several complex decisions in a single day. ChatGPT's ability to assimilate, synthesize, and communicate large amounts of information can be invaluable. Most people in management roles deal with time constraints, and they might find ChatGPT makes some of their tasks more efficient. Since ChatGPT is often used for data-driven decision-making, non-managerial workers may not have as many opportunities as their leaders to apply the tool, especially if their roles are very specific or task-driven.
ChatGPT adoption and educational attainment
The rate of professional ChatGPT use escalates with higher education and salary levels. Those with college degrees and incomes above $70K were more likely to have turned to AI on the job.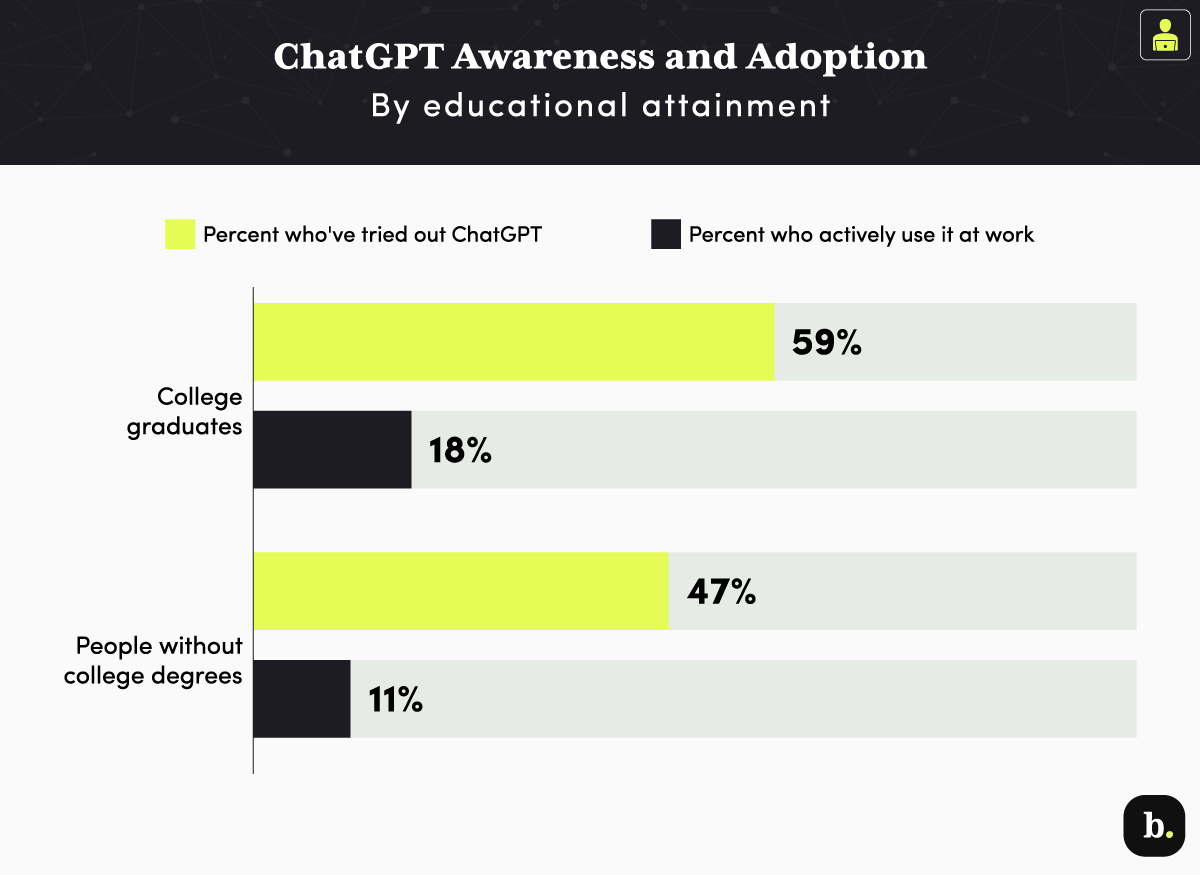 This disparity may be attributable to different work demands. Higher-paid workers and college graduates are generally more likely to hold positions involving the communication and informational tasks best suited to ChatGPT assistance.
ChatGPT use in the workplace doesn't vary across generations. This consistency is an encouraging sign that AI integration is based more on assignments than age. Unfortunately, that positivity is undermined by the persistent digital gender gap.
What Are the Most Popular Uses for ChatGPT in the Workplace?
Unlike AI image creators that have proven popular on social media, ChatGPT analyzes, organizes, and generates text. These parameters may make the tech less sexy to the public but position it perfectly for professional tasks.
Though no "killer app" has harnessed the language model for business, employees have already begun using ChatGPT to help with writing, planning, coding, presenting, researching, training, and marketing.
| How do you use ChatGPT at work?  | Percent of workers who use ChatGPT |
| --- | --- |
| Written communication: Writing and refining emails, letters, and reports. | 23% |
| Creative help: Aiding in design ideas and creative brainstorming. | 18% |
| Research and data analysis: Conducting information searches, fact-checking, and analyzing data. | 17% |
| Content creation: Drafting diverse content such as blog posts, social media posts, newsletters, and advertising content. | 13% |
| Administrative support: Creating project outlines, drafting meeting notes, facilitating project management, time management, and automating tasks. | 13% |
| Technical support: Assisting with coding, debugging, and software configuration. | 10% |
| Education and training: Assisting in creation of educational content and training. | 8% |
| Marketing assistance: Developing marketing strategies, writing ad templates, capturing leads. | 8% |
| Customer service: Handling customer inquiries and resolving complaints. | 7% |
Clearly, ChatGPT is already aiding workers with a wide range of responsibilities. AI content isn't yet wholly reliable, so users should always proofread its text. Experts caution ChatGPT's work can sound unnatural, contain factual errors, and underperform on search engines. For these reasons and more, not all employees have embraced generative AI.
Resistance to ChatGPT in the Workplace
Backers say ChatGPT is a miracle tool to enhance office productivity. Others are wary of the tech, think it unnecessary, or even resent its role in the workplace.
Seventy-three percent of workers have never used ChatGPT for their job. Of those who have tried it, about 55 percent continued regularly using the AI tool. Reasons cited for rejection range from a lack of need to a lack of trust and even embarrassment.
| Why do you not use ChatGPT for work?  | Percent of workers |
| --- | --- |
| I don't think I have anything it could help me with | 23% |
| I can produce better quality work than ChatGPT | 16% |
| I don't trust it to give me good information | 15% |
| I don't think it will save me any time | 12% |
| I wouldn't want anyone to know I was using it | 11% |
| I don't want to | 7% |
Nearly a quarter of employees who don't use ChatGPT believe it can't help with their specific jobs. Some respondents work in fields without written content or communication components. It's also possible that many Americans don't yet understand AI's capabilities.
More notable was the number of workers holding a low opinion of ChatGPT. One in six believed the program produces inferior work and unreliable information. One in eight think AI doesn't save time, and one in ten wouldn't want others to know they were using it.
Similar percentages extended negative perceptions to those who use ChatGPT professionally. Among those familiar with ChatGPT, roughly 15 percent believed employees who use it are lazy, cheating, or producing lesser quality work. One in five also fear that AI will take jobs from honest workers.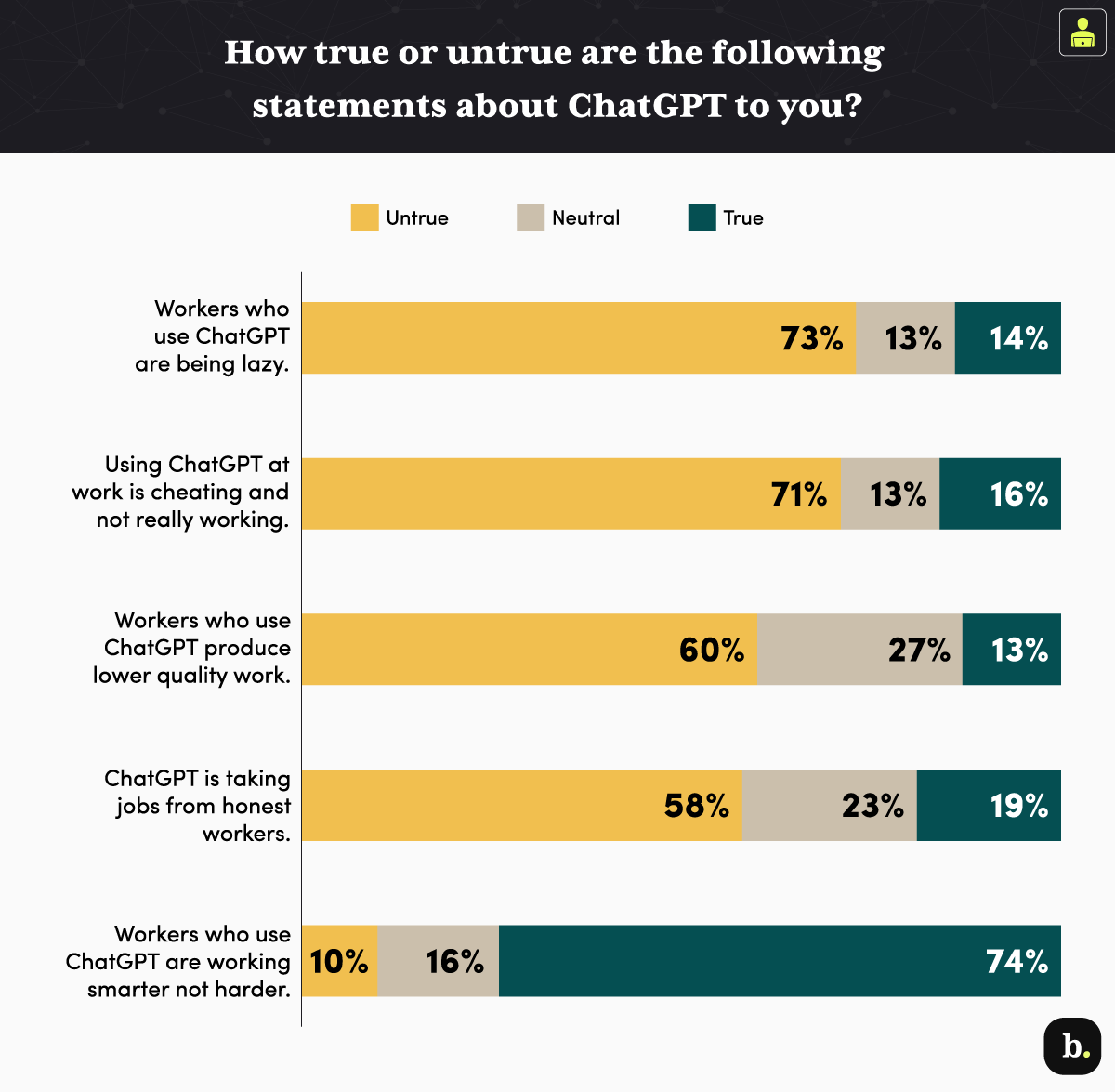 We also asked respondents to share open-ended thoughts about workplace ChatGPT use. Manually combing through 2,000 natural-language answers proved daunting, so we tasked ChatGPT with analyzing the responses. These were the most common and resonant sentiments it extracted:
Younger workers (Millennials and Gen Z) are especially concerned about over-reliance on ChatGPT. They focus on the dangers of cheating and dishonesty, a lack of factual accuracy, and the need for human oversight of complex tasks.
Gen X and Boomers more often cite ChatGPT's potential benefits. In particular, they note how AI will automate simple tasks, increase efficiency, generate ideas/content, and provide answers to customers and colleagues.
Though men currently employ ChatGPT more often than women, females expressed a better attitude toward AI in the workplace. Men frequently mention ethical concerns, skepticism of work quality, and fear of AI's impact on employment.
To combat ChatGPT's possible pitfalls while encouraging consistent performance, companies should establish AI protocols and heed advice from established business leaders.
ChatGPT: Recommendations from Business Leaders
As an untested technology without established guidelines, ChatGPT heralds excellent promise and may harbor hidden downsides. Before incorporating AI, prudent companies should establish tailored IT infrastructures and develop detailed employee guidelines.
At this point, very few workplaces have instilled such precautions. Only 17 percent of employers have communicated clear AI policies, split evenly between those encouraging use and those prohibiting it.
| What is your company's policy on using AI (such as ChatGPT) for work?  | Percent of workers familiar with ChatGPT |
| --- | --- |
| Employees are encouraged to use it for work | 9% |
| Employees were told not to use it for work | 8% |
| I don't know if our company has a policy about ChatGPT | 25% |
| Our company doesn't have a policy about using ChatGPT | 58% |
About 58 percent of workers in our study said their companies currently lack AI policies. This is likely because the technology is still very new, and many workplaces lack IT departments that would advise on ChatGPT usage.
Even where protocols do exist, workers don't always follow the rules. Eight percent of workers at companies that ban ChatGPT admit to using AI anyway. More than a third of employees using ChatGPT do so without their employer's explicit permission or knowledge.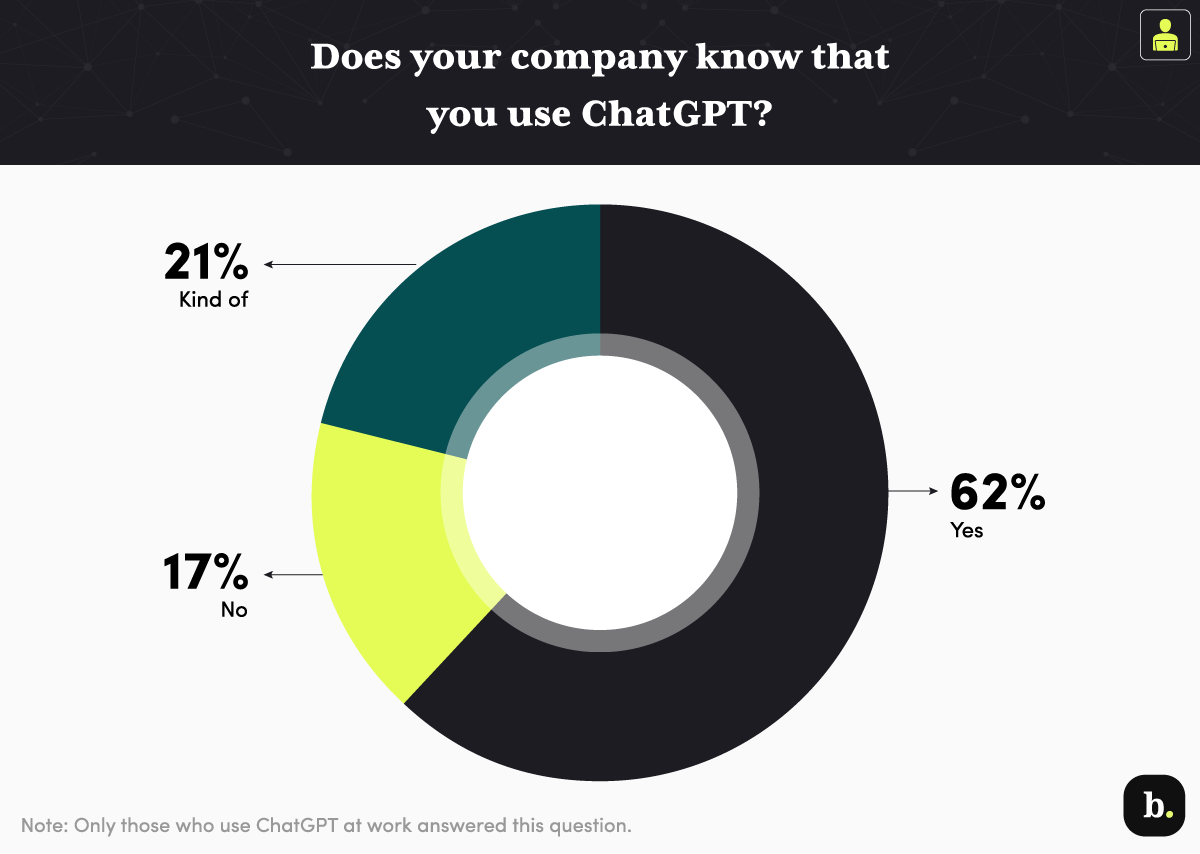 Such unstructured and unsupervised implementation will only enhance the probability of chaos. Companies planning to introduce ChatGPT should first consider these suggestions from business leaders.
1. Train employees to use AI tools responsibly.
Showing workers how to get the most out of ChatGPT and recognize its problems will maximize utility, enhance security, and establish proper protocols before bad habits take root.
Onur Kutlubay, CEO of shipping logistics company YouParcel, provided his team with comprehensive training on ChatGPT, starting with how the tool fits into the larger AI ecosystem.
"We discuss actual use cases to demonstrate AI's advantages and potential to our organization. We also highlight ChatGPT's shortcomings and discuss issues, including prejudice, data quality, ethical issues, and the need for human oversight," Kutlubay shared. "I urge companies undertaking similar training to evaluate employees' prior knowledge, cover the fundamentals, review use cases, point out restrictions, set rules, and include hands-on exercises."
2. Do not share private or proprietary information with ChatGPT.
Searching for comprehensive answers makes providing ChatGPT with company data tempting. However, a lack of safeguards or privacy regulations could endanger client, company, or employee data.
As attorney Kate Charleston shared, "Risks exist for consumers and business data if private information is fed to the platform. The platform might later share data with a third-party. An artificial intelligence policy governing the use of the platform should be implemented, including the limits on how employees use AI, limitations on data input, and the necessity of independent verification of facts and a cross-check on intellectual property rights."
3. Be transparent with customers and adhere to ethical standards.
Be upfront when AI tools are in play, and mindful of biases or mistakes the tech may inadvertently generate. Such honesty and caution will improve the work product and protect your company's reputation.
"We've established a 'Responsible AI Use' policy at Evercopy that includes a few key components. First is 'AI Transparency,' which mandates clear communication about when and how AI is being used in our operations…We also adhere to an 'AI Ethics' guideline, which includes avoiding AI use in contexts where it may inadvertently harm or mislead," said Osman Aktepe, CTO of Evercopy.
>> Read next: How AI is Impacting Copyright Laws
4. Be aware of the technology's limitations, and remember that efficiency isn't everything.
ChatGPT often increases output, yet greater quantity may come at the expense of quality. AI handles some functions better than others, requiring different levels of human supervision. ChatGPT is best employed only as a starting point, particularly with content creation or creative endeavors.
According to entrepreneur and angel investor Kevin Miller, ChatGPT improved his team's productivity by 200 percent, but didn't meaningfully improve their work quality. "To increase productivity, we encourage our writers to use ChatGPT, but not rely on it, for content creation. It can make an incredible North Star or research assistant, but it doesn't go much farther than that for our purposes. Many other businesses can and should use AI tools to make code, translation, problem-solving, and those types of functions more efficient. For creative uses, however, human talent is still king," Miller explained.
Conclusion
ChatGPT has upended business plans in less than a year and captured the public's imagination. Generative AI has proven a divisive topic, with enthusiastic supporters countered by loud voices calling to pull the plug. Such demands come too late, as the genie is out of its digital bottle. Massive sums have already been invested in further development, and rival products are speeding to market.
AI has quickly entered America's workplaces — often without guidelines or support. Currently, only 16 percent of workers use ChatGPT, and many non-users view the tech as a lazy cheat code that steals honest jobs. More than a third of managers rely on the tool, but they, too, have doubts about ethics, biases, and accuracy.
AI's office use will undoubtedly increase rapidly in the years to come. Its success will depend mainly on establishing precautions and winning over the American worker.
Our Data
In 2023, SeniorLiving.org conducted an online poll of 1,996 American workers employed full- or part-time. We asked these respondents whether they were familiar with ChatGPT and if they had ever used the tool. Those familiar with and who had used ChatGPT were invited to participate in a follow-up study to provide more detail on their use of ChatGPT in the workplace. 1,000 American workers participated in our follow-up study.
The median age of respondents was 37, and their median annual income was between $70,000-$79,999. 45% of respondents were female, and 55% were male. 75% of participants were white, 7% were Asian, 9% were Black, 6% were multiracial, and about 3% were of another racial background or declined to answer. The top 5 industries participants worked in were health care and social assistance, retail, information services and data processing, finance and insurance, and higher education. 35% of respondents were managers, and 65% worked in non-management roles.