Instagram has been around long enough that most companies have figured out how to post relevant images and videos on their Instagram feeds. However, Instagram Stories may still be new for many users, and you may be wondering how to make Instagram Stories work in a business context. In this guide, we provide the steps for creating an Instagram Story, as well as ideas and examples of successful Stories from real businesses.
What is an Instagram Story?
An Instagram Story allows users to share short, temporary videos and photos that disappear after 24 hours on the Instagram app. The Story is separate from the regular feed and is often used in a more "real time" sense to document goings-on and share things that the user doesn't want permanently on their feed. Stories are also designed to be more engaging than content in the feed, with tools that allow you to add GIFs, fun fonts, stickers and filters. 
As such, Instagram Stories can be huge engagement drivers, allowing the space for content creators to make short, informal stories and for followers to easily respond and connect with the content creator. Since the launch of Stories in 2016, Instagram Direct has grown into one of the most popular messaging apps in the world.
How to create an Instagram Story
Creating your own Instagram Story takes just a few steps, but keep in mind that it will take time and knowledge to create Stories like the ones shared by big-time influencers or major brands. The best way to get to this level is to observe and practice. Explore the hashtags relevant to your industry, and maybe even follow some major influencers, to get ideas and try their tips.
Follow these five steps to create an Instagram Story:
1. Open Instagram, and tap the camera icon in the top-left corner.
There may be a blue plus sign near your profile icon where it reads "Your Story." If you click it, it will take you directly to the story creation tool. If there is no plus sign, press and hold the profile icon, and click "Add to your story."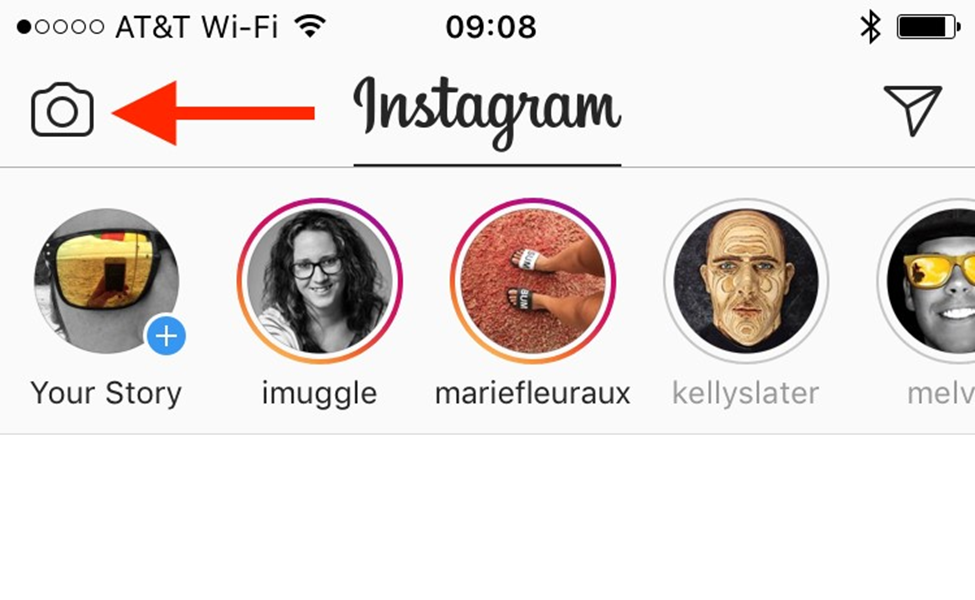 2. Share an existing photo or video from the image gallery on your phone.
You can do this by swiping up or clicking the square in the bottom-left corner of the screen to access your camera roll.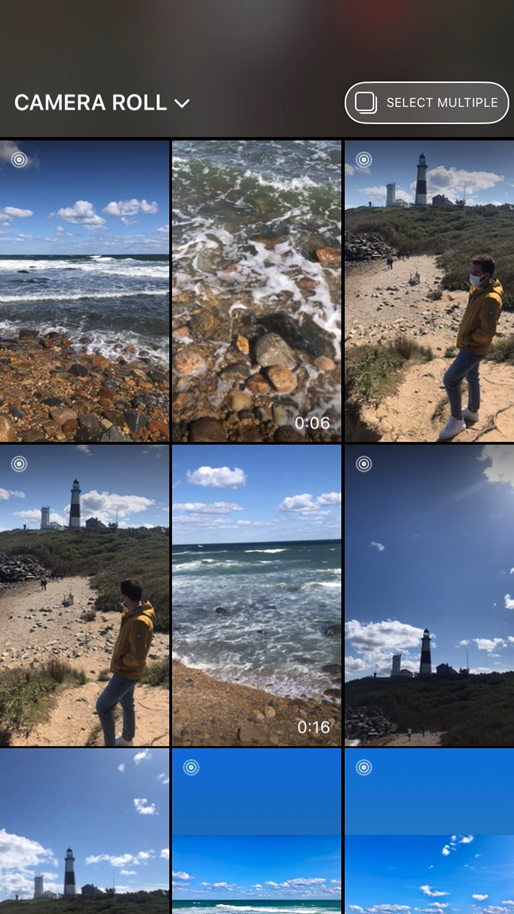 3. Or, use the camera lens to take a photo or video.
Here, you can choose to take a traditional photo, a boomerang, a reel or a live story. You can also apply a filter if you have saved filters; these will show up as circles at the bottom of your screen. Here are some of the options:
Live. Selecting the Live option will allow you start filming and broadcasting live to your followers, who will get a notification that you've started a live broadcast and may choose to join. When you're done with your live broadcast, you can choose to let it disappear, save it to your camera roll or as an Instagram Story highlight, or add it to your Story to be viewed for 24 hours.
Normal. True to its name, the Normal option allows you to take a regular photo or video by holding down the capture button. Videos can be up to 15 seconds in length.
Boomerang. A boomerang is a looping, three-second video.
Layout. The Layout option lets you take four photos or videos at once and lays them out together in one story.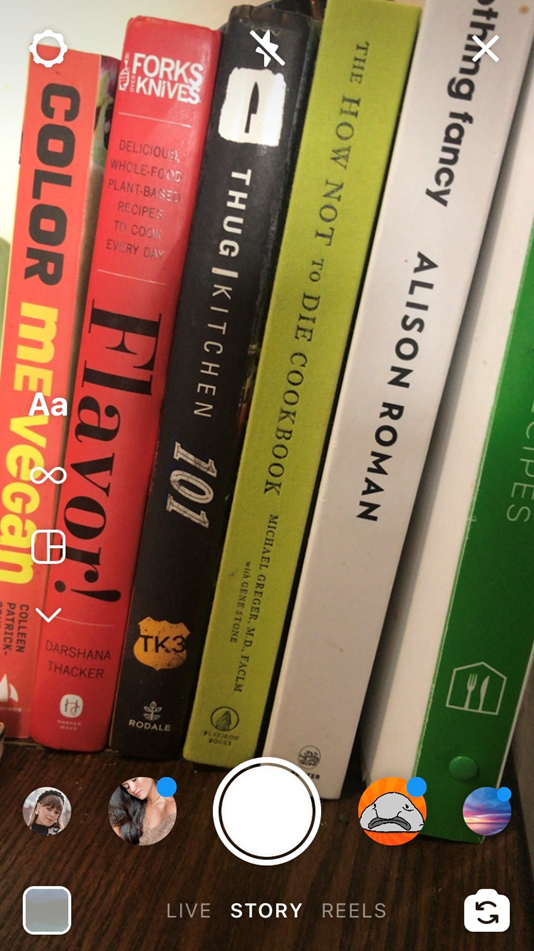 4. Once you have your image or video, add GIFs, filters or captions.
These options are at the top of your screen. From left to right, you may choose the save button, filters, extras (such as GIFs, location tagging, mentions and stickers), a drawing tool and the caption tool.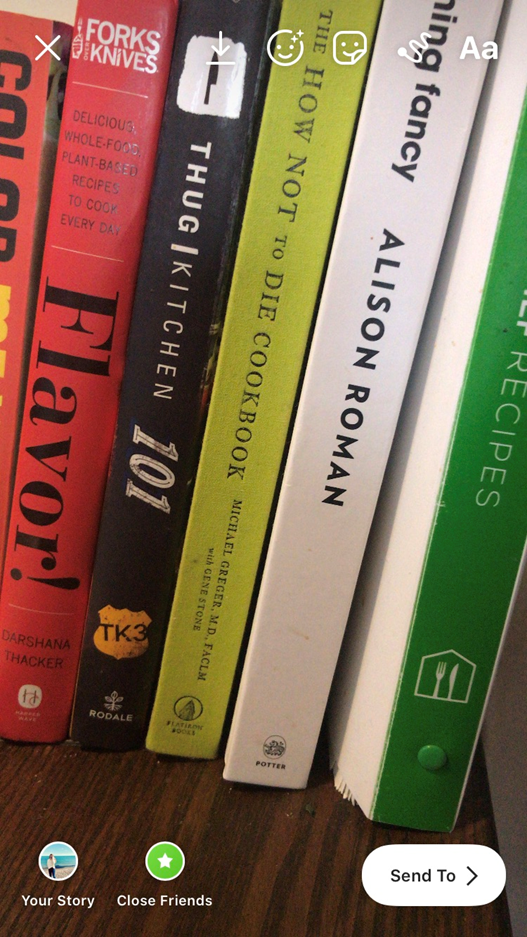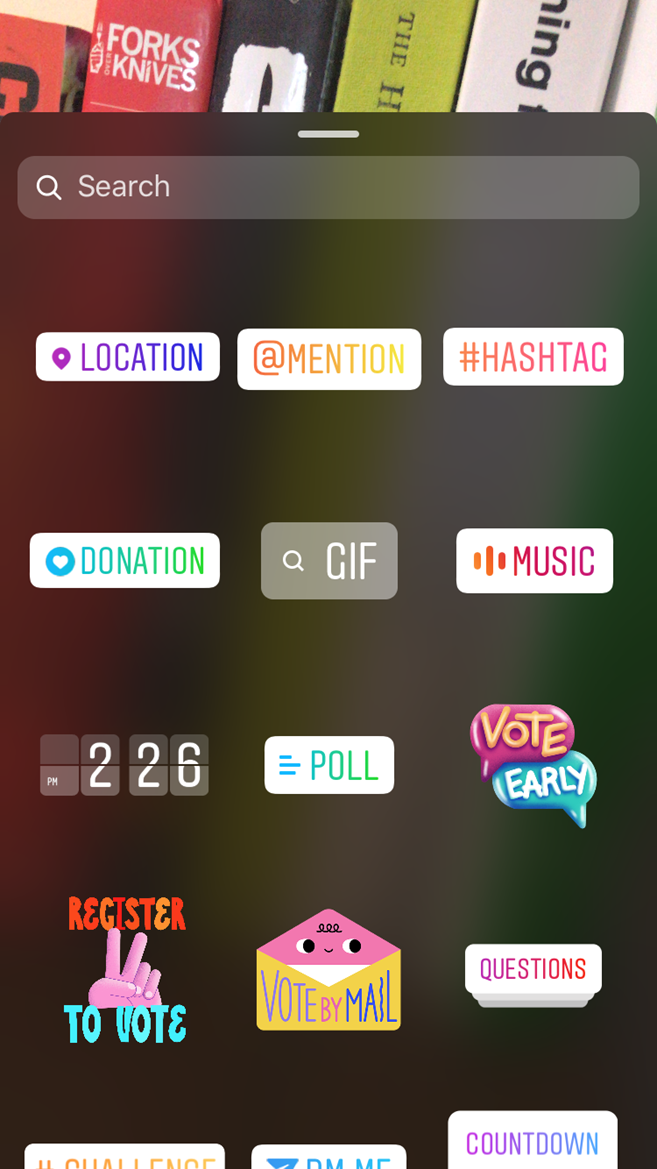 5. Share your Instagram Story.
Share your Story by clicking the Your Story or Send To buttons at the bottom of your screen. Tapping the Close Friends button allows you to share your story only to a preselected list of followers.
Instagram story ideas for businesses
Now that you know how to post Instagram Stories, it's time to figure out what to post. Your Story content will depend on the following:
Your social media marketing strategy
Your goals for Instagram (e.g., gain more followers, increase engagement, drive sales)
Your business's mission and industry
Your audience
When determining what to post on Stories, keep your audience top of mind. You are posting for your followers, and it's important for your content to be relevant and interesting to them. At the same time, don't lose your brand in the process. The art of social media is appealing to followers while maintaining a solid and clear brand voice. Here are eight Instagram Story ideas for businesses:
Share videos of office events.
One of the major benefits of Instagram Stories is their ability to humanize businesses. Sharing videos and photos from fun office events, like holiday parties or awards banquets, can be entertaining for your followers and show that you're an active, fun company.
"These posts are a great way to share behind-the-scenes clips that would not normally deserve a spot on your main profile page," said Derin Oyekan, co-founder of Reel. "As well as getting to know you and the brand, your followers will feel like they are privy to the latest stuff."
Share interesting news from your industry.
Sharing relevant news from or about your industry can establish your business as a credible and informed voice, as well as help educate your followers about what you do in a larger context. Use Stories to distill larger news into bite-size pieces, which will help to keep your followers both informed and engaged. You can also increase engagement by including question boxes or poll stickers to encourage your followers to respond to the content.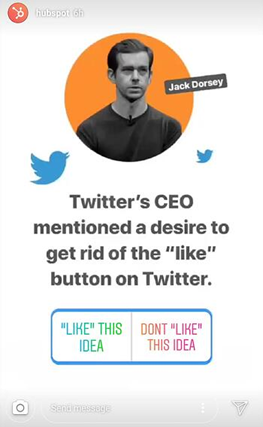 Show off your product.
If you have a physical product, an Instagram Story is the perfect place to show it off or demonstrate how it works. Find someone in your company who has solid knowledge of the product and can be engaging on camera, and have them give a walk-through of what the product is, how it's used and some of its coolest features.
Promote an event.
Are you hosting a big company event or attending a cool conference? Use your Story to promote the event and let followers know you'll be there. Use the editing tools built into Instagram Stories to include key information about the event – like the name, date and location – as well as details such as when you'll be there and your booth number. You can also include a box for followers to type in questions about the event, or a poll asking if they'll be attending.
Include a blog post or other website content.
An Instagram Story is a great place to drum up interest in longer types of content, like blog posts on your website. You can post an engaging image along with an interesting quote from the post, and direct Instagram followers to the link in your bio to read the rest of the blog post. Or, if you're a business account with more than 10,000 followers, you can include a swipe-up link to a webpage of your choosing directly in the story.
Feature employees.
Your employees are the heart and soul of your business, so it makes sense to feature them on your Instagram Stories. For example, you can do an Instagram takeover, in which an employee posts throughout the day on Stories; have an employee explain a product or a process; or upload a brief interview with the CEO or other C-suite members. This is a great way to add a human touch to your business and lets followers get to know you better.
"Have fun with it!" said Shannon DeSouza, sales and marketing strategist at DeSouza on Demand. "Personally, I use Instagram Stories as a subliminal sales tool to show my community what my day actually looks like."
Repost follower content.
If your followers often tag you in their photos or videos related to your business, repost those Stories to your own Story. This shows your followers that you notice them and provides you with free, engaging content. For example, if you're a doughnut shop, you can ask your followers to tag you in the photos they take of their doughnuts and repost them to your Story. This is a free way to promote your product, offer engaging content and make customers feel seen and valued in just a couple of clicks.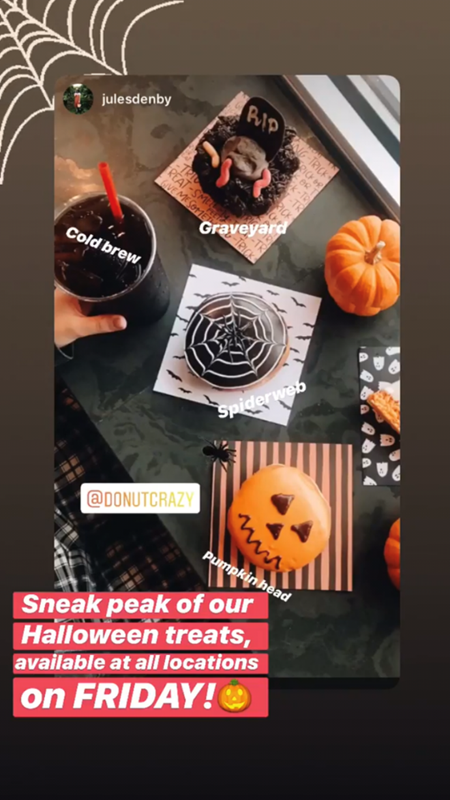 Host a Q&A session.
You can brand this as a Q&A session or a "get to know us," where you invite followers to send questions via a direct message or a question sticker on your story, and you get together with your employees and answer the questions via video or text on your Story. This is a great way to engage directly with your followers and boost your credibility as a business, as well as make your brand a little more human.
What are the business benefits of Instagram stories?
Instagram Stories can come with a wealth of benefits for your business, such as connecting with customers and sharing a more human side of your business. Here are seven of the biggest benefits of using Instagram Stories for business:
Keeps your business top of mind
Ever since Instagram changed the feed from showing posts in chronological order to the Instagram algorithm based on user interests and behavior, many brands and content creators have found it difficult to maintain engagement with followers. The use of Stories helps to ensure your business stays top of mind for followers, since followers view Stories in chronological order, keeping them connected with your content on a regular basis.
Diversifies your marketing strategy
It can be easy to fall into a steady rhythm of posting only static content to your feed. Posting to Stories makes you think more creatively and encourages you to include dynamic content that makes your brand feel fresh. Additionally, Stories can introduce your business to new followers.
Remains accessible by anyone, anywhere
Because Instagram is primarily a mobile app and most Stories are no more than 15 seconds long, you can quickly share content with anyone, anywhere at any time. This makes it very easy for viewers to connect with your content, since they don't have to spend a lot of time scrolling through your Instagram grid or website and can watch Stories while on the go.
Offers customization options
Unlike regular feed posts, which are customizable only by filters or your own photo editing, Stories come with a variety of built-in tools that make your stories fun and dynamic. You can add filters, stickers, GIFs, captions in a variety of fonts, music and drawings to all of your stories.
Doesn't affect your feed
If your grid has a certain theme or aesthetic, it can limit what you post on your regular feed. But because Stories are temporary and live in a separate part of your account, you can post anything you want, without worrying about how it will look against your other permanent content. This means that you can post anything you want, such as sneak peeks of a new product, fun videos about an employee's day-to-day activities, a Q&A with an executive or a contest.
Extends your reach
Stories are a great way to find new followers and thus grow your audience. Instagram is one of the best platforms for increasing brand awareness, thanks to its built-in location and hashtag features. You can tag your location in Instagram Stories to make it easy for people both within and outside your local area to discover your business, as well as use hashtags that are relevant to your business and industry to increase your profile's searchability and boost your content within the Instagram community. Just make sure to include a link to your company website in your bio to drive traffic there.
Offers engagement opportunities 
Stories offer many easy ways for Instagram followers to engage directly with you, such as polls, question response boxes, voting boxes and in-story tags. All of these features are built into the Stories creation tool, and they make engagement as easy as clicking a button. Plus, Stories are designed for storytelling, which automatically pulls followers into your brand.
"If a business is, say, a coffee shop, it could be pretty boring to say, 'Here's the coffee,'" said Michael Evanich, broker and realtor at Coldwell Banker Realty. "But if there's a crazy story about how the name was chosen or a backstory on the beans, that fits into branding. If a connection can be made via a story, it's gold."
Instagram Story examples and why they work
Looking for some inspiration for your Instagram Stories? Here are some examples of successful business Instagram Stories and why they work so well:
Daily Harvest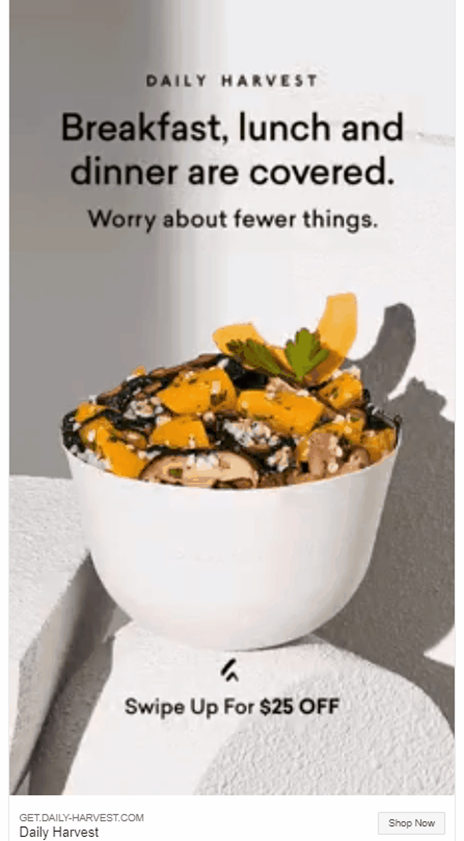 Here, Daily Harvest features a GIF of its products with minimal text, a clear call to action and an enticing offer that makes viewers want to swipe up. This Story works because it recognizes that users don't want to spend a lot of time on one story and need to be given the information quickly and concisely in a highly visual format.
National Geographic
In addition to sharing beautiful images and educational information, one of National Geographic's biggest strengths is that it knows its brand well. NatGeo shares a variety of engaging content in Instagram Stories, including videos, beautiful photos, interesting facts, quizzes and behind-the-scenes looks at things such as photography and industry events. National Geographic knows what kinds of content suit its brand image, and it makes that content work for Instagram.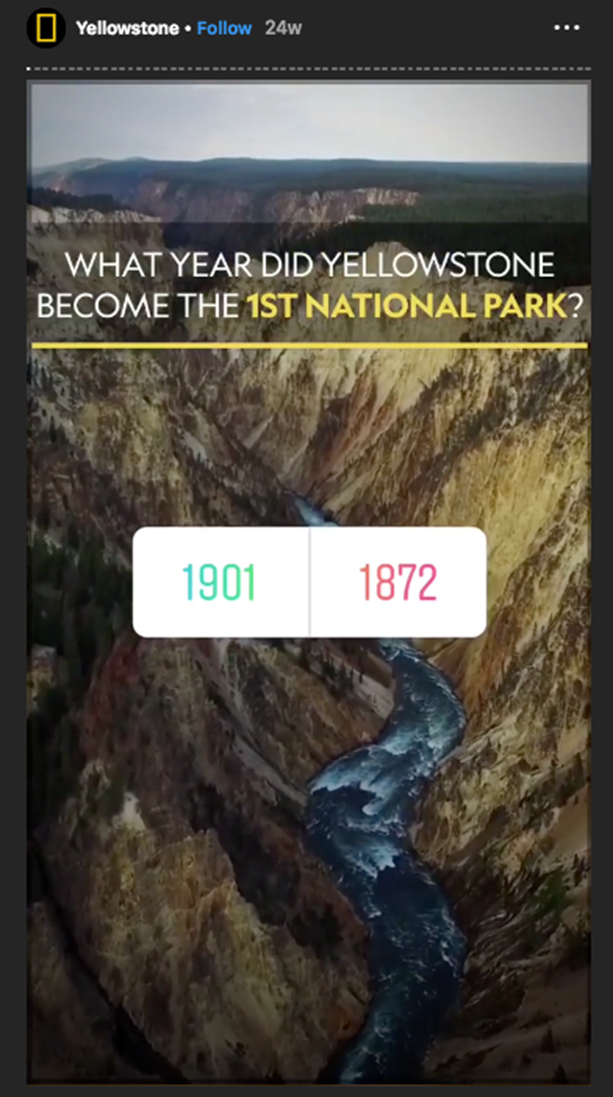 Glossier
Skin-care and makeup company Glossier has emerged as a social media expert, with cool images and plenty of user-generated content in both its Stories and permanent grid. Glossier engages its audience by reposting content from users in a regular Top 5 highlight that showcases the company's favorite tagged content, asks followers what they're looking for from their skin care and shares the responses in Stories. Glossier also asks followers to send questions for a skin-care expert to answer on Stories. All of these methods make for highly engaged followers.