People with disabilities often find it difficult to feel accepted as traditional employees, even though they have a desire to work. Fortunately, there are many success stories of disabled individuals starting their own businesses. Being an entrepreneur can provide financial stability purpose and eliminate the potential for discriminatory actions from co-workers or employers.
There are specific resources for people with disabilities to create a business plan, qualify for grants and loans, and complete business training online.
What are you waiting for? There are more than 1.8 million U.S. business owners who overcame barriers and started their own companies, according to the National Disability Institute. You could be one too.
Resources for business owners with disabilities
If you are a disabled individual who dreams of owning a business, take advantage of helpful guides, grants, programs and loans available to make your dream a reality.
Customized employment
Any person with a disability who has worked in the labor force may be familiar with Customized Employment (CE). CE starts not with a job description, but by identifying a job candidate's strengths, conditions and interests. After this discovery process, an employer or job counselor can locate a position that matches the candidate's profile.
The same framework can be applied to identifying self-employment opportunities. For inspiration, check out the below business success stories of Joe Steffy and Melony Hill.
Joe Steffy – Poppin' Joe's Gourmet Kettle Korn
Joe Steffy has Down syndrome and an autistic spectrum disorder. When Joe was in his teens, teachers and school administrators didn't think he'd ever work – at best, he'd spend his days at a fully supervised workplace, also known as a sheltered workshop.
Then Joe worked with a CE expert, and together they discovered Joe's interest in popping kettle corn. Joe's family bought equipment, and he began popping and selling kettle corn at local businesses and farmers markets. He started when he was 15 years old, and in three years, Joe's sales grew to $50,000 with a staff of five part-time employees. Joe works five or six hours a day popping corn and delivering it to stores.
As of 2022, Steffy's popcorn business continues to thrive. He was also the first to use an augmentative and alternative communication device for public speaking to a small business council in Washington, D.C.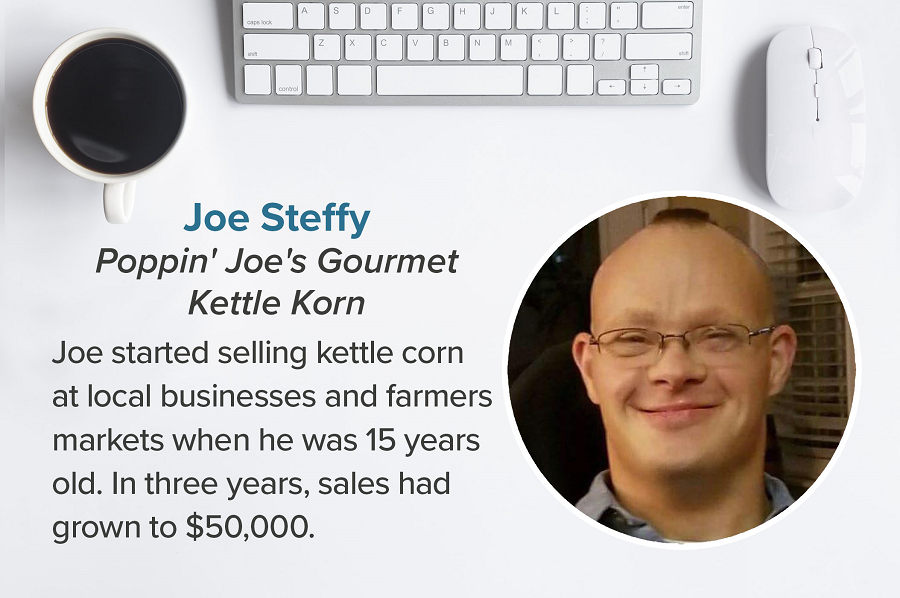 Melony Hill – Stronger Than My Struggles
Melony Hill, diagnosed with PTSD, depression, anxiety disorder, dissociative identity disorder and fibromyalgia, launched a successful speaking, writing and coaching business called Stronger Than My Struggles.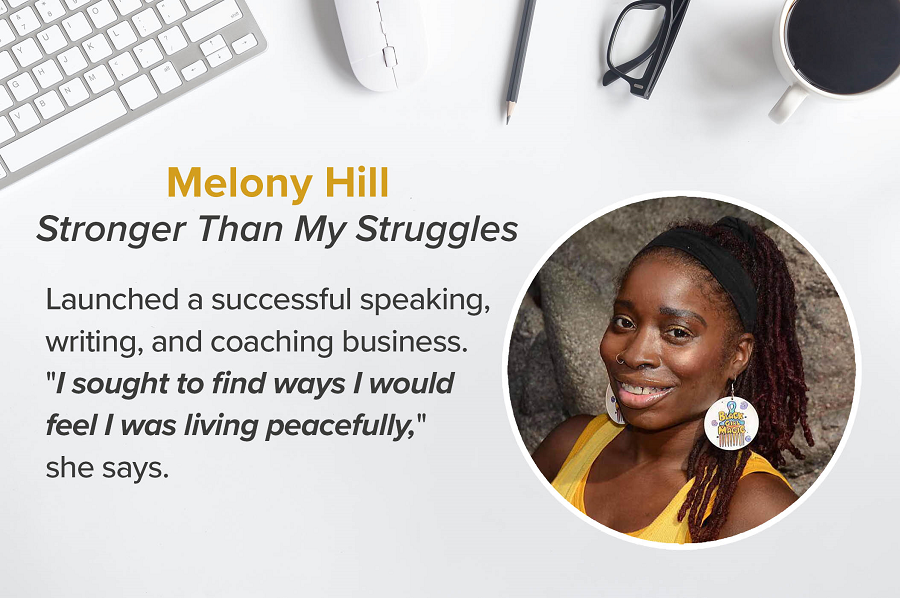 A big part of her success came from identifying a profession that worked for her rather than one focused on money. "Instead, I sought to find ways I would feel I was living peacefully and doing things I enjoyed," Melony said. Now she teaches others to do the same.

You can qualify for business funding even if your disability isn't physical. You can also request funding for all entrepreneurs (not earmarked for disabilities).
The PASS program
Usually, federal Supplemental Security Income (SSI) payments are reduced or eliminated once the recipient finds a job. However, with the PASS (Plan to Achieve Self-Support) program, SSI recipients who want to start a business can continue accumulating SSI payments. At the same time, they work and use the money to fund their startup.
PASS money can be saved up and set aside to pay for the following:
Transportation to and from work
Tuition, books, fees and supplies needed for school or training
Childcare
Attendant care
Supplies to start a business
Equipment and tools to do the job
Uniforms, special clothing and safety equipment
The Social Security Administration (SSA) will not count money set aside under this plan when it decides on an SSI payment amount, so recipients may get a higher payment. However, they won't get more than the maximum payment for the state where they live.
To qualify for PASS, the intended recipient can't have a net worth exceeding $2,000 ($3,000 for couples). However, assets or equipment used for the business doesn't count toward this amount.
PASS participants must get their plan approved by the SSA. Examples of businesses that have been approved include a carpentry business, a music production business and a candy vending business.
To qualify, recipients must complete paperwork, including creating a business plan. Here's more about the PASS program:
Business plan resources
Every business needs a foundation, solid planning and time to get all of the moving pieces to work together. You will need to create a business plan, secure funding, network and acquire business skills through experience and training. It may be overwhelming at times, but don't give up. Owning a business can be rewarding and may offer financial independence.
Creating a business plan
Writing a business plan is a requirement of applying for PASS and is a vital step for any business owner. This document outlines the goals of the business and details the steps needed to achieve them.
The plan will include specifics like:
Equipment needed
How the business will be promoted
Anticipated revenue
For business owners with a disability, the plan may also include specifics for their unique situation, such as:
Flexible work hours
Assistive technology services and devices
Bookkeeping services
Transportation
The SSA advises that a business plan should include, at a minimum, the following elements:
The type of business (for example, a restaurant or a print shop)
Where the business will operate (for example, rent a store or share a space)
Hours of operation
Who the customers, suppliers and competitors will be
How the product or service will be advertised/promoted
What items and services are required to start the business, how much they cost, and how they'll be paid for
Expected earnings for the first four years of business
The goal of a business plan isn't to force a person to prove their idea will work. Instead, it's to start them on a path to success, and many supportive people and organizations can help you design one.
Never give up: How Bill Brent started his business
Take the example of Bill Brent, who suffered a life-changing work injury while working for the Alaska State Ferry system. Bill had given up on his dream of entrepreneurship after being turned down for a business loan. However, he found a support team to help him after being referred to Start Up/AK and the Alaska Division of Vocational Rehabilitation.
Bill met monthly with representatives from a mix of local government and nonprofit agencies and a mentor in the Alaska tourism business. This team helped Bill develop a business plan for the Admiralty Westside Lodge. As a result, he secured a grant for the startup costs.
In addition to PASS, potential business owners with disabilities are eligible for many other forms of funding, from government loans to private investment. A business plan is required for all.
Identify your unique strengths and abilities. Match those gifts with a product or service that gives you joy. A passion for your business can lead to success, but success without passion can lead to burnout and indifference among your target audience.
Funding resources
The PASS program is a terrific way to stockpile SSI payments for a business venture. But people with disabilities who want to pursue self-employment can also take advantage of additional forms of funding.
A local Small Business Development Center is the best place to start. Managed by the U.S. Small Business Administration (SBA), these centers employ folks with local expertise on successful business ventures and available loan programs.
There are thousands of loan programs for small businesses, ranging from loans given out by the federal government to ones offered by counties and towns.
There are also highly rated loan options for specific groups: veterans, women, people with specific disabilities and many others. That's why it's worth talking to the experts at a Small Business Development Center. They can save weeks of research by identifying the best loan resources for a particular person and their business.
State vocational development or vocational rehabilitation offices are also good resources for identifying little-known forms of business funding for people with disabilities.
Service-disabled veterans have additional options for getting a business off the ground. The U.S. government has set a target of 3% of all federal contracting dollars going to service-disabled, veteran-owned small businesses. In addition, all veterans and their spouses are eligible for low-interest Veterans Advantage loans sponsored by the SBA.
Networking and mentorship resources
Personal relationships play a part in everyone's career. Meeting the right mentor can open the door to self-employment success. Small Business Development Centers and state vocational development offices can often connect aspiring business people with experienced volunteer mentors.
Finding a mentor
Another tactic is simply seeking out a mentor. That happened to Marjorie Turner, who suffered extensive paralysis after an operation to remove a spinal tumor.
"I turned to writing as a way to help with the isolation I experienced with this drastic life change," she said. "A wonderful local newspaper editor, Pam Johnson, of the Bellingham Bulletin, gave me the chance to write for her newspaper and has been a mentor to me these past 20 years."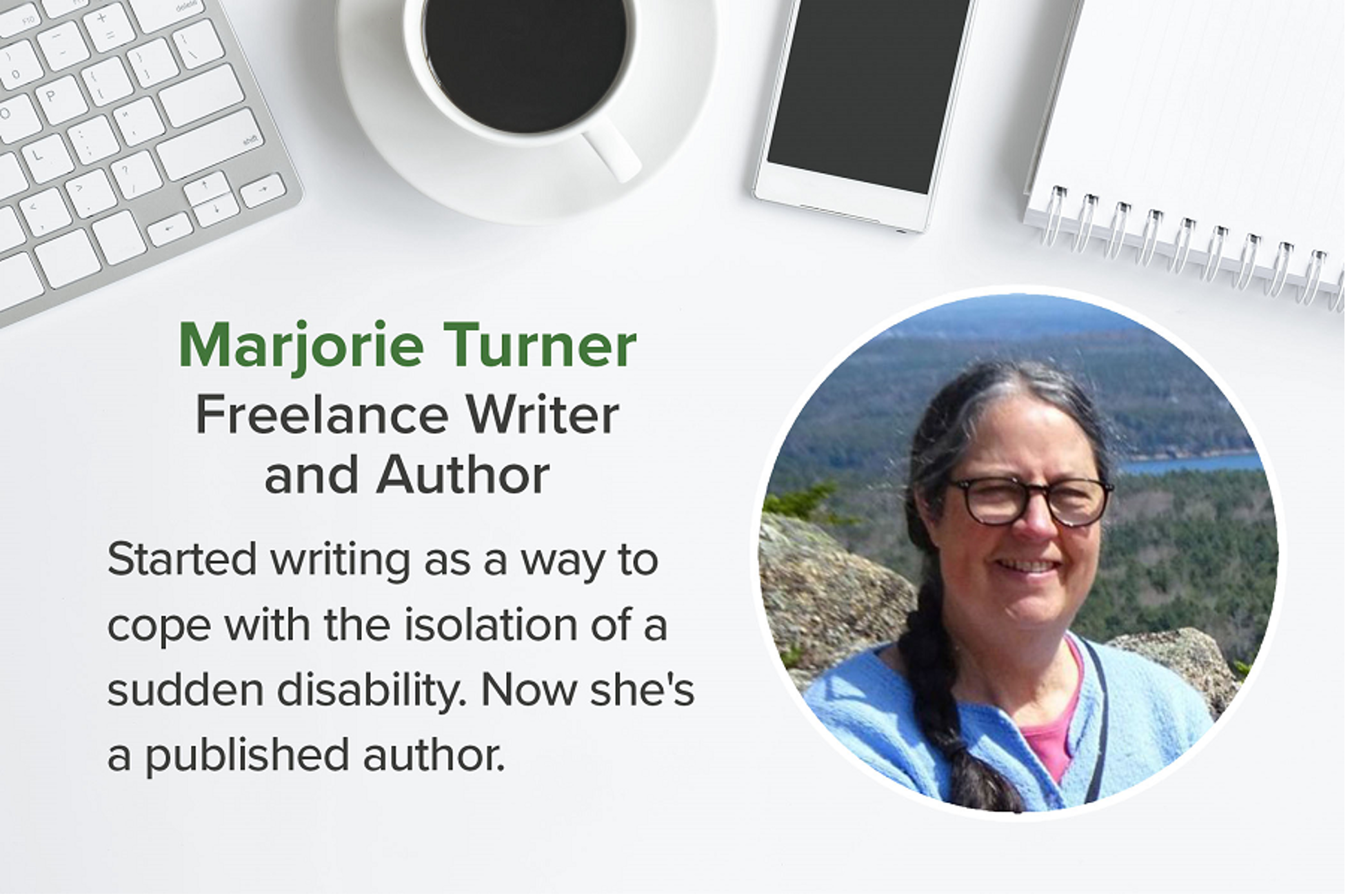 Freelance writing satisfies Turner's creative side, and much of her work can be done over the phone or by email. She has since branched out into writing commissioned "life histories" for individuals and organizations, giving workshops in oral history, interviewing and publishing her own books.
Turner's book series, Easy Walks in Massachusetts, highlights safe, accessible walks for people of all ages and abilities. In partnership with a local conservation group, she has received grants to fund her community writing projects.
"I am blessed beyond measure," she said, "in ways I never could have imagined when this challenging road presented itself to me."
Business training and education resources
State vocational development offices are the best resources for local skills training. The same skills training that attracts employers could give someone the skills to start a business.
Federal law requires that people with disabilities have equal educational opportunities. So nearly all colleges and universities have an office of disability services to ensure compliance. People with disabilities can qualify for specified scholarships and financial aid opportunities, including some supporting vocational education.
Resources for people with visual impairments
With business marketing and communication increasingly taking place online, people with visual impairments face obstacles to business success that didn't exist a generation ago. Speech-accessible computers can help.
Prospective business owners who are visually impaired should look into Independent Visually Impaired Entrepreneurs, an affiliate of the American Council of the Blind. In addition, Hadley Institute for the Blind and Visually Impaired resources provides a range of workshops, podcasts, discussion groups and tips.
Resources for people with hearing impairments
Video relay services have revolutionized person-to-person communication for business owners with hearing impairments. The technology is improving, and so is adoption in public areas like airports. Many how-to videos include easily accessible captions.
Still, company owners with hearing impairments face unique challenges. Organizations such as the National Association of the Deaf can provide resources and tips about starting and running a business.
Resources for people with mobility issues
The rise of the internet has led to a golden age for home-based businesses. For people with mobility issues, eliminating the need for a daily commute is a powerful incentive to consider self-employment.
Of course, working in the digital world can present obstacles to people with mobility issues. SCORE provides a collection of articles and webinars about business topics.
Additional business resources from business.com
The business.com team invests thousands of hours reviewing hundreds of products and services to help business owners manage and run their companies. Please look at some of our comprehensive guides for solutions to help you grow your business.