Clockify is a time-tracking solution designed to help companies of all sizes keep a close record of their billable hours across numerous projects and tasks through any internet-connected device in any location.
Pros
It can be used as a free time-tracking tool for businesses of all sizes.
Users can access Clockify through a web app, mobile app and desktop app.
Clockify integrates with QuickBooks, Jira, Asana, Trello and more than 50 other tools for project management and productivity.
Cons
The clocking-in-and-out experience may be tedious for workers who don't benefit from project tracking.
The lack of robust scheduling tools is a limitation.
Today, many businesses have moved from an all-in-person workplace to a completely remote work environment, and others use a combination of the two setups. Businesses with hybrid workforces need a time and attendance system that can easily support both in-person and remote team members, and Clockify does just that. It is a robust time-tracking platform that excels in project tracking to help companies stay on track and under budget. The platform is available across computers, web browsers and smartphones, with offline functionality to provide exceptional tracking for workers in any location at any time.
Clockify is the only provider we reviewed that offers a free time-tracking tool for businesses of all sizes. The company's advanced paid features include GPS tracking, single sign-on, time-off management, project templates, integrations with more than 50 productivity and project management tools and much more. The flexible monthly options mean you can modify your subscription plan as your needs and potential projects change throughout the year.
Clockify Editor's Rating:
9.2 / 10
Ease of use

9.3/10

Features

9/10

Integrations

9.3/10

Pricing

9.1/10

Customer service

9.3/10
Why We Chose Clockify for Hybrid Workforces
Increasingly popular work scenarios in which employees regularly conduct business from the office, in their homes, at job sites and on the road require a time and attendance system that works seamlessly across devices. Clockify offers a web app for Edge, Chrome and Firefox web browsers; a desktop app for Windows, Mac and Linux; and a mobile app for Android and iOS devices. This wide range of compatible devices means anyone can access their time clock and other features from any internet-connected device, which we find especially valuable in today's climate.
The platform can track the amount of time a worker spends on specific tasks and projects, providing visibility and transparency into the work done by remote employees. Clockify also offers optional GPS tracking to ensure that the correct workers are at the right places at their expected times.
Clockify's ability to function offline and across multiple devices makes it an exceptional time tracker for hybrid teams.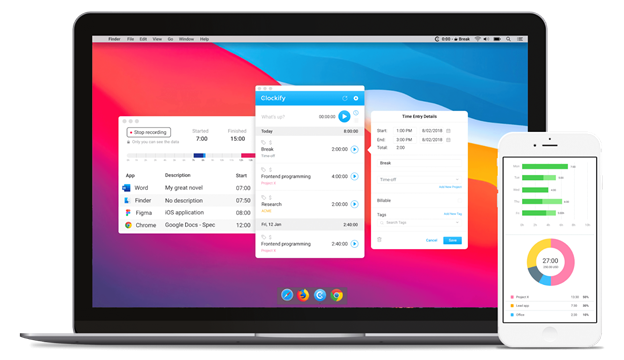 Ease of Use
Clockify is a wonderfully simple tool for tracking every minute your team members spend on projects and tasks. Users simply start the timer from any device when they begin work on a new or existing project. We like how the tracker works offline and syncs all relevant data once you regain an internet connection.
The system prioritizes accuracy with idle detection that allows you to remove any inactive time spent away from your computer. You can also configure the system to alert your team members if they forget to start their timer for any task. The auto-tracker feature can create time entries based on the user's computer activity, including time spent on apps and websites, and the documents they have accessed.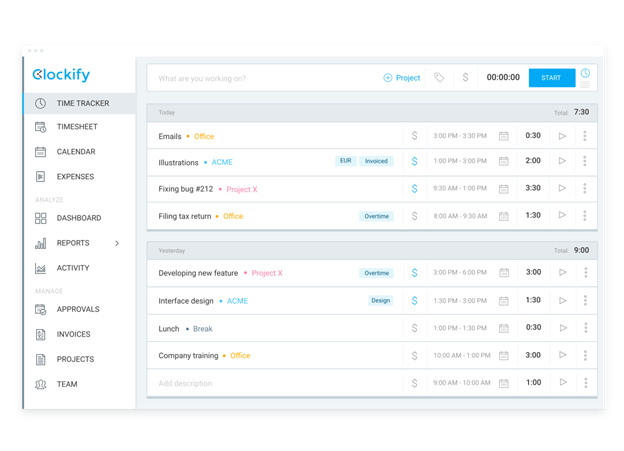 Features
Clockify is a powerful solution that helps you track things such as expenses, projects, time off and invoices. The software's helpful features even work offline and sync with Clockify as soon as a device connects to the internet.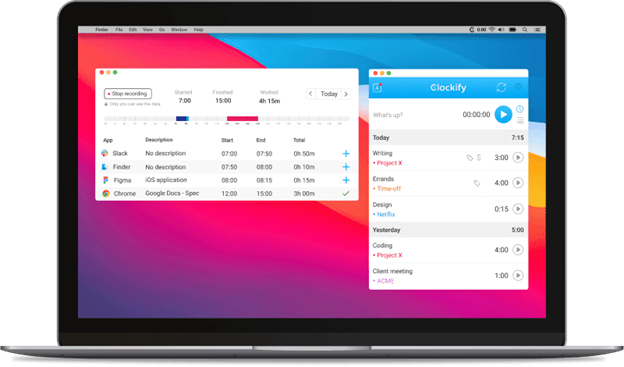 Auto Tracking
The free auto-tracking feature for the desktop app can record how much time you spend on specific applications, websites and documents, to help you create detailed timesheets and invoices based on your activity. Once enabled, this tool begins tracking apps after one minute of activity. All activity is saved locally and must be uploaded to Clockify to create new timesheet entries with relevant details. You can access your data from the web version to see every time entry you've created and run reports by project and date.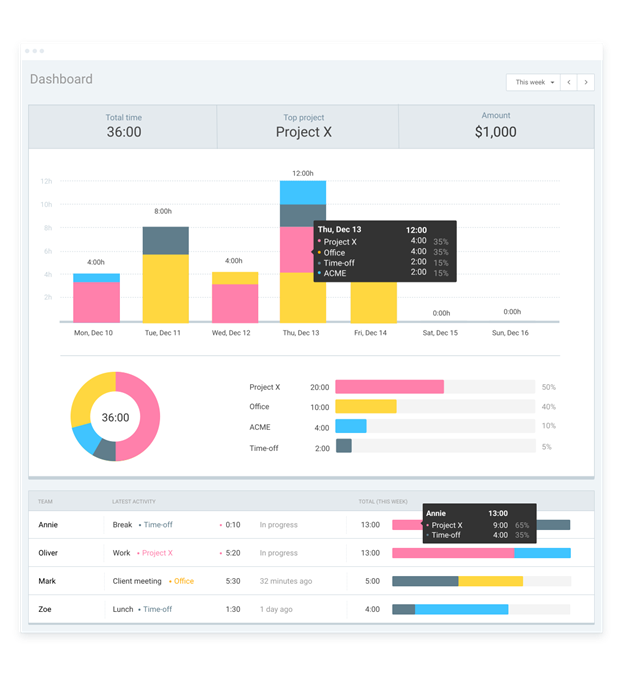 Calendar
Clockify's dashboard calendar is a key strength of the software. It can connect to Google Calendar and Outlook to help you visually track time and log activities. This calendar stands out for its easy-to-understand charts and graphs that show exactly where you are spending your time and what your team members are working on. This tool helps you identify where your labor dollars are going for every project you're working on.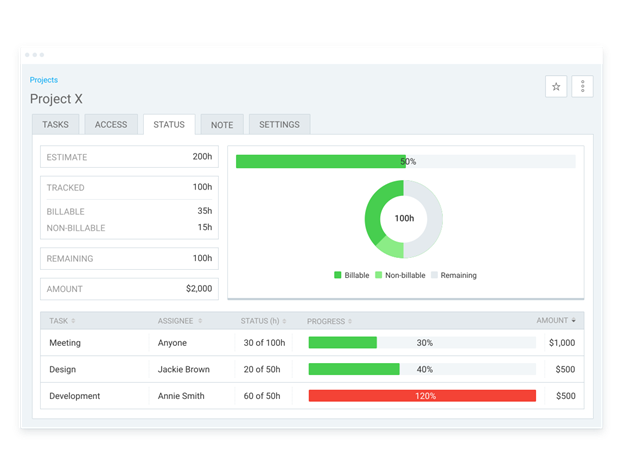 Project Tracking
Clockify makes it easy to track the time spent on projects so you can ensure everyone on your team is on track and under budget. Tasks can be categorized by job type, with multiple rates applied concurrently. You can use these tools to provide detailed invoices, set budget or time estimates, and be alerted when you are nearing your budget ceiling.
Pricing
Clockify offers four paid subscription plans as well as a free version. Notably, Clockify is the only time and attendance platform we reviewed that offers a totally free time-tracking solution for businesses of all sizes to use for any length of time. The company also offers a free seven-day trial with all plans except the Enterprise tier.
| | | |
| --- | --- | --- |
| Plan | Starting price | Features |
| Free | $0 | Unlimited tracking, unlimited users, unlimited projects, reports, apps and all integrations except QuickBooks, support and API |
| Basic | $3.99 per user per month when billed annually | Everything in the Free plan, plus bulk editing, the ability to add time for others, required fields, time audits, project templates, historical rates, imported timesheets, and the ability to control the type of data your employees can see from their accounts |
| Standard | $5.49 per user per month when billed annually | Everything in the Basic plan, plus time approval, time-off management, manager roles, targets and reminders, task rates, time rounding invoicing, QuickBooks integration and locked timesheets |
| Pro | $7.99 per user per month when billed annually | Everything in the Standard plan, plus expenses, labor costs and profit, scheduled reports, budgets and estimates, alerts, custom fields, GPS tracking, screenshots, and a force timer to prevent workers from adding or editing their time manually |
| Enterprise | $11.99 per user per month when billed annually | Everything in the Pro plan, plus single sign-on, custom subdomain and control access, and an option to store your company's data on a private server |
If you pay annually, you can get 20% off your bill. You can switch to annual billing at any time.
Implementation/Onboarding
Because of the way Clockify tracks projects, setting up this system requires a bit more legwork than other time and attendance software. For proper implementation, you or your workers will need to set up each project or task ahead of time.
We like how Clockify includes a helpful onboarding checklist to ensure new users can get their accounts up and running quickly while learning the system. Managers will need to set up their personal profiles, configure their preferred workspace settings, define their employee groups and set hourly pay rates.
Customer Support
You can reach a Clockify support specialist through email, a web form, chat and toll-free phone at any time during the workweek. Although the company does not list specific hours of availability, we did not have any trouble reaching a support agent by phone or chat during normal business hours in the Pacific time zone. Weekend availability varies by time zone. The company notes that representatives respond to support requests within 24 hours.
We like that Clockify offers support over the phone; not all companies do. Our review of When I Work found that this time and attendance service provider offers customer service only via web chat or online ticket. In our experience, Clockify's customer support team was especially helpful and knowledgeable when answering our questions.
Limitations
A comprehensive scheduling feature is the biggest missing piece of Clockify's offerings in this category. However, the company lists its upcoming features roadmap, and scheduling is at the top of the list. Once this feature is enabled – and, presumably, synced with the software's existing calendar feature – employees and managers should have a better-than-average scheduling experience with excellent calendar integrations. A Clockify representative told us that this feature could be ready soon.
Another possible downside is that although Clockify excels as a project-focused time-tracking tool, some employees who perform the same daily tasks might find it tedious to clock in and out. Companies in industries that utilize shift workers, such as retail and restaurants, may want to consider a time and attendance solution such as When I Work, which focuses less on individual projects and tasks.
What Is Time and Attendance Software?
Time and attendance software provides a fast, accurate and easy way for employees to record their hours worked using any computer or mobile device. These robust systems replace wall-mounted punch clocks, paper timesheets and unreliable spreadsheets for in-house and remote employees. Beyond the ability to accurately record billable hours with detailed information on the work accomplished, the best time and attendance systems feature native support or integrations with popular payment software and tools to automatically handle payroll and even help file taxes in many cases.
Methodology
Our editorial team spent weeks researching and testing the most popular time and attendance systems. We tried out each platform using the widely available free trial accounts, paying particular attention to each system's ease of use, features, integrations, pricing and customer service. In the end, we found nine worthwhile time and attendance systems for businesses of all sizes to consider and identified providers for a wide range of use cases, such as for automation, hybrid teams, employee productivity and scaling businesses. When considering hybrid businesses, we looked at systems that made it easy to clock in and out and track work on various projects from anywhere.
FAQs
Yes, Clockify offers a free version of its time-tracking software for businesses of any size. There is no limit on the number of employees who can use the free version, which includes unlimited tracking, unlimited users, unlimited projects, unlimited reports, apps, integrations, support, API and webhooks. If you need more features, you can upgrade to a paid account anytime. You can also try the extra paid feature for free through a seven-day trial for all plans except the Enterprise plan.
Clockify can track user locations through the available GPS feature on the mobile app. Once the mobile app user permits it, location tracking begins each time the timer is started and stopped in the mobile app. User locations are collected even if the app is running in the background.
Bottom Line
We recommend Clockify for …
Businesses seeking a free time-tracking solution.
Businesses that want to track hourly tasks or projects for invoicing purposes.
Businesses that want their data stored on a private server.
We don't recommend Clockify for …
Businesses with complex PTO policies.
Businesses that want employee scheduling alongside time tracking.