DocuWare offers a flexible document management solution that can adapt to virtually any workflow. It provides a user-friendly interface with drag-and-drop functionality plus important collaboration tools like version control.
Pros
DocuWare can integrate with more than 500 applications.
The workflow automation tool, featuring drag-and-drop functionality, accommodates businesses that may not have an internal IT team.
DocuWare promises to digitize any organization's department on its cloud-based document management system, from marketing and accounting to human resources and sales.
Cons
DocuWare doesn't advertise its prices — you must sign up on the vendor's website, request a demo and then receive a quote.
DocuWare doesn't have a desktop application for operating systems other than Windows; Mac and Linux users are required to use a web-based application.

DocuWare is an easy-to-use document management software program ideal for companies seeking extensive integrations and suitable for small and midsize businesses (SMBs). It incorporates a flexible workflow automation system that makes it adaptable to virtually any workflow. It features a well-organized user interface that employs drag-and-drop functionality. Document imaging and optical character recognition (OCR) classify documents and automatically apply metadata, making files easier to locate. Additionally, users can choose to manually refine or add more detailed metadata.
DocuWare Editor's Rating:
9.6 / 10
Storage capacity

9.3/10

Features

9.6/10

Integrations

9.8/10

Ease of use

9.6/10

Workflow

9.6/10
Why We Chose DocuWare as the Best Document Management Software for Integrations
DocuWare is the best document management software for companies seeking integrations due to its ability to integrate with hundreds of external applications. Unlike its competitors, the system can integrate with more than 500 applications, including Microsoft programs, Oracle, Salesforce and Xero — all commonly used business software. By syncing DocuWare with the other programs you use to run your business, you can share data between them and streamline operations easily. This saves time and reduces inconsistencies across different facets of your company.
DocuWare's ease of use, drag-and-drop feature and automated functions also make it a great choice for SMBs with various workflow needs in their day-to-day processes. Users can take advantage of the search function to quickly find documents, use the OCR for automatic indexing and rely on version history to ensure text changes are logged and tracked. Linux and Mac users can access these features on the browser version of the software while Windows users can opt to use the desktop application instead.
DocuWare integrates with more than 500 different applications, making it a great choice for companies with multiple workflow needs requiring different business software.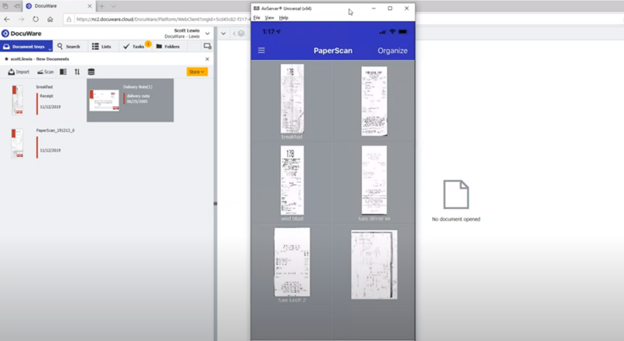 With DocuWare's mobile PaperScan app, you can digitize important documents easily by uploading photos from a mobile device. Source: DocuWare
Ease of Use
DocuWare has an uncluttered user interface that incorporates drag-and-drop functionality, which makes it easy to learn and use the software. You can upload paper documents multiple ways and, when documents are added to the system, the software classifies and indexes them automatically.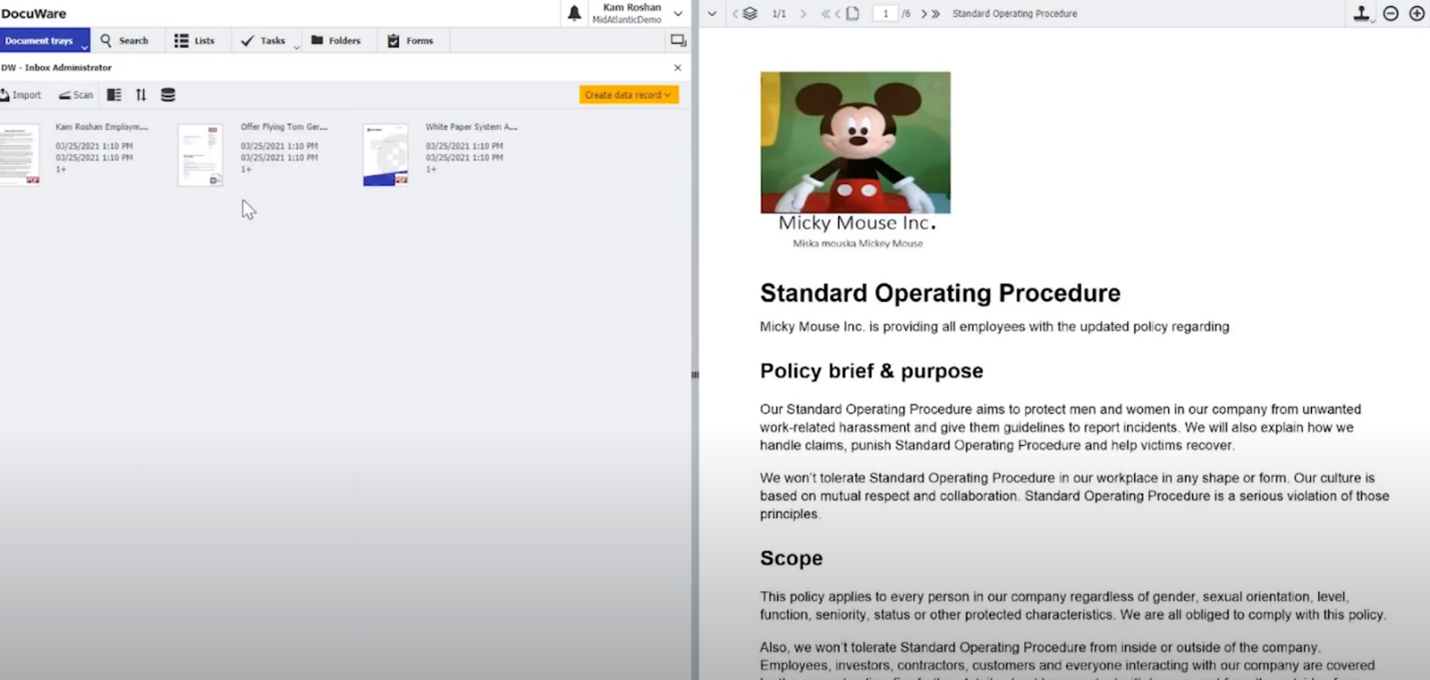 DocuWare's intuitive document tray makes it easy to visually view and organize your files. Source: DocuWare
DocuWare's imaging process adds metadata automatically to documents based on OCR. The system displays a confidence rating for each document scanned and indicates how accurately the system was able to index the file. This makes it easier for users to determine when additional metadata should be manually added.
The workflow automation manager is similarly easy to use, incorporating flowcharts and drag-and-drop functionality that administrators can use to set up custom workflows, even if they don't have a programming background. Once workflows are created, they can be applied to any file to keep team members on task and up to date with their responsibilities within the system.
Features
DocuWare's automation features take the burden off your team by automating some functions while streamlining document creation and approval so that your employees can focus on more critical tasks. Here are the key features we liked about DocuWare, beginning with the aspect that makes the product set itself apart: the available integrations.
Integrations
As mentioned above, DocuWare can integrate with more than 500 apps, including SharePoint, most customer relationship management and enterprise resource planning tools, Microsoft applications and more products. That makes the odds that you'll be able to connect the platform with other programs you use pretty high, setting your business up for easy document sharing across the entire company. In addition to its massive number of software and application integrations, DocuWare also integrates with a variety of scanners and multifunction printers. This helps tremendously as businesses work to transition to a paperless environment. Between its software and hardware integrations, businesses can feel comfortable knowing they are getting the most out of DocuWare's connectivity and capabilities.
We also like how the DocuWare website features specific guidance on how to connect all of its integrations. Some of the syncing is largely intuitive, while others require a bit more work. However, for those, the vendor offers clear step-by-step instructions.
Document imaging and OCR
DocuWare works in tandem with your scanner and digital uploads, applying OCR and artificial intelligence to automatically index paper documents based on the text. [Read related article: File Management Tips for Small Businesses]
Search
DocuWare's intelligent and full-text indexing makes finding documents easier by providing multiple ways to locate them. Every document uploaded is classified by artificial intelligence using key terms identified within the document. This information can be supplemented manually by users to add more precision to searches.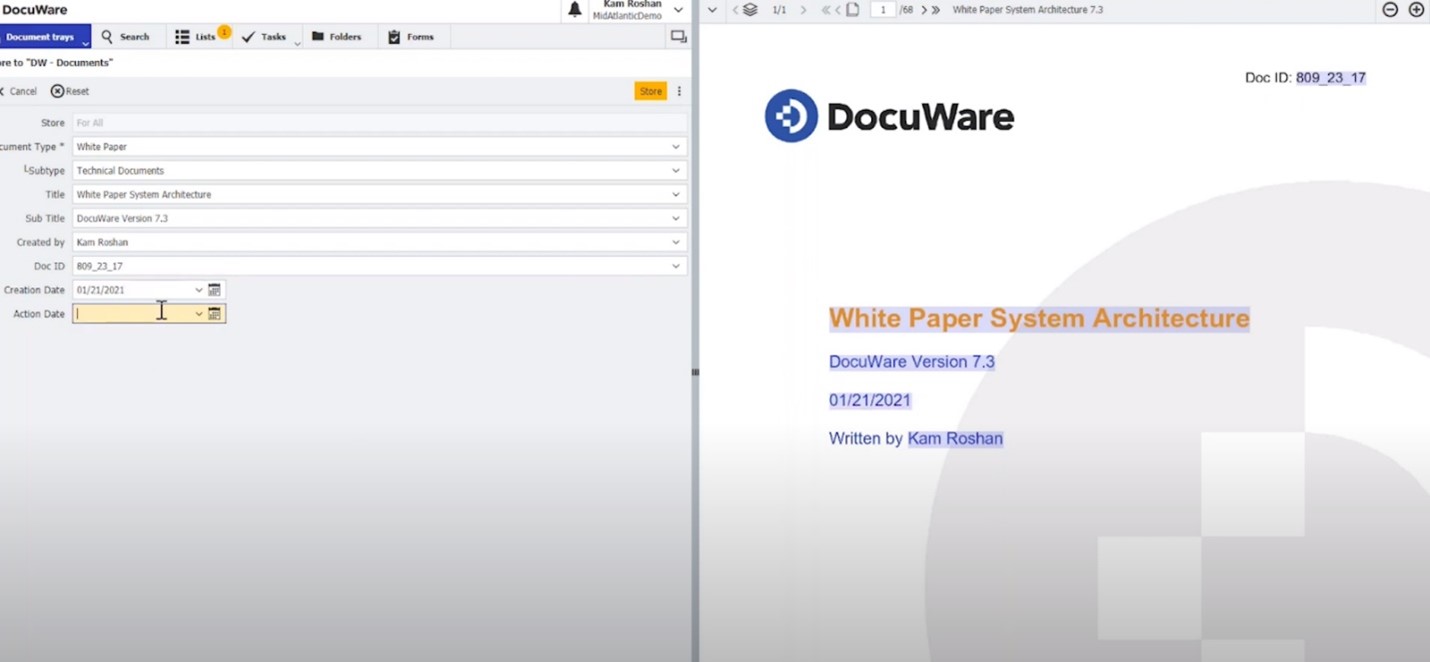 DocuWare's file naming fields allow you to enter and view advanced metadata, making it easier to search for and retrieve specific documents later. Source: DocuWare
Workflow automation
DocuWare's Drag-and-drop functionality makes it simple for anyone, even those without technical skills, to develop custom workflows for virtually any business process involving your company's documents and digital files. Establishing a workflow is as simple as setting specific tasks and assignment triggers, along with "if/then" statements, which are displayed in an easy-to-follow, color-coded flow chart. Once applied to a document or task, workflows notify users when a document needs their attention and then automatically proceed to the next step in the process until the workflow is completed successfully.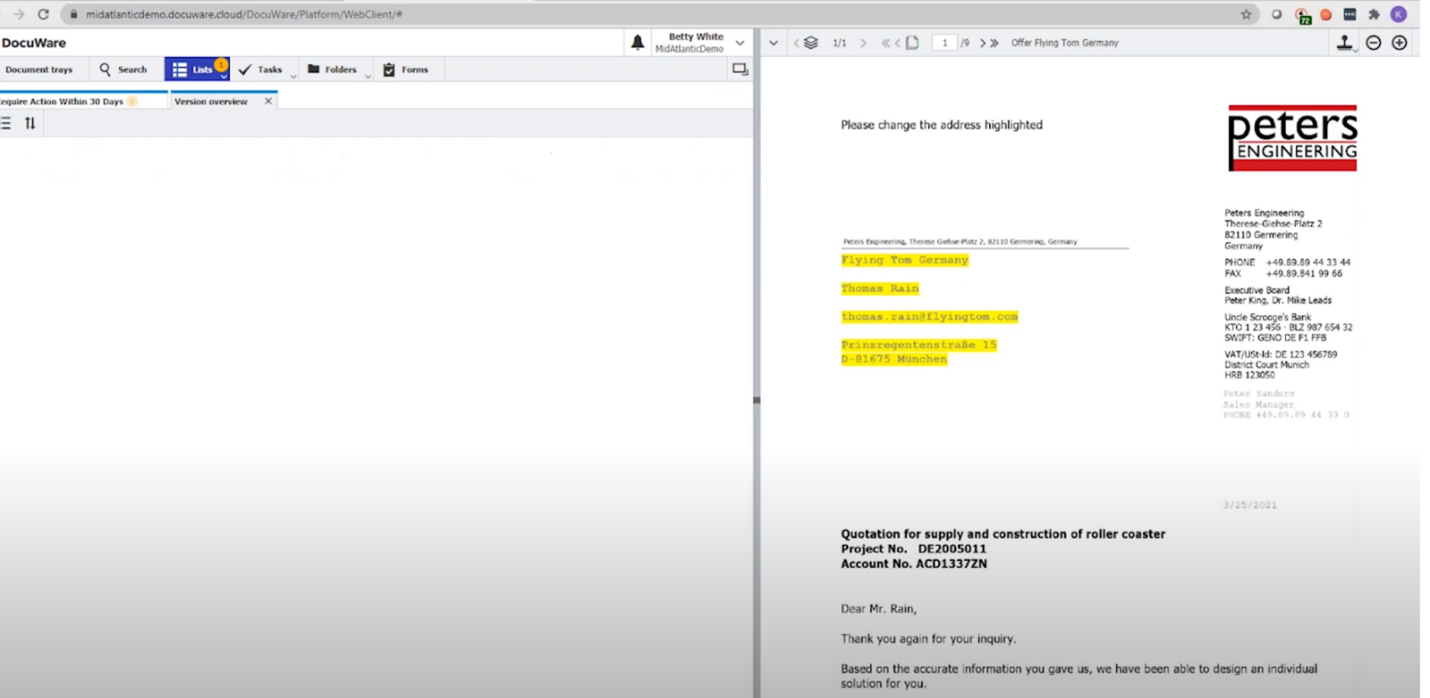 With DocuWare's collaborative versioning functionality, multiple users can leave comments and change requests on each iteration of a document. Source: DocuWare
Version history
DocuWare's version control tool automatically saves edits made to documents as new versions. Through the versioning feature, users can access the full history of a document and refer to previous versions.
Pricing
DocuWare has four plans for its cloud-based document management software. Each includes a full-featured version of the program, varying only in storage space and the number of users supported. You can upgrade plans at any time.
Here is how the plans break down.
DocuWare Cloud 4: The lowest-tier plan includes 20GB of storage space and licenses for four users.
DocuWare Cloud 15: Storage space on this plan accommodates up to 50GB and it supports up to 15 users.
DocuWare Cloud 40: This plan bumps up your storage space to 100GB and up to 40 users are allowed.
DocuWare Cloud 100: Here, you get up to 250GB of storage space and support for 100 users.
DocuWare doesn't publish the pricing for these plans, but when we contacted the vendor, we were told the typical price range is $25 to $100 per user per month for its fully-featured cloud system. To get an accurate cost for your business, you'll need to contact the company for a quote.
DocuWare offers a 30-day free trial. We especially like that you don't need to provide any credit card information to start the free trial.
Implementation/Onboarding
Getting started with DocuWare is a simple process. As with other document management systems, users can use DocuWare directly through their browsers, while those with Windows operating systems can also download a desktop application. DocuWare also offers a mobile application for both iOS and Android-based operating systems so your team can access company files from anywhere.
Team members with DocuWare administrative access can set up a new DocuWare user account with a few clicks so employees can instantly start working with the platform. The vendor offers thorough live demo training options so the system can optimally work alongside your daily workflow. The software's core information platform — the Knowledge Center — holds system information, frequently asked questions and setup support with thousands of articles for users' reference.
For businesses ready to switch to a paperless office, DocuWare suggests the entire transition will take up to 90 days. If your company already does digital file management, the implementation process should be significantly quicker.
DocuWare houses multiple support resources, including a Knowledge Base, Knowledge Center, community forums and Support Portal for 24/5 support.
Customer Support
DocuWare offers appealing customer support services, such as community forums, a chart of its current cloud system's status by country and more. The platform includes a Support Portal where users can get access to technical support 24 hours a day, Monday through Friday, known as "24/5 Support." Specific hours and options depend on your location.
To get assistance, you simply log into your DocuWare account and fill out a form during the vendor's available hours. Unlike its rivals, the company doesn't take email and phone requests. However, DocuWare users can leverage a comprehensive Knowledge Base that provides workable solutions for common issues. For a vendor providing 24/7 phone assistance, see our review of M-Files.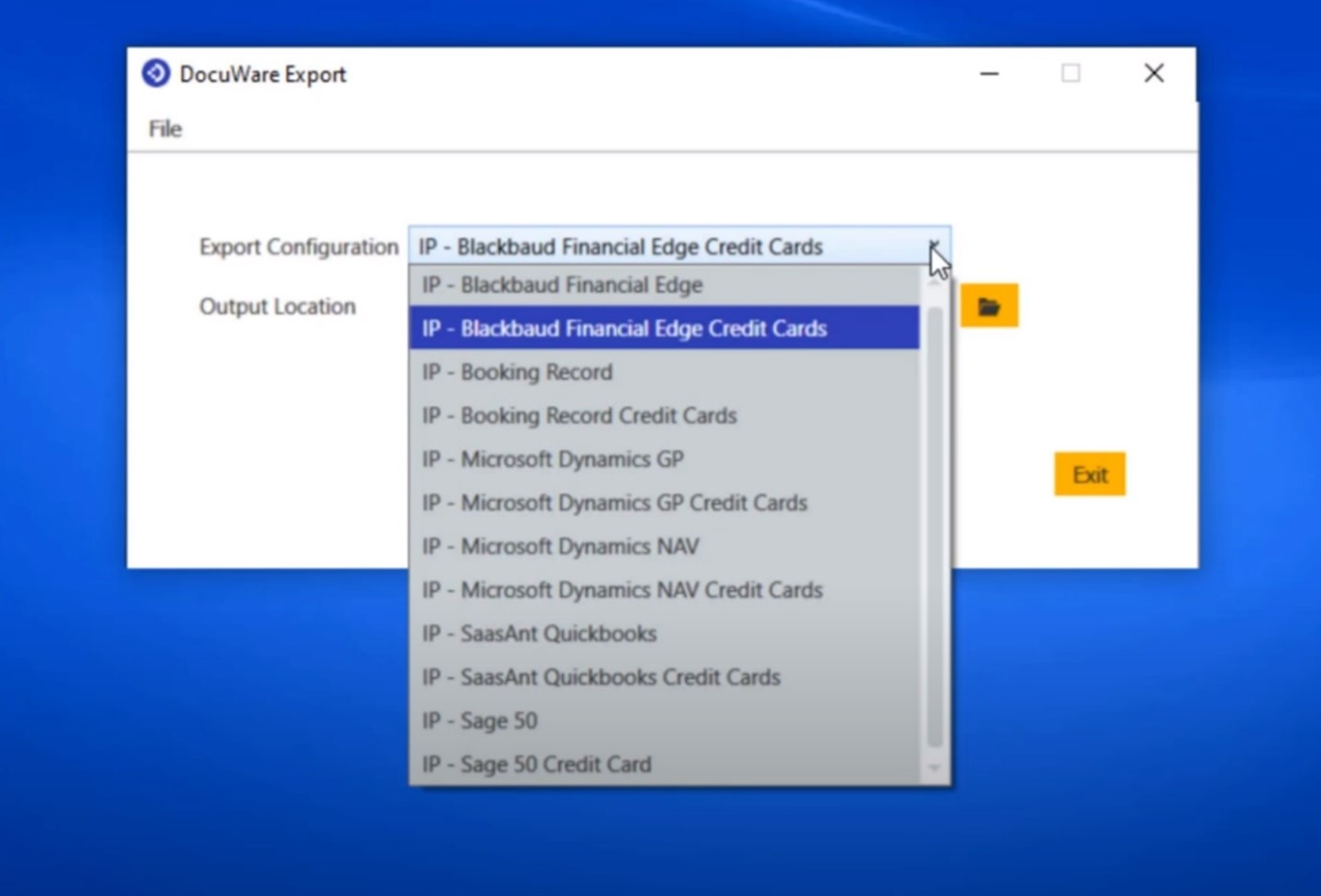 DocuWare allows users to easily configure and export data to their desired location. Source: DocuWare
Limitations
While DocuWare lists its various plans, including storage space limits and the number of allowed users, on its website, it doesn't publish the costs. Instead, you need to provide your information to the company via a form requesting a demo and a quote. While this wasn't uncommon among other software solutions we assessed, some competitors do share their pricing upfront, which reduces the burden on business owners when trying to gauge an accurate assessment of software programs and whether they fit into their budget. For a provider with clearly outlined costs, see our review of Rubex by eFileCabinet.
The DocuWare desktop application is only available for Windows operating systems. Mac and Linux users must use the web-based application through one of the supported browsers. This can cause collaboration issues between Windows users and Mac users in the same organization.
Methodology
To help businesses find the right document management system, we researched and analyzed dozens of options. With each product and vendor, we investigated its services, watched tutorials and how-to videos, tested out the system when possible and read user comments. We also considered the pricing listed on these services' websites and contacted each company's customer service department by phone or live chat, if possible, posing as new business owners to gauge the quality of support each provider offers.
During our evaluations, we considered ease of use, whether the solution was on-premises or cloud-hosted, the file cabinet structure, search capabilities, scanning options, editing abilities, collaboration tools, security measures, integrations, workflow abilities, mobile access, customer service and cost. When seeking a document management system for businesses prioritizing integrations, we looked for a service capable of integrating seamlessly with hundreds of popular business software solutions for streamlined operations.
FAQs
With DocuWare, you can computerize files, safely archive documents, support a mobile workforce, sync business software and automate day-to-day workflows and invoice processes.
DocuWare offers valuable features like the ability to import files, scan and classify documents, upload documents on a mobile app, export data, streamline workflows, share documentation both internally and externally, integrate with hundreds of other applications and more.
Yes, DocuWare is a secure solution. It is a cloud-based system with top-notch protection against viruses and other malware while providing version-control history, access control and emergency recovery if a crisis strikes.
Bottom Line
We recommend DocuWare for …
SMBs searching for a document management system with multiple integration capabilities.
Companies requiring a secure cloud-based system with multiple forms of customer support tools and resources.
Remote and distributed teams seeking to automate workflow processes.
We don't recommend DocuWare for …
Businesses that need more than 250GB of storage space.
Companies with Mac or Linux-based operating systems without stable web access.