M-Files is powerful document management software that seamlessly organizes and manages electronic documents. With its comprehensive features, M-Files earns our pick for best document management software overall.
Pros
The M-Files user interface is intuitive and familiar.
Documents can be searched by both metadata and text, so users can quickly find information.
Built-in workflow automation assists in project management and organization.
Cons
Though M-Files is accessible on nearly every internet-connected device, these devices do not automatically recognize the program; users must install software and set permissions for full functionality.
M-Files automatically organizes information by metatags, so those who are used to traditional document management systems may need time to adjust.

You want new business software to make things easier for your organization, not harder. With document management systems in particular, the purpose is to streamline your file storage for easy access and allow employees to work on the documents they need without jumping through hurdles. With M-Files, users can quickly and seamlessly organize and manage electronic documents. We also love that the sleek and intuitive user interface offers the familiar feel of Windows File Explorer, thus reducing the learning curve for new users.
M-Files Editor's Rating:
9.4 / 10
Storage capacity

8.5/10

Features

9.4/10

Integrations

9.6/10

Ease of use

9.8/10

Workflow

9.6/10
Why We Chose M-Files as the Best Document Management Software for Ease of Use
Out of all the document management software we reviewed, M-Files has one of the most neatly organized and intuitive interfaces. The dashboard is reminiscent of Windows File Explorer, which most computer users are familiar with. Whereas other products have a steep learning curve, M-Files is user-friendly and easy to navigate. Documents can be uploaded with a simple drag-and-drop, and most of the software's functions can be achieved with a few clicks on the dashboard. Users can also search files by metatags or document text, making identification and categorization a breeze. For these reasons, M-Files stands out as the best document management software for companies prioritizing ease of use.
In addition to M-Files' high usability, businesses can expect essential document management tools, including optical character recognition (OCR), e-signing and offline access. Users also enjoy workflow automation features that increase efficiency and reduce the potential for human error. To top it off, if issues do arise, M-Files' 24/7 phone support can help you resolve them.
M-Files' user-friendly interface allows teams to easily and efficiently upload, organize and find documents.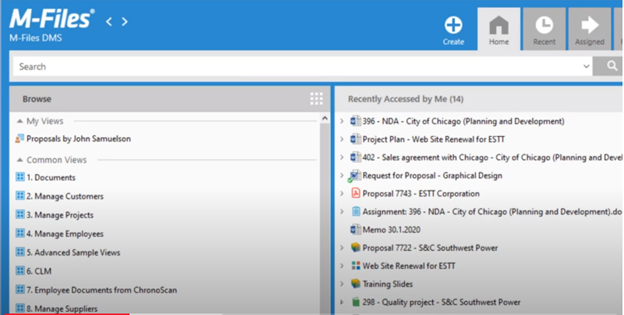 M-Files offers a clean user interface that is straightforward to navigate and organize. Source: M-Files
Ease of Use
One of our favorite aspects of M-Files is that it's extremely intuitive. The user interface is neatly organized, and you can carry out most tasks directly from the central dashboard. This screen displays a search bar and navigation buttons across the top. The buttons include Home, which returns you to the main page; Recent, which displays all the recent documents you've accessed; Assigned, which shows any documents or tasks that are currently assigned to you and awaiting action; and Favorites, which displays any files or documents you've tagged as one of your favorites for quick access.
Also available on the top navigation bar is a Create button, which allows you to create new assignments, customer records, documents or projects. Users can also scan documents using this button and use M-Files' OCR tool to make documents fully searchable.
M-Files' file explorer tool displays all publicly accessible folders and those you have access to privately. Using the toolbar on the right side of the screen, users can easily view metadata and tags, as well as filter documents. Another great aspect of M-Files is that most major functions can be carried out directly from the dashboard in a few clicks, making it easy to learn and reducing the time it takes to train others on the software. This straightforward setup also allows users to complete tasks more quickly.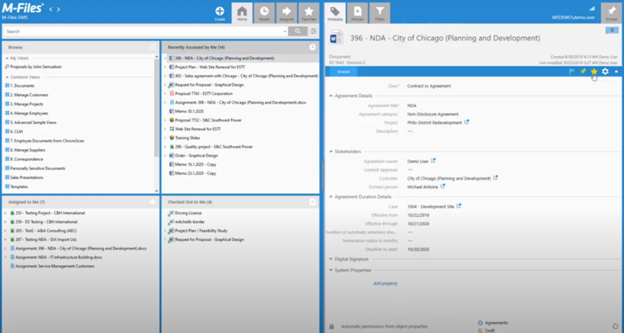 M-Files displays numerous metadata details for each document in your system. Even more detailed data may be available when you classify a file as a specific type of document, such as a contract or agreement. Source: M-Files
Features
M-Files comes in both cloud-based and on-premises versions. The cloud document management system works on any major web browser, including Microsoft Edge, Google Chrome, Mozilla Firefox and Safari. As with a lot of competing products, the on-premises version is available only on Windows operating systems; Mac and Linux users must use the web version.
While M-Files lacks some of the valuable features of more comprehensive document management software, it does have all the core functions we looked for in these programs, including the ones highlighted below.
Search
M-Files' search function, like those of many other document management solutions, is based on the metadata associated with documents. When uploading a document, users can add metadata to the file. For example, uploading an invoice with the metatags "Q3," "2022" and "invoice," along with information such as the date and time it was uploaded, can make it easier to find what you're looking for later on.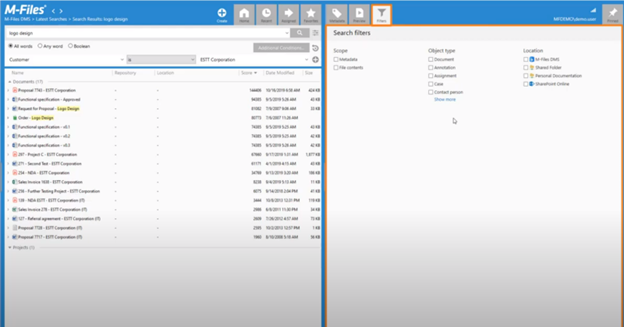 You can easily search for and retrieve documents in M-Files using specific keywords and search filters. Source: M-Files
Optical Character Recognition
M-Files' optical character recognition improves the searchability of documents by scanning them and making the text of the document searchable beyond the metadata. For example, if you upload a document that includes the salutation "To whom it may concern," you can search your files for that specific document using that exact phrase. OCR can also automate the process of applying metadata tags to new uploads.
Workflow Automation
M-Files' workflow automation abilities serve a project management function within the document management software. Built-in tools automatically categorize certain documents and assign certain tasks to users. For example, if a staff member has completed work on a document, they can send the document to a manager with the "review and approval" task assigned. All interested parties are notified once the manager has approved the document, allowing the next step to begin without delay. If improving productivity is a top goal, we recommend also checking out our review of DocuPhase.
Versioning
M-Files' versioning feature, a key component to look for when you're picking a document management system, tracks a document's history by monitoring changes and archiving old versions so you can refer to them as needed. It tracks who last opened the document, what changes were made and when they were made, so you know exactly which team members made which edits. Versioning includes a check-in and checkout feature, too; when a user checks out a document, it is unavailable to edit until it is checked back in. This prevents multiple current versions of the same document. Rival program FileHold has virtually the same tool; learn more in our detailed FileHold review.
You can view all previous versions of a specific document with M-Files' version history tool. Source: M-Files
Electronic Signature
M-Files offers an integration with DocuSign to enable e-signatures on documents that require approvals. Using DocuSign, users can affix their signature to any file within the M-Files application. The integration with DocuSign allows users to send signed files to recipients directly from the software. M-Files also integrates with Salesforce and a handful of other products, but for an alternative document management system with hundreds of third-party integration options, check out our review of DocuWare.
User Permissions
Your company's administrators can set permissions for individual M-Files users and create groups of users. Permissions can be set to read or write to allow users to view or edit documents, respectively. Users can also be granted priority. For example, if both a manager and a staff member want to access a document to make edits at the same time, the manager would be granted priority and the staff member would have to wait.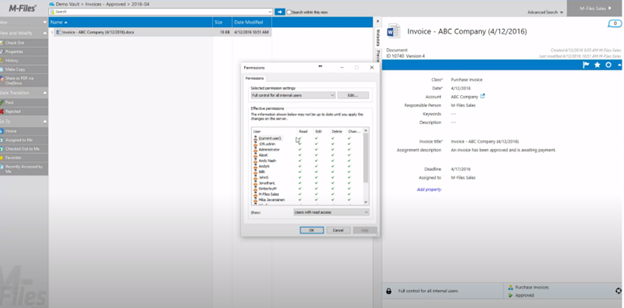 If you want specific users to have access to a document, you can toggle permissions on and off for actions such as read, edit and delete. Source: M-Files
Offline Access
If a user anticipates not having internet access, they can designate files for offline use on a laptop or mobile device. Any changes a user makes while offline are recorded and automatically synced with the system once internet access is restored.
Did you know? M-Files is also available as a mobile app for iOS and Android. The app allows you to upload, review and electronically sign documents on the go.
Pricing
M-Files doesn't publish pricing online, which is also the case for DocuWare and FileHold. As with those providers, you'll need to contact the company for a customized quote, which will vary based on your chosen M-Files platform and any add-ons you select.
The three platforms are M-Files Base, M-Files Team and M-Files Business. M-Files Base is an on-premises solution only, whereas the Team and Business versions can be cloud-hosted or hosted on your servers. M-Files Base is a more basic option than Team and Business, which have more features included. Here is a breakdown of how the plans differ in functions:
M-Files Base: Includes metadata architecture, search, desktop, mobile and web access, automated workflows, version control, Microsoft integrations, external database integration, OCR, community support, and support for external repository connectors.
M-Files Team: Includes everything in the Base package, plus advanced search, importing tools, DocuSign integration, a reporting module and standard support.
M-Files Business: Includes everything in the Team Package, plus advanced document comparison, better support for self-hosted deployments and artificial intelligence tools.
As with DocuWare, a 30-day free trial is available for M-Files. We recommend taking advantage of this opportunity to test the software before deciding whether you want to pay for it.
Implementation/Onboarding
We like that M-Files offers multiple implementation and onboarding options, ranging from DIY to professional support. Users can follow text-based instructions to install the program and watch self-guided onboarding videos to get oriented with the interface. For companies with greater support needs, M-Files has packaged implementation services for training, rapid deployment and managed services for an extra cost.
Compared with other document management software, M-Files' customization options are both plentiful and straightforward, which adds to its ease of use. Solution templates, configurations, add-ins and APIs make it easy to build a solution for your company's unique needs. Users can also install add-on products and extensions from M-Files and third-party partners, allowing for seamless integration and more rapid deployment.
Unlike other vendors, M-Files requires only one license subscription to get started. With a single M-Files license, teams can deploy the software on-premises or in the cloud (or both), offering flexibility and limitless scalability.
Customer Support
M-Files users can contact customer support through phone, email or web chat, depending on which plan you select; phone assistance isn't available for M-Files Base clients. You can also submit tickets via a portal. Standard customer support hours are Monday through Friday from 8:30 a.m. to 5:00 p.m. in the customer's time zone.
M-Files offices and representatives are available in eight countries, offering a wider global reach than some companies in this sector. Most impressively, there is 24/7 phone support for M-Business users — a perk many competitors don't offer.
M-Files also provides robust online resources, including webinars, video guides, news and announcements, and forums where users can ask and answer questions. This is on a par with other document management companies.
Limitations
Because M-Files is a hybrid of cloud and on-premises storage, you can access documents from nearly any internet-connected device. However, your device will not automatically recognize M-Files as a location where you can save documents. You will need to install software and grant permission to the device (as well as any other applications) before having seamless access.
Another potential challenge is adjusting to M-Files' search engine, which categorizes documents by generating lists of metatags. To make files easier to find, users can add their own specialized tags — a tool that's especially useful for businesses dealing with a high volume of documents. This filing method can come with a slight learning curve for those who are accustomed to traditional document organization methods, but this is something users would deal with regardless of which product or vendor they choose, as practically all of them use metatags.
Methodology
To determine the best document management software on the market, we evaluated dozens of products. Specifically, we looked at each solution's search function, scanning options, editing tools, collaboration options, workflow automations, third-party integrations, mobile access, and whether it was on-premises, cloud-hosted or both. We also researched each vendor's pricing, setup process, security measures and customer support. In addition, we tried out the services whenever possible, watched company how-to videos and read customer reviews.
When searching for the best document management software for businesses seeking high usability, we considered the system's ease of use, the user-friendliness of the interface, and the platform's ability to improve workflow and make operations more efficient. We also took into account the software's ease of implementation and its learning curve.
FAQs
With M-Files, you can easily organize, search and share documents with your entire team. The metadata-driven software helps your company automate business processes, find information quickly, and ensure compliance and information control. Features include optimized searching, e-signature capabilities, document change notifications, and mobile and offline access.
Yes, you can export data from M-Files to archive content, sync data among multiple vaults, or free up space on the server. Exporting is available from M-Files Admin, where you can select a document vault in which to do a one-time export. You will need to define the location for the content package and specify which elements you wish to export.
M-Files Discovery, which is part of the M-Files product suite, is an application that processes large document archives and quickly finds business-critical information within them. You can use it to automatically categorize and classify documents, as well as to search for personally identifiable information and other critical data.
Bottom Line
We recommend M-Files for …
Mid-market to enterprise B2B companies that are concerned about ease of use.
Teams that process and manage large quantities of documents daily.
Workers who need to quickly find and collaborate on documents.
We don't recommend M-Files for …
Small businesses or entrepreneurs with low-volume document management needs.
Companies that are seeking a free document management solution.