DocuPhase is the best document management software for improving productivity because of the valuable ways it streamlines document storage, scanning, retrieval and archival processes.
Pros
DocuPhase uses native tools, like automatic file routing and third-party integrations, to streamline the document management process for enhanced productivity.
The software features OCR technology that can read and interpret data from documents, eliminating the need for manual data entry.
The cloud-based solution is suitable for businesses of all types and sizes.
Cons
DocuPhase isn't transparent about its packages, and upgrading can be a complicated process that requires extensive customer support.
Because of the software's wide range of features, there can be a learning curve for new users as they navigate the platform for the first time.
A document management system isn't merely a place to store documents so you can go paperless. As its name suggests, it's a solution that also helps you manage, or track, your documents and complete ongoing work. While simply going digital will speed up your document management processes compared to relying on manual procedures, some solutions are better than others at really boosting productivity. DocuPhase is our pick for the best document management software for small businesses looking to improve productivity because it streamlines the steps involved in storage, scanning and retrieval, eliminating time-consuming searches for documents.
DocuPhase Editor's Rating:
9.2 / 10
Storage capacity

8.5/10

Features

9.6/10

Integrations

9.4/10

Ease of use

8.7/10

Workflow

9.8/10
Why We Chose DocuPhase as the Best Document Management Software for Productivity
For businesses rethinking their document management strategy, DocuPhase offers a secure, cloud-based solution for businesses. In a single, intuitive interface, business owners can store digital documents and eliminate unnecessary paperwork. Rather than sorting through physical copies of documents, you can use DocuPhase's advanced search functions, like keyword and configurable search tools, to quickly retrieve the documents you need. We also love that DocuPhase works for businesses of all sizes, as the software supports a large volume of documents while reducing the costs of hardware and onsite storage.
Additionally, thanks to DocuPhase's artificial intelligence (AI) and machine learning capabilities, businesses can use preset tags and indexing terms to automatically index documents and save time. These functions are ideal for companies that want to improve workflow and become more efficient. The platform is also integration-friendly, offers optical character recognition (OCR) technology and allows collaborative access from anywhere at any time. As such, DocuPhase makes day-to-day operations smoother, helping users get more done and done faster. With all this in mind, we found DocuPhase to be the best document management software on the market for businesses focused on increasing productivity.
Cloud-hosted document management software is a form of cloud computing, an IT setup that can boost productivity and profits.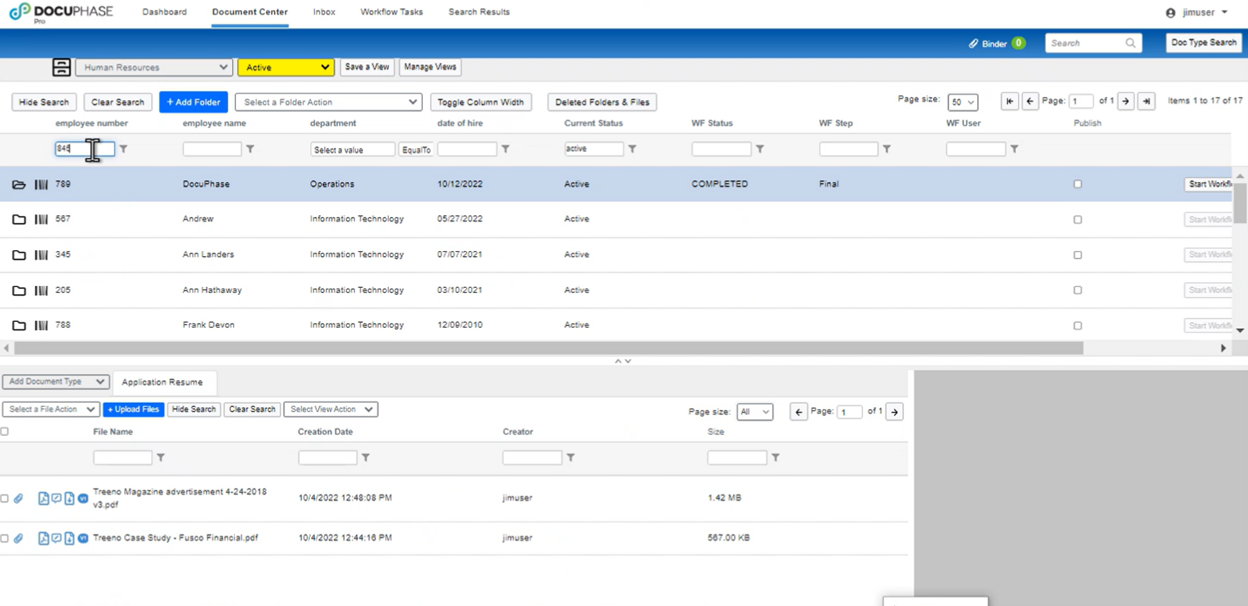 DocuPhase's search feature makes it easy to find specific files so you can locate exactly what you're looking for in your digital cabinets. Source: DocuPhase
Ease of Use
Although DocuPhase's platform might have a small learning curve, the software company offers guided training to help new users adjust. Based on our experience, you can quickly learn how to integrate the software's features and automate document management processes with ease once you know your way around.
Navigating DocuPhase's tools is relatively simple. The main menu bar at the top (featured on all major pages in DocuPhase) allows you to search tools using the grouping tabs. You can select and navigate to the right functionality with submenus and operational pages.
DocuPhase offers webinars on topics like document sharing, collaboration and becoming a paperless business, which can help new users get the most out of their document management software. Still, businesses interested in finding the platform that's easiest to use should check out our review of M-Files.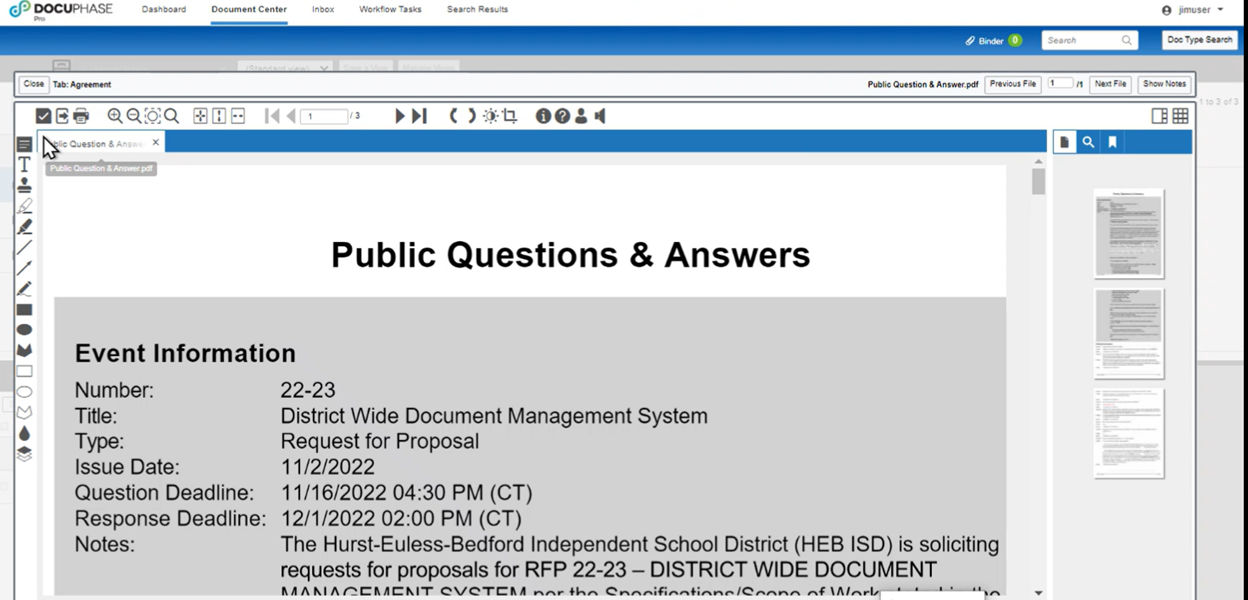 DocuPhase allows you to quickly view, annotate and save a variety of file types. Source: DocuPhase
That said, we also like how DocuPhase users can easily connect the program with hundreds of compatible enterprise resource planning (ERP) integrations, like NetSuite, Dynamics and Sage. Additionally, you can safely and securely store sensitive information using customizable security protocols that grant access with tiered permissions. [Learn about ERP software and how it can increase efficiency.]
DocuPhase supports efficient document management storage and processes once you're well-trained on using the program.
Features
DocuPhase isn't meant to be a digital filing cabinet and nothing more. Its features are designed to help your business improve its workflow and take productivity to the next level.
Automatic File Routing and Indexing
We really liked that DocuPhase offers automatic file routing and indexing to help you manage digital documents in a paperless office. AI and machine learning help users increase efficiency, productivity and organization by eliminating the need for manual file routing and indexing.
Integrations
DocuPhase seamlessly integrates with other common platforms, like ERP systems. While it works well as a stand-alone document management software, it can also serve as an integrated tool across multiple business software products. You can use DocuPhase to integrate data, content and processes from the different applications you use to run your business. This makes it easier to handle day-to-day operations and cuts down on time switching between programs. One of DocuPhase's similarly named competitors also stands out for integrations — get all the details in our DocuWare review to see which solution is better for your business.
Enhanced Data Capture
Good document management software should easily extract information from documents and convert it into data. DocuPhase's enhanced data capture replaces manual data entry with an OCR capture tool that analyzes and extracts data from incoming documents. This tool supports the digitization of documents while ensuring 90 percent accuracy, eliminating human errors and reducing costly mistakes.
Advanced Search Functions
Searchability goes a long way with document management. DocuPhase's advanced search functions save valuable time, especially for larger teams with hundreds and thousands of documents. Users can search documents by keyword to find the exact piece of information and document necessary rather than manually combing through folders, files and stacks of paper.

If you need to make a change to a document, you can quickly find it using DocuPhase's search functions and then put in a change order to ensure revisions are made in a timely manner. Source: DocuPhase
Custom Permissions
Document management security is crucial. Larger teams can benefit from DocuPhase's highly customizable permission protocols, which allow for customized access across various departments. Business owners and managers can restrict access to specific documents to only the employees who need them for their specific roles. Users can also create tiered permissions for additional security. Depending on your company's jobs and departments, you can grant access to individual users or groups that can be limited or broad in scope.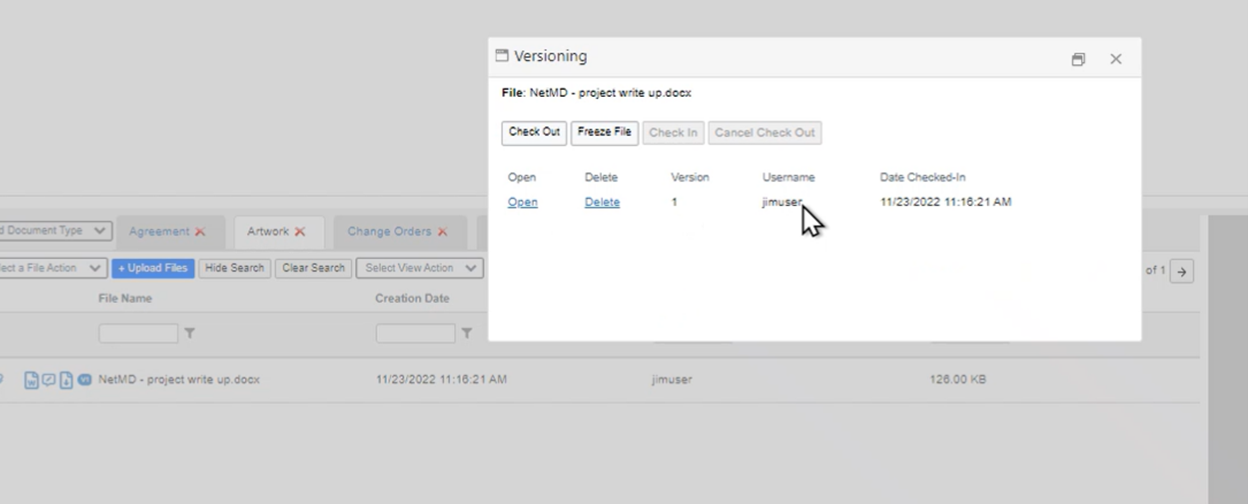 DocuPhase provides a versioning list so you can see exactly who accessed and edited any file. Source: DocuPhase
Hosting Options
Most document management solutions today offer cloud-hosted storage. Additionally, DocuPhase provides private and hybrid cloud hosting services that facilitate data backups, snapshots, clustering, geographic redundancy and other features.
DocuPhase Pricing Plans and Subscription Costs
DocuPhase provides customized document management systems that are tailored to each business's needs. The vendor doesn't publish any of its package tiers or pricing information. Contact a sales representative to receive a quote based on your company's size, the features you're looking for, and other factors.
Some business owners may appreciate the chance to customize their document management platform, while others may be turned off by the lack of upfront information. That said, when we spoke with a DocuPhase representative, we were told its lowest tier includes up to five user licenses and starts at around $11,000 per year. This package also includes the option to add lower-priced limited user accounts that do not have full administrative privileges.
DocuPhase offers custom demos and free trials so you have an opportunity to see if the software is the right solution for your business before fully committing. Most of the provider's peers also have trial periods.
Implementation/Onboarding
New DocuPhase clients will work closely with the vendor's Professional Services team to implement their document management software either onsite or remotely. Depending on your contract and the scope of your platform, your setup time will range from three weeks to several months. The more involved you are in the implementation (for example, providing the necessary information and permissions to ease the process), the quicker the process will be. However, if your solution requires custom configurations, data migration or personalized features, setup will take longer.
Once implementation is complete,consider scheduling onboarding and training sessions for the employees who will be using the system the most. DocuPhase hosts monthly on-site training classes to walk users through each feature so they can easily navigate the software.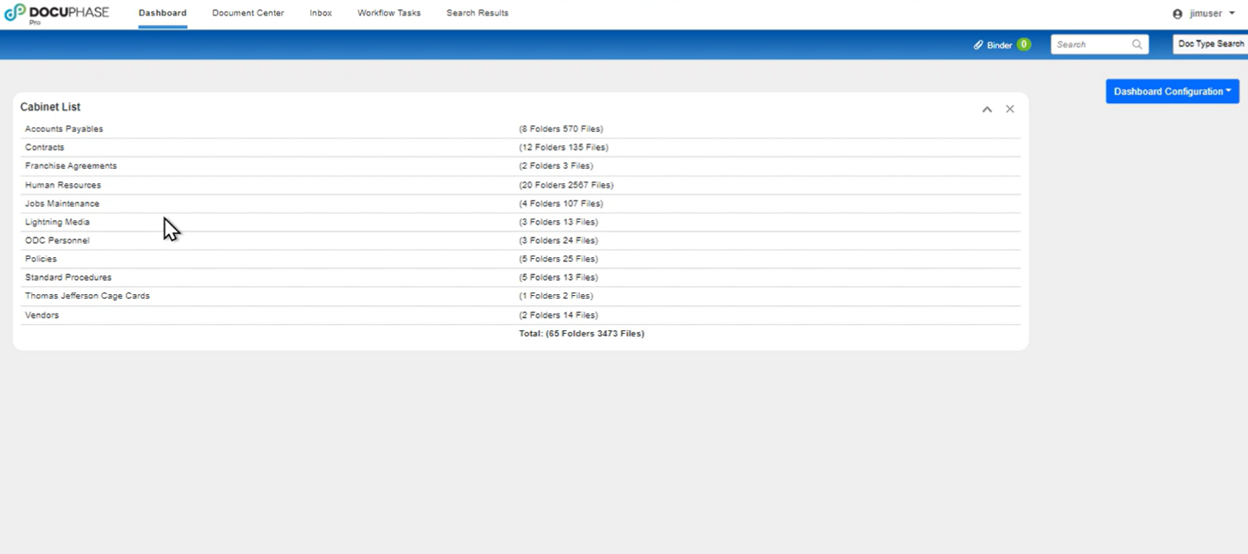 DocuPhase has a clean, modern dashboard that makes it easy to see your digital cabinets at a glance. Source: DocuPhase
The service provider recommends users upgrade their software whenever a new version of DocuPhase is released.
Sign up for a free upgrade assessment to seamlessly facilitate the update process when new versions of DocuPhase roll out.
Customer Support
We found DocuPhase's customer service to be comprehensive. Not only does the vendor offer onsite training, but they also provide both phone and email support Monday through Friday, 8 a.m. to 8 p.m. ET, as outlined in customers' support contracts. DocuPhase facilitates product support for its software suite and provides how-to guidance on system functionality for free, and charges additional fees for other support services, like change requests to your current product configuration or issues caused by misuse, improper use or invalid action. DocuPhase also provides after-hours support as a billable service.
On its website, you can find typical support resources, like webinars, a company blog and an FAQ section. The site also features white papers and case studies that may apply to your business.
DocuPhase doesn't have an online chat feature for issue resolution, even though many of its rivals make use of chatbots and live chat for customer support.
Limitations
While DocuPhase is a streamlined and intuitive document management system, it does have its downsides. For instance, the vendor's customer service can be too hands-on when it comes to upgrades. DocuPhase is known to handhold customers through updates and rollouts rather than providing users the resources to handle these processes on their own. That can slow things down considerably, which is odd for a product that otherwise does so much to aid productivity.
We also learned in our investigation that while the platform's customer support team is generally helpful, representatives often have trouble identifying and fixing any issues with updates, which can delay and inconvenience your business. And since DocuPhase doesn't have an online chat for tech support, it can be frustrating to go through a ticket resolution process for problems that require quick fixes. In contrast, competitor Revver not only has a live chat option, but it also invites clients to participate in weekly Zoom sessions where they can get questions answered by company experts. Learn more in our full review of Revver.
Methodology
Our search for the top document management systems for small businesses entailed researching and analyzing dozens of products on the market. Our evaluations included demos and hands-on product testing whenever possible, conversations with customer support and reviews of customer comments. We watched tutorials, looked into each vendor's pricing, and examined platform usability, the implementation process and security measures. We considered features like the file cabinet structure, search functions, scanning capabilities, integrations, automated workflows, collaboration tools and mobile access.
To determine the best document management system for companies that want to improve productivity, we paid particular attention to automated features, third-party integrations and ways in which the software streamlines operations and enhances workflow. [For more help making a purchasing decision, check out our advice for choosing a small business document management system.]
FAQ
DocuPhase provides document management solutions to a variety of industries, including manufacturing, healthcare, insurance, food services and government. Companies in any field can benefit from its software.
Yes, DocuPhase offers other business solutions that help teams manage content and automate processes, such as back-office accounting and customer-facing portals. The solutions include accounting automation, workflow automation, payment automation and other products for web forms and capture and recognition.
Yes, you can integrate DocuPhase seamlessly with other systems. The platform has the most integration experience with Microsoft Dynamics GP, NetSuite and Acumatica, but it also integrates with a wide range of ERP and enterprise-level systems. DocuPhase's platform also works well as a stand-alone document management and workflow system.
Bottom Line
We recommend DocuPhase for…
Business owners seeking a document management solution that improves workflow.
Companies that need to integrate their document management system with ERP systems.
We don't recommend DocuPhase for…
Business owners looking for an on-premises document management solution.
Companies that want to know prices and package options before dealing with the vendor.