Revver has all the essential document management features needed for everyday business use. Its extensive storage capacity — available on higher-tier plans — makes it stand out among competitors, with options reaching 20TB instead of only 5TB.
Pros
Businesses can fill up a huge amount of storage space with Revver's top offering.
The platform's no-code workflow builder (form and graphical user interface-based) is user-friendly and intuitive.
The integrations are well-executed, especially with Microsoft 365.
Cons
Revver doesn't offer a free trial, which means business owners have to commit to a plan before being sure the software will work for their needs.
The company's mobile app has been poorly received by users and could do with the radical revamp the desktop application has benefited from.
As one of the leading document management software providers on the market, Revver offers a wide range of capabilities and features that are ideal for small and large businesses looking to ditch their manual processes and switch to a paperless office. With extensive storage options (for some plans) and an abundance of customizable tools, companies can migrate their data into the Revver system to streamline employee workflows and improve information sharing throughout the organization. Plus, if you need help integrating Revver's services into your business, you have the full support of your own customer success manager and team.
Revver is the new name for eFileCabinet, whose document management system (DMS) was previously known as Rubex. However, this is more than a simple name change. Revver has completed a wholesale refresh of its product, focused on automation and document workflows.
Revver (formerly eFileCabinet) Editor's Rating:
9.7 / 10
Storage capacity

10/10

Features

9.8/10

Integrations

9.8/10

Ease of use

9.5/10

Workflow

9.8/10
Why We Chose Revver for Storage Capacity
We chose Revver as the best document management software for businesses seeking extensive digital storage because its immense storage capacity blows competitors' offerings out of the water. With storage capabilities reaching 20TB, companies can rely on this cloud-based software to store, track and manage their most confidential files in one place without worrying about losing or sharing them on less-than-secure platforms or running out of space. 
We love the flexibility Revver offers with its multiple packages, allowing business owners to choose the level of service that best meets their needs. All plans include integration capabilities too, enhancing the platform's usability. Furthermore, the vendor's complete overhaul of its desktop application has been superbly executed. It is now much more action- and use-case-oriented than before. The introduction of to-do lists and quick-access drawers on the home screen make finding what you need substantially easier than before.
Cloud-based storage like what Revver offers can give business owners peace of mind as it provides a backup in case of an emergency where on-premises documents are lost and need to be recovered.
Ease of Use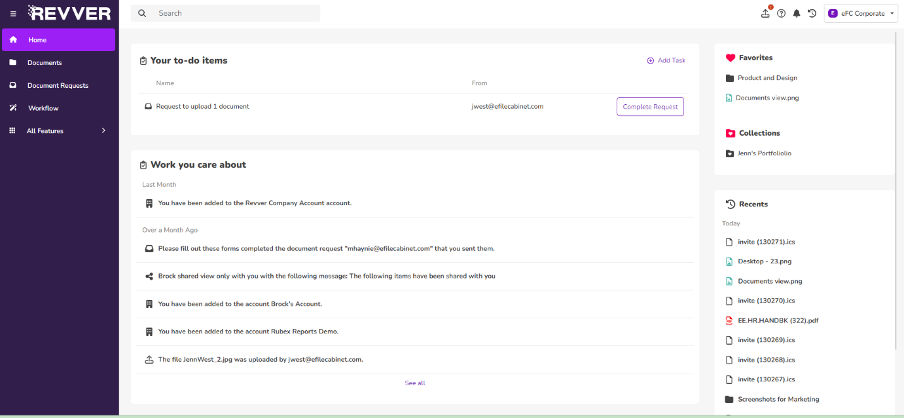 Revver's new interface features three logically structured columns.  Source: Revver
Revver has completely changed the user interface (UI) from Rubex with a new focus on enabling users to access platform functions easily. This is a welcome change because, in our previous reviews of the Rubex software, we were impressed by what the platform could do but were concerned about the learning curve for new users. Now the dashboard is incredibly user-friendly.
As you can see from the picture above, the screen real estate for the homepage is split into three columns, making the display much simpler than before. There's a menu on the left, workflow items requiring user participation in the middle and a favorites/recent panel on the right. The middle section contains a list of your to-do items and below that is a list of "Work you care about" — previous or ongoing issues whose progress you can view and intervene in if necessary. In earlier iterations of this platform, you had to look across different tabs of the UI to get this information, so this is a much-appreciated change.
The right-hand side of the screen also contains a "Portfolio" section. You can right-click in the files and folders that you need access to the most to ensure they appear in the "Collections" list below. Underneath that is a "Recents" section where you can navigate to the cabinets, drawers, folders and files you've most recently accessed quickly.
In addition to the "Home" tab, the menu on the left side has buttons for navigating to other parts of the software:
Documents: This is where you'll do most of your work as it contains direct access to your cabinets, drawers, folders and files. 
Document requests: You can send requests for documents to a colleague or another user that they can then upload to your dashboard via a secure channel.
eSignatures: This presents a list of contracts yet to be signed.
Workflow: In this section, you can set stages and steps for what the system should automatically do with individual types of documents. 
Revver reports: There is two-part functionality in this tab with dashboards and reporting. You can create dashboards tracking metadata within individual documents to monitor progress, and you can also create metadata-driven reports showing incomplete or overdue files.
All features: This includes links to all of the above and more split into four categories:

"Documents": Such as recycle bins and file processing queue
"Work": Such as folder templates, email import, workflows and Revver Reports
"People": Such as users, groups and public access links
"Account": Such as audit logs, security policies, Salesforce integration and search function
Revver's UI evolution reflects a broader trend in the market where document management vendors are moving beyond general retrieval and storage. Instead, they want their systems to be more responsive to the way documents behave. To do that, they're automating as much as possible and eliminating redundancy. The goal is to reduce the need for humans to be involved in manual document sorting and categorization, data extraction and data accuracy verification. The new interface makes this much more feasible.
We also like that the search feature (available at the top of the dashboard and in the "All Features" tab) makes document identification and retrieval more accurate and faster than before. As well as searching across an entire document base, you can search individual cabinets and draws.
Features
While it's the extensive storage capacity that makes Revver stand out the most, users can also enjoy helpful features that make the system more than just a virtual file cabinet.
Storage Capacity
The Revver software allows users to confidentiality store, encrypt and share files as large as 1GB with co-workers or clients as needed. Unlike most document management systems currently available, Revver offers an option for 20TB of storage space. That can come in handy for companies regularly dealing with large files and in-depth recordkeeping.
Integrations
Upload a Word document to the Revver platform easily to take advantage of its Microsoft 365 integration. Source: Revver
We love that Revver natively integrates with the following business tools:
Microsoft 365: Click on the MS365 icon in the control sidebar on the right when creating a document. It then opens that document up in Microsoft Word, where multiple users can edit it simultaneously and in real time. Changes are constantly saved. When the document is reopened on the Revver platform, it's in the final form created in Word. You can even do a side-by-side view of different document versions to visually inspect changes. Revver also integrates with Excel, PowerPoint, Outlook and other 365 programs.
DocuSign: Send documents for signing from within the Revver system. When the recipient signs, DocuSign uploads it to your platform. You can set alerts to notify whichever users need to know when documents are signed automatically.
Azure Active Directory: This integration makes it easier to manage employee access to your computer systems and the apps on them, including Revver, thanks to a simpler, more centralized setup and removal of staff accounts. [See our comparison of Microsoft Azure and Amazon Web Services.]
Make: Connect Revver to thousands of different apps and business programs via Make to create, rename, download and upload cabinets, drawers, folders and files from other platforms. However, you may need to bring in outside developers to help engineer these integrations.
Salesforce: You can view Revver drawers and files in Salesforce, as well as map Salesforce objects to Revver locations and save from Revver into Salesforce.
There are lots of developer opportunities with Revver too. The company provides its own software development kit to help developers integrate via a .Net Referenced Assembly interface and Component Object Model. However, if having a much wider suite of native integrations is important to you, check out our review of DocuWare, which has more than 500 of them.
Competitor M-Files also boasts a DocuSign integration. Find out more in our comprehensive M-Files review.
Secure Cloud-Based File Sharing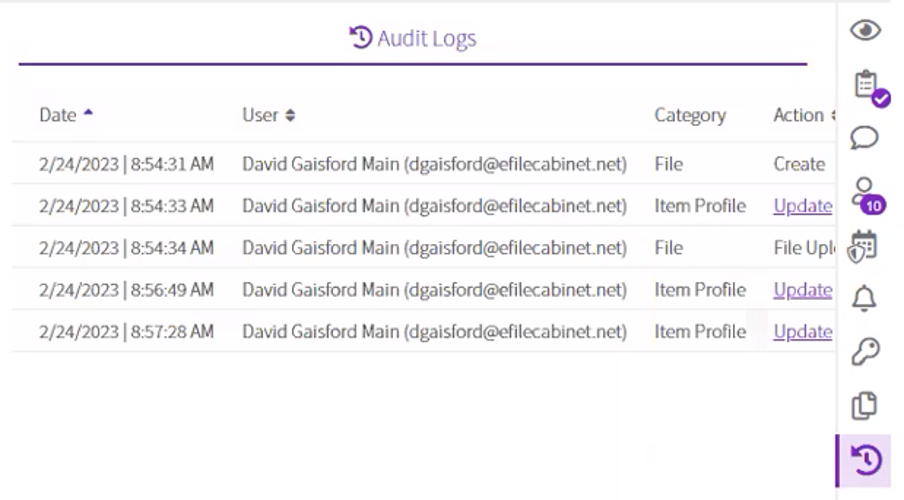 Access the "Audit Log" with the clock icon in the right-hand panel to see when a document was created and updated. Source: Revver
Revver's cloud-based document storage has bank-grade security measures in place to ensure files are always protected, even when trusting a third-party custodian to monitor and manage your documents. Files are securely stored in the company's Level 1 Payment Card Industry-compliant data center and are encrypted in transmission. File integrity and history are maintained via the "Audit Logs" function. This helps businesses ensure compliance with Financial Industry Regulatory Authority, SOC 2 Type 1, Health Insurance Portability and Accountability Act and more.
Document Lifecycle and Editing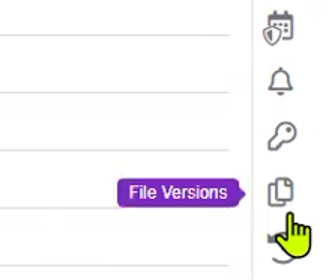 Click the "File Versions" option on the right-hand control panel to see previous iterations of a document. Source: Revver
There are two ways staff can work on the same document when using Revver. First, if the document was originally loaded through a Microsoft 365 app, it can be amended by multiple people in real time. When the amended version is completed, a copy of the new iteration and the previous are saved and stored.
Alternatively, if your document is not a Microsoft 365 file, the platform has a check-in and checkout feature that ensures multiple users don't make parallel edits on the same version. Instead, edits are made on a single, updated version of the document and older versions are saved and archived within the software for later review. M-Files and fellow document management vendor FileHold both have a similar check-in/checkout tool.
As you can see from the image above, checking previous versions in Revver is as easy as selecting the relevant icon on the screen.
As long as they adhere to protocol, e-signatures (electronic signatures) are recognized by the Federal Deposit Insurance Corp. and can be used to digitally sign contracts.
Security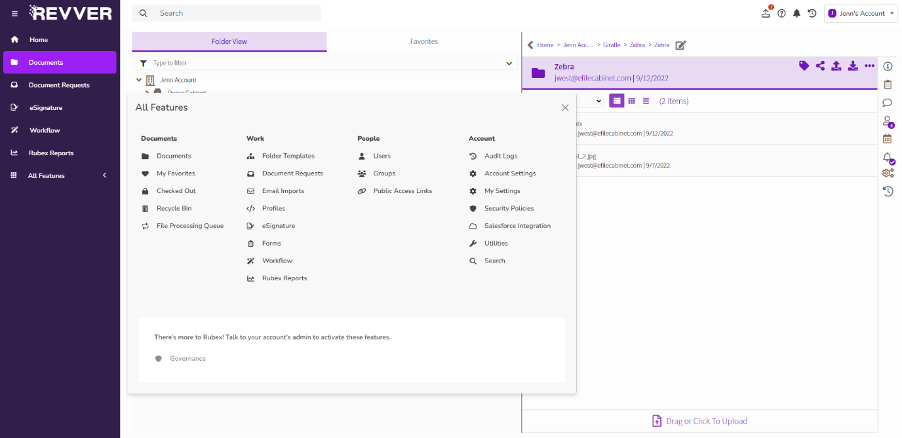 You can access the security options via the pop-up menu that appears by clicking on "All Features." Source: Revver
With Revver, you can use:
Role-based security, in which system administrators assign — and restrict — access and editing capabilities on each file. You can easily set up general permissions and assign them on both an individual and group basis; however, they can be overridden as needed.
General security, with which you can create and set access limits across your business, for individuals or groups of individuals. You can establish password-change frequency levels and maximum session times, enable dual-factor authentication, program permissible log-in times and internet protocol addresses, set up single sign-on authentication and more.
No-Code Automation Workflows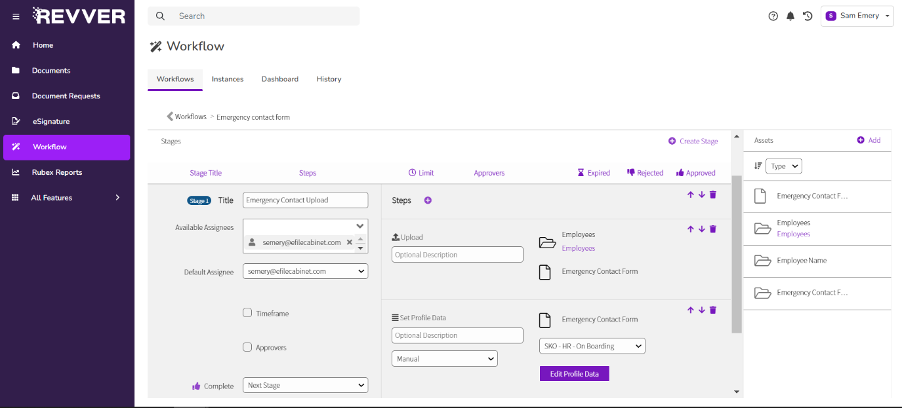 Revver's workflow tools are designed to streamline operations and reduce manual document management tasks. Source: Revver
We like how Revver allows you to sort and store documentation in a logical structure that makes sense for your business without requiring a great deal of experience with the platform. We further appreciate that the system offers no-code, enterprise-grade automation that anybody can manage without coding skills. The platform is capable of automating manual, repetitive document processes, such as routing documents, requesting approvals, creating new folders and extracting data.
You can describe stages to the system via the panel shown in the image above or drag-and-drop steps and stages as well as users and document types, into a custom workflow. You can reflect complexity in the process by setting different rules for the workflow depending on what a user fills in on a given document. 
Businesses can rely on Revver to automatically file documents, saving time and increasing productivity. Regardless of whether the document is initially located in a text message, an email or on a hard drive, users can store files in the program and search for them as needed through the filing processes. The workflow tools help make completing everyday document-related operations more efficient. Competitor DocuPhase also has automation features that boost productivity; learn all about them in our detailed DocuPhase review.
Optical Character Recognition
Revver has a zonal optical character recognition (OCR) tool, which can read images and make any document fully searchable, to scan files and import them into the system. While many competing products have OCR too, this software also uses it to automate the document organization process by automatically pulling keywords into the metadata fields.
Pricing
Notably, unlike its peers, Revver doesn't provide a free trial. Pricing starts at $2,000 a year when you sign up with a minimum of two users. You can choose from storage sizes of 1TB, 5TB and 15TB. We appreciate how you can increase the number of users and access to features incrementally as you need them, along with your storage capacity. Most impressively, you'd be hard-pressed to find a provider that can meet Revver's 20TB offering.
Implementation and Onboarding
Transitioning to a new DMS or setting up one within your business for the first time can be challenging. We like how each business that signs up with Revver has access to its own customer success manager backed up by a support team. 
During the sales discovery process, Revver begins to build a picture of what you need the platform to do and this is built on further during the onboarding process to ensure your version of the system is set up to serve you best. The vendor estimates onboarding takes four to six weeks, but depending on your internal organization, it can take longer. Fortunately, the implementation team is available for as long as they're needed and their involvement is paid for by your subscription fee. 
Once implemented, you access Revver via a web browser, so there's no software to download.
Customer Service
Revver offers reliable customer service should any issues arise. The vendor provides 24/7 support through live chat, along with assistance via email and a VIP phone line for businesses that purchase a Premium Support Package. If you don't opt for that add-on, the customer service team is available Monday to Friday, 7 a.m. to 6 p.m. When we contacted the support team through live chat, we were met with a speedy and helpful response.
Most ongoing support needs tend to surround setting up specific workflows to deal with a particular type of document. If you prefer to handle issues yourself, Revver boasts a sizable online help center. There are currently more than 60 articles on a range of topics, from editing item permissions to mass data exporting. There are also more than a dozen step-by-step video tutorials and a selection of webinars. 
Additionally, we love that Revver hosts weekly "Open Office Hours" through Zoom, where you can ask questions of the vendor's customer success managers and support staff. This isn't something we saw other providers doing.
Limitations
In contrast to many of its rivals, Revver doesn't offer a free trial. Without a trial period, businesses are unable to test how the software integrates with their existing business tools unless they commit to purchasing a plan. This can make it hard to determine how the product will fit into your company's daily workflows and whether the platform is right for you. Business owners may want to check out our review of FileHold instead. Not only does this product have a 14-day free trial, but it's also scalable, so it could similarly meet the needs of a company that requires significant storage space.
Something else to keep in mind is that although Revver offers a mobile app, users generally aren't that happy with it. The iOS version works on both iPhones and iPads, but it was designed for the tablet. It's worth noting user reviews of the Android app are slightly more favorable. Primarily due to the native size of documents and the size of mobile screens, designing a user-friendly document storage, management and manipulation system that works well on cell phones is difficult. But we look forward to seeing a leap forward in the quality of Revver's mobile apps like we're seeing now with the desktop application.
Methodology
To identify the best document management software products, we closely examined a number of vendors and systems. As part of our assessment, we considered each solution's features, pricing, ease of use, setup process, integrations, security and mobility. The specific functions we looked at included file routing and sharing, search tools, scanning, automation abilities and collaboration tools. We participated in trials and demos whenever possible, watched tutorials and reached out to the companies as if we were new business owners to judge their customer service. When selecting the best platform for businesses seeking extensive storage space, we prioritized storage capacity and plan options.
FAQs
You can use Revver to automate file storage, turn manual document management processes into automated workflows, use templates to create folder structures, design fillable forms, integrate email, import messages and attachments and obtain signatures through knowledge-based authentication or one-time passcodes.
Yes, Revver is cloud-based software. Using a cloud-based service for file storage and sharing allows you to confidentially track and manage documents from anywhere and speed up recordkeeping processes.
Yes, you can migrate files in and out of Revver easily. Regardless of file type, any data moved from your old system to the Revver platform will maintain its format, such as PDFs will remain in PDF format once moved.
Bottom Line
We recommend Revver for …
Companies requiring extensive document storage.
Businesses that want a DMS with no-code automation features.
Larger teams looking for a fast, cloud-based data-sharing solution.
We do not recommend Revver for …
Companies that want a wide choice of native integrations with their DMS.
Businesses that prefer to test software before purchasing it.