As more consumers switch over entirely to credit cards and mobile payments, small businesses have been forced to adapt to an increasingly cashless world. The ability to accept credit cards puts your business in a position to capture more sales. To do that, you will first need one of the best credit card processors. Two popular options for small businesses are Stripe and Stax.
To help you decide between these two heavyweights, we performed a deep dive into each of their credit card processing services. We paid particular attention to several key areas, including pricing, payment methods, hardware options, integrations and customer service. Here is how Stripe and Stax compare in each of these categories. 
Stripe vs. Stax service comparisons
In this section, we dive deeper into what these two services offer and how they differ from each other. 
Plans and pricing
Stripe plans and pricing
Stripe features an interchange-plus pricing model. Under this model, the credit card processor charges a percentage of the transaction on top of the credit card company's interchange rate, plus a small flat fee. These rates generally depend on the payment method. 
| Type of charge | Cost |
| --- | --- |
| Online domestic card charge | 2.9% plus 30 cents for each transaction |
| In-person payments through a virtual terminal | 2.7% 5 cents for each transaction |
| Automated Clearing House payments | 0.8% with a $5 cap |
| Digital wallet payments such as Google Pay, Apple Pay, Click to Pay, WeChat Pay and Alipay | 2.9% plus 30 cents for each transaction |
Stripe also offers Afterpay, which allows customers to break up larger purchases into four equal installments, while the merchant gets paid the entire amount upfront. The rate for Afterpay is 6% plus 30 cents for each transaction.
Stripe charges an additional 1% fee for international cards; currency conversion costs another 1%.
Stripe also offers an invoicing tool for recurring payments. Stripe assesses a 0.4% fee (or a maximum of $2) per invoice amount. 
Stax plans and pricing
Stax offers flat-rate pricing, which is completely different from Stripe's pricing model. Instead of taking a percentage of the transaction, Stax charges a monthly subscription fee, plus a small per-transaction fee. 
Stax currently offers three subscription tiers: 
Service plan

Monthly cost

Features

Growth

$99

Dashboards and analytical tools
Generate reports for deposit reconciliation and fee statements 
Virtual terminal for manually inputting payments received via phone or mail

Pro

$159

All features in the Growth plan, plus:

Enhanced sales data
Invoice generator for texting/email invoices 
Hosted checkout form for e-commerce
Third-party software integration 
Customer management 

Ultimate

$199

All features in the Pro plan, plus:

Premium dashboards to drill down into sales data and run more reports
Recurring invoices
One-click shopping cart for e-commerce
Catalog management
Dedicated account manager
In addition to the monthly subscription fee, Stax charges a per-transaction fee of 8 cents for EMV credit card terminals and 15 cents for all other payment methods, including mobile card readers and online transactions. 
Additional fees:
Chargeback: Should a customer initiate a chargeback by disputing a charge and seeking a refund, a $25 chargeback fee will be incurred.
Noncompliance: Failing to meet the necessary security requirements will result in a substantial $54.99 PCI noncompliance fee.
Below-quota processing: If you do not process at least a specified amount per month, you will also be subject to a $25 fee.
You can avoid chargebacks by following best practices, such as posting a clear refund and shipping policy.
Winner
Choosing between Stripe and Stax on pricing is an apples-to-oranges comparison because the two companies offer completely different pricing models. A lot depends on the size of your business and how it operates. Stripe is best for a business with low transaction volume and it also works well if you have a large online presence. Stax is a better choice for high-volume businesses because it doesn't take a cut of your revenue, which may improve your profit margins. Ultimately, we would call this one a tie. 
Payment methods
Stripe processing 
Stripe is well known for its emphasis on cutting-edge technology. The company provides a variety of different ways for business owners to accept payments: 
Checkout: One of the easiest ways to accept payments is to embed a premade Stripe checkout form onto your website. If you have coding skills, you can further customize the form to match the branding of your business. 
Stripe billing: With this API, you can build a custom solution for recurring payments and subscription-based businesses. 
POS hardware: Stripe offers its own proprietary hardware and the software is compatible with several third-party point-of-sale (POS) devices.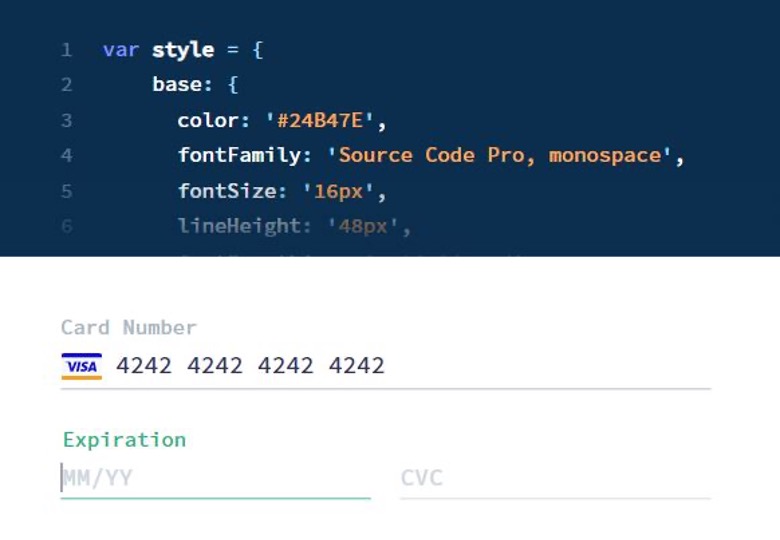 With Stripe, you can hire a developer or use your coding skills to build custom solutions. Source: Stripe
Types of POS hardware include options, such as tablets, cash drawers, receipt printers, card readers and credit card terminals.
Virtual terminal: The Stripe virtual terminal allows you to manually key in transactions so you can accept payments over the phone. 
Mobile payments: The Stripe mobile app allows you to accept payments on the go, turning your smartphone into a POS system.
Mobile wallet: Stripe supports a wide variety of digital wallets, including Apple Pay, Google Pay, Samsung Pay, Visa Checkout, Masterpass by Mastercard, Amex Express Checkout, Microsoft Pay, Alipay and WeChat Pay.
Stax processing
Stax offers a slate of payment methods that are standard among credit card processors: 
Virtual terminal: You can access the Stax virtual terminal on a web browser. This application can be used to key-in information to accept credit card payments over the phone. Stax's virtual terminal can also be used to set up recurring billing. 
Shopping cart: Use Stax to set up an online storefrontand build custom shopping carts to integrate into your site. 
Mobile app: The Stax Pay mobile app can be paired with mobile reader hardware to accept credit cards over the phone. Like the virtual terminal, you can also manually enter customer information via the app. 
POS hardware: Stax is compatible with several third-party POS equipment providers, including Clover.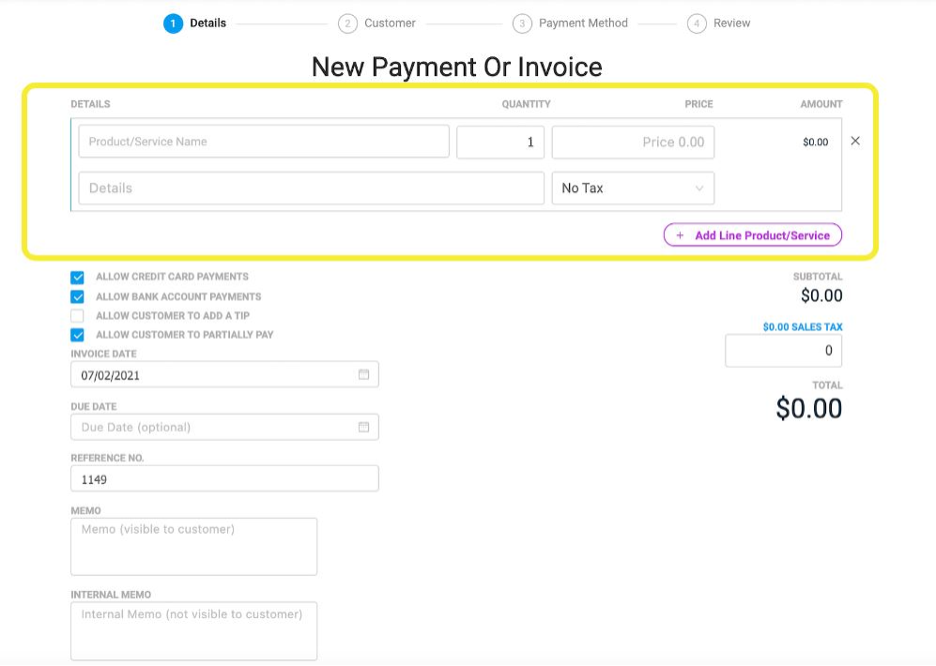 Stax allows you to send invoices through email or short message service for easy payment. Source: Stax
Winner
Again, it's difficult to compare Stripe and Stax in this respect because a lot depends on the type of business that you run. Based on the number of different payment methods and extensive customization ability, we would name Stripe the winner. However, it might not be the best choice for less tech-savvy business owners. Stax features a mobile app and processing methods that appeal more to brick-and-mortar businesses or business owners who want a less technical solution.
Hardware
Stripe hardware 
Stripe offers its own proprietary terminals and card readers and the software is also available for a few third-party POS devices. Options for hardware include:
Stripe Reader S700: The handheld terminal supports EMV chip cards, contactless payments and magstripe cards. 
Stripe Reader M2: This mobile reader is designed to be paired with a smartphone. Like the terminal, it accepts EMV chip cards, contactless payments and magstripe cards. 
BBPOS WisePOS E: This third-party countertop reader connects to Stripe's terminal software 
BBPOS WisePad 3: Third third-party handheld reader is designed to be paired with a smartphone.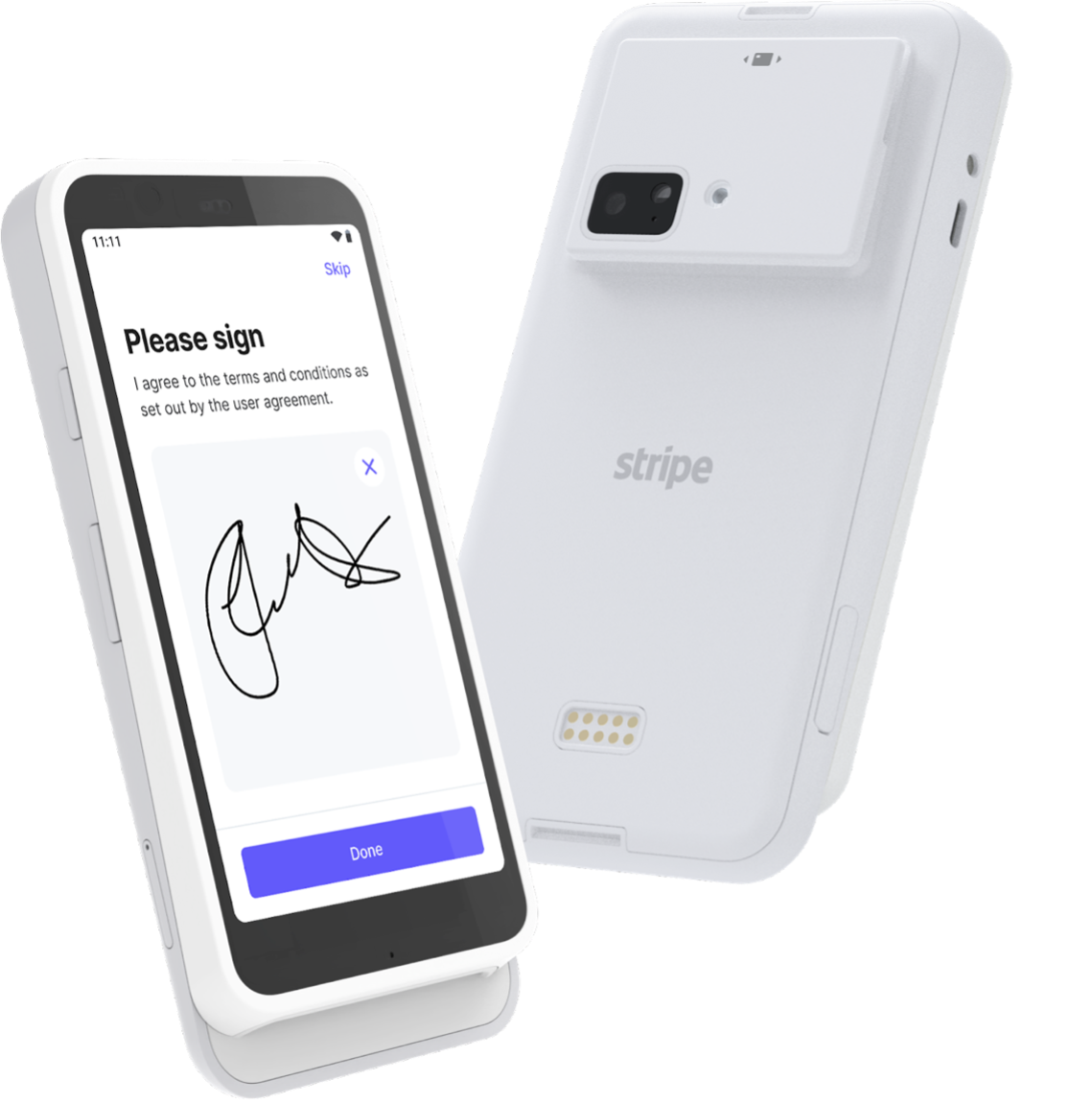 The Stripe Reader was introduced in 2023 as an in-house hardware option Source: Stripe
Stax hardware
Every Stax membership includes a complimentary terminal or mobile reader. Stax's attractiveness lies in its ability to operate its credit card processing software on diverse systems. While Stax does not produce its own hardware, it does distribute equipment from external vendors. The company claims to offer this equipment at prices close to its own cost. These hardware options include the following: 
Dejavoo QD: This handheld terminal accepts EMV chip cards, contactless payments and magstripe cards. 
Swipe Simple B250 Reader: This device can be paired with a smartphone to accept EMV and magnetic stripe cards. 
Clover: Stax software is compatible with the full suite of Clover credit card processing hardware, including the Flex, Mini and Station. 
Winner
We would pick Stax as the winner on hardware because it offers greater variety than Stripe in terms of equipment options. Importantly, Stax is available on Clover's hardware, which offers one of the best POS systems for small business owners. Combined with the third-party systems that Stax sells at a discount, just about any business can find something that suits its unique needs and budget. 
Although we like that Stripe offers proprietary hardware, its hardware options are limited to mobile readers and handheld terminals. This might present some obstacles for small business owners that require more specialized hardware solutions. 
Third-party integrations 
Stripe software
Stripe features more than 500 built-in integrations with third-party business apps, including the following services: 
AWS
Intuit QuickBooks
Xero
ServiceNow
HubSpot
Mailchimp
Shopify
Wix
Zapier
Stax integrations
Stax offers more than a dozen third-party integrations, far fewer than the hundreds offered by Stripe. On the plus side, Stax does include an open API so that developers can integrate the credit card processing software easily into a third-party app. Built-in integrations include: 
Slack
HubSpot
Intuit QuickBooks
Xero
Microsoft Teams
Zoho
Google Docs
Mailchimp
monday.com
Winner
Stripe wins decisively on third-party integrations. The service offers more than 500 built-in integrations, including most of the integrations also offered by Stax. However, a few Stax integrations aren't offered by Stripe. Business owners should consider which integrations they require and search for compatibility on Stripe and Stax. 
Customer service
Stripe support
Stripe provides 24/7 support by phone, chat and email, as well as technical support on the techie/gamer app Discord. Other technical support resources include searchable documentation, online tutorials, articles and frequently asked questions (FAQs) on the Stripe website. 
Stax support
Stax offers customer service via live chat, email and help ticket forms on the company website. Customers on the Ultimate plan can also contact a dedicated account manager. Other technical support resources include a searchable knowledge base and articles on the company website. 
Winner
In our view, Stripe wins on customer service. We like that Stripe still offers phone support, which is uncommon for many small business software providers and also promises fast response times. The fact that Stax offers a dedicated account manager is a major plus but this feature is only available on its highest-tier plan. Regular customers do not have direct access to phone support.