Cisco's phone systems are designed for larger organizations ‒ they are available as on-premises or cloud-hosted solutions and can support thousands of employees.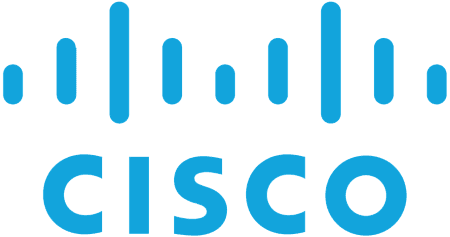 Cisco offers a wide range of business phone systems. Cisco's systems can be hosted in the cloud or on-premises, are easily configured for businesses with multiple locations, and support thousands of employees. All of Cisco's unified communication systems can be configured specifically with the calling, mobility and collaboration feature an enterprise needs. Additionally, the systems offer contact center services.
View all of our recommendations for best business phone systems.
Cisco Pricing
Cisco offers several different systems, each of which has varying costs. In addition, Cisco systems are sold through resellers in your area. This means that pricing will likely differ by location and the reseller you work with.
Our previous research looked specifically at the Business Edition 6000 system. This is an on-premises system. For our purposes, we asked for pricing for a business with about 150 users.
For this system, we were provided price estimates of one-time charges that started at about $600 per user. This was for the basic service without any of the added applications. We were told to expect the price to increase by $100 per user for every added component. Added components include those for integrated voice messaging, human operator attendants, instant messaging, presence and online meetings. We were given pricing estimates of about $1,300 per user for a system that includes everything Cisco offers.
There are also installation and training costs to consider. To have the system professionally installed and training conducted by the reseller who worked with us, we were told to expect costs to be between 15 and 25% of the total per-user fees.
Keep in mind that these were price estimates by a specific local reseller. Whether you are interested in this system, another on-premises system, or Cisco's cloud-hosted systems, we would encourage you to contact a Cisco local reseller in your area. They will be able to discuss your specific needs and provide you with more accurate pricing.
The other additional cost to consider, for either hosting option, is IP phones. Cisco offers a wide selection of desktop phones ranging from $150 for a simple breakroom phone to $600 for a top-of-the-line executive phone.
Ease of Use
Cisco offers a variety of on-premises phone systems that support thousands of employees. The solutions we looked at specifically are part of the Business Edition 6000 line.
The Cisco BE6000 is a set of purpose-built, all-in-one Voice over Internet Protocol (VoIP) solutions designed for businesses with 25 to 1,000 employees. Businesses can choose from several different servers, which vary in the number of users they support and how many devices can be connected to them.
>> Learn More: Explore the Different Types of Business Phone Systems
Various applications that are available with each system are those for mobility, voicemail and automated attendants, auto-dialers, instant messaging, video conferencing and other collaboration tools. In addition to supporting up to 1,000 workers, the BE6000 systems support up to 100 call center users and can accommodate 1,000 voicemail boxes. Additionally, the system can be used by organizations that have up to 50 different locations.
All these features come preloaded onto private branch exchange (PBX) equipment. However, you only activate and pay for the features you need. Should your business grow, and your needs expand, you can "turn on" the features and tools you need. This is nice because you don't have to change or upgrade equipment when your needs change.
Overall, there are more than 10 different applications to choose from, including the following:
Unified communications manager: This is the call-processing component of the system. It is what's needed to bring voice and video calling to various devices such as IP phones, telepresence endpoints, media-processing devices, gateways and multimedia applications.
Unity connection: This component integrates voice-messaging and voice-recognition functions to access calls and messages.
It allows you to check voicemail messages using your computer. It also provides auto-attendant functions, including intelligent routing for incoming calls and customizable call-screening and message-notification options.
Unified attendant consoles: Larger enterprises with human operators answering phones and directing calls will need this application. It provides call operators with the tools needed to dispatch incoming calls to individuals across the organization.
Jabber: The Cisco Jabber application allows for voice and video calls from iOS and Android devices and Mac and Windows computers. The app also lets users access the presence feature, instant messaging, voicemail messages, desktop sharing, and conferencing.
Contact center: This is designed for midmarket companies or enterprise branch offices. It supports call center agent-based services and fully integrated self-service applications, including automatic call distributor, interactive voice response, computer telephony integration, and digital channels, including email and chat.
Telepresence management suite: This application is needed for scheduling video meetings and integrations with Microsoft Exchange and Microsoft Office 365.
Meeting server: The meeting server allows organizations to host video, audio, and web meetings.
Expressway: This application gives remote workers access to the system without needing a separate virtual private network.
Other applications include those for 911 service, paging, collaboration provisioning and collaboration deployment.
>> Learn More: How Can Business Phone Systems Help Your Small Business?
Businesses with more than 1,000 employees can deploy some of Cisco's other unified communications systems, which tens of thousands of employees can use.
For those looking for a cloud-hosted system, Cisco offers Webex Calling for midsize businesses. It includes many features, including a virtual receptionist, voicemail, extension numbers, IVR, direct inward dialing, and directory-based dialing. A mobile app also allows employees to access their business line from anywhere. WebEx Calling works in conjunction with Webex Teams.
Conference Calling
Cisco's BE6000 has a conference calling service built into its phone system. With the conference bridge feature, which comes included at no extra charge, each employee can hold their own conference call with up to 24 callers. However, the complete plan allows for an unlimited number of participants. 
Customer Support
While the Business Edition 6000 is an impressive business phone solution, we were less than impressed with Cisco's customer support. We contacted the company multiple times by phone, email and live chat, posing a business owner interested in phone systems.
Each time we reached out to the company, we received less-than-stellar service. For each call, we were quickly told by representatives that they couldn't help us and we would have to be connected with a local reseller in our area. They took our information and said someone would be in touch with us. One time it took several weeks for us to get a return call from the reseller and several other times, we never received a call back.
On a positive note, the reseller we did speak with was extremely helpful. He provided tons of details about the on-premises and cloud-hosted systems. He talked about how each works and what they include, gave us pricing estimates and followed up by email. However, we can't guarantee other resellers offer the same high level of service.
>> Learn More: How to Pick the Right Business Phone System for Your Business
We had more success when contacting the company via email. Instead of being immediately turned over to a local reseller, the representative we were messaging gave us some answers to our questions about the system. They also sent data sheets that provided some detailed information on the Business Edition 6000 and its features. However, when we asked for pricing information, we were again told they would need to connect us with a local reseller. Unfortunately, we again never heard back from anyone.
We also weren't very impressed with the live chat tool on Cisco's website. Each time we used Cisco's live chat, the representative couldn't answer our questions, or we were never connected to a support agent.
If you are interested in this system, Cisco's website features a link to find a local reseller in your area. This will give you the contact info for several people who can give you the information you need on the system and its pricing.
>> Learn More: What is a Business VoIP Number?
Cisco is not an accredited member of the Better Business Bureau. It has a B- rating and has had 23 complaints against it closed in the past three years.