USA 401k brings transparency to retirement planning by providing all the information you need in a clear and concise way. Believing too many vendors force small business owners to rely heavily on plan specialists, USA 401k empowers them from the start.
Pros
USA 401k's transparent pricing means business owners won't be hit with any surprises regarding cost.
The company's online content anticipates the questions business owners have to make the shopping process easier.
The plan provider offers more than 15,000 mutual funds and ETFs so participants have flexibility with their investment choices.
Cons
USA 401k's per-participant fee is $20 per month, which is higher than those of most competitors and can add up quickly for larger firms.
The company doesn't have a mobile app.
Small business owners are forced to make big and small decisions for their organizations every day. A vendor that makes the decision process easier than competitors is invaluable. When shopping for an employee retirement plan, USA 401k makes it easy to get the information you need quickly without even speaking to the company. Just by visiting the plan provider's website, business owners can determine whether USA 401k will meet their needs. It keeps plan options simple, offering a safe harbor 401(k) and a traditional 401(k), and clearly breaks down pricing. Its thoughtfully laid-out website and upfront information earn USA 401k our top recommendation for business owners seeking transparency with their retirement plan program.
USA 401k Editor's Rating:
9.2 / 10
Transparent pricing

10/10

Low employee investment fees

9/10

Mobile and online access

8/10

No sign-up or administration fees

9/10

Variety of plans

10/10
Why We Chose USA 401k as Best for Transparency
USA 401k stands out for transparency because its website is simple to navigate and readily provides all the preliminary information a small business owner wants when looking for an employee retirement plan. This immediately establishes confidence in the provider and its services. Not only does USA 401k clearly lay out all fees its two plans have, but the vendor also gives you the details on each option so you can choose the plan that meets your needs.
The plan sponsor's website educates you from the start to ensure you have the necessary information at your fingertips to make the best decision for your business. Of course, the vendor also has representatives available if you prefer to speak to someone, but the site is designed to answer questions that commonly arise while shopping for a plan. This convenience brings USA 401k to the forefront of plan providers that we reviewed. Furthermore, it's easy for business owners and employees to stay informed thanks to USA 401k's commitment to ongoing education and support.
Transparency and upfront information aren't the only reasons USA 401k makes our list of best retirement plan providers, however. It also offers a lot in terms of features and services. For example, there are more than 15,000 funds, including exchange-traded funds (ETFs), that plan owners can choose from, giving their employees a multitude of options when it comes to saving for retirement. Plus, USA 401k partners with Vestwell, a workplace savings and investing platform, to handle plan administration and recordkeeping.
Survey your employees to see how many want to participate in a retirement plan benefit. This will help you budget for companies like USA 401k that charge a per-employee fee.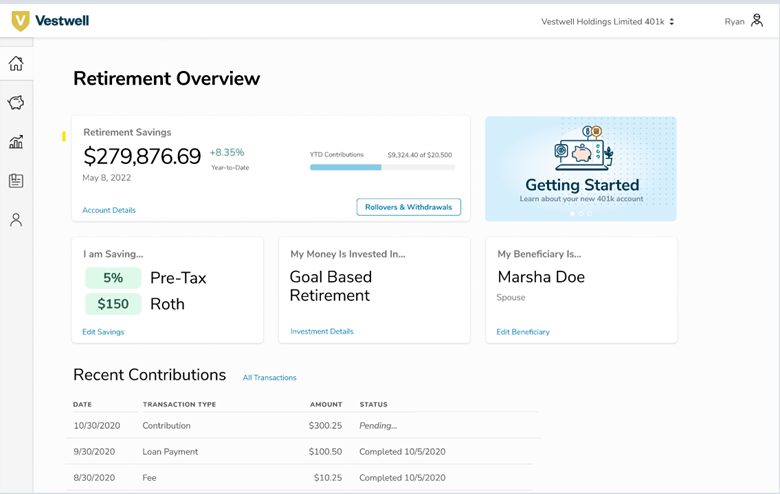 Employees are given a summary of their retirement savings when they log in to their Vestwell account. Source: Vestwell
Ease of Use
USA 401k offers an attractive solution for small business owners seeking 401(k) plans designed for organizations with one to 500-plus employees. Without overwhelming the user, its website presents the company as a trusted source for getting information on obtaining a reputable employee retirement plan. You can use the site to determine which plan would be right for your staff and then contact the company to formally sign up.
During enrollment, we like that both the plan owner and their employees can get personal guidance from a licensed representative either online or via the phone. We also appreciate that USA 401k works with leading payroll companies to offer "360-degree payroll integration" to simplify processing payroll, seamlessly incorporate retirement contributions and reduce potential errors.
Thanks to USA 401k's partnership with Vestwell, plan participants have access to a user-friendly platform to manage their retirement savings, easily make investment changes and more. This usability is comparable to the portals offered by other retirement plan providers. [Read related article: The Solopreneur's Guide to Retirement Funds]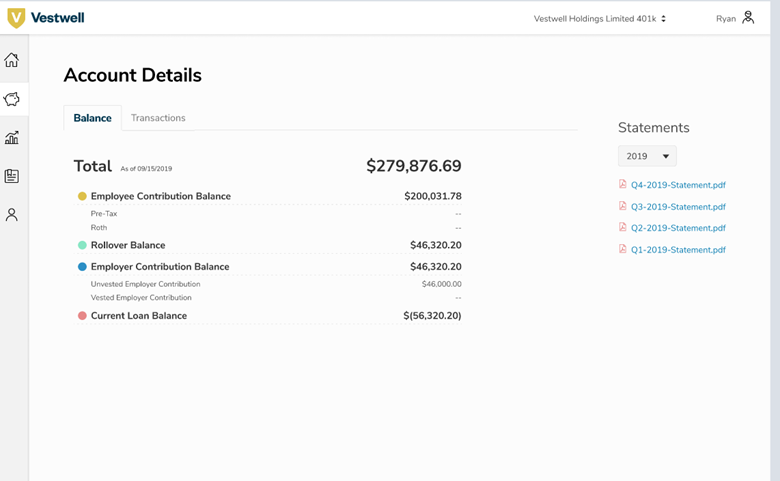 An employee's balance screen showcases the amount in their retirement account and lists any applicable loans. Source: Vestwell
USA 401k Features and Services
USA 401k plans have all the bells and whistles you can ask for – without a complicated pricing structure.
Fiduciary Support
USA 401k takes away the fiduciary liability that plan owners would assume with a plan that doesn't offer fiduciary services. The fiduciary services at USA 401k ensure your chosen plan is ERISA 3(38) compliant.
Investment Options
The best retirement plans allow plan owners to customize investment options so they can tailor their business's retirement program to their and their employees' needs. With more than 15,000 investment funds to choose from, there is truly something for everyone's investment risk tolerance and goals on the USA 401k roster. It even offers the ability to buy individual stocks and bonds.
Offering index funds and ETFs as part of your plan's investment choices is an excellent way to help employees keep costs down and make the most of their contributions and retirement investments.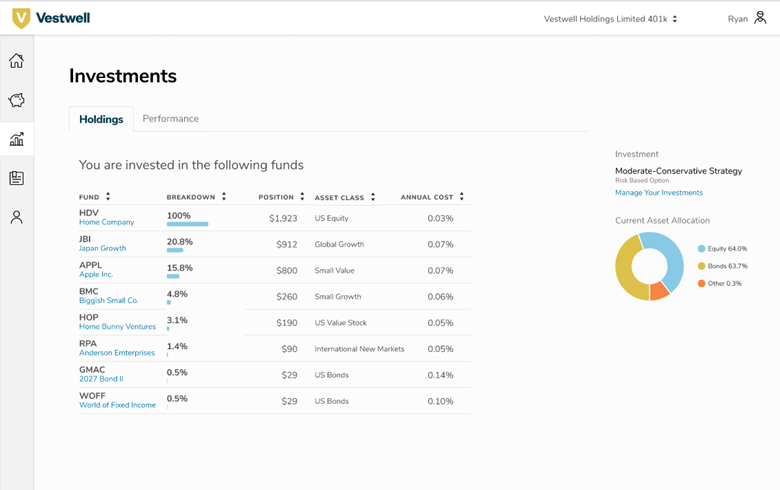 Employees can use their Vestwell account to track how each investment is doing. Source: Vestwell 
Advisory Services
USA 401k has licensed professionals available to answer retirement plan and investment questions. These representatives are capable of assisting both plan owners and plan participants to ensure everyone has the knowledge needed to make informed decisions about their retirement plans.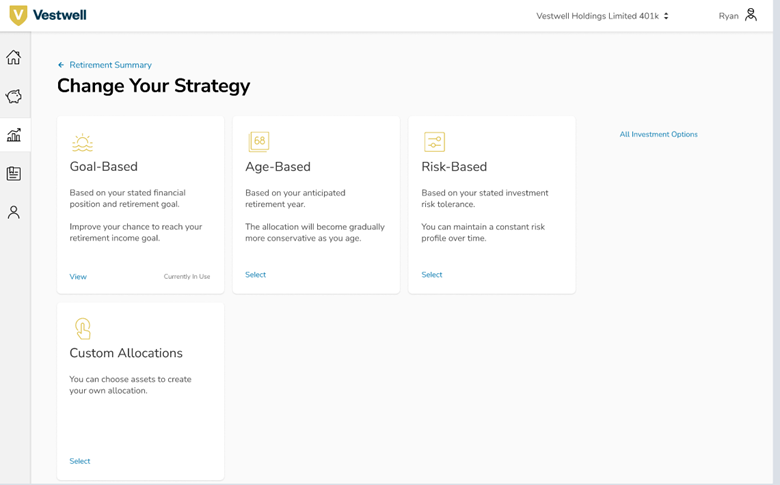 Employees may decide to change their investment strategy at any time based on their objectives. Source: Vestwell 
Payroll Integration
USA 401k integrates with some of the top payroll companies. This automates the contributions that employees make to the plan and syncs relevant data. Among the advantages of such an integration are a reduction in the amount of work plan owners need to do and the elimination of a step where costly errors can occur.
Recordkeeping Services
Through the payroll integration and Vestwell collaboration, USA 401k maintains all contribution records for plan owners so they only need to worry about plan engagement. Administration and management can be left to the experts.
Forms and Reporting
Plan owners don't need to get bogged down in completing complex compliance forms. USA 401k does it all for you and makes sure you remain compliant with reporting for contributions and loans.
Loans
Employees are allowed to take out loans against and hardship withdrawals from their retirement savings accounts with USA 401k plans. This gives employees emergency access to financial resources, which can be very reassuring. After all, you never know when you'll need funds urgently.
Morningstar Reports
Plan participants have access to industry-valued Morningstar reports, which a few of USA 401k's rivals offer as well. This resource helps investors understand fund objectives, risk and performance history as they try to increase their savings.
USA 401k Pricing
One of our favorite things about USA 401k is that it not only provides pricing on its website, but it also has a simple cost structure. This eliminates the need to negotiate a fee with a provider, like you would need to do with the custom pricing required by competitor Paychex. It also means you don't have to first contact the vendor to find out what its services will cost. Plus, the company's annual fee works out to be less than those of other providers like ADP, although its per-participant fee is on the high side.
When establishing a new 401(k) plan with USA 401k or rolling over an existing one, business owners can expect to pay a one-time installation fee of $250. From there, you'll pay $500 per year and $20 per plan participant per month. There are no other employer fees, such as a monthly flat rate, to worry about.
Employees are charged an annualized program fee of .80 percent. For investment fees, plan participants will need to review the prospectus of each mutual fund or ETF.
Implementation and Onboarding
USA 401k makes choosing a plan without assistance a breeze, thanks to the company's information-rich website and upfront pricing. Once you select a plan, however, you'll need to contact the company to officially sign up. You'll be assigned a licensed adviser to assist you in implementing the plan, including the payroll integration. USA 401k makes the process relatively straightforward, but one of the onboarding aspects we especially like is the plan provider's educational sessions. When it comes time to enroll employees, the vendor can help you host an on-site group enrollment meeting that answers team members' questions and gets people participating in their new benefit.
Having a group enrollment meeting can help encourage employees to enroll in your retirement plan because it allows them to get questions answered and see that their co-workers are interested in planning for retirement too.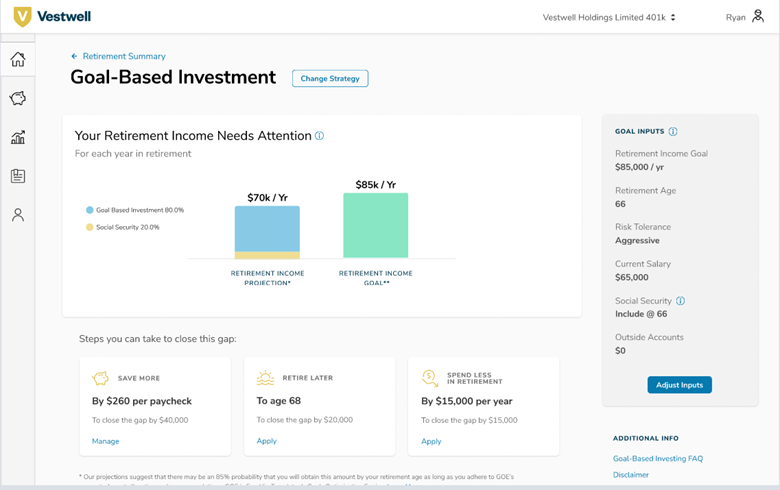 USA 401k and Vestwell help employees determine how much they need to save to generate their desired retirement income. Source: Vestwell 
Customer Service
Like others in the market, USA 401k provides customer service via phone, email and contact form. You can reach the company at 610-804-9877 or jmnovak@financialguide.com. Support is available during standard business hours.
On top of facilitating employee retirement plans, USA 401k prides itself on also educating employers and their employees. In addition to the aforementioned enrollment meeting, the vendor offers unlimited employee education meetings and retirement seminars. Team members can also get one-on-one assistance and access to an account manager as needed. This ongoing support, for your staff as a whole and on a personalized basis, comes at no added cost and adds to the company's appeal.
Limitations
As good as USA 401k is at providing you with key information on its website, it doesn't allow you to sign up for a plan directly on the site. Instead, you need to contact the company. We understand that this requirement is intended to give new plan owners a personal touch when registering, but it would be nice if there were a way to do everything online. For an entirely do-it-yourself solution, you may want to check out our review of ShareBuilder 401k.
Another downside to consider is USA 401k's high employee fee of $20 per participant per month. In contrast, as noted in our review of Human Interest, some companies charge as little as $4 per employee per month. However, at least with USA 401k, you'll pay an annual fee that's much cheaper than what you'd pay with Human Interest's monthly flat rate.
Also, be aware that while USA 401k allows mobile enrollment, it doesn't have a dedicated mobile app for business owners or their staffers. If that's important to you, see our ADP review. ADP's comprehensive mobile app is great for letting users take a variety of retirement plan actions on the go. Notably, unlike USA 401k, ADP also provides SEP IRAs and solo 401(k)s, giving you more retirement plan types to choose from.
Methodology
When determining the best retirement plan providers, we looked for those that offer fiduciary support, licensed advice and reasonable plan fees. We then dug deep into each vendor's features and services, investment options, customer support, implementation process and, of course, pricing. To identify the most transparent plan sponsor, we closely examined providers' websites. We wanted to see if the site was easily navigable and whether pricing was openly disclosed.
We also considered how much relevant information the companies provided upfront and how easy it was to assess plan options and choose one for your business. Additionally, we weighed how well each vendor keeps plan owners and participants informed and up to date. The amount of detail and assistance USA 401k provides before signing up, during enrollment and beyond ensures transparency throughout the life of your retirement program.
FAQs
A 401(k) is not mandatory in the U.S. Plans are voluntary unless business owners run their organization in a state that mandates such a plan. They aren't required on a federal level.
Yes, USA 401k will administer the 401(k) plan for you. The company takes care of all fiduciary responsibilities, completes forms and files required documents, and keeps a record of contributions and loans. Business owners can focus on employee engagement and encouraging contributions.
Bottom Line
We recommend USA 401k for …
Small business owners who want transparent pricing and plan information from the start.
Plan owners who want a wide range of investment options for themselves and their employees.
Business owners who would appreciate access to licensed investment advisers.
We don't recommend USA 401k for …
Small business owners who want to implement a plan entirely online without talking to anyone.
Enterprises with a large staff that want to keep per-participant costs down.
Plan owners who would like access to a mobile app.