ShareBuilder 401k Review and Pricing
When it comes to 401(k) plans, business owners don't want to make guesses about establishing and managing a plan for their employees. ShareBuilder 401k takes the guesswork out of the process with its online system that walks you through a series of prompts that eliminates confusion as you implement a retirement plan for your employees. ShareBuilder digitizes the entire process, automating paperwork and administration and making it easy to access the plan online wherever there's an internet connection. While ShareBuilder 401k's support staff are there if you need them, many business owners get through the entire setup process without picking up the phone.

ShareBuilder 401k and Pricing
The Verdict
ShareBuilder makes it simple to establish a new retirement plan for your employees with an automated online system that walks you through the process. Even plan participants have an easy time registering with this DIY solution.
ShareBuilder 401k Editor's Score: 9/10
| | |
| --- | --- |
| Transparent pricing | 8.5/10 |
| Low employee investment fees | 9.1/10 |
| Mobile and online access | 8.6/10 |
| No sign-up or administration fees | 9/10 |
| Variety of plans | 10/10 |
Why We Chose ShareBuilder 401k as Best for a Do-It-Yourself Solution
Small business owners typically aren't plan providers who understand the ins and outs of employee retirement plans. They shouldn't need to be experts but should be led to expert solutions by a plan sponsor that requires as little effort as possible. Once you're signed up, ShareBuilder 401k makes it easy for a business owner to establish a compliant plan without needing retirement plan expertise or even having to talk to a specialist. The vendor's automated online process is simple enough for anyone to establish a new 401k plan entirely on their own. Of course, the company does have advisers if you do need to speak with someone during the implementation process, but many busy business owners are able to set up their chosen plan quickly and invite employees to participate without any outside assistance, which is why ShareBuilder is our choice for those looking for a do-it-yourself solution.
ShareBuilder recognizes that low investment fees can spur plan participation, so it keeps investment fees below 1%. That is well under the industry average of 1.65%, and ShareBuilder even touts its investment fees as being nearly 70% cheaper than its rivals' fees. To encourage savings, ShareBuilder offers automatic pricing discounts: The more your company's staff saves for retirement, the lower your monthly plan cost automatically becomes. We saw this pricing structure with some of the other plan sponsors we researched too.
ShareBuilder relies on index funds to keep its investment fees low. These are cheap, passive funds that track a basket of stock or index like the S&P 500. They are an excellent way to create a diversified portfolio of low-cost investments. Low investment fees won't matter if the plan investment options are underwhelming, but ShareBuilder has a multitude of appealing options. Plan participants can select from several index fund types, including large-cap, mid-cap and small-cap stocks; bonds; treasuries; commodities; and alternative investments. The affordability doesn't end there, though: ShareBuilder's monthly administration charge is a flat fee, which helps ensure ongoing costs don't spike on you.
Index funds are a low-cost way to invest your retirement savings. The best employee retirement plans offer index fund options like exchange-traded funds (ETFs).

ShareBuilder has a variety of plans to meet small businesses' needs, including a solo 401(k). Source: ShareBuilder
What We Like About ShareBuilder 401k
ShareBuilder's automated process makes it easy for business owners to establish a retirement plan on their own.
The vendor's investment fees are well below the industry average.
The company offers a variety of index funds to choose from in every asset class.
What We Don't Like About ShareBuilder 401k
ShareBuilder doesn't list specific pricing on its website, instead giving a range of what its services might cost; you need to contact the company for an accurate quote.
The vendor doesn't have a mobile app.
Ease of Use
We found it incredibly easy to get started with ShareBuilder 401k. The company guides you through the entire process, first with one of its advisers and then with its automated online system. To kick things off, you can fill out an online form, have an adviser call you or contact the company to speak with an adviser immediately. The adviser provides you with a price quote specific to your business and goes over all of the plan details with you. You can then begin filling out the online plan paperwork and do the rest of the process entirely on your own.
We like that implementation can be completely do-it-yourself (DIY), but if you need help, an adviser can walk you through the setup. In our review of Paychex, our best pick for business owners seeking an all-in-one human resources and employee retirement solution, we found that it also offers that level of support.
When you've completed all of ShareBuilder's online documentation, it then takes a few weeks to roll out the plan to your employees. Once the program is up and running, ShareBuilder offers digital tools to keep your team members engaged with their new benefit and proactive when it comes to their retirement finances.
Features and Services
ShareBuilder 401k offers several types of employee retirement plans, including solo 401(k), safe harbor 401(k), traditional 401(k) and tiered profit-sharing 401(k) plans. Beyond this plan variety, the DIY setup process and ShareBuilder's commitment to keeping investment fees and employer costs down, the vendor has other valuable features and services that make it one of our best picks for a retirement plan provider.
Fiduciary Support
ShareBuilder 401k serves as your plan administrator, custodian, recordkeeper and ERISA 3(38) investment manager. We like how ShareBuilder takes management responsibilities off your plate, freeing up your time to focus on other business tasks. As the employer, you'll still have to oversee payroll contributions and complete a year-end checklist, but ShareBuilder will help show you how.
Investment Options
Plan participants can choose from five managed portfolios or customize a portfolio from ShareBuilder's selection of low-cost index funds. This flexibility is crucial to ensure your employees can make the investment choices they want.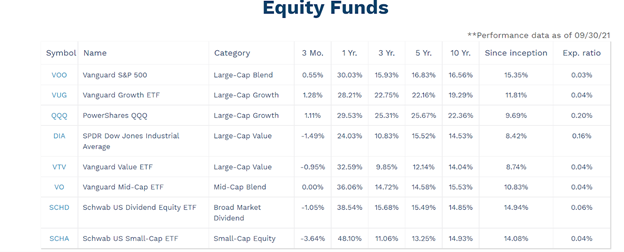 ETFs are just some of the investment options you get with ShareBuilder. Source: ShareBuilder
Fund Research Tools
We like that you can view the roster of ETFs and managed portfolios on the ShareBuilder website. Each fund is linked to a Morningstar profile with information about the fund's strategy, historical performance, asset allocation and other details.
Advisory Services
ShareBuilder has an investment committee that helps plan participants diversify their investments by managing the model portfolios and index funds. This means you and your team members needn't be experts in investment choices. Top-notch professional help is easily accessible.
Reporting
For both safe harbor and traditional 401(k) plans, you're required to submit IRS Form 5500. The individual 401(k) plan carries this requirement as well, once your plan assets are $250,000 or greater. ShareBuilder prepares this form for you, so all you need to do is sign it and send it to the IRS.
Loans
All of ShareBuilder's 401(k) plans allow participants to take out loans against their 401(k) of up to 50% of their account balance, though the amount can't exceed $50,000. This is useful if someone finds themselves in a financial crisis or needing funds for a substantial purchase, such as a down payment on a new house.
Pricing 
We appreciate that ShareBuilder 401k charges employers a flat rate for plan administration. This keeps pricing simple, although the amounts listed below are just starting points. The company will give you a custom quote once it learns the specifics of your workforce. [If you want to know exact pricing from the start, see our review of USA 401k, which offers that kind of transparency.]
| Plan Type | Starting Monthly Fee |
| --- | --- |
| Solo 401(k) | $25 |
| Safe harbor 401(k) | $95 |
| Traditional 401(k) | $110 |
| Tiered profit-sharing 401(k) | $190 |
Except for the solo 401(k), all of ShareBuilder's plans have payroll integration options. Using a highly rated payroll service can make managing employee retirement plans easier.
As noted above, investment fees for ShareBuilder plans are below 1%. Another upside of partnering with ShareBuilder is that the more your staff saves with your company's chosen plan, the higher the discounts the vendor offers on your monthly rate and investment fee.

ShareBuilder gives small businesses discounts depending on the total assets in their company's retirement package. Source: ShareBuilder
Implementation/Onboarding
Implementation is where ShareBuilder 401k shines most compared to rivals. Its system uses a series of online prompts to guide you through the process of setting up your business's retirement plan. Everything is laid out in an easy-to-understand format so busy business owners can grasp the information quickly and continue with the setup process without needing help from the vendor.
Once your plan is established, inviting employees to enroll takes only a few clicks. For them to be onboarded is just as straightforward, which fosters higher plan participation. This is a DIY solution unmatched by competitors, backed with the reassurance that you can get human assistance if you do need it.
Customer Support
Just because ShareBuilder 401k makes it easy to do things on your own doesn't mean they don't have amazing support. You can reach customer service by calling (800) 943-6108, Monday through Friday, from 9 a.m. to 8 p.m. Eastern time. You may also contact the company via email at 401kpros@sb401k.com.
In the spirit of doing things on your own, you can take advantage of a bevy of self-help resources on ShareBuilder's website. These include a 401(k) savings calculator, a cost comparison tool, informative guides and frequently asked questions (FAQs). The vendor also operates a blog that's updated roughly twice a month with content about making the most of employee retirement plans.
Limitations
One drawback of partnering with ShareBuilder 401k is the lack of a mobile app. A mobile app means your employees can enroll on the go and you can manage your plan wherever, whenever. We would prefer ShareBuilder to offer such an app, though we do appreciate that its website and portal are mobile responsive, so you can technically still get access via a mobile device as long as you have an internet connection. If you want a true mobile app, however, you may want to consider Human Interest as an alternate plan provider. Learn more about their employee retirement plan services in our full Human Interest review.
Another possible downside is that while ShareBuilder's 401(k) plan options are robust, you won't find some other plan types, such as individual retirement accounts (IRAs). If that account structure interests you more than a 401(k), we recommend checking out our review of ADP, which administers SIMPLE IRAs in addition to 401(k)s.
Offering your staff a 401(k) is one thing while getting your employees to participate is another. Choosing a plan provider with low investment fees is one way to win workers over and boost your enrollment numbers. You may also want to explore automatic enrollment options.
Methodology
When evaluating the best employee retirement plans for small businesses, we closely examined each plan provider's features and services, ease of use, pricing structure, implementation process and customer service. To find the best do-it-yourself solution for business owners seeking a straightforward setup experience, we considered how easy each vendor makes it to sign up online without assistance. Then we took into account how simple it would be for a business owner to establish and roll out a retirement plan on their own. Finally, we weighed how effortless it is for employees to enroll without outside help. ShareBuilder 401k's automated, self-service processes excelled on all counts.
FAQs
What types of employee retirement savings plans does ShareBuilder offer small businesses?
ShareBuilder offers 401(k) employee retirement savings plans. Specifically, you can choose to set up a solo 401(k), safe harbor 401(k), traditional 401(k) or tiered profit-sharing 401(k) plan for your employees.
What services do you get with ShareBuilder's traditional 401(k) plan?
The services you get with ShareBuilder's traditional 401(k) include the following:
Access to 401(k) advisers and customer care
Ongoing investment roster management, also known as ERISA 3(38) coverage
22 index funds, one money-market fund and five model portfolios from which to choose
Roth 401(k) and tax-deferred options
Payroll integration options
Vesting schedule options
Automatic enrollment with qualified default investment options
Automatic pricing discounts
Access to webinars, guides, videos and calculators
Signature-ready Form 5500 generation
Loan and hardship withdrawal options
Profit-sharing option
Plan compliance and digital year-end checklist
Bottom Line
We recommend ShareBuilder 401k for …
Business owners who want an uncomplicated retirement plan setup process that can be completed on their own.
Small business owners who want a low-cost plan that keeps investment fees at a minimum.
Business owners who want access to a variety of index funds in several asset classes.
We don't recommend ShareBuilder 401k for …
Small business owners who want access to a mobile app.
Business owners who want investment options beyond index funds and ETFs.
Small business owners who prefer IRA retirement plans.

ShareBuilder 401k and Pricing
The Verdict
ShareBuilder makes it simple to establish a new retirement plan for your employees with an automated online system that walks you through the process. Even plan participants have an easy time registering with this DIY solution.

Kimberlee Leonard
Contributing Writer
Kimberlee has spent the past 20 years either directly involved in insurance and financial services or writing about it. She's a former Series 7 and 65 license holder and former State Farm agency owner. As a small business insurance expert, her work can be found on Fit Small Business and Thimble.