Paychex is ideal for managing all HR needs in one platform, including employee retirement. The vendor offers several retirement plans, dedicated support, and integrations with payroll and other functions, making it the best choice for all-in-one service.
Pros
Paychex provides an all-in-one platform to manage your business's HR and employee retirement needs.
The vendor offers thousands of investment options for its employee retirement plans.
The company lets you customize your employee retirement plans to meet the unique needs of your staff.
Cons
Paychex is not transparent about pricing on its website.
To get a quote, you have to speak with a local Paychex affiliate, which adds a layer of complexity to the process.
Small business owners have a lot of options for managing employees and their benefits. They can use different vendors, addressing their human resources needs with multiple platforms and products, or they can find an all-in-one provider with an all-inclusive system. The latter is particularly popular with small business owners for good reason: Keeping everything under one roof, so to speak, saves time, streamlines processes and automates a lot of manual tasks.
Small business owners who want an all-in-one HR solution that encompasses employee retirement plan management should look no further than Paychex, which has been in business for decades and provides a full suite of payroll and HR services for small companies. Its 401(k) offering is particularly robust, with options such as traditional 401(k) plans, owner-only 401(k) plans, solo 401(k) plans and SIMPLE IRAs. Paychex works with you to create a retirement plan that meets your business's needs, and with the Paychex Flex all-in-one HR platform, you can manage your retirement offerings, payroll, benefits and other HR functions in one place.
Paychex Retirement Services Editor's Rating:
9.3 / 10
Transparent pricing

8.7/10

Low employee investment fees

9/10

Mobile and online access

10/10

No sign-up or administration fees

9/10

Variety of plans

10/10
Why We Chose Paychex as Best for All-in-One Service
For business owners seeking assistance with employee retirement plan administration, Paychex stood out to us as the ideal all-in-one solution for a number of reasons. Let's start with its HR platform: It's a one-stop shop for executing your HR needs, including running payroll. We like how your Paychex payroll data integrates with your retirement plan information, automatically updating behind the scenes. This way, you can improve your reporting accuracy, collect census data, ensure compliance and meet fiduciary obligations. We were also impressed with how easy the platform makes it for employees to enroll in a retirement plan and stay on top of their accounts. Our review of ADP found that it was the only other employee retirement plan provider to include a direct payroll integration on the same platform.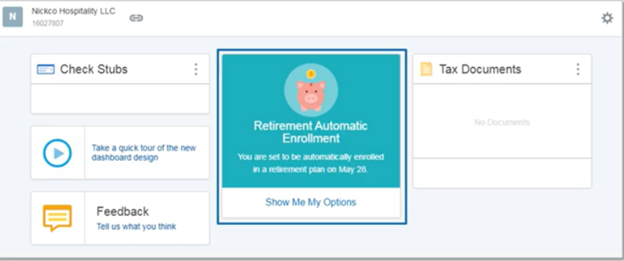 Employees can enroll in a retirement plan in a few clicks through Paychex's online platform. Source: Paychex
Paychex is also one of the best employee retirement plan providers because it can bundle recordkeeping and third-party administration to simplify plan management. It doesn't hurt that Paychex also holds the title as the largest retirement plan recordkeeper in the U.S. and provides a dedicated team of retirement specialists to help you select, implement, roll out and manage your employee retirement plan. For these reasons, Paychex stood out to us as the top option for business owners who want to accomplish employee retirement tasks and other HR functions with a single system.
Ease of Use
We found that Paychex makes it easy for small business owners to implement and manage employee retirement plans through the vendor's digital dashboard and mobile app. If you integrate payroll services, you can automatically see which team members are eligible to sign up for your retirement plan – one of the ways in which Paychex's all-in-one solution is so valuable. Then, using the platform, eligible employees can enroll in a retirement plan in just four clicks.
Once team members are enrolled, they have access to an online dashboard that gives them an overview of their retirement accounts and lets them make changes, track progress and manage their investment choices. The digital dashboard also simplifies the process of choosing investments, changing contributions, tracking loans and automating distributions. [Find out how you can increase 401(k) participation with auto-enrollment.]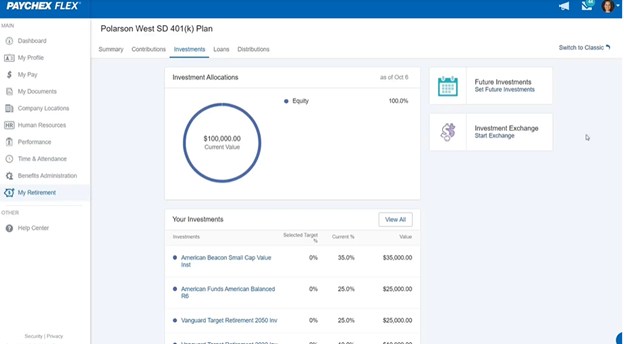 Paychex makes it easy for employees to manage their retirement plans via a user-friendly dashboard. Source: Paychex
Paychex Features and Services
On top of its traditional HR functions, Paychex offers a lot of standout employee retirement features and services through its Paychex Flex platform.
Customization
We love that Paychex's retirement plans can be customized to fit your company's specific needs. Each business is different, and this provider understands you may have unique requirements. However, this customization means you'll need to get custom pricing from the vendor, which is largely why Paychex isn't transparent about pricing on its website.
Account Access
Paychex's employer website for managing retirement plans is simple to navigate and makes it easy to access information about plan investments and participants. Employees can log in to their account dashboards to monitor their balances and manage contributions. Paychex also has an easy-to-use mobile app through which employees can review their retirement accounts while on the go.
Fiduciary Support
Paychex gives you the option of working with GuidedSavings from GuidedChoice, a third-party company, to meet the ERISA 3(38) fiduciary requirement.
Recordkeeping Services
Paychex records and processes your employees' contributions to their retirement plans for you, cutting down on manual work.
Plan Administration
Serving as the third-party administrator, Paychex creates and manages retirement plan documents, checks eligibility and enrolls participants, conducts quarterly compliance testing, and processes employee loans.
Payroll Integration
If you already use Paychex as your payroll processor, you can directly integrate your retirement plan and payroll services, streamlining administrative tasks.
Reporting Requirements
If you choose to provide your staff with 401(k) plans, you have to file Form 5500 with the IRS. As the plan administrator, Paychex prepares this form for you.
Investment Options
Paychex offers an impressive selection of investment options, including model portfolios, target-date funds, preselected lineups and broker-specific rosters from Ameriprise, Edward Jones, Merrill Lynch and Morgan Stanley.
Loans
With 401(k) plans, participants can take out loans against their retirement savings accounts. We like that Paychex processes these as part of its plan administration services.
Mobile App
Paychex makes it easy for employees to enroll in a retirement plan or make changes with its mobile app. The app also keeps participants engaged with digital financial tools and investment information.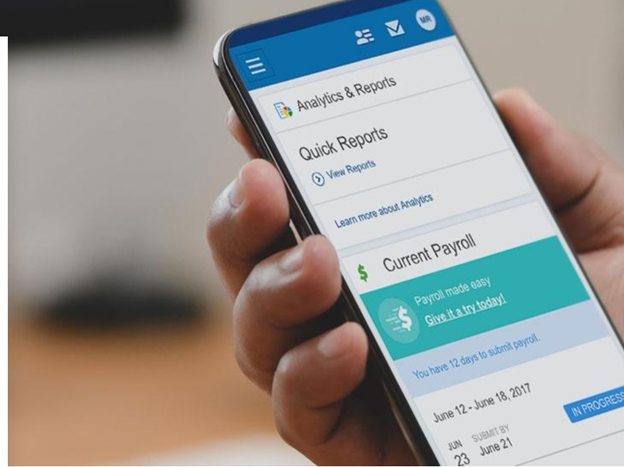 Managing an employee retirement savings plan is simple with Paychex's mobile app. Source: Paychex
Paychex Pricing
Like some of the other employee retirement plan providers we reviewed, Paychex doesn't post pricing for its retirement services online. The company requires you to fill out an online form to get the quote process started. A representative will get back to you, typically in under an hour.
When you connect with your local Paychex affiliate, make sure to inquire about fees for both you, as the employer and plan sponsor, and your employees, as the plan participants. Below are some plan sponsor fees to ask about:
Setup fees
Monthly service fees (for recordkeeping, plan administration and fund custody)
Investment management fees
Plan termination fee
Here are some plan participant fees to ask about:
Assets under management (AUM) and advisory fees
Average fund expense ratios
Trading fees
You should also ask if there is a service contract, how long the term is and if there are any early-cancellation penalties. You'll also want to ask about incidental costs, such as loan-origination and -maintenance fees, distribution fees, and required minimum distribution (RMD) fees.
You want to keep plan fees charged to you and your employees as low as possible. Before you offer an employee 401(k) or another retirement plan, make sure you know exactly how much you'll pay for the plan and how much the investments will cost your staff.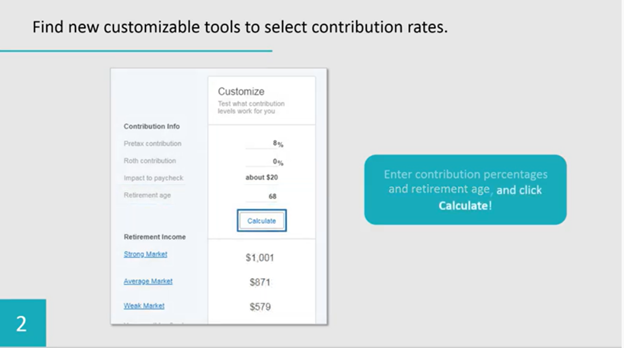 You can customize contributions and various other retirement plan aspects with the Paychex platform. Source: Paychex
Implementation and Onboarding
Paychex runs everything from the same dashboard, making implementing retirement plan services for your team a breeze. The platform will automatically pull required data, and then sending an invitation to eligible team members to join is just a click away. Employee onboarding is just as straightforward, with prompts leading them through the process of establishing payroll deductions and investment options. We especially like how everything is simply laid out in the portal to make managing your retirement plans as user-friendly as possible.
Customer Service
Paychex offers customer support by phone, email and live chat. We like that businesses are assigned a team of retirement specialists to help them select the right retirement plan options for their staff. You can reach customer support Monday through Friday, from 8 a.m. to 8 p.m. ET, at 800-472-0072.
Since Paychex specializes in assisting with payroll and other core human resources processes, its website is equipped with a wealth of helpful HR information, including a knowledge center, podcasts and webinars. There are even calculators you can use to assess different metrics, such as a retirement calculator that lets users plan out how much money they can save before retiring.
Notably, Paychex has been in business for more than 50 years and accredited with the Better Business Bureau (BBB) since 2010, sporting an A+ rating. However, its customer score on the BBB website is only 1.05 stars out of five.
Limitations
Paychex isn't forthcoming about its pricing. Costs aren't listed on the vendor's website, which makes it challenging to evaluate whether the company's services make financial sense for your business. While we recognize that Paychex seeks to customize its services and therefore its pricing, some of its competitors make it easier to get cost information. You can read our review of Human Interest for one such example.
It should also be noted that while we were pleased to see Paychex is accredited with the BBB and has the highest rating possible, the vendor's poor customer review score is concerning. The BBB readily admits that "customer reviews are not used in the calculation of BBB Rating," which means Paychex's A+ isn't necessarily representative of actual customer experiences. In fact, in the last 12 months alone, the company had to resolve 165 consumer complaints.
Methodology
To find the best employee retirement plan administrators for small businesses, we searched for vendors that keep plan costs for both employers and employees down, don't make it too complicated to implement a plan, and are willing to work with you during setup and beyond. When identifying the top solution for business owners specifically seeking an all-in-one platform capable of managing not just retirement plans, but also other HR tasks, we started by looking for providers that offer integration with payroll. That's a big deal because it reduces the need to manually input employee information and limits the potential to make mistakes in the process.
We further narrowed our list by reviewing the vendors that offer integrations beyond payroll. Time is money, and the more business tasks you can combine under one system, the better. The last thing a small business owner has time for is having to move through different platforms to access employee retirement benefits, payroll and other HR responsibilities. Fortunately, Paychex eliminates those hurdles with its comprehensive, all-in-one Flex system.
FAQs
Yes, Paychex can administer a 401(k) plan for your small business. The company has a long track record of onboarding business owners and staff on thousands of 401(k) plans annually. It also can help you roll over an existing plan. Paychex handles the whole process, including filing the relevant documents, setting up payroll withdrawals and enrolling employees in the plan.
Paychex doesn't provide pricing on its website because it offers custom retirement employee plans that can integrate with its other software, such as payroll management tools. Its solutions are designed to meet your business's unique needs, and you pay for those services accordingly, so the vendor doesn't have universal pricing to advertise. To get a quote, you need to contact the company.
Bottom Line
We recommend Paychex for …
Small business owners who want an all-in-one solution for their HR needs, including employee retirement plan administration.
Business owners who want access to a variety of retirement investment plans and more than 1,000 investment options.
Small businesses that want an online dashboard for employee retirement plan management while still having access to human support.
We don't recommend Paychex for …
Business owners who don't plan to integrate their payroll data with their employee retirement plan information.
Small business owners who care most about cost and need to know exactly how much they will be charged before contacting a vendor.
Business owners who don't want or need retirement plan customization.