How does Facebook Pay work?
Facebook Pay is an easy and secure way to purchase products and services. When you sign up to use Facebook Pay, you agree to let Facebook store your payment information. You can input your account information manually or connect your PayPal account. After that, it's easy to make purchases from vendors within Facebook's apps. You can also create a PIN or activate biometric authentication for added security.
In August 2021, Facebook Pay became a payment option businesses could add to their websites. The service is rolling out first to Shopify merchants, with plans to expand availability soon.
How can you use Facebook Pay?
You can use Facebook pay in the following ways:
Pay friends and family through Facebook Messenger and WhatsApp.
Make donations to charities and fundraisers on Facebook and Instagram.
Purchase products from brands on Instagram and Facebook Marketplace.
Buy event tickets on Facebook.
Make in-app purchases on all Facebook's platforms.
Shopify is the first e-commerce platform to integrate Facebook Pay. Expect to see more platforms hook up with Facebook Pay as the payment platform grows.
How do you use Facebook Pay?
You'll need a Facebook account to use Facebook Pay. Follow these steps to create your Facebook Pay account:
Launch Facebook and log in to your account.
Select the Menu icon on the top right side of the Facebook homepage next to your profile. (It looks like a square with nine dots.)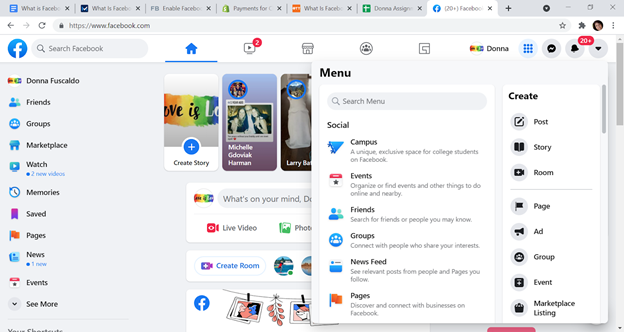 Under the Shopping header, select Facebook Pay.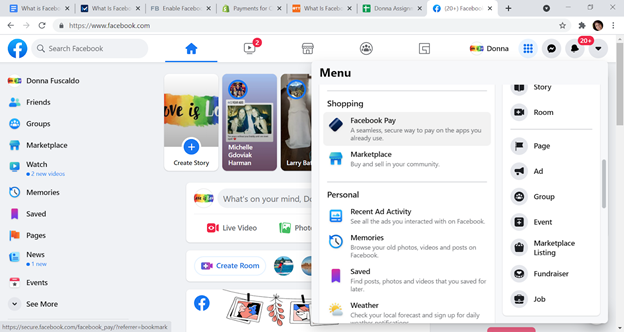 Select Continue to add payment card information to Facebook Pay's digital wallet. You can choose to create a PIN or add device biometrics for more security.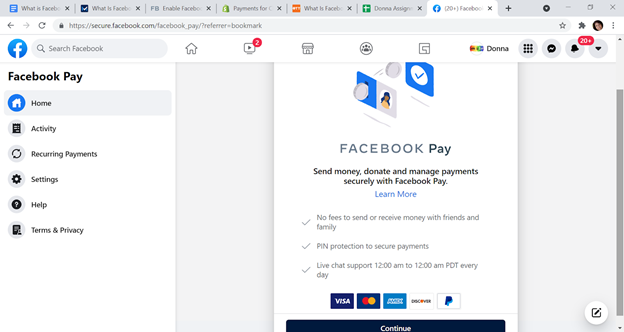 Search for and select a contact, enter an amount, and choose either Pay to pay the person or Request to request payment from them.
Once you're set up, Facebook Pay becomes an available payment method; you can also link it to your Instagram page.
If you're a business selling via Facebook, Instagram, or Messenger, your customers can select Facebook Pay at checkout. The money is usually deposited into your account right away. Payments that aren't processed immediately are reviewed within 24 hours.
If you're a business using Shopify's e-commerce platform, checkout on Facebook and Instagram is powered by Shopify Payments, which lets you keep all your payment processors in one place. Read our comprehensive review of Shopify Payments to learn more.
Once your store has Shopify Payments enabled, you'll receive money from Shopify Payouts when customers check out using Facebook Pay.
What does Facebook Pay cost?
Facebook Pay is free. Businesses and consumers aren't charged a fee to send or receive money.
Is Facebook Pay safe?
Data security is one of the top e-commerce pitfalls, and given Facebook's track record with data breaches and scandals, it's understandable to wonder whether Facebook Pay is safe. The good news is that Facebook Pay goes to great lengths to ensure payments are safe. The following security measures are in place.
Anti-fraud technology: Facebook deploys anti-fraud monitoring technology to detect any unauthorized activity.
Encryption and advanced data storage: Facebook Pay encrypts payment card and bank account information.
Alerts: Facebook Pay will notify you if it detects unusual activity.
PIN and biometrics: Users have the option to create a PIN or enact the fingerprint or face ID on their mobile device for an extra layer of security. When sending money, you will be required to input the PIN or clear the biometric scan. Facebook will not receive or store the device's biometric information. This added level of security may not work with all payments.
Which is better, Facebook Pay or PayPal?
Facebook Pay isn't the only digital payment method popular with consumers and small businesses. PayPal, a leader in digital payments, is also a viable choice.
The digital payment option you should use depends on your business. If most of your sales come from Facebook Marketplace or Instagram, Facebook Pay may be sufficient. But if you're selling online in multiple locations, PayPal may be the better option.
Facebook Pay makes sense if the following is true:
You're a small merchant without a storefront or payment processor.
Most of your sales come from one-on-one contacts with customers who purchase through social media or in person at events.
You're looking for a fee-free way to accept digital payments.
PayPal makes the most sense under these conditions:
You operate an online business and sell your products through multiple venues.
Your business accepts several payment methods and has a payment processing system in place.
You don't mind paying a fee to PayPal for the sale.
What are the pros and cons of Facebook Pay?
As with most services, there are pros and cons to using Facebook Pay. Before you decide whether you want to accept it as a payment method, weigh the good and the bad.
Pros of using Facebook Pay
It's free. Facebook Pay is free to use; you won't be charged a fee for sending money via Facebook Pay or receiving money. It's a great option for businesses that want to cut costs.
It streamlines social media purchases. For small business owners who do a lot of selling via social media, Facebook Pay is an easy way to get paid. You can use it across all Facebook's apps, which means customers on Instagram and those reaching out to you through Messenger can easily pay for your goods and services.
Setup and usage is simple. Facebook Pay is simple to set up and easy to use. After setup, you won't have to input your bank card information again. You can also track payments and search payment history within Facebook Pay.
Cons of using Facebook Pay
Usage is limited. For online merchants operating a storefront, Facebook Pay isn't going to cut it. Excluding Shopify, you can't accept Facebook Pay outside of Facebook's apps. While Facebook Pay gives you access to billions of people, it won't benefit retailers with sales on their e-commerce sites.
It's an added complication. Facebook Pay isn't the leading digital payment app. If you accept it as a payment method, you still need to accept other payment options to keep customers happy. Managing different payment types could become complicated for some business owners.
It has a longer sales deposit time. Facebook Pay transfers money right away, but your bank could take a few days to approve the transaction. That could slow down payment and hurt your cash flow.
For business owners who do a lot of sales on social media or through one-on-one contacts with customers, Facebook Pay is a no-brainer. With no fees and enhanced security, it's not surprising that so many business owners are embracing this payment method.