Are you trying to decide which payment processing company will allow you to accept credit cards for the first time or perhaps considering switching payment processing services? Merchant One and Square are both highly rated credit card processing services that enable you to accept credit and debit cards as well as other forms of payment. But which is better? We have compared these two companies side by side so you can make an informed decision.
Merchant One vs. Square Comparison
Here's how Merchant One and Square stack up on important criteria when choosing a payment processor.
Monthly fee
Merchant One
Merchant One recently increased its monthly fee from $6.95 to $13.95. While this is not an outrageous amount, especially considering the low processing fees, it can make it more difficult for startup businesses to break even in the beginning, when they have little revenue coming in. 
Square
Square's base plan has no monthly fee and includes a lot of functionality, including general POS, invoicing, virtual terminal, online checkout and employee management. Other payment processors typically charge a fee for these features. There are advanced features at Square that do require a monthly fee, including loyalty programs for $45 per month, email marketing for $15 per month, and payroll, which is $35 per month plus $6 per employee per month.
Winner
In the area of monthly fees, Square is the winner. Its basic plan with no monthly fee has plenty of features and will work for any kind of business. 
Payment processing costs
Merchant One
Merchant One has low interchange-plus pricing. This means there is a small upcharge on top of the rate that is set by and paid to each type of credit card provider (Visa, Mastercard, Discover, etc.). Many other credit card processors, including Square, include the interchange rate and their markup into one combined rate, which is higher than interchange-plus. 
Because merchants have to pay the interchange rate in addition to the Merchant One markup of 0.29% to 1.55% for card-present transactions and .029% to 1.99% for card-not-present transactions, the actual rate paid will be more than the listed rate. For example, at the time of writing, the interchange rate for Visa for a card presented in person at a retailer, performance threshold Preferred/Infinite is 2.10% + $0.10. So a merchant in this category that does business with Merchant One would actually be paying this rate plus Merchant One's markup, or 2.129% + $0.10, which is still less than Square's processing rate. 
It is important to note that interchange rates vary based on several factors, including the type of card (Visa or Mastercard), the type of business, whether it is a credit or a debit card, and whether the card is a specialized card, such as a business credit card or a rewards card.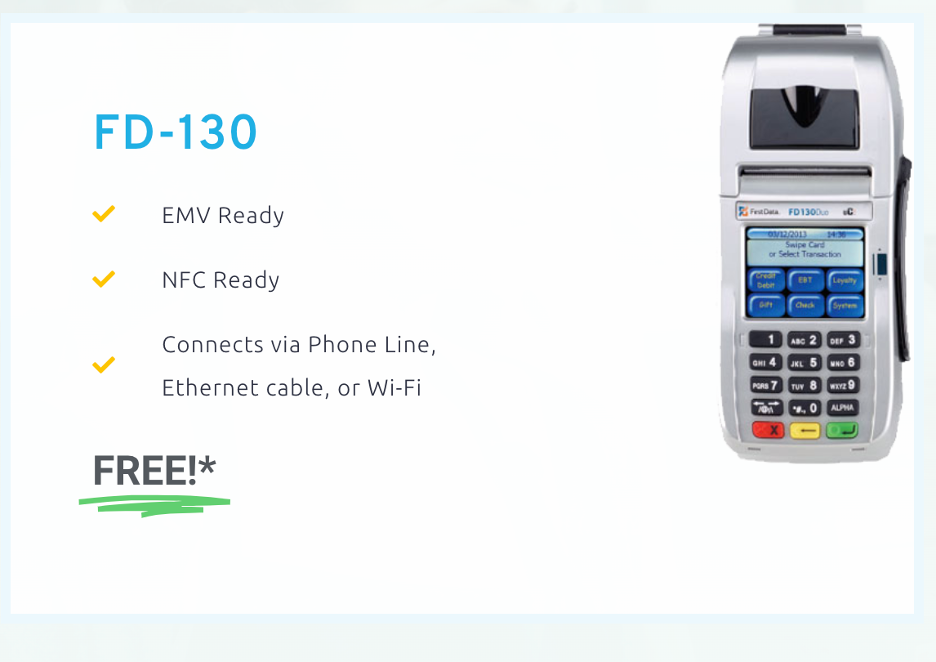 The FD-130 credit card reader is one of several readers that Merchant One gives new merchants for free when they open a merchant account. Source: Merchant One
Square
Square's payment processing rate depends on both whether the card is physically present, which is standard, and on the Square service that is used. When a card is tapped, dipped or swiped, the processing fee is 2.6% + $0.10 per transaction. This is the rate regardless of which brand card is used, what type of business it is or any special card characteristics. The flat rate makes it more affordable to accept cards that typically have a higher rate, such as American Express.
For card-not-present transactions, Square charges different rates based on how the charge is processed. For Square Invoices or Square Online Store, the rate is 2.9% + $0.30 per transaction. If you have Square Online Store Premium, you get a lower rate of 2.6% + $0.30 per transaction, and for any transactions that are either keyed in or are for recurring charges with a card on file, the rate is 3.5% + $0.15 per transaction.
Winner
On processing rates, Merchant One is the winner since interchange-plus pricing is always lower than flat-rate pricing for processing fees. 
Since Square gives you a flat rate, your business can create promotions with premium cards such as American Express and still pay the same for transactions.
Ease of use
Merchant One
We found Merchant One's back-end software is easy to use and navigate, with clear labeling of sections and functions, allowing you to run reports, use the virtual terminal and add customer information. However, if you have a POS system, this is a separate system from the Merchant One back-end interface, and you will have to switch between them. A benefit of Merchant One is that it offers Clover POS systems, which are some of the best in the industry and also easy to use. For more details on all Clover offers, check out our review of Clover.

Merchant One promotes its Clover products, but is also compatible with other readers. Source: Merchant One 
Square
Square's software is integrated with its general POS system, so you have everything in one interface. We like how Square's software is intuitive and well designed, so it is simple to use. In addition, it interfaces seamlessly with a number of popular e-commerce platforms, which we find particularly helpful for those without technical skills.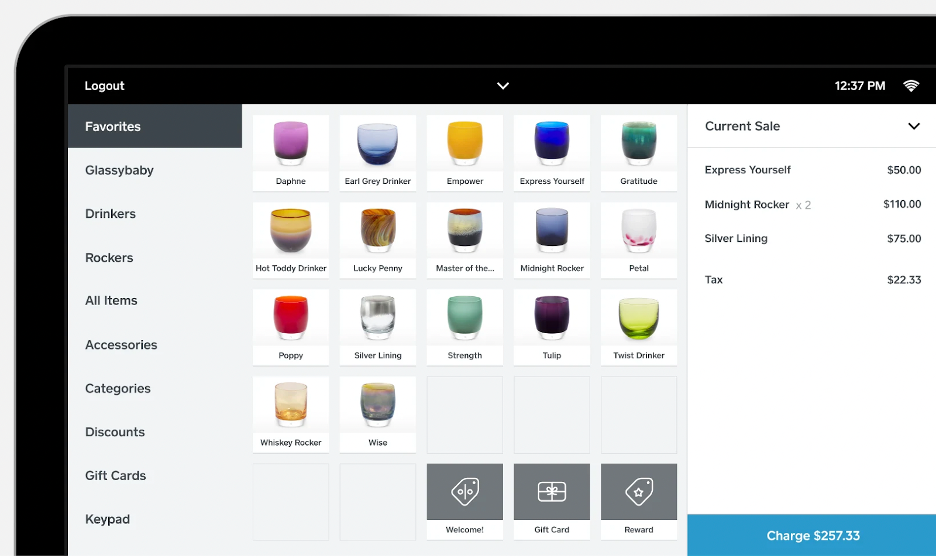 The Square interface is sleek and simple to navigate. Source: Square 
Winner
Square is the winner for ease of use since all of its associated software is integrated into one easy and intuitive interface. 
POS system (hardware)
Merchant One
If you buy Clover equipment through Merchant One, then you have a nice-looking and fully functional POS system. Its fixed POS terminal, mini tablets and handheld devices are slick and professional and able to do everything you might want, from accepting digital wallets such as Apple Pay to processing NFC payments to taking PIN entry for debit cards. 
One benefit of Clover equipment is that because it is compatible with multiple processors, it enables you to switch to another processor in the future without repurchasing equipment. Merchant One is also able to service all Clover products in-house, which is beneficial. This helps ensure that should you run into an issue, getting it corrected won't be a problem.
Square
Square's POS system and equipment are just as attractive and functional as Clover's. Although it is not compatible with other payment processors, you benefit from having software updates from Square, and it combines all of the payment processing functions, like the virtual terminal and reporting, with the other features.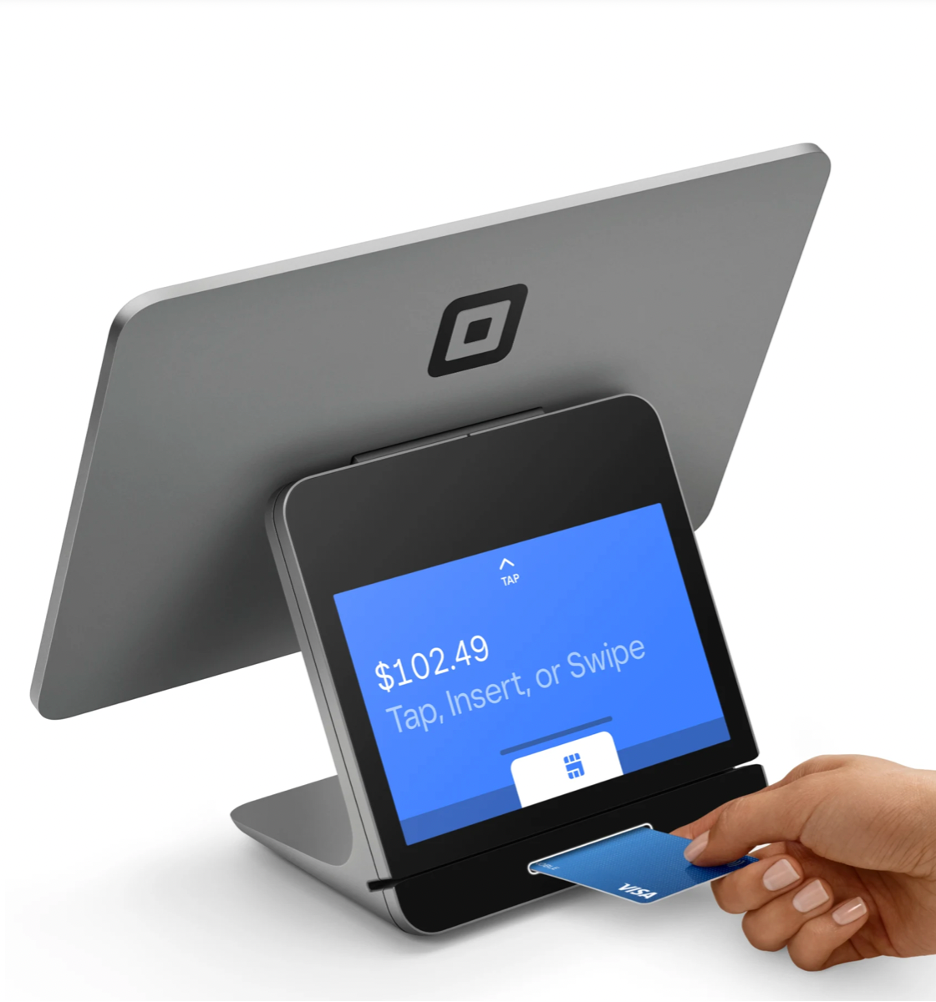 Square offers a sleek customer-facing interface. Source: Square 
Winner
For the best POS system, we're calling this a tie.
In 2022, credit card companies increased their interchange rates, which were held steady due to the pandemic.
Customer service 
Merchant One
Merchant One provides 24/7 phone support plus email and text-based support. Most importantly, though, Merchant One gives each merchant a dedicated account manager. We believe this really kicks its customer service up to the next level. We like that each customer has a single point of contact to streamline their communication with the company, resolving problems and answering questions more quickly.
Square
Square has limited hours for phone support: Monday through Friday, 6:00 a.m. to 6:00 p.m. PT. Although these are long hours, they leave out weekends and early morning hours on the East Coast. It also offers email support, with a response expected between 24 and 48 hours, and online chat support seven days a week, from 6:00 a.m. to 6:00 p.m. PT. 
Support is also available over social media, and there is an online knowledge base.
Winner
With its dedicated account managers and 24/7 phone support, Merchant One is the clear winner for customer service.