Most states allow at-will employment, which means your employees can leave you at any time to pursue other ventures. But what happens if those ventures include going into direct competition with your business? One way to avoid this scenario and protect your company is to have employees sign noncompete agreements when they are hired. However, before you make every employee sign one, you should understand the legal restrictions and limitations of noncompete agreements.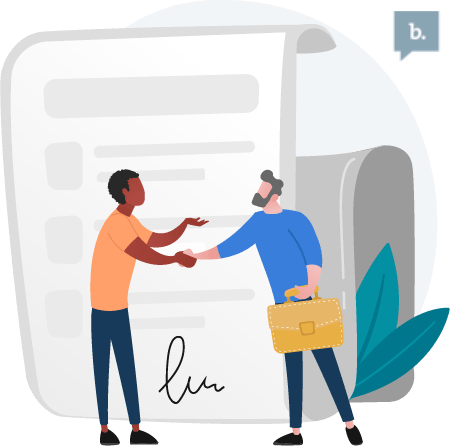 What is a noncompete agreement?
A noncompete agreement, also known as a restrictive covenant or a noncompete clause, is a formal contract between an employer and an employee that limits the employee's ability to engage in competition with the employer during employment and for a designated period after their employment ends. Although the details of the agreement will be outlined in the terms, noncompete agreements often restrict the employee from working for a competitor or starting their own competing business immediately after working for you.
"Business owners work very hard and spend a lot of money to develop their products, form their customer base, build out their partnerships, recruit talent/employees and develop their proprietary information or intellectual property," Dani Fontanesi, founder and managing partner of Fontanesi Legal Consulting, told business.com. "They want to know that if they hire an employee, that employee can't just steal their customers, misappropriate their proprietary information and start a competing business without doing the hard work of building a business legitimately from the ground up. Noncompetes are intended to protect businesses from this type of behavior."
How does a noncompete agreement work?
When including a noncompete agreement in an employment contract, the employer is committing to hiring the employee (or paying them to sign the noncompete clause), and the employee is committing to not engage in competitive business activities during or after their employment relationship is terminated with the company. Noncompete agreements typically restrict the former employee from conducting competing business only within a designated geographic location and for a limited time.
Enforcing noncompete agreements
Even if you have employees sign noncompete agreements, be aware that they aren't always easy to enforce. Employees often challenge the agreement in court, and some state laws make noncompete agreements difficult to uphold. Pay close attention to your state laws and public policy, and consider other protective measures, like a proprietary information and inventions assignment (PIIA) agreement, when drafting noncompete agreements.
Noncompete agreements and PIIAs are typically drawn up by the employer and signed before the employee starts working, as this can affect the agreements' enforceability.
"If an employer wants to have an employee sign a noncompete or PIIA after their employment has already begun, they should consider offering some form of incentive or other consideration for signing the agreement(s) to increase the chance that it will be enforceable," Fontanesi said.
If a departing employee violates an enforceable noncompete agreement, the employer has the option to seek litigation against them. However, not all states enforce noncompetes the same way, so it is important to check state laws first.
What to include in a noncompete agreement
At a minimum, your noncompete agreement should include the following details:
Dates. Specify effective dates for the agreement and the length of the noncompete contract. For example, you may want the agreement to state that the employee can't secure a position with a competitor within one year of signing the noncompete.
Nature of the agreement. In this section, include the reasons for the noncompete agreement. For instance, the agreement may state that the employee can't release proprietary information that would hurt the business.
Purchase option. Some employers choose to offer a buyout clause to the agreement. In the contract, the company would specify the amount to get out of the clause.
List of inclusions. Here, you will want to specify the scope of the noncompete agreement, or what it entails. For example, you may forbid employees from entering into competitive client relationships or engaging in business with direct competitors.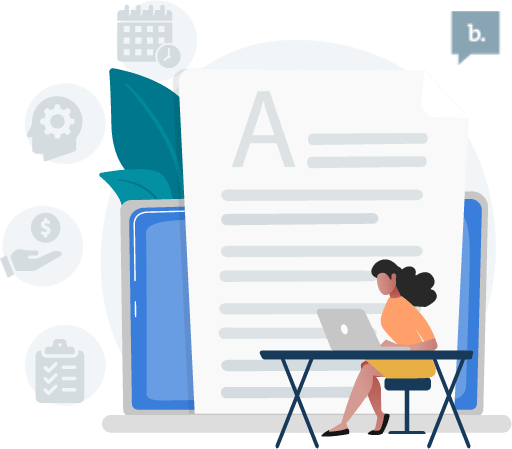 How effective are noncompete agreements?
A noncompete agreement must be signed by both parties, but it does not need to be notarized. If legally enforceable by the state, noncompete agreements can be effective in protecting the interests of a business. However, the key to an enforceable noncompete is that the terms must be "reasonable" and not too restrictive.
In determining whether the agreement is too restrictive, Fontanesi said, courts generally consider factors such as the geographical reach of the noncompete, the commercial reach (if it is limited to a narrow market or captures a broad industry), the length of time it extends and the legitimate business interest of the employer.
Fontanesi provided an example of a noncompete agreement that would be too restrictive and one that likely would be enforceable based on its restrictiveness:
Noncompete scenario. A noncompete agreement between an employee and a technology company that created a photo-editing app
Too restrictive. A noncompete that attempted to restrict the employee from working for any other technology company in the United States for 10 years
Reasonable restriction. A noncompete that restricted the employee from creating a competing photo-editing app or working for a direct competitor that created a photo-editing app in the same state for six months
Noncompete agreement time restrictions
The state you operate in plays a role in the enforceable time restrictions of a noncompete agreement. Fontanesi said the following states have specific guidelines regarding what constitutes a "reasonable" temporal limitation: 
In Massachusetts, noncompetes entered on or after Oct. 1, 2018, are unenforceable for more than one year post-termination, except in limited circumstances.
In Washington, as of Jan. 1, 2020, if the noncompete period is longer than 18 months, it is presumptively unreasonable, unless the employer can demonstrate that a longer duration is necessary to protect its legitimate business interests or goodwill.
In Utah, any noncompete entered into on or after May 10, 2016, cannot extend beyond one year from termination of employment.
In Florida, noncompetes that are less than six months are presumptively reasonable, but noncompetes lasting greater than two years are presumptively unreasonable.
Some other states have enacted laws indicating that noncompetes are presumptively reasonable if they extend less than two years. To ensure the time frame of your noncompete agreement is within state guidelines, it is important to check the laws in both the state in which your business is located and the state in which the employee is located (if they are working remotely from a different state). In general, most states do not favor noncompetes, but some states enforce noncompetes as long as they are reasonable.
Noncompete agreement geographical restrictions
Some states ban noncompete agreements altogether, while others restrict them to certain types of employees. For example, California, North Dakota and Oklahoma essentially prohibit noncompete agreements in the employment context, with narrow exceptions. Any previously signed noncompete agreements entered out of state will usually not be valid.
"Other states prohibit noncompetes for certain categories of workers – for instance, low-wage or fast-food workers, nonexempt employees, students or younger workers, or employees who have been terminated without cause or laid off," Fontanesi said.
What is some expert advice for creating a noncompete agreement?
If written incorrectly or outside of state law, your noncompete agreement will do nothing to protect your business. If you want to create an agreement that is enforceable and effective, there are a few additional steps to take:
Consult an attorney to verify state laws.
Noncompete agreements are very state-specific. Fontanesi said some states can even impose penalties on companies that require an employee to sign a noncompete that does not comply with the laws of that state. Therefore, you need to be thoroughly informed about the state laws that will govern your noncompete agreement. Employers should consult an attorney before having their employees sign a noncompete.
"Particularly right now, when many employees are working remotely, it's important to know that the law of the state where the employee is working may govern the noncompete, rather than the law of the state where the company is located," Fontanesi said.
Include a severability provision in your agreement.
Because the effectiveness of noncompete agreements may vary, Williams advised small business owners to include a severability provision, which is a clause in the contract that severs any unenforceable provisions.
"Usually, if a provision in an agreement is found to be unenforceable, then the whole agreement can be held invalid, unless there is a severability provision," Williams said. "Thus, if you are unsure of the effectiveness of including a noncompete, you may still include one in your agreement alongside a severability provision without running the risk of invalidating your whole agreement. If the noncompete is found to be invalid, [the unenforceable portion] will be severed from your agreement while maintaining the rest of the agreement in full force."
Consider other protective measures.
In addition to noncompete agreements, companies can consider other protective measures, such as having their employees sign a PIIA.
"A PIIA can protect the company against an employee stealing their proprietary information, including customer lists, contact information of business partners and other valuable or confidential information of the employer," Fontanesi said. "Other alternatives to consider are nonsolicit agreements, or agreements not to hire or recruit employees."
Pros and cons of noncompete agreements
Before putting together a noncompete agreement, weigh the advantages and disadvantages of the document. Obviously, the most significant advantage of a noncompete agreement is that you prevent employees from competing directly with your organization. In addition, consider these pros, too:
Intellectual property protection
Trade secret protection
Allows business continuation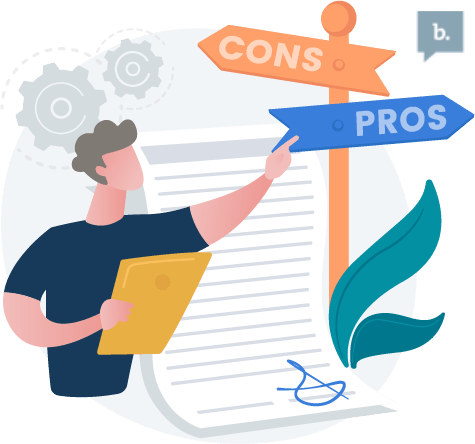 According to law firm Gammon and Grange, the most notable reason to avoid a noncompete is you may dissuade talent from working with your organization. Additional drawbacks of non compete agreements include the following:
Legal limitations
Costly to enforce if violated
Redundant if nondisclosure agreement was signed
What are some noncompete agreement templates I can use?
Here are some free online templates to get you started:
Betterteam
Betterteam offers a free, downloadable noncompete agreement template that outlines the general information you need to include in your agreement. It also outlines the general steps to take when developing a noncompete agreement: studying your competition, writing the agreement, seeking legal review and signing the agreement.
Business in a Box
Business in a Box is a business management tool kit that offers free online templates, including noncompete agreement templates. After creating a free profile, you can access, customize and download contract templates for your business. In addition to a general noncompete agreement template, it offers templates for other types of agreements, such as a nondisclosure agreement, a restrictive covenant for employment agreement, a license agreement and a nondisturbance agreement.
FormPrintr
FormPrintr lets users create free noncompete agreements that vary by state. The document is printable and can be exported as a Word or PDF file. Users can access unlimited updates and copies of their noncompete agreement, as well as hundreds of other legal documents.
FormSwift
FormSwift offers state-specific noncompete agreements that users can access for free and download as Word or PDF files. The company also offers a sample noncompete agreement with examples for each step, which can be especially helpful for new users. Although FormSwift does a good job of addressing various questions about noncompete agreements, the site recommends employers speak to an employment lawyer for help in ensuring their document is legally enforceable within their state.
Wonder.Legal
Wonder.Legal allows users to create customized legal documents for free, including a noncompete agreement. You fill out a questionnaire, and the document is generated one section at a time as you work through the customization. Your agreement can be downloaded in Word or PDF format and modified and reused as needed.
If you choose to use an online template to draft your agreement, be sure to have an attorney review it before having an employee sign it.
"Each state and locality have different laws and case law affecting all aspects of contracts, and as such, seeking the advice of a legal expert will ensure you the best possible outcome and adherence to the law," Williams said.