Immigration has always been a controversial subject, but in recent years, the topic has become even more polarizing.
One of the most debated topics in immigration is the impact immigrants have on the American economy and small businesses. Business.com surveyed the small business community on the pros and cons of immigration and found that professionals are generally split on the subject.
Business professionals split on immigration, but still face similar challenges
In one of the most illuminating aspects of the survey, 38.7% of small business professionals said immigration was good for business, 42% said it was bad for business, and 19.3% said it had no effect on their business. This split reflects the polarized attitude toward immigration as the Trump administration pushes for a border wall and Democrats push for DACA protection measures.
This split was apparent in the open-ended responses section, where we asked how immigration has impacted each respondent's local community and business.
"Immigrants work hard to succeed and are grateful to be here," said one business professional. "They seek care with open hearts and mind."
While there were many positive responses, there were several negative ones as well, focused mainly on illegal immigration.
"Legal immigration is fine. Illegal immigrants lower the pay scale for everyone," said another professional. "It's difficult to compete with cheap labor when trying to build a business legally."
One-fourth of the respondents call themselves immigrants, and 87% of those professionals said they felt welcomed by their local community. Despite the overall split in attitude toward the effect of immigration on business, both immigrant and non-immigrant business professionals said they faced similar challenges in running their businesses.
The biggest challenge for both immigrant and non-immigrant business owners was hiring and managing employees. The second biggest challenge for both groups was establishing a customer base for their small business. Immigrant-owned businesses, however, ranked their third biggest challenge as managing finances, while non-immigrant business professionals said the third most pressing challenge was navigating U.S. business laws and regulations.
It's clear from both groups' rankings of these challenges that, while sentiment may be split about immigration's impact, the everyday challenges of business owners can be strikingly similar.
Non-immigrant business professionals felt positively about the Trump administration's current economic and immigration policies.
57% said they felt positively about the Trump administration's current economic policies.
40% said they felt positively about the Trump administration's current immigration policies, while 37% said they felt no impact. Nearly 25% said they felt their business has been negatively affected by the Trump administration's immigration policies.
The survey found that the majority of immigrant business professionals feel positive about the future of business – 73% of immigrant respondents said they felt positively about the future.
In terms of both education and financing, more similarities emerged between immigrant and non-immigrant business professionals.
Most non-immigrant business owners (55%) used personal savings to start their business.
Most immigrant business owners (62%) used personal savings to start their businesses.
84% of immigrant business professionals said education was either important (22%) or very important (62%) for their industry.
84% of non-immigrant business professionals said education was either important (36%) or very important (48%).
How to verify eligible employees
Forty-five percent of immigrant professionals said they hire members of their local community as employees. The next most popular answer, family and friends, accounted for 17% of responses. But business.com also found that 33% of non-immigrant respondents said they or someone they knew hired illegal immigrants to work for their businesses. Many of those noted separately that they did so because they were unsure how to verify the legality of an employee.
The IRS provides a system for verifying if a worker is legally eligible to work in the United States called E-Verify. This system matches I-9 forms with records available to the Social Security Administration and Department of Homeland Security. It's available in all 50 states, as well as the District of Columbia, Puerto Rico, Guam, the U.S. Virgin Islands and the Commonwealth of the Northern Mariana Islands. This service is also free.
According to the website, E-Verify is a web-based system that allows enrolled employers to confirm the eligibility of their employees to work in the United States. "E-Verify employers verify the identity and employment eligibility of newly hired employees by electronically matching information provided by employees on the Form I-9."
Using this service can help businesses verify the eligibility of their workers. In our open-ended responses, this distinction between legal and illegal immigrants was harped on several times.
"Legal immigrants are good, but illegals are a drain on our resources," said one business professional. "There is a big difference."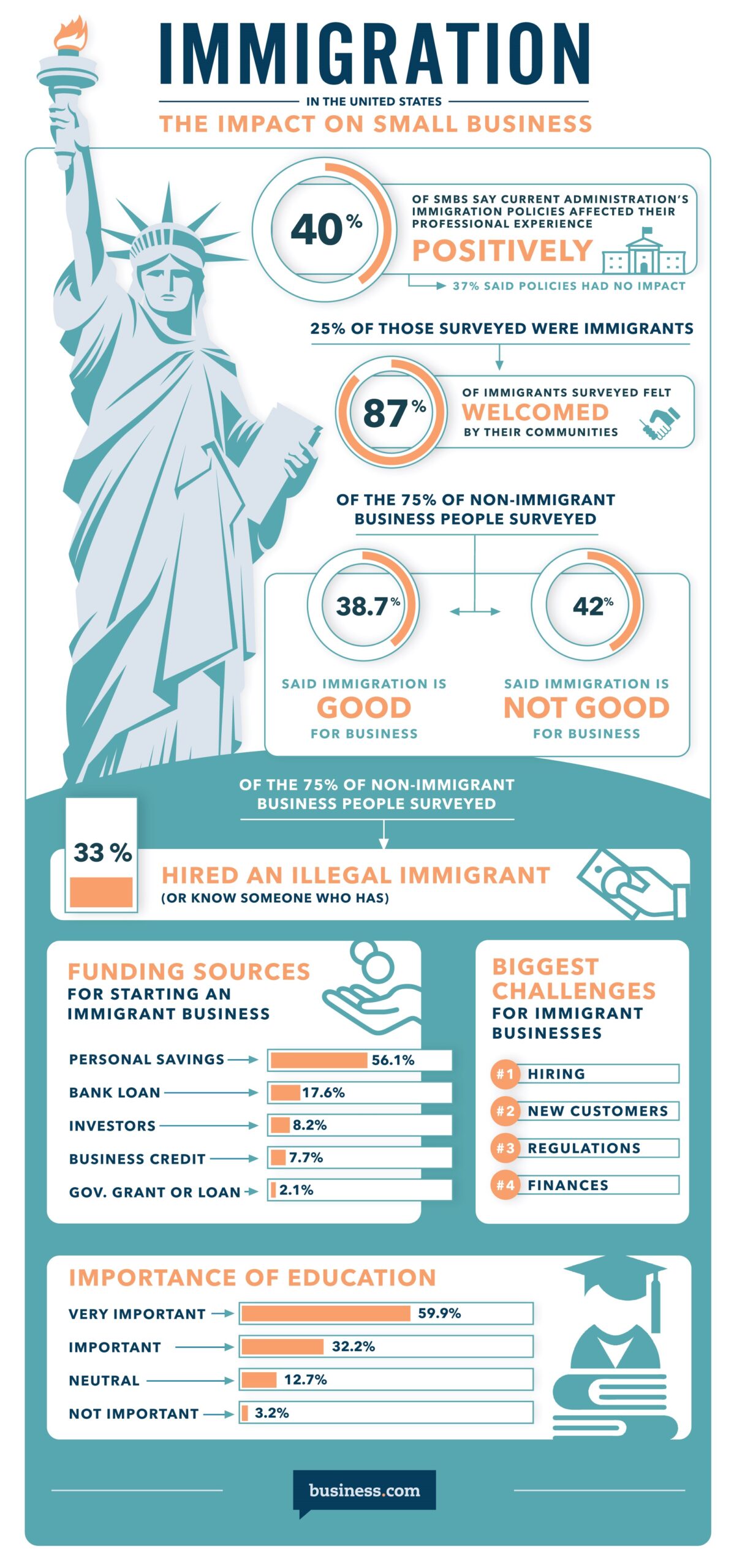 Who was surveyed?
Of all the 425 responses, the most came from states in the Midwest, followed by responses from the West, East and then South. The overwhelming majority of responses (80%) was from businesses with 50 employees or fewer. In terms of each respondent's industry, the largest group of respondents (25.8%) listed their business's industry as "other," which included answers like health and wellness, landscaping, automotive, telecommunications, and transportation. The second largest group, or 21.5% of respondents, said their business was in the construction industry.
Mixed responses on how immigration is impacting local communities
The responses to "how has immigration impacted your local community and business?" varied from overwhelmingly positive to deeply negative, further reflecting the polarization of this issue in America. When business professionals were positive on immigration, they often called for immigration reform.
"Immigrant labor in my field is very important," said one business professional. "Immigrants get the job done. They are hardworking, reliable and strong. We need an immigration reform ASAP."
Among the total survey responses, there was a major split in attitude toward immigration, but the challenges and characteristics of each business were largely constant between both groups. This difference can illuminate that, while ideas toward groups of people can vary, the heart of American business – and the challenges and victories each business experiences – are similar.